The Best Way to Serve Wine at Your End-of-Summer Soiree? Wine Cocktails!
Aug 08, 2017
By now, it's clear that 2017 is the summer of rosé. The varietal is basically everywhere, and we assume that by now you've educated yourself on all the basics, like how to choose the right color and how to serve it with grilled meats at your backyard barbecues. But rosé (and all other varietals of wine too) can also benefit from a little makeover every now and then, and we think one of the BEST ways to serve vino is to use it in your cocktails. That's why we're *uber* excited to share with you five simple batch wine cocktails.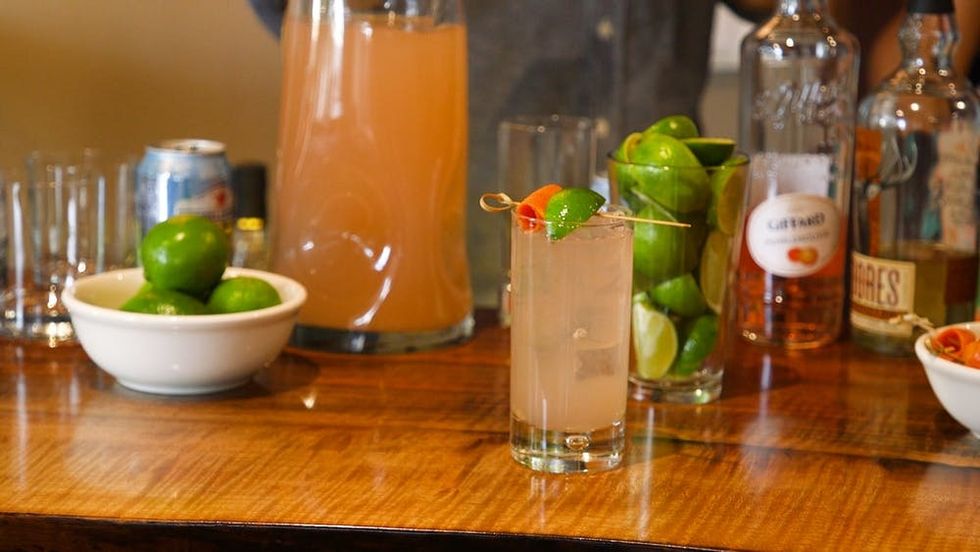 ---
Recently, we hosted a Facebook Live chat with Vivino's US Brand Ambassador Joel Caruso. Vivino is a wine app that lets you take a picture of any wine label to find out its wine rating, food pairing suggestions, and tasting notes from its community of 25 million wine lovers. In the video, we'll go over how to incorporate wine into your summer cocktails, as well as create five of our favorite options. Here's all of the cocktails we crafted (which are Joel's original creations) — and make sure to scroll below for the full Facebook Live video.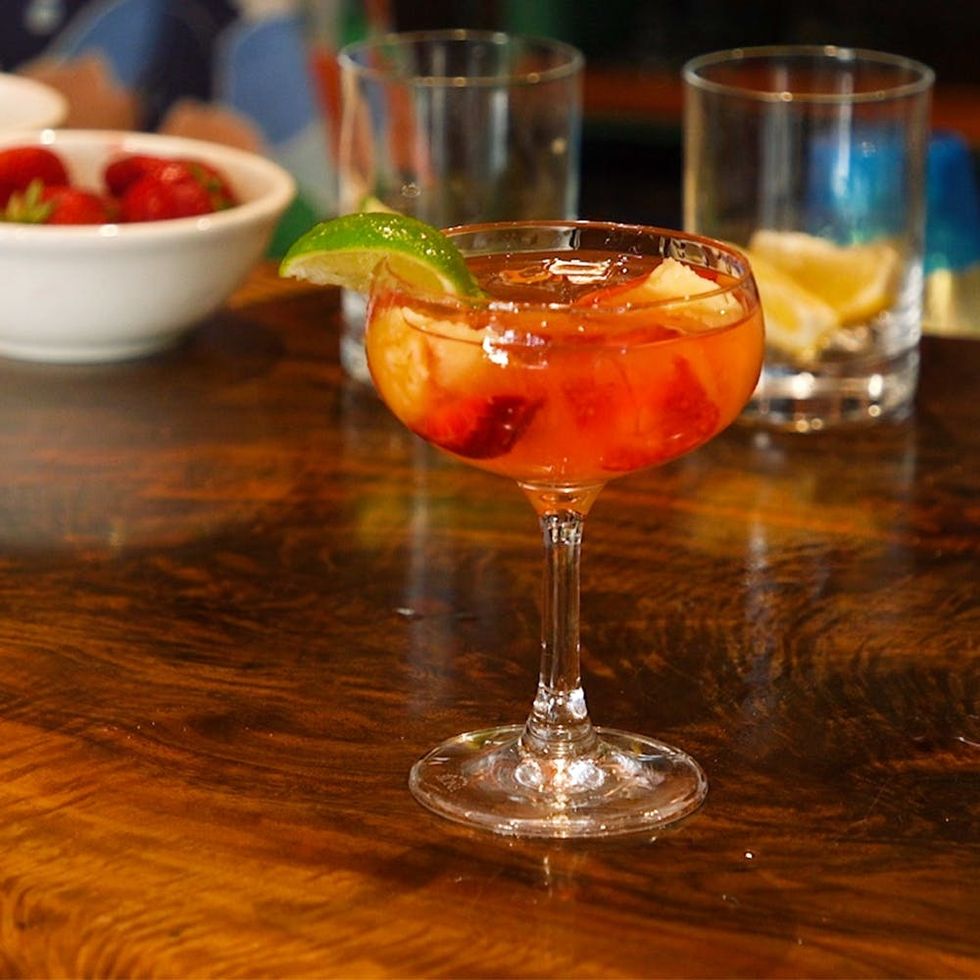 Rosé Jungle Juice
Ingredients:
2 bottles Italian rosé from the south
1 bottle vodka
½ bottle of your favorite fruit liqueur (I like strawberry best, but any fruit will do)
½ can coconut cream
2 quarts strawberries — smash up one and slice the other
pineapple for garnish (optional)
Instructions:
Mix together smashed strawberries and coconut cream.
Combine all ingredients in a punch bowl.
Ladle over ice into your favorite solo cup (or get fancier).
Top with strawberry slices.
For extra fun, buy a pineapple and use the fronds as garnishes!
"Southern Italian rosé has a great fruit profile without being sweet," says Joel. "Think strawberries! Especially in the grape, Negroamaro, from Puglia. It's the perfect addition to your punch."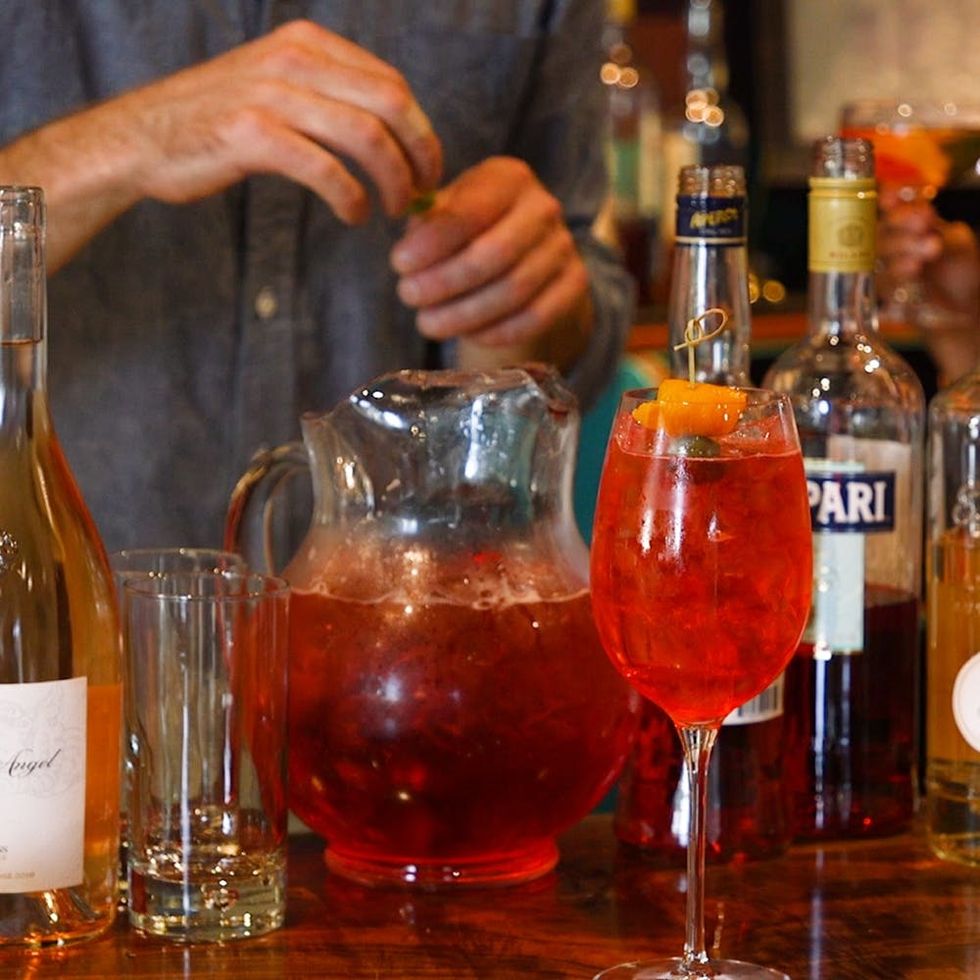 Bend and Spritz
Ingredients:
3 bottles dry Prosecco
1 bottle Aperol
1 bottle Campari
½ bottle apricot liqueur*
1 can LaCroix sparkling water
oranges and olives for garnish
* You can find apricot liqueur at a variety of online and brick and mortar alcohol retailers, or you can jump right in and make your own!
Instructions:
Keep all of the liquids in the refrigerator in advance of preparing.
Mix all ingredients in a pitcher.
Pour individual servings into wine glasses over ice.
Garnish with an orange peel and an olive.
Joel has some advice for this cocktail too. "A good rule of thumb when making a spritz is to make sure you like the bubbles first. Find something that isn't sweet so that it blends better with the other alcohols. Pro tip: Look for "Valdobbiadene" on the label; that region makes top quality Prosecco that isn't sugary, relatively easy to find, and typically of good quality."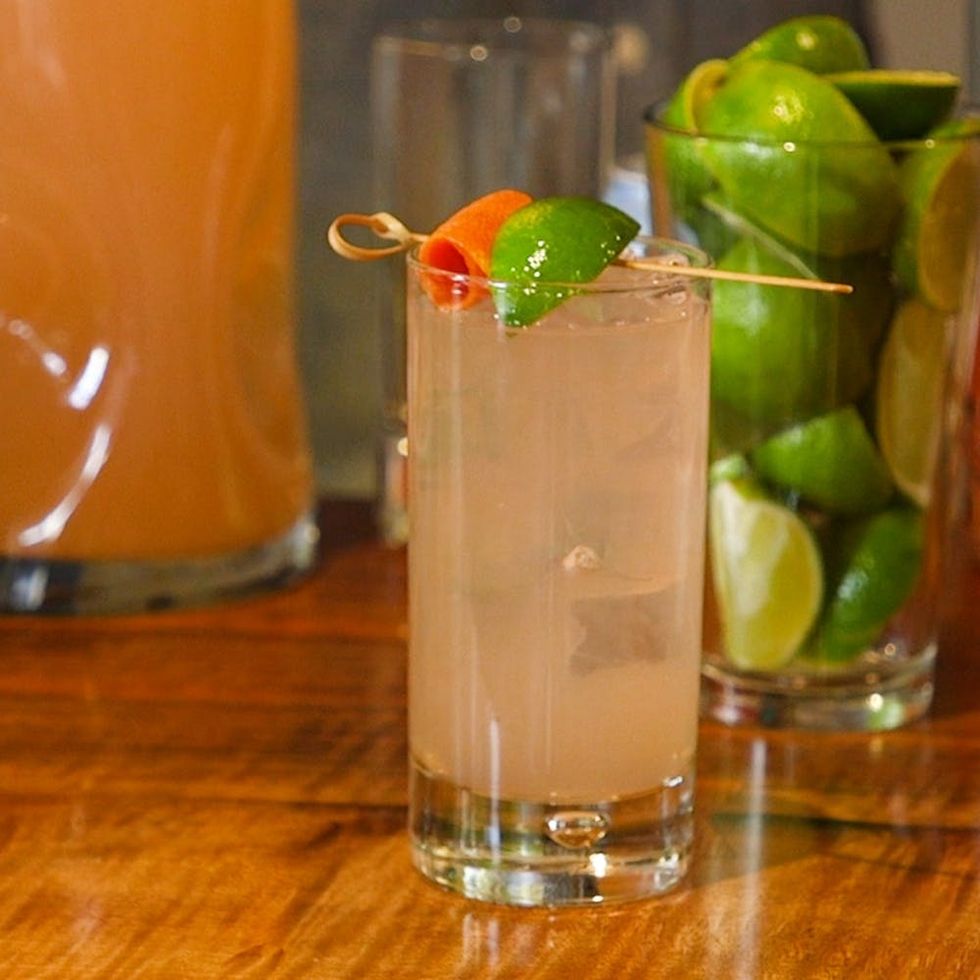 When Palomas Cry
Ingredients:
2 bottles Provence rosé
1 bottle blanco tequila
½ bottle mezcal
18 ounces lime juice
3/4 bottle grapefruit liqueur (liter size bottle)
24 ounces grapefruit soda or lemon lime soda (the traditional drink is made with grapefruit, but if you can't find that, any lemon lime soda will work!)
Instructions:
Combine all ingredients in a pitcher with ice and stir well.

Garnish with grapefruit peel.

Wrap paper bags around glassware for extra fun!
"Rosé from Provence is as adult as rosé gets," Joel says. "It has an earthiness that will remind you of crushed rocks and, this minerality will enhance the earthiness of the agave."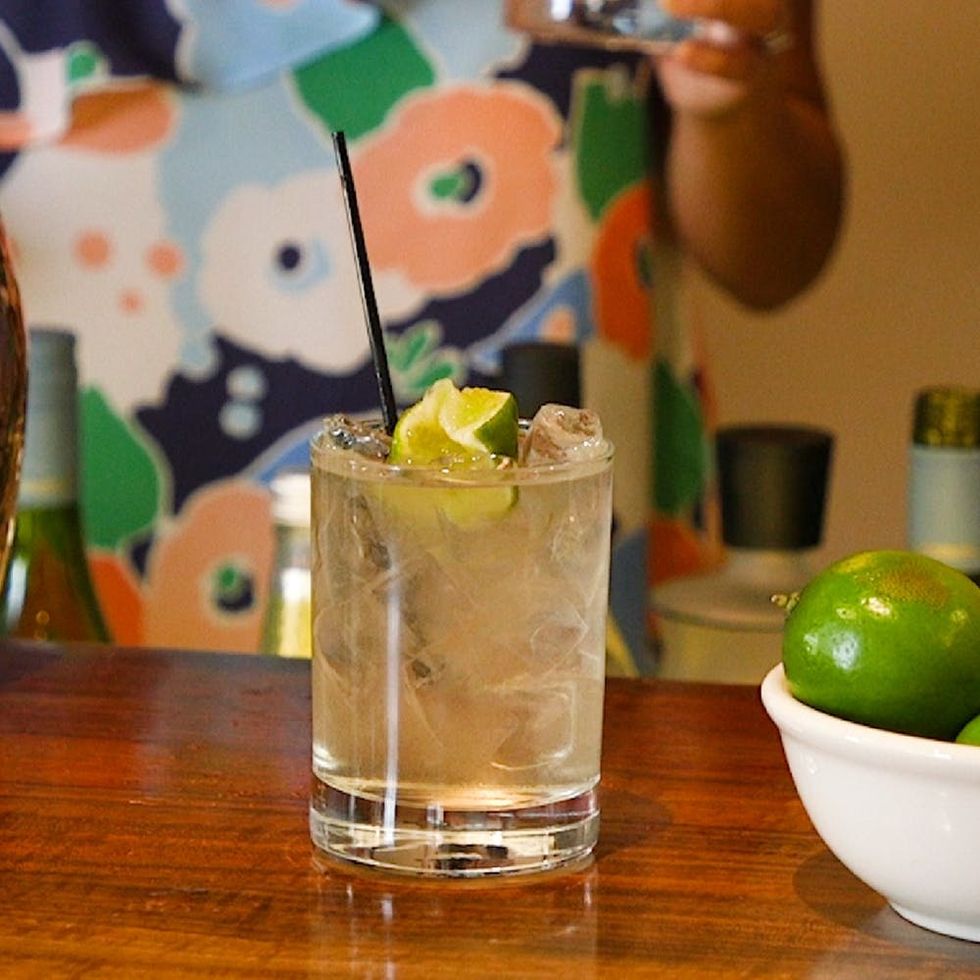 Marlborough Mule
Ingredients:
2 bottles New Zealand Sauvignon Blanc
1 bottle gin
1 bottle ginger liqueur
24 ounces ginger beer
lime wedges for each drink (have a large bowl prepared)
Instructions:
Combine all the ingredients in a pitcher.
Serve over ice with a lime wedge in copper mugs, if you have them, or coffee mugs.
"The Sauvignon Blanc from New Zealand is going to be so much fun to have in this cocktail. What makes it so exciting is the way the Sauvignon Blanc from this area reminds you of jalapeño and grapefruit; it also has a big swell of lemon/lime acidity that will give this cocktail a brightening lift."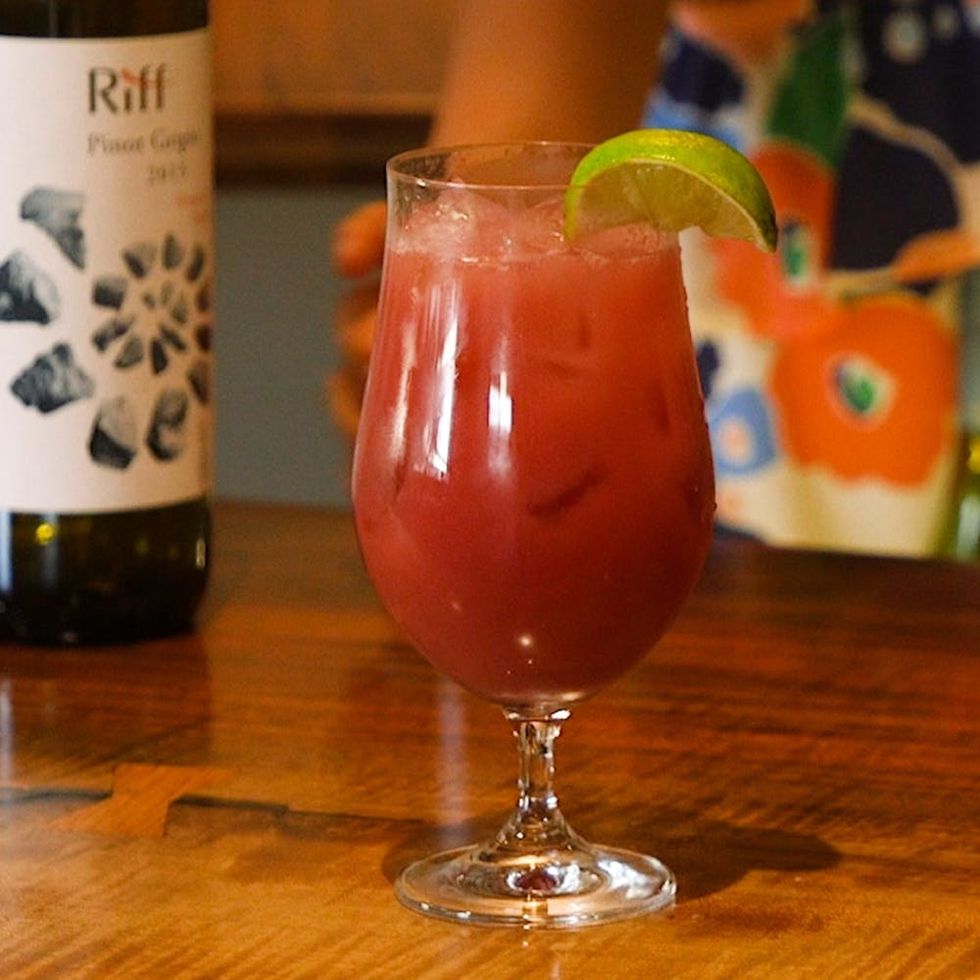 The Batch is Mine featuring Brandy
Ingredients:
1 bottle Argentinian Malbec
1 bottle Pinot Grigio
1 bottle brandy
1 bottle orange liqueur
12 ounces lemon juice
12 ounces lime juice
cut-up sangria-style fruit
Instructions:
Chop up random fruit and citrus in a bowl or a pitcher and combine everything with ice.
"Malbec, originally from Bordeaux, thrives in Argentina like it never did in France," Joel explains. "With ample sunshine, Argentina's version of the grape is much more ripe and playful, with fruits like wild blueberries, blackberries, raspberries, and even boysenberry at times. It's a wonderful hodgepodge of fruit, perfect for sangria! The addition of Pinot Grigio may seem odd, but trust me: The balance of acidity from the white wine will be appreciated, as it actually 'lifts' the profile of the drink and highlights the fruit instead of burying it under itself."

Be sure to follow Brit + Co's Facebook page for more delicious cocktail recipes!
Maggie McCracken
Maggie McCracken is a freelance writer, blogger and aspiring digital nomad. She writes primarily about food, travel, yoga and healthy living, and she has a background in health and science journalism. You can read more of her work on her lifestyle and travel blog, The Olive Branch.
Cocktails