9 Insanely Refreshing Rosé Cocktail Recipes to Kick Off Summer
Jun 16, 2020
Live up to the "rosé all day" slogan this summer by shaking up one of these refreshing cocktail recipes we've gathered from bars and winemakers across the country. This list includes a twist on the classic French 75, a rosé mimosa, and a new version of frosé... and yes, they all star everyone's favorite pink wine. Cheers to these delightful sips when the days are long and the temps are hot.
---
TEQUiLA ROSE from Boiler Room Lounge in Austin, Texas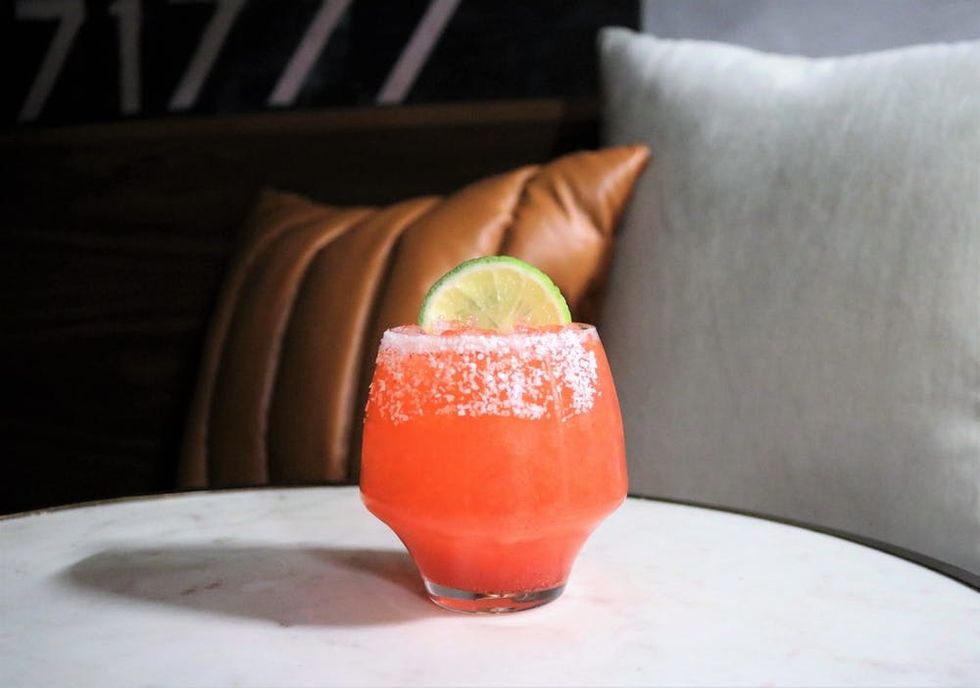 (Serves 1)
Ingredients:
Syrup:
1/4 cup sugar
6 ounces rosé
1/4 cup freeze dried strawberry powder
Cocktail:
1/2 ounce blanco tequila
1 1/4 ounce strawberry + rosé syrup
1/2 ounce fresh lime juice
ice
salt
lime wheel, to garnish
Instructions:
To make the syrup, combine sugar, rosé, and powder and stir together.
Combine tequila, syrup, lime juice, and ice in a shaker; shake for 15 seconds.
Pour into a salted old-fashioned glass; garnish with a lime wheel.
Frosé Cocktail From Ruschmeyer's in Montauk, New York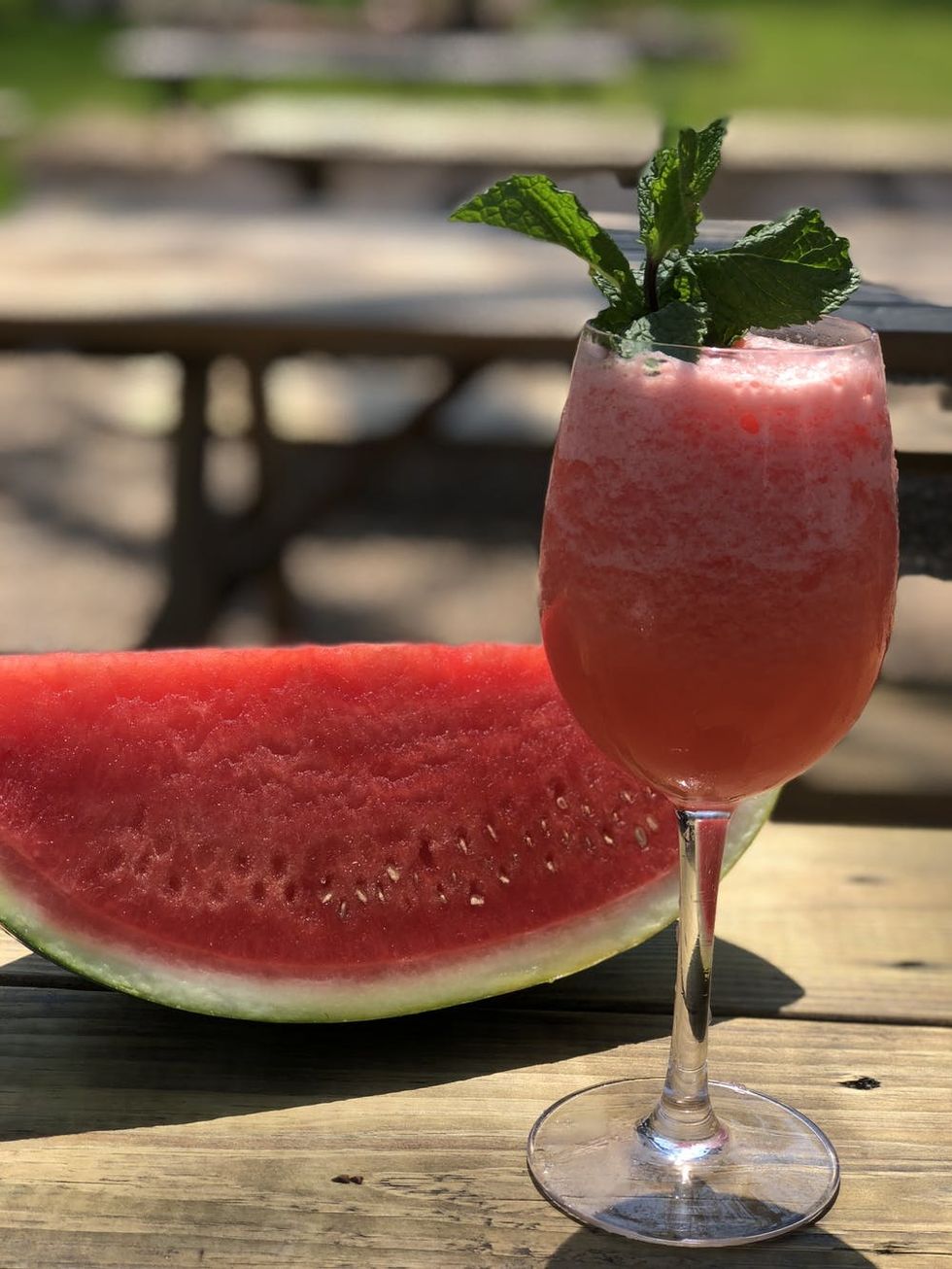 (Serves 1)
Ingredients:
2 ounces rosé (Provence style)
1 ounce vodka
1 ounce fresh watermelon juice
ice
watermelon wedges and mint, to garnish
Instructions:
Combine all ingredients in a blender with ice.
Serve in a coupe glass and garnish with watermelon wedge and mint.
Always Sparkling From Ruffino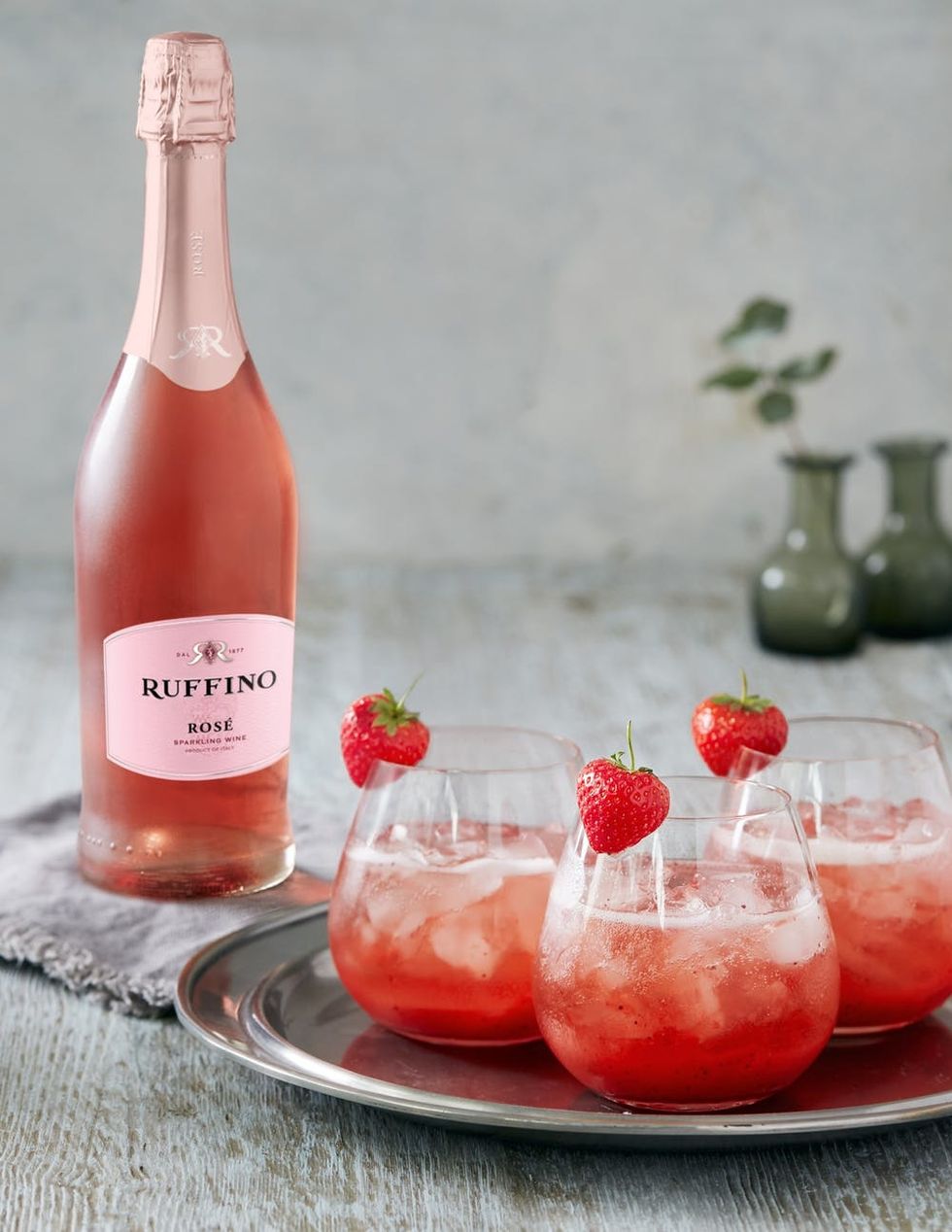 (Serves 1)
Ingredients:
1 ounce cognac
3/4 ounce lemon juice
3/4 ounce strawberry purée
1 dash rose water
ice
1 1/2 ounces Ruffino Sparkling Rosé
fresh strawberries, to garnish
Instructions:
Shake all ingredients together except for the rosé.
Strain into a lowball glass with ice and top off with sparkling rosé.
Garnish with a strawberry.
No Way Rosé From KYU in Miami, Florida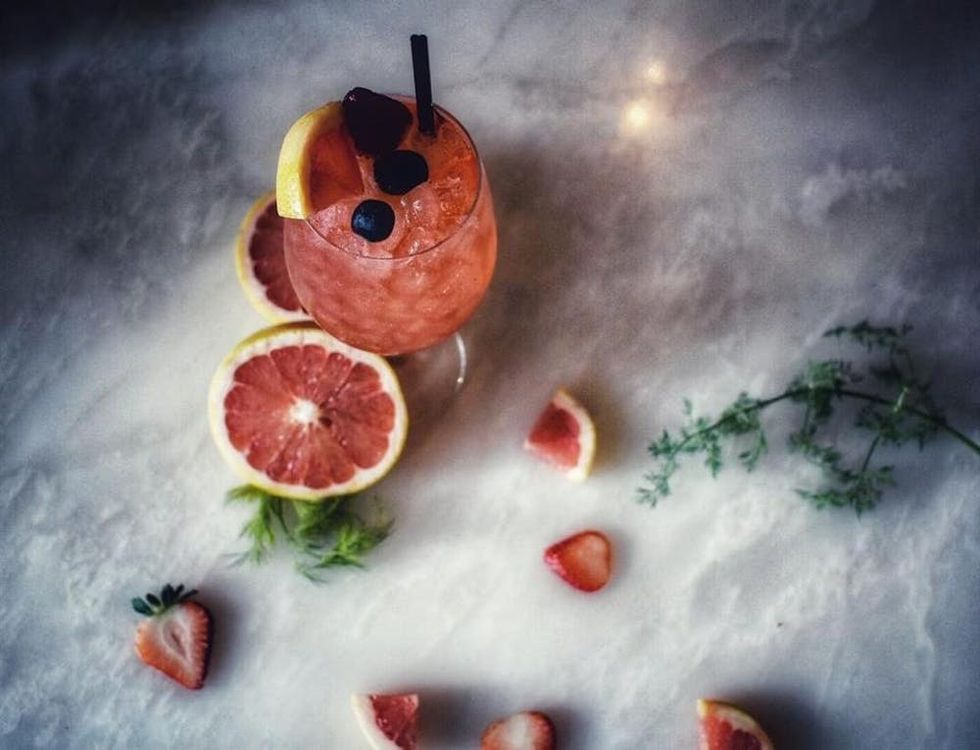 (Serves 1)
Ingredients:
Infused Rum:
2 green tea bags
1 cup sliced strawberries
1 bottle white rum
Cocktail:
1 1/2 ounces infused rum
2 dashes Chinese bitters
3/4 ounces Oleo Saccharum or grapefruit syrup
1/2 ounces Daiginjo Sake
2 1/2 ounces tonic water
1 ounce rosé (Provence style)
ice
sliced grapefruit and blueberries, to garnish
Instructions:
Infuse green tea bags into a bottle of white rum (we use Brugal Rum) for 48 hours, and add fresh sliced strawberries after 24 hours.
Combine infused rum, bitters, syrup, sake, and tonic water and rosé in a shaker, then pour into a wine glass with ice.
Garnish with fresh sliced grapefruit and blueberries.
The Out East 75 From Out East Rosé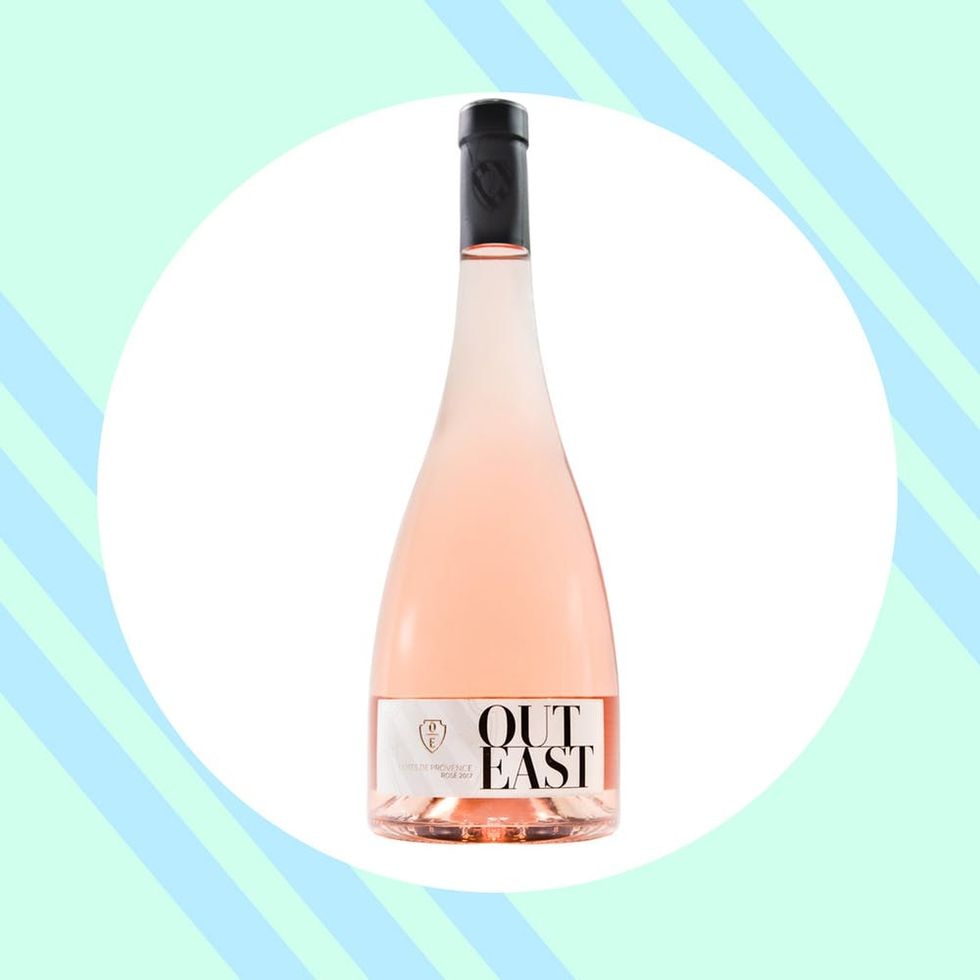 (Serves 1)
Ingredients:
2 dashes simple syrup
1/2 ounce lemon juice
1 ounce gin
ice
1 ounce Out East Rosé
2 ounces Champagne
Instructions:
Combine simple syrup, lemon juice, and gin in a shaker with ice.
Strain into a Champagne flute, then top with rosé and Champagne.
Madre Tigre From Llama Inn in Brooklyn, New York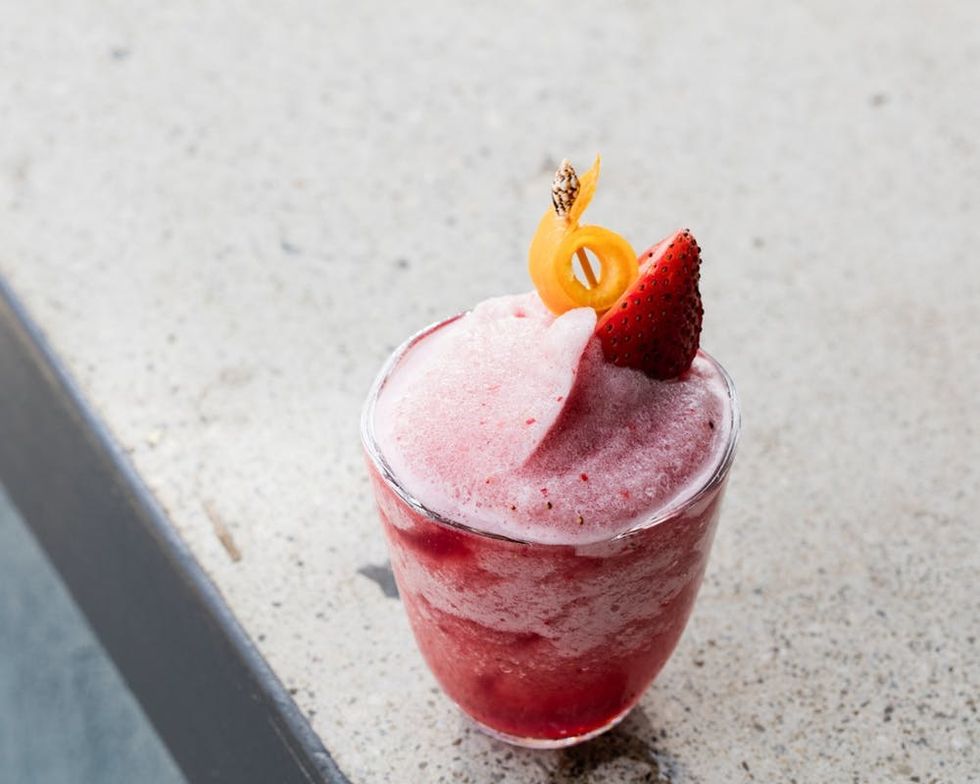 (Serves 4-6)
Ingredients:
Syrup:
1/2 dragonfruit
1/4 cup chopped strawberries
2 cups water
2 cups sugar
2 tablespoons grapefruit liqueur
Cocktail:
1/2 cup dragonfruit syrup
1/4 cup Macchu Pisco
1/4 cup fresh lemon juice
frozen rosé
ice
strawberries, to garnish
dragon fruit, to garnish
Instructions:
Pour entire bottle of rosé into a cake pan or any metal bowl and place in the freezer for 6 hours to make it slushy.
To make the dragonfruit syrup, cube half of a washed dragon fruit (making sure to leave on the pink rind) then place in a saucepan with strawberries, water, and sugar, stirring until the sugar dissolves. Remove from heat and allow to sit out for at least 30 minutes, then put in the refrigerator to infuse for 3-4 more hours. Strain, add grapefruit liqueur, and chill.
To make cocktail blend, mix the dragonfruit syrup, pisco, and lemon juice in a pitcher.
In a blender, combine half of the frozen rosé and half of the cocktail blend with 1 cup of ice and blend until slushy. If the mixture is too watery, add more ice and blend again.
Repeat with remaining ingredients, then serve immediately and garnish with fresh strawberries and dragonfruit.
Rosé Mimosa From Kim Crawford Wines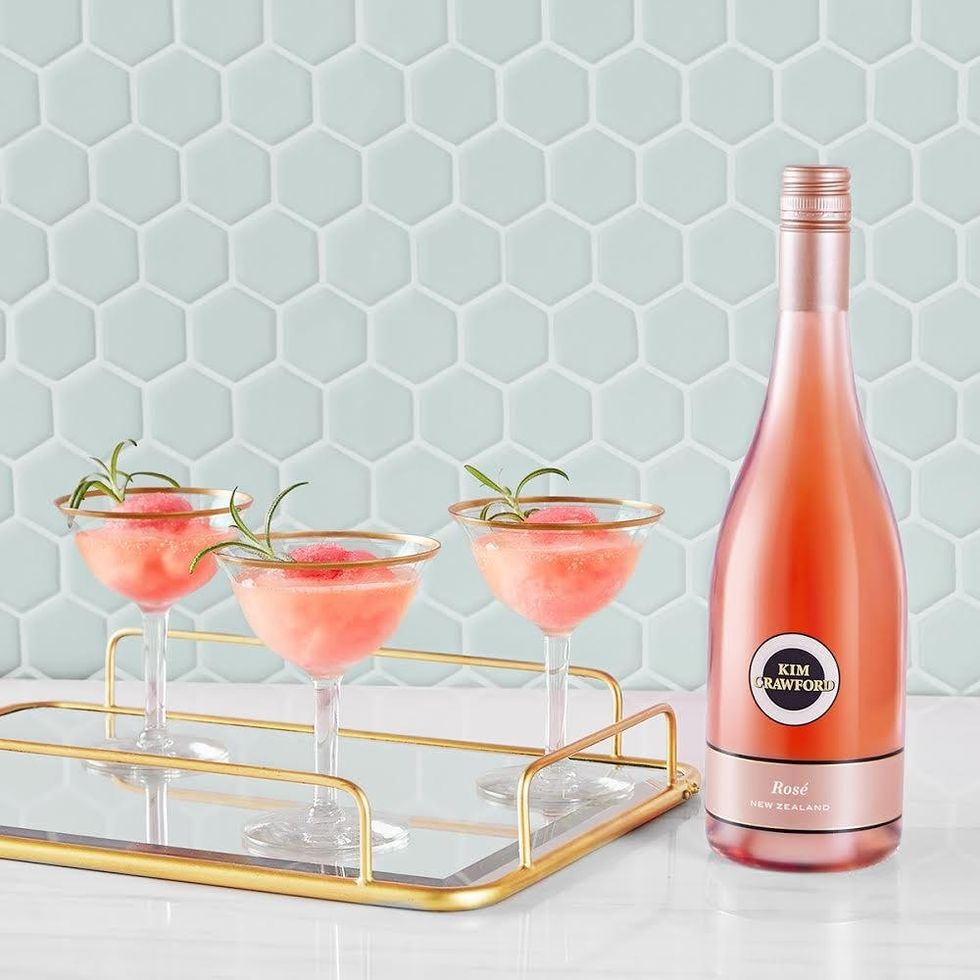 (Serves 4)
Ingredients:
Syrup:
1/4 cup sugar
1/4 cup water
Cocktail:
Instructions:
In a small saucepan bring the sugar and water to a boil, simmer for 5 minutes until dissolved.
Cool and mix in the rosé, then freeze in a loaf pan, breaking up occasionally until frozen solid.
Process in batches in a food processor until smooth, then freeze again until firm.
Scoop into coupe glasses and top off with prosecco.
Garnish with rosemary and serve.
Spring Around The Rosé From NYLO New York City
(Serves 1)
Ingredients:
1 1/2 ounces Spring 44 Gin
1 1/2 ounces rosé
2 ounces grapefruit juice
1/2 ounce lemon juice
1/2 ounce lavender syrup
1 egg white
ice
San Pellegrino Prickly Pear & Orange soda, to fill
rose petals and rose buds, to garnish
Instructions:
Add gin, rosé, grapefruit juice, lemon juice, lavender syrup, and egg white into shaking tin; dry shake for 7 seconds then add ice.
Shake for 5 seconds and strain into a collins glass filled with ice.
Top with prickly pear soda until foam is 1/2 inch above glass, then garnish with two rose petals and 2 rosebuds.
Unconventional Love From Moët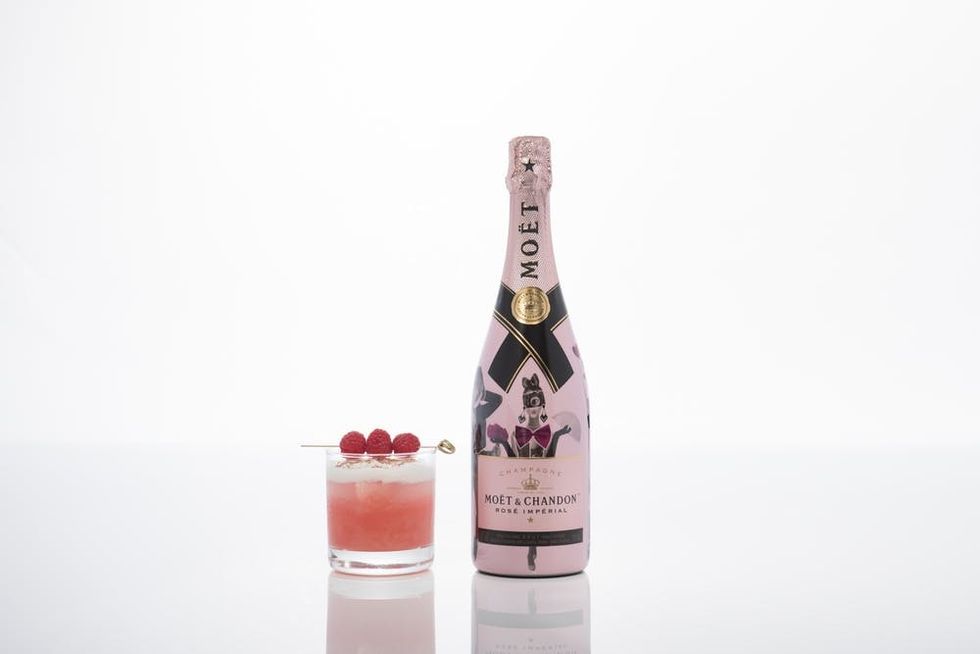 (Serves 1)
Ingredients:
5 raspberries
1 ounce vodka
1/4 ounce simple syrup
2 teaspoons coconut cream
ice
3 ounces Moët Rosé Imperial
freshly grated nutmeg, to garnish
raspberries, to garnish
Instructions:
Muddle raspberries.
Add all ingredients except Moët into shaker, add ice and shake vigorously for 15-20 seconds.
Add chilled Moët Rosé to shaker and then strain into a double rocks glass.
Add ice and garnish with freshly grated nutmeg and raspberries.
Follow us on Pinterest for more classic cocktails.
Kelli Acciardo
Kelli Acciardo is a travel, fashion, and beauty writer who spends most of her time in NYC, when she's not traveling around the world. Obsessions include: viral dog videos, spicy margaritas, the perfect metallic bronze eye shadow, and a great bathrobe. Her work has been published in Brit + Co, Bustle, Marie Claire, Refinery29, xoJane, InStyle, Seventeen, POPSUGAR, Women's Health, Teen Vogue, Martha Stewart, and Redbook.
Food