Ben Carson Muttered Two Words During His Confirmation Hearing That Got the Internet Up in Arms
Jan 13, 2017
This week, all of the proposed members of Trump's cabinet are starting to undergo their confirmation hearings with the Senate. Jeff Sessions, who has been nominated for Attorney General, started his hearing on Tuesday. Yesterday, three others started theirs: Mike Pompeo (nominated for CIA Director), James Mattis (nominated for Secretary of Defense) and Dr. Ben Carson (nominated for Secretary of Housing and Urban Development).
During Carson's hearing, there were a few controversial moments. At one point Senator Elizabeth Warren flat-out asked Carson whether or not he could confirm that taxpayer money used for housing would not ultimately benefit Trump's real estate empire. In short: He couldn't definitively confirm that it wouldn't. The second moment of tension was when Carson was asked about how he would enforce fair and unbiased treatment of the LGBTQ community.
---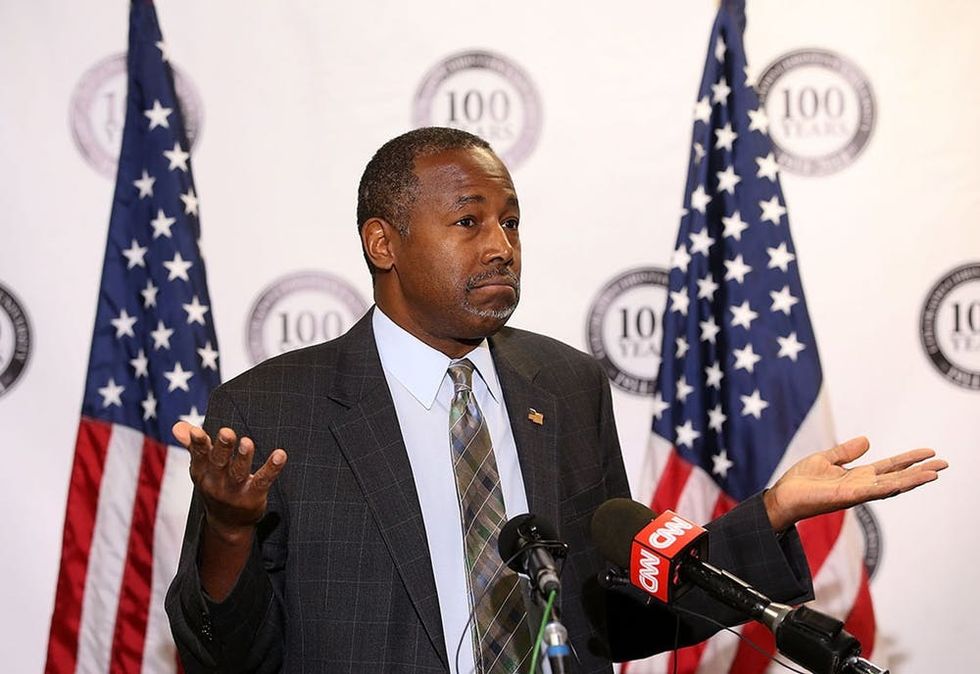 Ohio Senator Sherrod Brown said to Carson, "You have in the past raised questions about whether LGBTQ people should enjoy the same rights as everyone else. Do you believe that HUD has a duty to take actions that promote equal access to housing opportunities for LGBTQ people?"
Carson responded, "Of course I would enforce all the laws of the land, and I believe that all Americans, regardless of any of the things you mentioned, should be protected by the law. What I have mentioned in the past is that no one gets extra rights. Extra rights means you get to redefine everything for everybody else."
To that Brown responded, "That wasn't what we're talking about but I'm glad to hear you say that moving forward you will respect that."
But two words used in Carson's response had a lot of people up in arms: extra rights. Because what does that mean… "extra rights"? Is allowing trans people to use a public restroom that corresponds with their gender identity an extra right? Is allowing gay people to marry an extra right?
What are "extra rights" Dr. Ben Carson?!?! you mean EQUAL rights #extrarights

— Ashley Brown (@abrownpolicy) January 12, 2017
Hey @RealBenCarson–where do I apply for my #extrarights?

— Julie Tilsen (@Julietilsen) January 13, 2017
If you're not super familiar with Carson and where he stands politically, the retired neurosurgeon and politics newbie initially ran against Trump for the Republican presidential nomination. In terms of LGBTQ-related issues, Carson isn't super progressive — or really progressive at all for that matter. During a TV interview last year, Carson mentioned that gay marriage could lead to the legalization of polygamy.
This also isn't the first time he has used the term "extra rights" when discussing what others would typically classify as EQUAL rights. On that same TV segment, Carson said, "You know, it's a free country; there's freedom of association. However, when you now impose your value system on everybody else and change fundamental definitions and principles of society, I have a big problem with that. Everybody is equal, everybody has equal rights, but nobody gets extra rights. And when we start trying to impose the extra rights based on a few people who perhaps are abnormal, where does that lead?"
So just to recap here, that's a no from Carson on blatantly discriminating against people of the LGBTQ community when it comes to housing, and it's also a no from Carson on granting what he deems "extra rights" to the people he considers "abnormal."
A large portion of Trump's proposed cabinet is set to be voted on and confirmed by the Senate by Inauguration Day.
What are your thoughts on Dr. Carson's comments? Share with us on Twitter @BritandCo.
(Photo via Justin Sullivan/Getty)
Cortney Clift
Cortney is the senior writer and special projects editor at Brit + Co. She typically covers topics related to women's issues, politics, and lifestyle. When she's not buried behind her computer you'll find her exploring New York City or planning her next big adventure.