5 Must-Haves for a Dairy-Free DIY Dessert Bar Everyone Will Dig
Jul 06, 2015
July is National Ice Cream Month! And though we all scream for ice cream, the traditional variety doesn't always fly. To make sure everyone gets their fair scoop, we've teamed up with the folks at So Delicious Dairy Free® to create a tricked out frozen dessert bar that is dairy-free, vegan and yes, SO delicious :)
---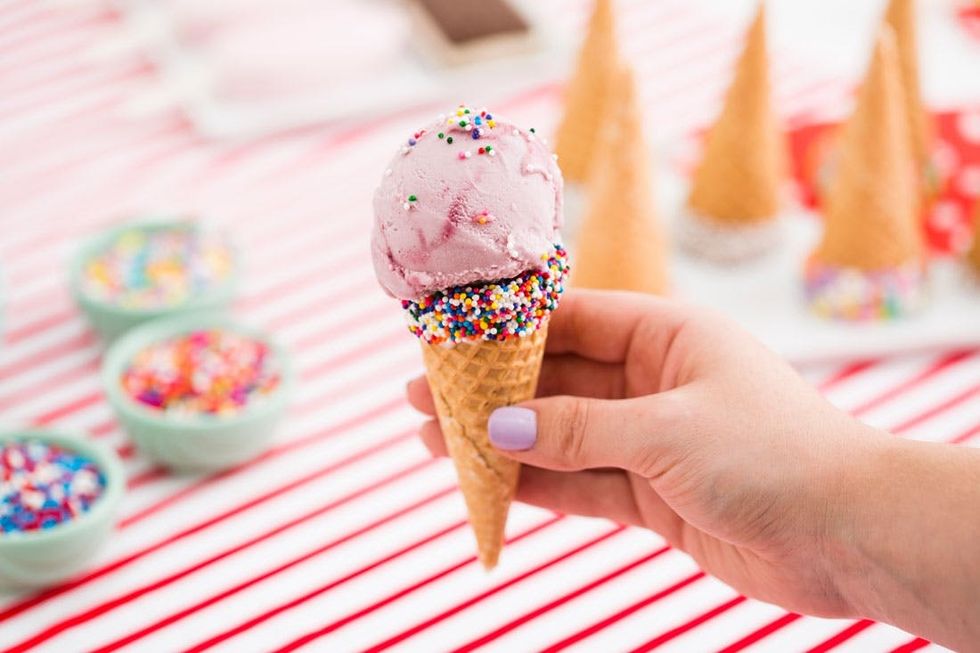 Follow along to learn how we created this summer-ready DIY frozen dessert bar.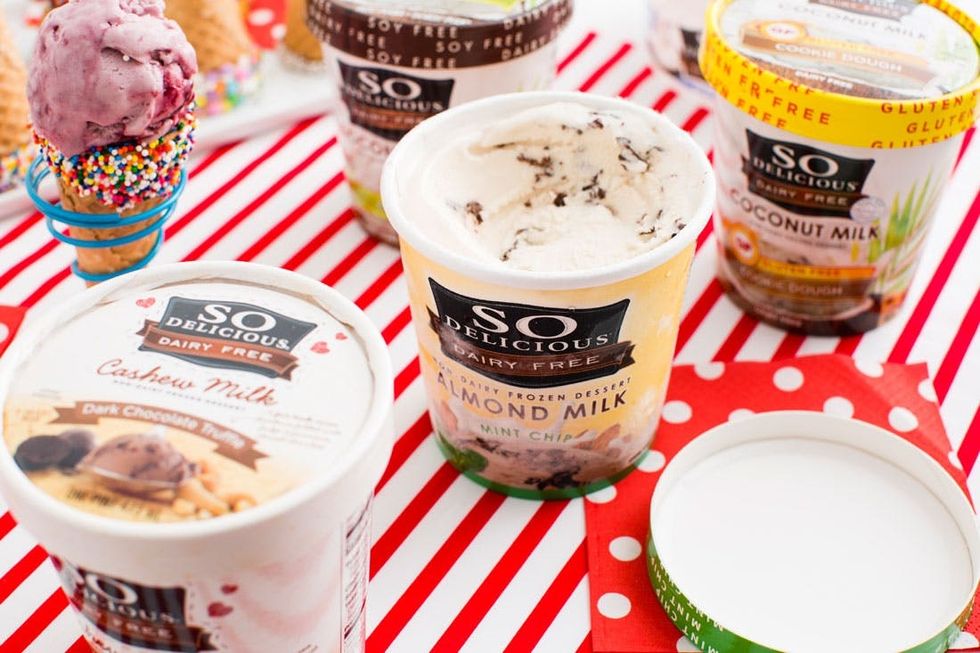 1. Cashew Milk, Almond Milk AND Coconut Milk Frozen Dessert: You read that right. Forget about whatever faux ice cream you've had up until this point — these varieties are bonkers tasty and don't disappoint.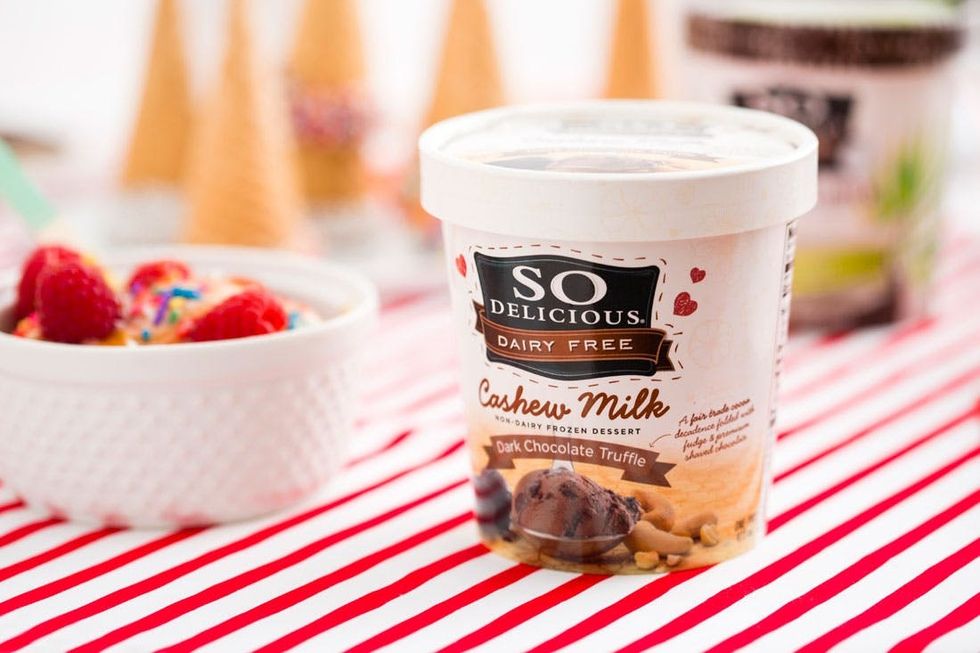 The newest dairy alternative in So Delicious' lineup is cashew milk! As if you needed another reason to be obsessed with cashews. Soy-free, gluten-free AND dairy-free, these five flavors will make all your frozen dreams come true.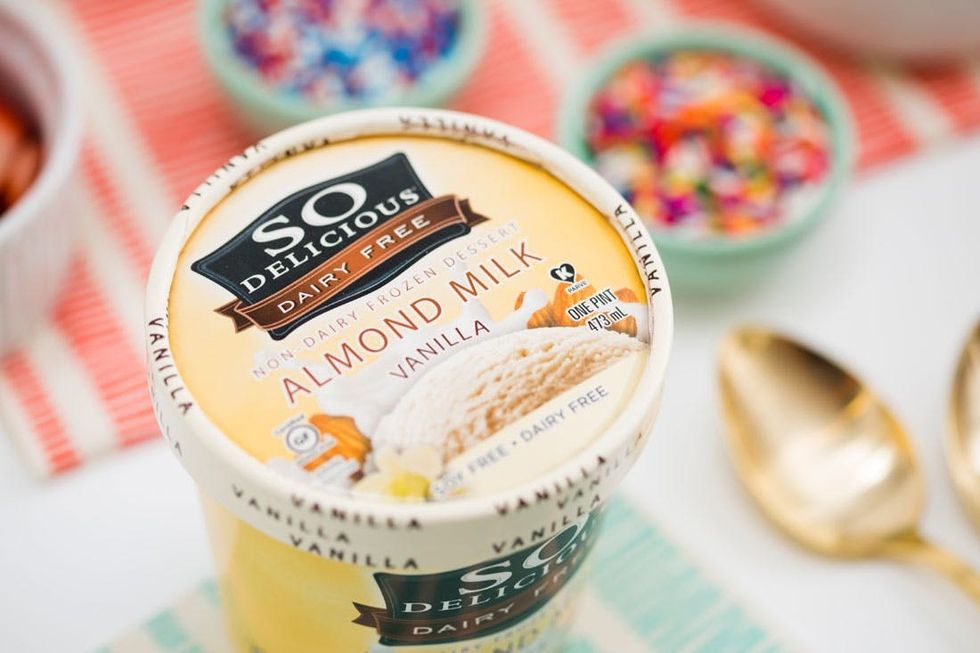 Your midnight snack staples are covered in the almond milk desserts department. Mint chip, butter pecan and mocha almond fudge are all just a scoop away.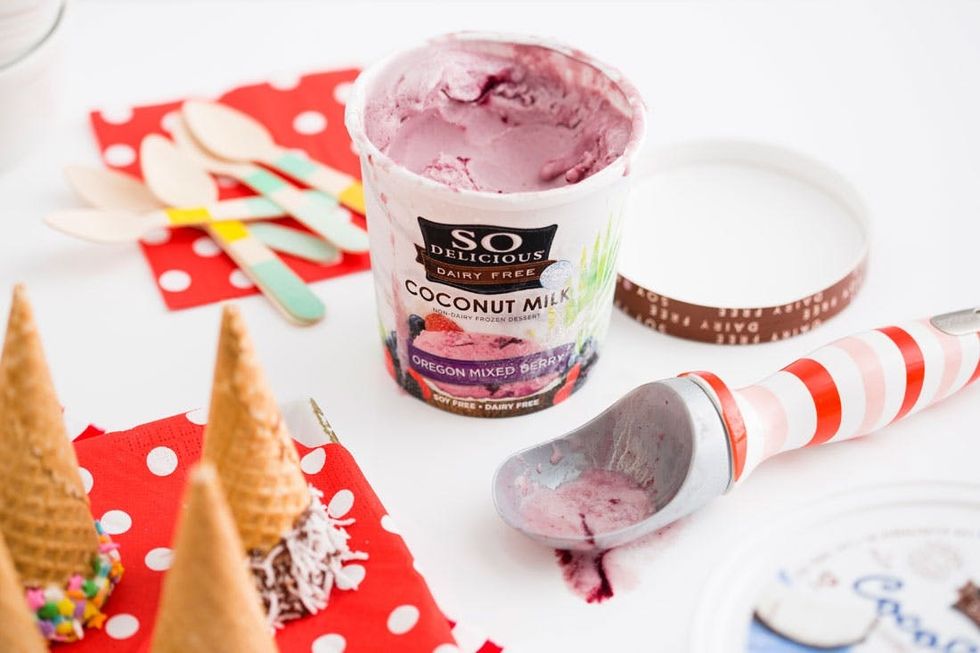 Made from non-GMO organic coconuts, So Delicious' collection of frozen coconut milk desserts hits everything you need. Fruity? Go for the cherry amaretto. Need that chocolate fix? Chocolate's got you. And wait for it, they've even got a GLUTEN-FREE cookie dough pint! WHAT?! Yes.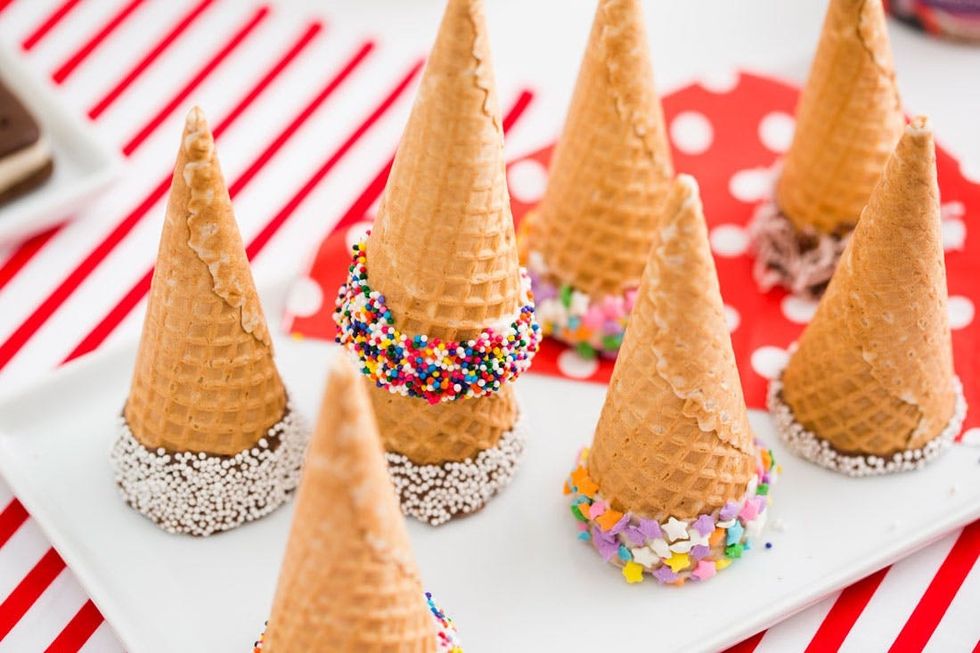 2. Vegan Chocolate-Dipped Cones: Alright, now that we've got our frozen dessert covered, where we going to put it? Instead of throwing plain old cones on a tray, take 'em up a notch by dipping them in vegan chocolate and dipping in sprinkles, nuts (as long as no one has a nut allergy!) and other toppings.
<b>Tons of Toppings</b>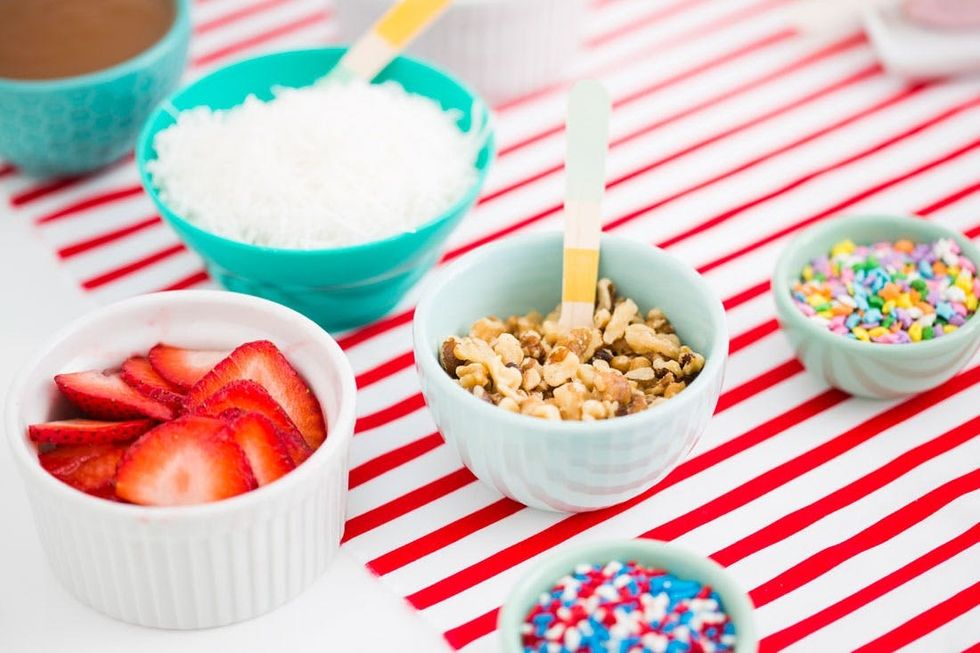 We've got fruits, nuts and sprinkles. And you know what else? A vegan take on whipped cream. Meet CocoWhip, your summertime dessert's new bestie.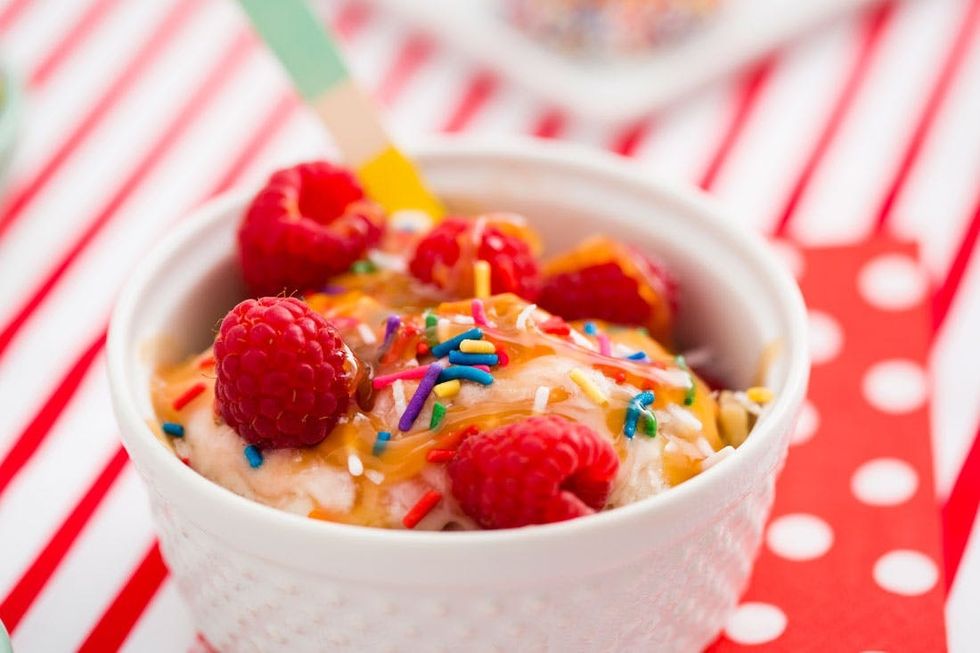 NOM.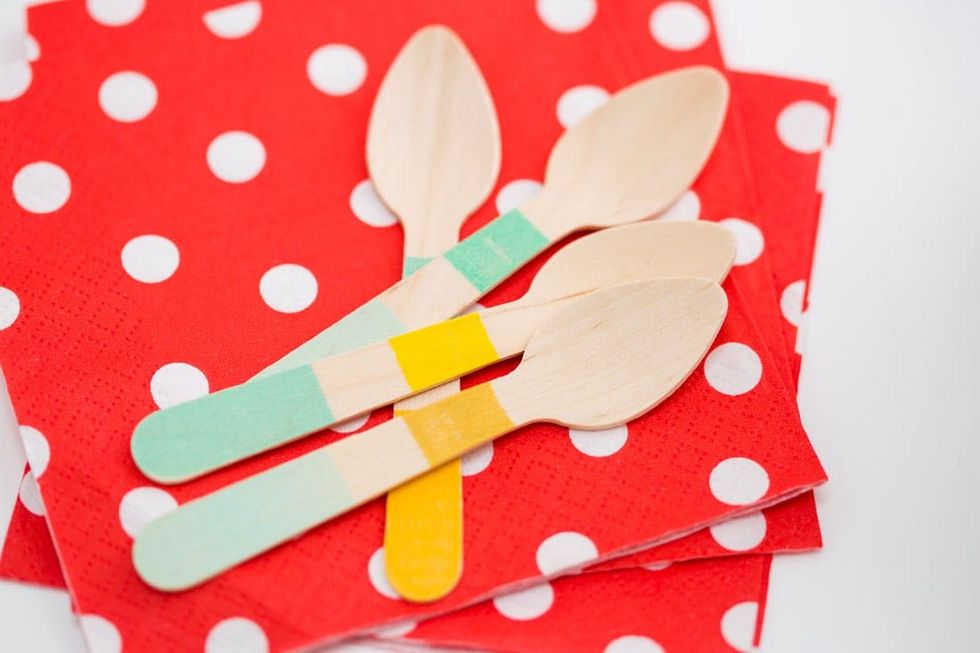 4. Extremely Cute Wooden Spoons: Of course, you've gotta have super cute bowls, napkins and… wooden spoons! Snag a handful of these in the B+C Shop for all your summer soirees.
<b>Dairy-Free Frozen Dessert Bars and Ice Cream Sandos</b>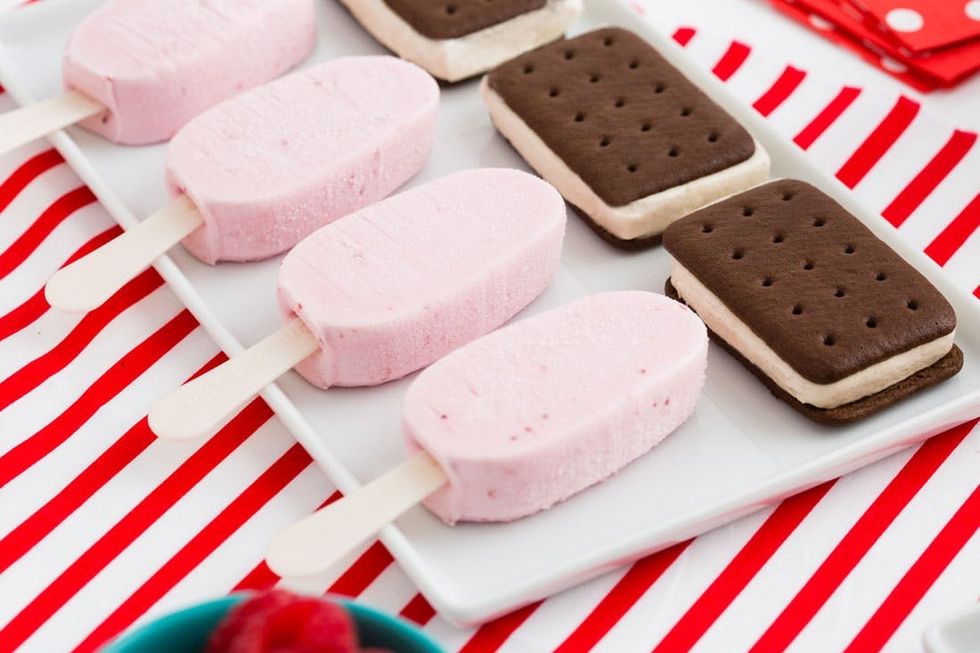 Finally, you also need some alternatives to the classic scoop. These Coconut Milk Strawberry Frozen Dessert Bars are scrumptious. They're sort of like strawberry creamsicles. So good. And I don't know about you, but I swear by a classic ice cream sandwich. These Almond Milk Mini Sandos are perfect for poppin'!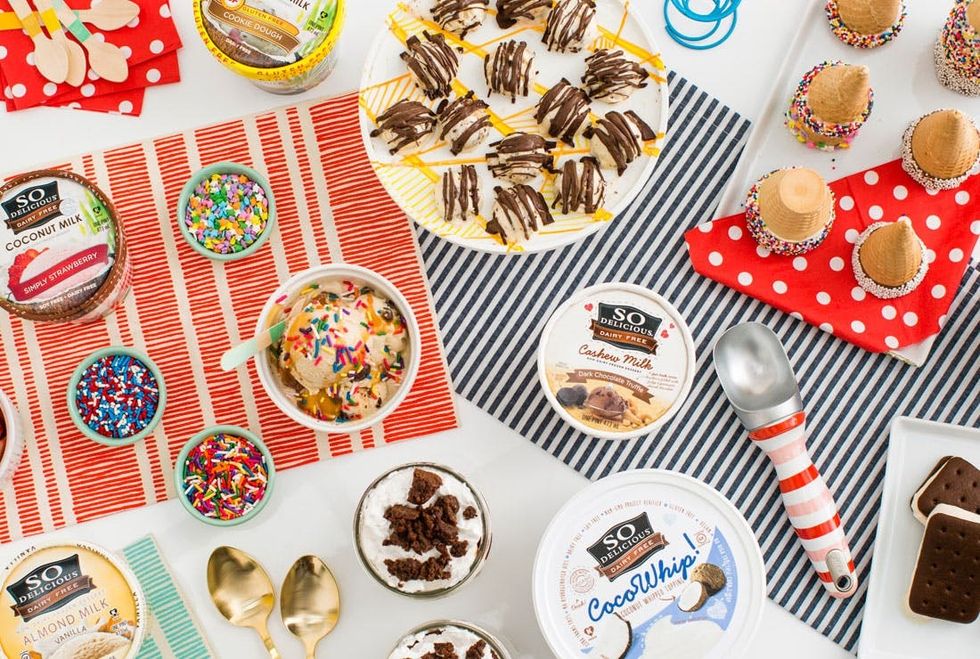 Okay, who's ready for an ice cream sundae?!
Anjelika Temple
As Co-Founder and Chief Creative Officer of Brit + Co, Anjelika Temple brings her voracious consumption of all things creative and colorful to DIY projects, geeky gadgetry finds and more. When she's not DIY-ing her heart out, you'll find her throwing dinner parties with friends or adventuring with her husband David, their daughters Anokhi and Indira, and their silly dog Turkey.
Dessert Recipes
More From Dessert Recipes