4 Things to Know About The CW's Soapy Dynasty Reboot
Aug 02, 2017
One of the most fun new shows of the fall 2017 television season is The CW's Dynasty reboot. Based on what we've seen and what the cast and creators revealed at the 2017 TCA summer press tour Wednesday, here are four things viewers can look forward to from this new take on an old series.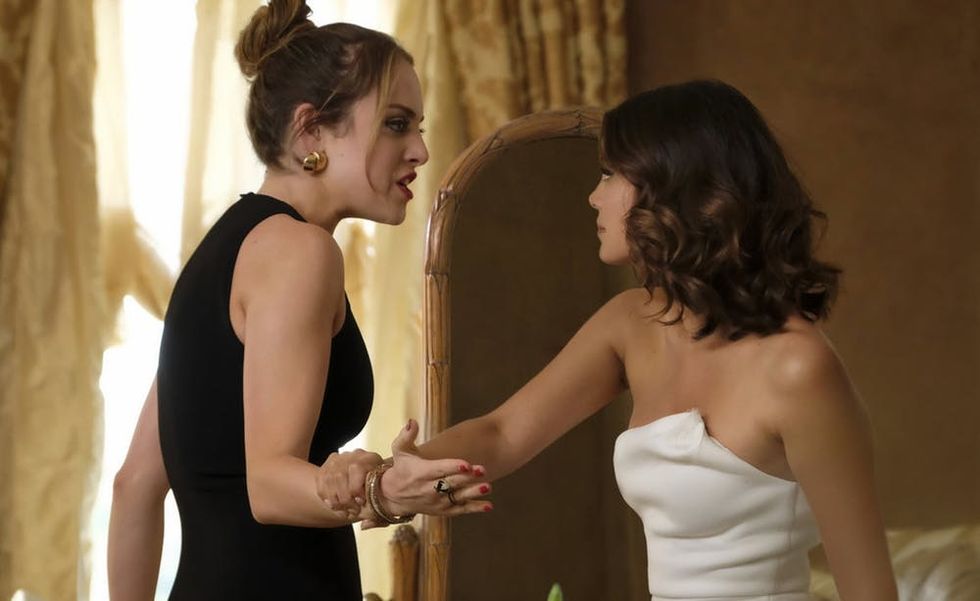 ---
1. The show is a true remake, with a twist. The new Dynasty takes all the same characters from the original primetime soap, which ran from 1981-89 on ABC, and puts a modern twist on them — for example, by giving the Carrington oil company problems like fracking and competing with new forms of energy. But the show still has the touchstones of the original: soapy drama, delicious one-liners, and, yes, the iconic fighting.
The 2017 cast members who weren't familiar with the original have definitely taken time to educate themselves about their predecessors — but they're putting their own spin on the characters too.
"I did watch quite a bit of the original Dynasty," says star Elizabeth Gillies, who plays Fallon Carrington. "But I didn't want to imitate [original Fallon, Pamela Sue Martin] … I wanted to bring my own thing to her. I think she's feisty as ever. I think she has a little more [of her mother] Alexis in her than the original Fallon. She has a biting wit and lots of sarcastic, excellent lines. I love her strength and I think that's what really drew me to the role."
Another good example of the new/old dynamic is Steven Carrington, whose sexuality was a main point of contention between him and his father, Blake, in the original series. In the update, that is no longer an issue.
"Steven is confidently gay, he's not toying with his sexuality," says Josh Schwartz. "Blake accepts him, there's no rancor in this issue. What they battle over is things like fracking and environmental causes. We sort of assume that even in some of the more conservative pockets of the South, where the show takes place, a lot of the dynamics have evolved."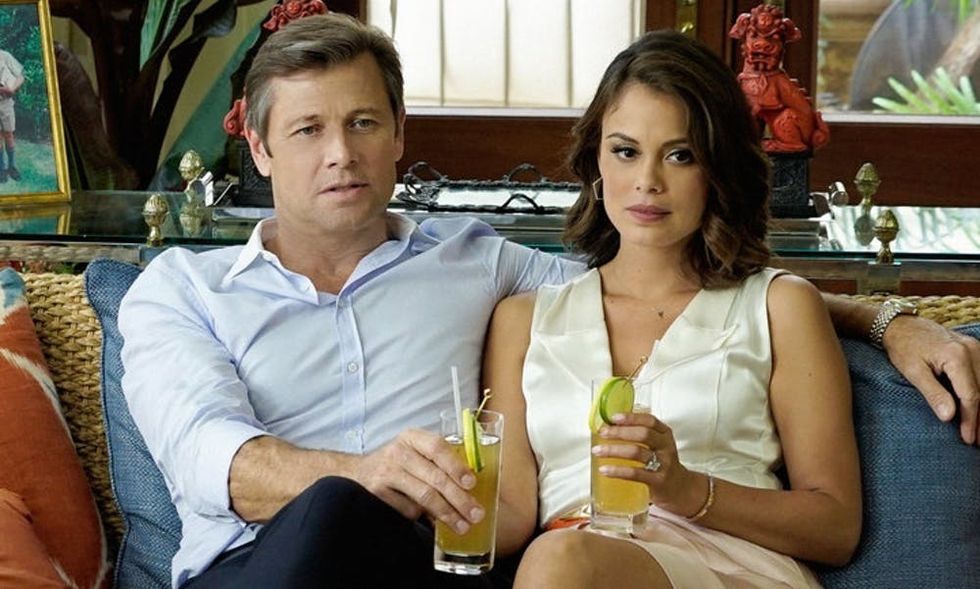 Grant Show, who plays patriarch Blake Carrington, adds, "2017 Blake can't be homophobic the way that 1983 Blake was, but he can have problems with his son not being the son that he wants him to be."
2. The show won't shy away from politics. Politics and money go hand and hand, so the show can hardly ignore that aspect of the Carringtons' lives. "We are definitely living in an age of dynasties. … Trumps or Clintons or Kardashians or Murdochs, what have you — our news is filled with stories of family dynasties, and that was really exciting to us about doing the show today," says Schwartz.
"Cristal is now originally from Venezuela, which I think is a really bold and intelligent choice for them, considering what's happening there right now, and to have that weave into the narrative in Dynasty is really exciting. To be talking about the geopolitics of Venezuela on a CW show is really exciting," adds Nathalie Kelley, who plays the updated Cristal (Flores) Carrington.
3. It's still a character drama at heart. Cristal is not the shiny, saintly character from the original series. She's ready to mix it up with Fallon over who helps Blake run his company, which is something the creators really enjoyed writing.
"Part of the fun was being able to take a character like Cristal and dirty her up a little, give her this backstory — you're not always sure what her motives are, and that makes her a more interesting character to play with," says Schwartz.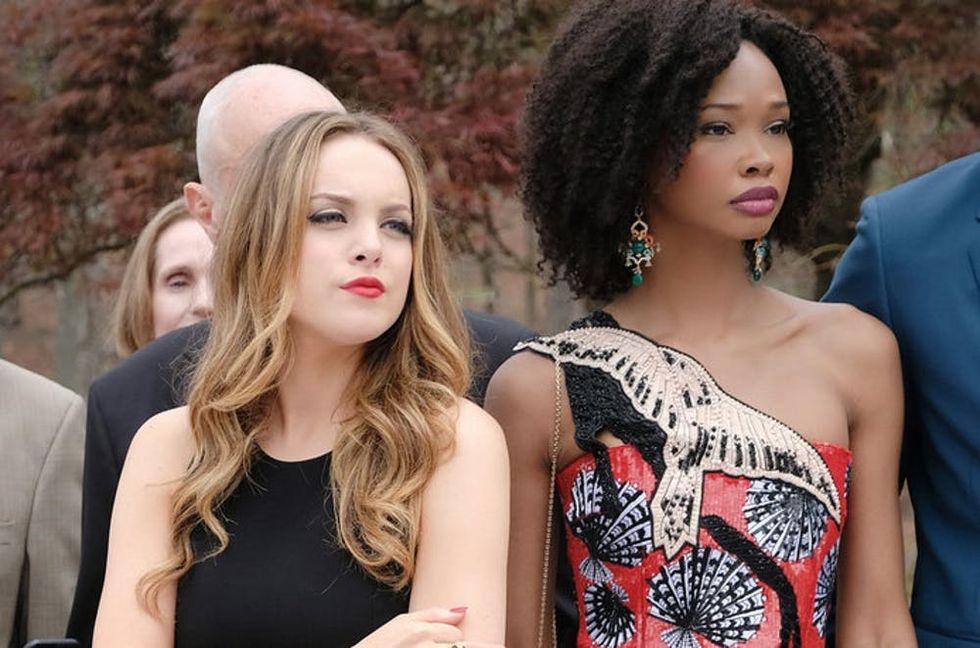 "Both [Cristal and Fallon] are ambitious career women. They're not only vying for Blake's love as a father or a husband; they want to run this business. To have Cristal have a more senior role in the company, not just be the secretary, but somebody who actually contributes to the company in a powerful way, makes her more credible as vying for control of the company with Fallon."
Co-creator Stephanie Savage adds, "The original show really found itself when it had [Cristal and Alexis] sparring with each other, so this dynamic allows us to start that kind of dynamic right away."
4. Get ready for DRAMA. The show kicks off the Fallon-Cristal tension right away, complete with a gown-ripping fight on Cristal's wedding day.
Kelley and Gillies say initially they were hesitant about the fight scenes, but it wasn't long before they really got into it.
"If modern women today are fighting, rightly so, for equal pay and to be treated equally, why can't we also have the right to fight like men? They're no less masculine and manly after getting into a fight, so why should we be less feminine or less as women [if we fight]?" she says.
Dynasty premieres Wednesday, Oct. 11 at 9pm ET/PT on The CW.
Which new fall show are you most excited to watch? Tell us @BritandCo.
(Photos via The CW)
Andrea Reiher
TV critic by way of law school, Andrea Reiher enjoys everything from highbrow drama to clever comedy to the best reality TV has to offer. Her TV heroes include CJ Cregg, Spencer Hastings, Diane Lockhart, Juliet O'Hara, and Buffy Summers. TV words to live by: "I'm a slayer, ask me how."
TV