How to Build a Completely Green Beauty Routine, One Makeup Product at a Time
Aug 09, 2017
The green beauty industry has been thriving as of late, with the demand for more options of quality products at a new high. A recent Harris Poll survey found that 55 percent of women scan the labels for worrisome ingredients before purchasing, whereas nearly half believed that purchasing all-natural skin care and makeup is important. But for all the increased popularity, many beauty enthusiasts are concerned that "clean" makeup just won't compare to their cult favorites. Well, fear not: As a professional makeup artist with a passion for natural beauty, I know just which brands deserve a place in your vanity.
Below, I'm sharing my personal kit in full detail. There is something for everyone that will make you want to flip your go-to products for clean beauty buys.
---
Skin Prep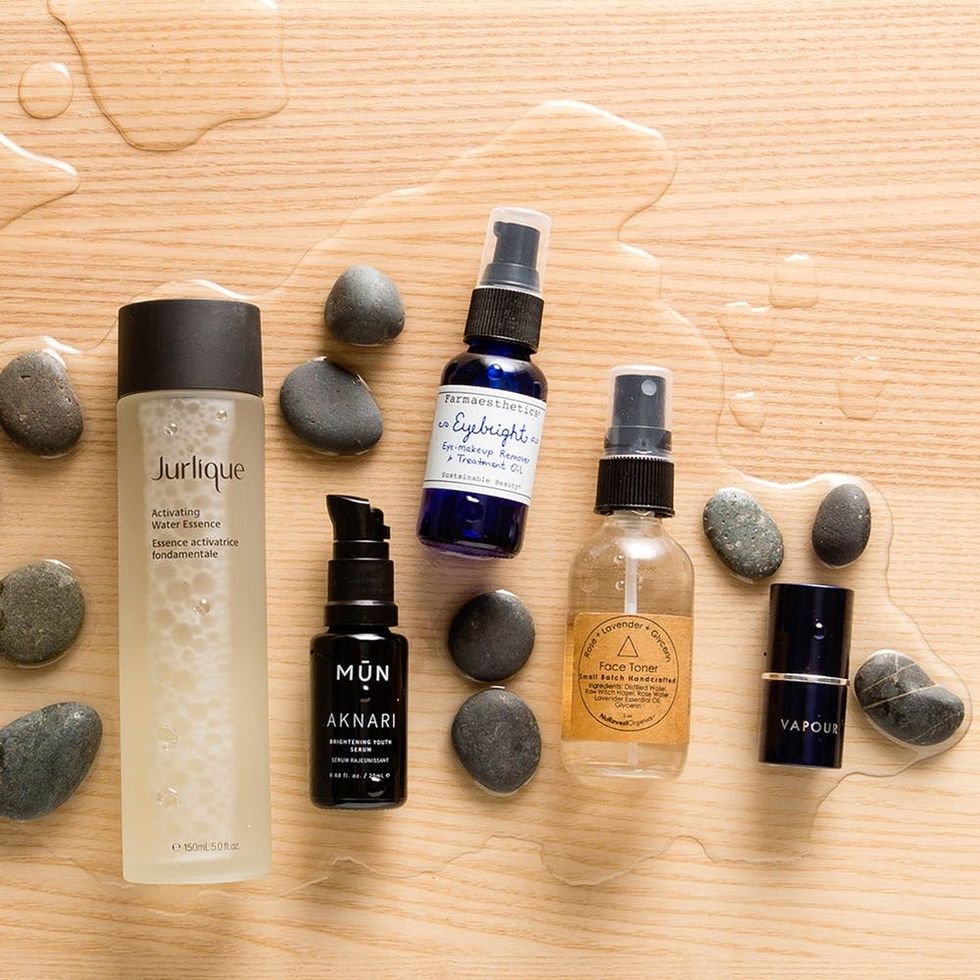 Minimal Pores + Brightening: NU Reveal Organics  Face Toner ($28) Apply to a clean face to restore your skin's natural pH levels.
Improved Moisture Retention: Jurlique Activating Water Essence ($55) Spray on before your serum or moisturizer. The organically grown marshmallow root extract will help your makeup settle evenly and radiantly.
Anti-Aging + Brightening:Mun Aknari Brightening Youth Serum ($95) Rose Oil, prickly pear seed oil, and argan oil blend together to even, enhance, and brighten your skin.
Soothed + Brightened Eyes:Farmaesthetics Eyebright ($26) Softens lines, reduces puffiness, and brightens the most delicate part of your face.
Hydrated Lips: Vapour Lux Organic Lip Conditioner ($20) Apply to your lips to ensure a kissable pucker.
Primer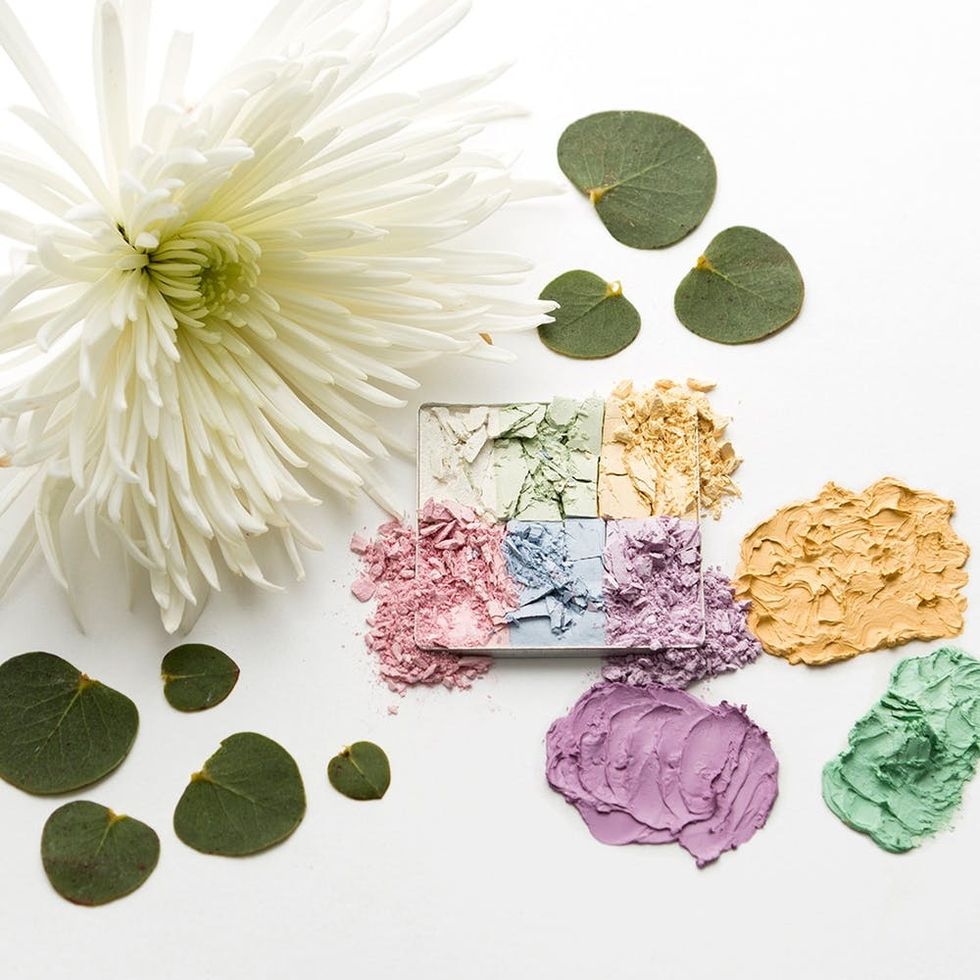 Color Correction:Bodyography Foundation Primers ($31) These user-friendly formulas are packed with antioxidants, vitamins A and E, jojoba and grape seed oil, and come in a variety of hues designed to enhance any skin tone.
Brightening Pen:Erin's Faces Brightening Eye Pen ($26) This pen can stand alone as a highlighter, but works great as a priming, brightening agent that you can build on.
Diffused Lines:Vapour Organic Beauty Soft Focus Skin Perfecting Primer ($56) Instantly balances skin, smooths texture, and diffuses lines.
Defeats the Crease: Bodyography Canvas Eye Mousse ($20) No one loves cakey creases, so apply a thin layer of this mousse to prep and prevent that unwanted build-up.
Smoothes + Brightens:Fitglow Eye Bright ($36) The light yellow undertone in this highly concentrated formula will treat rather than just conceal unwanted dark circles and fine lines.
Foundation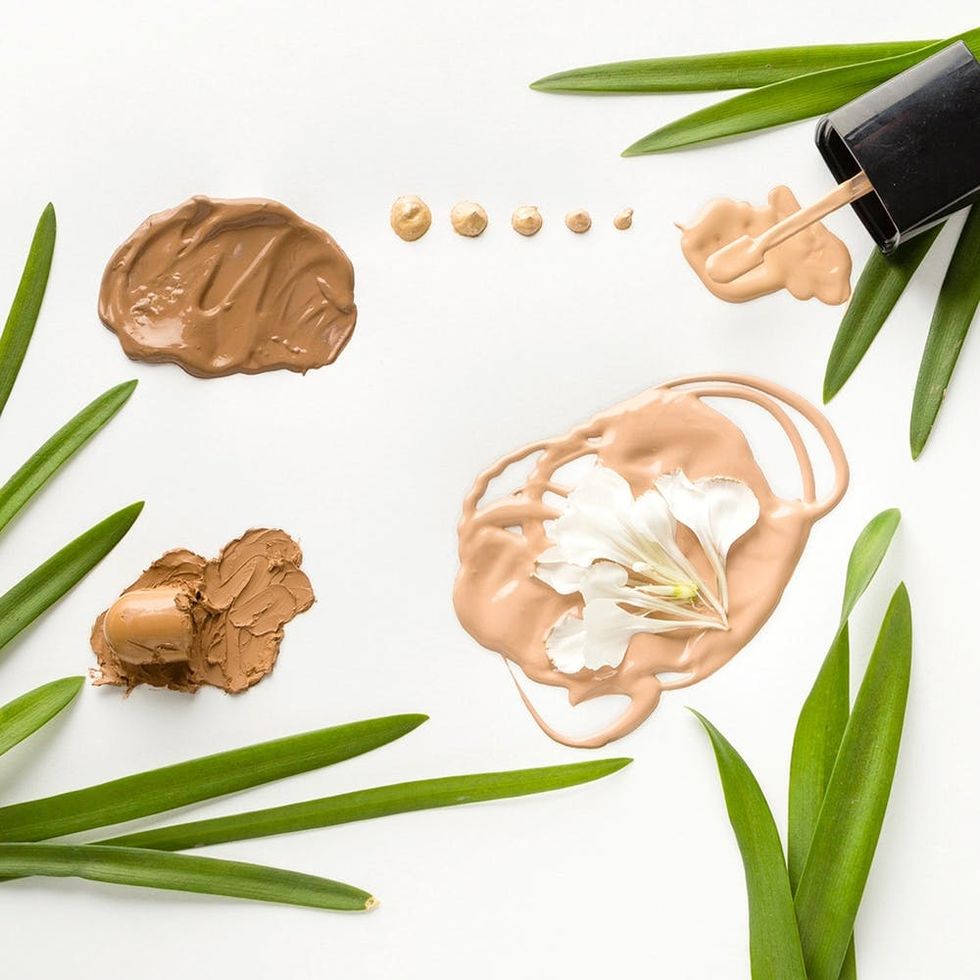 Covers + Corrects:Juice Beauty Phyto-Pigments Flawless Serum Foundation ($42) Perfect for achieving radiance on mature or dry skin.
Enhances Natural Glow:Vapour Atmosphere Soft Focus Foundation ($50) Infused with frankincense, tulsi, lotus, and camellia herbs, this blend is lightweight and has a hydrating satin finish.
Matte Finish: NU Evolution Complete Coverage Foundation ($47) If you're used to fuller coverage and like a soft matte finish, then this is the pick for you.
Sensitive Skin Friendly:Hush + Dotti Organic Liquid Foundation ($48) Formulated with aloe and chamomile, this lightweight solution works for anyone who may have sensitive skin.
Dewy Hydration:Ilia Sheer Tinted Moisturizer ($42) If a foundation feels like too much of a commitment, then a hydrating tinted moisturizer that you can easily apply with your fingertips will be your go-to.
Extra Coverage + Airbrushed Finish:AU Natural Semi-Matte Powder Foundation ($32) With a gentle tap on the pump, you'll dispense the perfect amount of powder foundation that blends flawlessly with a powder brush, leaving your skin with a semi-matte airbrushed finish.
Makeup Artist Must-Have:Bodyography Silk Creme Foundation 8 Well Palette ($58) This palette is definitely designed for a pro or beauty maven who loves to be able to blend custom colors that she can use as a foundation, contour, and highlighter.
Plant-Based Skin Treatment: Fitglow Vita-Active Foundation ($55) This gem of a foundation provides soft coverage, great for the minimalist who wants to get rid of imperfections without the feel of a base.
Full Coverage + Powder Finish:100% Pure Fruit Pigmented Healthy Foundation ($46) This formula is for the gal who is looking for the full package. Get ready for long-lasting coverage that results in a smooth, flawless glow.
No Makeup, Makeup: tréStiQue Moisturize + Blend Tinted Face Stick ($34) Glides on silky smooth and dries to a radiant, powdery result. The pigment is lightweight yet covers and blends perfectly — a great buy for a less-is-more look.
Setting Powder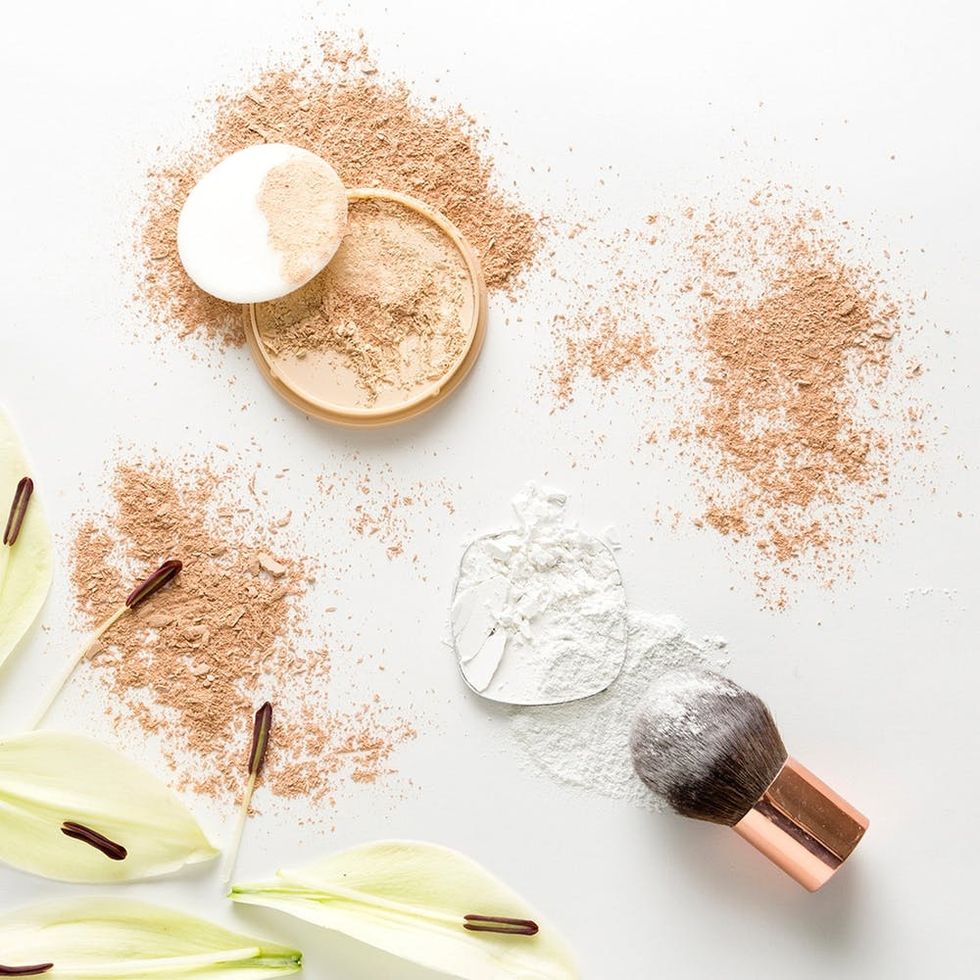 Brightens + Balances: W3ll People Bio Brightening Invisible Powder ($22) Great for absorbing excess oil and delivering a subtle shimmer at the same time.
Silky Soft + Yogi-Approved: Erin's Faces Aloe Powder ($25) This translucent powder works on light, medium, and tan skin tones and can last through a day filled with outdoor activities.
Buildable Base: NU Evolution Loose Powder Foundation ($39) Technically, this is a foundation, but the formula is fine enough to use as a finishing powder over your choice of base or tinted moisturizer.
Ultra-Fine Light Diffusing: Juice Beauty Phyto-Pigments Light Diffusing Dust ($30) This dust delivers sheer, luminous results with its formulated plant-derived pigments. The soft, fine powder can also stand alone as a light foundation.
Versatile Coverage:Bodyography Every Finish Powder ($30) Apply with a powder brush for a light look or with a wet sponge for medium to full finish.
Bronzer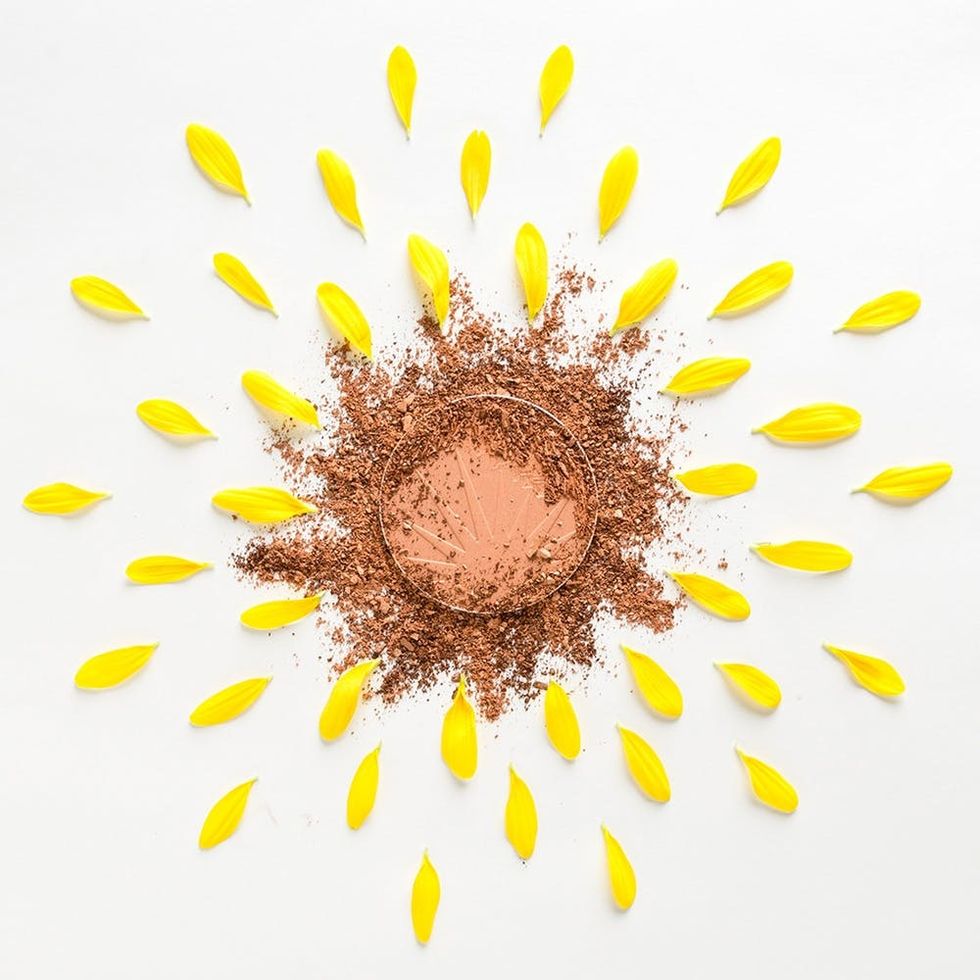 Naturally Sun-Kissed + Redness Correction: W3ll People Bio Bronzer Powder ($22) This formula is designed to help cancel out redness while slightly warming your complexion.
Subtle Matte Glow: Erin's Faces Sunkissed Mineral Bronzer ($24) With a matte and neutral glowing finish, this bronzer will leave you looking like you spent a day at the beach.
Simple Shimmer: NU Evolution Bronzer ($45) For the gal who loves low-key warmth and a slight shimmer without all that glimmer. This bronzer goes on smooth and looks great on fair to medium skin tones.
Blush + Bronzer Combo: Fitglow Illuminating Blush Bronzer ($35) A lazy gal's go-to, this illuminating peachy-bronze powder gives you a radiant blush tone.
Airbrushed Look: Au Naturale Pure Powder Bronzer ($25) This powder bronzer comes in three shades, spanning from warm to neutral and a shimmering gold. The formula goes on smoothly and adds that airbrushed look that you see all over Instagram.
On-the-Go Tan: tréStiQue Color + Contour Bronzer Stick ($34) Apply as a stand-alone pop of radiance, or double down by layering your favorite powder over it for a last-all-day effect.
Blush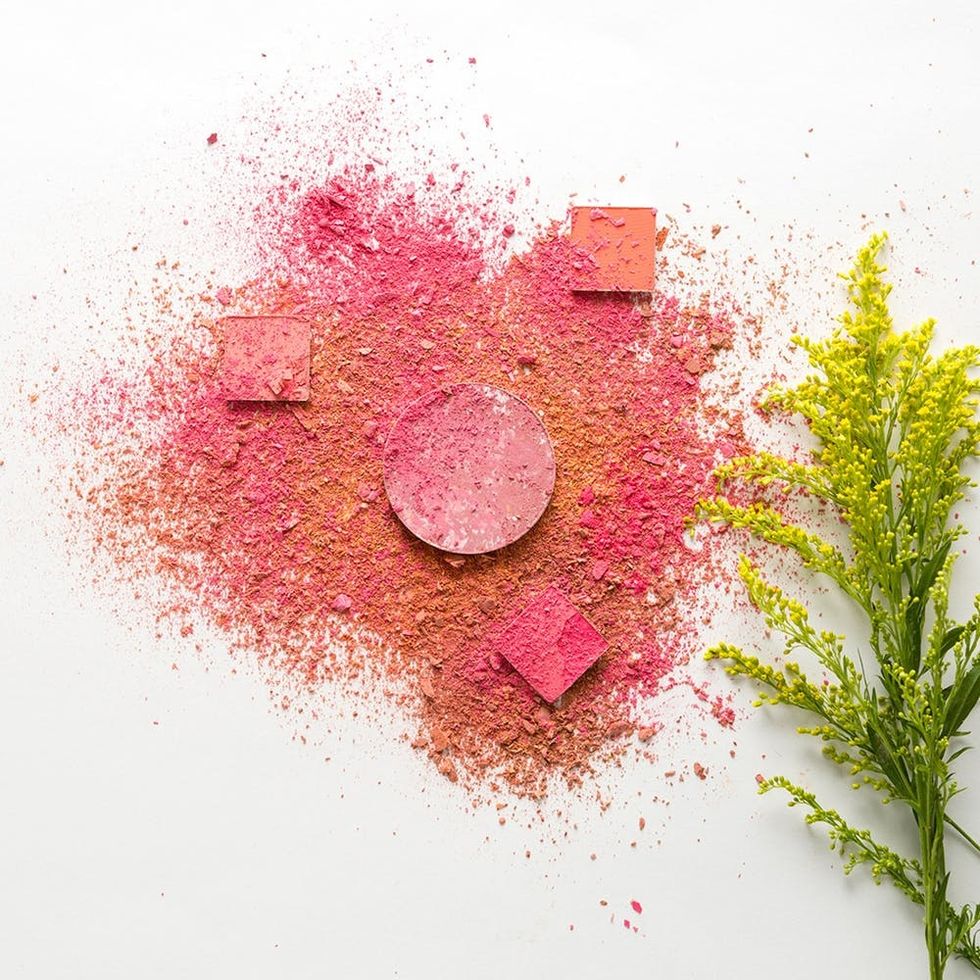 Blendable + Hydrating: Kjaer Weis Cream Blush ($56) This is packed with hydrating oils that come in a variety of pigments to flatter any complexion. Blend with your fingers for on-the-go style.
Shimmer Flush: AU Natural Pure Powder Blush ($25) Choose from a wide variety of hues for a perfect end-of-summer shimmer.
Power-Packed Pigment: Erin's Faces Mineral Blush ($16) These beauties have a high-impact matte finish that requires more finessing to blend but is totally worth the extra time. The shimmer is just enough to give a reflective finish without feeling glittery.
Multitasking Lip, Cheek + Eye Tint: W3ll People Nudist Multi-Use Color Duo ($25) Tones can stand alone or be blended together to achieve multiple styles. The creamy, powerfully pigmented pods are beautiful on all shades.
Non-Irritating and Gentle: Fitglow Mineral Blush 5 Shades ($35) Skin care and a blush all in one. Yes, please! Great for sensitive, acne-prone skin — these shades apply easily for a natural flush.
Highlighter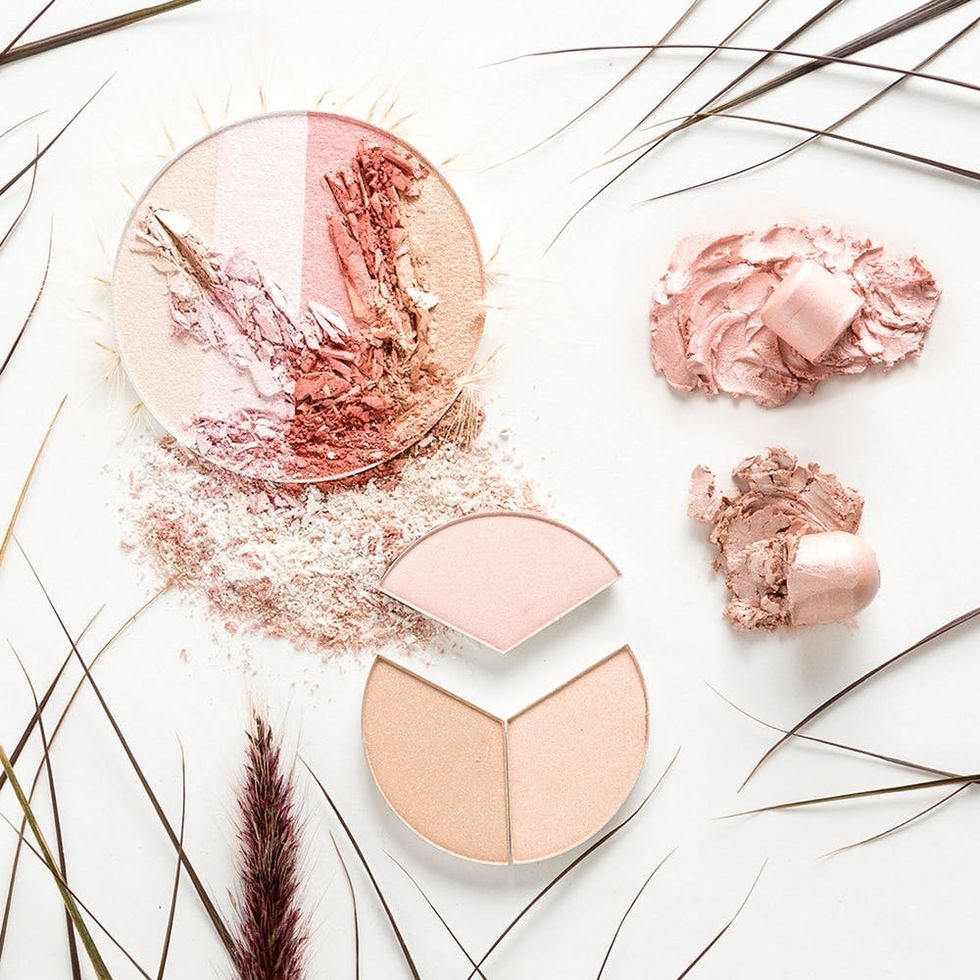 Illumination With Soft Finish: AU NAtural Pure Powder Highlighter ($25) The loose shimmering powder is potent enough to be the only product you tap onto your face to get a naturally luminous glow.
Instantly Glow: 100% Pure Luminating Cream ($26) These little wonders may look simple, but they deliver amazing results.
Essential-Oil-Based Highlight:Vapour Organic Beauty Halo Illuminator ($36) Keep this stick by your side to apply any time your skin needs a little pick-me-up. The satiny finish is simply stunning, while the oils in this formula make it feel more like a skincare treatment than a beauty buy.
Multitasking Shimmer:Erin's Faces Magic Dust + Erin's Faces Fairy Dust ($18) These babies are for the gal who is not afraid of that OTT glow. The pigments in these two blends somehow perfectly balance glittery shine with playful sophistication.
Sheer + Subtle Reflection:Hush + Dotti Luminizing Highlighter ($42) The subtle blend of saturated hues pop when gently dusted onto your skin to deliver the perfect amount of reflective powder.
Concealer
Ultra-Pigmented:Vapour Illusionist Concealer ($24) This concealer comes in an insanely huge variety of colors for all tones and types. The balanced formula is highly pigmented to cover, brighten, and smooth while hydrating your skin.
Color Correcting + Concealer Duo:Bodyography Cover + Correct Concealer ($30) Officially one of my favorite concealers for deep complexions because they nailed the undertones like a boss. Each pod has its own color-correcting cream with the concealer to match.
Anti-Aging Corrects + Treats:Saint Concealer ($25) For a fuller coverage that is still silky enough not to leave your skin with that dreaded cake-like crease. If you have dark circles, this formula will be your new BFF.
Buildable Coverage:NU Evolution Camouflage Cream ($32) Here is another line with a wide variety of shades to choose from. The smooth, velvety texture glides on and blends beautifully.
Lightweight Skin Enhancer:RMS UN Cover-Up ($36) This little miracle worker will help to brighten, treat, and conceal by bringing your best skin forward rather than just covering up your perfectly imperfect trouble spots.
eye Shadow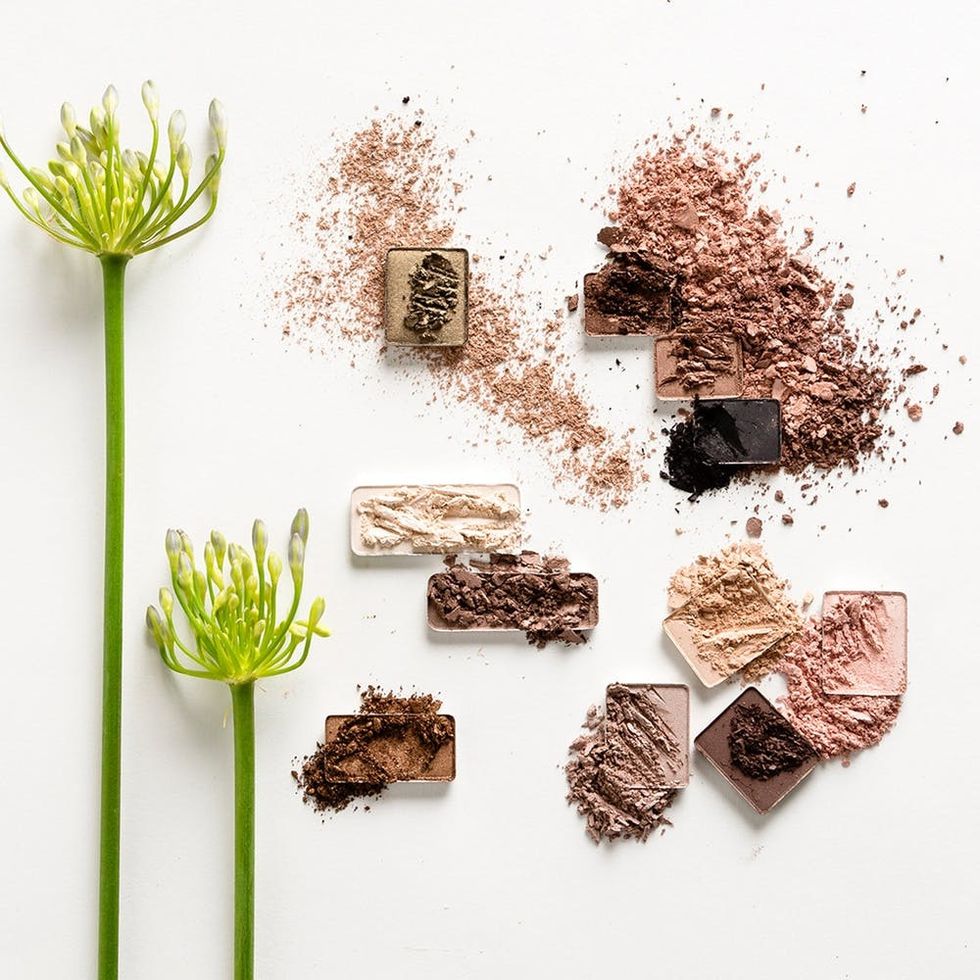 Satin Finish Great for Brown + Hazel Eyes:Saint in the Limelight ($47) Each shade in this palette is absolutely radiant and perfectly pigmented.
Velvety Rich for All Eye Colors:Saint Blessed in Burgundy ($47) Wonderful for a natural blushing look on any skin type.
Flattering Hues for a Sultry, Natural Style:100% Pure Pretty Naked II ($46) This palette is totally wearable and has enough shadows to create a day and evening look all in one.
Palettes for All Eye Colors: Vapour Artist Eye Palette ($46) Cream shadows take a bit of getting used to, but if you would rather use your fingers for application, this formula is fool-proof.
Customizable Mineral Palettes: Erin's Faces Mineral Shadow Trio ($34) You can create any trio of shadows that pack a punch with their perfect pigments.
Eye Liner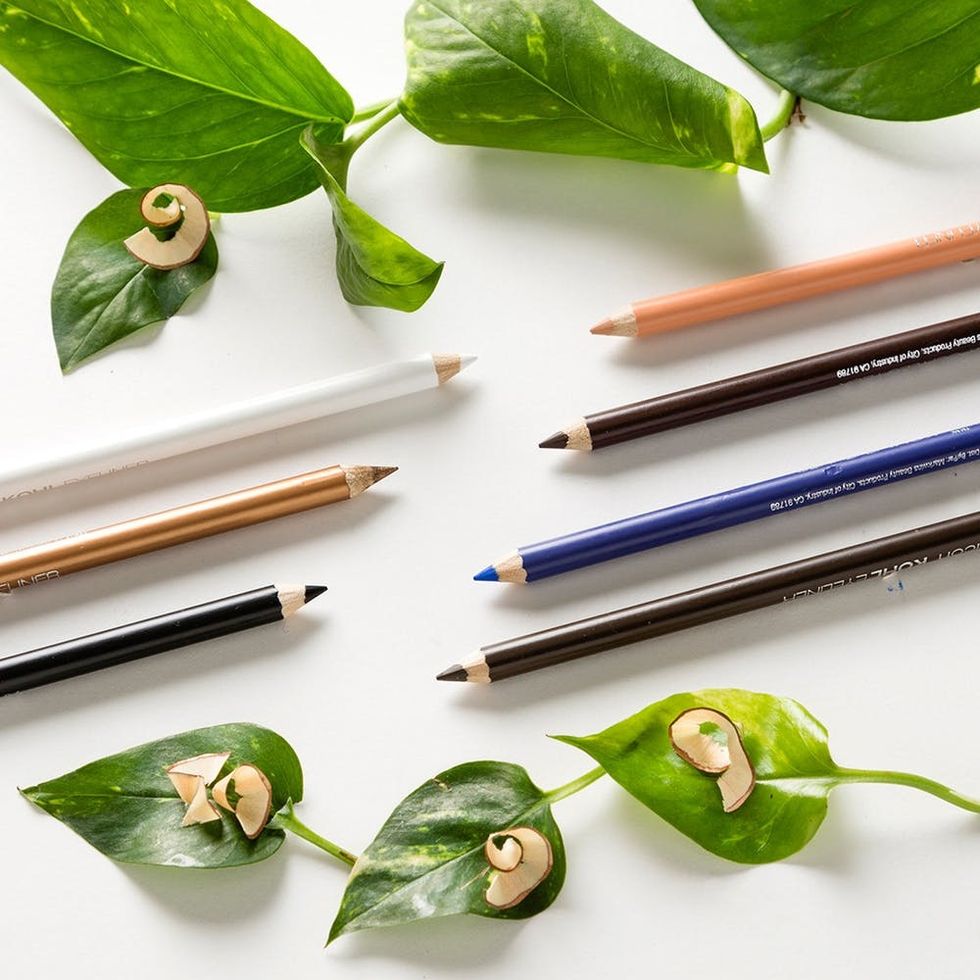 Precise Application: Hush + Dotti Liquid Liner ($26) Every gal needs a liquid liner, even if you have to practice. The good news is the applicator on this baby is so user-friendly, and the formula goes on smoothly, lasting all day.
Water-Resistant Flake-Free Formula:Erin's Faces Cream Eye liners ($18) The nice thing about cream liners is that they tend to be a little more flexible than a gel, giving you more time to work things out before they dry.
Smudge-able Liner:Vapour Organic Beauty Mesmerize Eyeliner ($20) This pencil is great to get an intentional smudge but won't bleed and smear on its own. Once you get your desired look, the long-lasting coconut-infused formula will hold all day and night.
Matte Finish for Sensitive Eyes: Hush + Dotti Gel Liner ($24) The professional-grade, matte gel liner applies beautifully, not to mention is long lasting and water resistant. Apply with your favorite liner brush for any desired look.
Versatile Velvety Duo:Bodyography Gel Eyeliner Duo ($24) On one side is a rich black and the other a warm brown — either way, you can't lose. Apply for a precise graphic look or blend to create a softer line.
Brows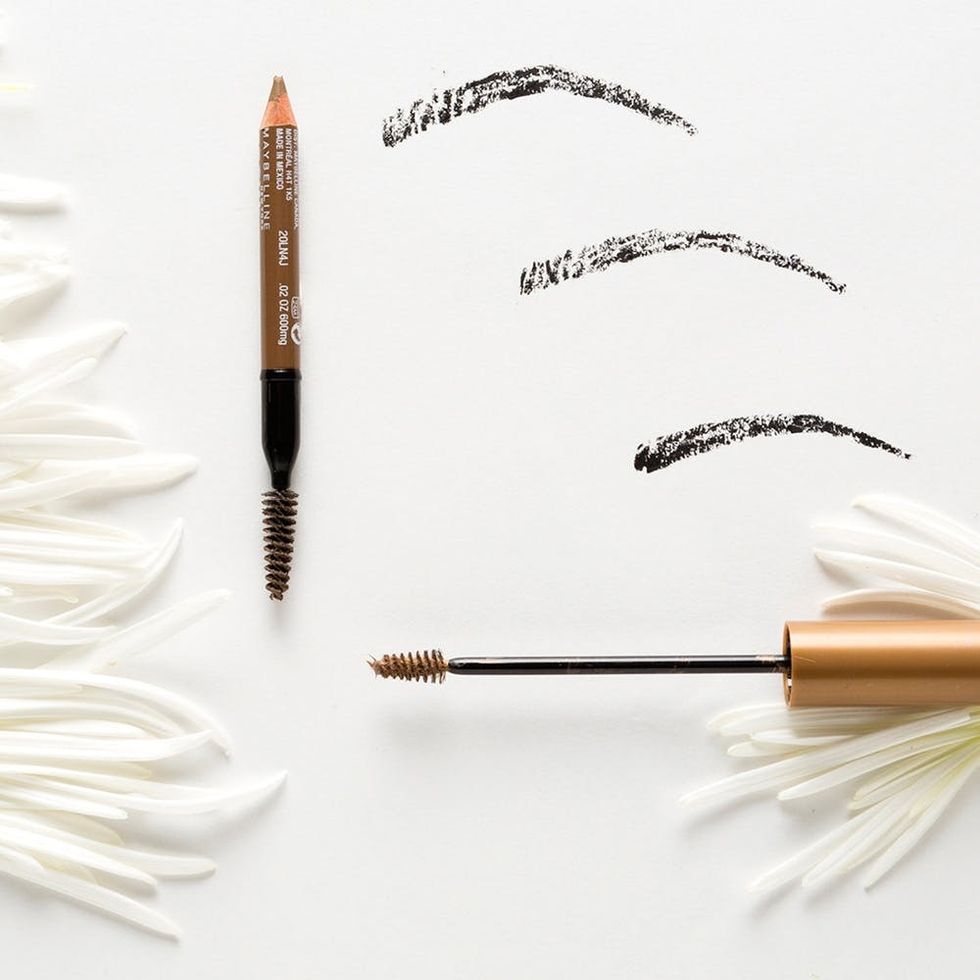 Matte Powder Trio for All Hair Colors:Bodyography Essential Brow Trio ($20) Extremely blendable, long-wearing, and totally customizable brows are a few strokes away with this palette.
Lightweight Fiber Formula: 100% Pure Green Tea Brow Fiber Brow Builder ($22) To say this is user-friendly would be an understatement. The gel is lightweight and sweeps on effortlessly with a small wand for precision application.
Treatment for Brow Growth: Jane Iredale Pure Brow Gel ($19) The powerfully rich pigment glides on to transform your brows thanks to the slightly larger wand. Bonus: The vitamin-rich formula will help your brows grow fuller.
Blendable Formula for Light to Bold Brows: Saint Brow Pencil ($20) If you prefer more application control that allows for bolder lines, then this pencil is a must.
Defines, Plumps + Blends: tréStiQue Define, Sculpt + Set Brow Pencil ($25) One side of this treasure is a triangular-shaped pencil that helps you shape and define your brows, while the other end has a tinted gel wand to blend and plump.
Mascara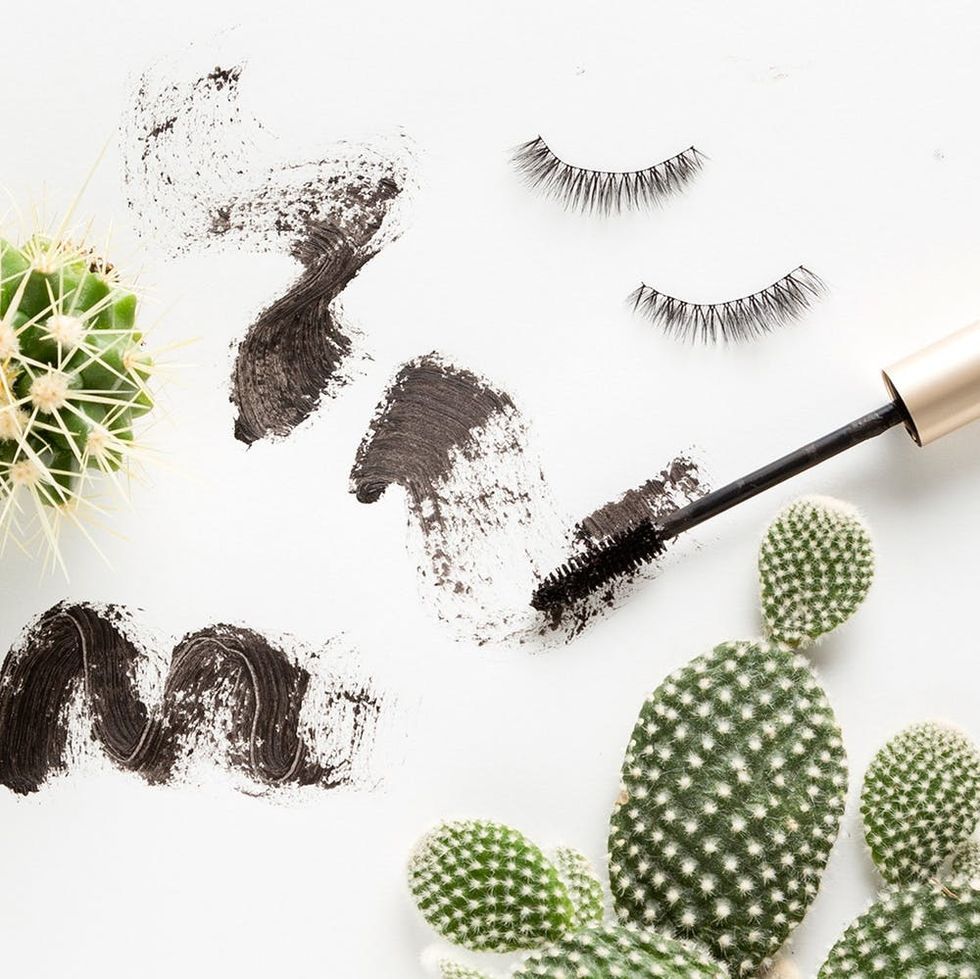 Mascara to Achieve Any Look: W3LL People Expressionists Mascara ($22) You can get it in pops of color or traditional black.
Coats + Conditions While Separating: 100% Pure Mascara Black Tea ($26) This formula is super hydrating and gives your lashes a naturally bold look for everyday wear.
Lengthens + Adds Volume:Kjaer Weis Mascara ($38) The wand on this mascara makes application super simple, while the formula has enriching oils that make for a clump-free, ultra-lengthened look.
Water-Resistant Formula:Hush + Dotti Mascara ($24) Water-resistant mascara is hard to find in clean makeup land, which is why this holy-grail product is a must-have. We all have those occasions where we need to prepare for waterworks.
Hydrating Formula: NU Evolution Mascara ($28) The pigment is such a deep black and is incredible for creating bold, dramatic, fluttering lashes.
Super Volume + Length While Promoting Growth:Fitglow Good Lash ($26) If volume is your thing, you'll love this mascara, and the best part is, this mascara is designed to enhance growth!
Lipsticks + Liners
Precise Definition:Bodyography Lip Pencil Collection ($13) It's important to have at least one or two go-to liners that you can use for bold lipstick-appropriate moments in life. You can shape, define, and create a base to help your lip hue last longer with this line.
Sheer Hydrating Pigment: Hush + Dotti Lipstick ($24) The choice of colors for these beautifully pigmented lipsticks seems endless, but the coverage is second to none.
SPF 30 Long-Lasting Shimmer: Suntegrity Lips ($28) During outdoor events, it's important to have a SPF protection for your precious pucker.
Powerful Pigments That Sooth: NU Evolution Lipstick ($30) The pigments on this line are no joke. You can apply as a stand-alone hue or put on and then slightly dab off for a perfectly stained pout.
Luscious Liquid + Plumping: Vapour Organic Elixir Plumping Lip Gloss ($24) This product stays on heavy rotation for almost every client I have. The pigments are gorgeous and solid enough to stain your lips even after the glossy finish has worn off.
Miscellaneous Must Haves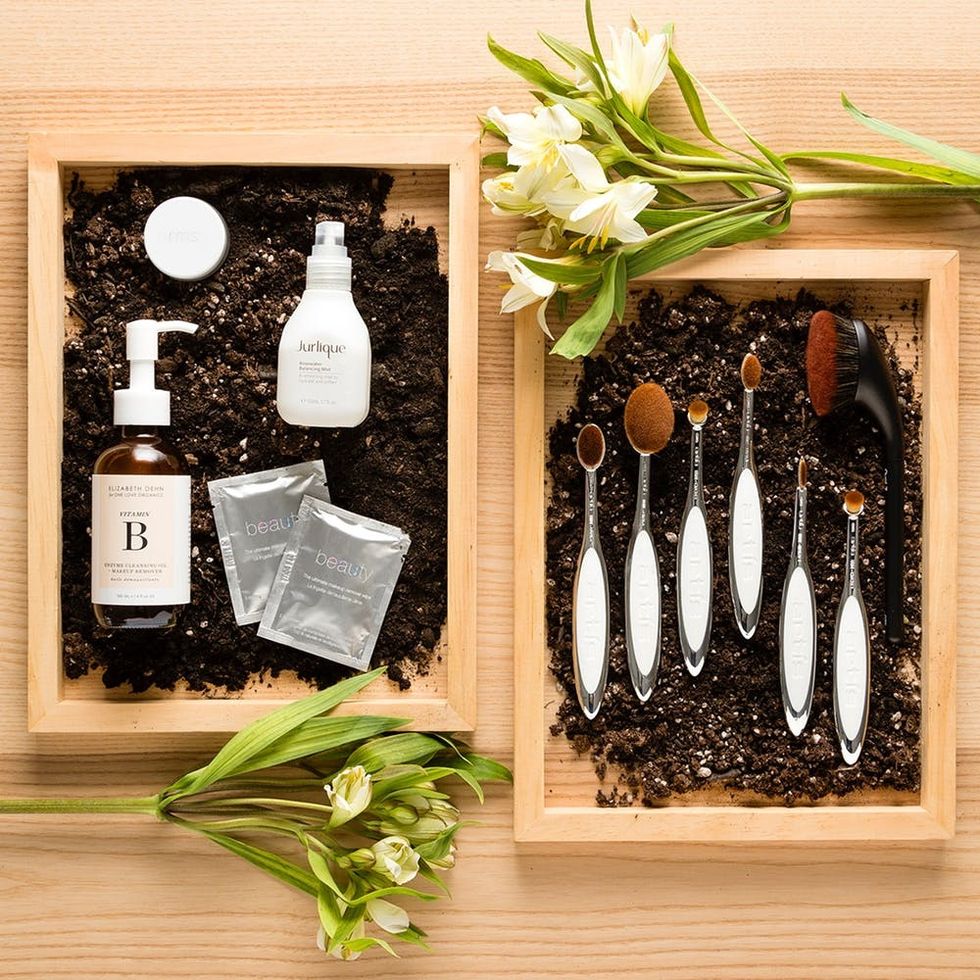 Lazy-Gal Face Wash:RMS Coconut Oil Wipes ($16) Makeup wipes can actually make your skin worse if you're not using a line that is safe and gentle on your skin. This formula not only works to clean and purify, but it smells amazing and feels so fresh.
No Residue Clean-up: One Love Vitamin B Cleansing Oil + Makeup Remover ($42) When you need to correct any makeup mistakes, having a pointy cotton swab and solid makeup remover at the ready is clutch.
Light-Reflecting Mixer: RMS Master Mixer ($38) Turn any product powder or cream into a slightly shimmering, more playable version with this secret tool!
Animal-Hair-Free Brushes:Artis Elite Collection Mirror Finish ($170) Makeup brushes are one of the most overlooked professional-level purchases. They make a huge difference, so you must invest in proper tools. These are the softest brushes you will ever feel and are worth the money if you take care of them properly.
Lightweight + Hydrating Makeup Setter: Jurlique Rosewater Balancing Mist ($35) To help your makeup last longer, spray a hydrating setting mist like this rose-infused essence. Keep it in your bag and use throughout the day when you need a little mood boost.
Share your favorite clean beauty products with us by tagging us on Instagram, and for more beauty inspiration, follow us on Pinterest.
Brit + Co may at times use affiliate links to promote products sold by others, but always offers genuine editorial recommendations.
Art Direction/Styling: Misty Spinney
Photography: Kurt Andre
Misty Spinney
Misty Spinney is a hair stylist, makeup artist, and fashion stylist with a strong background in design and deep passion for creativity.
Beauty Products