Your Love of Pumpkin Spice Could Get You More Dates
Oct 27, 2017
Unless you've been living under a rock during the last few fall seasons, you know all too well the mania that comes along with one of autumn's now-signature flavors: pumpkin spice. Whether you get your fix in the form of the new Pumpkin Spice Chai Tea Latte from Starbucks, in your breakfast cereal (thanks for that, Cheerios), or in your deodorant (yes, pumpkin spice deodorant is a thing), you can pretty much be part of this craze anytime, anywhere throughout the fall months. Even if you're a pumpkin spice hater, you've gotta admit that all the PSL talk makes you feel a little warm and fuzzy inside. The trend is so ubiquitous, in fact, that dating site Plenty of Fish recently conducted a survey of 2,800 singles on how pumpkin spice affects their dating lives, as well as their perceptions of potential significant others.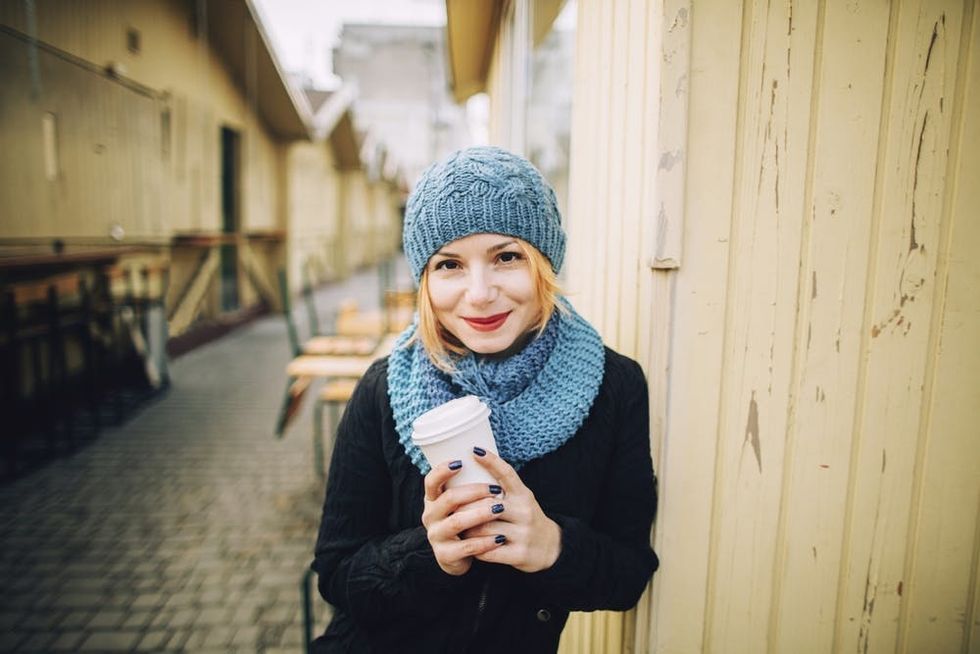 ---
"Consumers eagerly await these seasonal favorites, which are coming out earlier and earlier each year," says Plenty of Fish dating expert Shannon Smith of the inspiration for the study. "We figured, why not look at pumpkin spice's tie to dating by examining what singles think about it and how [it] may affect how desirable someone is to a prospective partner." Pumpkin spice-loving relationship seekers everywhere will toast their seasonal lattes to the overall takeaway from the survey. While we've heard rumblings that pumpkin spice has crossed over into being too trendy — dare we say, "basic"? — the vast majority of singles aren't concerned about it.
Of Plenty of Fish's sample, just six percent of men and 11 percent of women said they wouldn't date someone who proclaimed their love for pumpkin spice. In fact, women who mention "pumpkin spice" in their POF profiles are eight percent more likely to get into a conversation online than those who don't include the tasty keywords — and while we're sure that those women had tons of other things going for them that encouraged their fellow Plenty of Fish users to strike up a conversation, the stats suggest that being a pumpkin spice fan is, at the very least, not a great disadvantage in the dating world. "Contrary to popular belief, the data shows that you shouldn't be afraid to express your interest and love for pumpkin spice on your profile and in your conversations," Smith encourages. "It's a great and timely conversation starter!"
Beyond being just an icebreaker, pumpkin spice can also be the basis of a great date. According to the Plenty of Fish data, only six percent of singles actually hate the flavor, so inviting a crush to join you for a seasonal beverage or a pumpkin muffin is a pretty safe bet. "Take advantage of this seasonal trend," Smith advises love seekers. "Use [it] as a reason to ask someone out on a date."
Is pumpkin spice talk a turnoff or a temptation? Tweet us @BritandCo!
(Photo via Getty)
Alli Hoff Kosik
Alli Hoff Kosik is a freelance writer who is passionate about reading, running, rainbow sprinkles, her lipstick collection, watching embarrassing reality TV, and drinking pink wine. She lives in Brooklyn with her husband and (in her dreams, at least) three golden retriever puppies. Listen to her talk books on
The SSR Podcast
.
Relationships
We all have a million dollar business idea (or 2...or 3…) that we think *someone* should do. Why not you? Part of the motivation for Brit + Co's new interactive business course Selfmade is to help women develop their business idea into an actual living/breathing/thriving business. But it's also a way to figure out what that idea is. Maybe you have a few ideas, or need to refine a really good one, or maybe you have something with potential but just need to brush up on the business side of things. Well you're in luck. Thanks to Office Depot, we're here to share a quick recap on how we're helping our students figure out how to pick an idea and run with it. Feeling a little Selfmade fomo? Check out these tips for knowing if your idea is fully baked.
<p><strong>Know your audience:</strong> Who are they? Where are they? And what pain point are you trying to solve for them? "How would you define who that audience is?," said Brit Morin during this week's session. She goes on to suggest you develop a persona of your core customer: What's her name? Does she have children? Have visuals of who she is and what her day looks like and what she thinks about every day. "A lot of times I see businesses fail to scale because they're just trying to serve everybody and are very generic," adds Brit.</p><p><strong>Understand your market:</strong> How big is the market you're targeting? Is it growing? You can find market reports online for anything from weddings to babies. Does your business have potential for repeat business? For example, a wedding client will likely (hopefully!) only need you one time so how do you plan to grow? Will you target the same client or will you evolve your services to cater to that changing demographic? Martha Stewart is a business that evolved with her audience while most fashion mags stay focused specifically on 20- and 30-somethings for the long haul.</p><p><strong>Level up your business idea:</strong> What's your twist? Think about what differentiates you from your competitors. For example, if you're a photographer, maybe you focus on newborns and hook up with a maternity ward or sell seasonal packages. Brit talks about <a href="https://punkpost.com/stories/about-us" target="_blank">Punkpost</a>, created by Alexis Monson, a Brit + Co alumni who, instead of selling greeting cards in a dying snail mail market, she created an online marketplace for greeting card designers. How does your business stand out in your market's crowd?</p><p>Committing to an idea is hard, and SO exciting. Once you've figured out your direction, Office Depot OfficeMax can help turn your idea into a reality with a full suite of<a href="https://www.officedepot.com/cm/services/office-depot-services?cm_mmc=bl-_-aq-_-url-_-bc&amp;cm_mmca1=internal&amp;cm_mmca2=uf&amp;utm_source=blog&amp;utm_medium=social&amp;utm_campaign=bc_na_url_internal_uf_aq&amp;utm_content=tea_na&amp;utm_term=tea" target="_blank"> business services</a> &amp; solutions to help you &amp; your business succeed. From<a href="https://www.officedepot.com/cm/print-and-copy/print-services?cm_mmc=bl-_-aq-_-url-_-bc&amp;cm_mmca1=internal&amp;cm_mmca2=uf&amp;utm_source=blog&amp;utm_medium=social&amp;utm_campaign=bc_na_url_internal_uf_aq&amp;utm_content=tea_na&amp;utm_term=tea" target="_blank"> print &amp; copy services</a> to help build your brand to products to help you<a href="https://www.officedepot.com/cm/multi-category/work-from-home?cm_mmc=bl-_-aq-_-url-_-bc&amp;cm_mmca1=internal&amp;cm_mmca2=uf&amp;utm_source=blog&amp;utm_medium=social&amp;utm_campaign=bc_na_url_internal_uf_aq&amp;utm_content=tea_na&amp;utm_term=tea" target="_blank"> work from anywhere</a>, learn about all the ways they can help<a href="https://www.officedepot.com/cm/marketing/small-business?cm_mmc=bl-_-aq-_-url-_-bc&amp;cm_mmca1=internal&amp;cm_mmca2=uf&amp;utm_source=blog&amp;utm_medium=social&amp;utm_campaign=bc_na_url_internal_uf_aq&amp;utm_content=tea_na&amp;utm_term=tea" target="_blank"> businesses</a> like yours, accomplish more.</p>
Lifestyle