An Illustrated Guide to Gemstones (Free Printable!)
Feb 12, 2015
Still not sure what to get your Valentine this year? Or what to tell your Valentine you want? ;) While we love the classic gift of jewelry, it's time to add a new spin to the meaning behind your gem-tastic gift. Just in time for last minute shopping, we've created an illustrated guide to gemstones — complete with what each gem represents, powers it possesses and gift suggestions to match.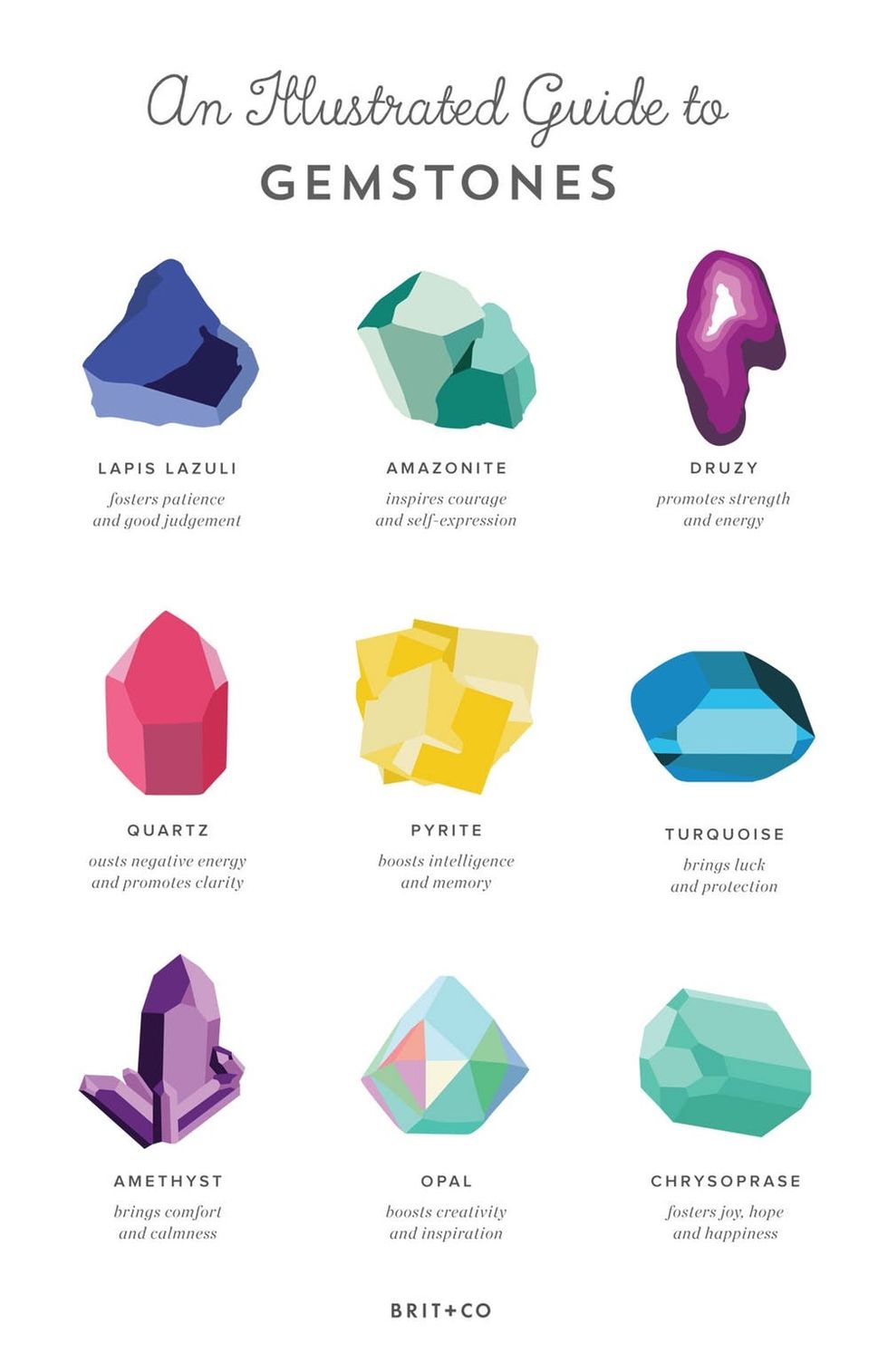 ---
You can download a printable 11 x 17-inch poster here, and each individual gemstone card right here. We recommend pairing your gift with a card that features the gemstone you are gifting! Because, hello, your Valentine is totally a gem.
AMETHYST
Keep calm and carry on with this wisdom stone that's known for its soothing properties.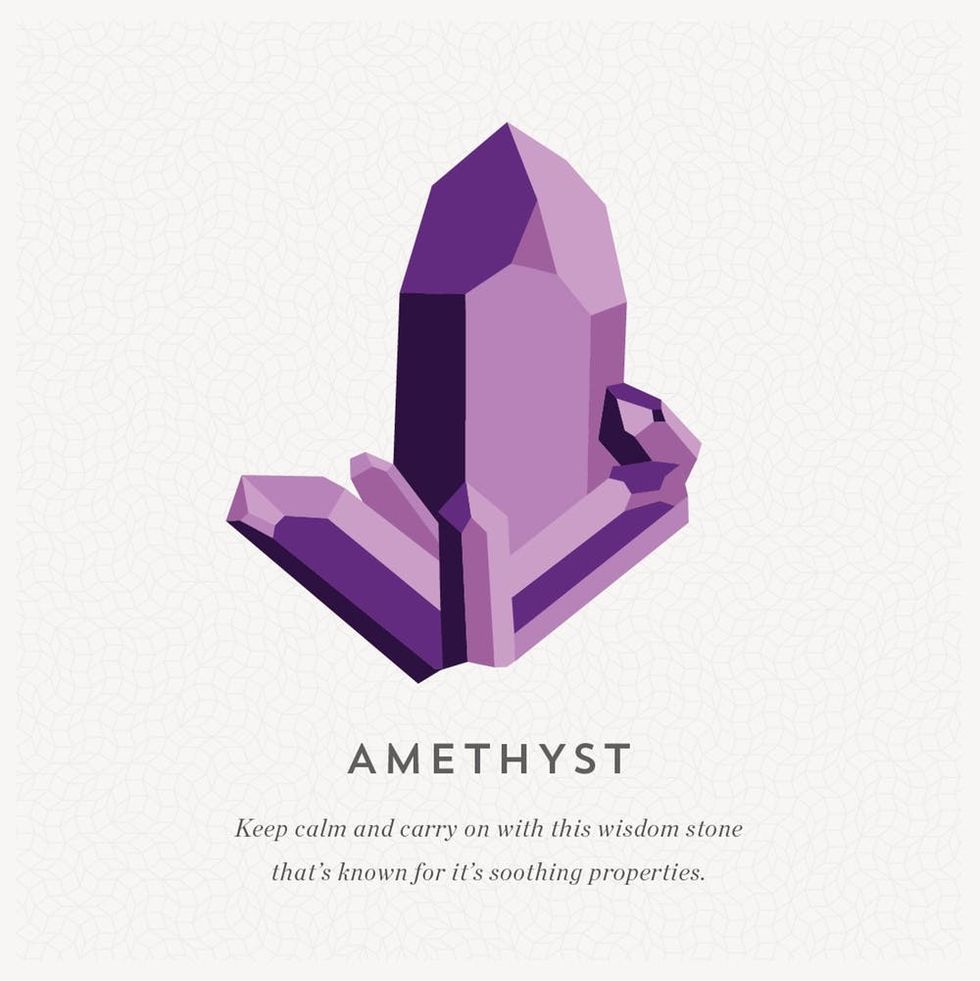 Birthstone: February
Found In: Siberia, Sri Lanka and Brazil
Did You Know? The name comes from the ancient Greek word for intoxicated, a reference to the belief that the stone could protect its owner from drunkenness.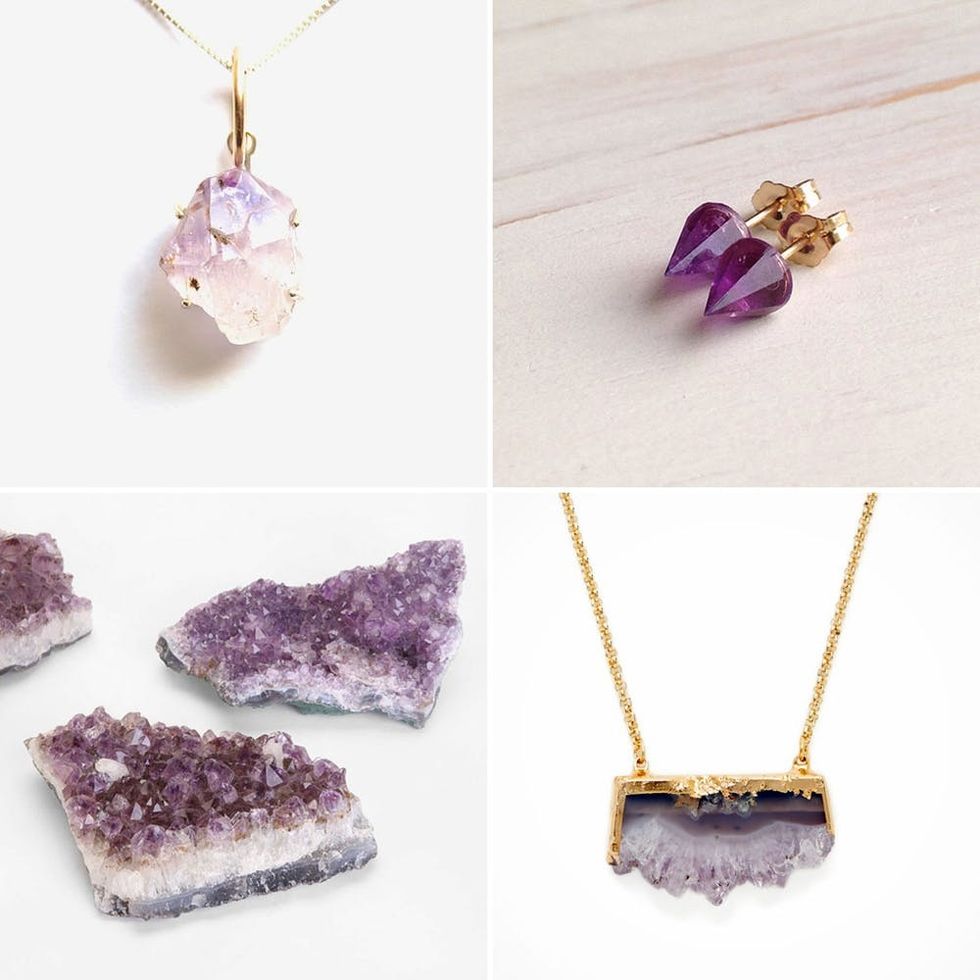 Know someone who could use a soothing stone? Here are a few items that we love in the Amethyst family. Going clockwise from the top left: Amethyst Necklace ($70); Large Amethyst Crystal ($24); Amethyst Rectangular Pendant Necklace ($40); Amethyst Spike Studs ($75).
OPAL
Got maker's block? This dreamy water stone will enhance imagination, inspiration and creative thinking.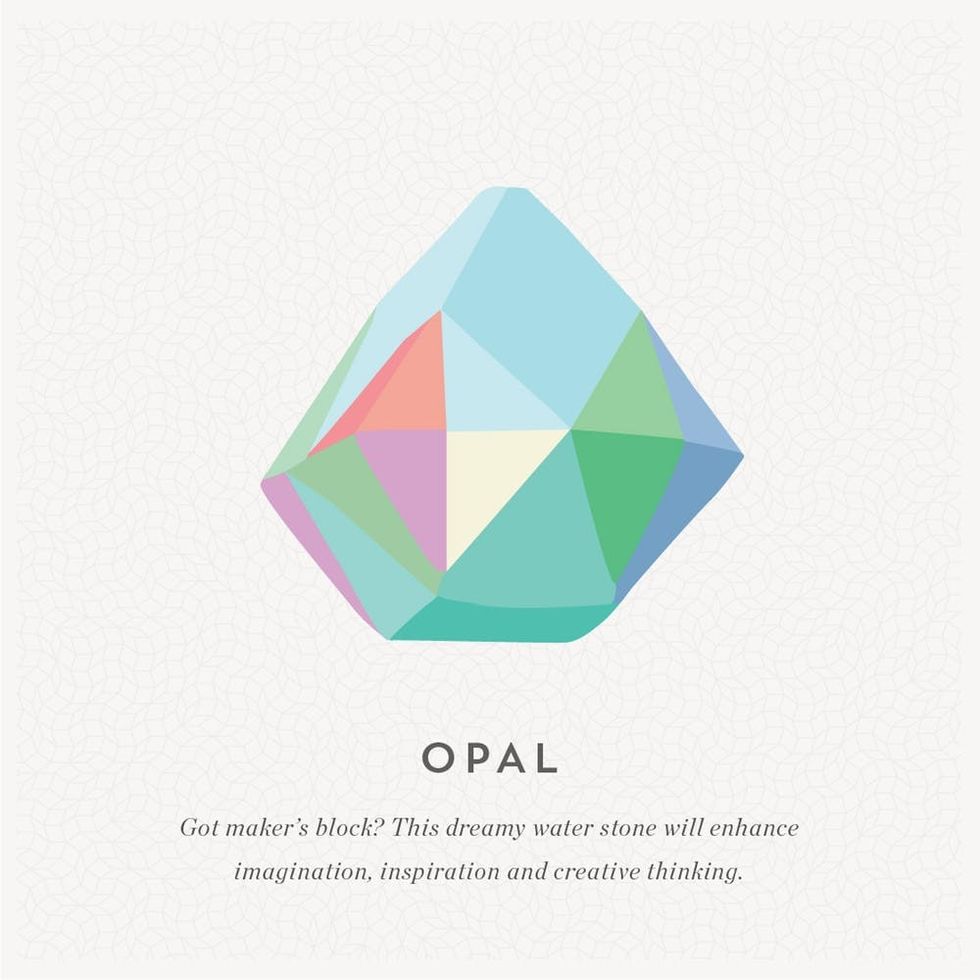 Birthstone: October
Found In: Australia and Ethiopia
Did You Know? In the Middle Ages, opal was considered a stone that could provide great luck. It was believed to possess all the virtues of each gemstone whose color was represented in the color spectrum of the opal. It was also said to confer the power of invisibility if wrapped in a fresh bay leaf and held in the hand.
We love the multi-colored look of opal and the fact that it can take on almost every hue under the sun depending on how the light hits it. Here are three opal faves: Raw Opal Turquoise Jasper Necklace ($35); Opal Slice Earrings ($58) and Diament Jewelry X Urban Renewal Opal Glass Studs ($12).
AMAZONITE
If you're trying to find the courage to speak up about something, look to this gem. It boosts communication skills and self-expression.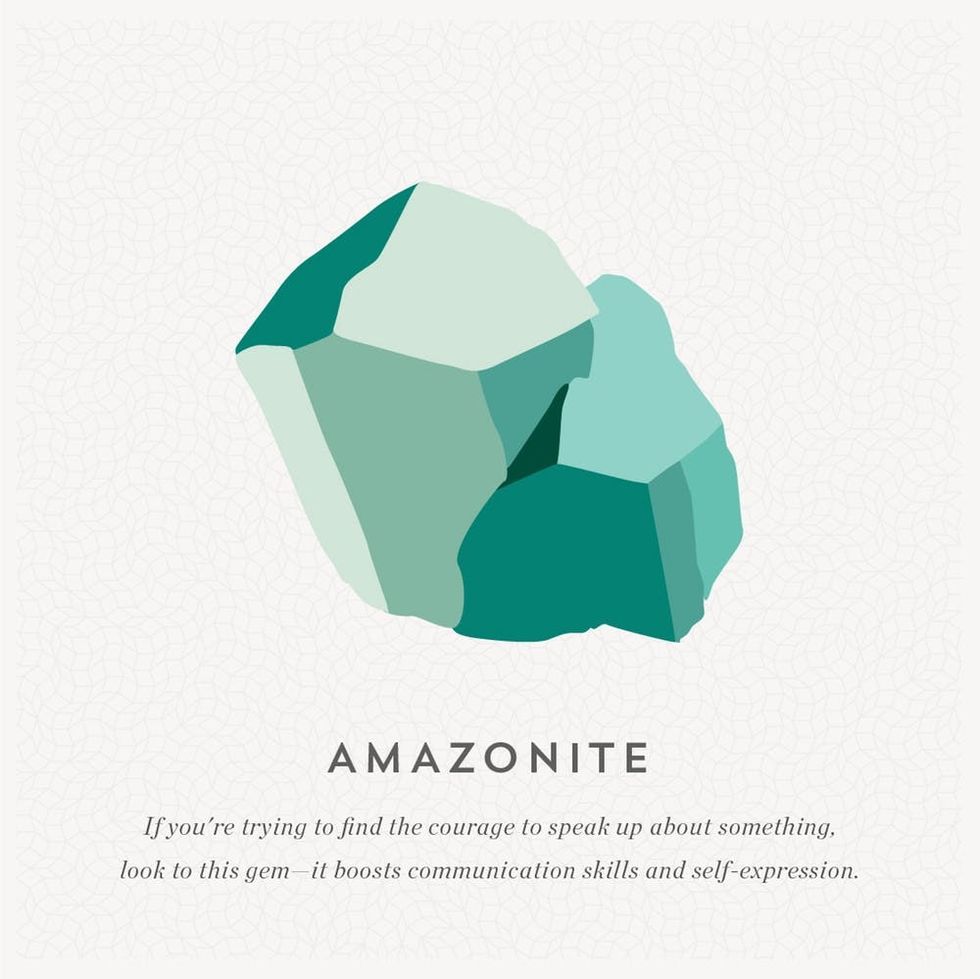 Found In: United States, Brazil, Zimbabwe, Russia, Australia, Namibia and Madagascar
Did You Know? Amazonite is a stone that was used extensively by the Egyptians and is said to be named after the Amazon women warriors.
Though this isn't a traditional birthstone, we love the strong quality and green hue of this stone. It's a great alternative to turquoise or jade and is said to harness some serious feminine power. Know someone who could use a little courage? Here are two options we love: Pave Amazonite Drops ($198) and Demi Gem Ring ($118).
QUARTZ
The most abundant gemstone on Earth, quartz inspires personal clarity while ousting negative energy.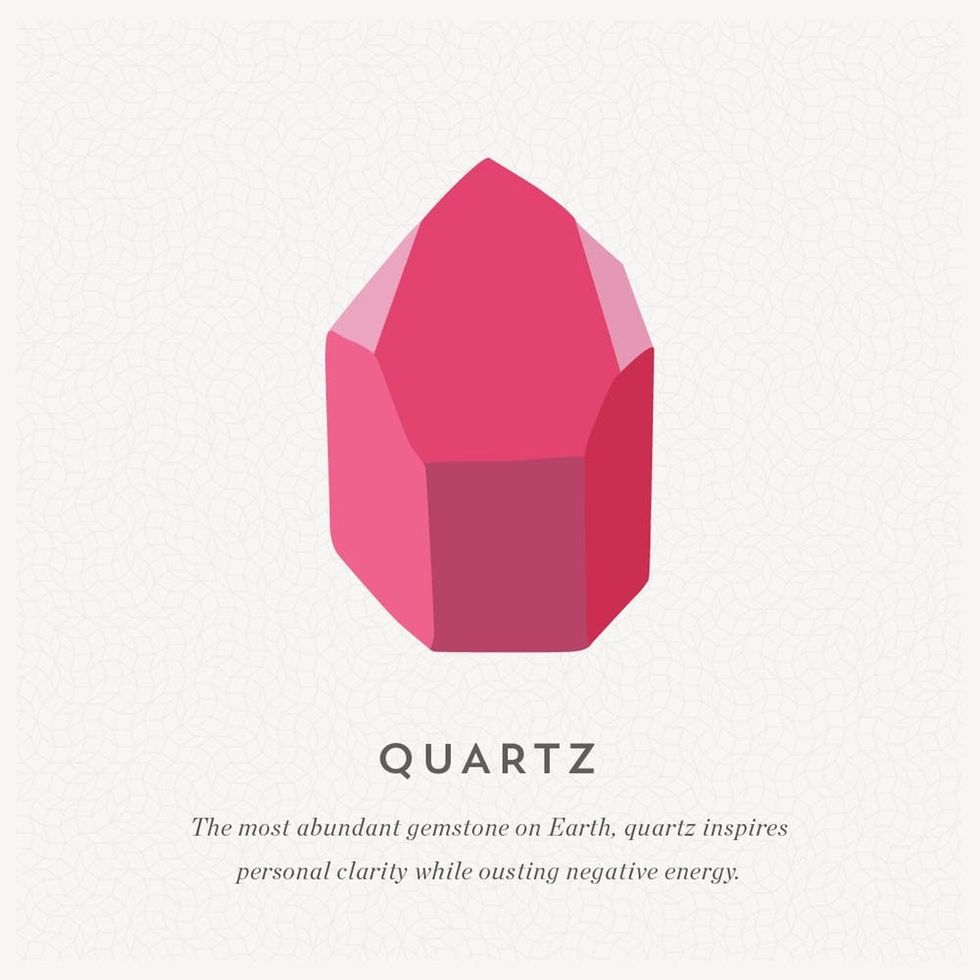 Birthstone: April (aka Rock Crystal)
Found In: England, Switzerland, Brazil, Madagascar, United States
Did You Know? The most famous source of rock crystal quartz is in the famous Hot Springs area of Arkansas.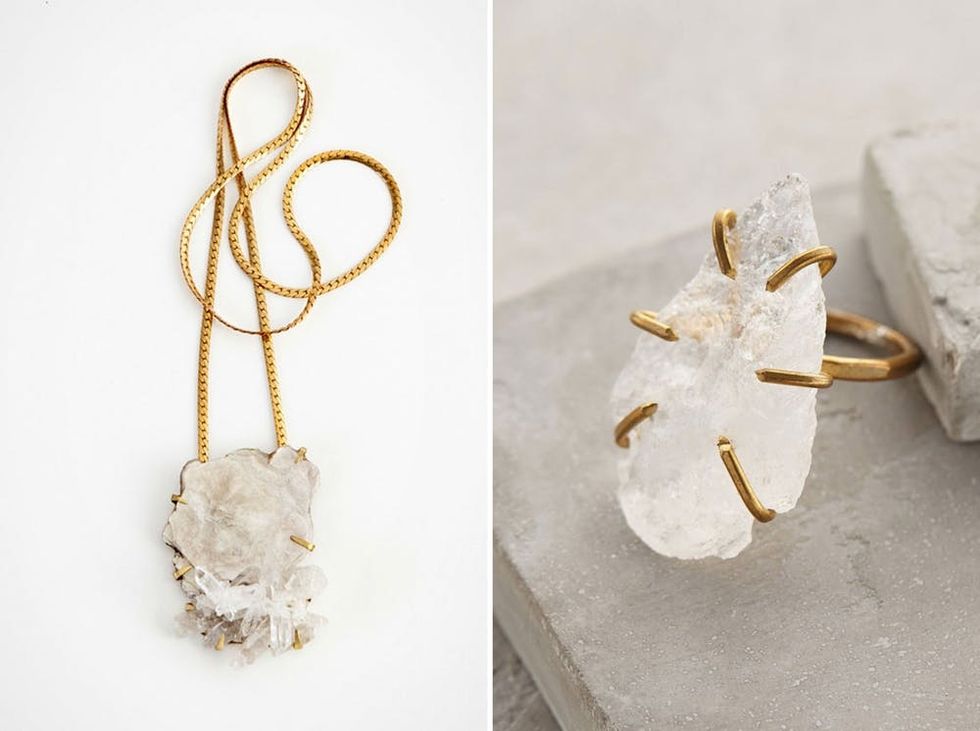 We love the glasslike quality of quartz or rock crystal. Here are two faves for upping your clarity: Quartz + Lepidolite Necklace ($145) and Quartz Arrowhead Ring ($118).
DRUZY
This stone enhances the power of nearby gemstones while bringing strength and energy to those who touch it.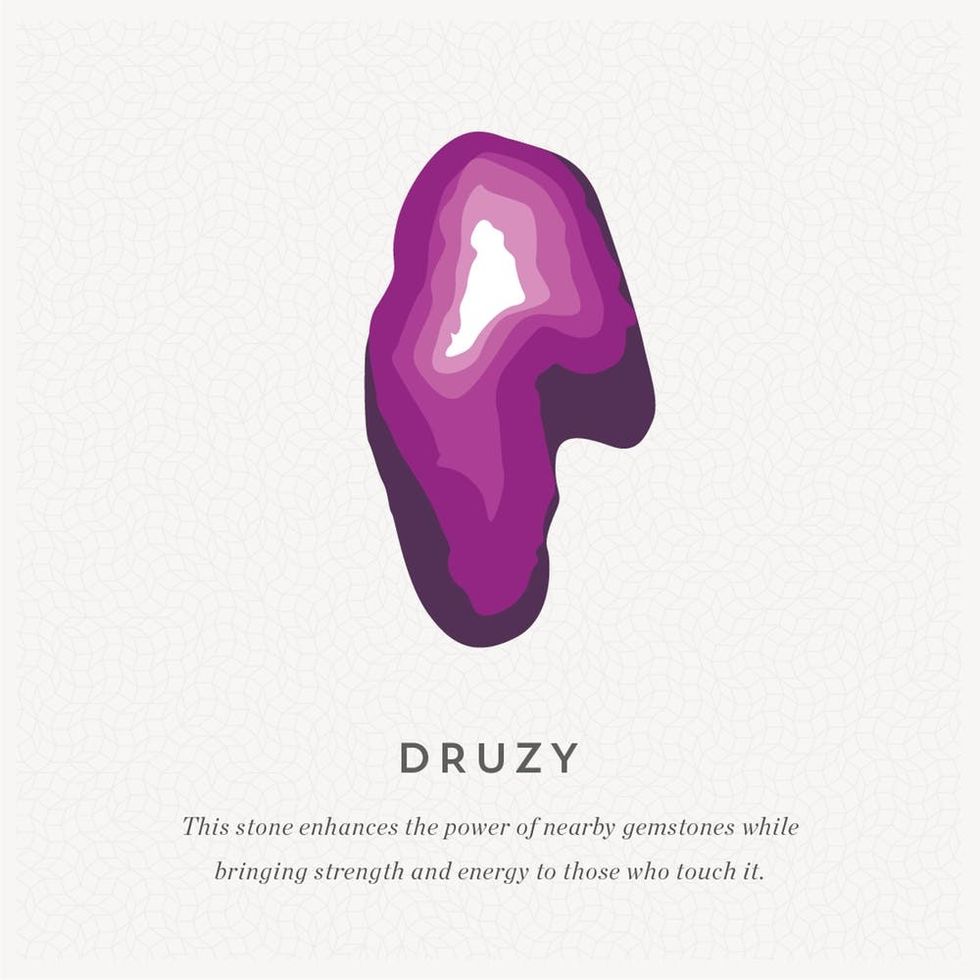 Found In: Peru, Democratic Republic of Congo
Did You Know? Druzy actually describes the glittering effect of tiny crystals over top a colorful mineral or stone. What is most commonly known as druzy is actually quartz, though it can come in the form of garnets, calcite, dolomite and malachite.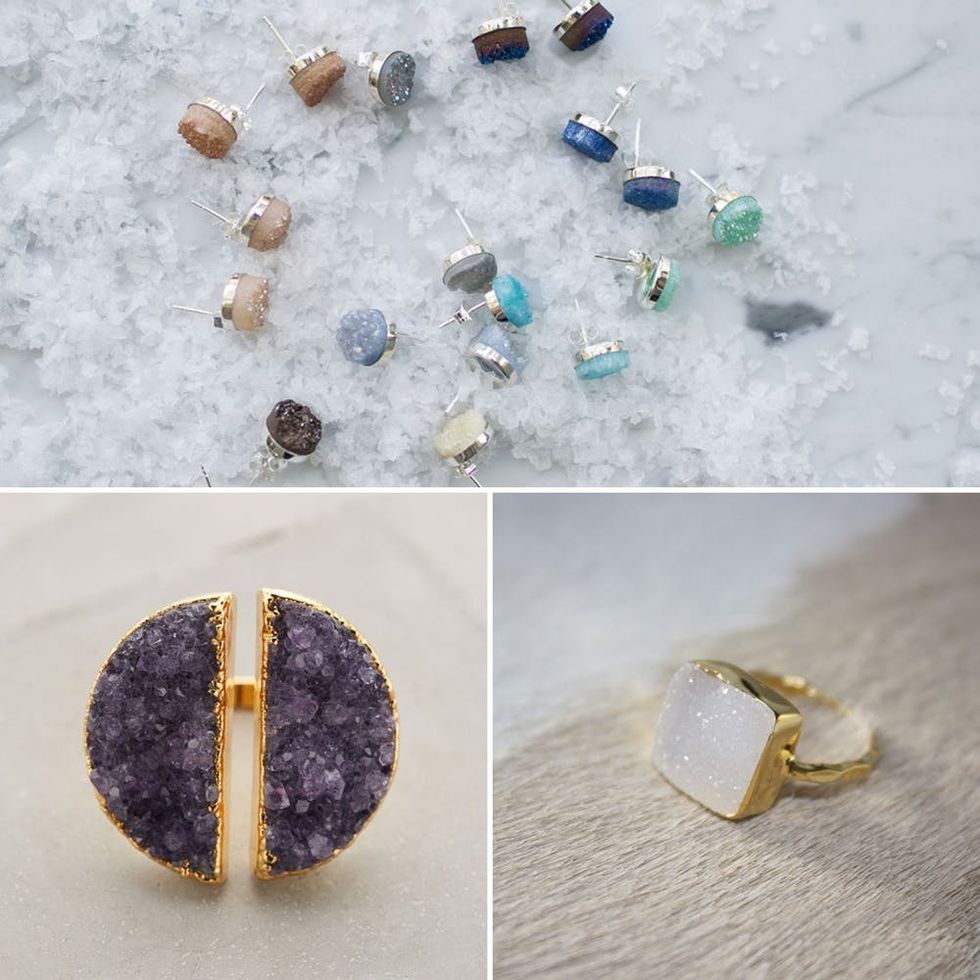 Ready to bling it on? We're talking about the subtle bling of a druzy, of course. Here are some sparkling pics from the B+C Shop and beyond: Druzy Gemstone Studs ($56); Pallanza Druzy Ring ($98) and Snow Druzy Solitaire Ring ($175).
TURQUOISE
You don't need to be a Sagittarius to benefit from this gem. Turquoise brings wisdom, luck and protection to anyone who possesses it.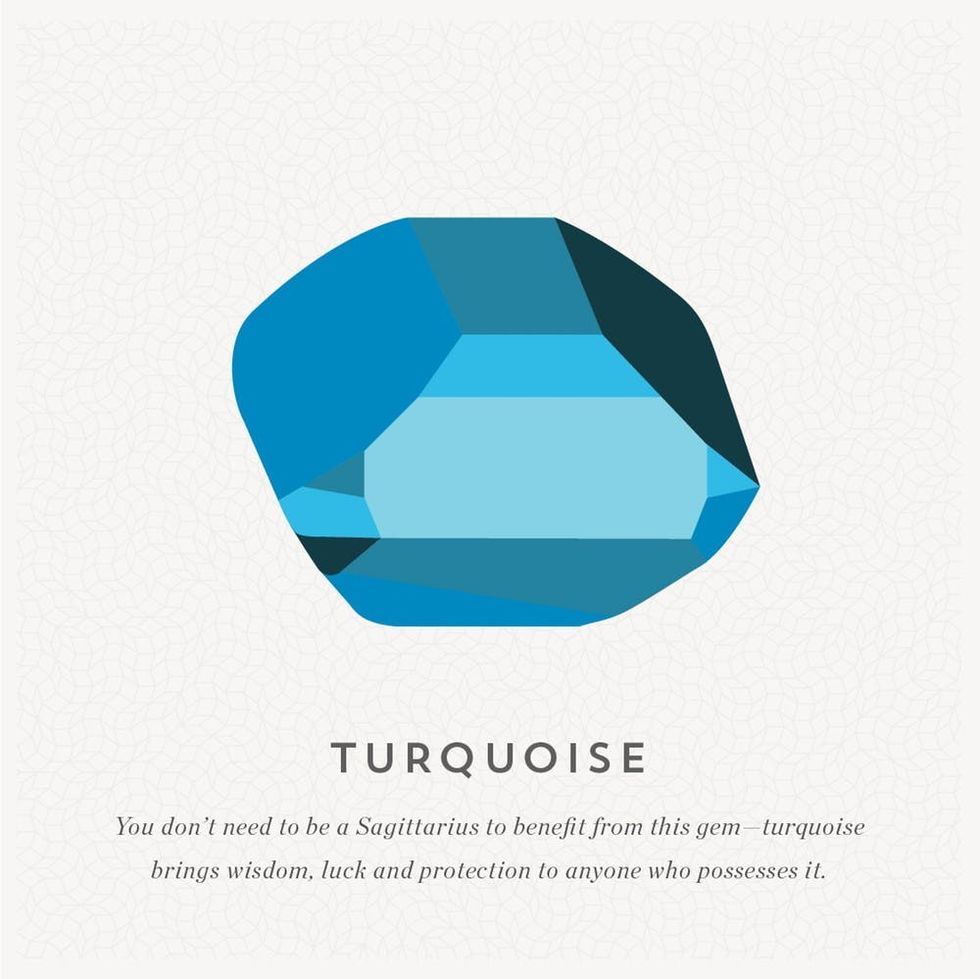 Birthstone: December
Found In: Iran, Sinai, United States and in smaller quantities almost everywhere!
Did You Know? Turquoise has always been valued as an ornamental gem, often considered a symbol of male power. Anselmus de Boot, court physician of Emperor Rudolph II, wrote in 1609 that Turquoise was so highly regarded by men that no man considered his hand to be well adorned unless he wore a fine Turquoise.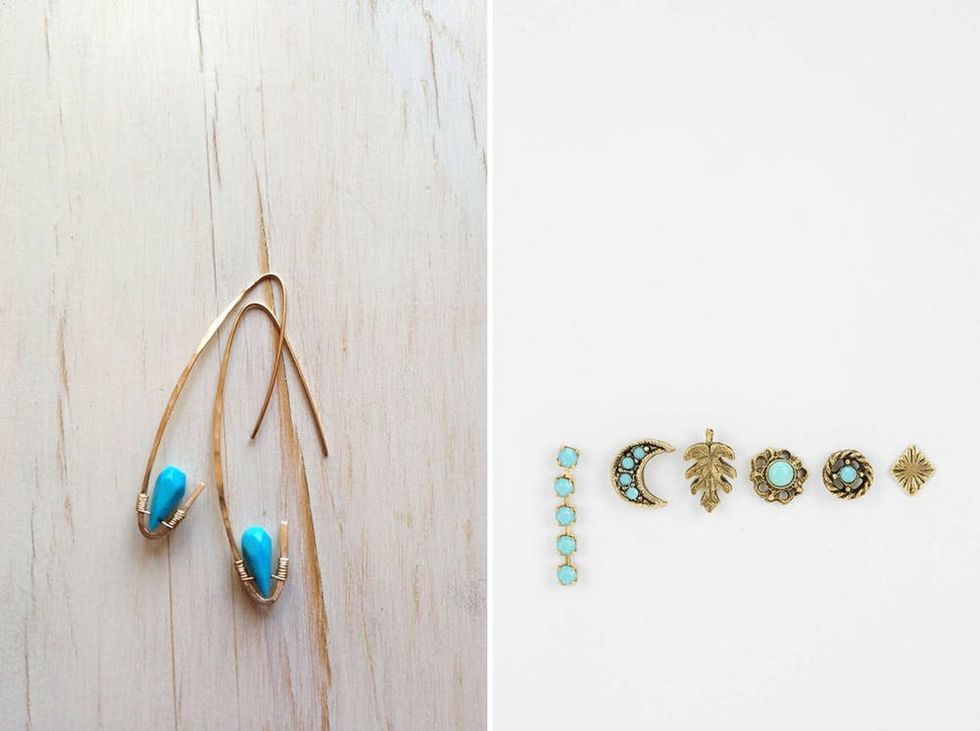 Turquoise happens to be my personal favorite — so it was hard to just choose two for this one! Going clockwise starting at the top left: Turquoise Tear Hoops ($55) and Turquoise Mix and Match Earring Set ($20).
LAPIS LAZULI
Feeling stubborn? This symbol for wisdom and honesty is here to inspire patience, good judgement and perseverance.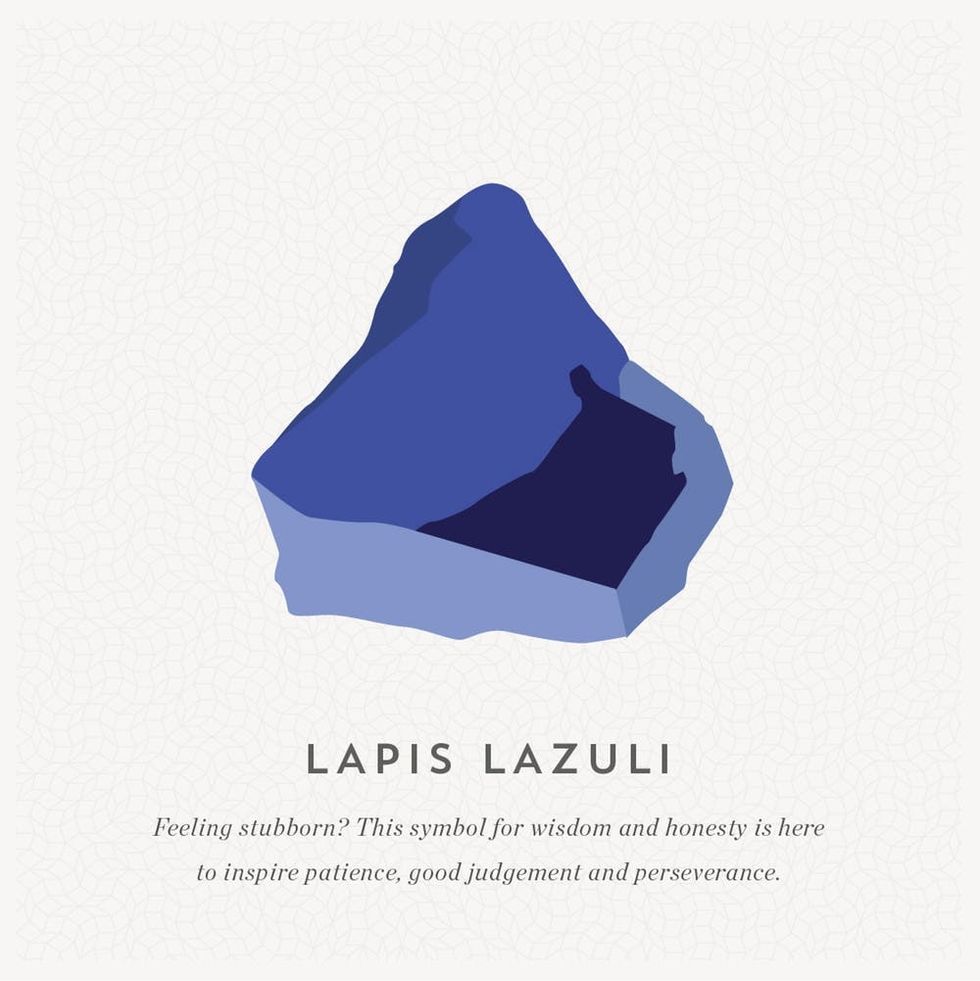 Birthstone: December (secondary)
Found In: Afghanistan, Chile, Russia, Italy and United States.
Did You Know? Lapis lazuli is regarded by many people around the world as the stone of friendship and truth. The blue stone is said to encourage harmony in relationships and help its wearer to be authentic and give his or her opinion openly.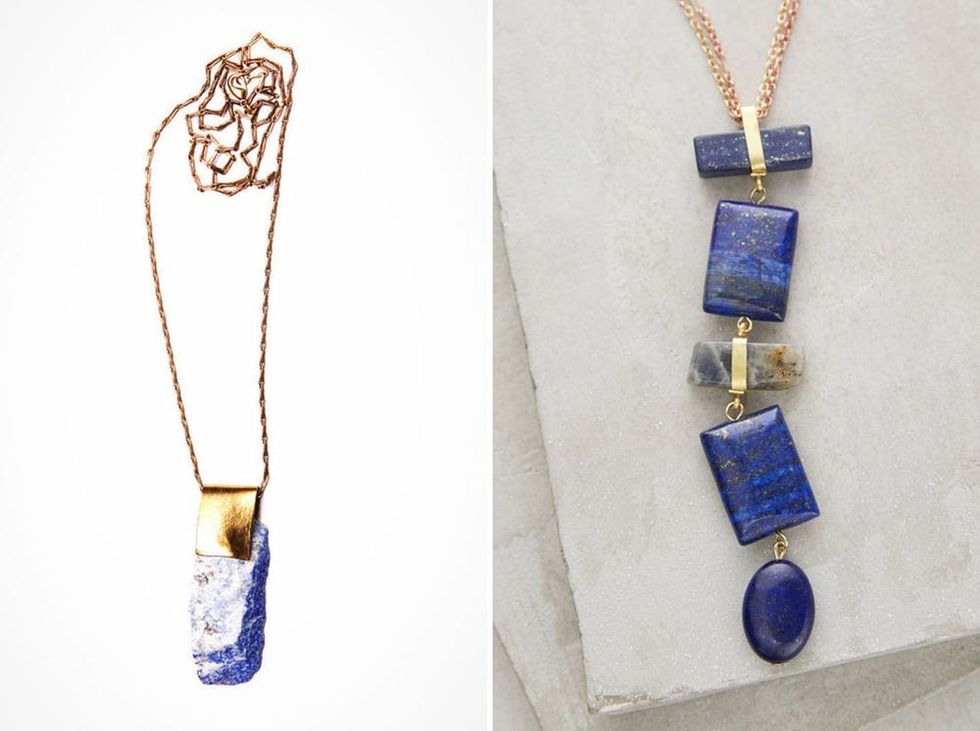 Know someone who could use some good blue vibes? We've got two gorgeous lapis lazuli options for that: Lapis Necklace ($116) and Lapis Ladder Necklace ($68).
CHRYSOPRASE
This apple-green gemstone fights the blues by fostering hope, joy and happiness.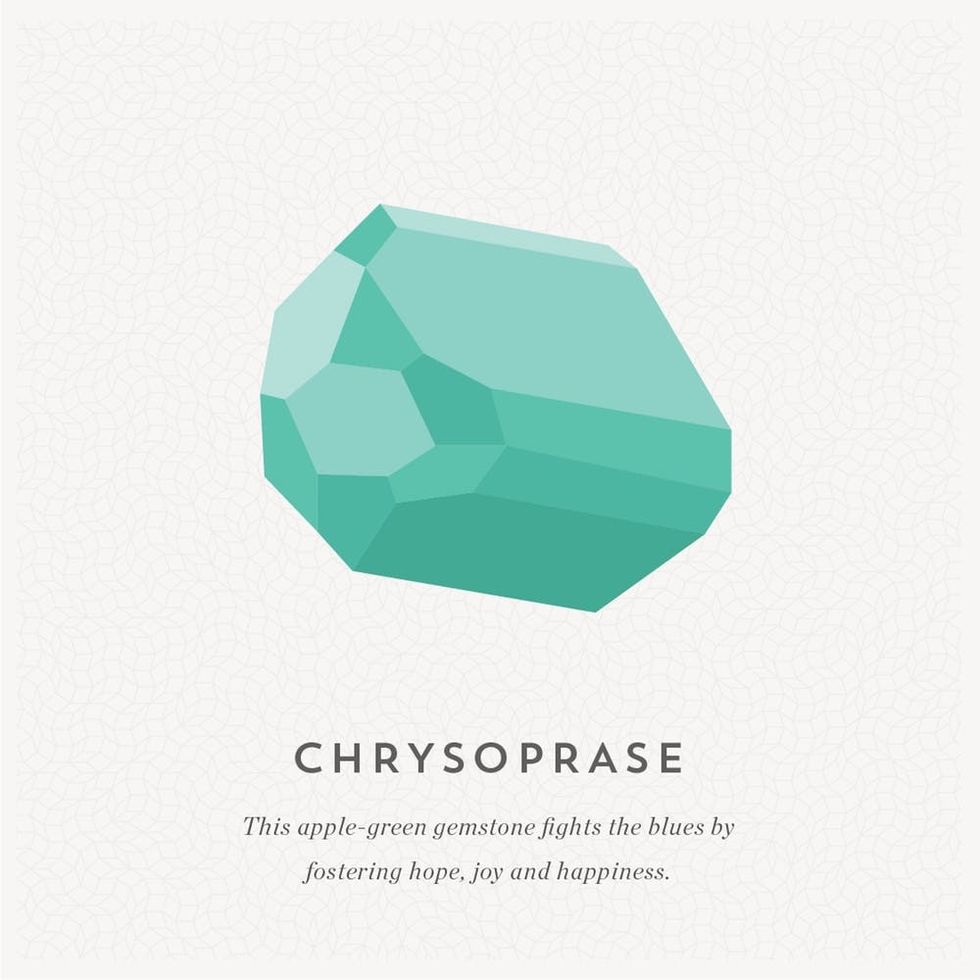 Birthstone: May (alongside Emerald)
Found In: Australia, Germany, Poland, Russia, United States and Brazil.
Did You Know? After the discovery of King Tut's tomb in the early 1920s, Chrysoprase was used extensively during this Nouveau era with Egyptian revival jewelry that mimicked the vast treasures of the newly discovered pharaoh's tomb.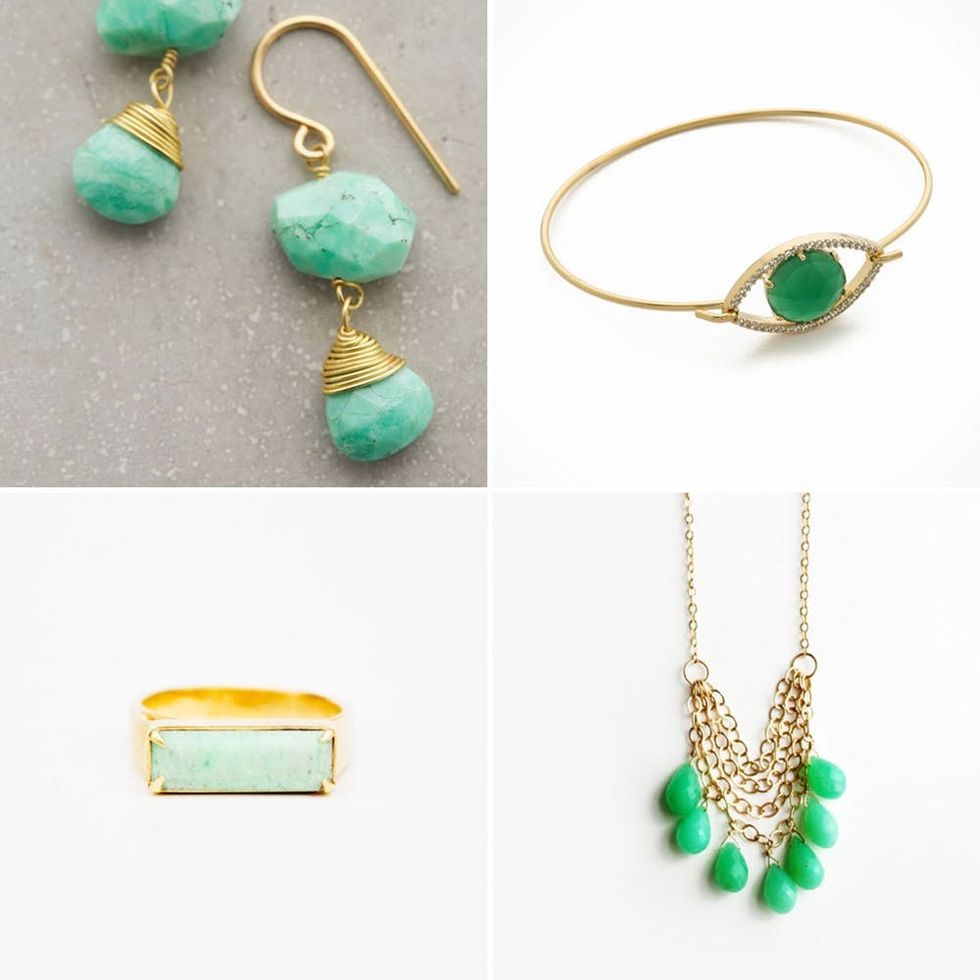 Green with envy? Here's how to get your chrysoprase on: Hot Springs Drops ($78); Chrysoprase Eye Stone Bracelet ($70): Jemma Ring ($74) and Chrysoprase Statement Necklace ($155).
PYRITE
Also known as fool's gold, pyrite boosts intelligence and memory, which makes it a great study buddy for when you need to hit the books.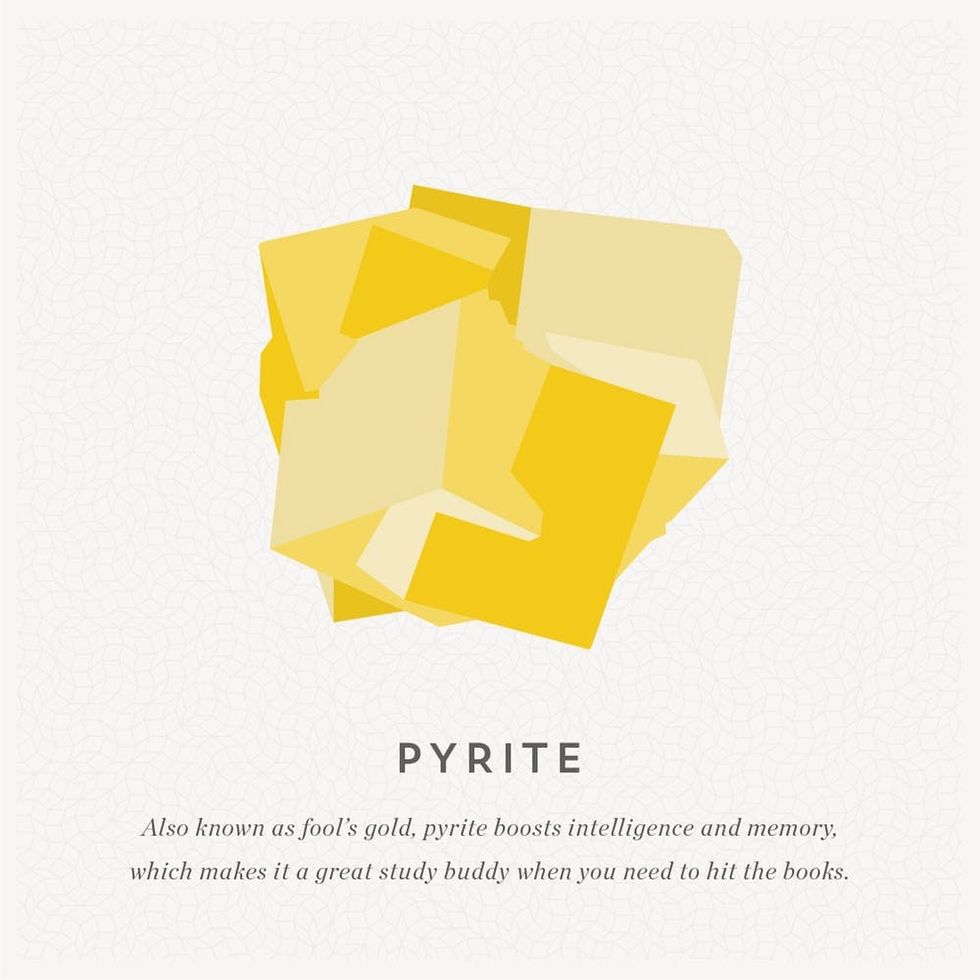 Found In: Utah, Colorado, Illinois and Spain
Did You Know? Known spiritually as a talisman, Pyrite is a unique protector, drawing energy from the Earth through the physical body and into the aura creating a defensive shield against negative energies, environmental pollutants, emotional attack and physical harm. It also supports one with a spirit of boldness and assertive action when protecting others, the planet or in standing up for important issues of community.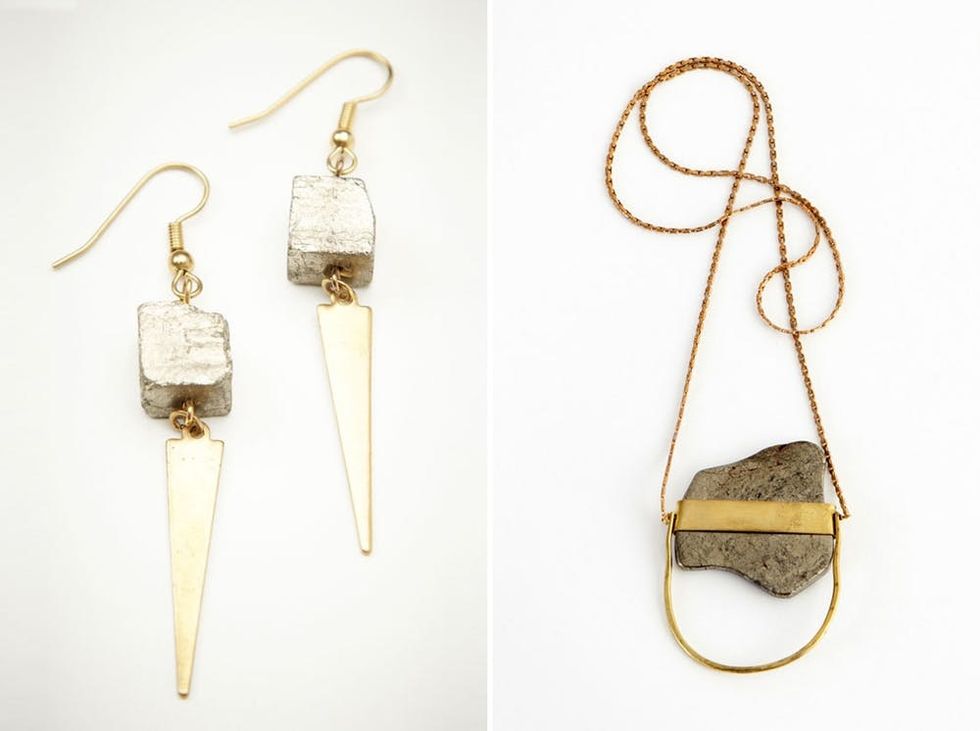 Wanna be pretty in pyrite? Us too. Here are two items we dig: Lola Earrings ($49) and Pyrite Arc Necklace ($120).
Alright, that was a druzy! I mean… doozy ;) What are your favorite gemstones? Talk to us in the comments below.
Anjelika Temple
As Chief Creative Officer and Founding Partner at Brit + Co, Anjelika Temple brings her voracious consumption of all things creative and colorful to DIY projects, geeky gadgetry finds and more. When she's not DIY-ing her heart out, you'll find her throwing dinner parties with friends or adventuring with her husband David, their daughter Anokhi, and their silly dog Turkey.
DIY Style