22 New Recipes to Upgrade Your Avocado Toast
May 07, 2015
The avocado toast craze isn't slowing down anytime soon. The totally trendy snack item has not only taken over the food scene, but has also taken over everyone'sInstagram feed. Yes, we're aware that this crunchy-yet-creamy combo is delicious, nutritious and easy to make, but let's keep it real: The classic version of avocado toast (crispy bread + smashed avocado + sea salt + olive oil + lemon juice) has become a little — dare we say, basic? With the help of a few tasty toppings, you can upgrade your avocado toast game and give this foodie favorite a gourmet flair. The results will make your social media followers jealous, but your taste buds oh-so happy.
---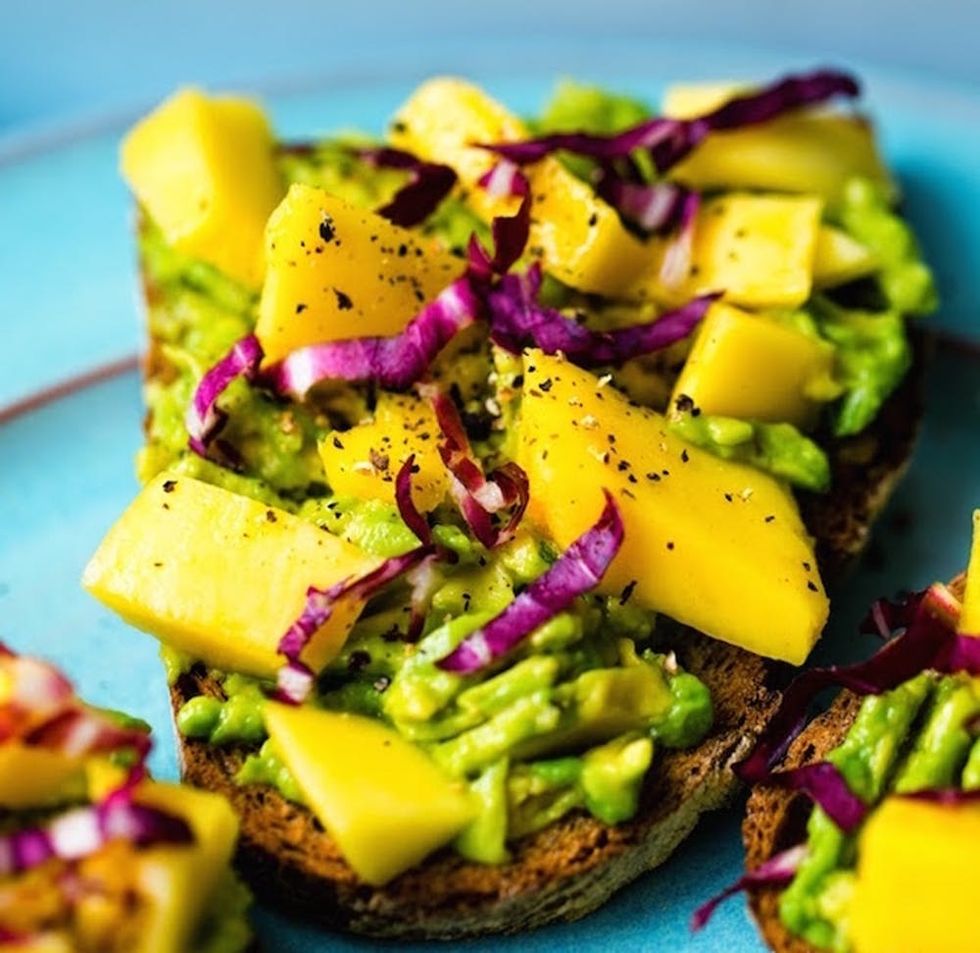 1. Sweet Mango Avocado Toast: It's the little things that make life so much better, like this five-minute avocado toast recipe that features mangos, lemon juice and radicchio. A little sweet + a little buttery + a little bitter = totally tasty. (via Healthy Happy Life)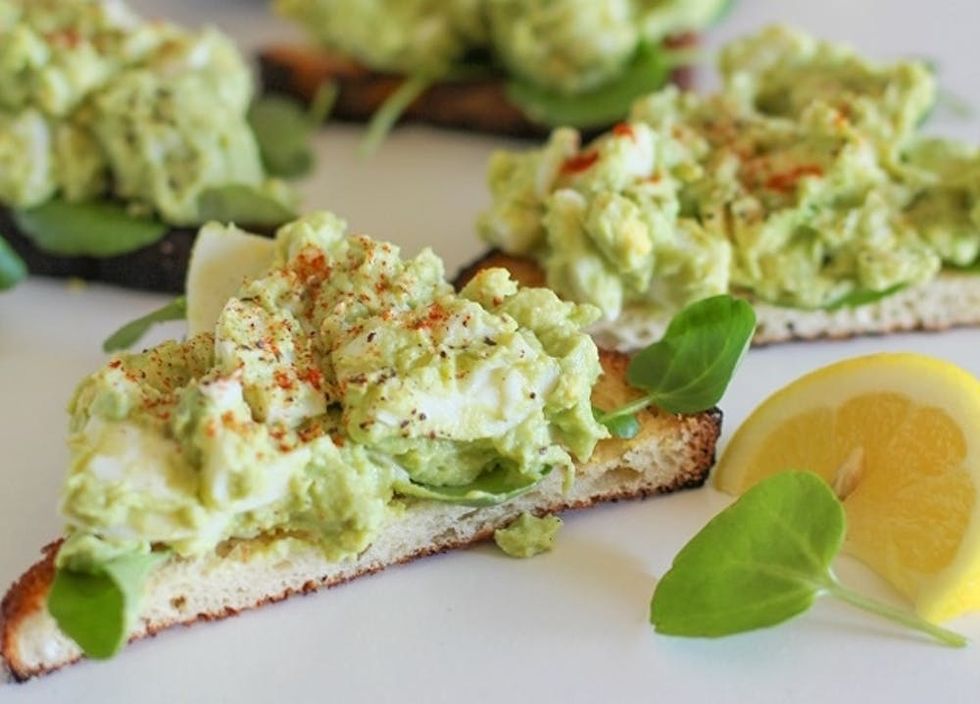 2. Avocado Egg Salad: Made with four ingredients, this mayo-free avocado egg salad is a game changer. It's a fabulous make-ahead lunch that will give your work day some extra excitement. (via The Roasted Root)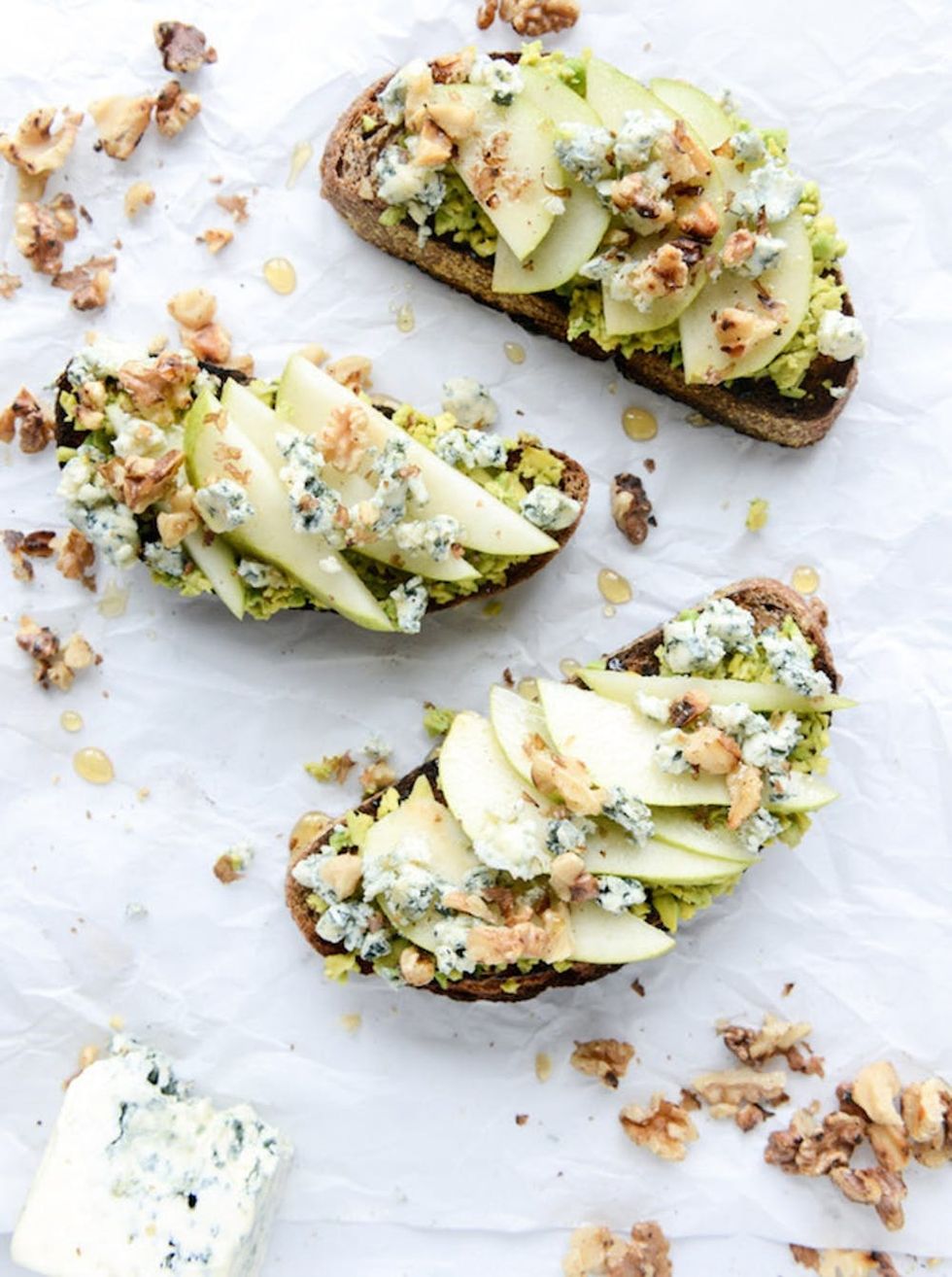 3. Autumn Avocado Toast: We're confident this toasted treat can be enjoyed all year long, especially on chilly days or nights when you're craving something sweet and savory. (via How Sweet It Is)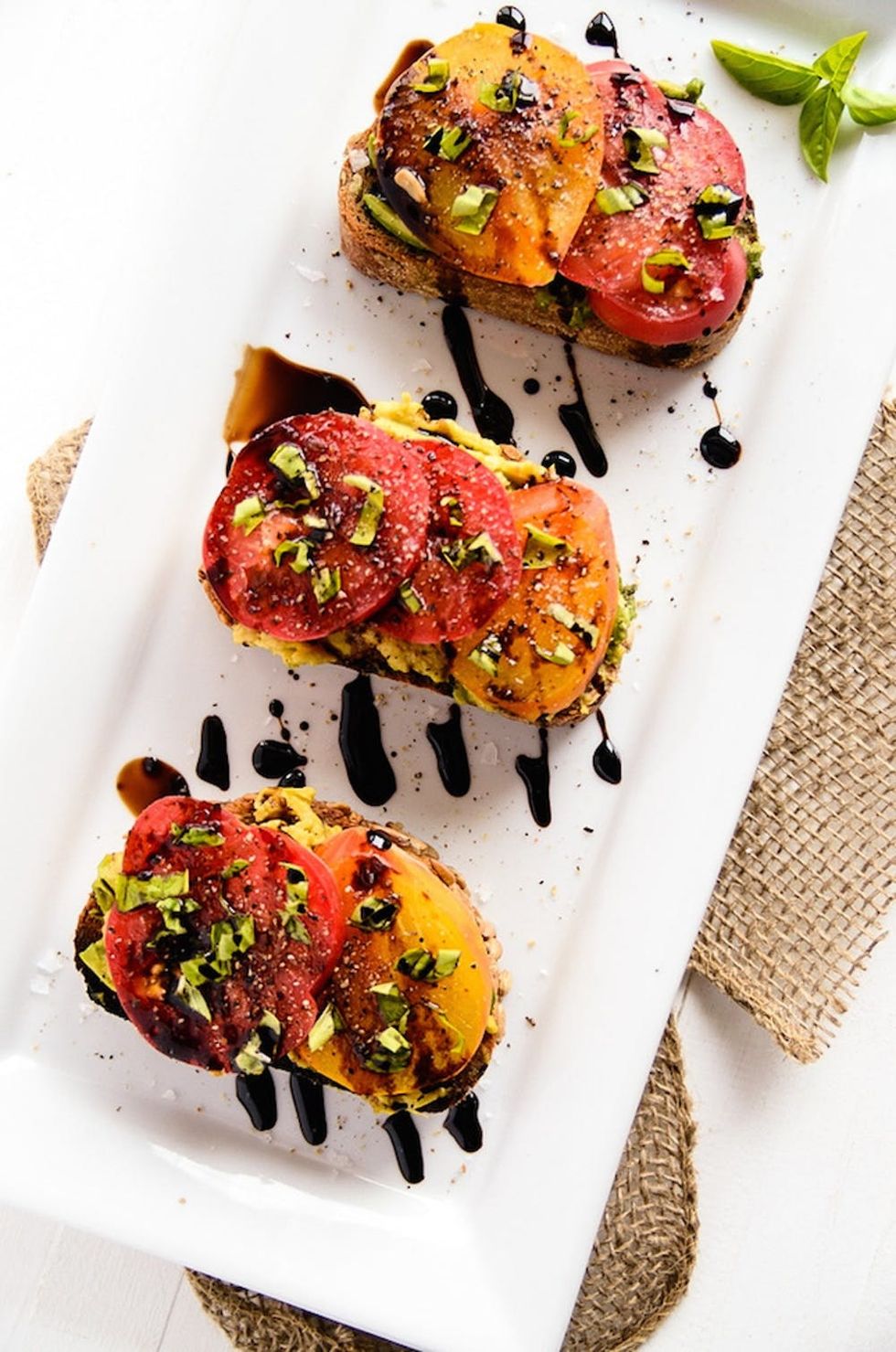 4. Avocado and Heirloom Tomato Toast: We can all agree that avocado toast is what dreams are made of. But when you add fresh, ripened tomatoes and drizzle balsamic vinegar on top, it takes your avocado toast dreams to a whole new level. (via Blissful Basil)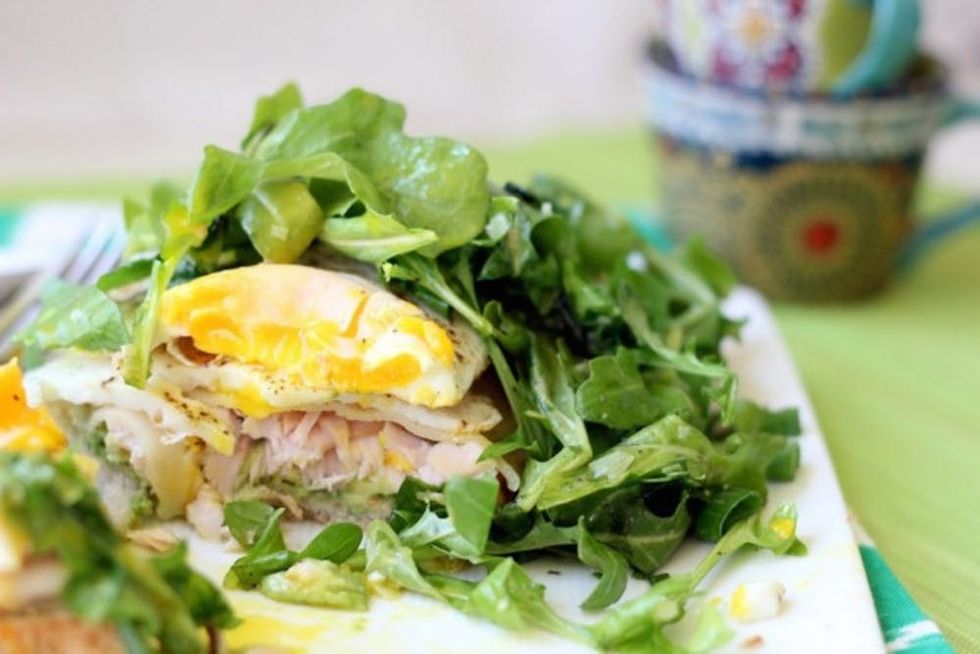 5. Lemon-Dressed Arugula over Turkey, Egg and Avocado Toast: This crostini-like breakfast dish is pure genius. One bite and your BFFs will be begging to have brunch at your house every weekend. (via From the Little Yellow Kitchen)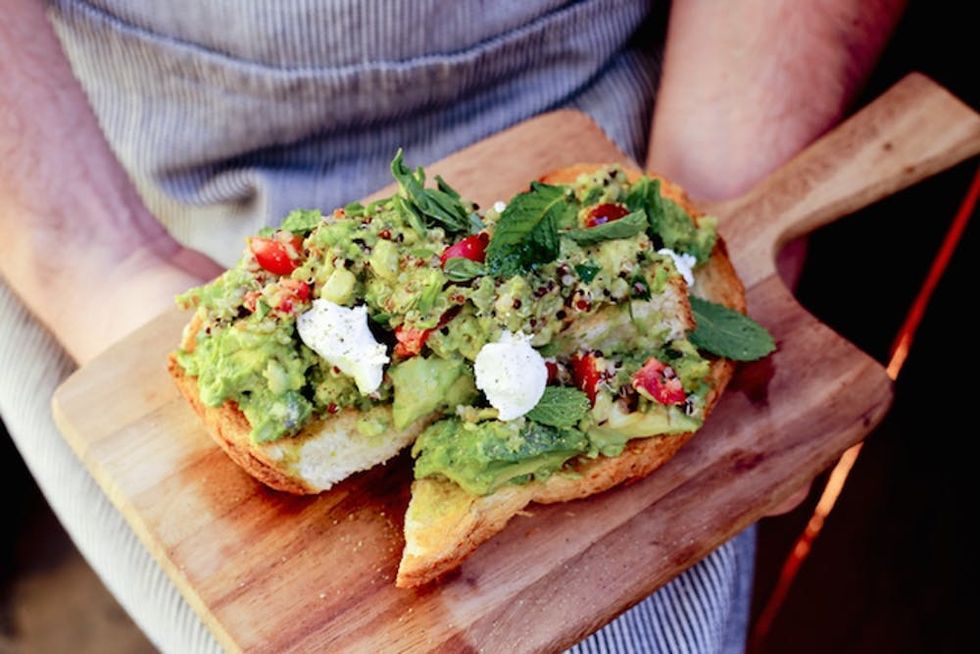 6. Smashed Avocado with Quinoa Tabbouleh: Who knew toast could be so delicious and nutritious? Chili oil gives this super food-infused, guilt-free dish tons of extra flavor, while the quinoa adds major health benefits. (via Dine Design)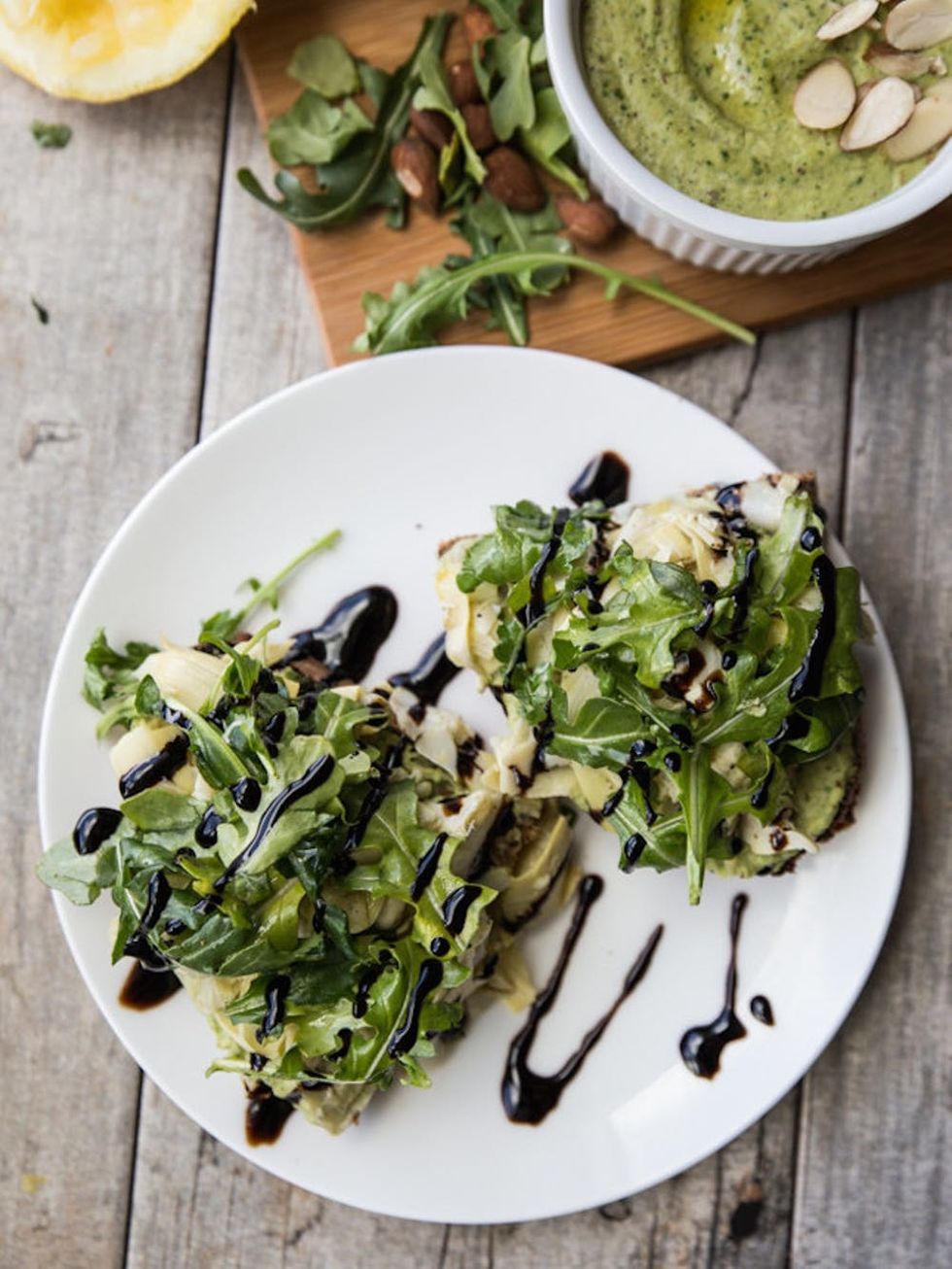 7. Open-Faced Lemon Pepper Artichoke and Arugula Sandwich: Better known as fancy toast, this gourmet knife-and-fork meal tastes as good as it looks, and it looks ah-mazing! With a stellar combo of white bean hummus, artichokes, lemon juice, baby arugula and sweet balsamic glaze, this savory-yet-subtly sweet toast will likely become your new favorite food. (via Veggie and the Beast)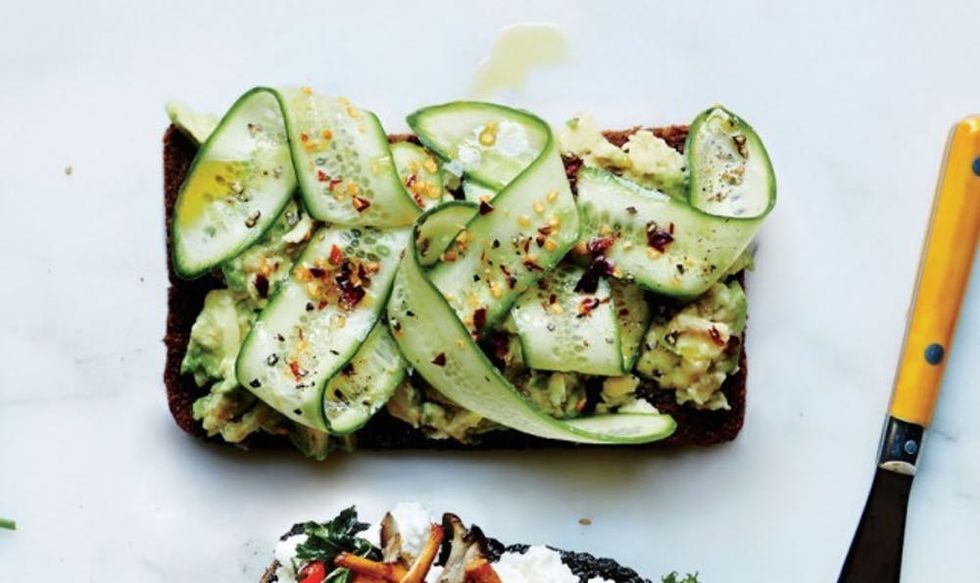 8. Cucumber and Avocado Toast: A few simple toppings can make all the difference, especially if you're using fresh cucumber, roasted red pepper flakes and lime juice. To make your meal even healthier, try a sprouted bread like Ezekial. (via Bon Appetit)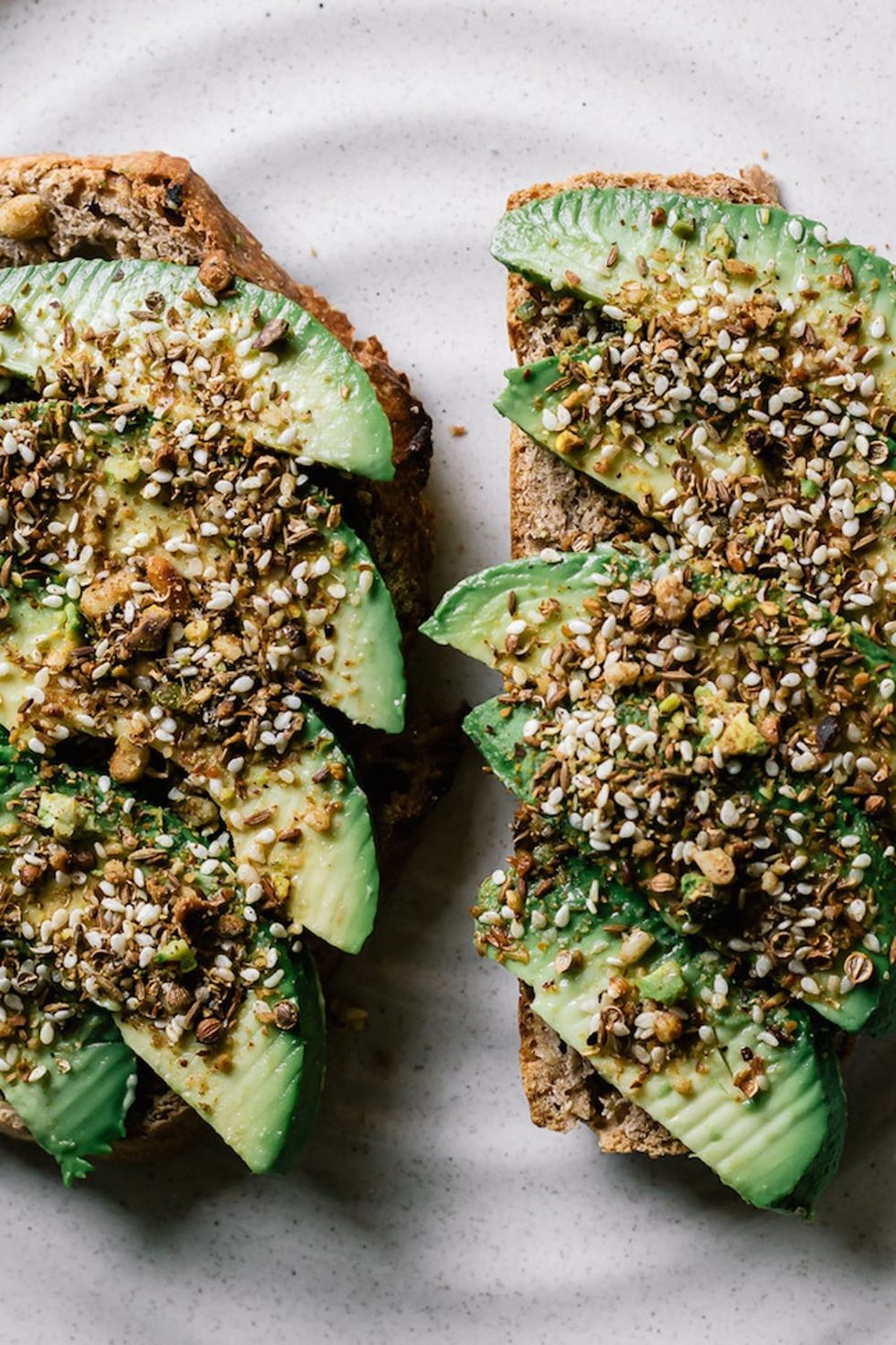 9. Dukkah and Avocado Toast: What is dukkah, you ask? Only the most delicious Egyptian spice blend that pairs perfectly with crusty bread and creamy avocado. Not only is this toast easy to make, but it's extremely healthy too. (via Faring-Well)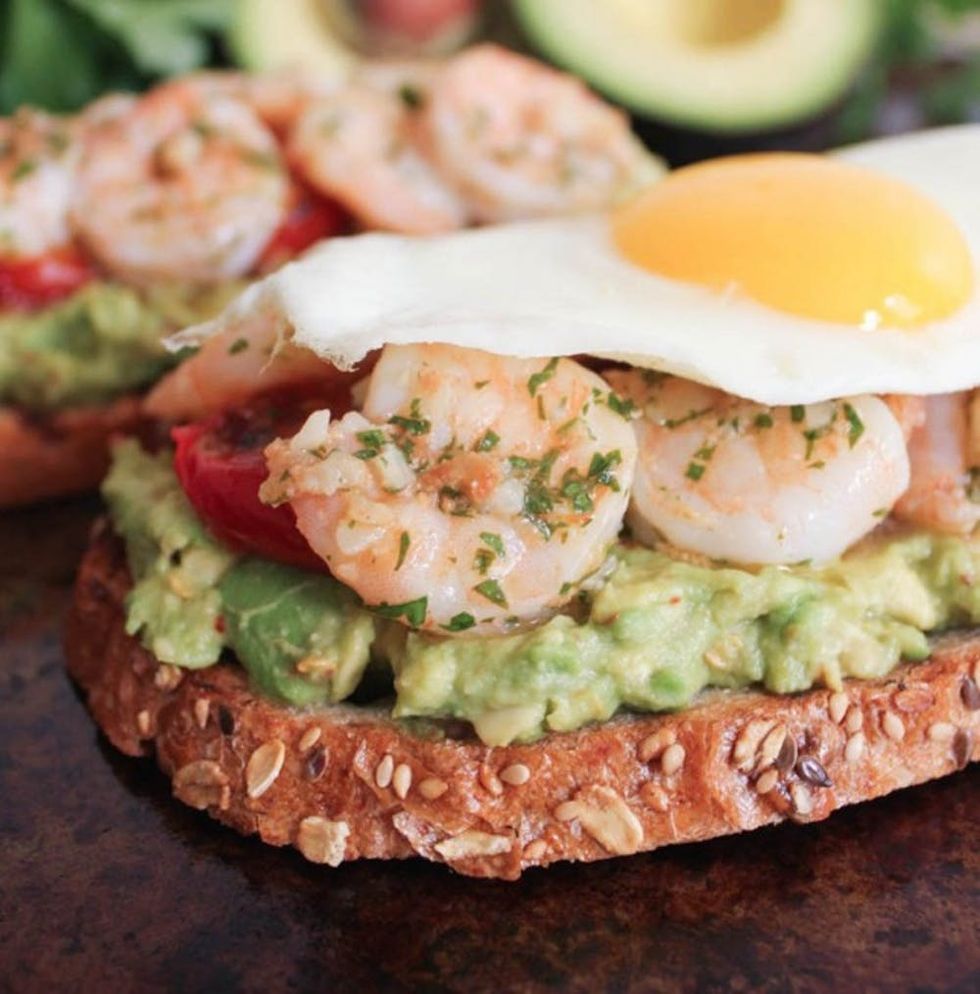 10. Avocado Toast With Charred Tomatoes, Garlic Shrimp and Fried Egg: Perfect for lunch, dinner or a late night snack, this flavorful and nutritious version will have you thanking the food gods. (via Domesticate Me)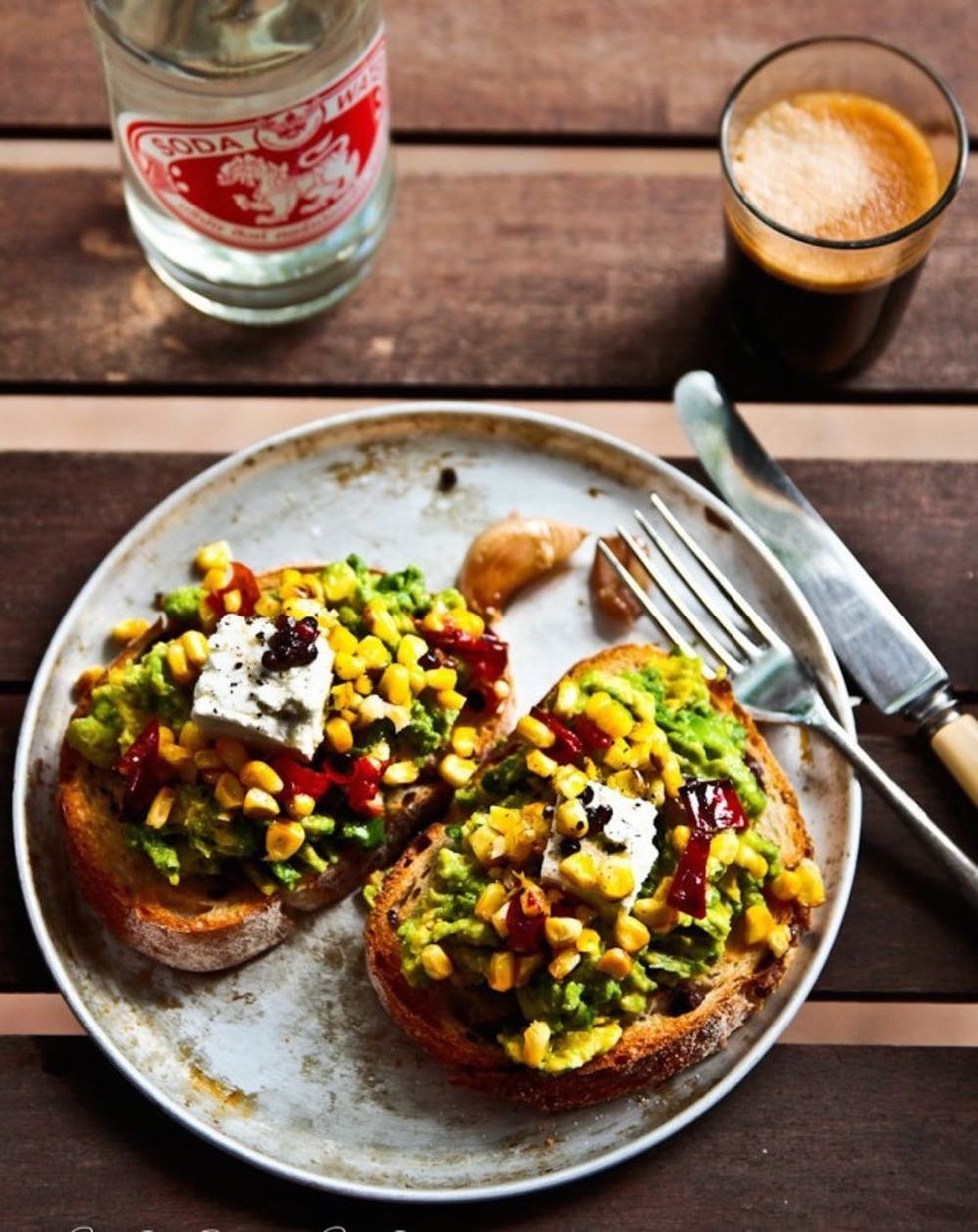 11. Feta, Avocado and Roasted Chilli Sweetcorn: We say the more toppings, the merrier! This delectable dish is a tad spicy, a tad sweet and seriously appetizing. (via Not Quite Nigella)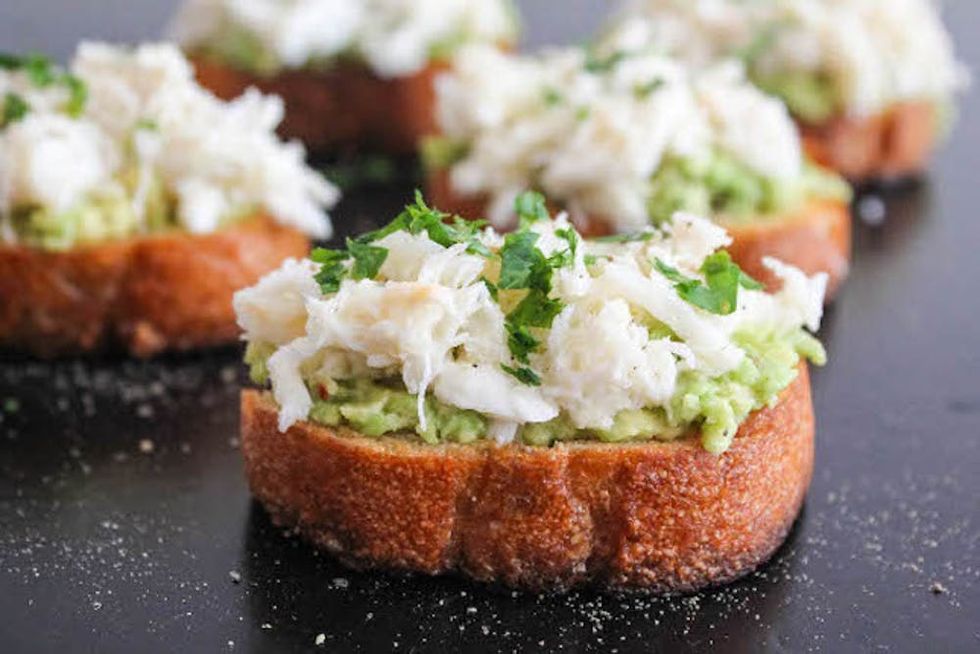 12. Avocado and Crab Crostini: Top your toast with fresh, buttery crab and toasted baguette slices, then be prepared for your life to change — it's that good. Serve these as an appetizer when hosting your next soirée, and your guests will be begging for the recipe. (via Confessions of a Chocoholic)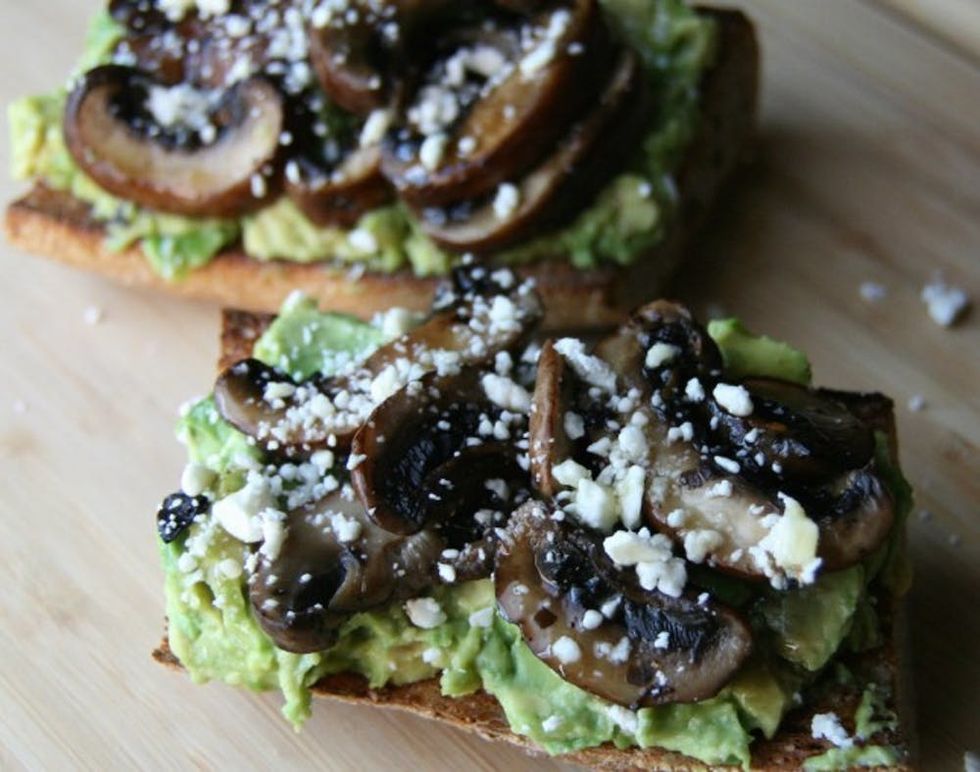 13. Honey Drizzled Avocado and Mushroom Baguette: Take your avo toast game up a notch with a gourmet snack that will impress your foodie friends. This sophisticated recipe packs a huge flavor punch, and you probably already have all the ingredients you need on hand. (via The Roxx Box)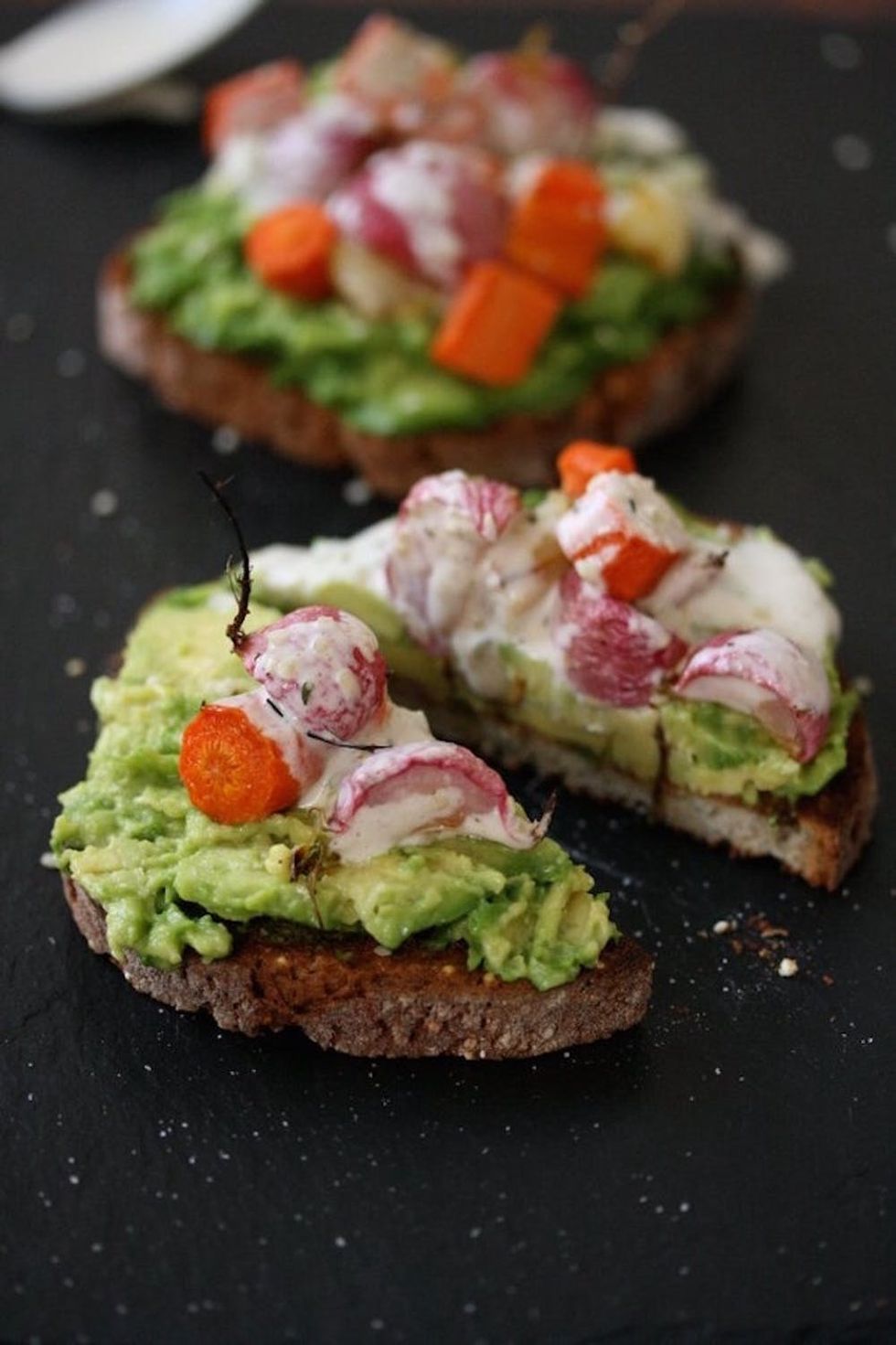 14. Green Goddess Toast: Roasted spring vegetables, tahini sauce and avocado: Do we even need to say more? The queen of all things healthy and green (Ms. Gwyneth Paltrow, of course!) would totally approve. (via Feed Me Phoebe)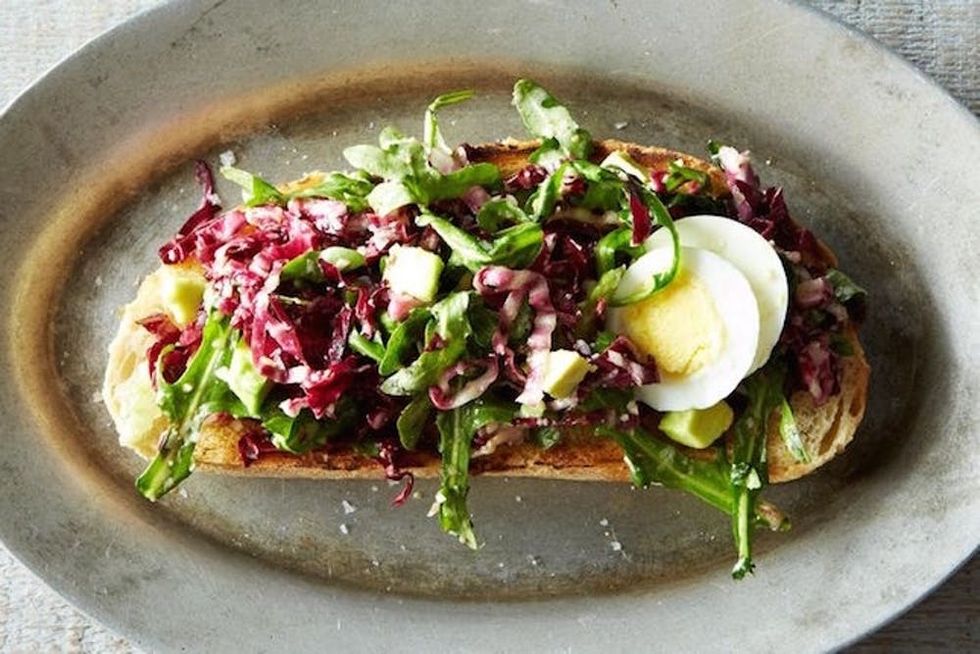 15. Bagna Cauda Toast with Radicchio, Egg, and Avocado: Anchovy lovers, you're in luck! This rich and savory toast will satisfy your hunger and keep you coming back for more. Make this on thick, hearty bread and load on the toppings for a dinner that won't disappoint. (via Food52)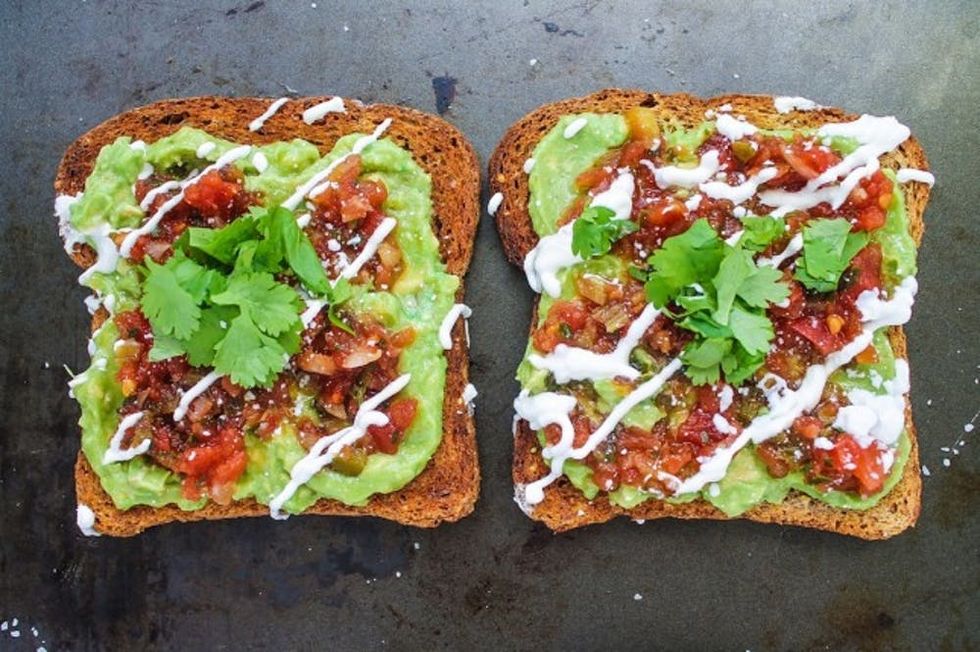 16. Mexican-Style Avocado Toast: Here's a delicioso breakfast/lunch/dinner/snack that's like a fiesta in your mouth. Salsa, hot sauce and vegan sour cream are just some of the incredible toppings that will leave you saying "olé!" (via The Vegetarian Food Lab)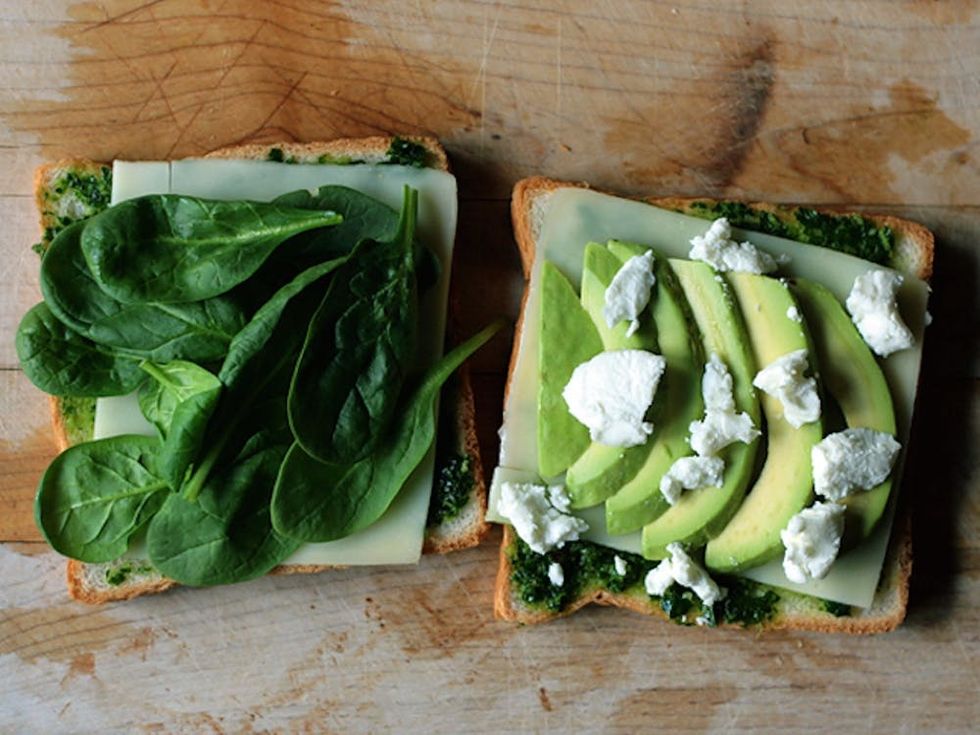 17. Green Goddess Grilled Cheese Sandwich: Pure happiness and a full stomach is just one recipe away. Herb pesto, melted mozzarella, avocado and goat cheese combine to create a mouth-watering meal that's out of this world. (via TasteSpotting)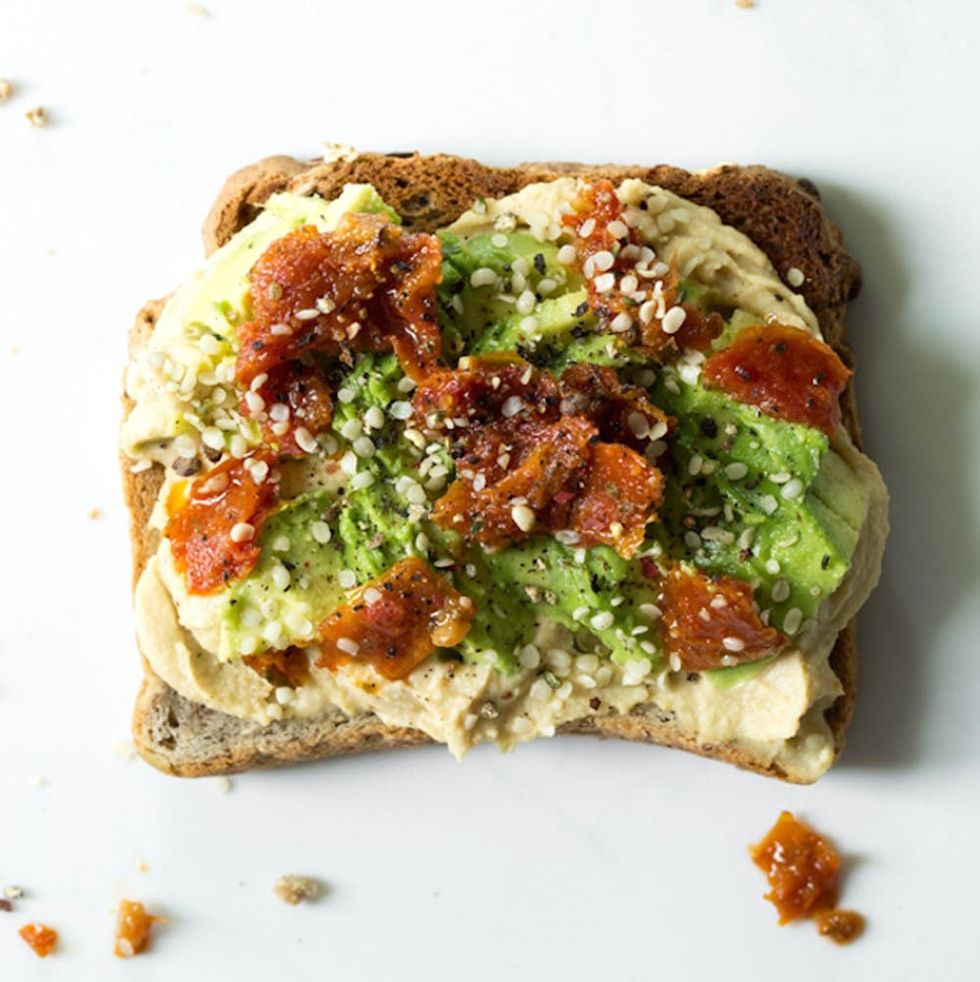 18. Vegan Hummus on Avocado Toast: If you're getting a little bored with your avocado toast, but don't want to put in a ton of effort, this recipe is for you. Slow-roasted tomatoes, hemp hearts, avocado and hummus make for a winning combination. This also makes for the perfect post-workout snack. (via Oh She Glows)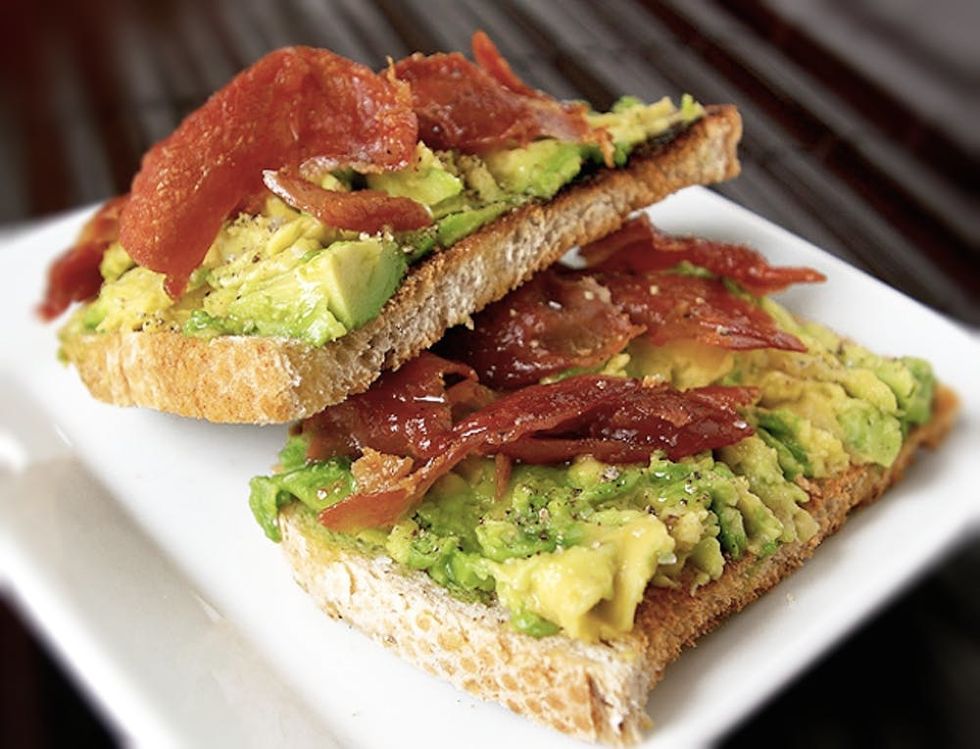 19. Avocado Toast With Crisped Prosciutto: This take on avocado toast will make you hungry just thinking about it. Don't say we didn't warn you! (via Honest Cooking)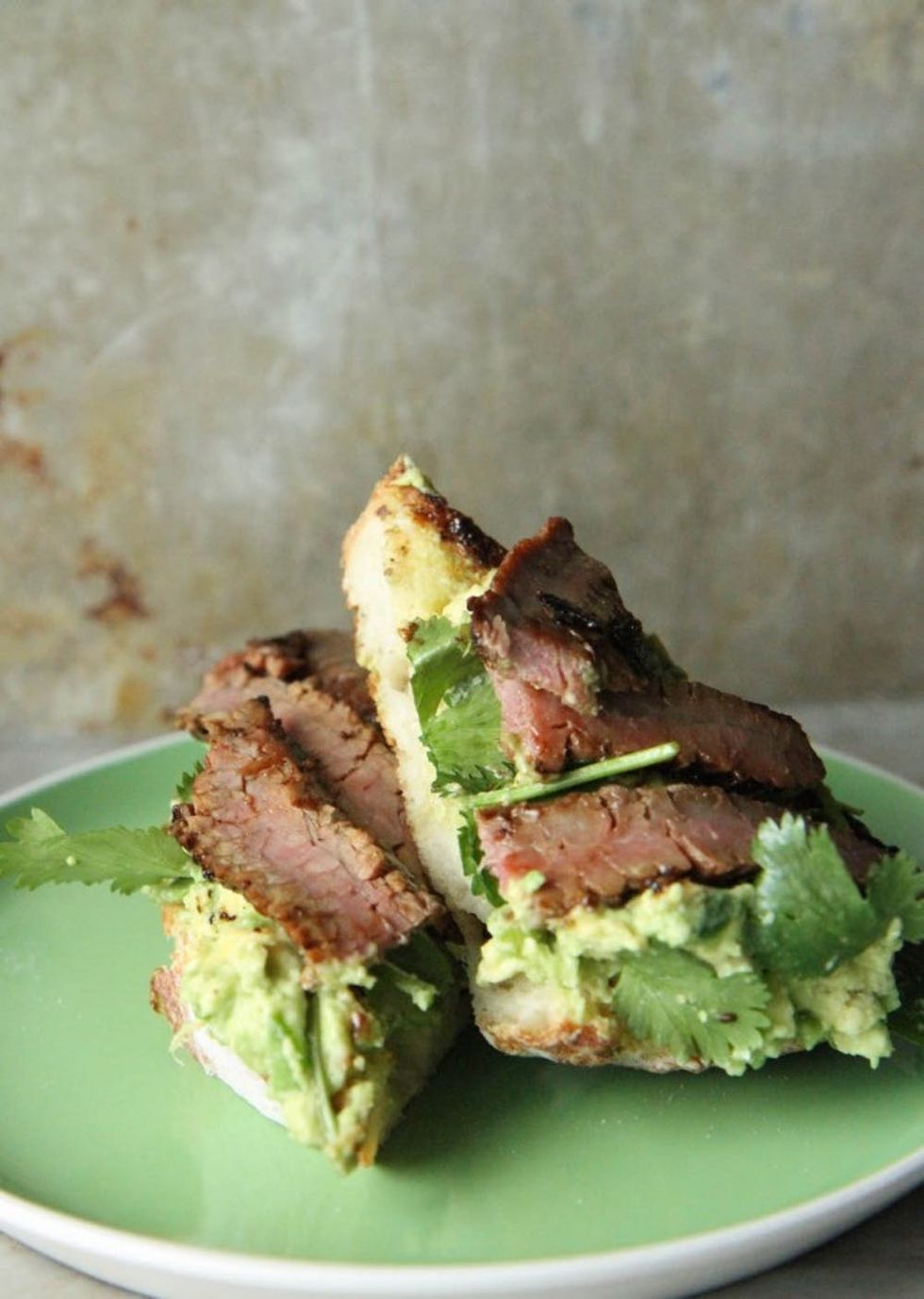 20. Spicy Steak and Avocado Toast: Don't be afraid to step outside the box when it comes to your avo toast. Whether you're headed to a summer potluck or making a meal for your boo, this filling dish will thrill even the pickiest eater. (via Heather Christo)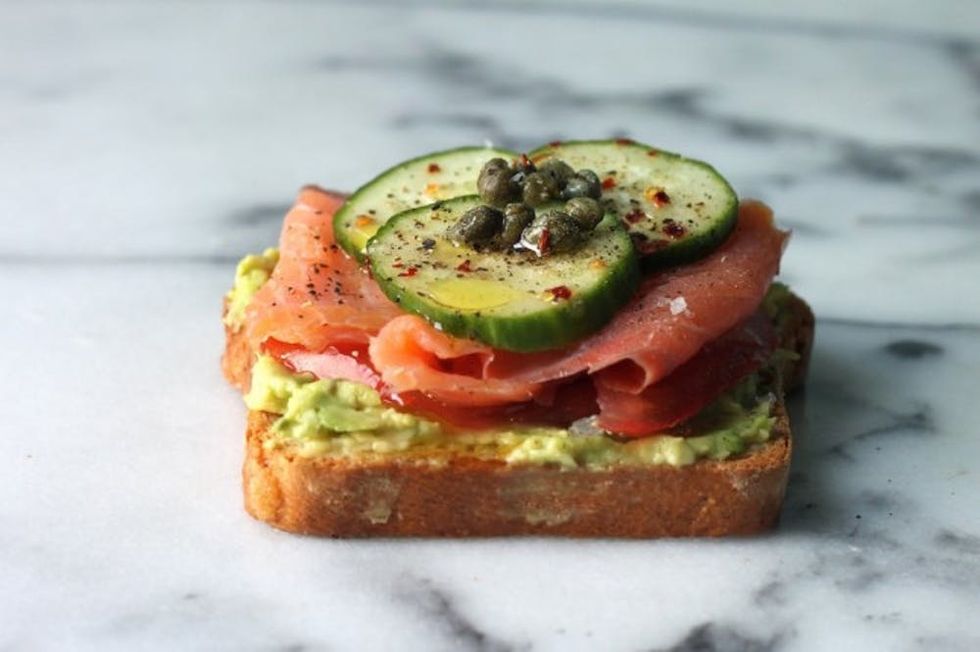 21. Smoked Salmon and Smashed Avocado Tartines: You'll get a nutrient-rich dose of heart-healthy fats, vitamins, protein and Omega-3 fatty acids with these tasty tartines. (via Baker by Nature)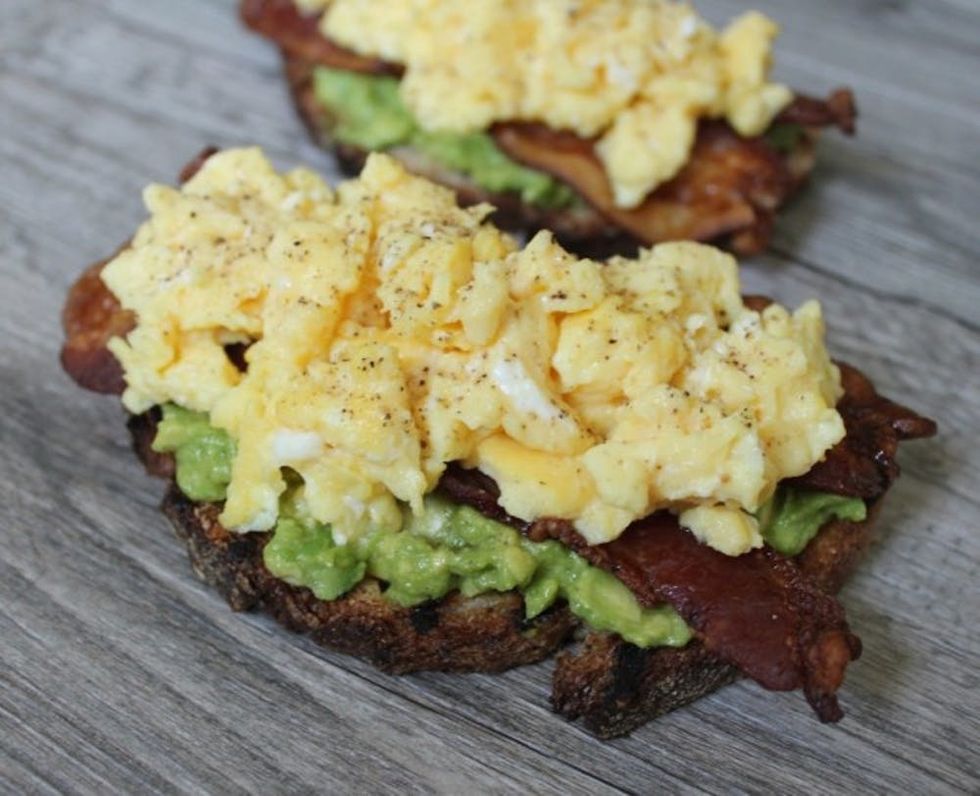 22. Spicy Maple Bacon and Scrambled Eggs on Avocado Toast: Are you drooling just reading the name of this dish? We are! Pair this crave-worthy comfort food with mimosas, and declare yourself a breakfast queen. (via Domesticate Me)
What toppings do you love on your avocado toast? Which of these recipes are you super excited to try? Let us know in the comments!