10-Minute DIY: Make This Glam Leather Laptop Sleeve
Aug 25, 2014
Your arms might like to be enveloped in sleeves (whether clothing or tattoos), but so does your laptop and maybe even your iPad. Share the love and make one of these 10-minute sleeves to keep your tech clean, covered and fashionable. In the past we've made cases out of yoga mats and canvas, so today we're getting classy with pleather left over from our back to school tote project.
---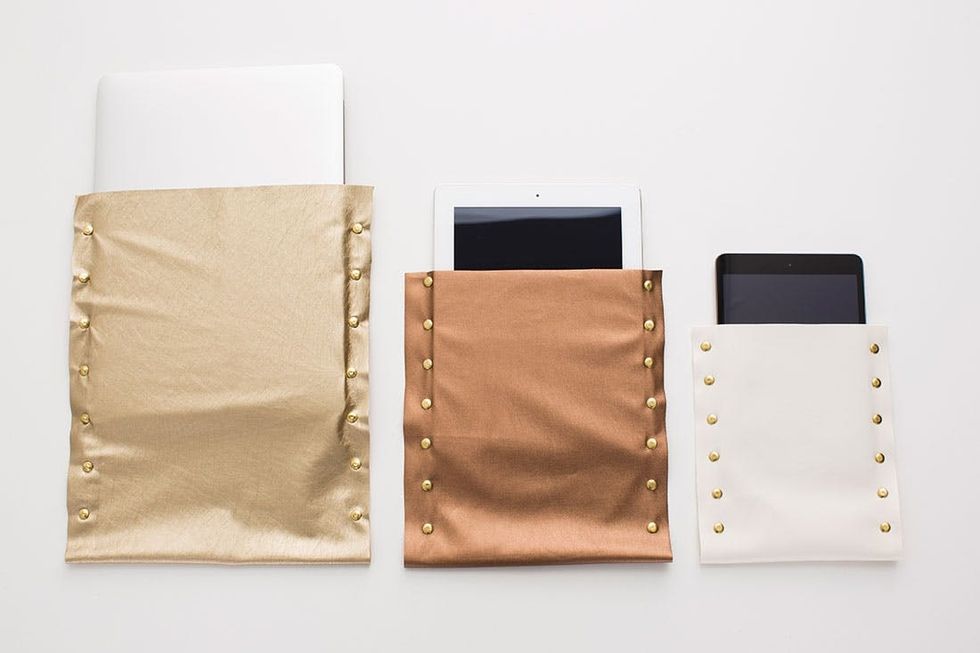 Materials: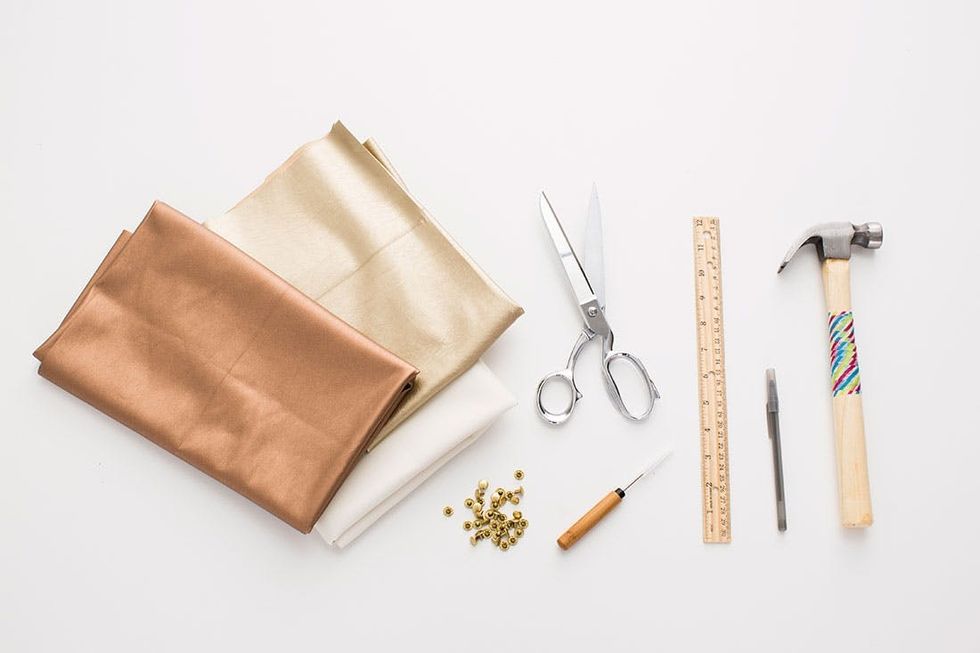 – leather or faux leather
– rivets
Tools:
– awl
– fabric scissors
– ruler
– pen
– hammer
Instructions: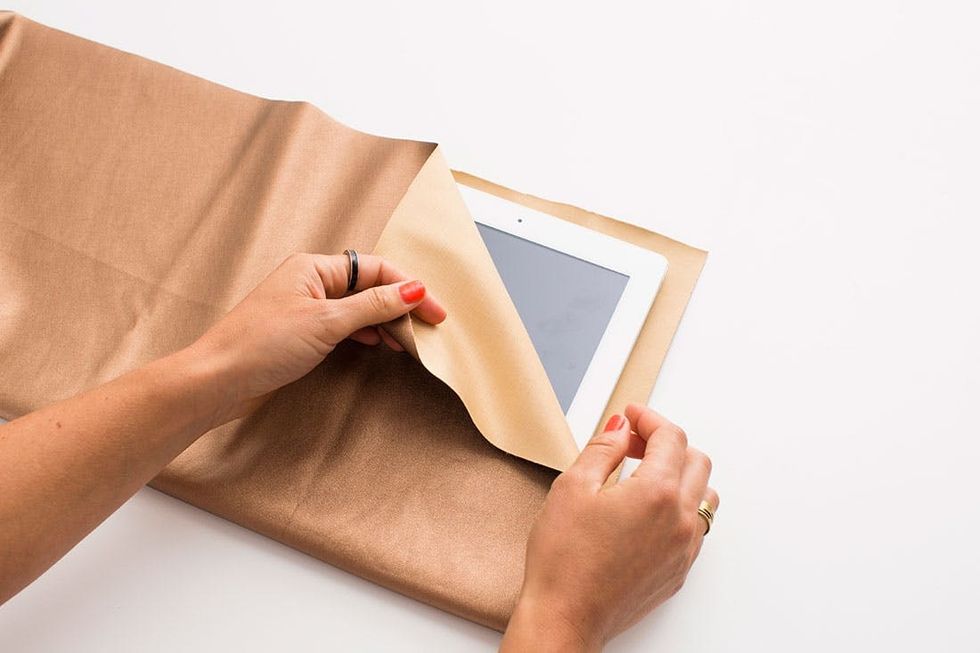 1. Measure your fabric by folding your leather over your iPad or laptop (we're demonstrating with an iPad) with the folded end at the bottom.
2. Leave an inch on each side of the iPad. Make a small snip with your fabric scissors to mark the sides. Then unfold the fabric and draw straight lines using your ruler. Cut along your lines.
3. Fold the leather in half again and place your iPad back inside. Poke a hole through the front and back sides of the leather on one side of the iPad. Add the male part of the rivet. Repeat this step on the other side to ensure the right fit for your iPad. Take the iPad out and set it aside.
3. Set your rivets along the side of your sleeve to determine the best placement. Then make holes with your awl and stick the male side of the rivets through them.
4. Add the female side of the rivets to the back of the male and hammer in place.
Fold your (p)leather over your iPad or laptop with the folded end on the bottom.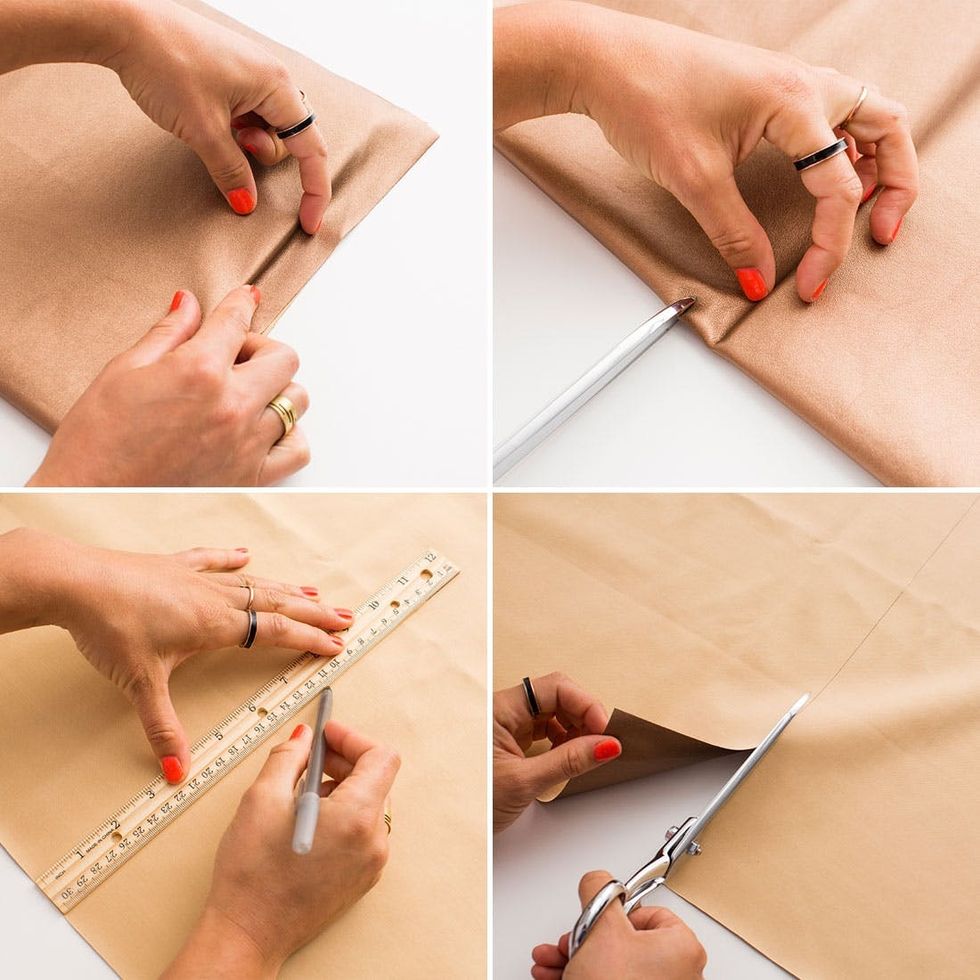 Allow approximately one inch on each side of the iPad and mark it by making a small snip with your scissors. Then use your ruler to make straight lines. Cut along your lines and you'll be ready to add your rivets.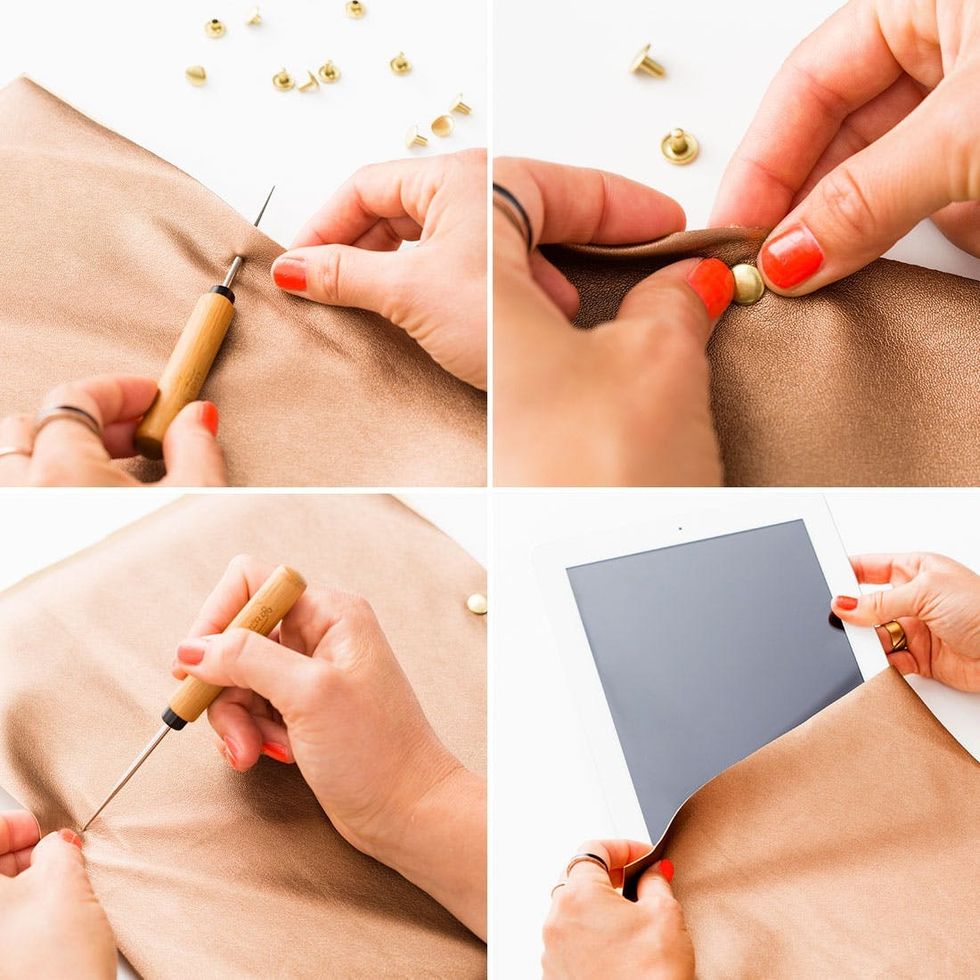 First we need to add two rivets (one on each side) to make sure that the tech fits snuggly inside. Leave the iPad in the folded leather and then poke your awl through the front and back. Add a male rivet and then push the iPad right up against the rivet. Now pinch the other side so that you know where the other edge of the iPad lands. Nudge the awl through this side and add another male rivet. Slip your iPad out of the case before you add your other rivets. You don't want it in there when you hammer. That would be disastrous!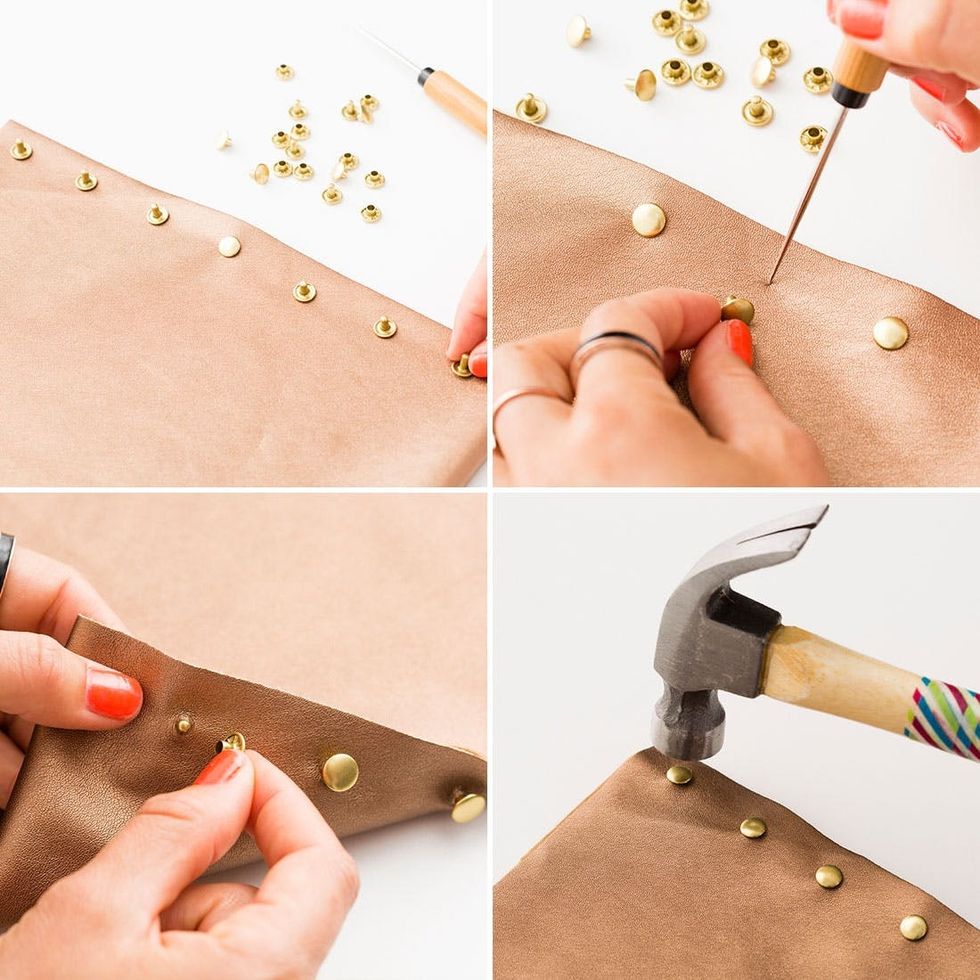 Line your rivets up on the side of the sleeve using that first rivet as a guide. Jab your awl through the leather (gingerly, of course) and add male rivets to all of the holes. Do the same thing on the other side, and then add the female rivets to the backs. Grab your hammer and give those rivets a good whack. We recommend doing this on a piece of scrap wood on the floor or the top of a table. You don't want divots in your table and those rivets will definitely leave a mark.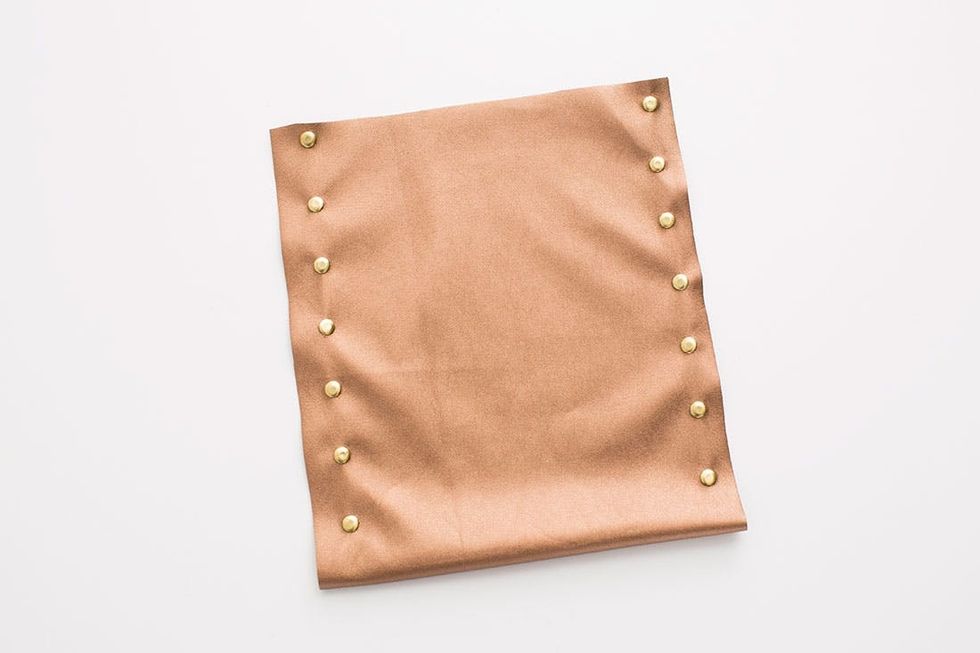 You've got yourself a striking new sleeve! Not sure what to do with your cords? Make one of these cord organizers out of the same material!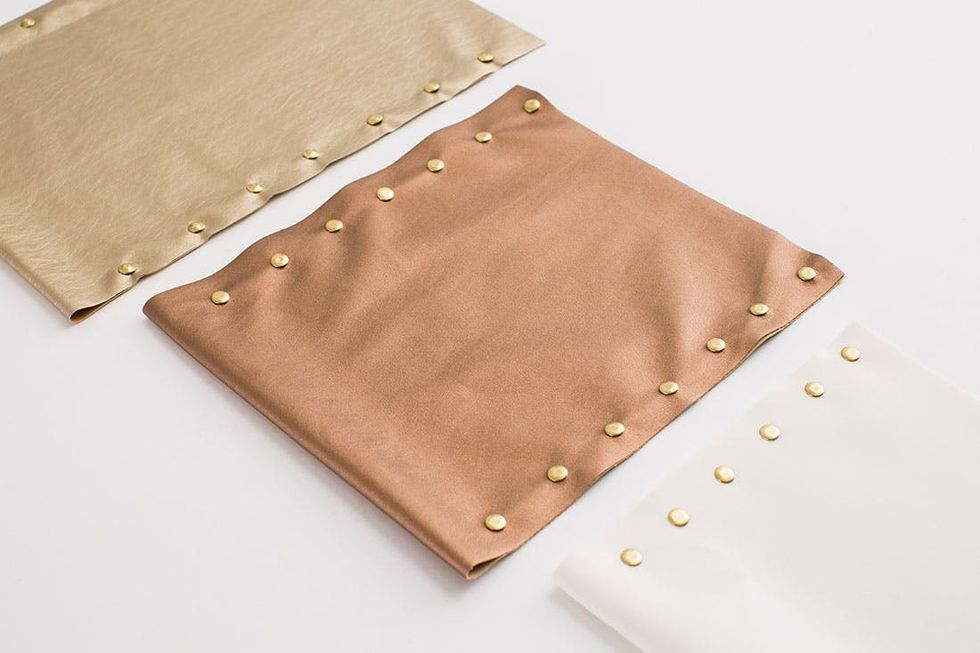 You'll be high-class when you head to class with one of these.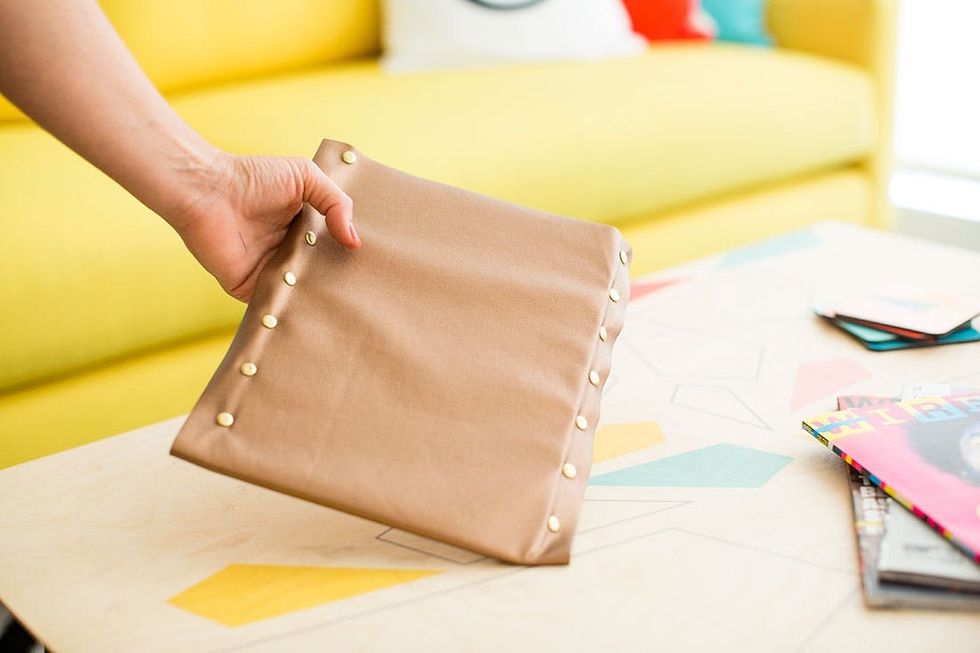 So chic!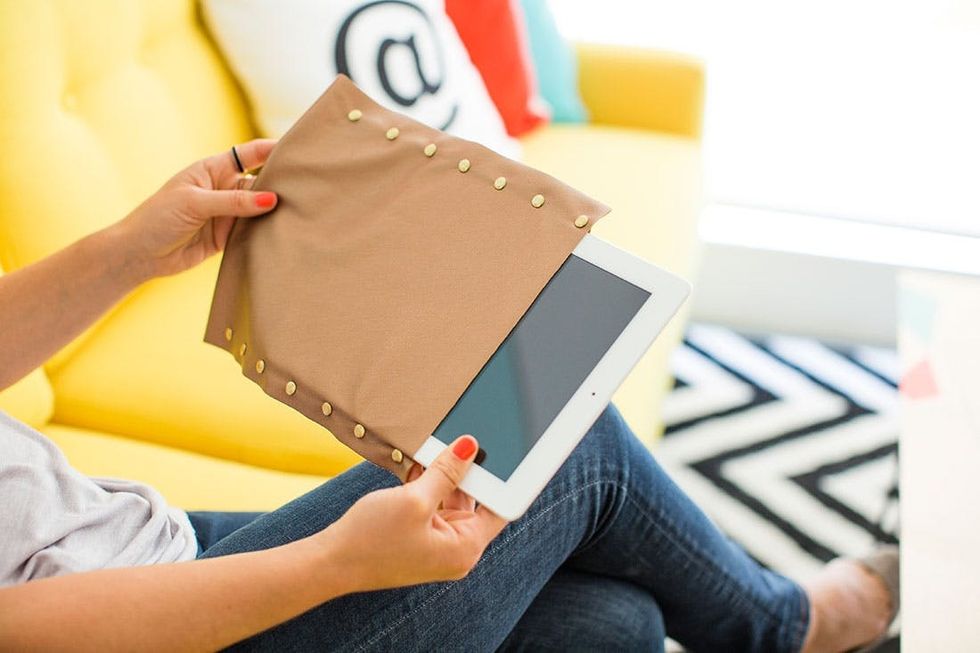 What other leather projects would you like to see on our site? Spout your ideas in the comments!
Roxy Taghavian
Roxy has been creating and executing DIY projects since her very first trip to Michael's as a child. If there's a project at hand, she'll figure out how to make it. When she's not wielding her hot glue gun, she can be found at the beach, traveling to far off lands, reading and running at her gym "The Panhandle."
DIY Style
Feeling a little throwback to that time you had to speak in front your whole school assembly? Public speaking is scary! And so is presenting, pitching, and all the things you need to do to put your business out there. In this week's Selfmade course, we roped in a few experts to break it all down for you. Read on for our weekly recap, made possible thanks to a sponsorship from Office Depot.
<p>Presentations are all about the audience. Aristotle said if you want people to listen to you, to feel inspired, and to be motivated to action, there are three things you must do:<br></p><p><strong>1. Seek understanding:</strong><strong> </strong>First ask yourself, why do you care about this, and what are you trying to achieve? And second, understand where your audience is coming from so you can better relate to them and communicate effectively.</p><p><strong>2. Make your content clear:</strong> Of course it'll make sense to you because it's your brand that you've been steeped in, but it must make sense to the audience. </p><p><strong>3. Have a memorable delivery:</strong> How can you seem enthusiastic about what you're talking about and convey that you care so it'll stick with the audience after your presentation is over. </p><p>In our current remote landscape, your next presentation might be virtual. Here are some basics for strong communication through your screen:</p><ul><li><strong>Have your camera at eye level.</strong> Eyes should be across from the green light, and you never want to look down at your audience. Mimic eye contact by looking at the camera. </li><li><strong>Try to be two to three feet away from the camera</strong> with framing just below the shoulders and just above the head.</li><li><strong>Face a window</strong>, check your lighting, and consider your background.</li><li><strong>Turn off all notifications</strong> across your devices.</li><li><strong>Keep your feet on the floor</strong> to straighten your posture.</li><li><strong>When a visual or slide goes up</strong>, the audience will automatically try to digest the slide and might miss what you're saying, so be sure to tell people what they're about to see in a concise sentence before you flip to the slide, and then break it down in more detail once it's on screen. </li></ul>
<p>Ready to shout your message from the rooftops? And to start bringing in sales? Office Depot OfficeMax has got your back, with a full suite of<a href="https://www.officedepot.com/cm/services/office-depot-services?cm_mmc=bl-_-aq-_-url-_-bc&amp;cm_mmca1=internal&amp;cm_mmca2=uf&amp;utm_source=blog&amp;utm_medium=social&amp;utm_campaign=bc_na_url_internal_uf_aq&amp;utm_content=tea_na&amp;utm_term=tea" target="_blank" rel="noopener noreferrer"> business solutions</a> to help you succeed, including<a href="https://www.officedepot.com/cm/print-and-copy/print-services?cm_mmc=bl-_-aq-_-url-_-bc&amp;cm_mmca1=internal&amp;cm_mmca2=uf&amp;utm_source=blog&amp;utm_medium=social&amp;utm_campaign=bc_na_url_internal_uf_aq&amp;utm_content=tea_na&amp;utm_term=tea" target="_blank" rel="noopener noreferrer"> print &amp; copy services</a> to make sure your message comes through loud and clear.</p><p><br>Head to<a href="https://www.officedepot.com/cm/marketing/selfmade-promo?cm_mmc=bl-_-aq-_-url-_-bc&amp;cm_mmca1=internal&amp;cm_mmca2=lf&amp;utm_source=blog&amp;utm_medium=social&amp;utm_campaign=bc_na_url_internal_lf_aq&amp;utm_content=tea_na&amp;utm_term=tea" target="_blank" rel="noopener noreferrer"> Office Depot's Selfmade page</a> to check out even more amazing business resources (and discounts!) to help you accomplish more on your entrepreneurial journey. These offers are available for a limited time only, so be sure to take advantage of all this goodness while supplies last.</p>
<div class="htl-ad" data-unit="contentbanner" data-sizes="0x0:1x1,1x2,4x4,320x100,300x250|970x0:1x1,1x2,4x4,300x250,728x90" data-prebid="0x0:contentbanner_mobile|970x0:pagebreak_desktop" data-refresh="viewable" data-refresh-secs="30" data-targeting='{"pos":"1","post_id": "{{post.id}}"}' ></div> <div id="teads-ad"></div>
Money