Janet Jackson's Crowd-Fave Backup Dancer Has Wise Words About Being a "Thick Girl"
Nov 16, 2017

Every Body celebrates inclusivity and the representation of human beings in every shape and form.
---
Allison Buczkowski knew she looked good in her new donut-patterned onesie. What the dancer didn't know when she chose the outfit for rehearsal that November day was she'd be playing the Dunkin Donuts Center in Providence, RI.
"I was like, 'Oh my god, I'm literally a walking donut,'" she said. But true to form, she made it work.
Buczkowski, 27, brims with confidence and charisma, the stuff stars are born with. But she's honed those attributes, too. She credits her mother for teaching her failure wasn't an option ("it's not gonna work for me") and her dance teachers for training and pushing her just like they did with every other kid in the studio. That dedication helped land her current gig, a dream job: touring with Janet Jackson.
But Buczkowski has never necessarily fit the mold of the so-called typical dancer — not in talent, drive, or body type.
"I've always been a thick girl. Always had thick thighs. That's just how I am," she says. But that never meant she was treated differently as a dancer.
From her days dancing as a little girl in Hamburg, New York, to when she set off for Los Angeles at 21 ("It wasn't a decision of if I'm gonna go, it was more like when"), Buczkowski has been firmly focused on achieving her goals.
"I was so competitive that I wanted to be the best one," she says. "And then I kept pushing until I did that. I had to jump higher than everyone else. I had to do more turns than everybody else. I had to be better than everybody else."
Buczkowski credits her competitive, perfectionist nature for making the cut into Janet Jackson's squad. Dancing for Jackson is a coveted job in the dance world; unlike many artists, Jackson understands dance and selects her talent based on skill, not just their looks. To dance for Janet Jackson, you need to be good.
Sharing a stage with a person of Jackson's stature (Buczkowski repeatedly calls her "a living legend") could be daunting for some, but Buczkowski revels in it. She embraces the challenge to shine next to a woman who has been slaying audiences for decades.
"I know we're on stage with Janet and all, but I like to perform too," she says. "So I like to do everything I can to keep people looking at me when I'm standing in front of them."
On Jackson's State of the World Tour, it's hard to look away from the icon's mesmerizing moves and her ever-so-jaunty ponytail as it catches the perfectly positioned wind machine. But Buczkowski captivates.
"I will look at everybody and anybody in the front, and if you're playing with me, I will play with you. We will have a grand time and we will do this together," she says. "If you're giving me energy, I will give you energy right back."
As a result, Buczkowski has emerged as a clear crowd favorite. As Jackson introduced the dancers at a recent tour stop in Toronto, the applause rang out just a little louder for Buczkowski than for her colleagues. And her Instagram posts are covered in praise.
"Your dancing is #lifegoals."
"You are my motivation!"
"Sooo Awesome! CONGRATS & thanks for being a shining light to myself & others who look like us in Entertainment! U rock!!!"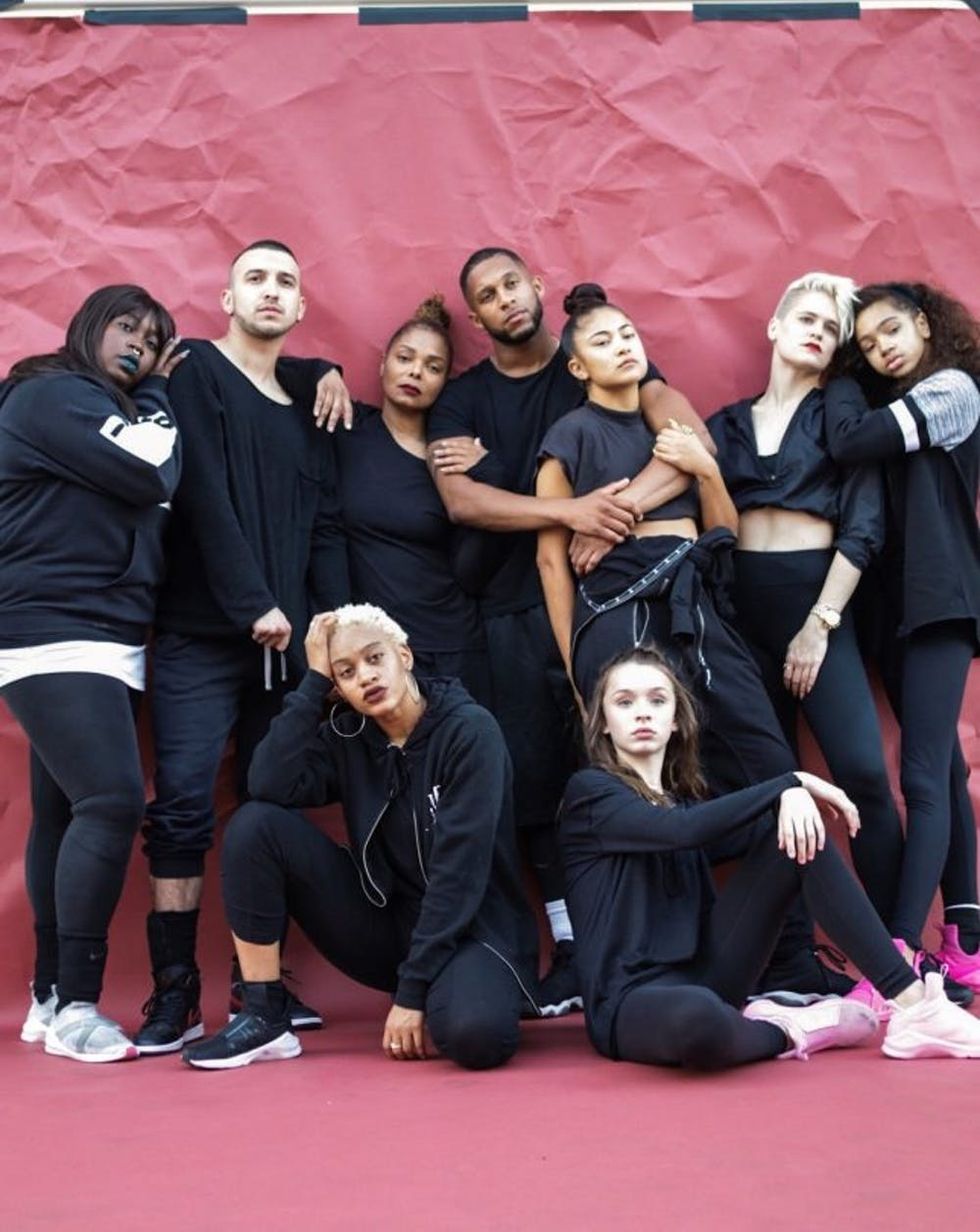 Buczkowski's happy to receive praise, but she doesn't particularly think about whether her size has anything to do with it. She never considered her body type to be part of the show — another thing she learned from her teachers and her parents.
"If you want to be completely honest, I don't notice what everyone else is talking about because I've never been treated any different and I've been brought up to love who I am and how I am," she says. "I've just been brought to up to do what you want and persevere and be stubborn and make it happen."
How have you persevered to make a goal happen? Tell us @BritandCo.
(Photo via Farrenton Grigsby)
Body Positivity
More From Body Positivity
Whether you want to tap into some holiday nostalgia, or find a fun DIY to do with your kiddos, this simple snow globe craft offers both! Together with Camp by Walmart, we built a customizable crafting journey so you can execute this decor upgrade based on your style preferences and the supplies you have around the house. For this project, you'll need to decide if you want your snow globe to be inside of a mason jar or glass orb, what type of snow you want (hello, glitter!), and what holiday scene should go inside. With 16 possible outcomes, we can't wait to see what you come up with. Check it out by watching the winter wonderland snow globe tutorial now!
Holidays