Jillian Michaels Posted a Full-Body Workout That Requires Nothing But a Bench
Mar 02, 2017
Jillian Michaels has never been one for low intensity, and her Instagram account is proof. The fitness guru and personal trainer posted a video last week that proved you don't need a lot of fancy gym equipment to work up a good sweat.
---
Using nothing but a sole gym bench, Michaels works out literally EVERY part of the human body in a less-than-10-minute circuit. She starts by holding onto the bench and jumping from side to side, using her core to maintain a consistent upper-body form while moving back and forth with her legs. Then, she takes things up a notch by physically jumping from one side of the bench to the other (seriously, it's INTENSE), dropping to a plank position, and then completing high-intensity push-ups.
Now, all of this is good for the core, the arms, and the heart rate, but then Jillian gets into the lower-body portion of the workout. She uses a medicine ball, but you could easily complete this portion with just your own body weight. She sits down on the bench by slowly lowering her butt, essentially completing a single leg squat. She also does some side squats and jumping lunges for good measure.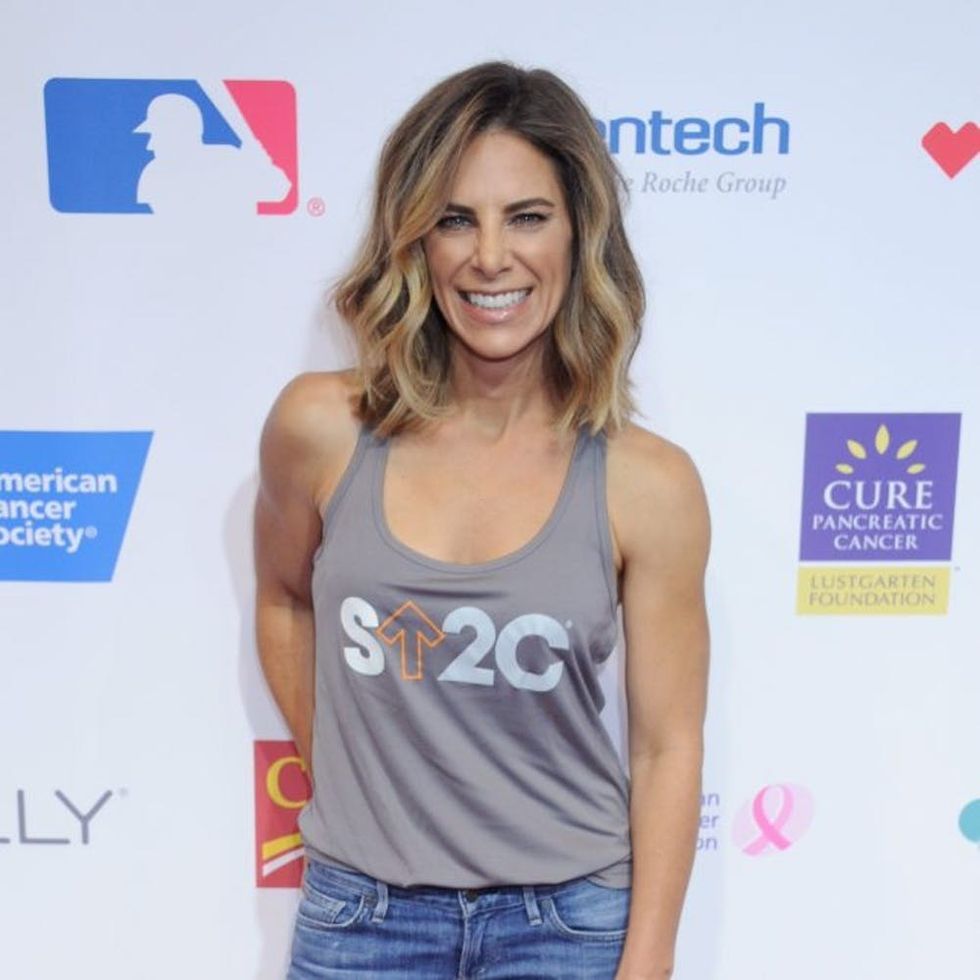 Obviously, when it comes to exercise, you get what you put in — so for this workout to be as effective as possible, you'll want to match Michaels' intensity and mirror her form. You'll probably also want to do at least three to four reps of this high-intensity workout for it to really be effective.
A few things to keep in mind: This workout isn't particularly easy on the knees, so if you have any knee issues, it's probably best to go a with a different workout routine. Even if you have great knees, be careful — never extend your knees out so far that you can't see your toes.
To make this an extreme fat-burning HIIT workout, you'll complete the circuit once with full intensity, and then give yourself one minute to rest and recuperate. Keep repeating that cycle for a total of at least 15-20 minutes.
And, of course, fuel your body with the right foods to maximize your workouts.
What's your favorite high-intensity workout? Tweet us at @BritandCo and let us know!
(Photo via Gregg DeGuire/Getty)
Maggie McCracken
Maggie McCracken is a freelance writer, blogger and aspiring digital nomad. She writes primarily about food, travel, yoga and healthy living, and she has a background in health and science journalism. You can read more of her work on her lifestyle and travel blog, The Olive Branch.
Health