Just One NFL CEO Will Pay Fines for Players Who Want to Kneel During the National Anthem
May 24, 2018
The NFL this week created a new policy that will punish players who opt to kneel during the national anthem, threatening players with a fine and other possible penalties if take part in this act of protest. In a response that has been disappointing to many players and fans, the CEOs of the NFL's teams voted to impose this new policy on players. So far, just one team executive has offered to pay fines that players will be hit with if they kneel in protest. According to Newsday, New York Jets chairman Christopher Johnson has said he will pay fines for players.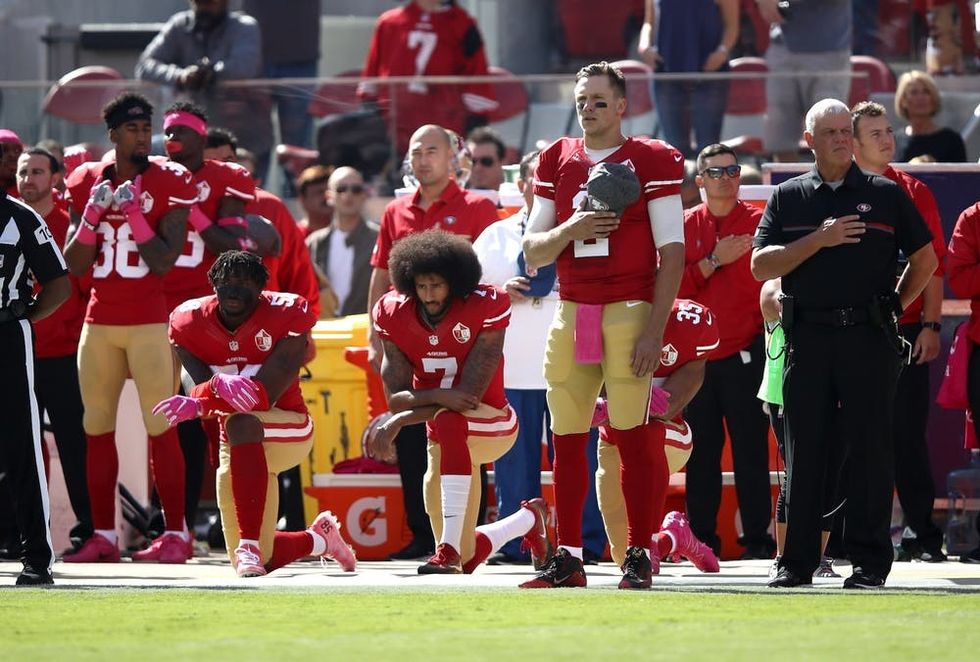 ---
"I do not like imposing any club-specific rules," Johnson told Newsday on Wednesday. "If somebody [on the team] takes a knee, that fine will be borne by the organization, by me, not the players. I never want to put restrictions on the speech of our players." Johnson further noted that would "prefer" that players stand, but said, "I understand if they felt the need to protest. There are some big, complicated issues that we're all struggling with, and our players are on the front lines. I don't want to come down on them like a ton of bricks, and I won't. There will be no club fines or suspensions or any sort of repercussions. If the team gets fined, that's just something I'll have to bear."
Johnson is serving as acting owner of the Jets while his brother and Trump campaign donor, Woody Johnson, is serving as US ambassador to the United Kingdom. He was appointed to this position by Trump.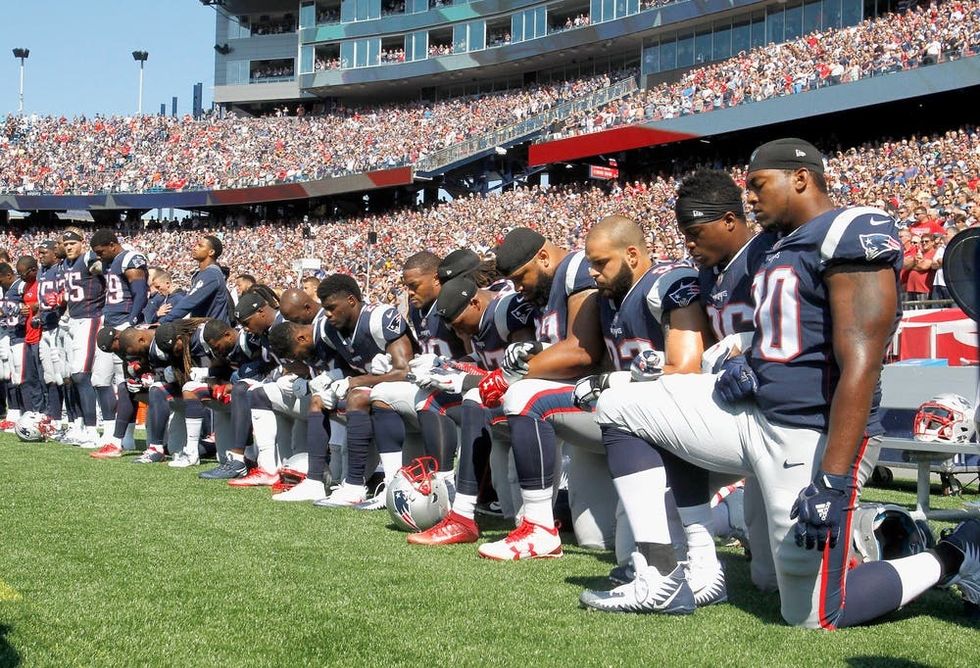 Last season, Johnson stood on the sidelines and linked arms with Jets players during while the national anthem was performed. Following that game, Johnson released a statement saying, "It was an honor and a privilege to stand arm-in-arm unified with our players during today's national anthem. We are very proud of our players and their strong commitment to work in our community to make a positive, constructive, and unifying impact," NBC Sports reported.
Regarding the new policy, the NFL Players Association (the union for NFL players) said they were not consulted. In a statement released Wednesday and posted to the NFLPA's Twitter account, the union hinted that they will be pursuing a change or revocation of the policy.
"Our union will review the new 'policy' and challenge any aspect of it that is inconsistent with the collective bargaining agreement," the statement reads.
— NFLPA (@NFLPA) May 23, 2018
'Taking a knee' during the national anthem has become a popular act of protest against anti-Black police brutality among (mostly Black) NFL players. It was kicked off by former San Francisco 49ers player Colin Kaepernick in 2016, and was met with significant backlash from NFL fans to president Trump.
Given the push-back from multiple NFL players, a huge number of fans, and the player's union itself, it seems the policy may not remain as it is going forward. However, with team owners voting unanimously and only one executive offering to take on the fines, there's likely to be a tough fight ahead.
What do you think? Tell us on Twitter @BritandCo.
(Images via Ezra Shaw + Jim Rogash/Getty Images)
Elizabeth King
Elizabeth King is a politics, history, and culture writer based in the Twin Cities. She is generally pretty cranky but still enjoys traveling, music from the early 2000's, and plotting the resistance. Feel free to say hi on Twitter at @ekingc or check out some of her work at www.elizabethcking.com.
Current Events