LUMOback is a Posture Sensor That Vibrates When You Slouch
Jun 28, 2012
True fact: the amount of people that suffer from back pain has more than doubled in the last decade. What's more, the cost for treating those with chronic back pain is alarmingly high. (And we all know how awesome our health care programs are these days…)
---
So, how do you prevent this situation from happening? One good bet is to first focus on correcting your posture.
Your mom has probably already told you this before, but it's true: posture affects everything you do. You're always sitting, standing, lying down, walking, or running… and you're probably slouching a good percentage of that time, sapping your energy and straining your back. It's also been proven that those who work at a computer each day are much more likely to have poor posture — yep, I'm part of that guilty crowd. (In fact, I just realized I was slouching at this very moment. Fail.)
But, fear not, fellow computer slouchers — we may still have hope!
A new product called LUMOback aims to help you monitor, track, and improve your spine in a very smart way. This small and discrete sensor is worn around your waist or lower back and monitors your posture throughout the day. If you start to slouch, you'll feel a gentle vibration reminding you to fix your posture.


The sensor is also connected via bluetooth to an app that tracks all of your daily posture data. LUMO, your avatar, even shows you your posture in real time, whether you're sitting, walking, or even running! We recommend keeping the app open while working at your desk — it's a great visual reminder to sit up straight, especially since it's right in front of you. (PS: Need a good desk dock for your phone? We've got you covered.)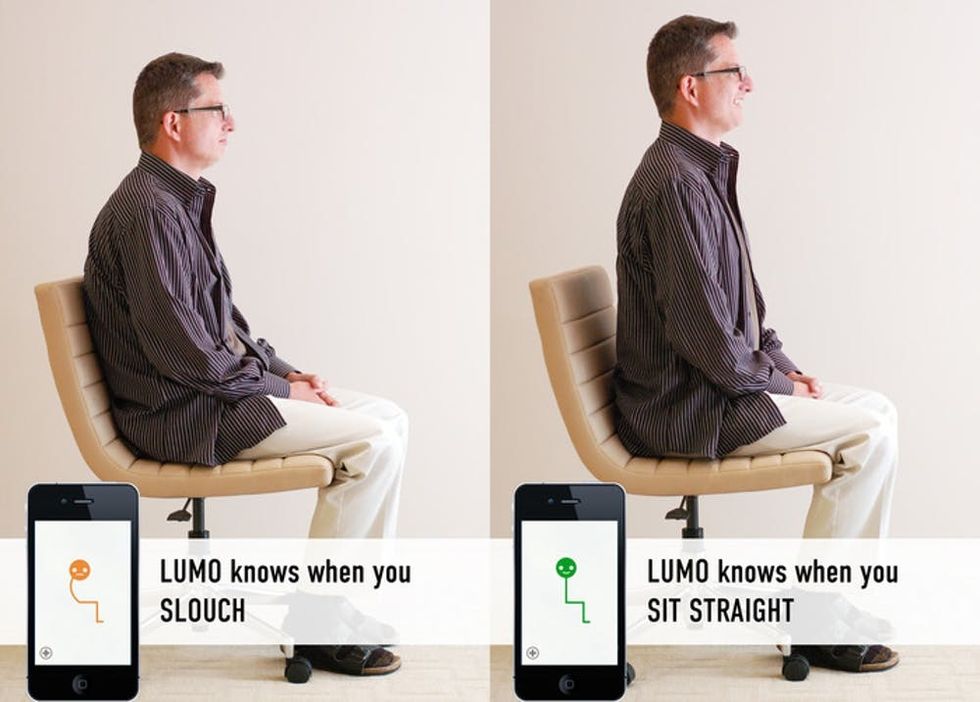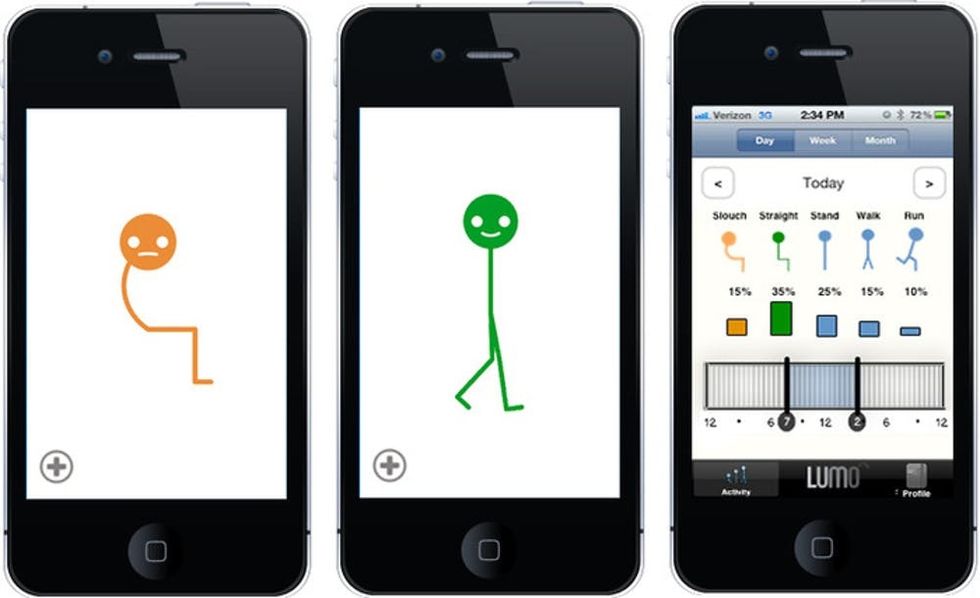 If you're worried about wearing this thing under your clothes, don't be. I've actually personally seen a LUMOback in the wild and can tell you that it's super thin (8.5mm at it's thickest) and hardly even shows through a tight top.
What about the battery life? Not only is LUMOback water resistant, but it lasts four days on a single charge. There's no reason you can't wear this thing 24/7… er, 24/4 with a bi-weekly charge session.
"You live your life. Only better." This line from LUMOback's Kickstarter campaign basically sums up what's so great about the best technology developments: They enter seamlessly into your daily life and just make it that much more awesome.
I'm a backer of LUMOback and you should be, too. If the campaign is successful, it's possible these babies will ship as soon as November. Here's to better posture by 2013!
How do you ward off bad posture? Leave us a note in the comments below or find us on Twitter.
Health