#MeToo Shows Why Electing More Women to Office Is More Than Symbolic
Jun 26, 2018
It's no secret that women across the US have been running for political office in record-breaking numbers following the 2016 election. At least 575 women announced their intent to run in House, Senate, and gubernatorial races as of March, marking a 60 percent increase in female candidates for Congress since 2016. In the wake of the #MeToo movement, these numbers are more than just symbolic: They signal a real hope for change through female leadership.
#MeToo is more than a viral hashtag — it's a movement to produce accountability by not only holding men responsible but also boosting female leadership. Now, with primaries fully underway across the country, it's become clear that women running for office are doing more than making a statement: Their big wins in often crowded fields are a reminder that women are running to win.
---
Women — and in particular, Democratic women — won about half of the elections in key state primaries in California, New Mexico, Illinois, New Jersey, and a special election in Missouri, which saw a formerly pro-Trump district go blue and elect a woman. In all states but California, a woman won the party nomination for governor.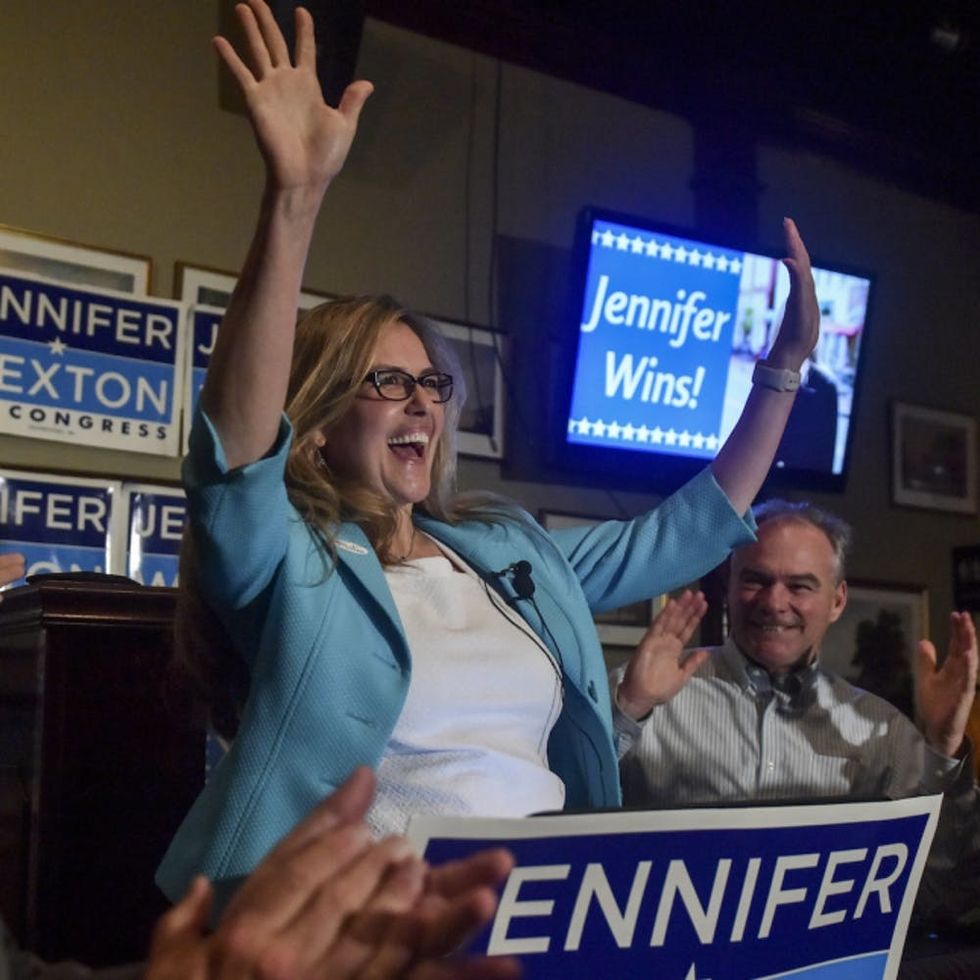 The Virginia primaries saw similar gains for female candidates, with congressional primary victories among Democrats Elaine Luria, Abigail Spanberger, and Jennifer Wexton, who will each square off against Republican incumbents this fall. In Nevada, Democrats nominated Rep. Jacky Rosen for Senate, Susie Lee for Congress, and Kate Marshall for Lt. Governor.
In a nation where some 80 percent of Congress and 75 percent of all state legislators are male, and with a president accused of sexual misconduct by handfuls of women, it doesn't hurt to remind girls and young women that politics isn't supposed to be a boys' club. But these gains in female candidacy might have another sweeping benefit, too: Political science research has shown that women often legislate differently from their male counterparts — for the better.
Put simply, female legislators are often more efficient. A 2011 study of Congress revealed that the average female legislator had 2.31 of her bills enacted, compared to 1.57 from the average male legislator. (Vox says that, in one recent session of Congress, women passed twice as many bills as their male counterparts.)
And maybe unsurprisingly, there's often a substantial difference in the issues male and female legislators prioritize, with women more likely to take charge on key issues that disproportionately affect the living standards of women, people of color, and other marginalized groups. Even between liberal male and female lawmakers, a Georgetown political scientist found that women were still likelier than their male counterparts to prioritize issues like violence against women, family leave policy, and women's health, co-sponsoring double the number of bills sponsored by liberal men that related to women's health.
According to a study from 2016 that looked at 151,824 bills introduced in the House from 1973 to 2014, women were more likely than men to sponsor bills in critical domestic policy areas such as civil rights, health, and education. Another report revealed that white men in state congressional legislatures were key leaders in proposing restrictions on abortion. And while plenty of anti-choice women like Iowa governor Kim Reynolds have been not just privy but often instrumental to advancing some of these restrictions, their stances don't magically negate the objectively harmful effects or oppressive nature of abortion bans on women.
And of course, as the #MeToo movement has revealed, women's chosen areas of focus in policy aren't the only assets they bring to the table. In revealing the extent to which systemic sexual exploitation and abuse has been the result of male complicity and dominance in spaces of decision-making power, the movement shows us how important it often is just to have a woman in the room. Sexual harassment scandals ravaged Capitol Hill last year, from a Republican Congress member's offering millions to aides to have his children, to multiple groping allegations against Democratic Sen. Al Franken, to Republican support of Roy Moore, an Alabama Senate candidate accused of sexually abusing minors years ago.
Greater representation of women in political office is necessary for facilitating safer, more respectful spaces. And if the jarring scandals of the past year aren't evidence enough, consider how female senators unanimously signed a letter imploring bipartisan, male Senate leadership to allow Senate sexual harassment policy reform to move forward earlier this year.
Months later, their demands have yet to be met. And while #MeToo has encouraged more male allies, sexual harassment is clearly one of many deeply important issues that have been relegated to "women's issue" (AKA, lower priority) status. According to the leaders and founders of the American Women's Party, an organization that aims to empower Democratic female candidates and voters, even with more liberal men in the room, issues that affect women most often remain afterthoughts, at best.
From the treatment of abortion in the Affordable Care Act to progressive prioritization of tuition-free public college as a talking point over universal childcare, even well-meaning, progressive spaces can often treat the female experience as tangential — and that's if they remember to consider it at all.
Women's and all social issues are never, at their core, just social issues; they also bear deep, weighty economic implications. And more politicians would understand this if more of them were women. When we discuss the gender wage gap, rather than blame girls and young women for opting into lesser-paid fields, perhaps we should question the cultural forces — cultural forces all women know too well — that steer them away from and produce gender gaps in leadership and lucrative fields. Perhaps we should question the devaluation of feminized fields, which is a product of the belief that anything women can do must, therefore, be easy — a belief all women fight back against on a daily basis.
It's time for us to reevaluate all of it, from recognizing the necessity of paid family leave in order to give more women options, to the necessity of birth control as a resource for women's economic enfranchisement. And it all goes back to electing people with direct experiences with these issues, who will be likelier to make policy decisions that address everyday women's often forgotten needs.
Representation of women isn't just symbolic: As political science research — and the current #MeToo landscape — reveals, it has real implications for government efficiency and affects whether key women's issues, and women as people, receive respect.
(Photo by Jahi Chikwendiu/The Washington Post via Getty Images)
Kylie Cheung
Kylie Cheung writes about women's rights, reproductive justice, and national politics. Connect with her on Twitter @kylietcheung, or learn more about her work at www.kyliecheung.tumblr.com
Politics