Morning Buzz! Ryan Sutter Breaks His Silence About His Wife Trista's Scary Seizure + More
Jun 06, 2017
Ryan Sutter admits to feeling in limbo and Rihanna claps back at body-shamers in this morning's top news stories. Check out those and more below in the Tuesday Morning Buzz.
---
1.Last week, the very first Bachelorette, Trista Sutter, shared an Instagram detailing the sudden and scary seizure she had while on vacay with her husband, Ryan Sutter, and their kids. The message she sent after the inexplicable medical emergency was to "live with grateful enthusiasm," and now Ryan has broken his silence with an equally heartrending note. "I've had this picture to post for a few days. I just haven't been sure what to say?" he wrote in the caption of the gorgeous pic of his wife, taken a day after her seizure. "Like my mind, the photo has sat as a 'draft.' In limbo. A bit confused." He went on to say that even though his 17 years as a firefighter prepared him to deal with emergencies, nothing could have prepared him for the "confusion and contemplation" that followed Trista's health scare. "So, with that message, I post this simple picture. It's my wife — at her best — capturing life as she always has, though now through a more meaningful lens…"
2.Rihanna took to Instagram to respond to people commenting on her weight. Even though she shouldn't have to address it at all, and even though we shouldn't care about Rihanna's weight, the singer posted a clapback in the form of a meme showing rapper Gucci Mane in two pictures taken 10 years apart, with the caption, "If you can't handle me at my 2007 Gucci Mane, you don't deserve me at my 2017 Gucci Mane." She used the single-tear crying emoji, maybe sarcastically, but maybe to prove that she's only human too (crazy, right?!) and words hurt.
3. Canadian Prime Minister Justin Trudeau wants the country to have a female PM. In a segment on Live With Kelly and Ryan, which was filming in Niagara Falls, Trudeau was asked which of his kids would run for prime minister. "I will say I have one daughter, and there is something very special about imagining a woman prime minister," he said. "I think it's long overdue. I just don't think we have to wait that long. I think it should be sooner than that." What Trudeau seemed to forget in that moment is that, in 1993, Kim Campbell served as the country's first female PM. She wasn't elected (she took over for a resigning PM) and only had the position for about four months, but still. Cameron Ahmad, Prime Minister Trudeau's press secretary, told HuffPost, "Of course the prime minister did not forget that Kim Campbell was prime minister. Now, that was almost 25 years ago, and I think we can all agree we're overdue after 25 years." (h/t HuffPost)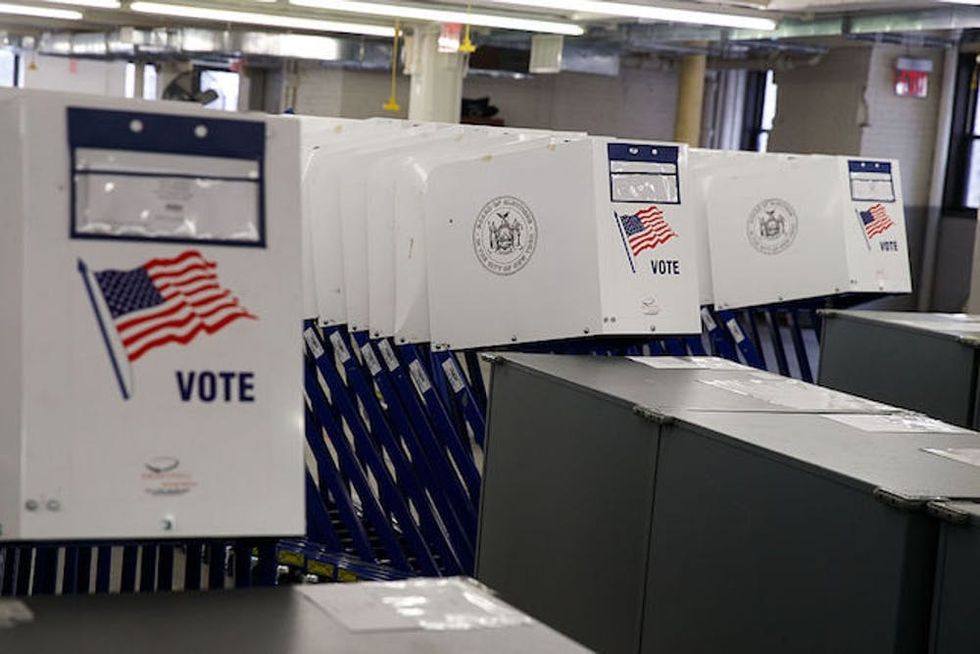 4. A 25-year-old woman has been charged with leaking classified reports about voter hacking to the media. The Justice Department reports that Reality Leigh Winner, a federal contractor in Georgia who also previously served in the US Air Force, has been charged with leaking classified material to The Intercept. On Monday, a top-secret NSA report appeared on the site, claiming that Russia hacked US voting software just days before the election. Winner reportedly admitted to "printing the classified intelligence reporting at issue" and "mailing it from Augusta, Georgia, to the News Outlet," according to Buzzfeed. (h/t Buzzfeed News, photo via Drew Angerer/Getty)
In honour of Chrissy Archibald, I donated $100 to @alphahouseyyc. #chrissysentme #LondonBridgeAttack https://t.co/IfwPAOFEXl pic.twitter.com/fNEyLfOCjV

— Mike Morrison (@mikesbloggity) June 5, 2017
5. The Canadian victim of the recent London attack has inspired acts of kindness as well as a new charity in her name. Can't type, crying. When Christine Archibald's family released a statement on the death of their daughter in the London attacks, they urged people to "honor her by making your community a better place," by either volunteering time or donating money to a homeless shelter. Now, many are sharing their donations and good deeds through the hashtag #ChrissySentMe, and her family plans to start a similar charity in her name. (h/t CBC)
6. Quote of the day:"Can a girl have some steak and fries??" Halle Berry perfectly shuts down pregnancy rumors in an Instagram post. LOL!
(Featured photo via Paul Morigi/Getty)
Nicole Villeneuve
Nicole is an entertainment and lifestyle writer covering pop culture, news, and cool women doing cool things. She likes yard sales, MTV's Teen Mom, and putting too many memes in the group chat. She lives in Toronto.
Celebrity News
We all have a million dollar business idea (or 2...or 3…) that we think *someone* should do. Why not you? Part of the motivation for Brit + Co's new interactive business course Selfmade is to help women develop their business idea into an actual living/breathing/thriving business. But it's also a way to figure out what that idea is. Maybe you have a few ideas, or need to refine a really good one, or maybe you have something with potential but just need to brush up on the business side of things. Well you're in luck. Thanks to Office Depot, we're here to share a quick recap on how we're helping our students figure out how to pick an idea and run with it. Feeling a little Selfmade fomo? Check out these tips for knowing if your idea is fully baked.
<p><strong>Know your audience:</strong> Who are they? Where are they? And what pain point are you trying to solve for them? "How would you define who that audience is?," said Brit Morin during this week's session. She goes on to suggest you develop a persona of your core customer: What's her name? Does she have children? Have visuals of who she is and what her day looks like and what she thinks about every day. "A lot of times I see businesses fail to scale because they're just trying to serve everybody and are very generic," adds Brit.</p><p><strong>Understand your market:</strong> How big is the market you're targeting? Is it growing? You can find market reports online for anything from weddings to babies. Does your business have potential for repeat business? For example, a wedding client will likely (hopefully!) only need you one time so how do you plan to grow? Will you target the same client or will you evolve your services to cater to that changing demographic? Martha Stewart is a business that evolved with her audience while most fashion mags stay focused specifically on 20- and 30-somethings for the long haul.</p><p><strong>Level up your business idea:</strong> What's your twist? Think about what differentiates you from your competitors. For example, if you're a photographer, maybe you focus on newborns and hook up with a maternity ward or sell seasonal packages. Brit talks about <a href="https://punkpost.com/stories/about-us" target="_blank">Punkpost</a>, created by Alexis Monson, a Brit + Co alumni who, instead of selling greeting cards in a dying snail mail market, she created an online marketplace for greeting card designers. How does your business stand out in your market's crowd?</p><p>Committing to an idea is hard, and SO exciting. Once you've figured out your direction, Office Depot OfficeMax can help turn your idea into a reality with a full suite of<a href="https://www.officedepot.com/cm/services/office-depot-services?cm_mmc=bl-_-aq-_-url-_-bc&amp;cm_mmca1=internal&amp;cm_mmca2=uf&amp;utm_source=blog&amp;utm_medium=social&amp;utm_campaign=bc_na_url_internal_uf_aq&amp;utm_content=tea_na&amp;utm_term=tea" target="_blank"> business services</a> &amp; solutions to help you &amp; your business succeed. From<a href="https://www.officedepot.com/cm/print-and-copy/print-services?cm_mmc=bl-_-aq-_-url-_-bc&amp;cm_mmca1=internal&amp;cm_mmca2=uf&amp;utm_source=blog&amp;utm_medium=social&amp;utm_campaign=bc_na_url_internal_uf_aq&amp;utm_content=tea_na&amp;utm_term=tea" target="_blank"> print &amp; copy services</a> to help build your brand to products to help you<a href="https://www.officedepot.com/cm/multi-category/work-from-home?cm_mmc=bl-_-aq-_-url-_-bc&amp;cm_mmca1=internal&amp;cm_mmca2=uf&amp;utm_source=blog&amp;utm_medium=social&amp;utm_campaign=bc_na_url_internal_uf_aq&amp;utm_content=tea_na&amp;utm_term=tea" target="_blank"> work from anywhere</a>, learn about all the ways they can help<a href="https://www.officedepot.com/cm/marketing/small-business?cm_mmc=bl-_-aq-_-url-_-bc&amp;cm_mmca1=internal&amp;cm_mmca2=uf&amp;utm_source=blog&amp;utm_medium=social&amp;utm_campaign=bc_na_url_internal_uf_aq&amp;utm_content=tea_na&amp;utm_term=tea" target="_blank"> businesses</a> like yours, accomplish more.</p>
Lifestyle