We all dream of waking up with glowing skin, bronzed cheekbones and perfectly rosy lips. But alas, the alarm goes off and we roll out of bed a little bit less than flawless. So every AM, we rely on a beauty routine that sprinkles just enough fairy dust onto our features to give ourselves that polished look we wish came naturally. And since the makeup-free makeup look is possibly THE most requested by clients, friends and co-workers, we're showing you how to get the look using just seven staple beauty products and a light hand.
---
On the left, the straight up natural look. On the right, the natural look with a little somethin' extra ;)
No matter what your skin tone, you can attain complete luminescence using:
– Tinted foundation for coverage and shine.
– Concealer (one shade lighter than your foundation) to brighten and freshen.
– Matte bronzer for a natural glow.
– Highlighting eyeshadow to make your features pop!
– Natural-toned eyeliner for definition.
– Lightweight mascara to polish.
– Lip + cheek tint for a rosy finish.
See? Totally attainable, especially since we recommend our favorite products + brands for you to shop below. Ohh, and you'll need some brushes, too. Now the only thing between you and you+ is this easy-to-follow 15-minute regimen.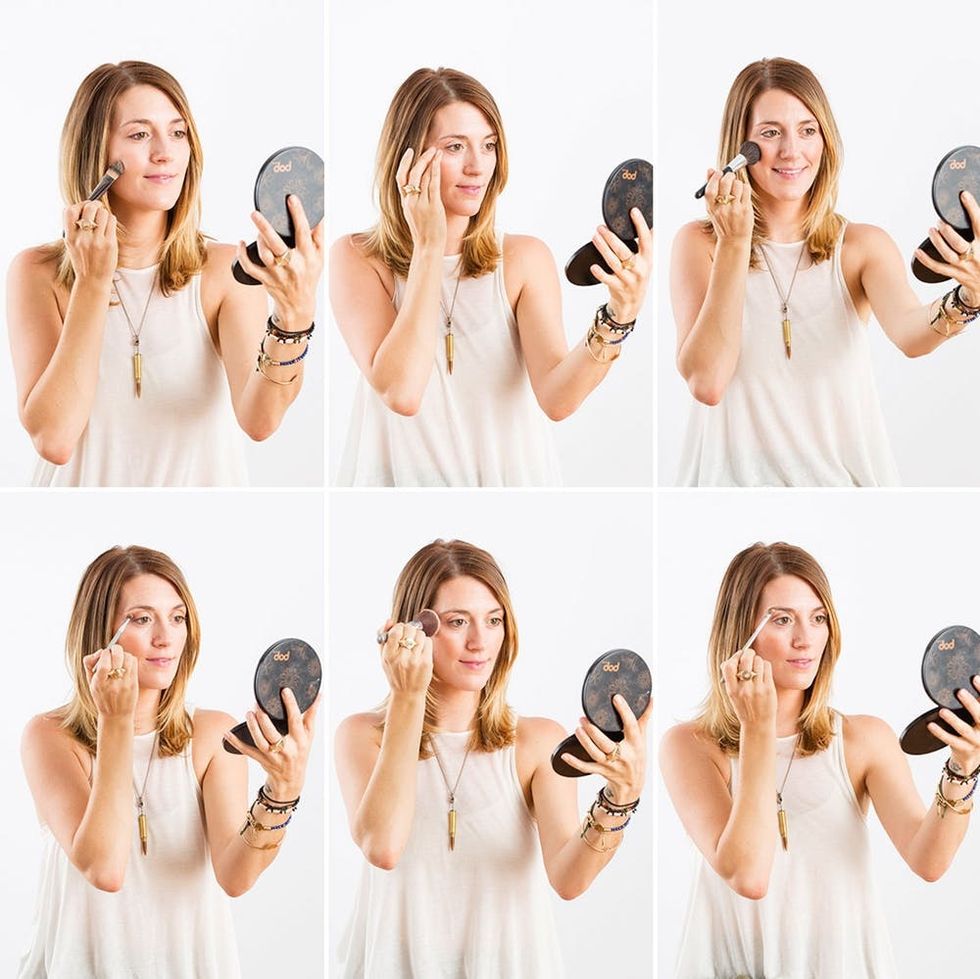 1. Apply a tinted moisturizer or a light coverage foundation using a brush. I used Laura Mercier Illuminating Tinted Moisturizer ($43). I LOVE this product! It's lightweight, yet still pigmented enough to cover any imperfections, all the while leaving your skin with a dewy luminous finish.
2. Be sure to use a concealer one shade lighter than your foundation to help brighten and freshen your face. Use your finger to blend it in — the heat of your skin helps melt the product for a more natural finish. I used Maybelline New York's Cover Stick ($4) — a great drugstore find.
3. Apply a matte bronzer to your hairline, hollows of your cheeks and your jawline. I used Benefit's Hoola Bronzer ($34).
4. Use a little more bronzer as your blush on the apples of your cheeks. This will give you a natural glow versus the more done up look you get with blush.
5. Using the same bronzer and a fluffy eyeshadow brush, apply and blend into your eye crease.
6. Use a shimmery eyeshadow like Glamour My Eyes Mineral Eyeshadow in Champagne ($5) to highlight your upper cheekbones and the bridge of your nose.
7. Use the same eyeshadow to highlight your brow bone, lid and the inner corner of your eyes.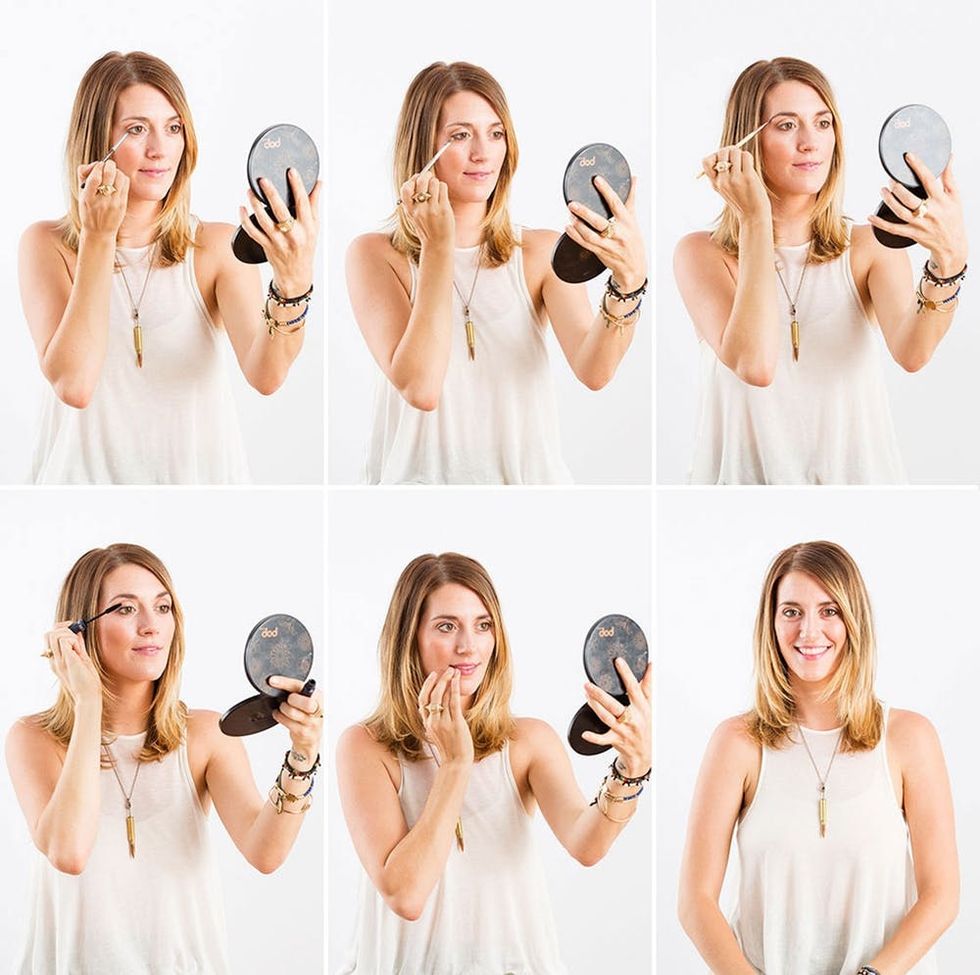 8. For eyeliner, go with a soft brown for a more natural finish. Palladio ($7) makes a great retractable waterproof herbal liner in "Brownie."
9. Using a flat brush, apply a small amount of your bronzer over the eyeliner to make it even more natural looking and a tad lighter.
10. This step is optional, but I personally love it: Give your brows a quick sweep of light powder to help shape your face. It adds the perfect amount of polish.
11. Choose a really lightweight mascara with a wand that lengthens instead of thickens. I used Pixi Lash Booster Mascara in Black ($18).
12. Finally seal this look with a stained kiss (Muah!). Benefit's Benetint ($37) is a rose-tinted cheek and lip stain that oxidizes and brings out your natural lip hue in a sheer glowing finish.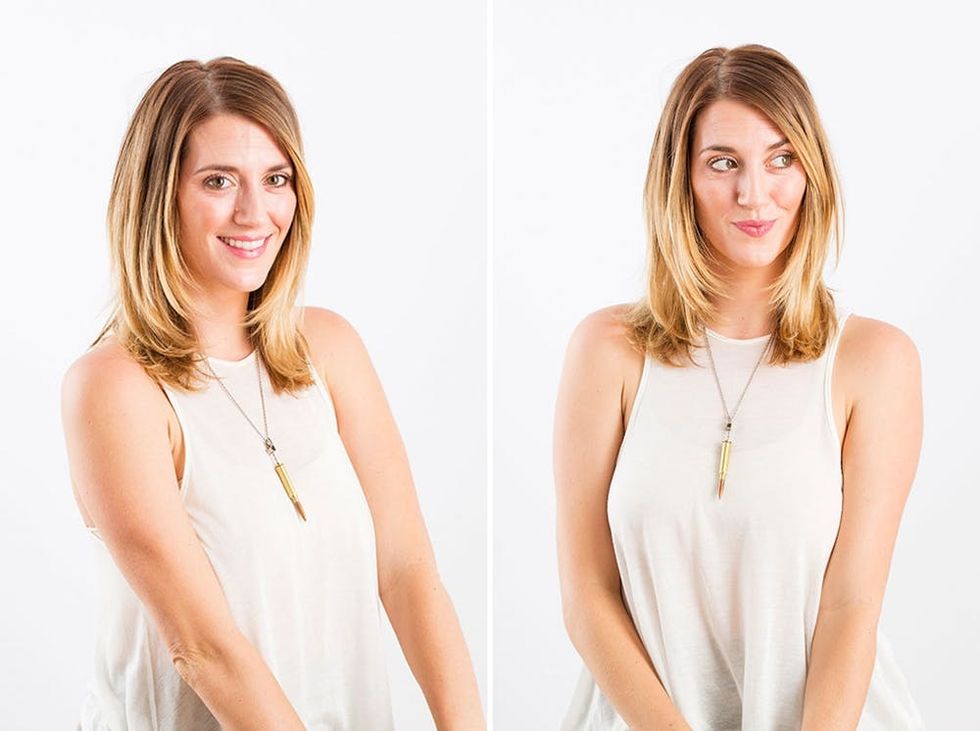 So fab and so fresh!
What does your all-natural makeup routine look like? What products work wonders on your skin? Tell us in the comments below.