This Paleo, Gluten-Free Blueberry Muffins Recipe Tastes Anything But
Mar 06, 2019

---
Going paleo doesn't mean you can only have raw chocolate or coconut when it comes to the dessert department. More and more innovative products are hitting the grocery store shelves, which make it easier for paleo-friendly substitutions. Cassava flour is one of those incredible finds we're loving right now. The tuber-based, paleo flour, which happens to be gluten-free too, acts and tastes like wheat flour. Try it in baked goods like these blueberry muffins. They are slightly denser and less-sweet than your conventional muffin, but don't be surprised if you reach for a second helping. Though we love them piping hot out of the oven, you can always cut the leftovers in half, toast them up, and smear some ghee on each side to revive them.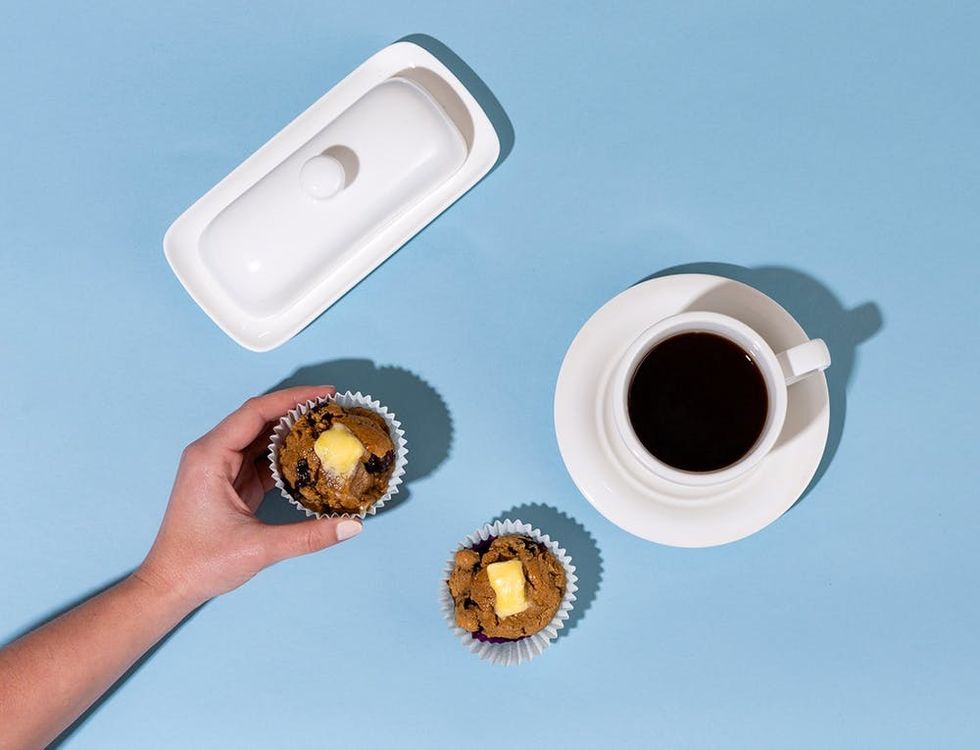 Paleo Gluten-FREE Blueberry Muffins RECIPE
(Makes 12 muffins)
Directions:
1. Preheat the oven to 375°F. Line 18 muffin cups with paper or foil liners or spray 2 muffin tins with cooking spray. We used a Silpat muffin mold.
2. In a liquid measuring cup, combine milk, lemon extract, and apple cider vinegar. Let sit for a few minutes. You want the milk to curdle like buttercream.
3. In a large bowl, combine the flour, lemon zest, baking soda, salt, and coconut sugar. Stir in the melted ghee, then pinch the mixture until it forms pea-size clumps.
4. Add milk mixture and eggs to large bowl and stir until just combined. Then stir in blueberries.
5. Spoon the batter into 12 of the cups (we used a spring ice cream scoop), filling them about three-quarters full.
6. Sprinkle coconut sugar on top of each one and bake for about 30 minutes or until the muffins are golden and a toothpick inserted in the center comes out with a few moist crumbs attached.
7. Let the blueberry muffins cool in the pan for 10 minutes before serving.
Find more paleo recipes by following Brit + Co on Pinterest.
(Recipe via Anna Monette Roberts/Brit + Co; styling by Alonna Morrison; photos via Brittany Griffin/Brit + Co)
Anna Monette Roberts
As Brit + Co's Food Editor, Anna Monette Roberts has an insatiable appetite for developing tasty dishes. When she's not dreaming about her next meal, she's . . . well, probably cooking up her creations. Her favorite foods include chewy chocolate chip cookies, Rosé Champagne, and gooey French cheeses — in no particular order.