Holiday hairstyles often go one of two ways: old Hollywood waves or classic updos. While we're certainly fans of both, we love the way braids add an unexpected twist to traditional coifs. Despite looking incredibly intricate, with the right instruction, these pretty plaits can be brought to life without the help of a pro. To see for yourself, read on for four quick and easy braided holiday hairstyle tutorials courtesy of Sarah Potempa, an LA-based celebrity stylist and founder of Beachwaver Co.
---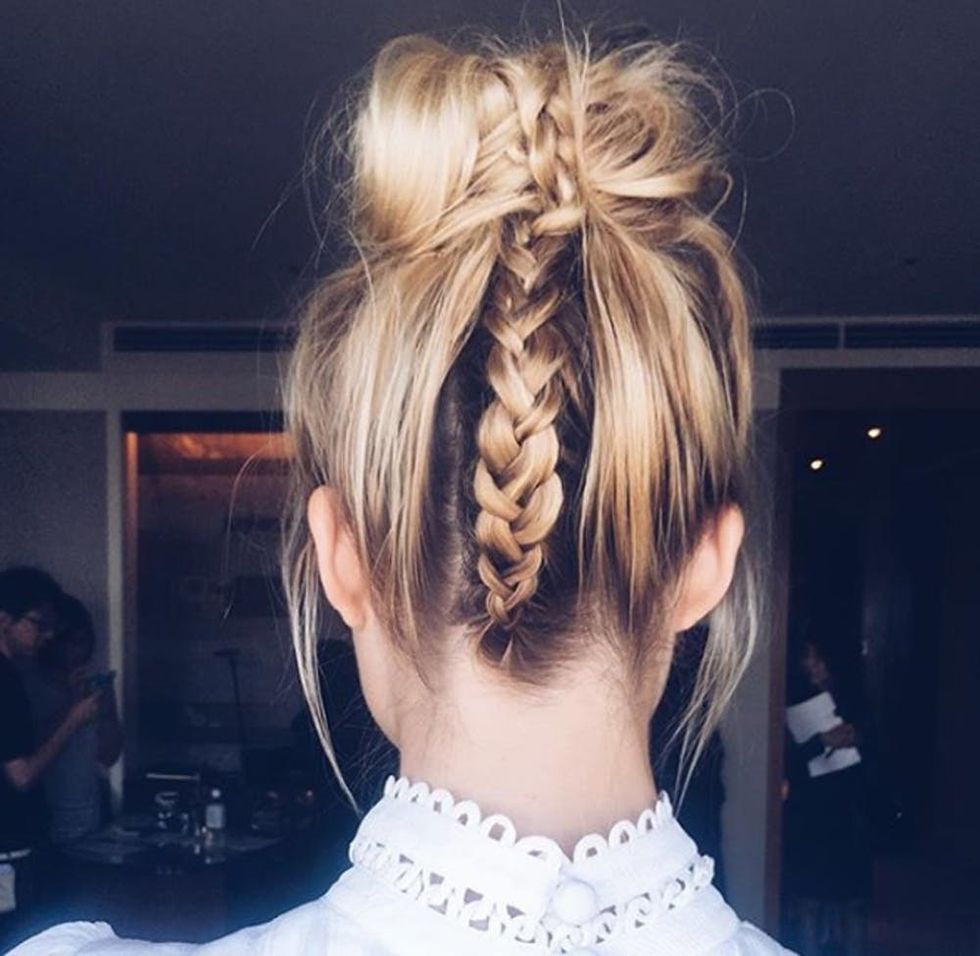 Instructions:
1. Flip your head upside down and brush your locks from the nape of your neck toward the crown of your head. Potempa, who works with Camila Cabello, Busy Philipps, and Kaley Cuoco, prefers a mixed-bristle brush (like the Beachwaver Co.'s On Set Pro Brush ($42)), as the different bristles help to smooth strands and prevent against snags and breakage.
2. While your head is still flipped over, grab a 2-inch section of hair at the nape of your neck and weave a French braid up toward your crown, adding strands from each side as you go. Once you reach the crown, stop adding new tresses and braid the section to the ends, securing it with a clear elastic.
3. Flip your head right-side up and brush your mane from your hairline to your crown, pulling all of your locks into a high ponytail.
4. Wrap your pony into a bun and pin in place. If you have tangle-prone tresses, help it stay knot-free by using Beachwaver Co. The Wrap-Up ($10). Insert your hair through the center of the loop, clasp it together, pull it down to the ends of your strands, and wrap down toward the base of your ponytail. Bend each side inward to secure. Since it requires less twisting, you won't have to worry about snags when it's time to let your mane down.
Milkmaid Braids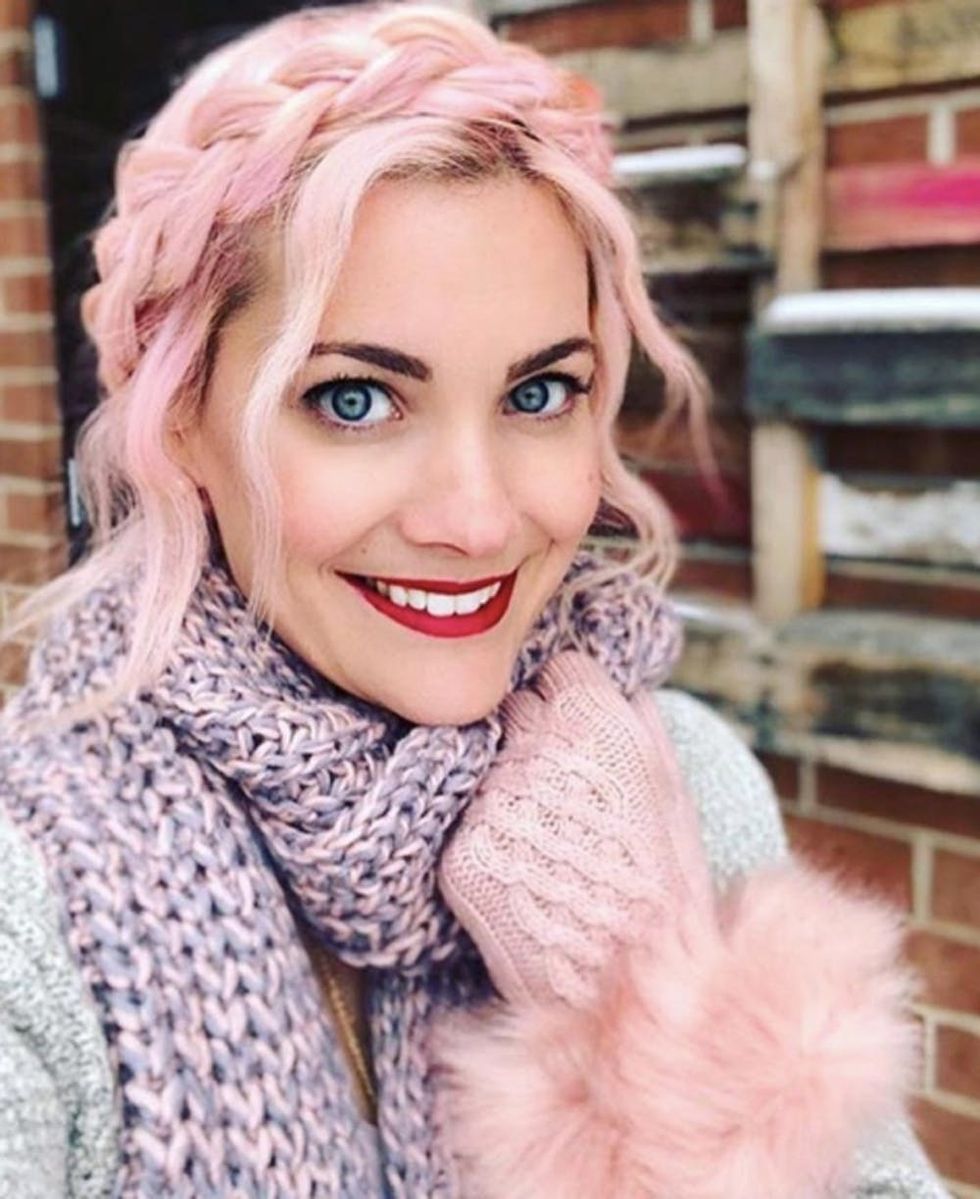 Instructions:
1. Prep strands with a heat protectant like the Beachwaver Co.'s Great Barrier Heat Protectant Hairspray ($28). It will double as a little extra grip for your look.
2. Part your hair as you normally would and divide into three sections on each side of your part. Weave each into a 3-strand braid down to the nape of your neck, making sure to leave out a few face-framing strands.
3. Pancake (or pull apart) each braid to create a more voluminous milkmaid effect.
4. Twist the tails of each braid around each other and pin in place to create a low bun. If you want more of a halo effect, secure the tail of each braid to the opposite side of your head, making sure to conceal the bobby pins.
5. Finish by curling the face-framing tendrils with a 3/4-inch curling iron. For a more lived-in look, curl outward to create an S-shape with your strands.
Mix-anD-Match Braided Pony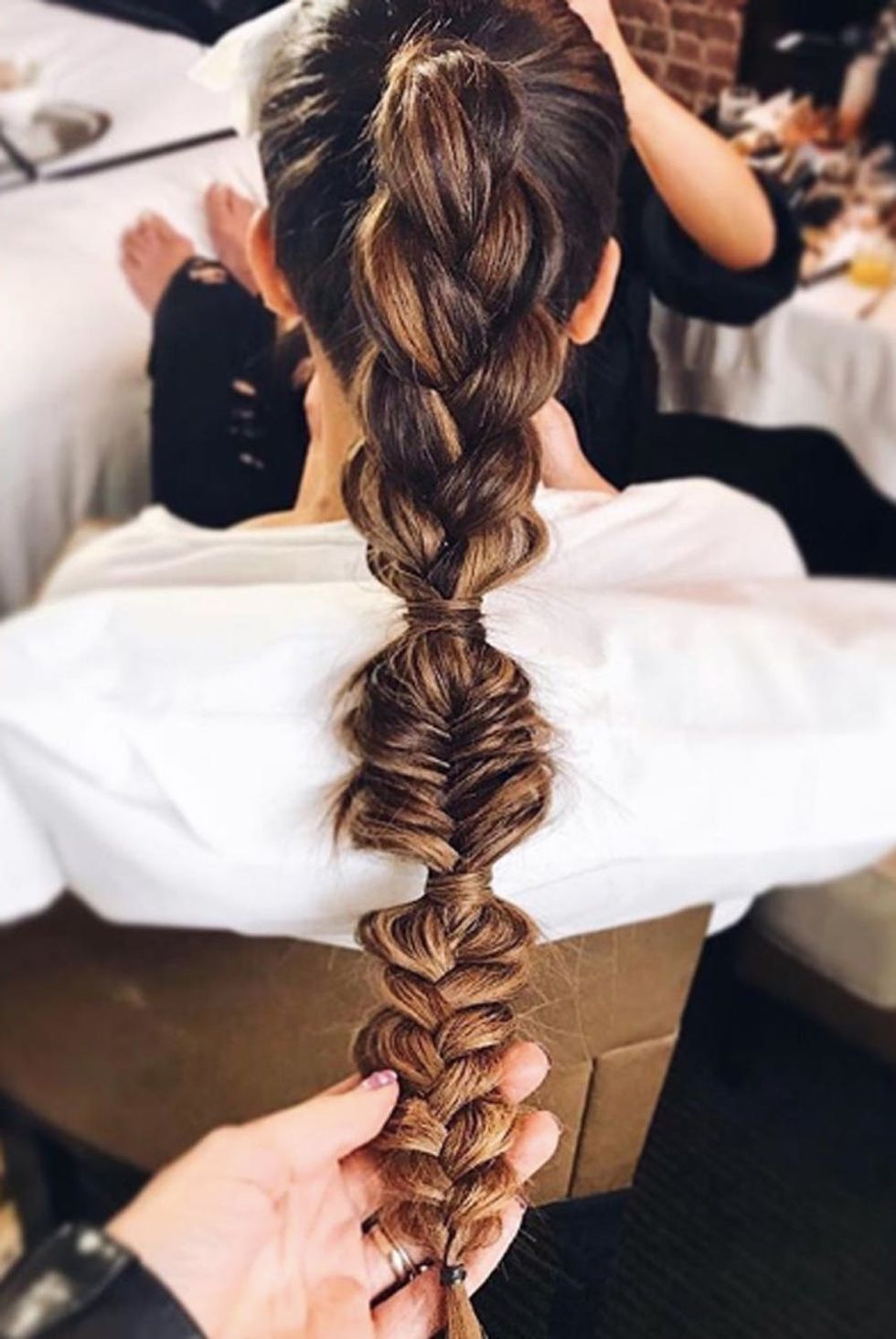 You'll need:
Instructions:
1. Spritz your hair with a heat protectant before smoothing strands with a flat iron.
2. For additional volume and texture, spray strands in sections with dry shampoo.
3. Pull your mane into a high pony at the crown and secure with an elastic. To conceal the elastic, grab a small section of hair from the base of the pony, wrap it around the elastic, and secure with a bobby pin.
4. Weave a regular 3-strand braid until you've reached a third of the way down. Secure with an elastic and conceal it with a small section of hair wrapped around it, pinning it on the underside of the pony.
5. Create a fishtail braid by dividing the hair into two equal sections. Separate a 1/2-inch section from the outer edge of the left side and cross it over, adding it to the right. Repeat this step on the right side, adding it to the left. Keep braiding until you've reached two-thirds of the way down and secure with an elastic.
6. Create another 3-strand braid until you've reached the ends. Secure with an elastic and gently piece apart your braid for a thicker end look.
Basket Weave Braided Updo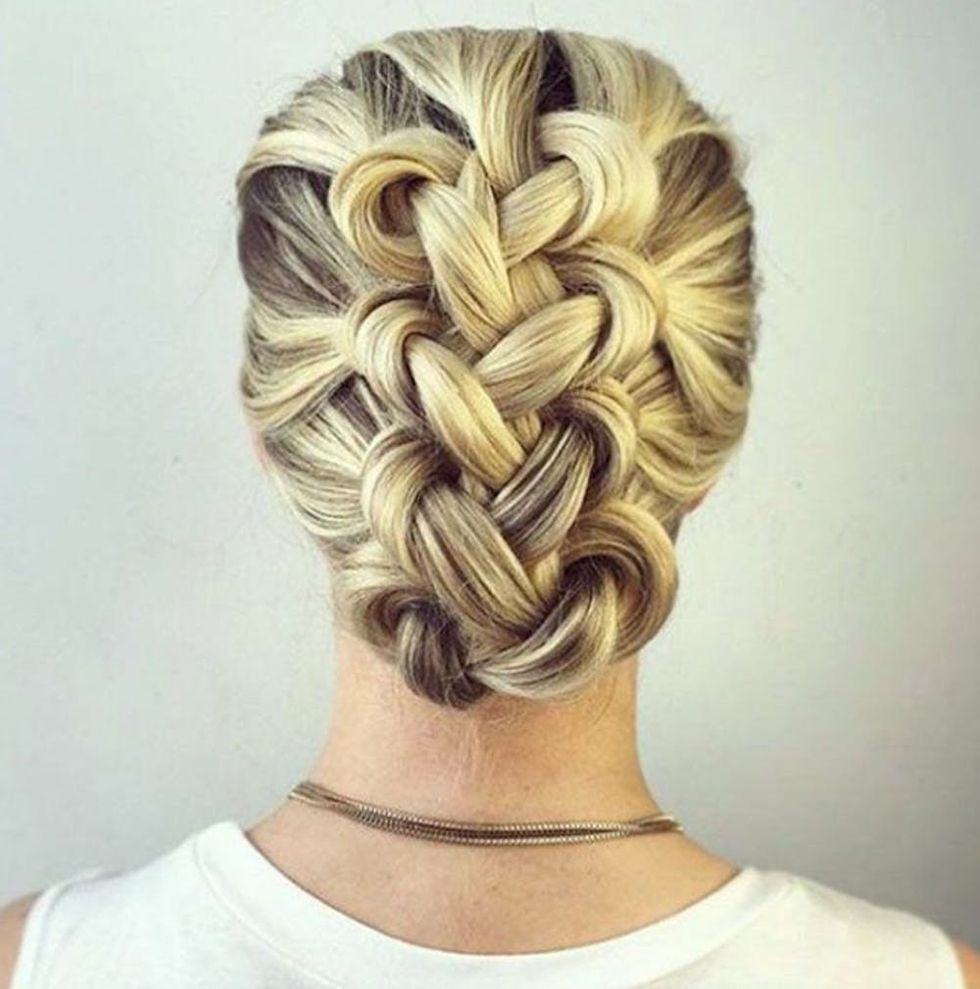 Instructions:
1. Start with a triangular section of strands from your hairline to your crown, just like you would with a French braid. Separate the section into two pieces, tie a knot, and hold the two ends in your right hand.
2. Grab a section of hair from the left side and create another knot with the first section, holding the two ends in your left hand. Do the same thing on the right side to create another knot.
3. Repeat the second step until you've reached the ends and secure with an elastic.
4. Roll the ends under toward the nape and pin into place.
5. Finish with hairspray.
Follow us on Pinterestfor more beauty inspo and info.
Brit + Co may at times use affiliate links to promote products sold by others, but always offers genuine editorial recommendations.