Try This Foolproof Way to Glam Up Your Bag
Oct 25, 2013
Here at Brit HQ, we're firm believers that your everyday bag should make some kind of style statement. And it's seriously easy to get that eye-catching look just by adding a thing or two to your basic carryall. First, we tricked out a couple of purses with trendy faux-leather fringe, and now we're using two of our favorite types of embellishments to take this black tote bag to the next level: studs and chain!
---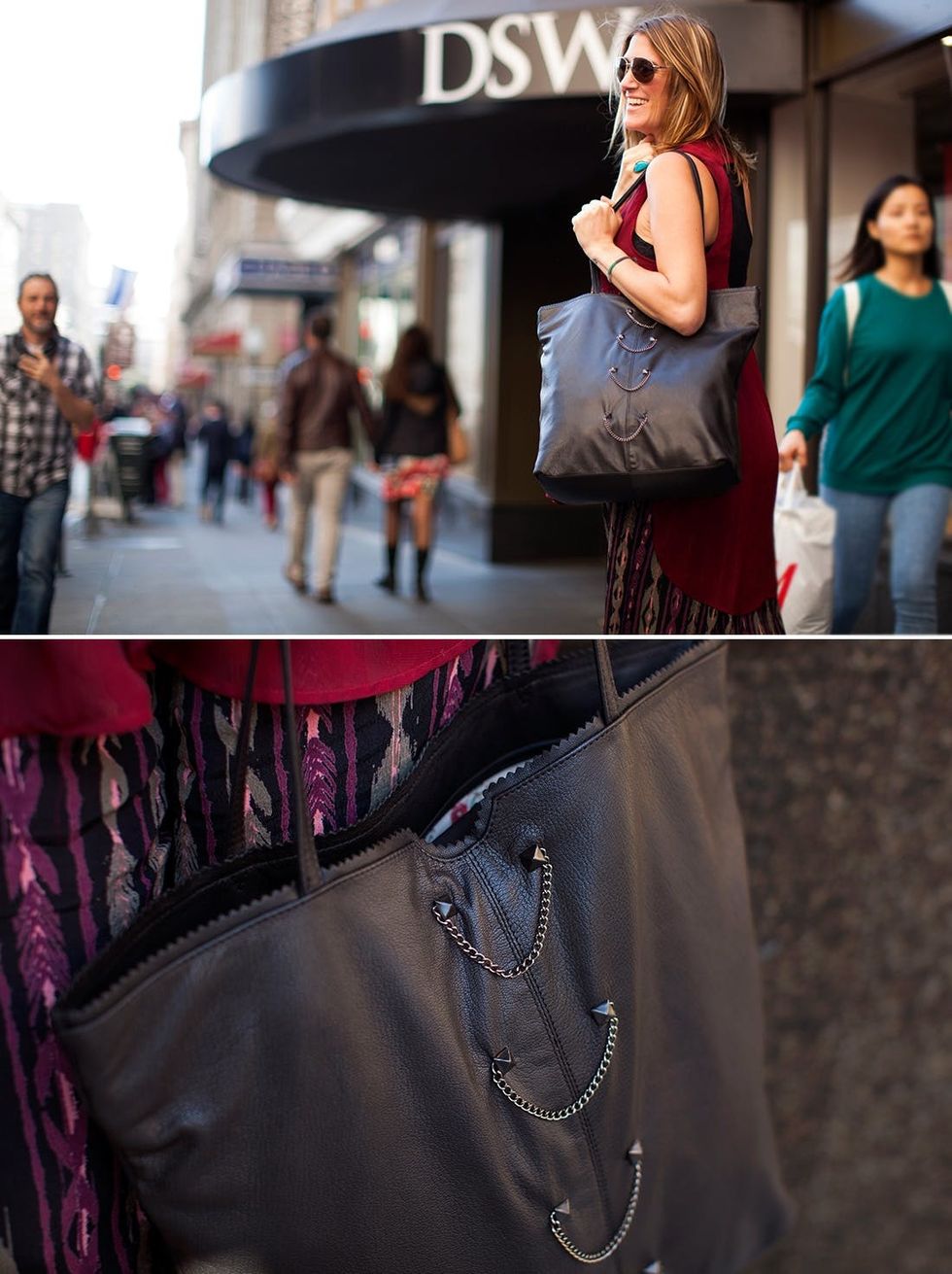 These metallic materials are pretty much a fail-proof way to glam up nearly any everyday accessory. They recently worked wonders on our suede ankle booties, and they did not let us down the second time around!
<br/>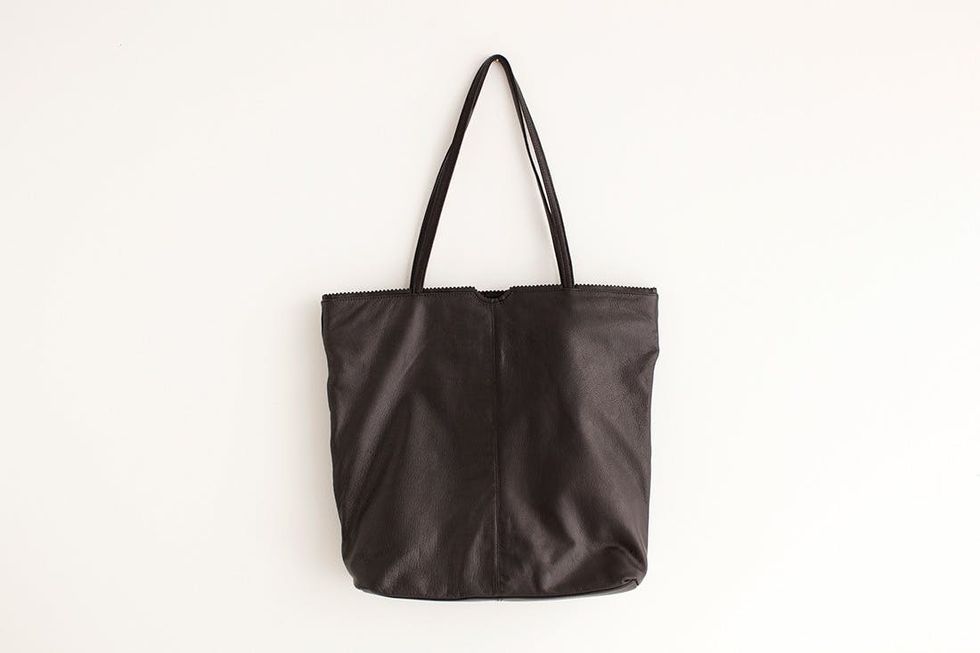 –
classic leather tote
– matte black pronged studs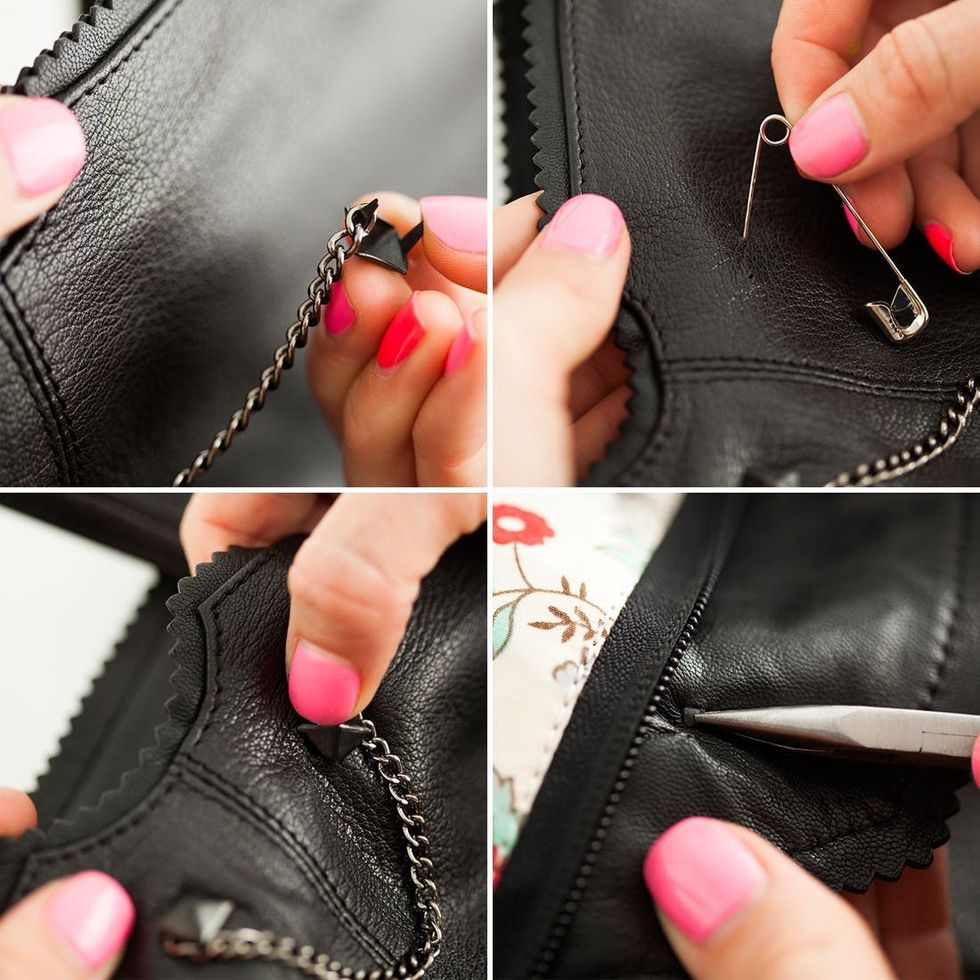 – silver chain
Tools:
– needle-nosed jewelry pliers
– chain cutter
– safety pin
Instructions:
1. Cut your silver chain into four, five-inch pieces.
2. Hook the end segments of the chain onto two stud prongs, and position the studs/chain in the center of your purse, so that the chain hangs loosely in a U shape.
3. Poke holes in your purse where the stud prongs are positioned, then push them through.
4. Curl the stud prong ends to secure them to the purse.
5. Repeat steps 2 thru 4 three more times, leaving about three inches of vertical space between studs.
You won't believe how easy it is to add on the glam. After you've cut your chain into four, five-inch segments, loop a stud prong on either end and position the whole piece over the center of your bag. You want the chain hangin' loose so it makes a U-like shape. Once you're satisfied with its placement, poke a holes in the bag where you want your studs to go—this will help the stud prongs glide through the fabric way easier.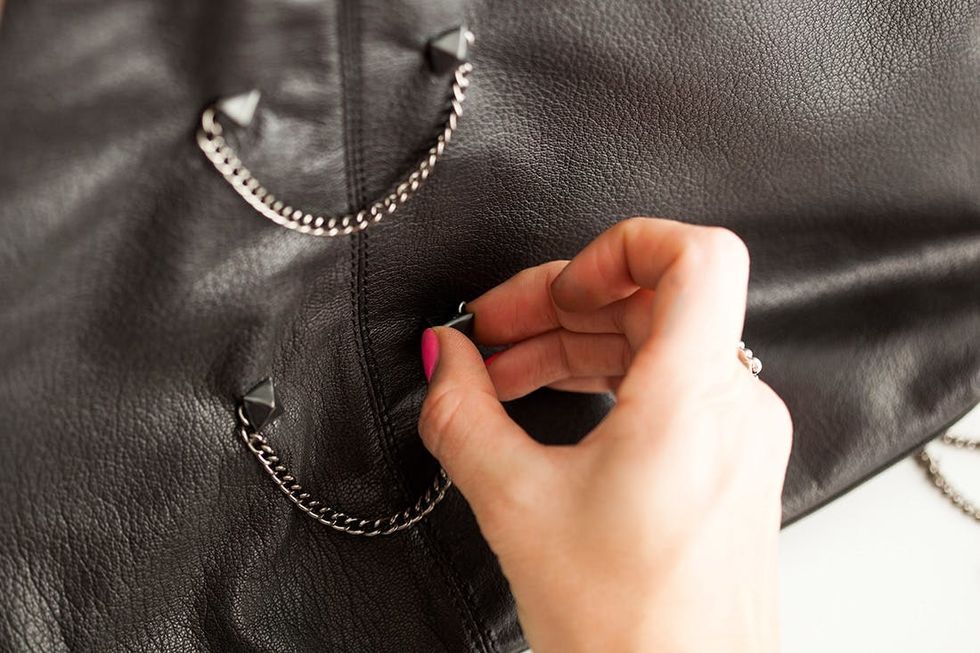 Next, press the studs all the way through the guide holes—don't let the chain drop off! Then bend the prongs to hold the studs in place. We told you, it's really that simple!
Work your way down the bag, repeating the above steps so that you have a total of four stud/chain embellishments tricking out the center of your bag. We left about three vertical inches between our studs.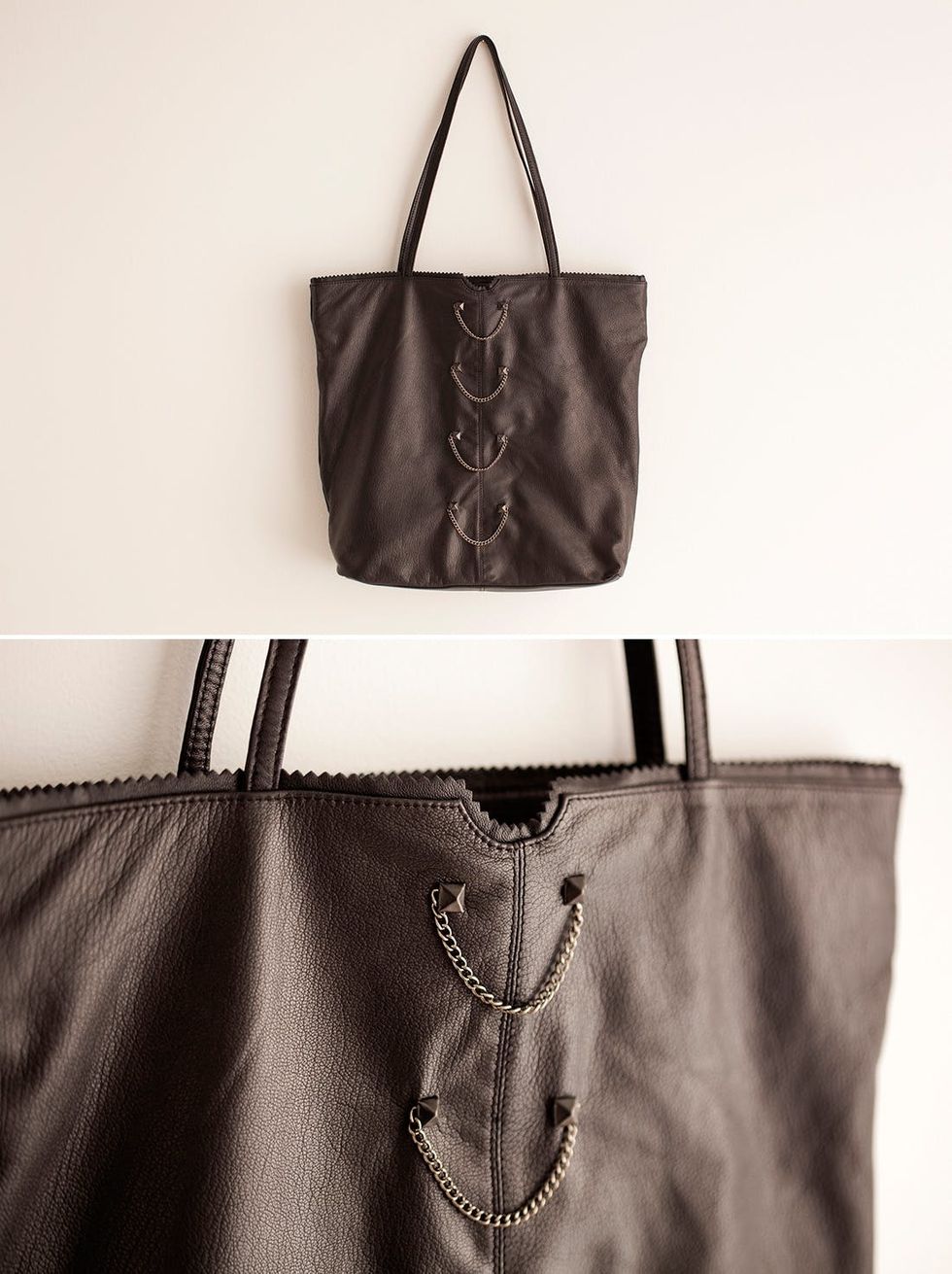 And that's it! In just 15 minutes we've added some seriously stunning details to this basic bag. See how that draped chain mimics the scalloped detail in the center of the purse? Let's face it, sometimes a classic needs a bit of an upgrade. :) While we love admiring it from afar, it's about time we took this for a test run!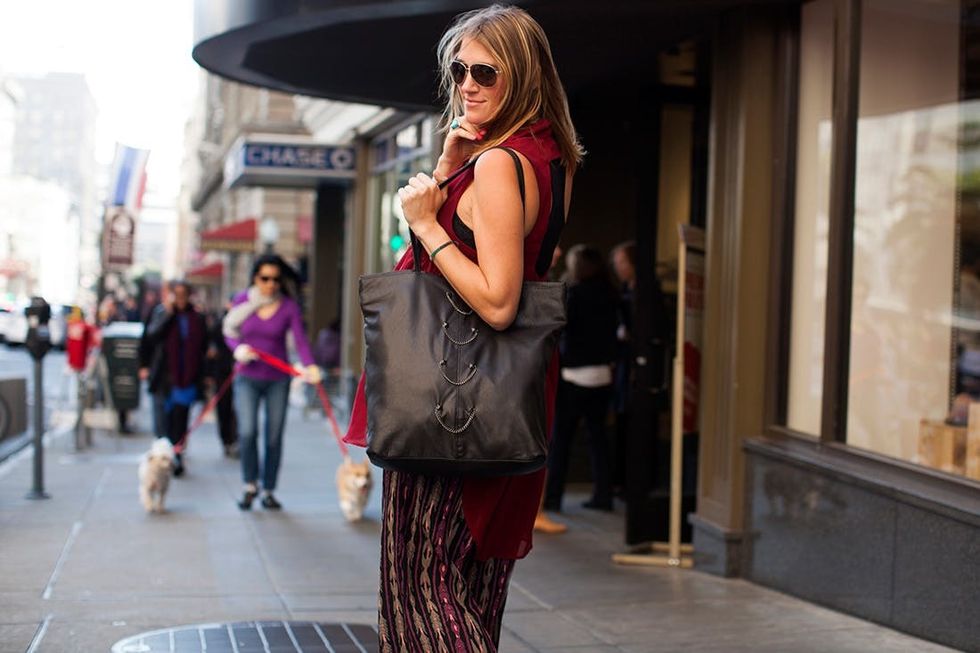 The chains and studs punch up this bag in all the right ways. Tres chic!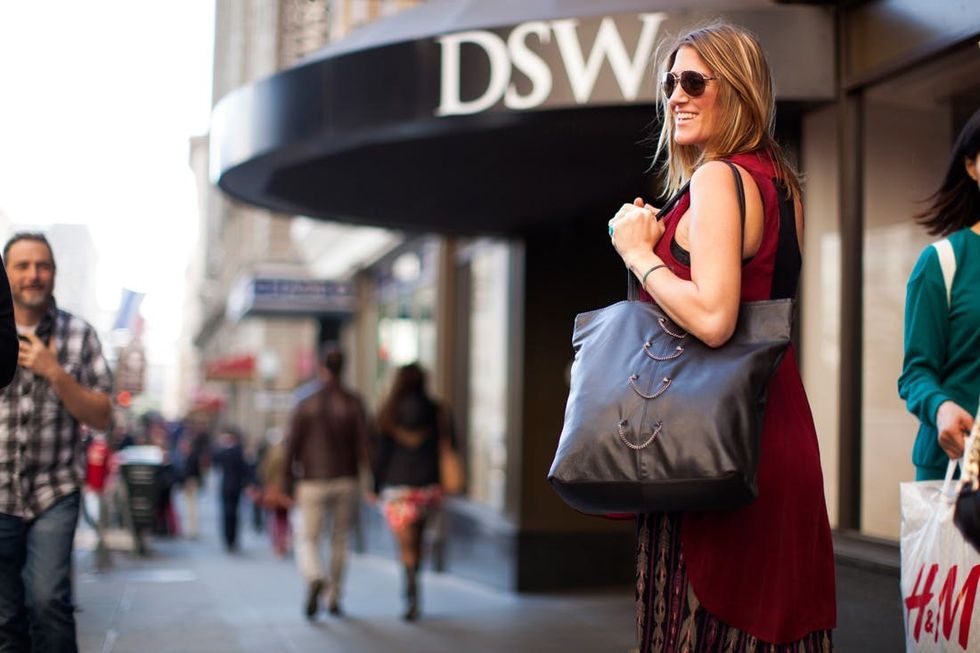 What ways have you upgraded your basic accessories? Do you use chain and studs? Talk to us in the comments below!
Misty Spinney
Misty Spinney is a hair stylist, makeup artist, and fashion stylist with a strong background in design and deep passion for creativity.
DIY Style
Still haven't taken up that new creative skills you swore you'd learn this year? Or ready to take your design skills to the next level? Let's say so long to the weirdest year ever by checking those big learn-something-new goals off our perpetual to-do lists.
We've teamed up with Clorox to give you the gift of unlimited creativity now through the end of the year. Once you sign up, you can take as many of our 120+ classes as you want for FREE for one whole month!
Here's how it works:

Head to brit.co/learn and sign up for the "All Access Pass."
Use the code "CLOROXCARES" at checkout to redeem your free month of classes.
You will be automagically signed up for Clorox's email list once you redeem your free all access pass. (It's the #1 Choice for Disinfection!)
Your pass lasts one month from when you checkout. This means you have unlimited access to all the classes during that month.
This offer is valid now through December 27, 2020.
Browse our catalog to find the right class for you, tell a friend and take the class together over Zoom, or organize a 'cocktails + crafts' night with a friend in your bubble so you can learn something new together.
What are you waiting for? Time to start learning all the things!

Thanks to Clorox for making this happen! When it counts, trust Clorox.
Lifestyle