The Real Reason Why Women Wore White to the State of the Union
Feb 06, 2019
President Trump's 2019 State of the Union address clocked in at 82 occasionally tense minutes — the longest such speech since President Clinton's 2000 SOTU address — but it wasn't without its moments of levity and redemption. It was the first SOTU ever with more than 100 sitting Congresswomen in the audience, and they made an unmissable visual statement in a sea of white outfits. It was a show of solidarity among the women, but also a warning to the male political establishment: This is what the future will look like, and we will work together to make it so.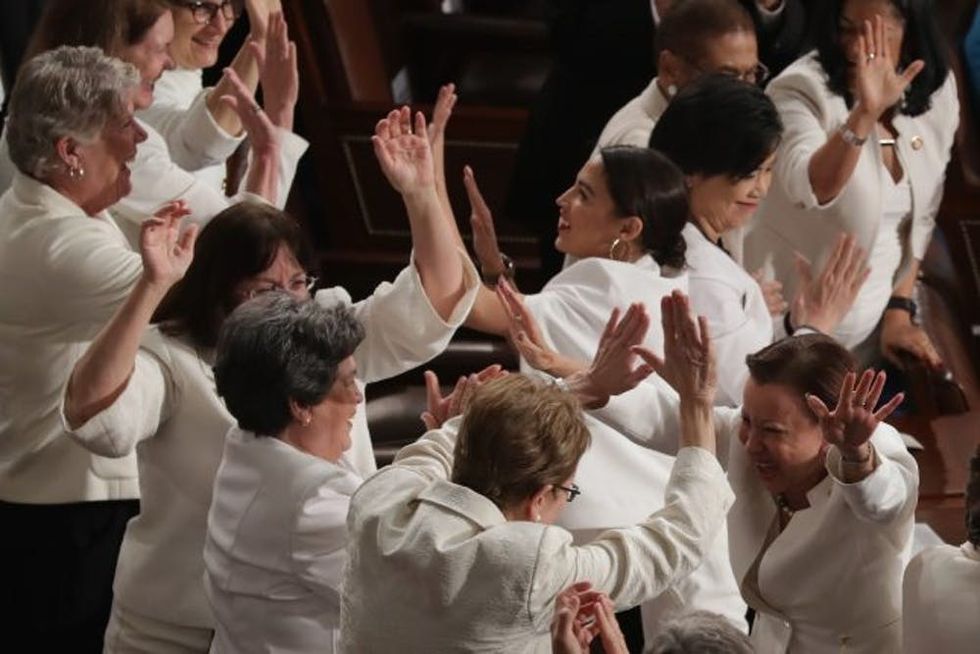 ---
The donning of all-white clothing by women in politics has become a familiar nod at the suffragette movement. Hillary Clinton accepted the 2016 Democratic nomination for president in a white pantsuit, and Alexandria Ocasio-Cortez donned a similar suit at her January inauguration. A group of women Democrats also wore matching white outfits for Trump's joint address to Congress in 2017.
"Wearing suffragette white is a respectful message of solidarity with women across the country, and a declaration that we will not go back on our hard-earned rights," Florida Rep. Lois Frankel told CNN ahead of Tuesday's address.
The initiative to wear white to the SOTU was led by the House Democratic Women's Working Group, but Democrat women weren't the only ones who took part: First Daughter Tiffany Trump also attended the speech in an all-white ensemble, which has caused some speculation that she may be rooting for the new Democratic women in office. And Rep. Dean Phillips of Minnesota showed up in a white jacket with black lapels, on which he had pinned a button reading "ERA yes," a reference to the Equal Rights Amendment, which has yet to be ratified after nearly half a century.
Melania and Ivanka Trump wore black.
(Photos by Chip Somodevila + Win McNamee/Getty Images)
Kelli Korducki
Kelli is Brit + Co's Senior News Editor. Her interests include sensible footwear and glasses that take up 25 percent of her face.
Politics
Still haven't taken up that new creative skills you swore you'd learn this year? Or ready to take your design skills to the next level? Let's say so long to the weirdest year ever by checking those big learn-something-new goals off our perpetual to-do lists.
We've teamed up with Clorox to give you the gift of unlimited creativity now through the end of the year. Once you sign up, you can take as many of our 120+ classes as you want for FREE for one whole month!
Here's how it works:

Head to brit.co/learn and sign up for the "All Access Pass."
Use the code "CLOROXCARES" at checkout to redeem your free month of classes.
You will be automagically signed up for Clorox's email list once you redeem your free all access pass. (It's the #1 Choice for Disinfection!)
Your pass lasts one month from when you checkout. This means you have unlimited access to all the classes during that month.
This offer is valid now through December 27, 2020.
Browse our catalog to find the right class for you, tell a friend and take the class together over Zoom, or organize a 'cocktails + crafts' night with a friend in your bubble so you can learn something new together.
What are you waiting for? Time to start learning all the things!

Thanks to Clorox for making this happen! When it counts, trust Clorox.
Lifestyle