"This Is Us" Recap: Kevin Spirals to New Lows As Tragedy Hits the Pearson Family (Again)
Nov 15, 2017
"Number One" is the first in a trilogy of This Is Us episodes about the Pearson siblings, each one centering on the same day in the present and past of a certain sibling. This week, it's Kevin's hour, and it's a heart-wrenching one to watch, given how we've seen him start to spiral in the past few episodes.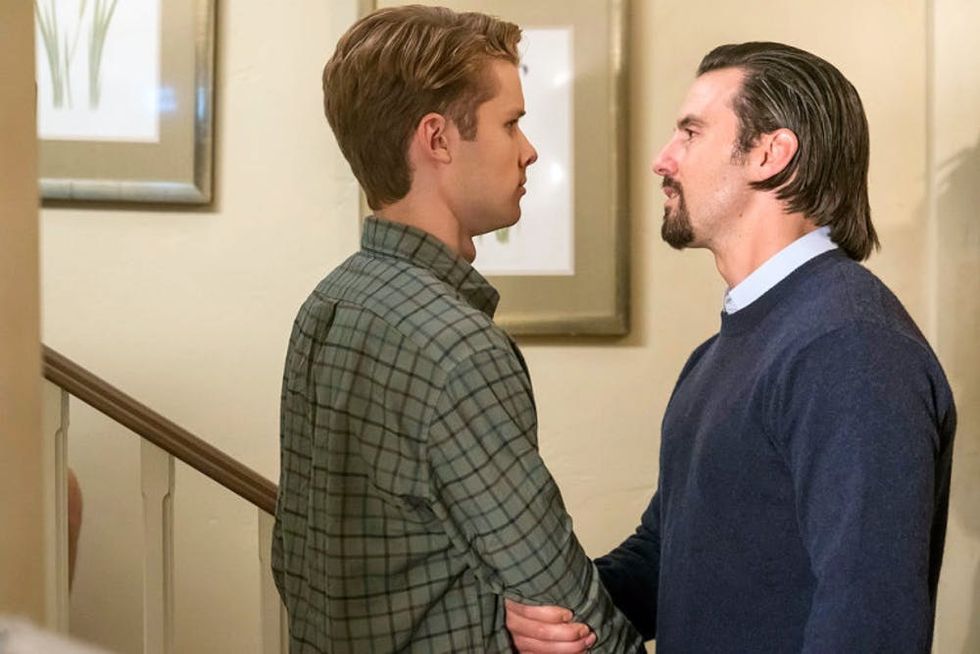 ---
And Kevin's really spiraling, in a bad way. He's holed up in his hotel room, where he doesn't want any visitors or housekeepers, unless they're bringing him something alcohol-related. Then he gets a phone call from his high school, reminding him that he's going to be honored at the alumni honors ceremony, and he decides to go, because why NOT honor Kevin Pearson, right?
In the past, we see the Pearsons preparing for an important visit from a football coach from the University of Pittsburgh. While Jack and Rebecca try to start the evening on a nice note, Kevin is rude and moody, and afterwards, Jack takes him to task for his behavior. Kevin seems unaffected by his dad's yelling, simply replying that he thinks they can do better than the University of Pittsburgh, and Jack sends him downstairs to write an apology letter. And it's clear based on Kevin and Jack's conversation that Kevin is somewhat resentful of his alcoholic father.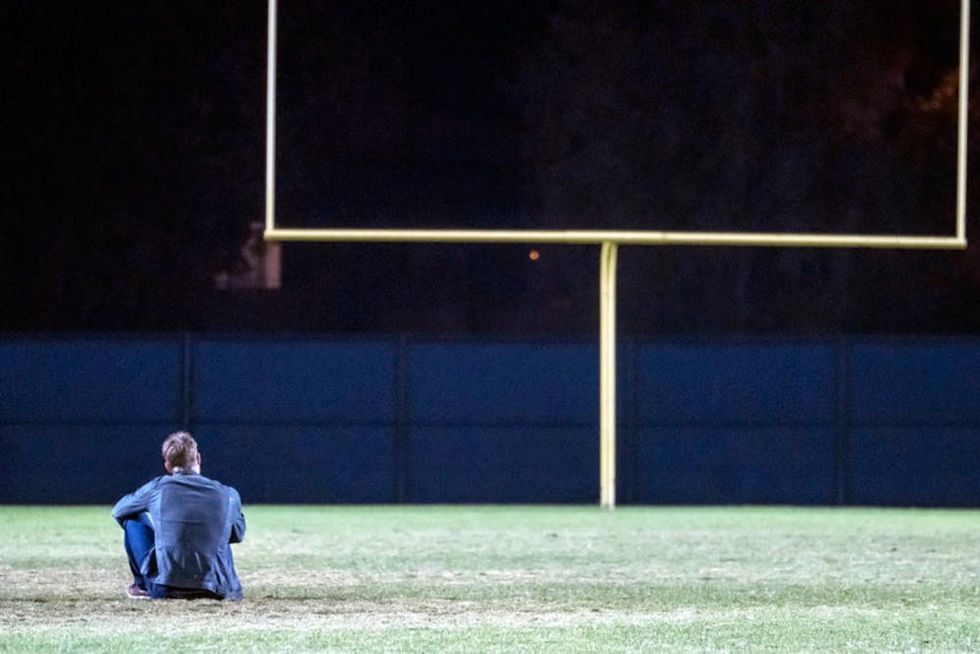 In the present, Kevin travels back to his hometown and seems all smiles and happiness while taking pictures and looking generally upbeat. But he's still spiraling inside. He asks the cab driver to take him past his childhood house, which we see has been rebuilt and restored, and upon arriving at school, he downs some pills. Before the ceremony, he starts wandering the halls in a drug-filled haze, in his own world and stuck in the past as he flashes back to his football days and the "number one" status he had so long ago. He ends up running into a former classmate, Charlotte, who is also being honored and who happens to be a plastic surgeon. Kevin's not interested in talking to her, but she offers him terrible wine, and he is interested in THAT, which says a lot.
The ceremony begins and Kevin is introduced by his former coach, who says some very nice things about him that you can tell make him feel even worse. Kevin starts to see Jack in place of the coach, and hears Jack encouraging him and praising him, and it's a heartbreaking scene to watch because you know Kevin's falling further into his drug haze but that he's also hurting more than he'd ever let on. It gets even worse when he has to actually give his own speech, which he's clearly not ready to do. He tells everyone that he's not strong, and not to love him or praise him, and he tries to say he doesn't deserve his honor. But the crowd doesn't even care, because, well, he's a celebrity and that's all that matters, right? He's still number one, even if he doesn't feel like it or see it.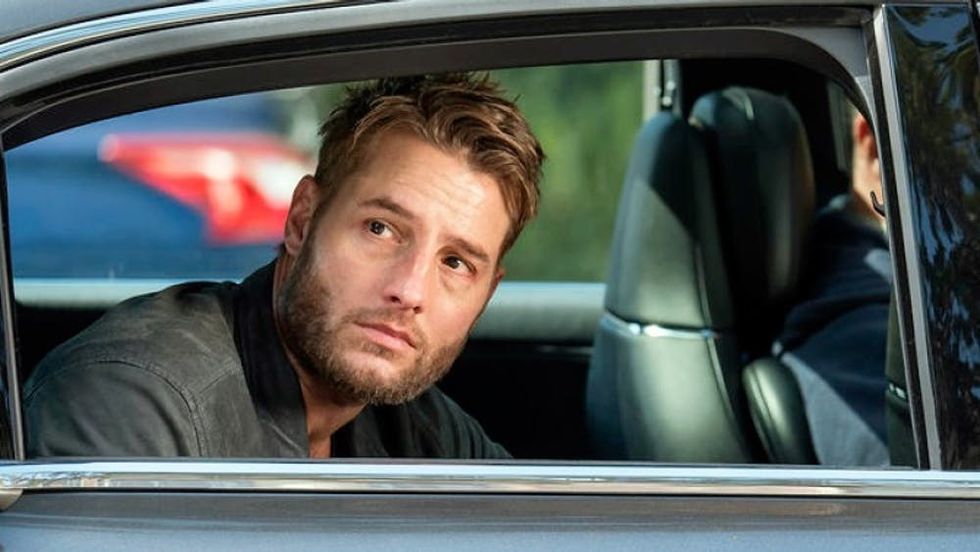 Back in the past, Randall and Jack go on a college tour, and Randall apologizes to Kevin for not being there at his big game. Kevin's angry response is intercut with his present-day speech. When Charlotte sees him drinking again, she takes him on a walk, and Kevin admits how much pressure he's felt his whole life because he was always "first." This leads into a moment where Kevin sees himself on the football field as a teenager again, reliving what his life was supposed to be if he wasn't sidelined by his leg injury.
After being asked by the homecoming coordinator if he wants to party, Kevin ends up in bed with Charlotte. Seems like someone got their teenage fantasy after all, as Charlotte admitted earlier that she had a crush on him in high school. It's heartbreaking to see Kevin not even care about anything she says about him — how she remembers him being so nice to her and a decent guy — because all he's concerned with is finding pills. He steals a prescription pad and leaves, but instead of getting the pills, he runs out of the pharmacy. We get a flashback to after his injury, in the hospital, with Jack telling him that his football days are over. Kevin finally apologizes for his behavior, for real, and Jack gives him his necklace from Vietnam while telling him about the day Kein was born and how he gave Jack's life purpose. Suddenly, it makes sense why Kevin runs from his pills: He's lost that necklace. He goes back to Charlotte's house and forces her to look for it. She won't even open the door for him (which makes sense, really, after the way he ran out) but Kevin breaks down when he realizes he needs help and that he truly has no one — not even memories of his dad anymore.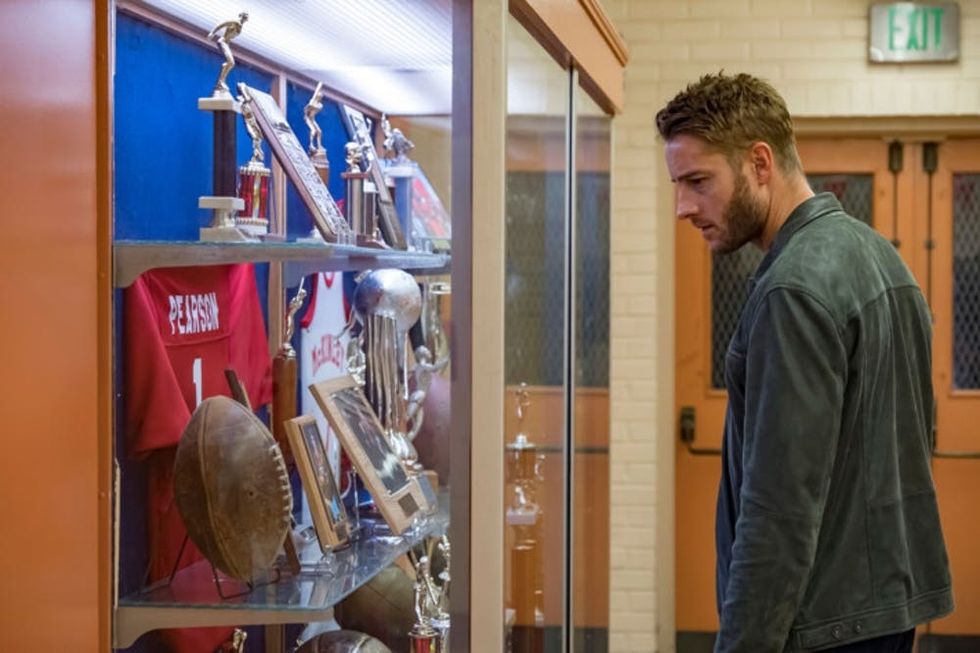 And if you thought that moment was bad, the episode ends with Kevin showing up at Randall's house, being taken in. Kevin tries to tell him the truth about how he's been, but Randall thinks he's talking about Kate… and the fact that she lost the baby. And with Kate's story coming next week, you better believe we're just getting started in our emotional rollercoaster.
What did you think of this episode? Tell us on Twitter @BritandCo.
(Photos via NBC)
Andrea Towers
Andrea Towers is an entertainment writer whose work has appeared in Bustle, Variety, Paste Magazine, Mashable, and more. She loves celebrity life, coffee, superheroes, and crying into her wine glass over really good programming. She lives in New York, and was previously a writer and editor at Entertainment Weekly. You can find more of her pop culture ramblings and thoughts on Twitter at @_atowers.
TV