Chocolate Covered Raisins and Other "Healthy" Chocolate Treats
Mar 24, 2016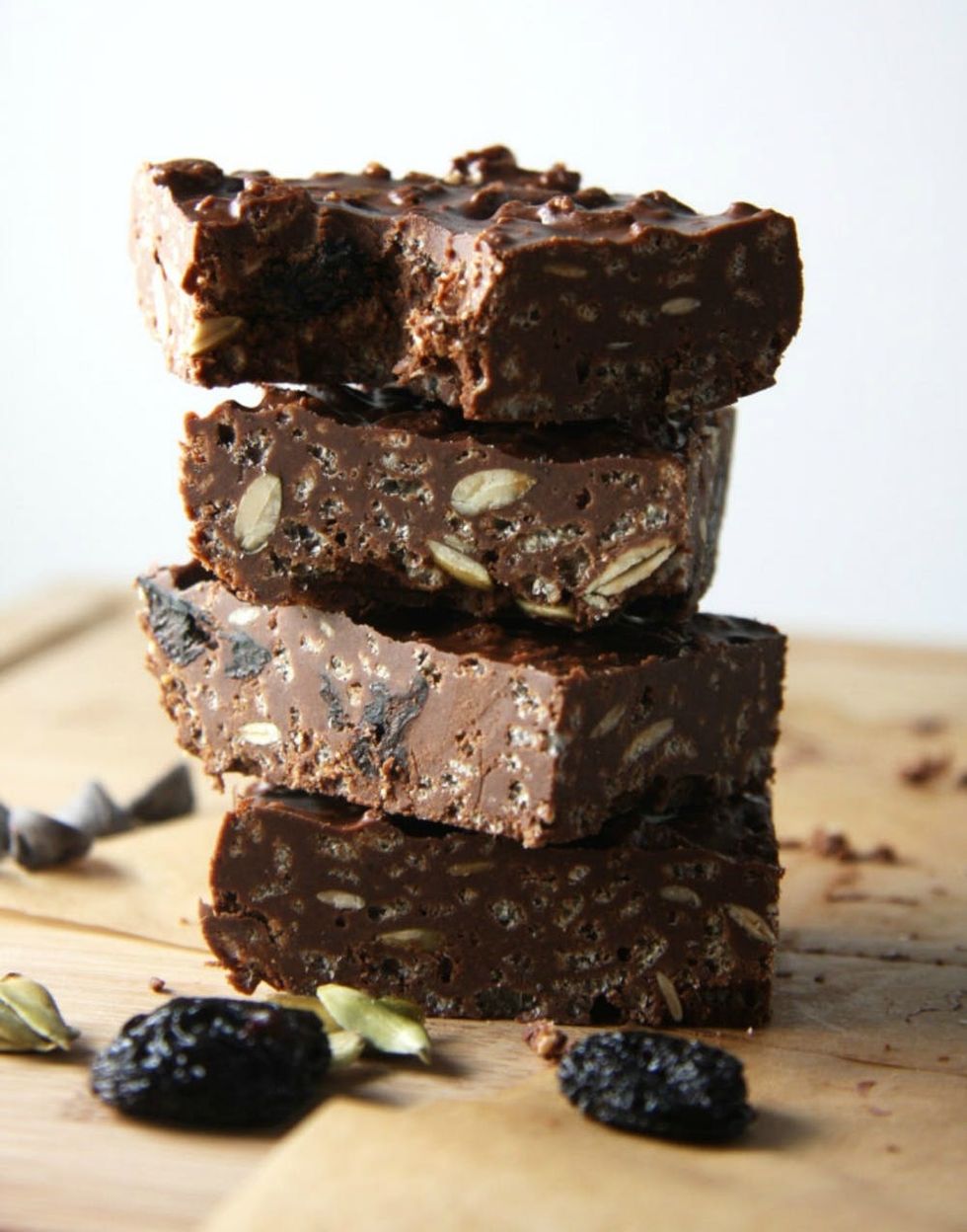 These days, trying to eat more healthfully can make us feel like we're depriving ourselves of all the foods we love. But most eating philosophies — including vegan, Paleo and gluten-free — still allow us small amounts of the one treat that heals all ills in life — chocolate. We're seeing chocolate added to almost everything you can think of. And so-called "healthy" chocolate recipes abound. Here are 11 healthy recipes where the taste is vastly improved by chocolate.
---
If you are looking for a grab-and-go chocolate snack, today is National Chocolate Covered Raisin Day. Raisinets, the most recognized brand of chocolate-covered raisins, came on the scene in 1927. At that time they were handmade, and it took workers 90 minutes to coat 350 pounds of raisins and additional 60 minutes to polish them, according to the website for Nestle, which acquired the brand in 1984. Today the candy-making is automated, cranking them out in big batches of up to 2,500 pounds. The raisins are Thompson Seedless raisins, grown in California.
In the spectrum of otherwise healthy foods that are dipped in chocolate (including every type of nut), raisins are really not a bad nutritional deal. The vitamins and minerals in the dried fruit aren't lost when it's covered in chocolate, so the treats deliver about 1 percent of the vitamin E recommended daily and tiny amounts of vitamins A and K. They also supply .77 milligrams of iron and trace amounts of zinc and potassium. The chocolate, of course, adds calories, fat and sugar to a dried fruit that already contains a lot of natural sugar. A 1/4-cup serving has 176 calories and 7.4 grams of fat — 6.6 grams of which are saturated.
Over at 24 Carrot Life, Katie is showing us that you can live a decadent lifestyle while still eating healthy. Her chocolate & peanut-butter fudge squares are a vegan treat. She uses dried cherries in her bars, but you could just as easily substitute raisins if you have them on hand.
Do you have a healthy chocolate treat to share? Tag us on Instagram @britandco.
Sally Jones
Sally Jones is a writer and editor living in New York City. She has worked at many websites including iVillage, Ladies Home Journal, More, Parenting, Cosmopolitan, The Knot and YourTango, in jobs ranging from editor to COO. Renovation and interior design are her
unhealthy obsessions
hobbies. She has renovated every home she's lived in, including the rentals, and like... whoa, who does that? You can catch her at her blog
Renov8or
.