"Day 1 in Trump's America" Is Seriously Scary
Nov 11, 2016
We are totally aware of the fears the public is expressing under our new President-elect and the concerns over various (totally important) issues that we may soon have to deal with. And if that wasn't bad enough, you really need to check out "Day 1 In Trump's America," because OMG. This is scary stuff, folks.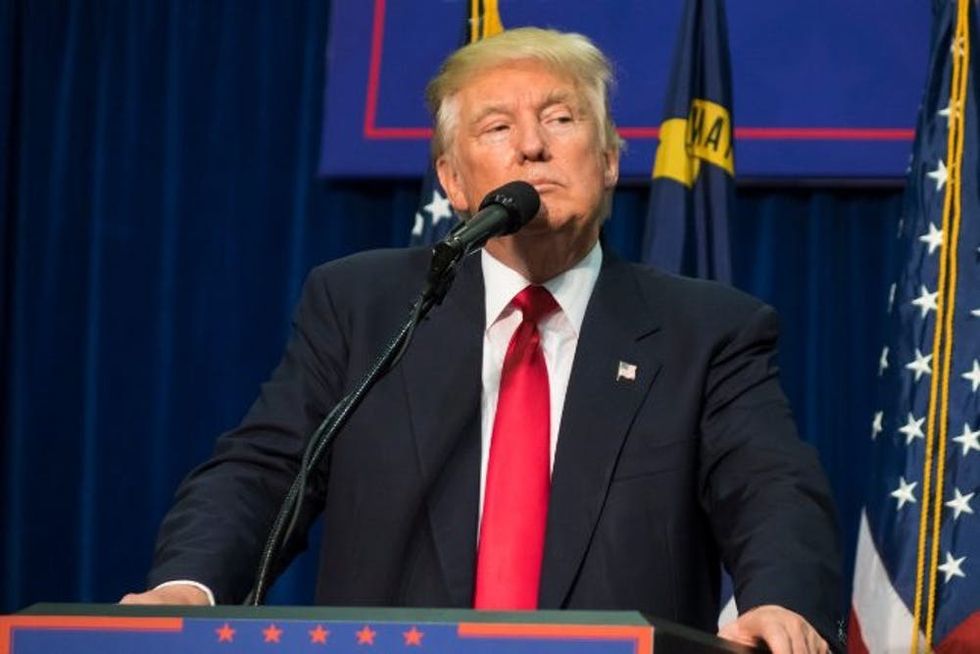 ---
In a collection of tweets gathered by Genius Senior Editor, Insanul Ahmed, we're given a totally upsetting look at some of the super things that happened on Day 1 since the election. From verbal attacks to physical ones with weapons, minorities are facing a terrifying sitch right now.
Trigger Warning: These are not easy to read/see and contain incidents of racism and violence (including sexual violence).
Not even 24 hours yet. My friend's sister, who is Muslim, had a knife pulled on her by a Trump supporter while on the bus by UIUC campus.

— Sarah A. Harvard (@amyharvard_) November 9, 2016
As I'm stopped at a gas station this morning, a group of guys yell over: "Time to get out of this country, Apu!"

Day 1.

— M 🖇 (@ManikRathee) November 9, 2016
I have a scarf on. Passed by someone on the platform today and he says, "Your time's up, girlie."

— Mehreen Kasana (@mehreenkasana) November 9, 2016
Someone on the streets of LA just yelled at one of my girl's Latina coworkers to "go back where you came from." #TrumpsAmerica

— Alex Gale (@AlexGale) November 9, 2016
3 of my muslims friends, whom i've never seen without a hijab before, came to school without them today, because they were afraid.

— claude (@claudiafavelaa) November 9, 2016
This just happened. Trump supporter tossed water in her face after threatening to rape her and build the wall. Day 1 of Trump. pic.twitter.com/8JJAM2ugJf

— Shaun King (@ShaunKing) November 10, 2016
Outside of the #NYU Muslim Student Association's prayer room. Not even 24 hours after the election. #ElectionNight pic.twitter.com/ySjvPT57cR

— Sunny☀️ (@sunnysayed_) November 9, 2016
White dudes saw a woman alone and yelled "grab her by the pussy" then tried to do so.

Day 1 of Donald Trump. pic.twitter.com/an1XtqCIY5

— Shaun King (@ShaunKing) November 10, 2016
@ShaunKing @NHousteau pic.twitter.com/hXofb534SG

— veryhardworkinggirl (@dorota98765) November 10, 2016
@ShaunKing this was in Durham, NC pic.twitter.com/EVGTXCMEmT

— Avarice Gambino (@Pinocchio_Lies) November 10, 2016
I walked into my room and my heart aches with pain. pic.twitter.com/GFD5gBmPmD

— María Sanchez (@TRmariasanchez) November 10, 2016
@ShaunKing Muslim student was strong arm robbed in San Diego State University while they insulted her for being a Muslim. pic.twitter.com/LzH5jcp2sC

— sadface crying (@merbae_) November 10, 2016
there have already been 2 incidents on campus with trump supporters harassing muslim women, stay safe everyone 😢

— ayesha (@bettertingz) November 9, 2016
Placed on their car in NC.

"Can't wait until your 'marriage' is overturned by a real president. Gay families = burn in hell. Trump 2016" pic.twitter.com/jyBjUSS2TI

— Shaun King (@ShaunKing) November 10, 2016
@ShaunKing This from my friend Nichole… pic.twitter.com/ydMKEcY60z

— Laura Keeney (@LauraKeeney) November 10, 2016
My friends know this woman. Happened in Napa Valley last night at the gas station & left them all in tears. pic.twitter.com/EZC3d7kTI4

— Shaun King (@ShaunKing) November 10, 2016
Trump. Day 1. pic.twitter.com/5z6qbHX9rN

— Shaun King (@ShaunKing) November 10, 2016
You can check out the full disturbing collection for more.
What do you think about Day 1 in Trump's America? Tweet us @BritandCo!
(Photo via mphillips007/Getty)
Desiree O
Desirée O is a 'Professional Bohemian' who loves anything and everything related to the arts, entertainment, and pop culture. She ADORES being a 'Newsy' for Brit + Co, covering all of the latest tidbits of awesomeness that you want to read about. When she's not writing, she's either making messy art, going on long adventurous walks with her camera, or poking around over at bohemianizm (http://www.bohemianizm.com/). You can find out about Desirée O and her work at http://DesireeO.com/ or follow her on Twitter @DesireeO.