Make This Homemade Pumpkin Face Mask for Clear, Radiant Skin
Oct 11, 2017
By now, you've embraced all things autumn with pumpkin spice foods, so why not extend the seasonal feels to your skincare regimen too? Adding ingredients like pumpkin, sweet potato, and cinnamon to your routine in the form of a beauty treatment will spruce up your complexion and save you from dullness or breakouts. So what are you waiting for? Head to the grocery store ASAP!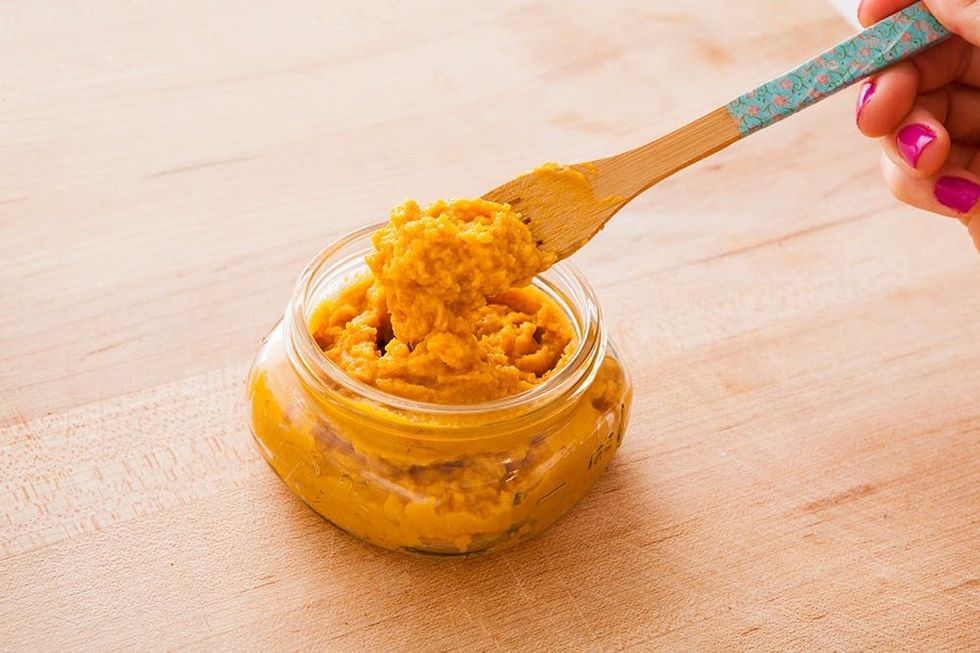 ---
This DIY pumpkin mask created by Joanna Vargas, celebrity facialist and founder of Joanna Vargas Salon and Skincare Collection, tackles breakouts, dryness, and dullness. Read on to learn more about the benefits of the ingredients and the full recipe below.
Pumpkin
"Pumpkin is a fantastic ingredient for a mask because it's full of enzymes that will deliver a wonderful glow," says Vargas. "It's also high in antioxidants, vitamins A, C, and E, and acts as a natural source of enzymes to slough away dead skin."
Sweet Potato
"Sweet potato contains tons of beta carotene, which fights free radical damage, and causes cell turnover," she explains. "It also contains potassium and magnesium, specifically, which assist in lymphatic drainage." That means you'll help rid the skin of toxins and increases blood circulation, which adds to that beautiful brilliance you're after.
Cinnamon
Not only can the spice act as the final touch when it comes to cooking, but it can be a fantastic finishing ingredient for a blemish-targeted skin treatment. "Cinnamon is used regularly in skin and body products to increase circulation," Vargas tells us. "It's an antibacterial antioxidant so it can also help heal acne."
homemade pumpkin mask recipe
Ingredients:
½ ounce pumpkin

1 Tablespoon Greek yogurt

½ ounce sweet potato

1 teaspoon honey

1 pinch cinnamon
Instructions: Mix all the ingredients in a bowl and apply to damp skin. Leave it on for 10 minutes. Rinse with water and a cloth. Use once a week.
Want more skincare DIYs? Follow us on Pinterest!
Beth Wischnia
You can typically find this Texan writing, trying on a new lipstick, gabbing with her identical twin sister or volunteering at the local animal shelter. She finds inspiration from rosé, beauty products, Tex-Mex and cats.
DIY Beauty
Whether you want to tap into some holiday nostalgia, or find a fun DIY to do with your kiddos, this simple snow globe craft offers both! Together with Camp by Walmart, we built a customizable crafting journey so you can execute this decor upgrade based on your style preferences and the supplies you have around the house. For this project, you'll need to decide if you want your snow globe to be inside of a mason jar or glass orb, what type of snow you want (hello, glitter!), and what holiday scene should go inside. With 16 possible outcomes, we can't wait to see what you come up with. Check it out by watching the winter wonderland snow globe tutorial now!
Holidays