21 Celeb Dads Celebrating Their Very First Father's Day This Year
Jun 17, 2016
While Father's Day might just be another Sunday in June to many, for new dads, this day has special meaning.
---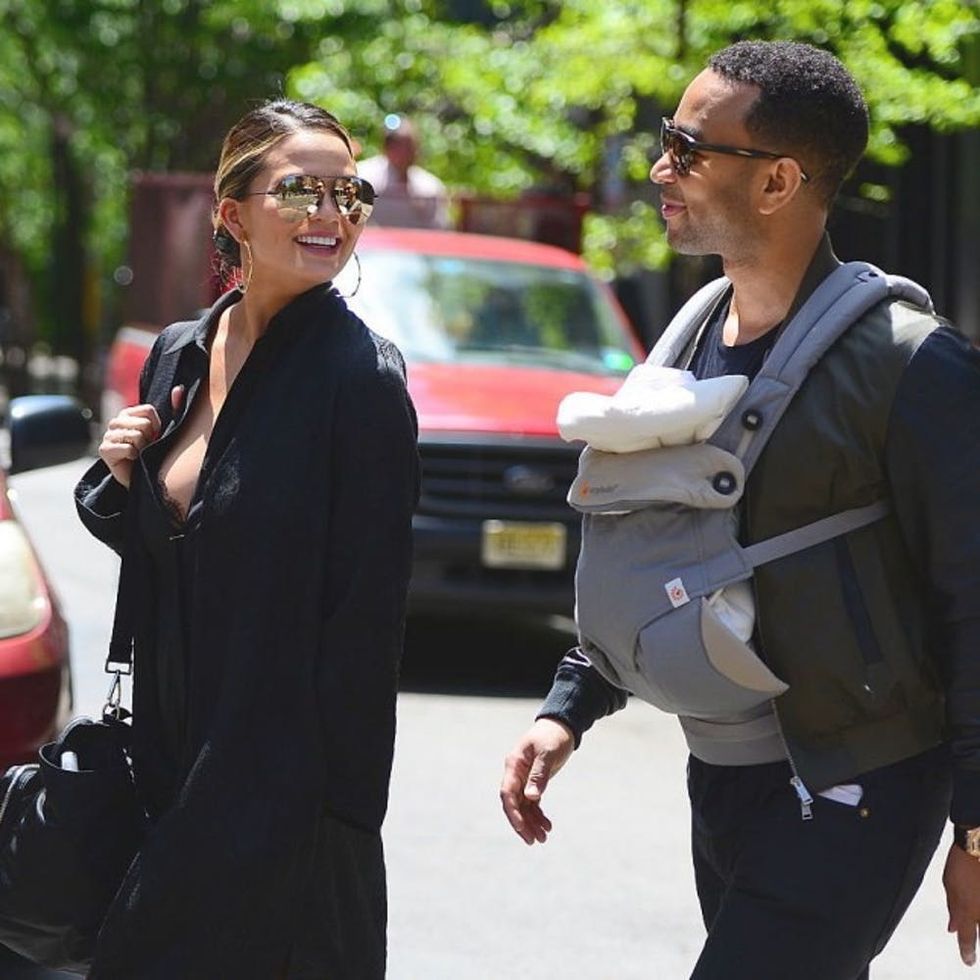 1. John Legend: The "All of Me" crooner and his supermodel/cookbook author/funny woman wife Chrissy Teigen welcomed daughter Luna Simone on April 14. Chrissy, who conceived via IVF, has been quoted saying, "I picked the girl from her little embryo. I picked her and was like, 'Let's put in the girl.'…I think he deserves a little girl. I think he deserves that bond." Aww. (Photo via Raymond Hall/Getty)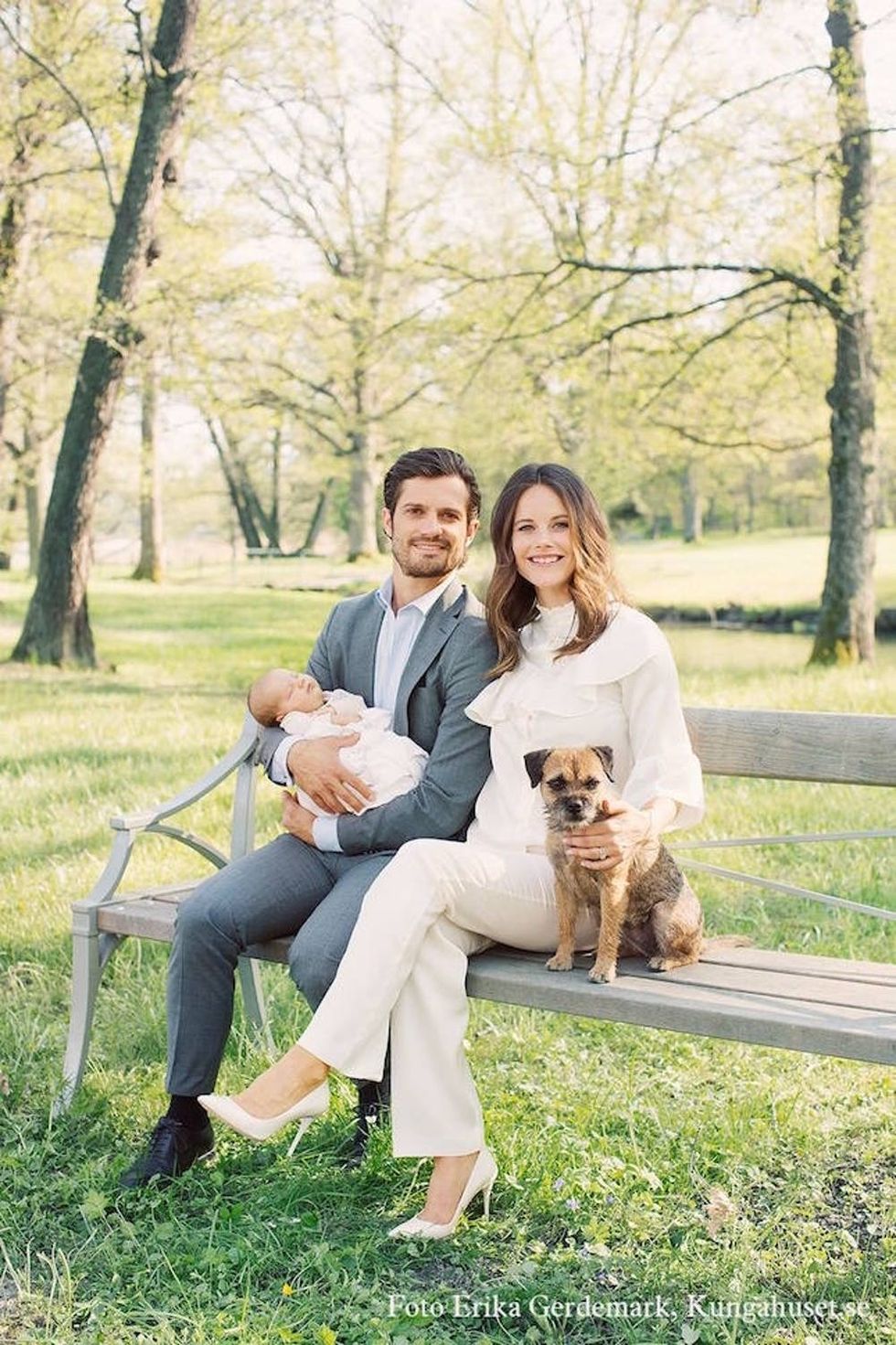 2. Prince Carl Philip of Sweden: Sweden's Jamie Dornan-lookalike prince (anyone else see it?) married former model/reality show personality Sofia Hellqvist in 2015, and this year, the royal couple welcomed their teeny son Prince Alexander of Sweden. (Photo via Erika Gerdemark/Kungahuset.se/Facebook)
3. Louis Tomlinson: The One Directioner became the first member of the band to be a father when his pal Briana Jungwirth gave birth to their son Freddie on January 21. The proud dad has since posted several squee-worthy pics on his social accounts of his little boy.
4. Justin Baldoni: The Jane the Virgin star and his actress wife Emily Foxler are the doting parents of Maiya Grace, who was born June 27, 2015, and thereby missing Father's Day last year by just six days. This one will be his first with his little girl!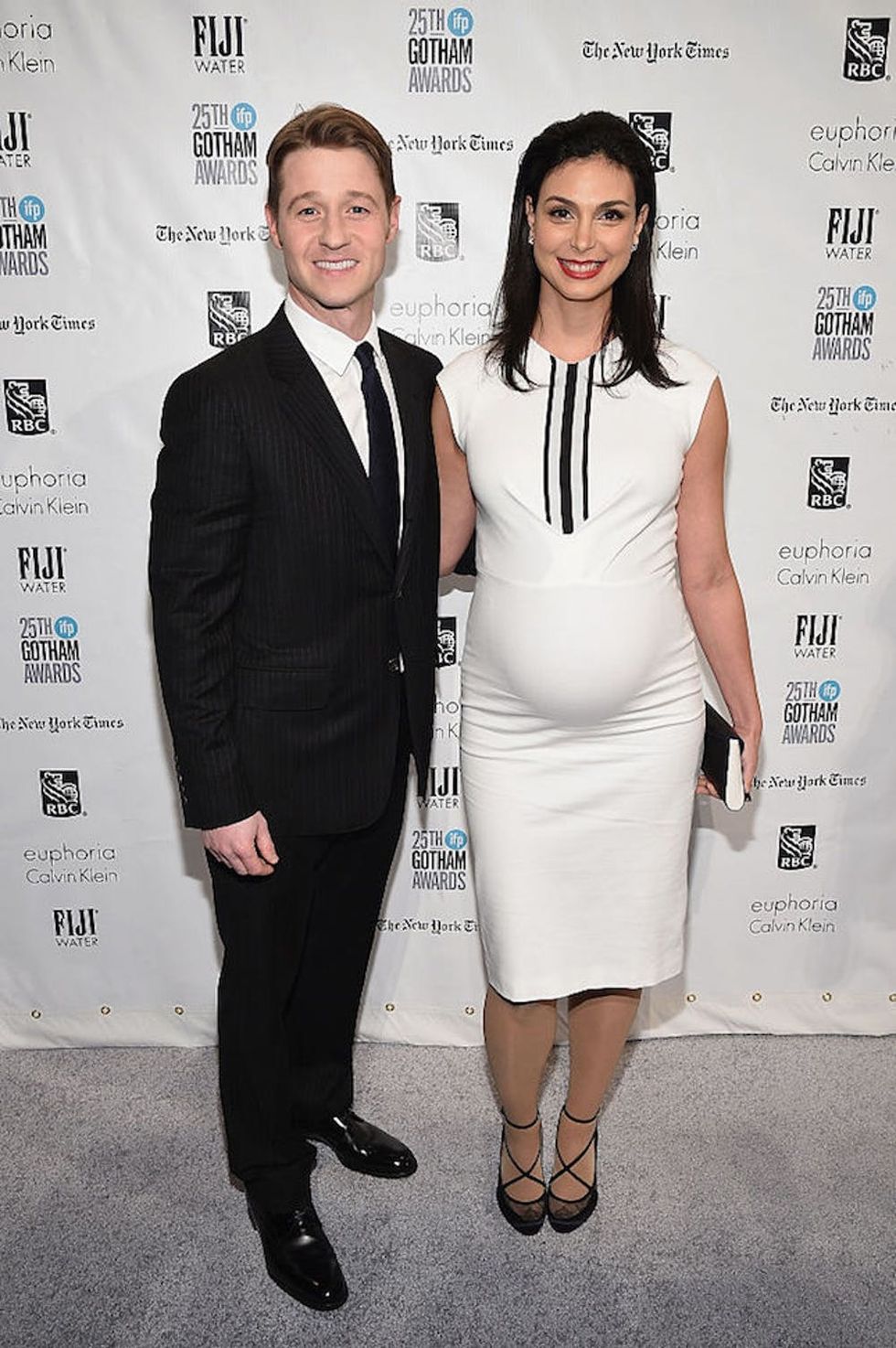 5. Ben McKenzie:Gotham co-stars Ben McKenzie and Morena Baccarin surprised everyone when they announced they weren't just dating, but also, that they were expecting! The couple welcomed Frances Laiz Setta on March 3, 2016. (Photo via Bryan Bedder/Getty)
6. Michael Phelps: The Olympic gold medalist (he holds 18! — double the next medalist who has the most) and his former Miss California USA wife Nicole Johnson became first time parents with the birth of their son Boomer Robert on May 5.
7. Brandon Jenner: Caitlyn Jenner's son Brandon (big bro to newly-engaged Brody!) and his wife Leah took a page out of the traditional + gender-neutral baby name book when they named their daughter Eva James, born July 22, 2015. (Side note: Those lashes!!)
8. Andy Roddick: The retired tennis star who once held the title of World Number One Tennis Player added a new epithet to his name when his model/actress wife Brooklyn Decker gave birth to their son Hank on September 30, 2015: DADDY.
9. Charles Kelley: The Lady Antebellum singer (and bro-in-law of Katherine Heigl. Yes, really!) will be ringing in Father's Day with the help of his wife Cassie McConnell and their little one, Ward Charles, born February 11.
10. Dave Annable: The Brothers & Sisters star and his former co-star (same show!) Odette Yustman walked down the aisle back in October of 2010, and they welcomed their little girl Charlie Mae in September of 2015. Aww.
11. Andrew Keegan: The '90s heartthrob-turned-community spiritual temple leader (we're not joking) and his girlfriend Arista Ilona became parents to daughter Aiya Rose on March 15. "Our hearts are full of love, and we are thrilled to embrace our role as her parents," Andrew said in a statement. That sun hat though.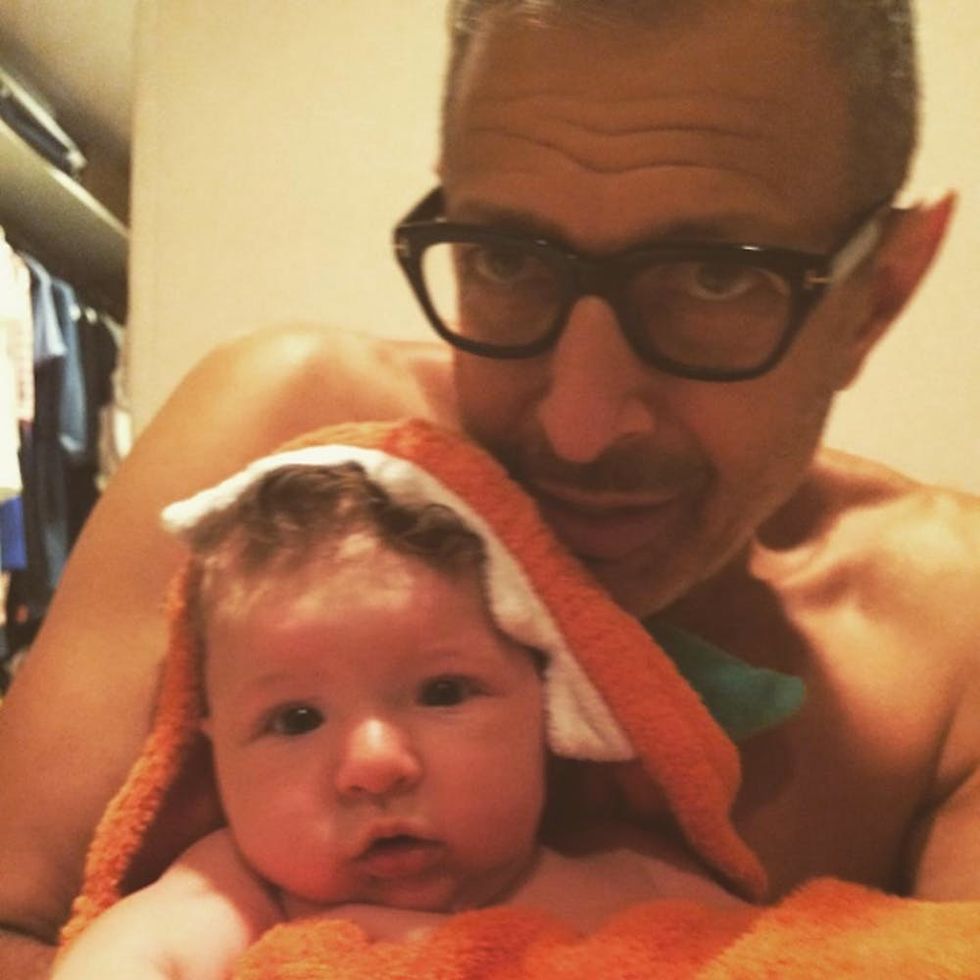 12. Jeff Goldblum: The oldest new daddy on our list, actor Jeff Goldblum became a father at the age of 62 when his wife, former Olympic gymnast Emilie Livingston, had their baby boy Charlie Ocean on July 4, 2015. Yep, the Independence Day actor had his first kid on Independence day. (Photo via @emilielivingston)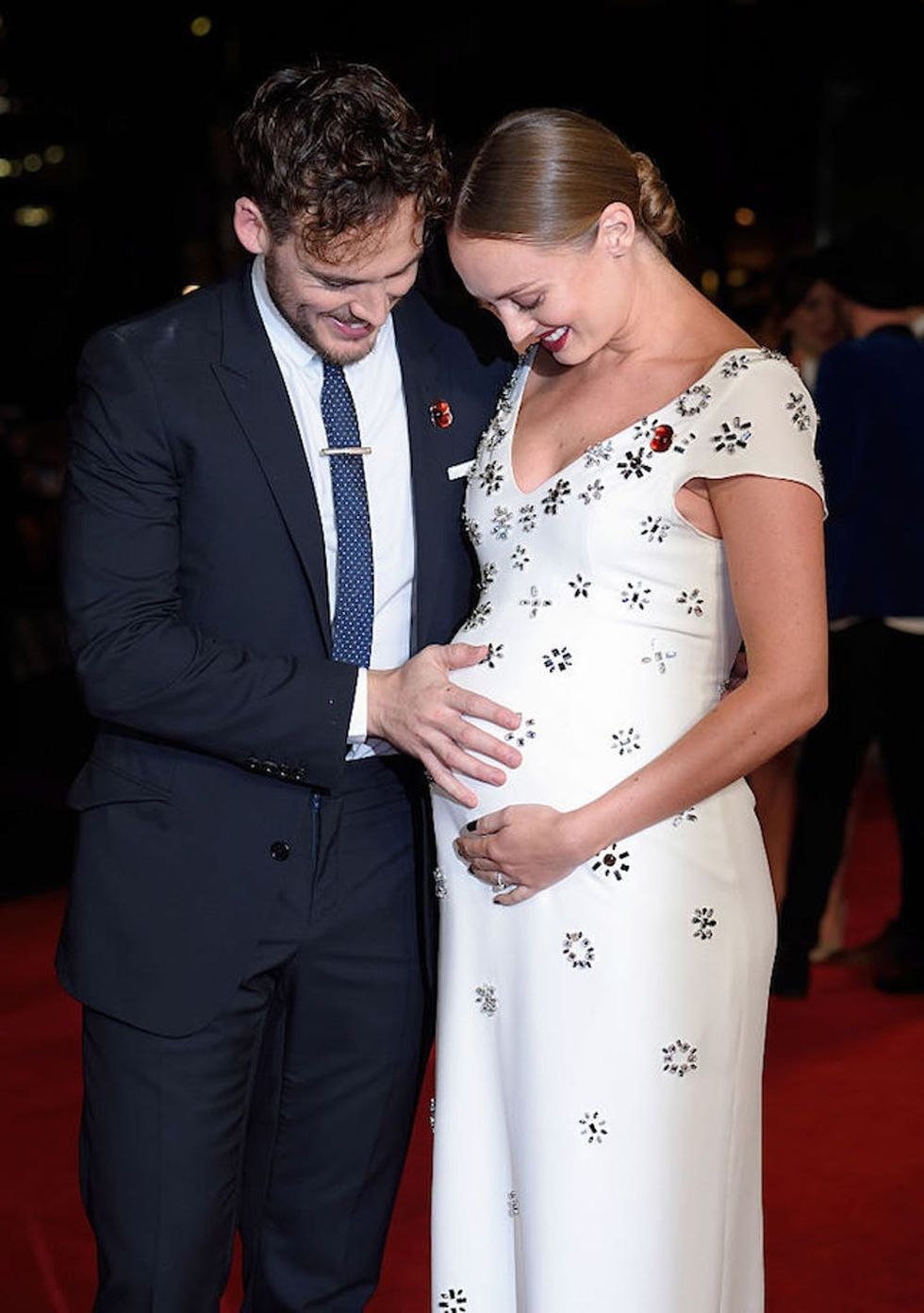 13. Sam Claflin: The Me Before You actor and his wife Laura Haddock might have the best meet-cute ever: The actor saw her at an audition and just knew. "I called my agent, I said, 'Mate, I am in love… I have just met the woman I want to marry.'" The secretive couple welcomed their baby in December, but they haven't revealed the gender or name. Cheers to them anyhow! (Photo via Karwai Tang/Getty)
14. Nick Carter: The Backstreet Boy is celebrating his first Father's Day as a papa this year (*sound of millions of '90s teeny bopper hearts breaking*), after his wife Lauren Kitt gave birth to their son Odin Reign on April 19. Now that's quite a name.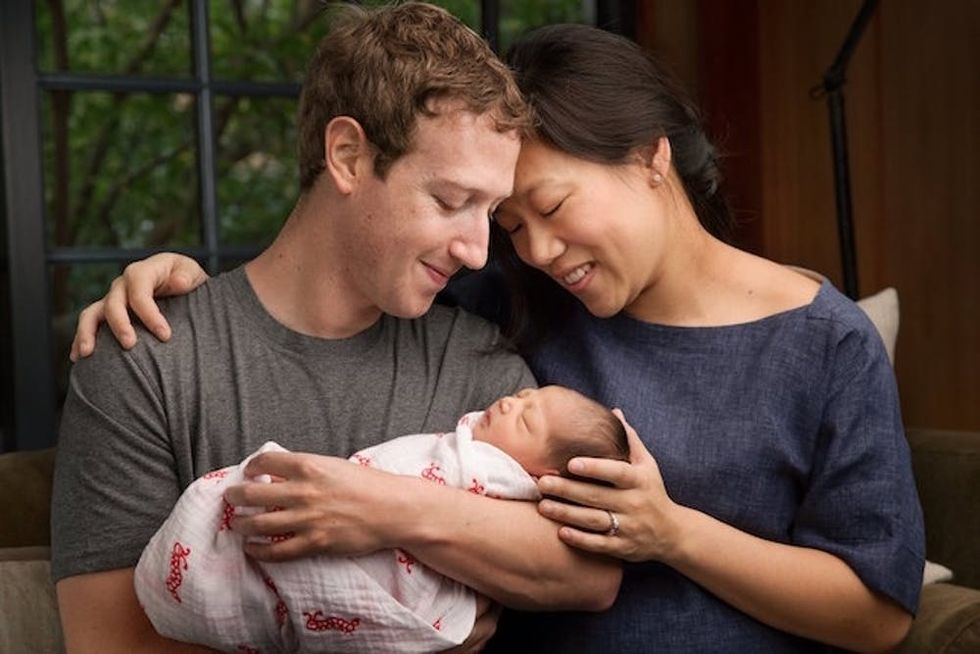 15. Mark Zuckerberg: The Facebook founder and his wife Priscilla Chan have been really open about their struggles with miscarriage and infertility — which is what makes Mark's first Father's Day so bittersweet. Daughter Maxima (or Max for short) was born on December 1, 2015. (Photo via Mark Zuckerberg/Facebook)
16. Matt Dallas: The Kyle XY alum and husband, musician Blue Hamilton, became dads last year when they adopted two-year-old son Crow. Aside from being crazy photogenic on social media, this family certainly looks like they know how to have fun with each other.
17. Cam Newton: Carolina Panthers QB and his longtime girlfriend Kia Proctor welcomed their baby boy Chosen Sebastian on Christmas Eve of 2015. The super private QB hasn't shared any pics of his son on his social channels yet, but this photo of the athlete posted by his GF says plenty about how cute he must be as a father. FYI, Cam's signature move on the field is dabbing — which is what he and his mini me are doing on his shirt.
18. Kevin Durand: The 42-year-old Dark Angel actor is celebrating his first Father's Day this year with the help of his wife Sandra Cho and their daughter, Amélie Moon, born August 30, 2015. Eeks, that might be the cutest name we've heard in a while!
19. Kevin Zegers: The Gossip Girl hottie became a dad for the first time TWICE OVER when his wife Jaime Feld gave birth to twin girls in August of 2015. If that's not adorable enough, wait 'til you hear their names: Zoë Madison and Blake Everleigh.
20. Brian Tee: Just look at those adorable matching smiles on the The Fast and the Furious: Tokyo Drift actor Brian Tee and his baby girl Madelyn Skyler. His wife, actress Mirelly Taylor, gave birth August 10 and their little one is now nine months old.
21. Evan Ross: The Hunger Games actor married Ashlee Simpson in a swoon-worthy wedding in the backyard of his mom Diana Ross' Greenwich, Connecticut estate back in August of 2014, which made him stepdad to Ashlee's son with Pete Wentz, Bronx Mowgli — but we'll include Evan on the list anyway. The happy couple welcomed their daughter Jagger Snow on July 30, 2015.
Do you know any first time dads this Father's Day? Tweet them this article and tag us @BritandCo!