Ghost in the Shell Producers Created a Mega Fail When Trying to Meme Their New Movie
Mar 14, 2017
Looks like the controversy surrounding Scarlett Johansson's Ghost in the Shell won't be dying down any time soon, and that's thanks to the film's marketing department. After calls of whitewashing when it was announced that ScarJo was starring in the role made famous by Japanese writers and anime producers, the production company hasn't really addressed the allegations head on. While the actress has been vocal about how tough it is to be a single parent, she has also been silent about the role, and now, the film's failure of a meme looks like it may spell disaster for the previously anticipated live-action remake.
She is hunted. She is the hunter. She is Major. Who are you? Go to https://t.co/jGc5YZ7g2T and tell us. #IAmMajor pic.twitter.com/E8FT89WPBM

— Ghost In The Shell (@GhostInShell) March 11, 2017
---
In a surprise move, the company released a series intended to get people involved in the film by asking us who we are. The hope was to have people share their bravery and strength using the hashtag #IAmMajor. Unfortunately for them, it backfired, and people pointed out that not only is the character not called "Major" (it's her rank not her name), but that having a white actress portray a Japanese character has upset enough people to potentially destroy the film's release.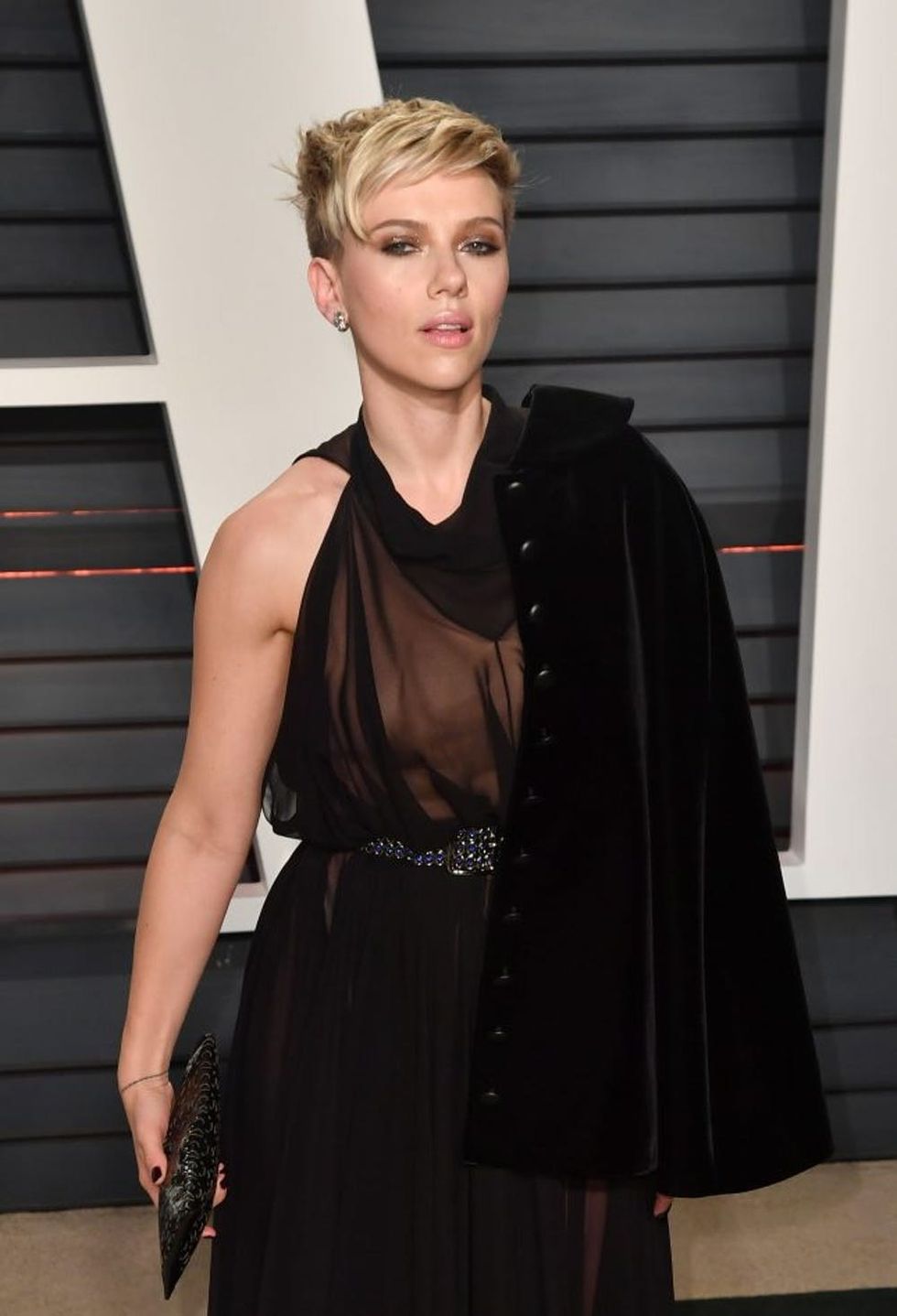 People went to town using the meme generator and were particularly brutal to ScarJo's character and the film makers.
The Ghost in the Shell Website https://t.co/eqy8CpndC6 has a meme maker of sorts where anyone could "become Major" so I had some fun…. pic.twitter.com/EadKs04H9a

— VzA (@ValerieComplex) March 11, 2017
@ValerieComplex "Major has no race" pic.twitter.com/4GLYPNDW8E

— slander_ent (@slanderent) March 12, 2017
@ValerieComplex pic.twitter.com/1V4KQBRj9z

— 北北 (@DG_Yagami) March 12, 2017
They didn't just go after ScarJo, though — they absolutely slaughtered Hollywood's whitewashing tendencies in general too.
@ValerieComplex pic.twitter.com/1qAJBsSEbW

— KaMara Brown (@keepitkreativ) March 12, 2017
#IAmMajor pic.twitter.com/5ViIxQrvzU

— A.K. (@adrienne_kt) March 13, 2017
And they also reminded us why whitewashing can be so damaging.
@ValerieComplex #IAmMajor pic.twitter.com/QSETZMjCGm

— Jenn Chien (@ChienJenn) March 13, 2017
Will you see Ghost in the Shell when it comes out this month? Tell us @BritandCo!
(h/t Fusion; Photo via C Flanigan/Getty)
Kat Armstrong
Kat has been a writer, social media maven and mom for longer than she's willing to admit. She's also spent time in front of and behind the camera, interviewing celebs, politicians and acting as a producer for fashion and artistic photography shoots. When she isn't writing for various orgs and publications, she's hanging with her kids, husband and French Bulldog, Peter, in Toronto, Canada.
Entertainment
Still haven't taken up that new creative skills you swore you'd learn this year? Or ready to take your design skills to the next level? Let's say so long to the weirdest year ever by checking those big learn-something-new goals off our perpetual to-do lists.
We've teamed up with Clorox to give you the gift of unlimited creativity now through the end of the year. Once you sign up, you can take as many of our 120+ classes as you want for FREE for one whole month!
Here's how it works:

Head to brit.co/learn and sign up for the "All Access Pass."
Use the code "CLOROXCARES" at checkout to redeem your free month of classes.
You will be automagically signed up for Clorox's email list once you redeem your free all access pass. (It's the #1 Choice for Disinfection!)
Your pass lasts one month from when you checkout. This means you have unlimited access to all the classes during that month.
This offer is valid now through December 27, 2020.
Browse our catalog to find the right class for you, tell a friend and take the class together over Zoom, or organize a 'cocktails + crafts' night with a friend in your bubble so you can learn something new together.
What are you waiting for? Time to start learning all the things!

Thanks to Clorox for making this happen! When it counts, trust Clorox.
Lifestyle