15 Gold Foil Wedding Invitations That Will Make You #Swoon
May 11, 2016
Wedding invitations are a BIG part of your wedding theme. After all, they're the first glimpse guests have into your big day, so you want to make sure they are unique, gorgeous and totally you. And with all the details that go into these beauties — ranging from custom calligraphy and hand-painted watercolor to pretty ribbon — there's no reason why you can't add some gorgeous gold foil to your invitation suite to make them *extra* shiny. This list of 15 gold foil wedding invites will provide just the inspiration you need to go beyond that boring invite for a super creative, gold wedding vibe.
---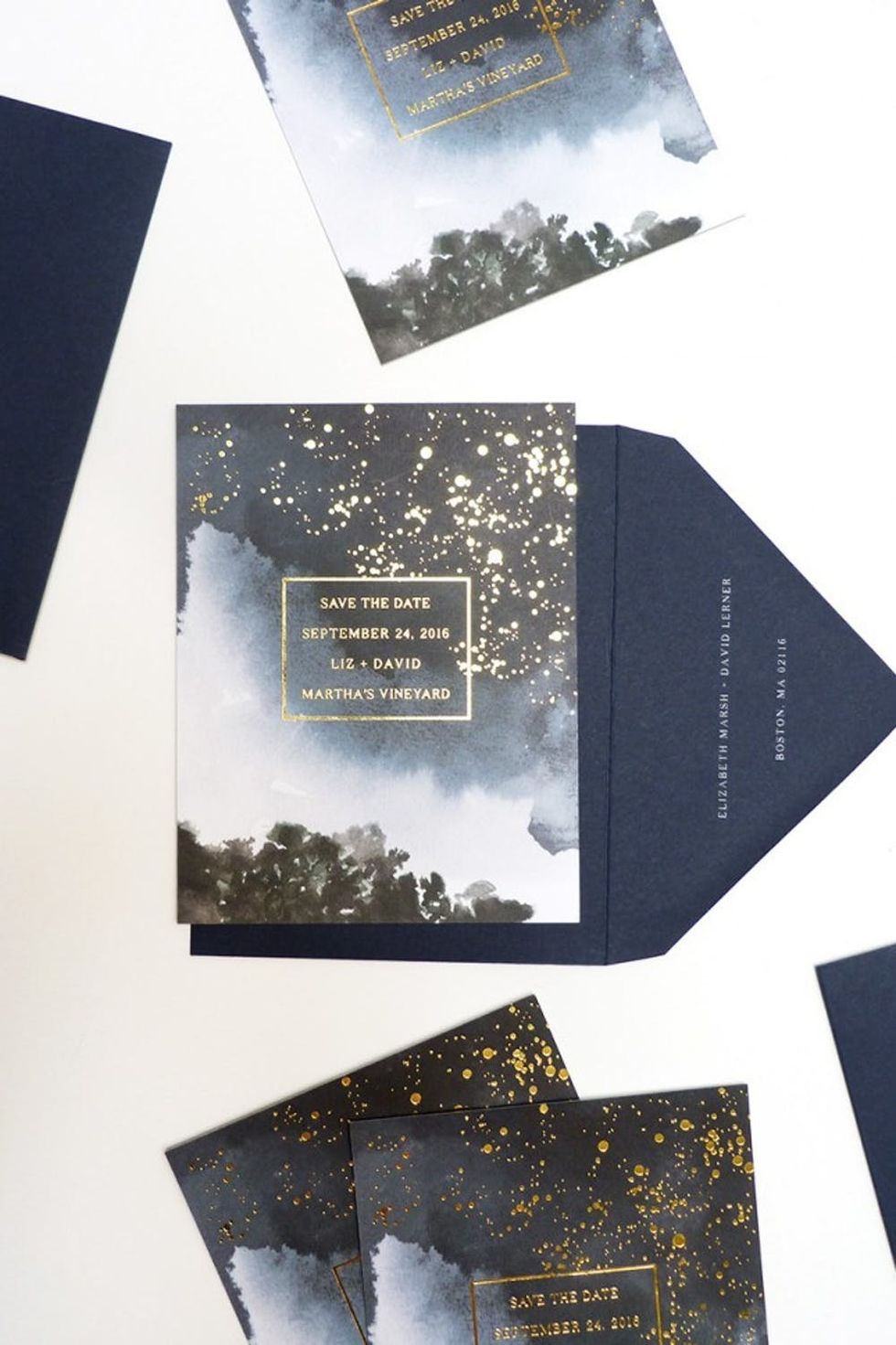 1. Gold Foil Celestial Save the Date Invites: While it features some seriously out-of-this-world detail, this invitation still looks sophisticated thanks to the gold, white and navy color scheme. Use it to invite all your pals to come party the night away beneath the glimmer of big city lights or the perfect open outdoor space. (via Jolly Edition)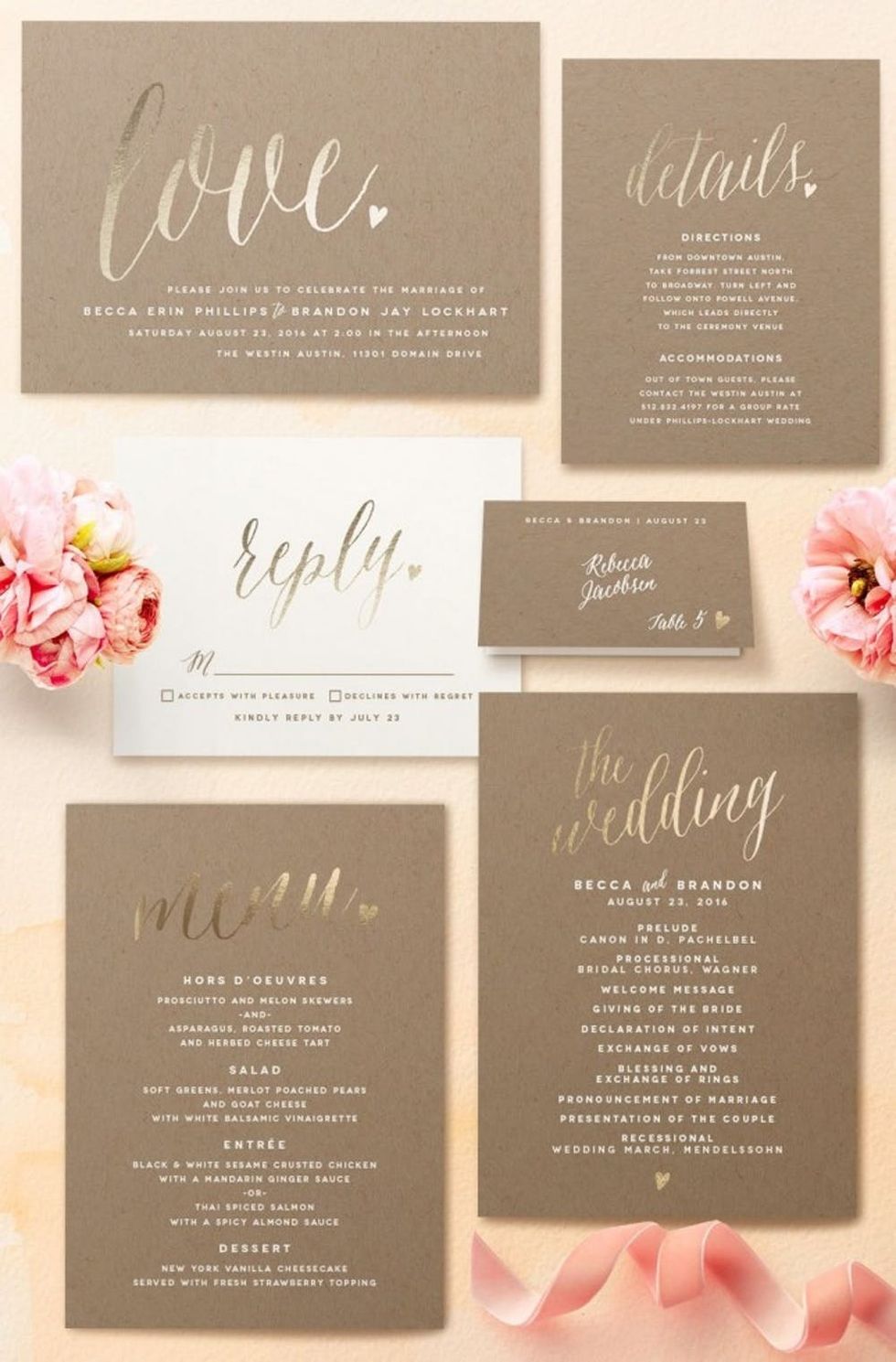 2. Charming Love Gold Foil Invitations (prices vary by quantity, $194 for 20 invitations): Sometimes all your wedding invitations need are some gorgeous fonts mixed with a bit of sparkle on luxe paper to really leave a lasting impression. This unique design is perfect for the minimalist couple who wants to add a bit of je ne sais quoi to their wedding look. It's a gold foil + kraft paper match made in heaven.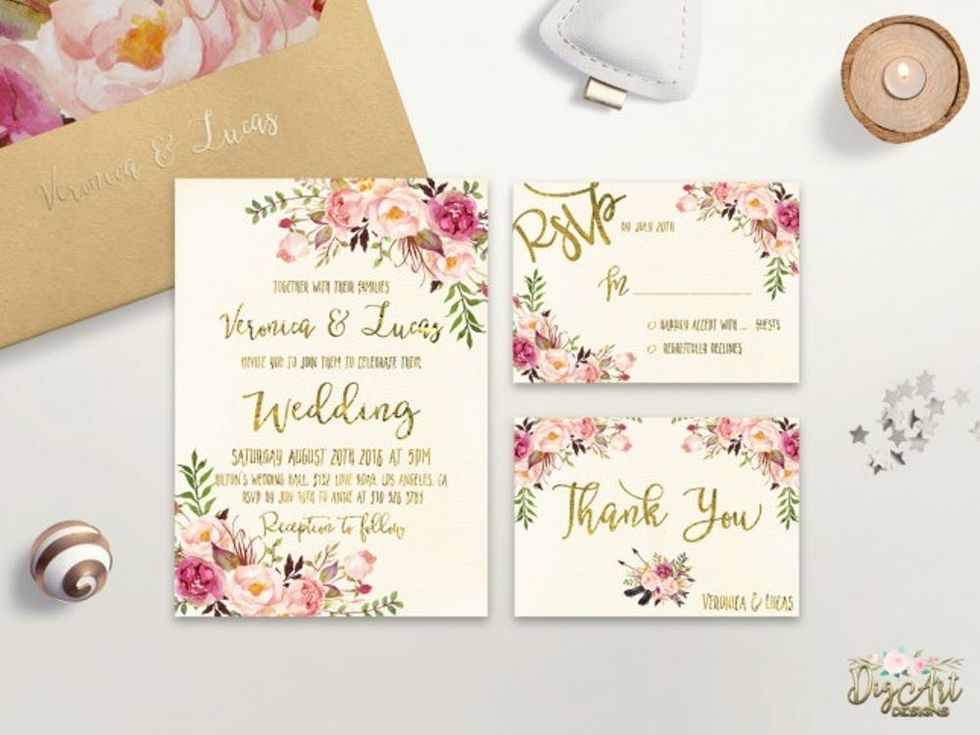 3. Digart Designs Floral Chic Wedding Invitation DIY Printable ($15+): Boho couples are sure to fall head over heels in love with this pretty, outdoorsy design. The floral details make it just right for a garden celebration during the spring or summer seasons, while the pink shades are simply delightful. Snag these printable files to DIY your own invites. We guarantee it'll be one of the prettiest things to ever hit your friends' mailboxes.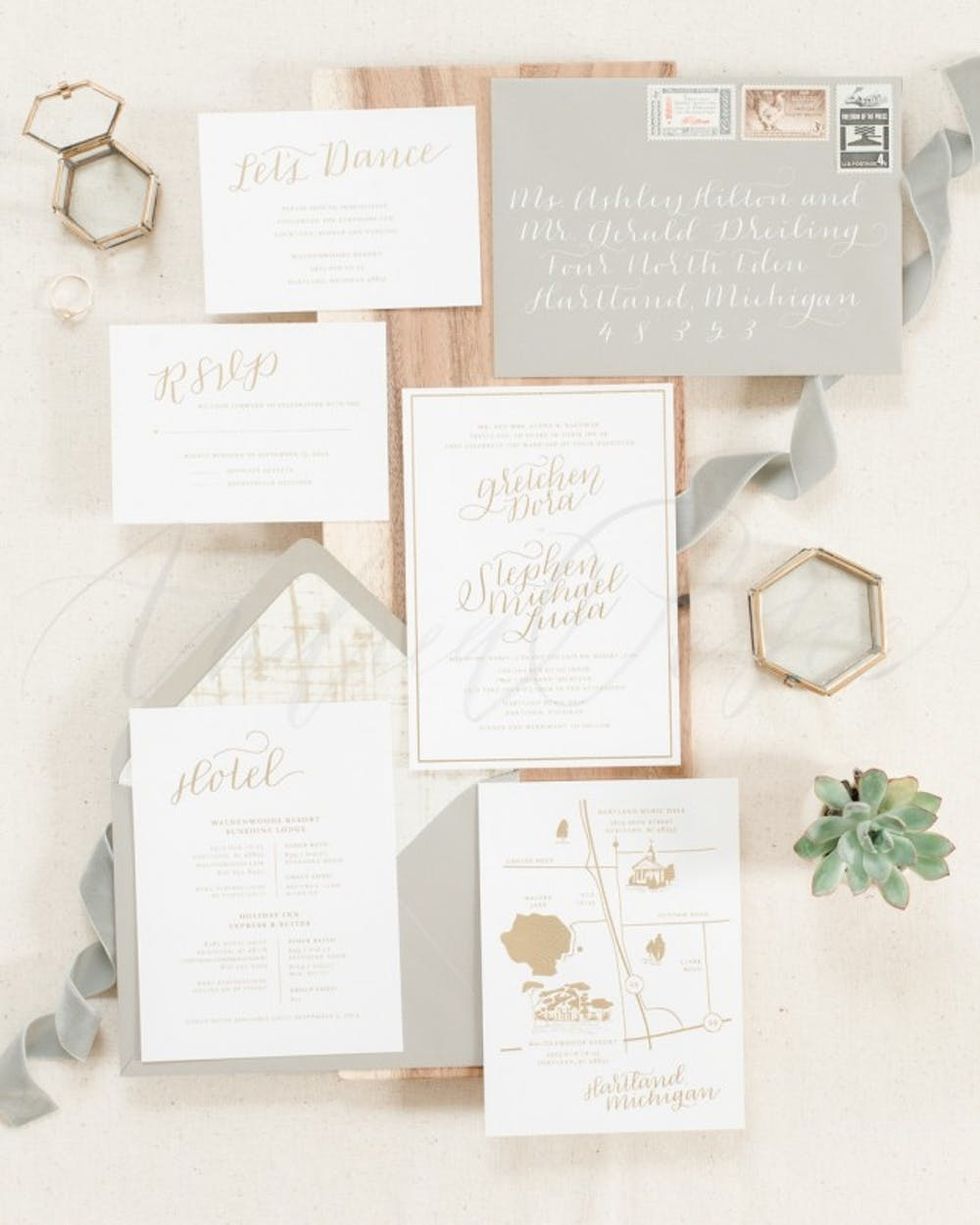 4. Romantic Gold Foil Wedding Invites: Equal parts classic and a tiny bit vintage, this blush-and-gray gold foil wedding suite is all kinds of charming. The design itself is sweet and simple, but also brings in texture through the use of felt paper and a gold brush liner, making this a one-of-a-kind gem. (via Oh So Beautiful Paper / Paper & Honey)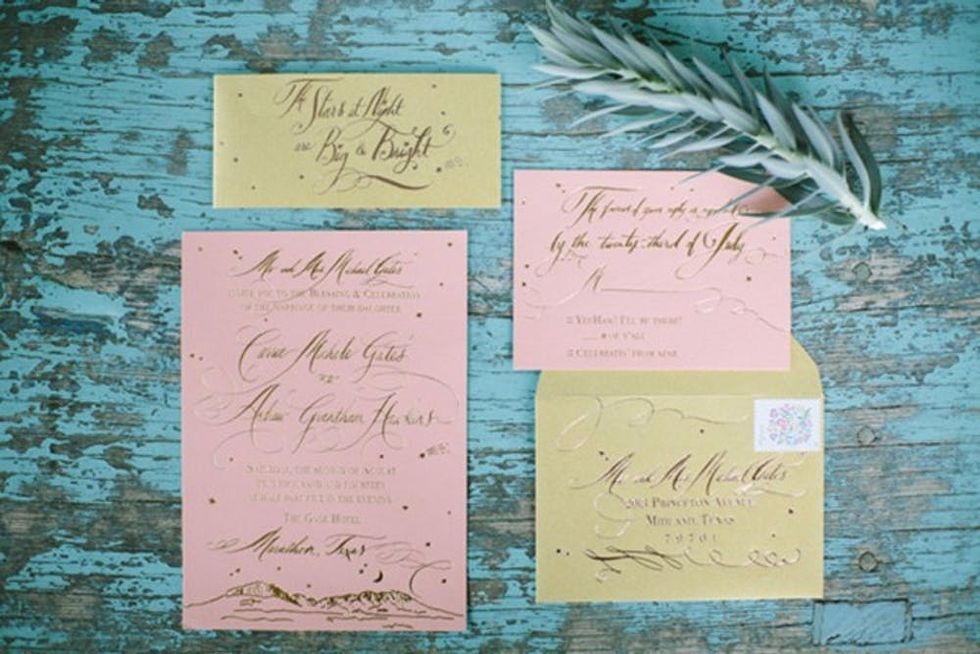 5. Rustic Chic Gold Foil Wedding Invites: If you and your sweetie are fans of warm colors and the outdoors, show off those elements in your invites. Get the look by including a gorgeous gold foil mountain drawing with lots of greenery and floral details, like this set. Your guests will be hella impressed and ready to celebrate your special day. (Photo via Southern Weddings / Helen Byrd)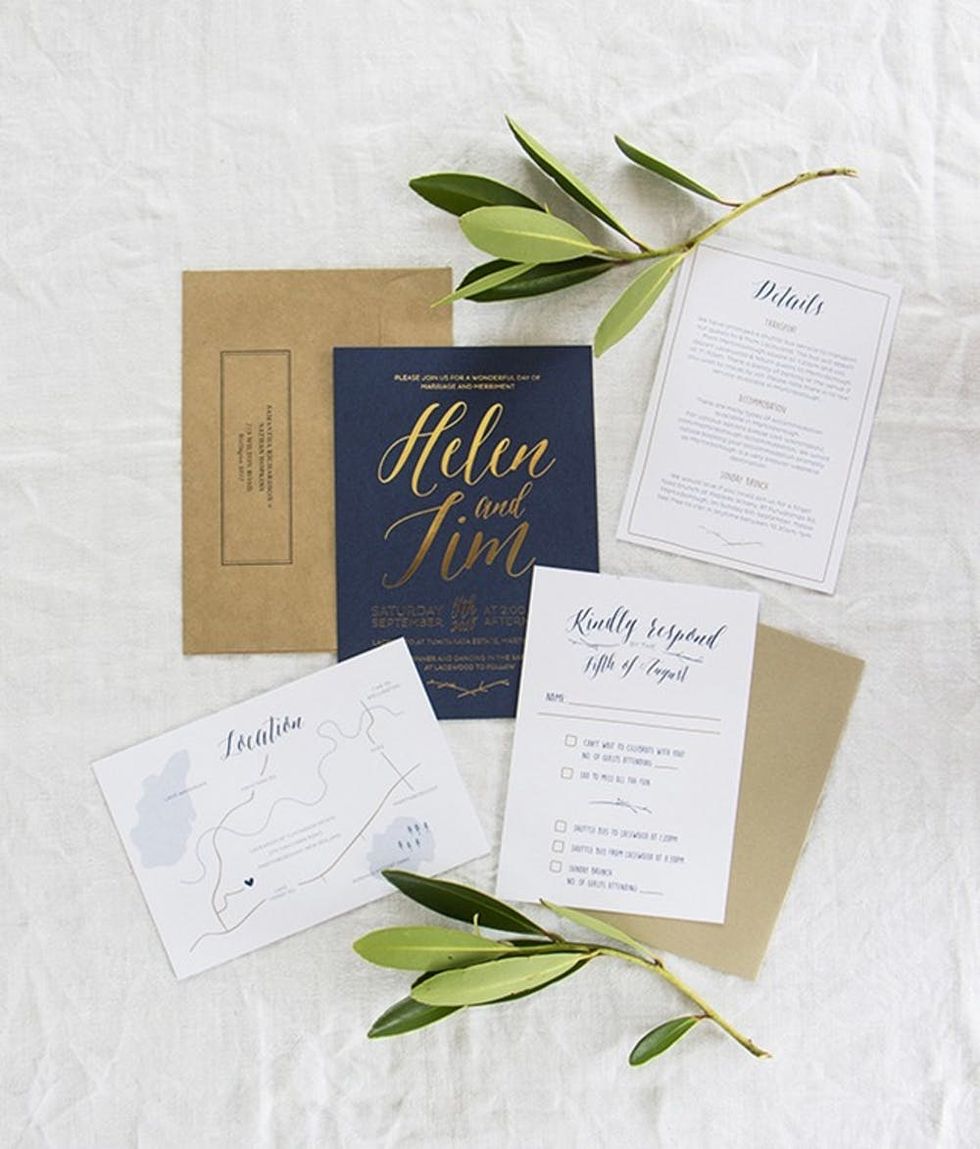 6. Elegant Gold Foil + Navy Wedding Invites: If a garden-party affair is in your future, this invite that draws inspiration from your wedding venue will be nothing short of perfect. Plus, check out how the deliciously shiny metallic gold foil shimmers against the velvety navy blue paper — the gold foil screams chic, while the envelopes keep the invite's vibe feeling outdoor-cool. (via Oh So Beautiful Paper / Make Hey)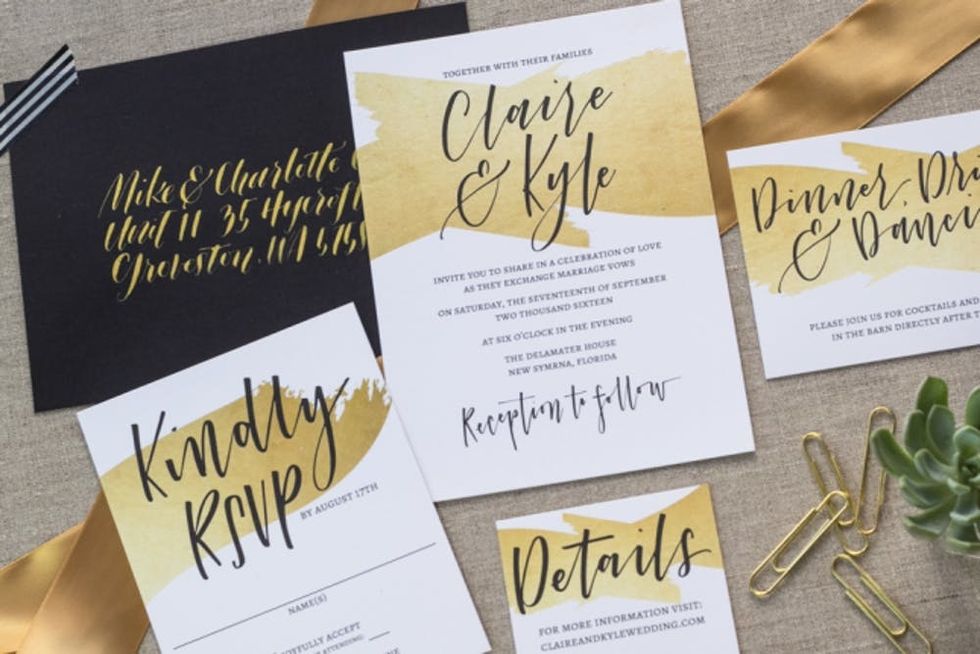 7. Feathered Heart Prints Custom Hand Lettering Gold Foil Invitations ($75+): Walking down the aisle on New Year's Eve or planning a black-tie affair? This navy-and-faux gold beauty is just perfect for channeling an ultra-glam vibe. We especially adore the gorgeous gold ink on the dark envelopes, which looks every bit stylish on screen as it would IRL.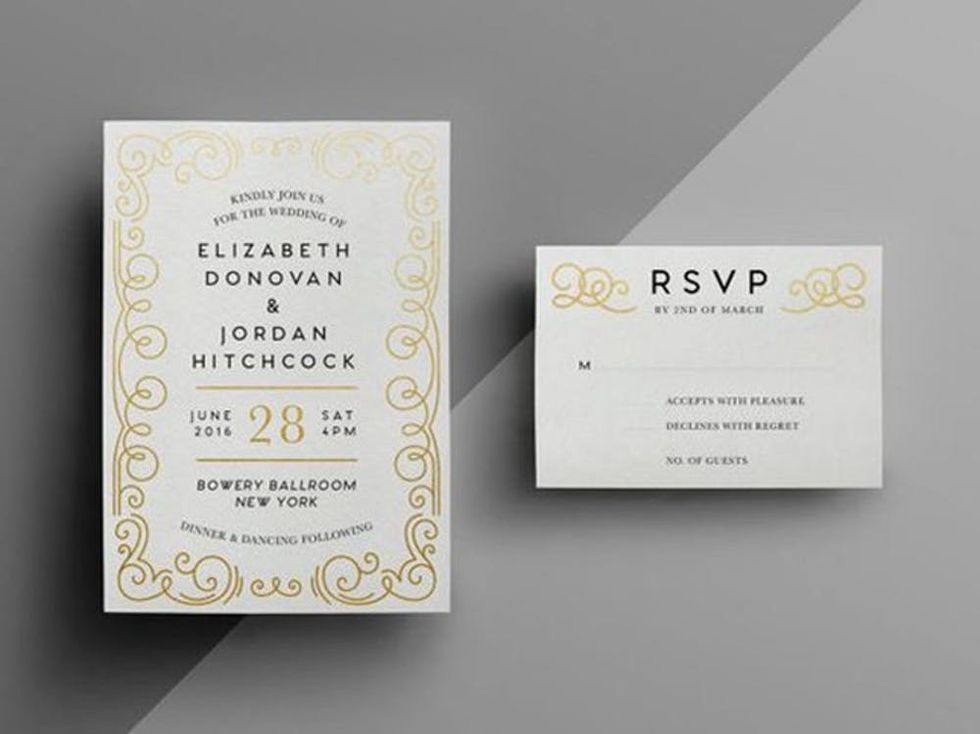 8. kokoroNY Jubilee Flourish Ornament Gold Foil Invitation DIY Printable ($25+): With just the right amount of loops and curves, these super cute yet totally minimalist gold foil invitations will bring a touch of whimsy into your special day. Pair it with a colorful envelope that matches your wedding palette for a cohesive look.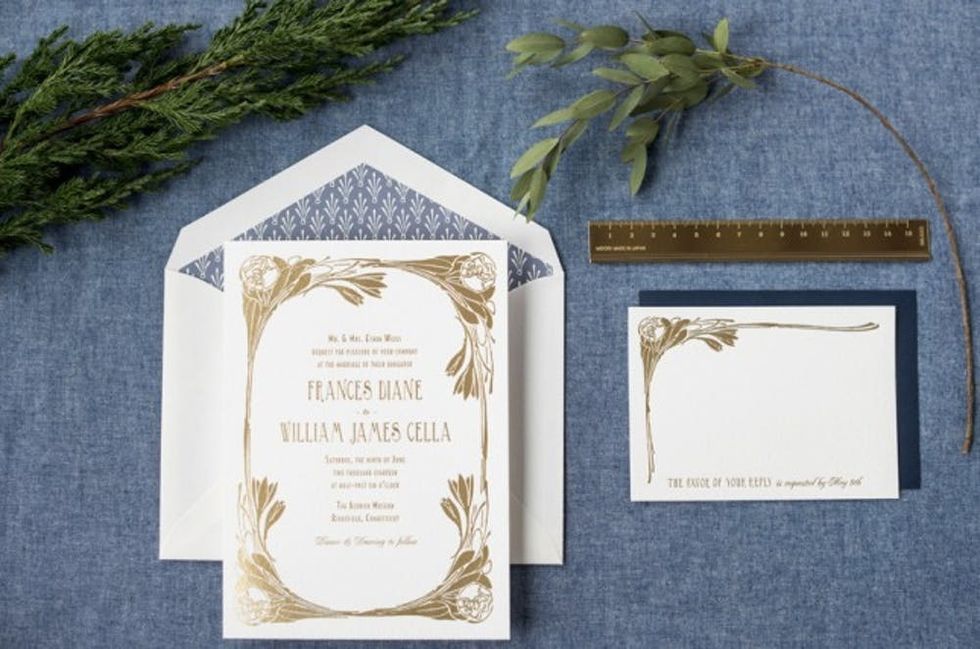 9. HelloTenfold Art Nouveau Invitation Suite ($15+): Rock a vintage vibe by sending out this gold foil art nouveau wedding suite. It'll definitely set the tone for an elegant event your guests will *not* want to miss. For a personalized touch, combine your envelopes with your favorite art deco- or art nouveau-patterned envelope liners.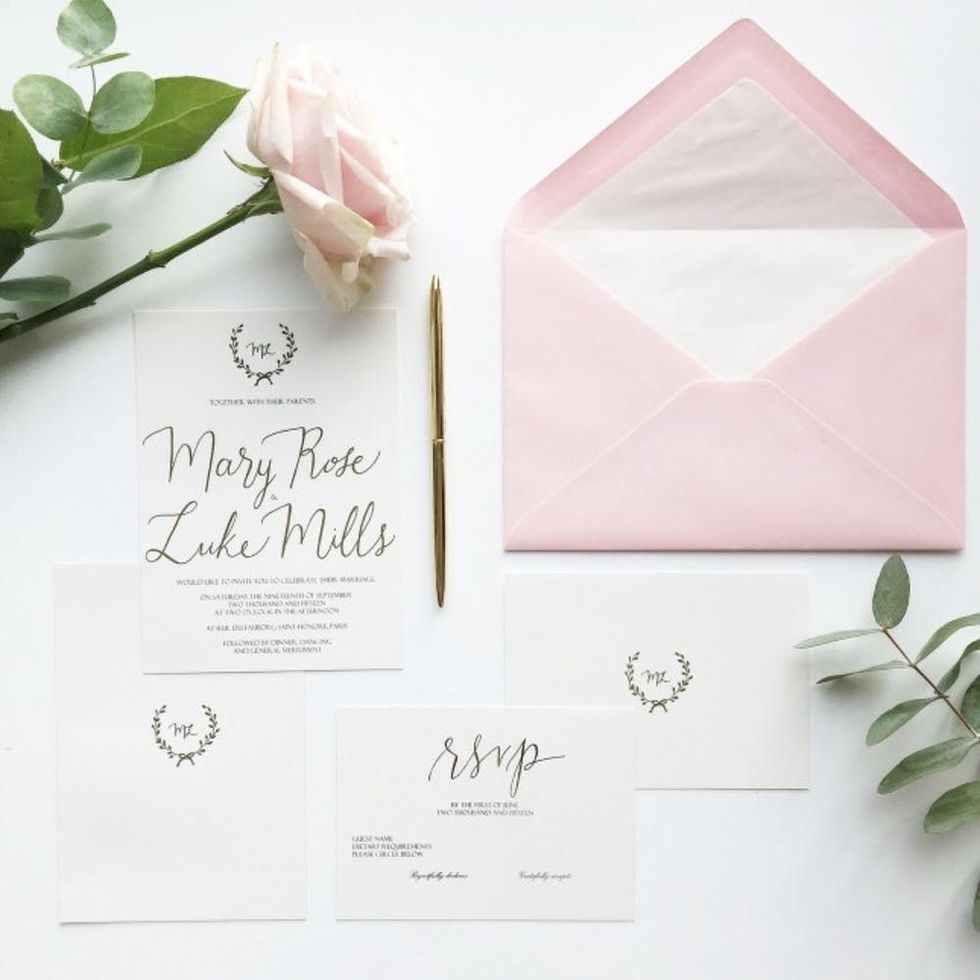 10. Luxe Handwritten Gold Foil Wedding Invitation: So elegant yet totally understated, this simple wedding invitation suite features the most darling calligraphy for a sweet, very minimalist look. The simple wreath and blush envelopes also add charming touches of whimsy, making it an ideal choice for a semi-formal spring celebration. (via Sonni and Blush)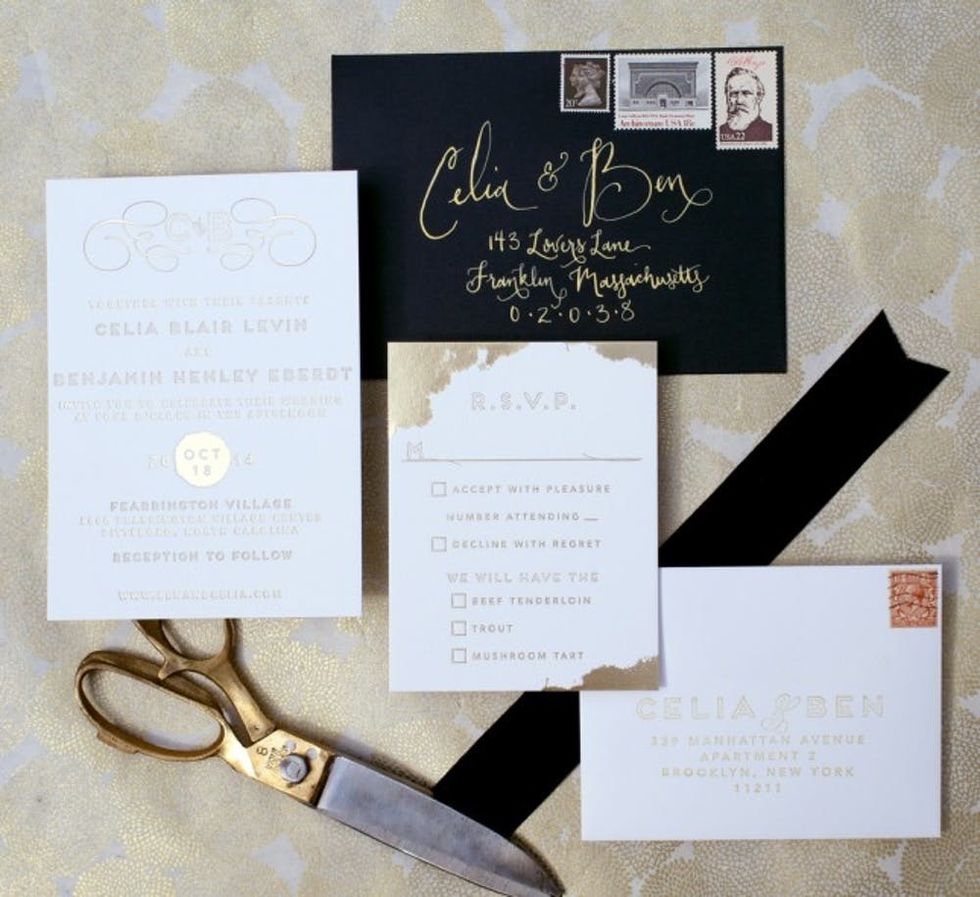 11. Country Gold Foil Letterpress Invites: If you love a luxe gold-and-black color scheme but want to add a slightly understated spin, this letterpress invitation set might be just the thing you're looking for. It has just enough gold foil to create a glam vibe, especially if you're using the same palette for your tablescape. (via Wouldn't It Be Lovely)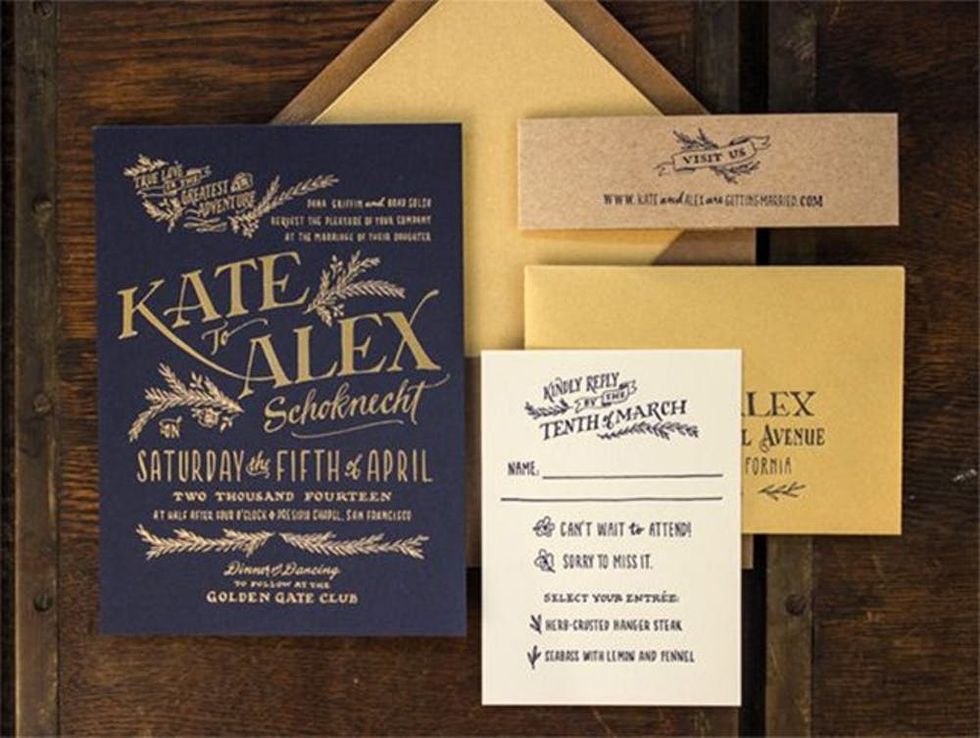 12. Rustic Hand-Lettered Letterpress Invitations: With a classic navy-and-gold color palette, these invitations include the perfect mix of elegant gold foil with rustic kraft paper and fanciful hand lettering. We also love the phrase at the top of the invitation, reminding your guests that the best is yet to come! (via Oh So Beautiful Paper / Ladyfingers Letterpress)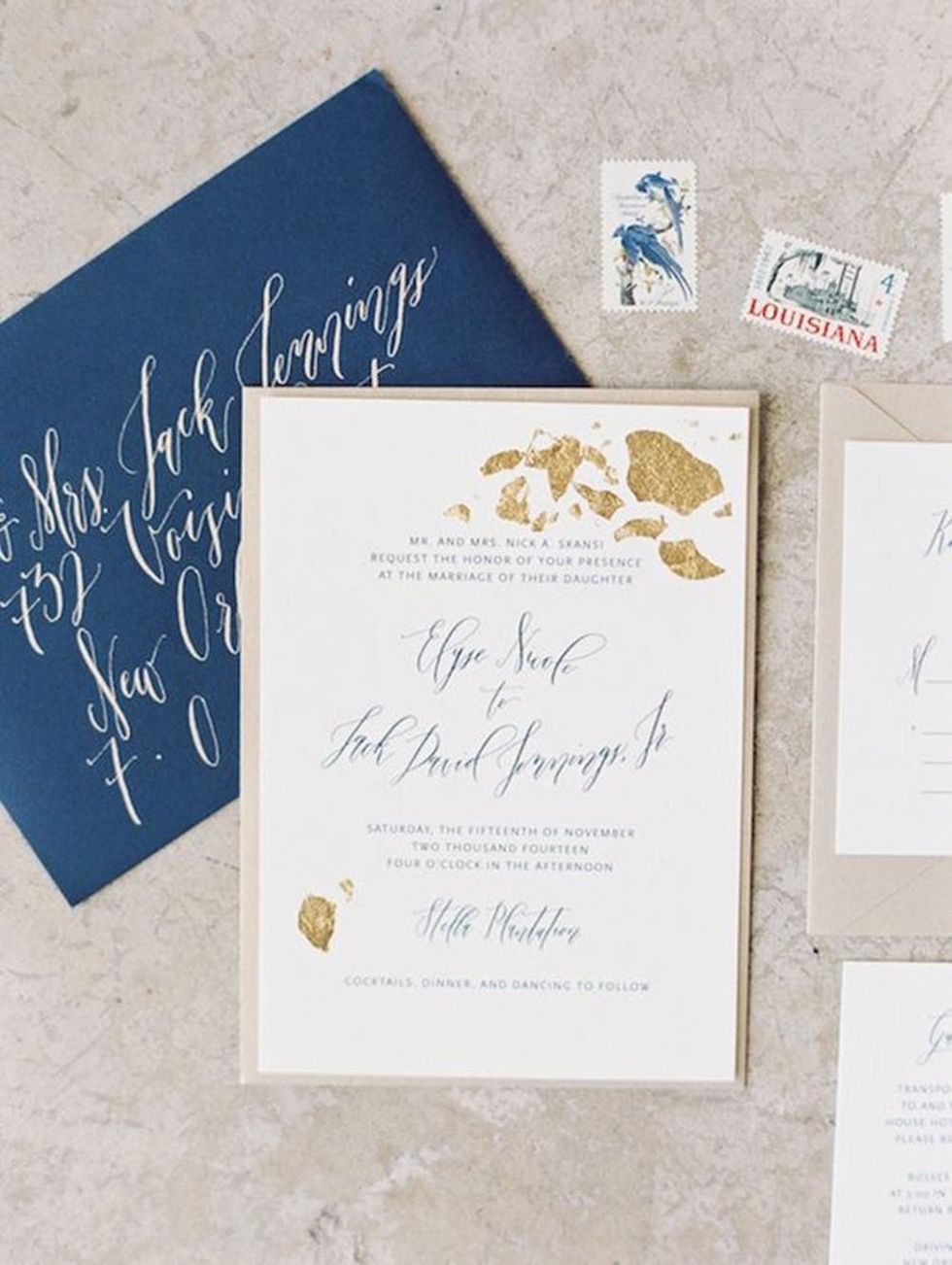 13. Navy + Gold Foil Invitations: If you're planning a modern, around-the-world-themed wedding, there's no better invitation to send than this minimalist navy-and-gold foil invite with a simple map-like design. Include some vintage postage and you're all set. Bon voyage! (Photo via Southern Weddings / Greer Gattuso)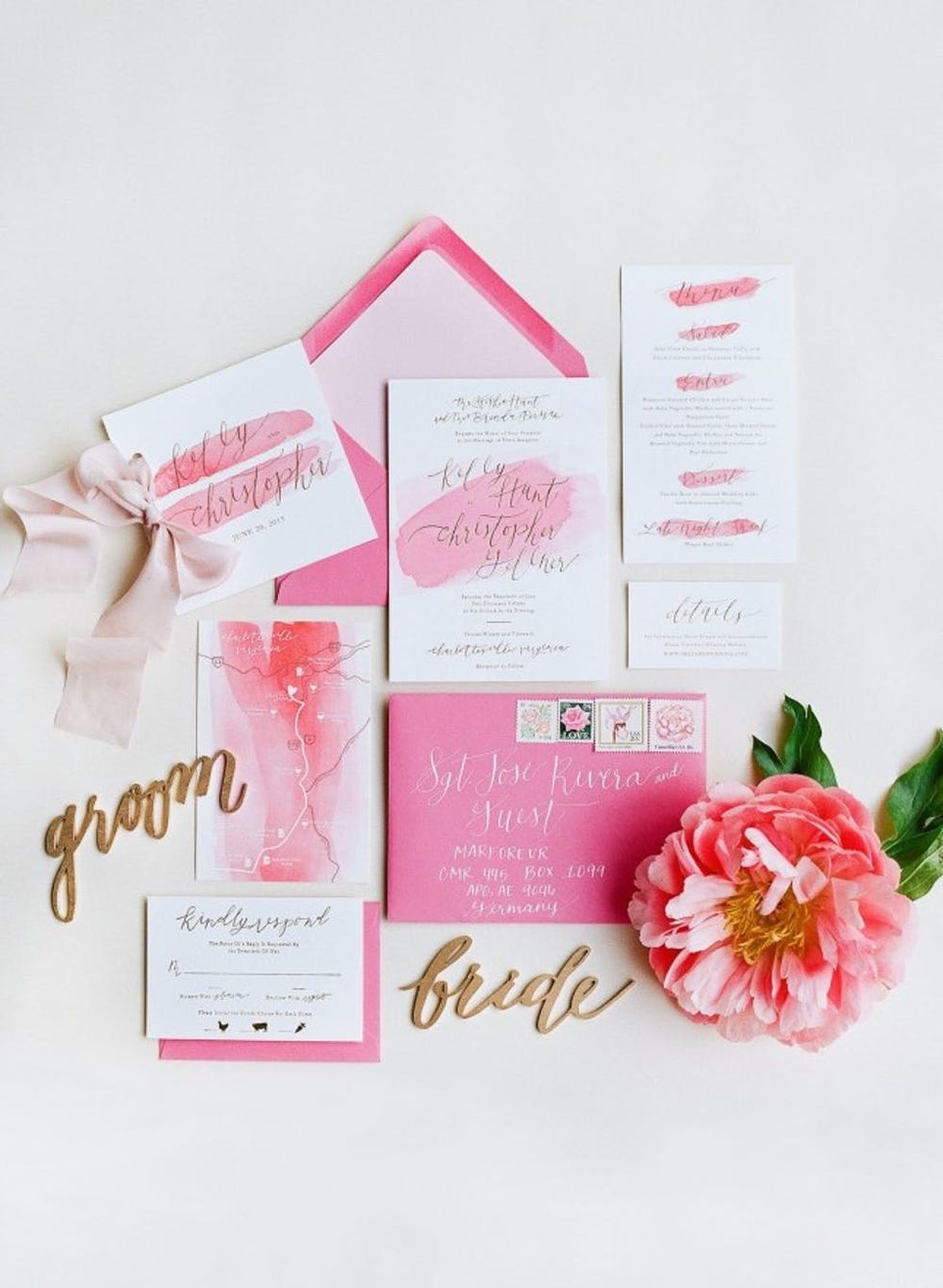 14. Pretty in Pink +  Gold Watercolor Invitations: Watercolor-themed weddings have been a huge hit throughout the past year, and if you're planning one, this invitation is the perfect way to introduce your theme. Along with the colorful matching envelopes, we're totally digging the gold foil map and pretty calligraphy on this suite. (Photo via Southern Weddings / Jodi Miller)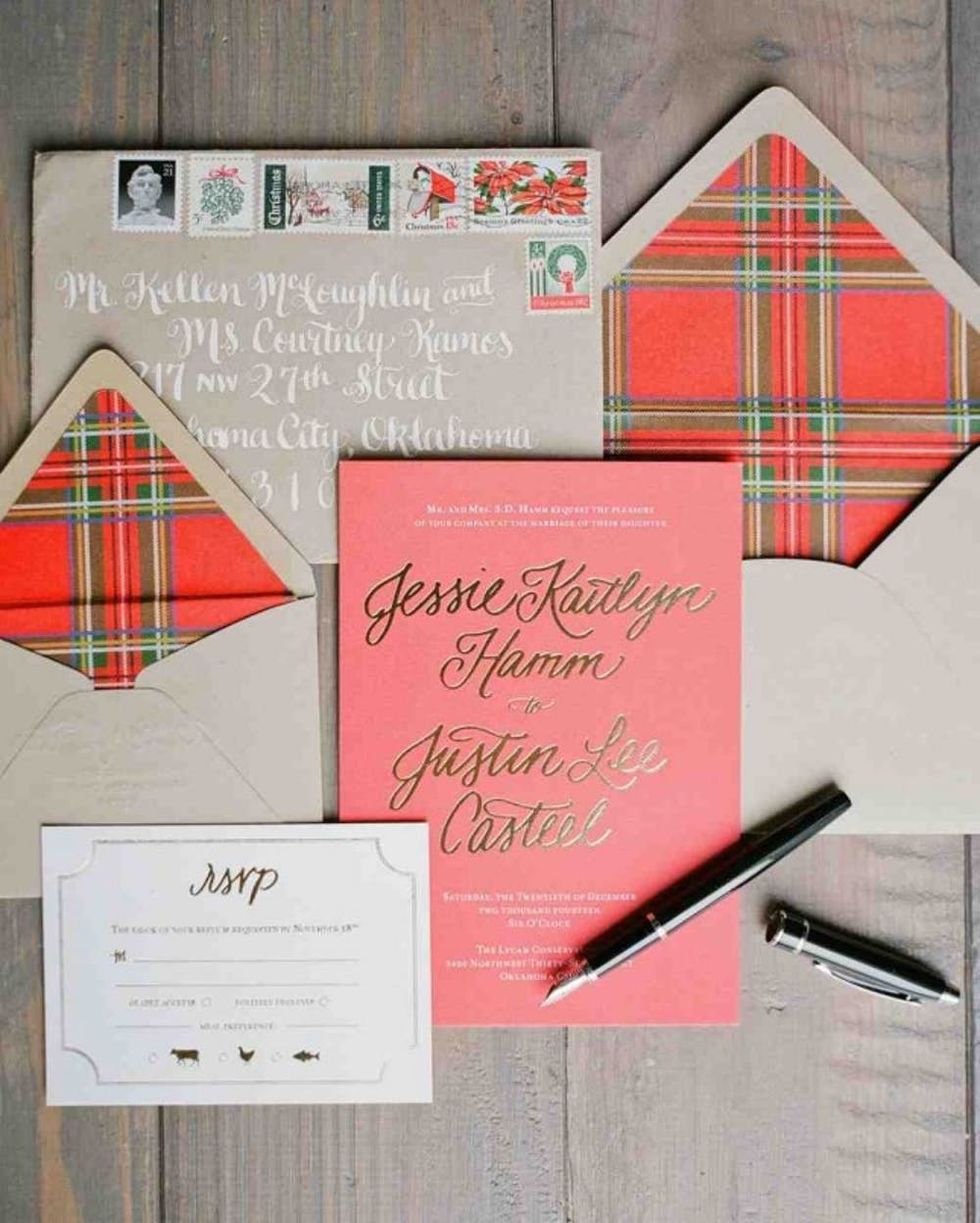 15. Cozy Christmas Plaid Gold Foil Invitations: It's never too early to plan your winter wedding, and this invite would give it an oh-so cozy vibe with gold foil and red tartan plaid-lined envelopes. Think of it as the perfect "Ralph Lauren at winter" aesthetic. DIY the hand-lettered envelopes with calligraphy in white ink for a completed look. (via Martha Stewart Weddings)
Your Big Day is just starting! Check out all things Brit + Co Weddings, and follow us on Pinterest for more beautiful + creative wedding inspo.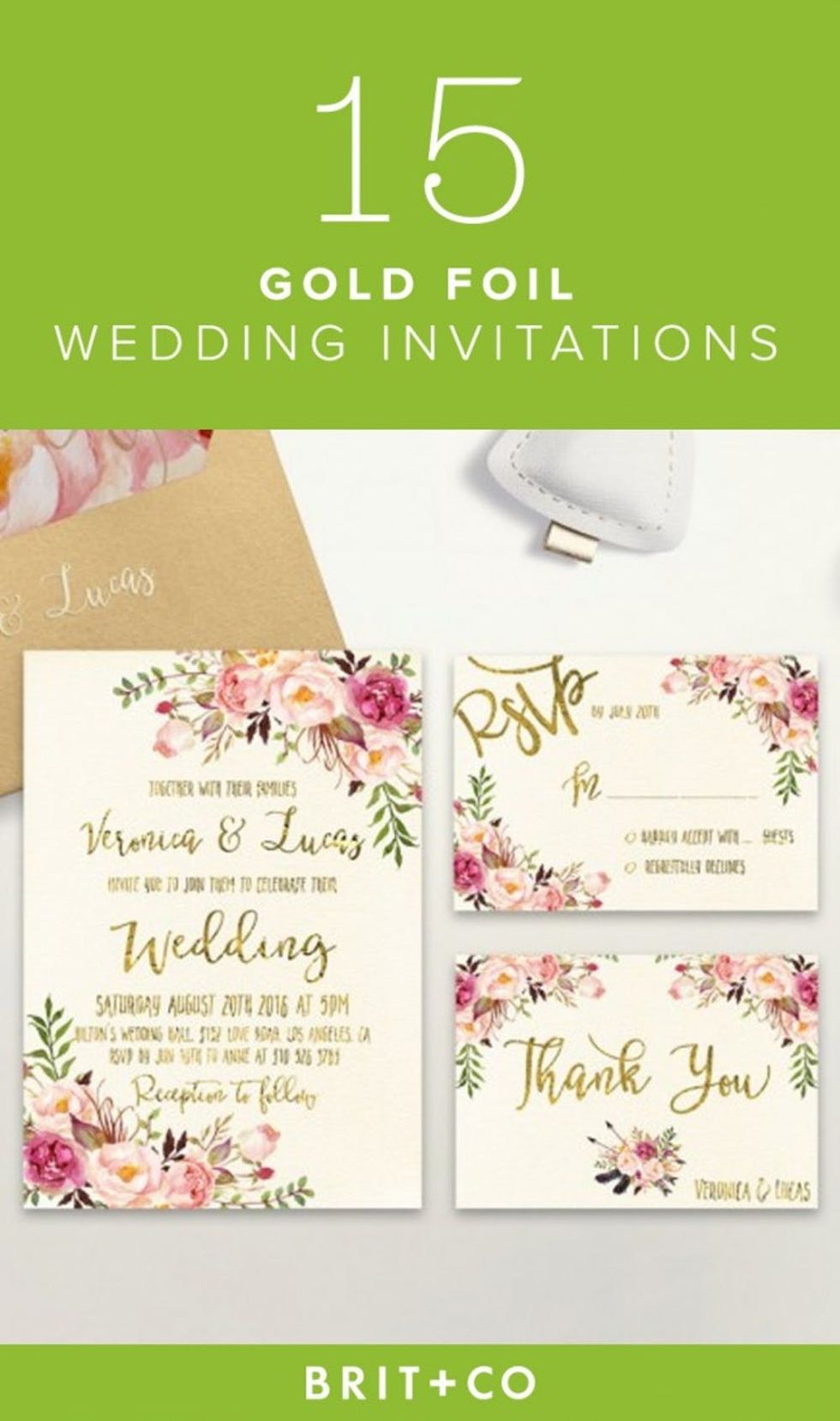 Brit + Co may at times use affiliate links to promote products sold by others, but always offers genuine editorial recommendations.