Our Guardians of the Galaxy Group Costume Is Out-of-This-World
Aug 14, 2017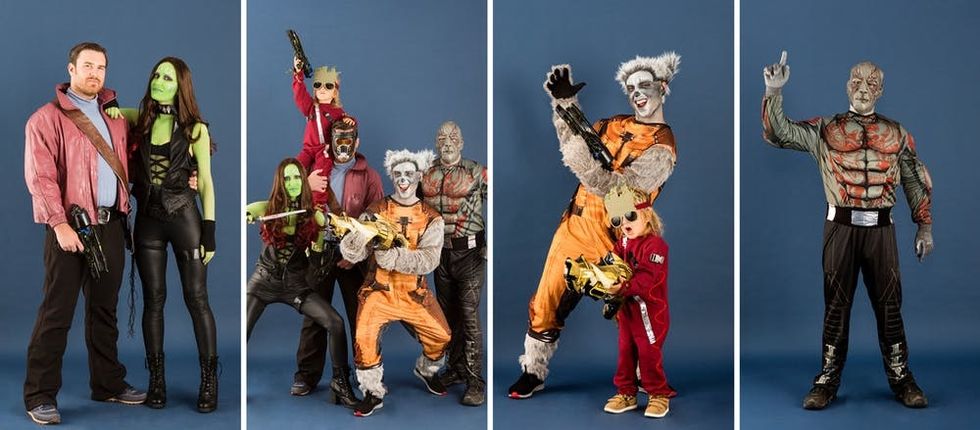 Get your gang together for this out-of-this-world Guardians of the Galaxy group Halloween costume. We used a combination of upgraded thrift store items, store-bought accessories, and a good ol' fashioned sewing machine to pull this look off. Sure, you can make the costumes, but do you have the attitude it takes to protect the interstellar world?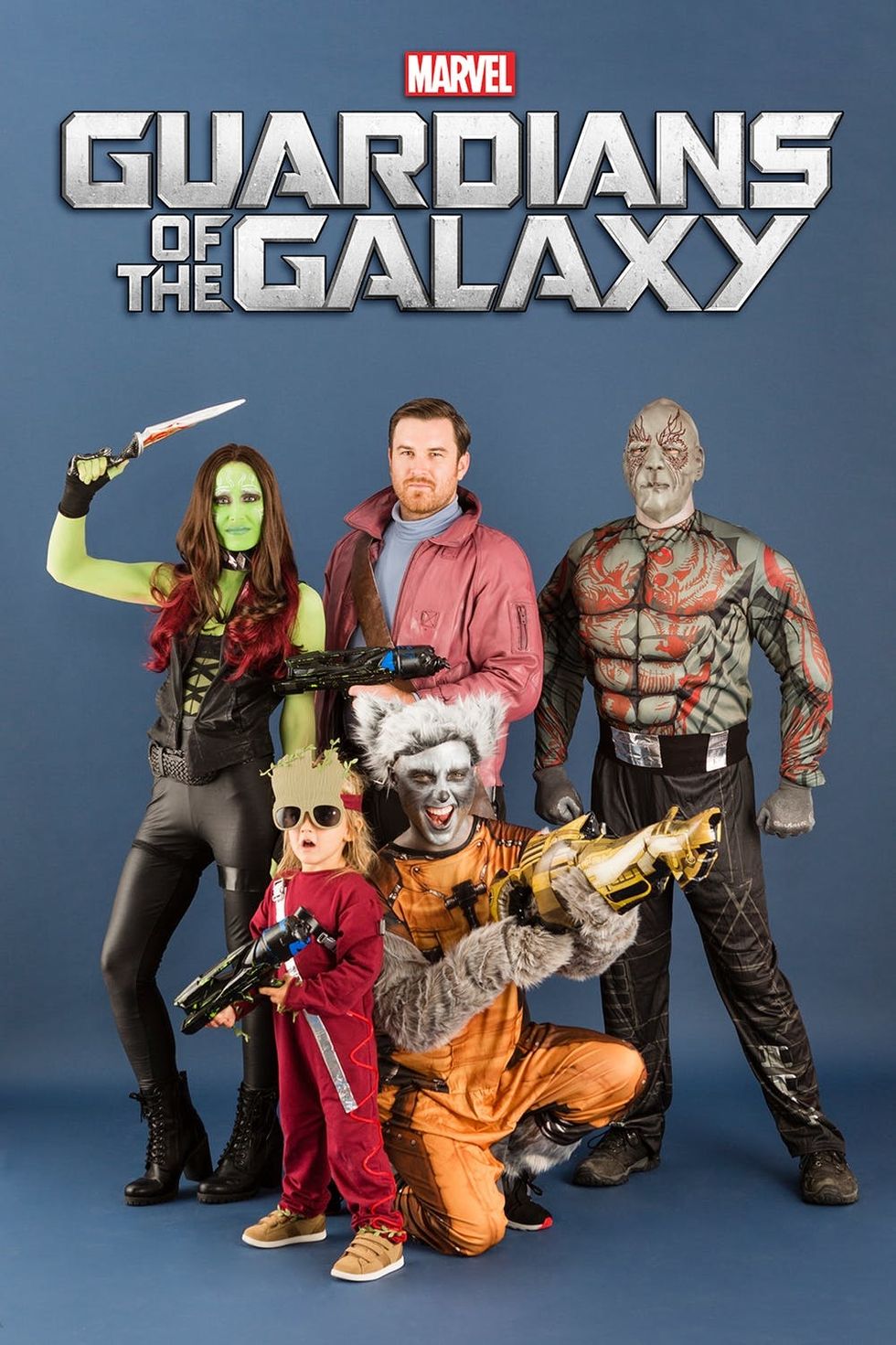 Meet the guardians protecting our galaxy and beyond!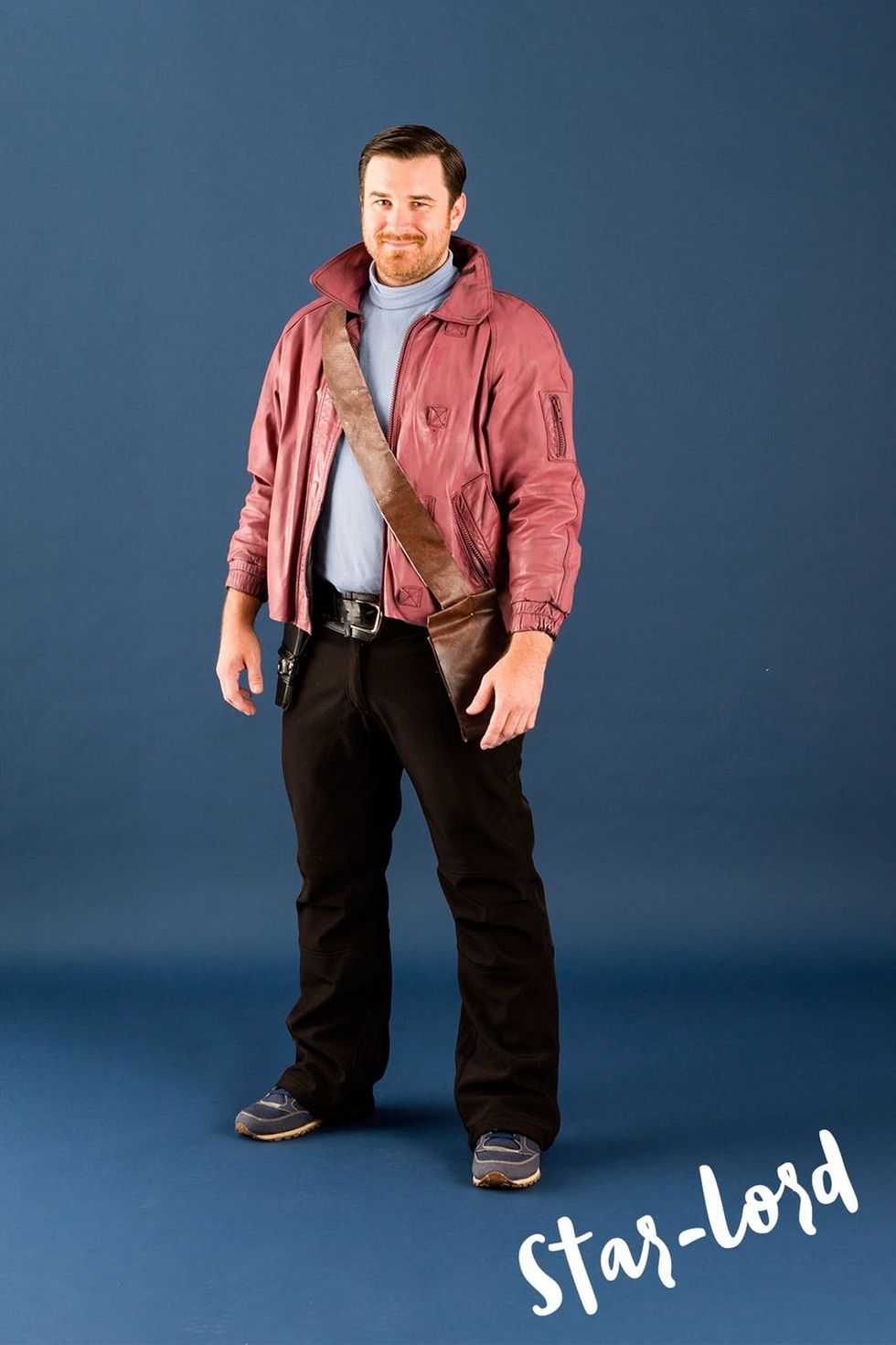 Sweet, snarky, and complete lovable.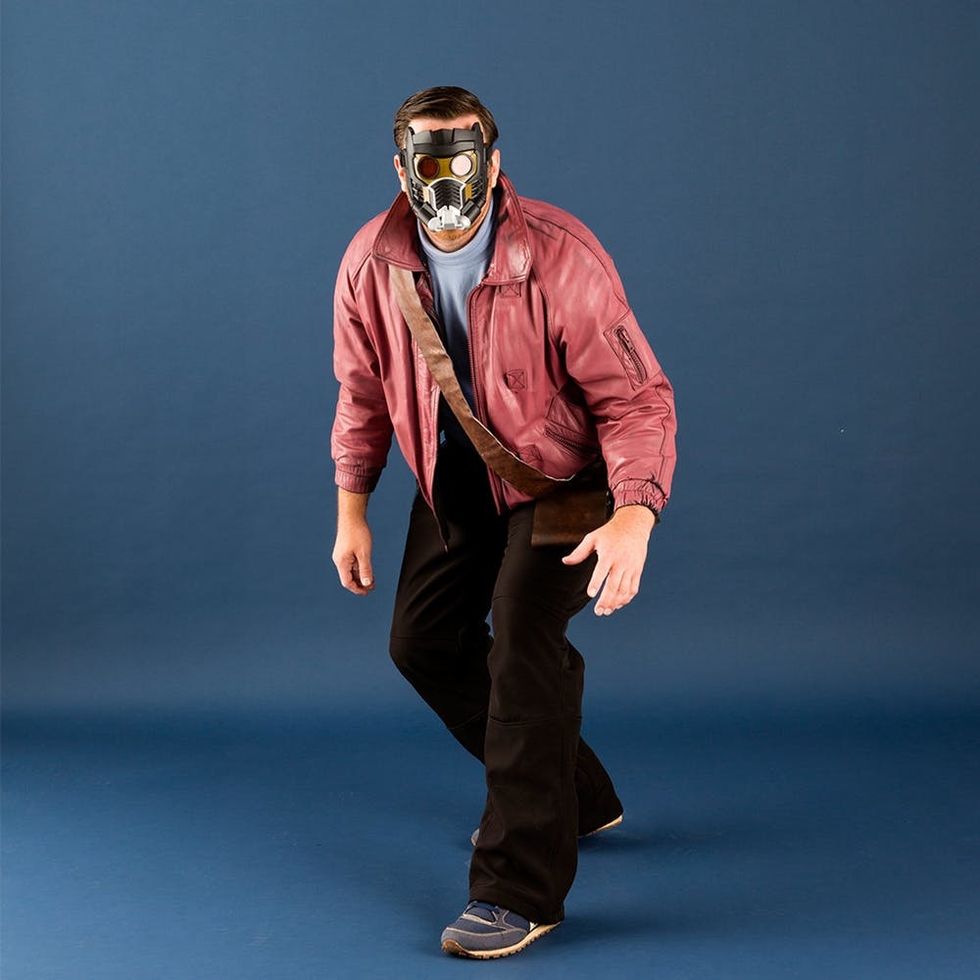 For Star-Lord's costume, we spray painted a thrift-store leather coat maroon matte. The baby blue turtleneck and black pants are also from a thrift store. The belt is made out of a faux leather strip from the craft store and hot glued together. You can purchase the Rubie's Costume Co. Star-Lord Blaster ($12) and Marvel Star-Lord Mask ($8) online.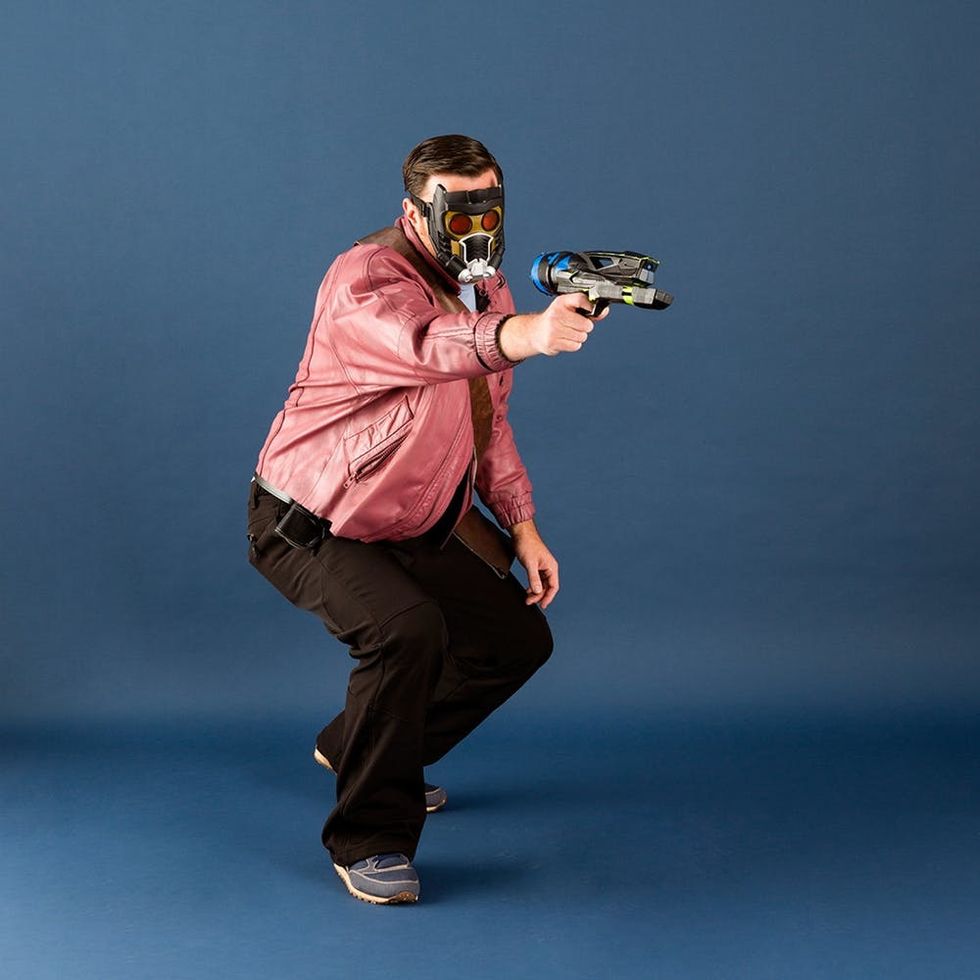 He's ready for anything.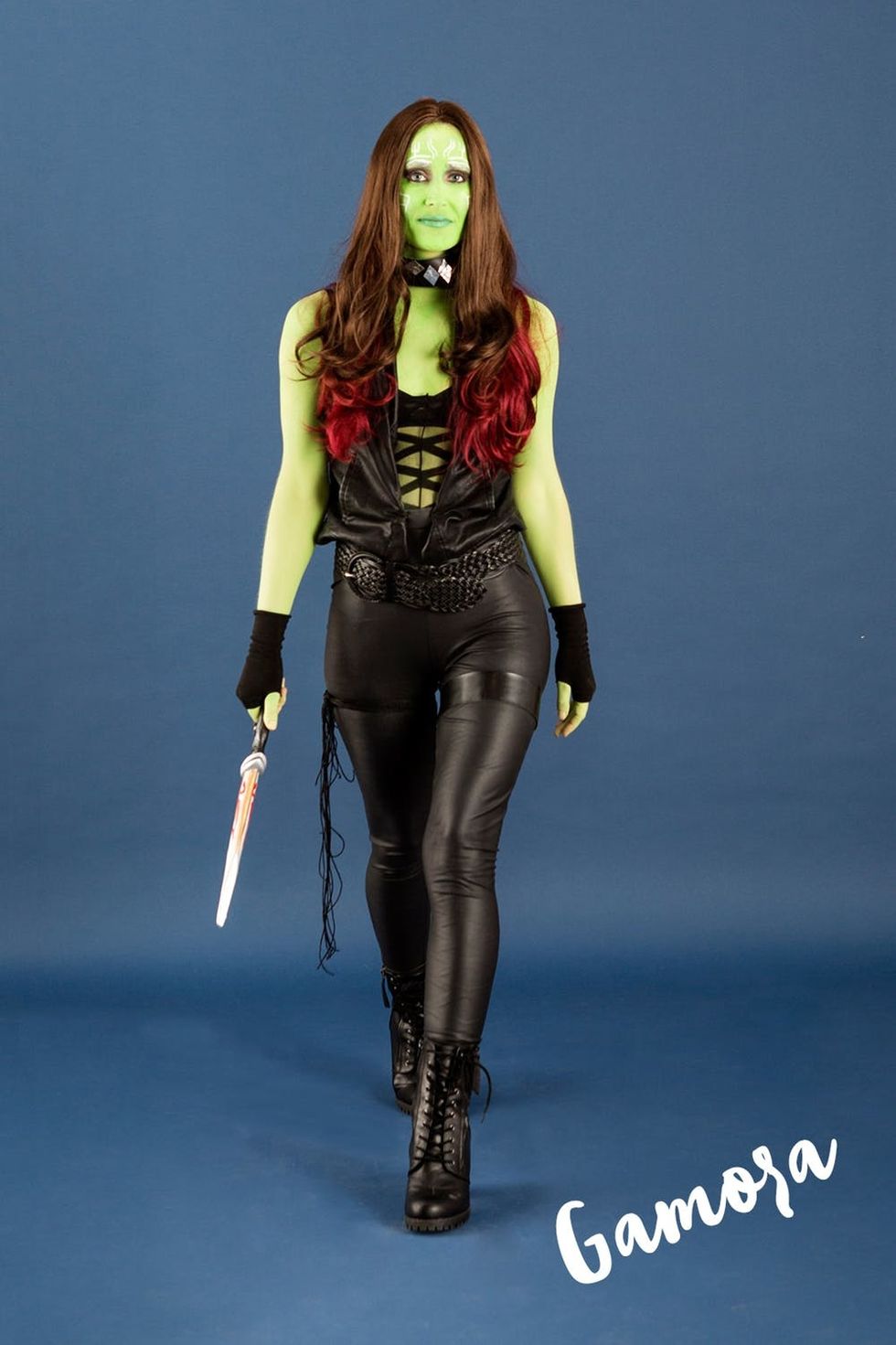 Gamora Zen Whoberi Ben Titan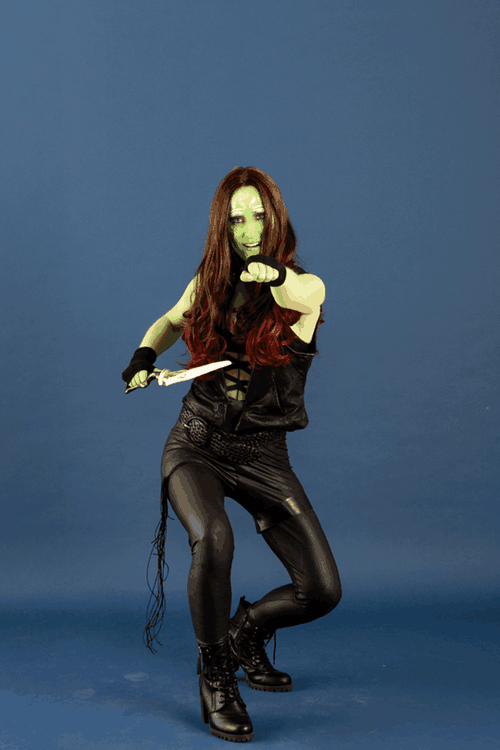 For Gamora's costume, we paired a nylon body suit with black shiny leggings and a black leather vest, all found thrift-store shopping. The leather straps for the top were sourced at our local craft store, and the Secret Wishes Gamora Wig ($22+) and V28 Fingerless Gloves ($7) are from Amazon.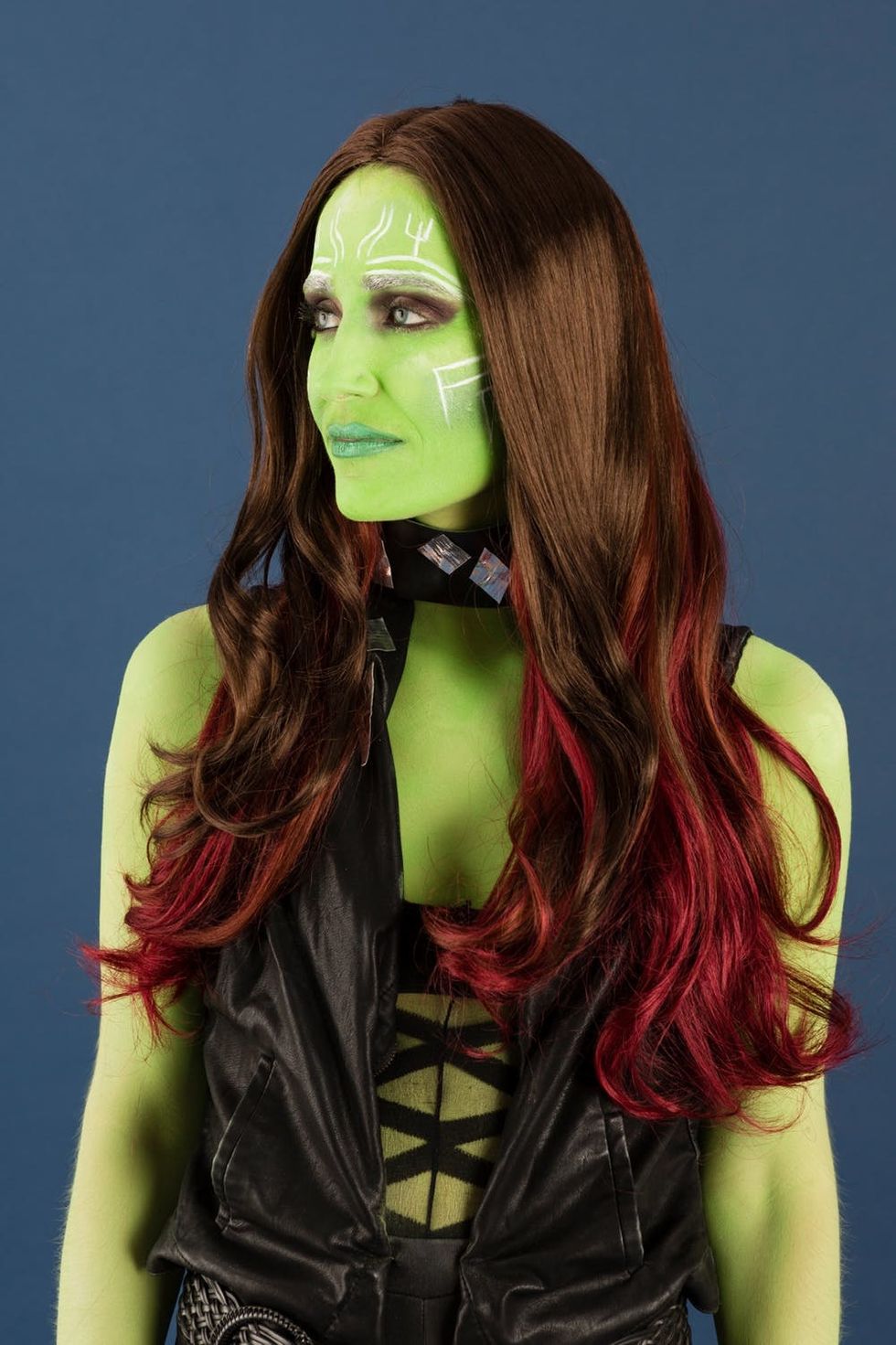 Step 1: Prep skin by using a slightly damp makeup sponge (the beauty blender is clutch here) to apply Mehron Makeup Paradise in Light Green ($13) to any part of your body that will be exposed. Set with Ben Nye Neutral Set Setting Powder ($12) and you are ready to move on. Step 2: Contour your cheekbones, creases of your eyes, collar bones, and along your neck line, with a deeper green shadow. Step 3: Highlight your upper cheekbones, brow bones, and above your cupids bow using a light metallic green shadow. Step 4: Details! Use an extremely thin brush to apply face paint makeup to create all of her face details. Just pull up an image of her face online and replicate her patterns. Finishing Touches: Hit your lips with a deep green lip hue, apply some false lashes, and go over your brows with a deep green metallic shadow!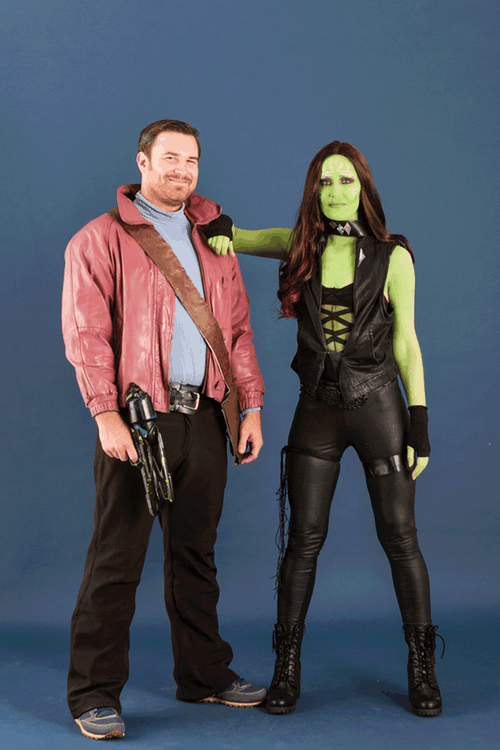 This duo! The chemistry is palpable.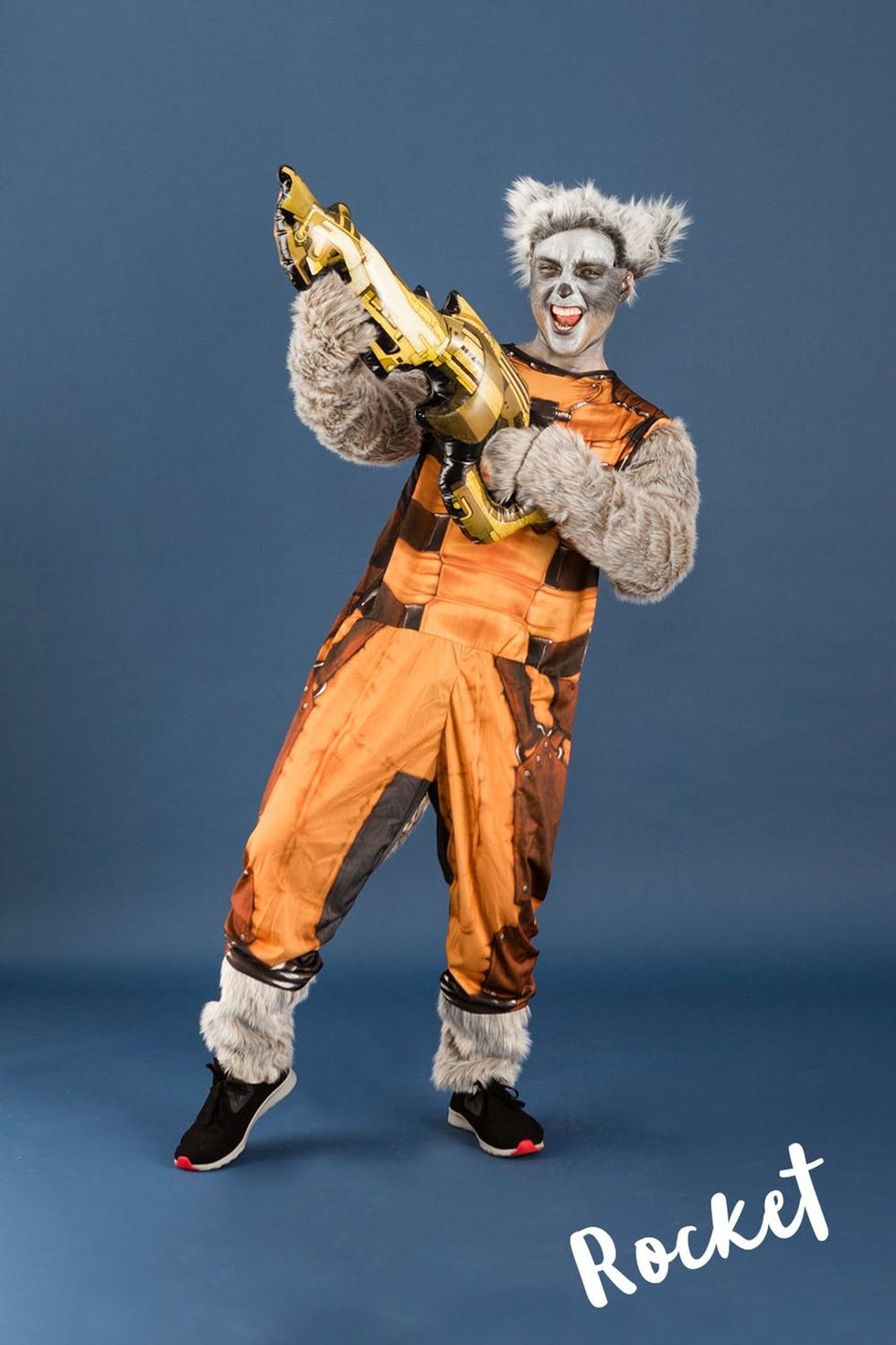 Rocket Raccoon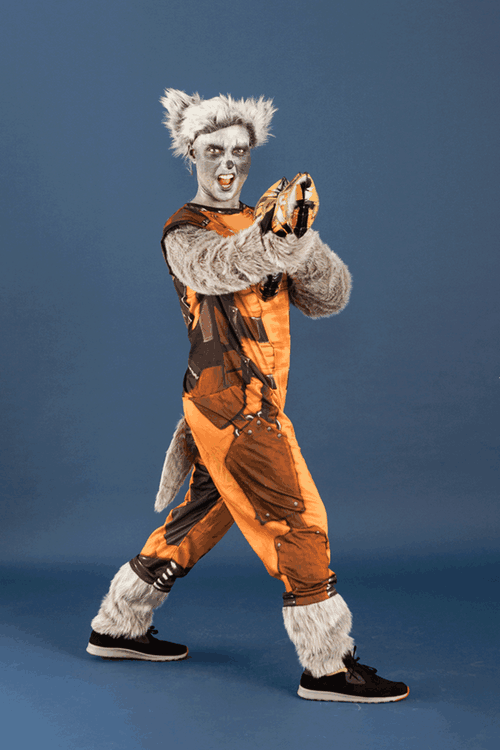 Sometimes you just have to go store-bought to get the right look, but it doesn't mean you can't take it to the next level. While the base is Rubie's Deluxe Rocket Costume ($32) from Amazon, we took this costume above and beyond with the *hair* and makeup.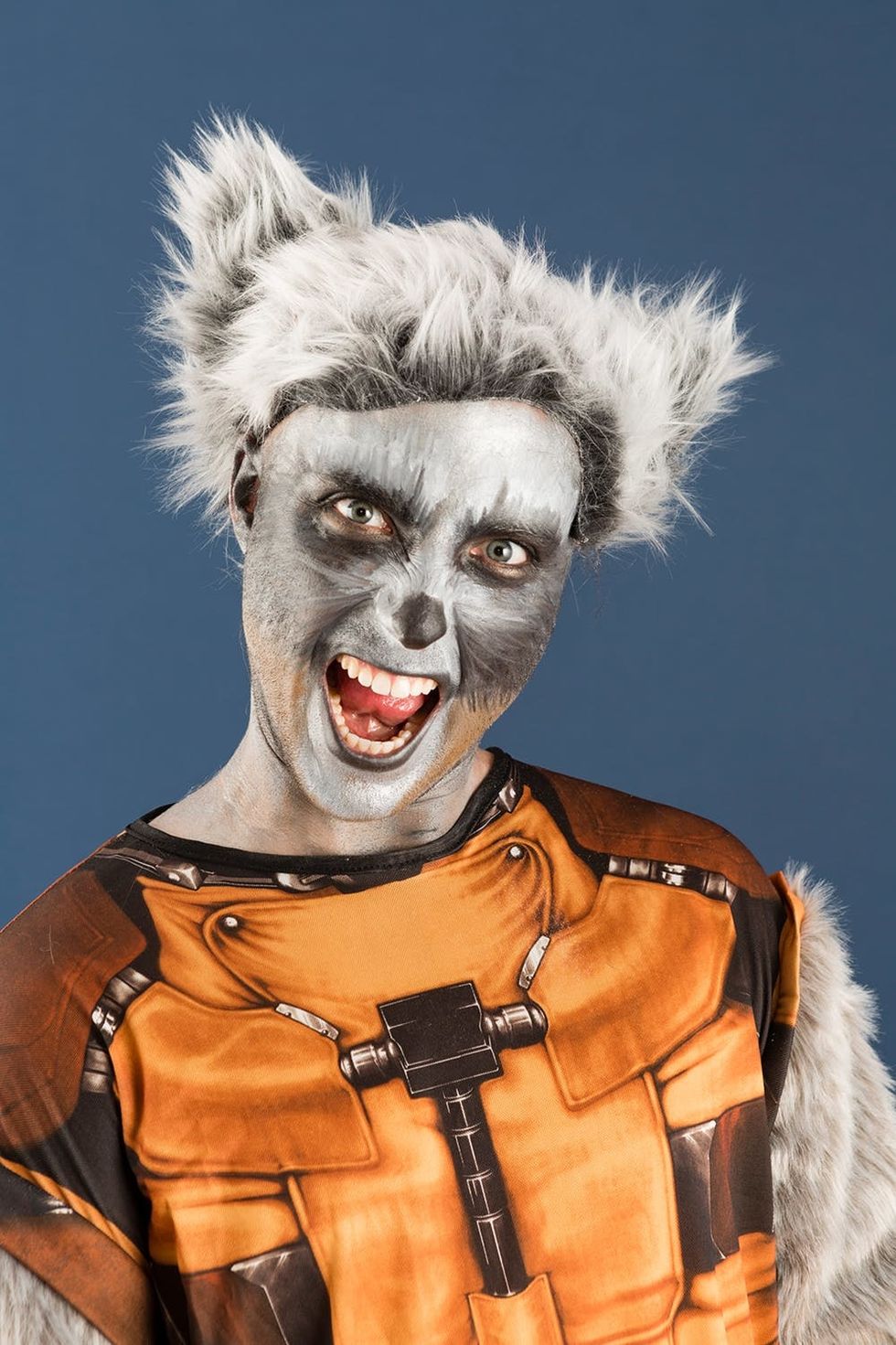 For Rocket's hair, we used a matching faux fur piece that was pinned to a wig cap. It was shaped using bobby pins and hairspray. For the makeup, start with silver and gray face paint to create the base all. For the eyebrows, apply black and brown face paint with feather strokes to create a more fur-like texture. Use the same strokes to go around the eyes. Create a layered fur pattern with a variation of brown and black on the cheeks. On the lower part of your face, use lighter brown to create dimension and depth and let the other parts of Rocket's face show. Finishing touches: Add black for the nose and mouth and little white whiskers.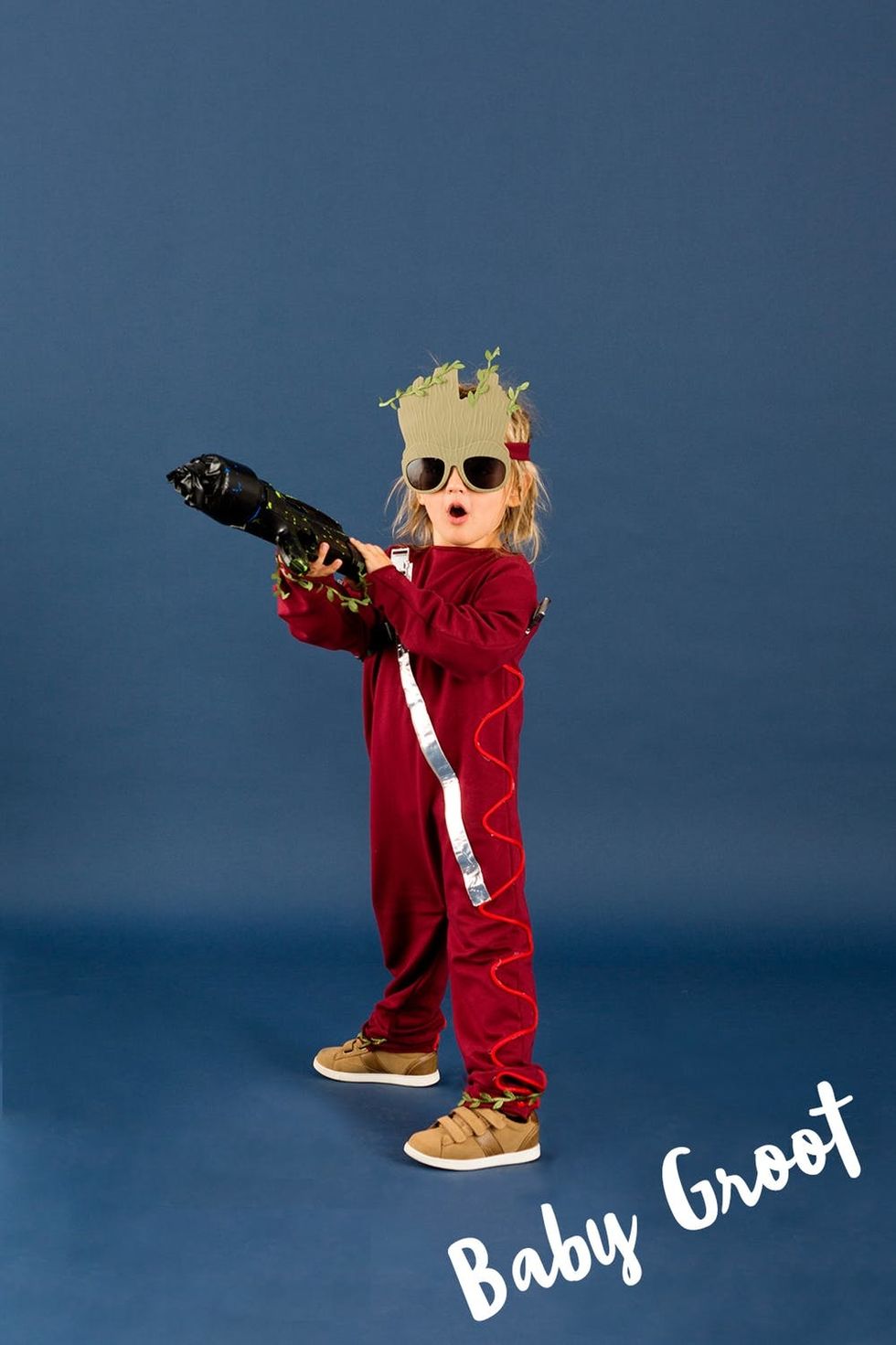 Baby Groot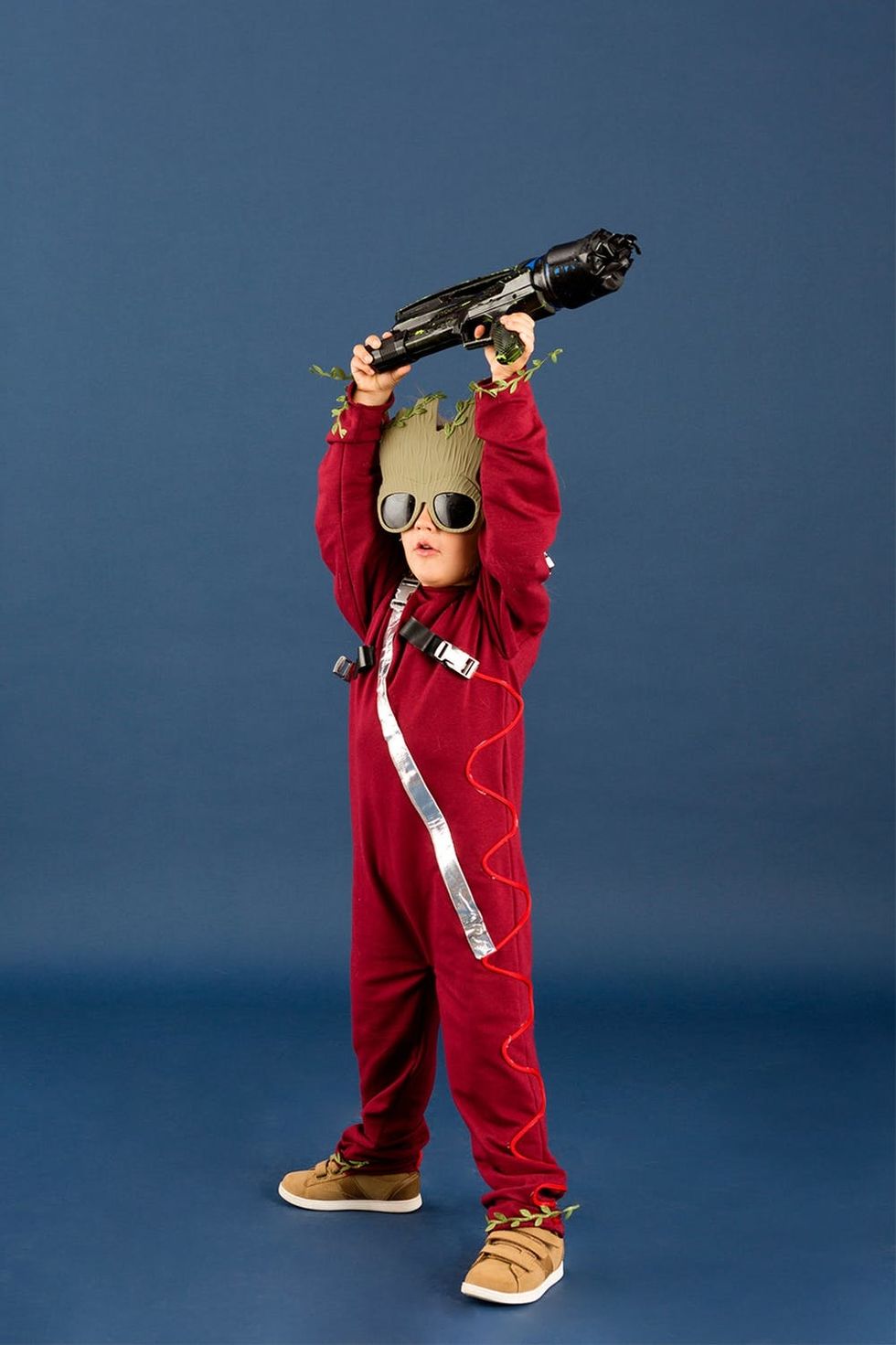 This costume was adorable to make and pretty easy to DIY. We traced over a sweatshirt and pants onto a maroon jersey knit and sewed it together. The accents were made with duct tape, zippers, and other fixings from the craft store. For the mask, we purchased Faerynicethings Groot Glasses, but since they were a little too big, we cut off the sides and tied a string around to make it little-kid-friendly.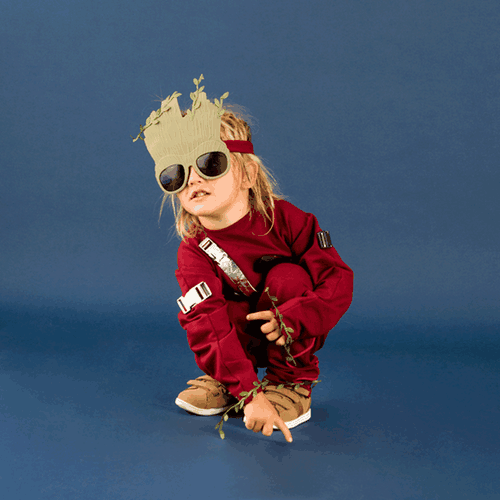 Don't push the button!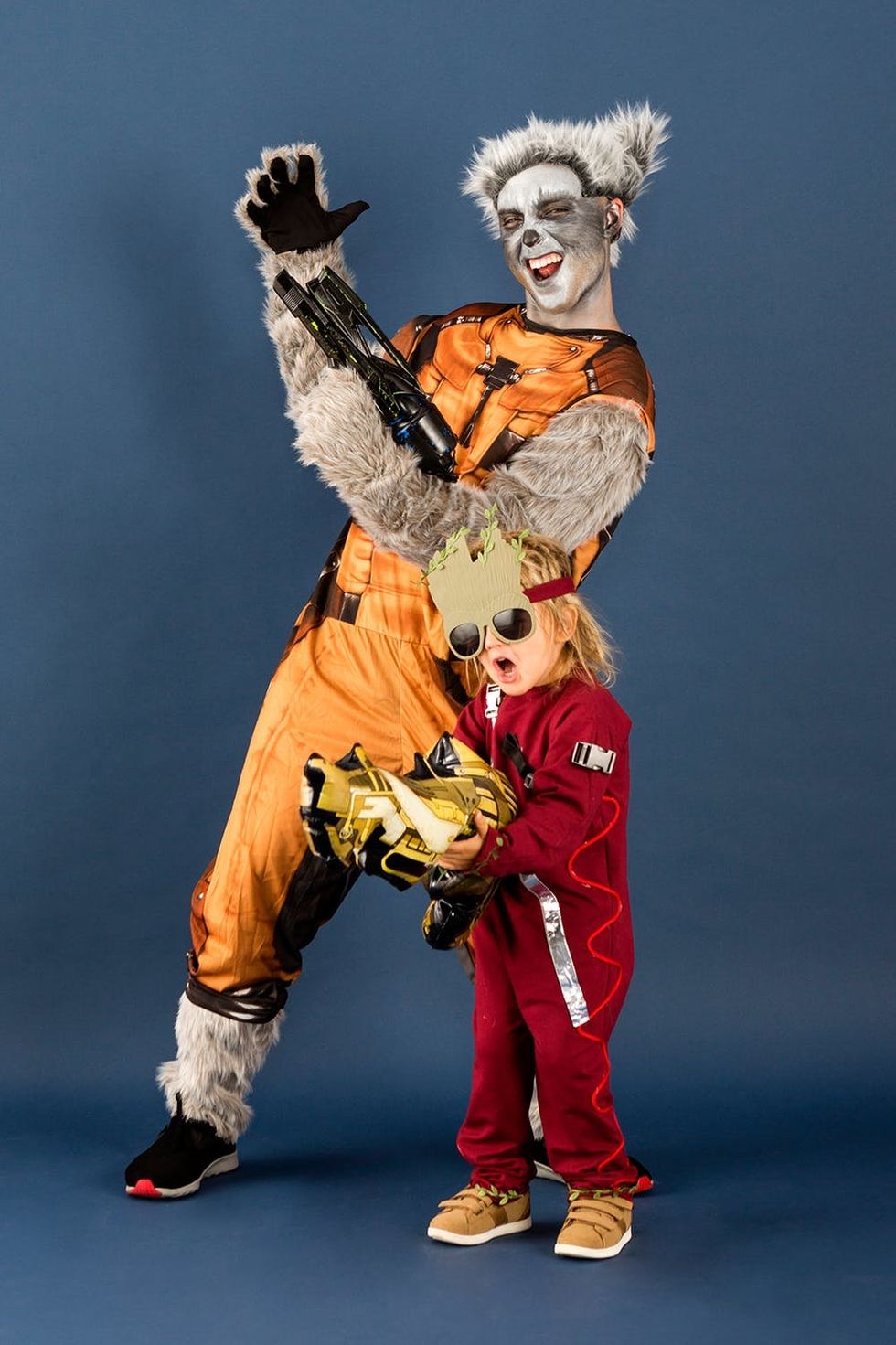 The best BFFs in the entire galaxy.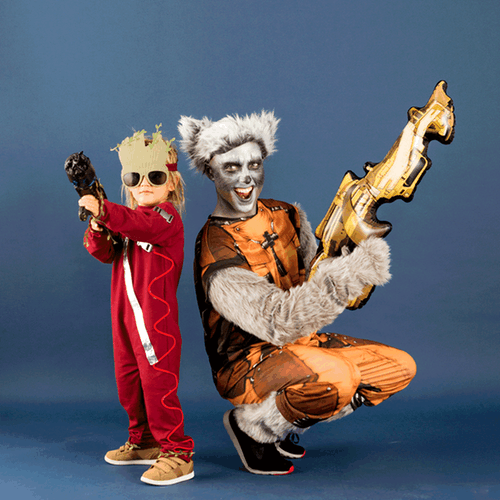 So adorable.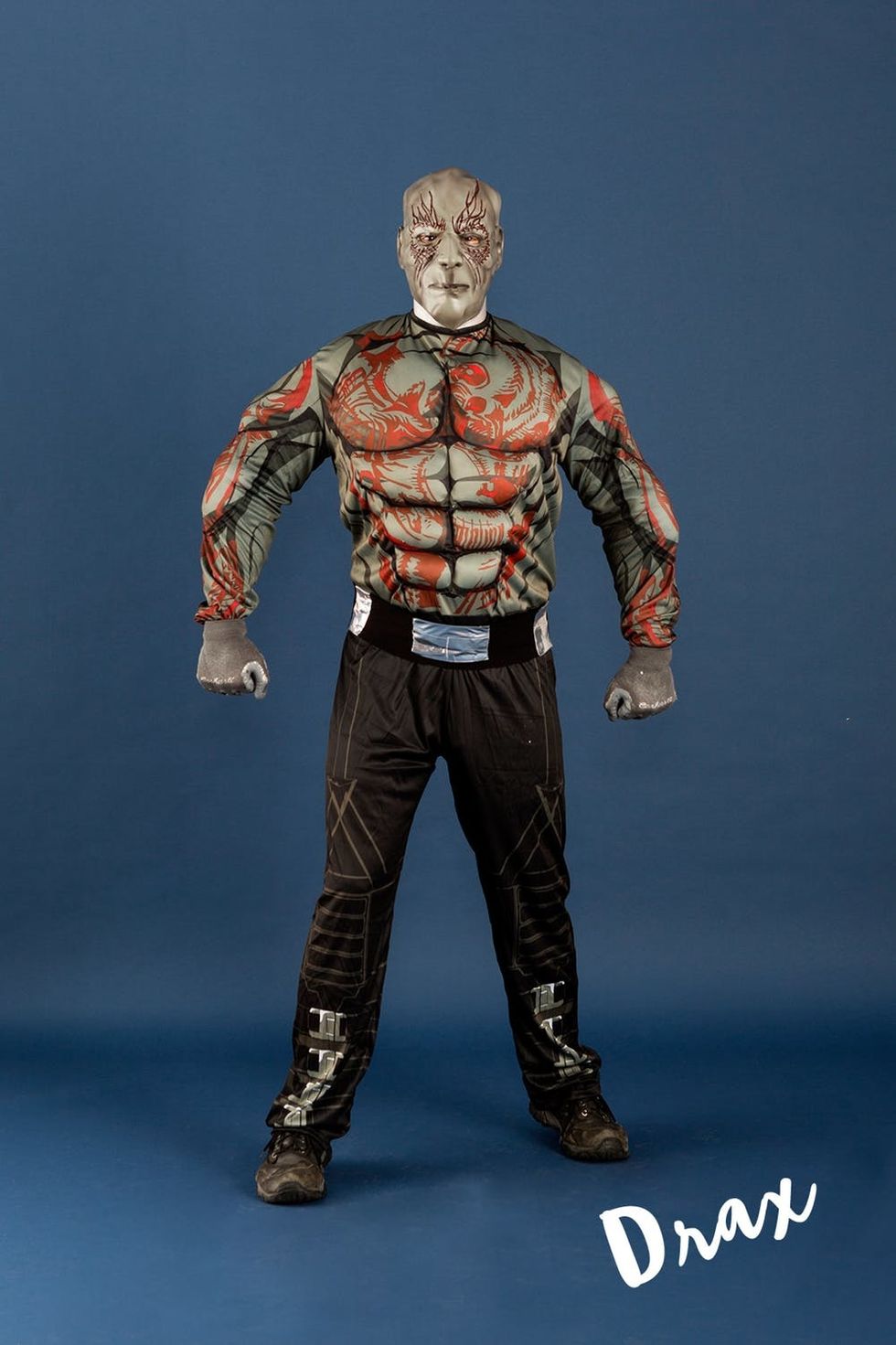 Drax the Destroyer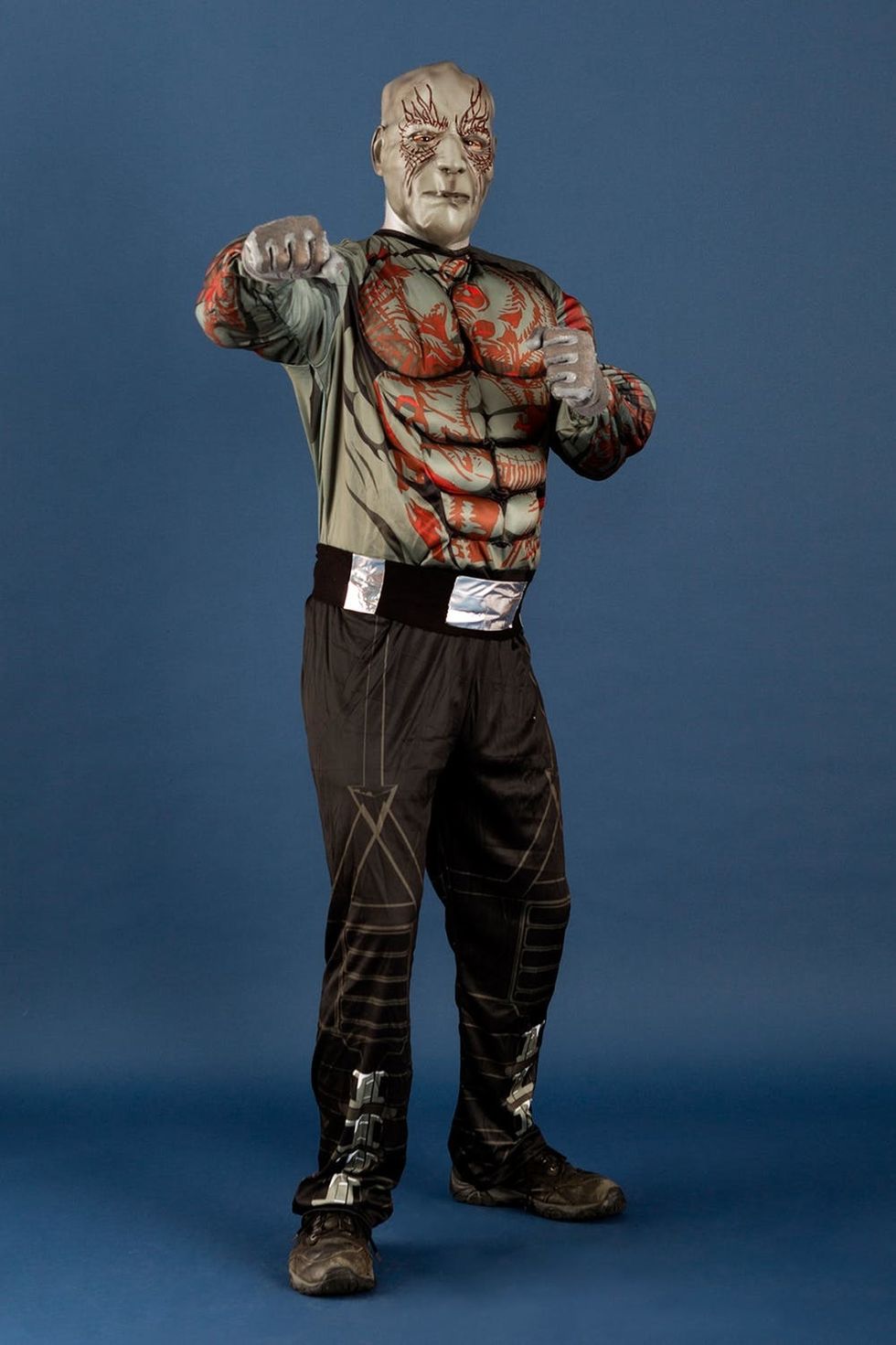 There can only be one Drax the Destroyer! If you have a very artistic and patient friend willing to paint on those intricate tattoos, go for it! We purchased the Rubie's Drax the Destroyer Costume ($42) and Carhartt Work Gloves ($13) off Amazon.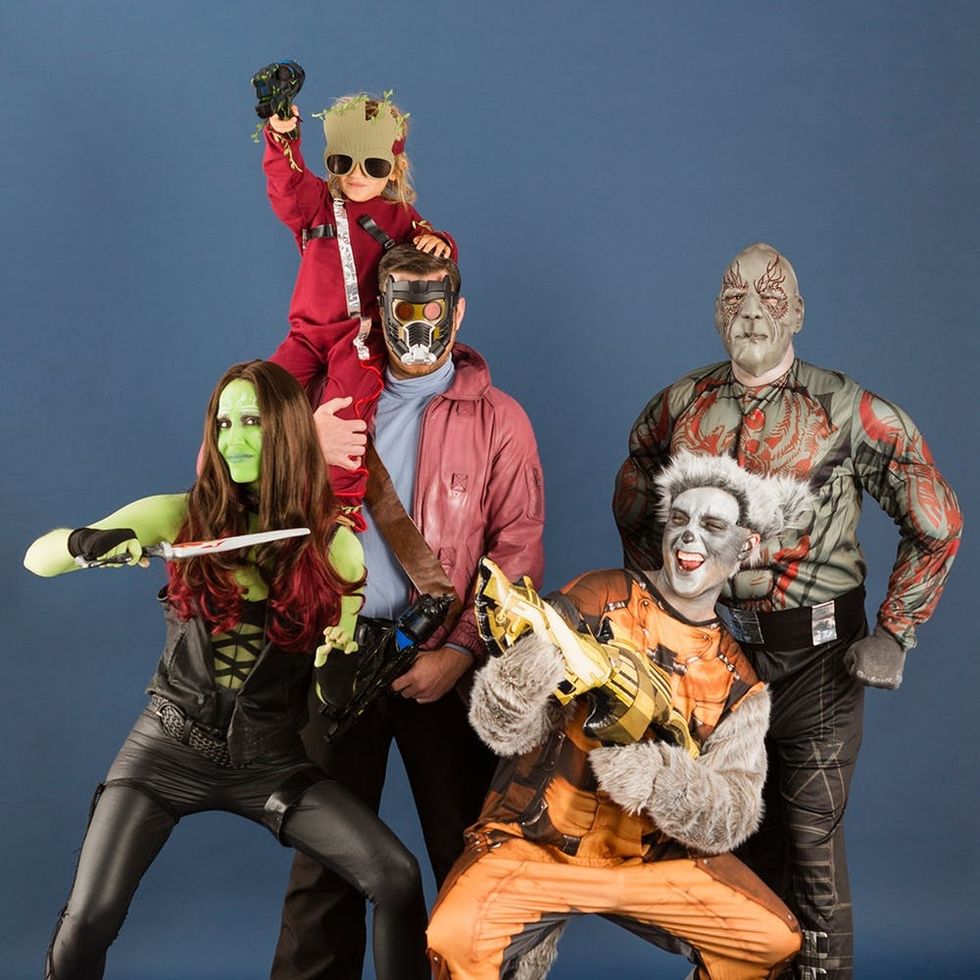 These are some serious squad goals.
Will you be making your costume this year? Share with us on Instagram by tagging @BritandCo and using the hashtag #iamcreative, and check us out on Pinterest for more DIY costumes.
DIY Production + Styling: Misty Spinney
Hair + Makeup: Misty Spinney
Photography: Brittany Griffin
Models: Kurt Andre, Sean Griffis, Steven McDonald, Sarah Vogt + Elijah
Misty Spinney
Misty Spinney is a hair stylist, makeup artist, and fashion stylist with a strong background in design and deep passion for creativity.