This Is How Much Women Spend on Coffee Every Year
Aug 26, 2018
We've heard it before — our daily latte run is significantly shrinking our savings accounts. And while we're inclined to believe that women winning equal pay is a much better solution to our financial woes than giving up our morning coffee habit, it is true that four dollars a day definitely adds up. Since we're always up for reexamining our spending habits to save money, we had to know — just how much do we spend on coffee every year? Amerisleep recently polled 1,008 respondents in a study about their coffee habits to learn how often we're consuming this beloved beverage and why we drink as much of it as we do — and we're here to give you all the caffeinated highlights.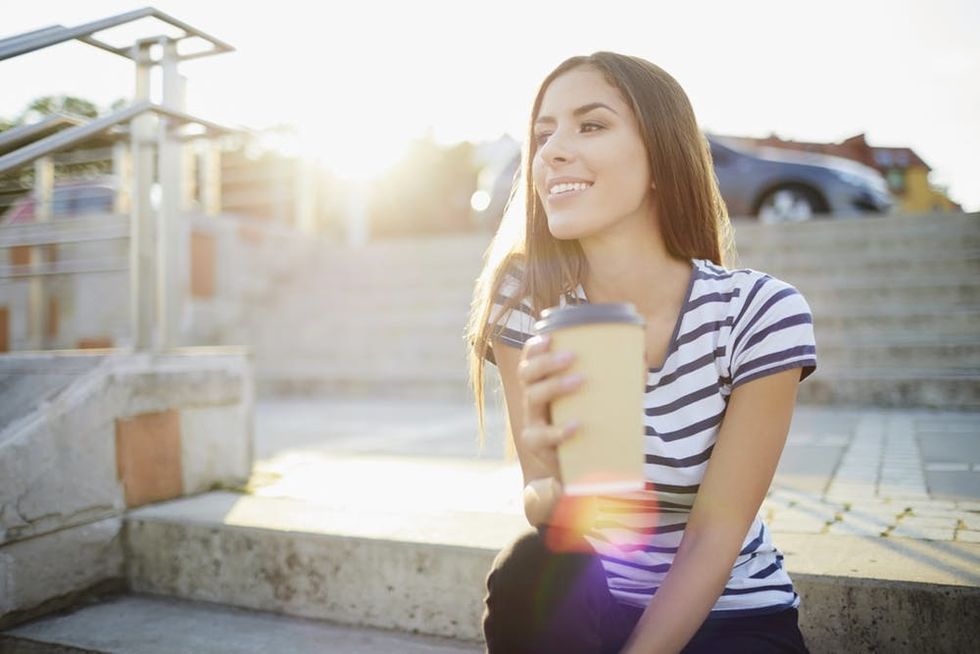 ---
Hey, Big Spender
On average, the women polled spent $2,327 dollars a year on coffee, while the men spent around $1,934, putting the two genders on relatively even (coffee) ground(s). But when spending was broken down by age, the 25-34 bracket led by an almost $600 margin, shelling out just over $2,000 a year. And in news that will shock exactly no one, folks in the finance industry are the biggest spenders at $700 a year — with the retail industry trailing close behind at just under $600 (long hours + high stress = lots of coffee). On the opposite end of the spectrum, those in the transportation and construction industries both spend less than $200 a year, which may either mean they get their coffee fix for free in the company break room or don't have time for a cup in the mornings.
Coffee, Give Us Life
Surprisingly, only 26 percent of respondents said the main reason they drink coffee is for energy. Almost 43 percent (the highest consensus) said they drank it simply because they like the taste. When it came to post-caffeine productivity, close to 50 percent of respondents said they felt "moderately productive" after drinking coffee and around 24 percent reported feeling "extremely productive" — which makes sense, since coffee triggers production of dopamine in the brain, helping to reduce pain and fight inflammation, and keeping you focused and feeling good. And it doesn't hurt that numerous studies have shown that drinking coffee may help you live longer!
Pick Your Poison
A classic drip coffee is the preferred bevvie of the marketing, real estate, agriculture, and utility industries. Those in telecommunications and science love a cappuccino while the people working in publishing prefer a latte. And lawyers, judges, and paralegals are all about iced coffee, no matter how cold it is outside. Gotta say, we're all about that cold brew too. Unsurprisingly, no one chose a cat poop latte as their favorite!
How often do you grab a coffee on the go? Tweet us @BritandCo and let us know how much your caffeine habit costs you!
(Photo via Getty)
Megan Parry
Megan Parry is a lifestyle writer living in Philadelphia where she's making generous use of her library card, obsessively reading friends' natal charts, and learning how to differentiate between "dried apricot" and "juicy apricot" notes in wine.
Adulting
We all have a million dollar business idea (or 2...or 3…) that we think *someone* should do. Why not you? Part of the motivation for Brit + Co's new interactive business course Selfmade is to help women develop their business idea into an actual living/breathing/thriving business. But it's also a way to figure out what that idea is. Maybe you have a few ideas, or need to refine a really good one, or maybe you have something with potential but just need to brush up on the business side of things. Well you're in luck. Thanks to Office Depot, we're here to share a quick recap on how we're helping our students figure out how to pick an idea and run with it. Feeling a little Selfmade fomo? Check out these tips for knowing if your idea is fully baked.
<p><strong>Know your audience:</strong> Who are they? Where are they? And what pain point are you trying to solve for them? "How would you define who that audience is?," said Brit Morin during this week's session. She goes on to suggest you develop a persona of your core customer: What's her name? Does she have children? Have visuals of who she is and what her day looks like and what she thinks about every day. "A lot of times I see businesses fail to scale because they're just trying to serve everybody and are very generic," adds Brit.</p><p><strong>Understand your market:</strong> How big is the market you're targeting? Is it growing? You can find market reports online for anything from weddings to babies. Does your business have potential for repeat business? For example, a wedding client will likely (hopefully!) only need you one time so how do you plan to grow? Will you target the same client or will you evolve your services to cater to that changing demographic? Martha Stewart is a business that evolved with her audience while most fashion mags stay focused specifically on 20- and 30-somethings for the long haul.</p><p><strong>Level up your business idea:</strong> What's your twist? Think about what differentiates you from your competitors. For example, if you're a photographer, maybe you focus on newborns and hook up with a maternity ward or sell seasonal packages. Brit talks about <a href="https://punkpost.com/stories/about-us" target="_blank">Punkpost</a>, created by Alexis Monson, a Brit + Co alumni who, instead of selling greeting cards in a dying snail mail market, she created an online marketplace for greeting card designers. How does your business stand out in your market's crowd?</p><p>Committing to an idea is hard, and SO exciting. Once you've figured out your direction, Office Depot OfficeMax can help turn your idea into a reality with a full suite of<a href="https://www.officedepot.com/cm/services/office-depot-services?cm_mmc=bl-_-aq-_-url-_-bc&amp;cm_mmca1=internal&amp;cm_mmca2=uf&amp;utm_source=blog&amp;utm_medium=social&amp;utm_campaign=bc_na_url_internal_uf_aq&amp;utm_content=tea_na&amp;utm_term=tea" target="_blank"> business services</a> &amp; solutions to help you &amp; your business succeed. From<a href="https://www.officedepot.com/cm/print-and-copy/print-services?cm_mmc=bl-_-aq-_-url-_-bc&amp;cm_mmca1=internal&amp;cm_mmca2=uf&amp;utm_source=blog&amp;utm_medium=social&amp;utm_campaign=bc_na_url_internal_uf_aq&amp;utm_content=tea_na&amp;utm_term=tea" target="_blank"> print &amp; copy services</a> to help build your brand to products to help you<a href="https://www.officedepot.com/cm/multi-category/work-from-home?cm_mmc=bl-_-aq-_-url-_-bc&amp;cm_mmca1=internal&amp;cm_mmca2=uf&amp;utm_source=blog&amp;utm_medium=social&amp;utm_campaign=bc_na_url_internal_uf_aq&amp;utm_content=tea_na&amp;utm_term=tea" target="_blank"> work from anywhere</a>, learn about all the ways they can help<a href="https://www.officedepot.com/cm/marketing/small-business?cm_mmc=bl-_-aq-_-url-_-bc&amp;cm_mmca1=internal&amp;cm_mmca2=uf&amp;utm_source=blog&amp;utm_medium=social&amp;utm_campaign=bc_na_url_internal_uf_aq&amp;utm_content=tea_na&amp;utm_term=tea" target="_blank"> businesses</a> like yours, accomplish more.</p>
Lifestyle