All the Reasons to Invest in This 7-in-1 Smart Oven Before It Sells Out (Again)
Aug 09, 2018

Welcome to our new food series called Eat It Up, where we share the kitchen gadgets and foods that we can't cook without.
---
When you've had a rough day, don't you wish you could just throw some chicken in the oven and have it automatically detect what it is and cook it to perfection? OH WAIT. That technology exists, and it's in the form of a smart oven called the June Oven. We've been fans of the appliance since its first generation in 2015, and now the smart oven company has some *very* exciting news for both owners and those who have coveted the sold-out oven for the last 18 months. A 2.0 version is here with some significant software updates that will enhance even the older model (some things do get better with age!). Here's what you can expect and why you'll want to buy one ASAP.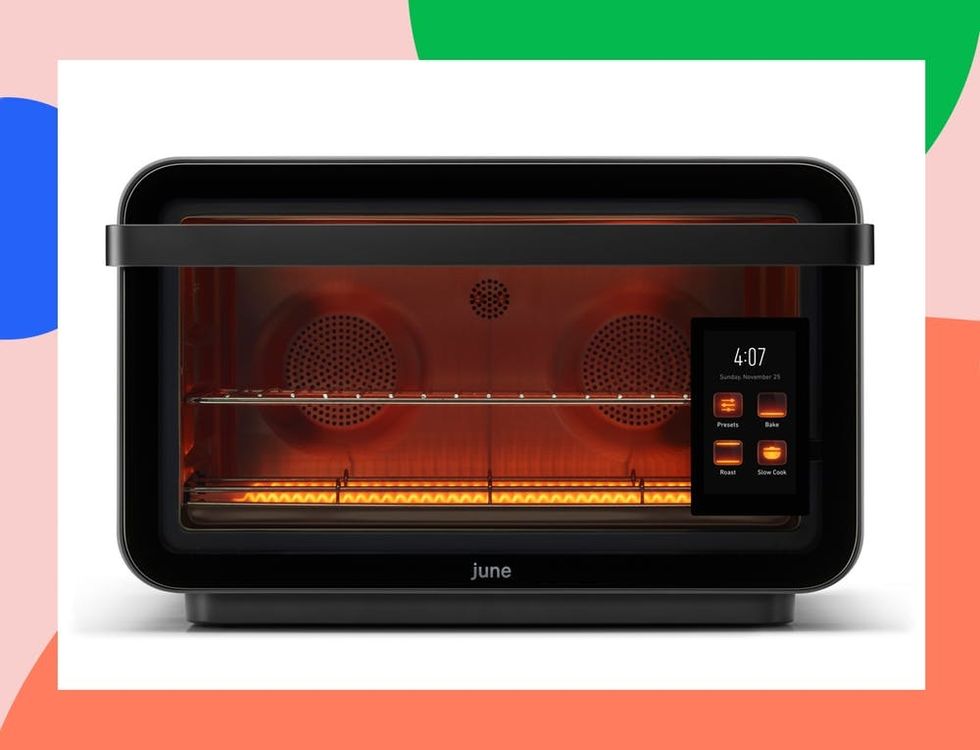 The most shocking difference is the price. The first June Oven cost a whopping $1,495, but the second-gen version starts at $599 (with a limited-time $100 off discount for the launch). We're not exactly sure how June could drop its price by two-thirds without sacrificing quality, but CEO Matt Van Horn assured us all the technical parts in the new oven are on par with the first June Oven. He told us that streamlining the manufacturing and taking out the scale from the top of the oven (a neglected feature from the first model) helped bring down the price.
$499 (the cost of the oven with the discount mentioned above) may be cheaper than an iPhone, but it's still a big splurge for most of us. That's why June has focused on not only developing the best smart oven in the world but also on creating a device that can replace other kitchen gadgets. With this new update, the June Oven can act as a slow cooker, dehydrator, reheating unit (bye microwave!), toaster, and air-fryer, not to mention its baking and roasting capabilities.
While all of that sounds good in theory, when it comes to application, that's when June Oven delivers. It now has 100 cooking presets, i.e., 100 different foods the oven will automatically detect (through artificial intelligence and the internal camera) and then cook to perfection for you. The presets range from complicated, like roasting a whole 12-pound turkey, for instance, to simple, like reheating last's night's pizza or sizzling up a tray of bacon. All the presets have been tested and retested via June Oven's crew of chefs who hail from Michelin-starred restaurants.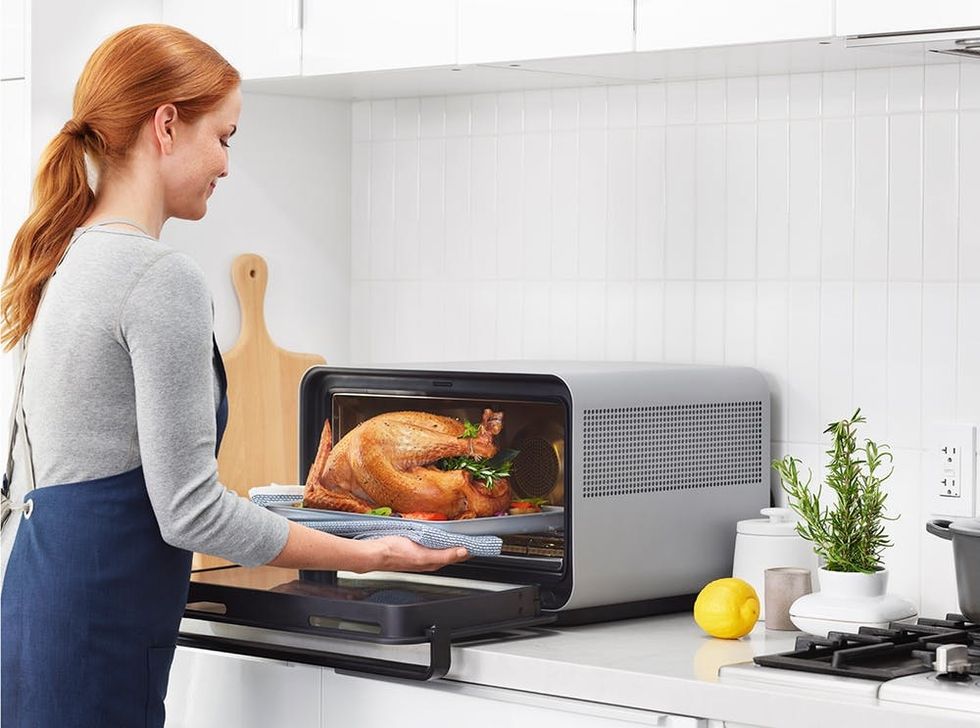 And the app takes things a step further. It's synced to the oven, so you can change the temperature or cook time or monitor your food via the real-time camera from anywhere in your house (or really, anywhere with an internet connection). You can even play the videos of your last 20 cook sessions. (Few things are as satisfying as seeing cookie dough spread out and caramelized to completion.) June is also releasing a digital cookbook if you want even more chef-approved instructional videos and recipes to keep you busy. You can even sync the oven to Alexa for those moments your hands are full and you'd prefer to cook via audio cues.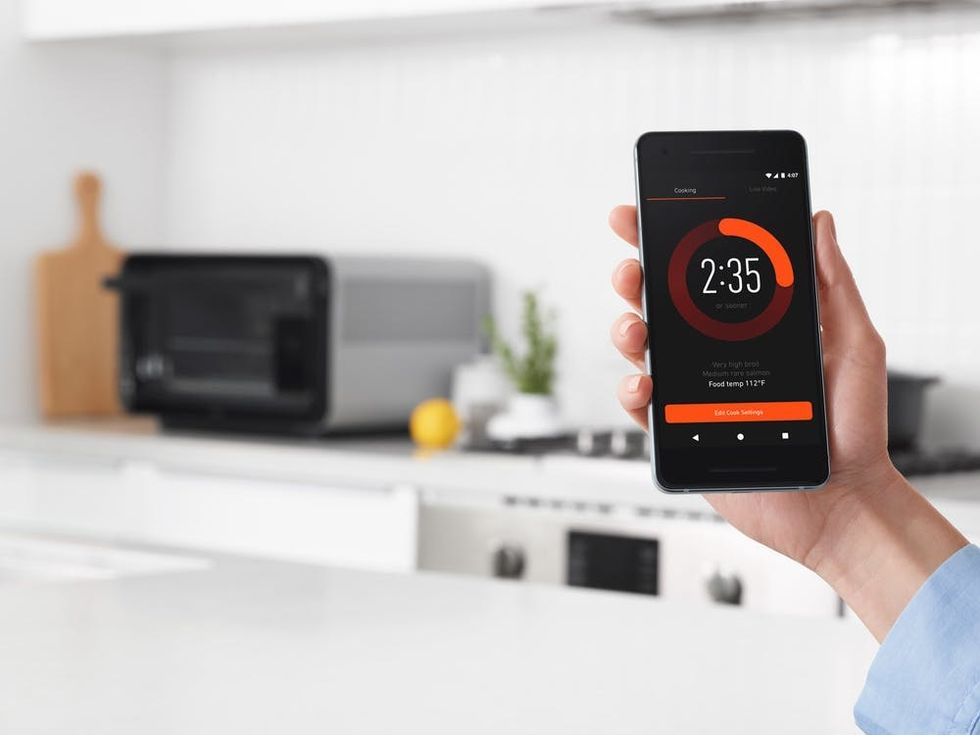 After seeing it in action, we're swooning yet again. The $599 standard version comes with the oven, a food probe thermometer, a solid-core aluminum cooking pan, a roasting rack, a wire shelf, a crumb tray, the companion app (iOS and Android), and a one-year warranty. If you're really wanting to go the extra mile, buy the $799 version, which comes with an extended two-year warranty, a three-year recipe subscription to the digital cookbook, and set of three air baskets. As previously mentioned, both versions will be $100 off initially for a limited time (see website for discount code).
Share what you're cooking up in your June Oven by tagging @BritandCo on Instagram.
(Photos via June Oven)
Brit + Co may at times use affiliate links to promote products sold by others, but always offers genuine editorial recommendations.
Anna Monette Roberts
As Brit + Co's Food Editor, Anna Monette Roberts has an insatiable appetite for developing tasty dishes. When she's not dreaming about her next meal, she's . . . well, probably cooking up her creations. Her favorite foods include chewy chocolate chip cookies, Rosé Champagne, and gooey French cheeses — in no particular order.
Kitchen Tools and Gadgets