How to Throw the Most Colorful New Year's Bash Ever
Dec 20, 2012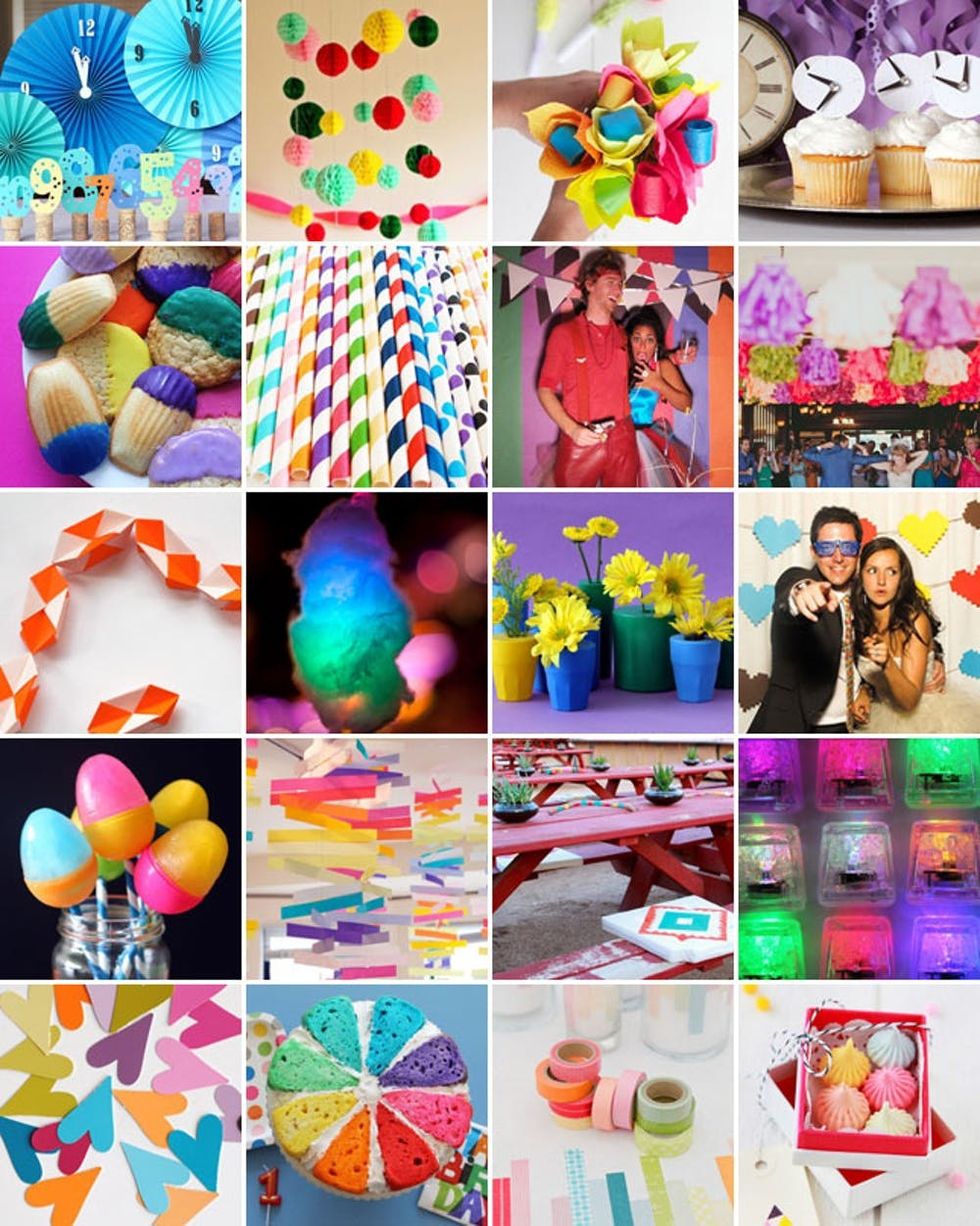 We know that New Year's is typically all about gold and silver, but who says you can't have a little bit of color too? Actually, how 'bout a LOT of color? Seeing as we're color-obsessed here at Brit HQ, it only makes sense that we round up a whole bunch of decorations, dishes, and desserts that love color as much as we do. Here's to a colorful New Year!!
---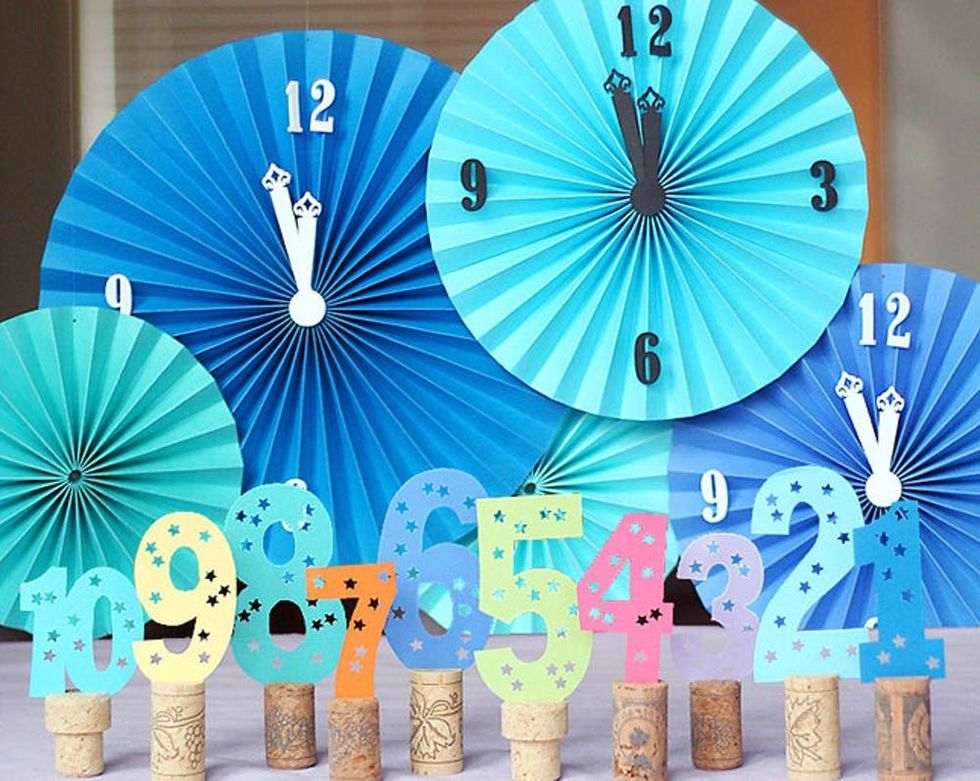 1. Paper Clocks + Cork Countdown: Colors and clocks! Such a fun decorating theme. (via Fiskars)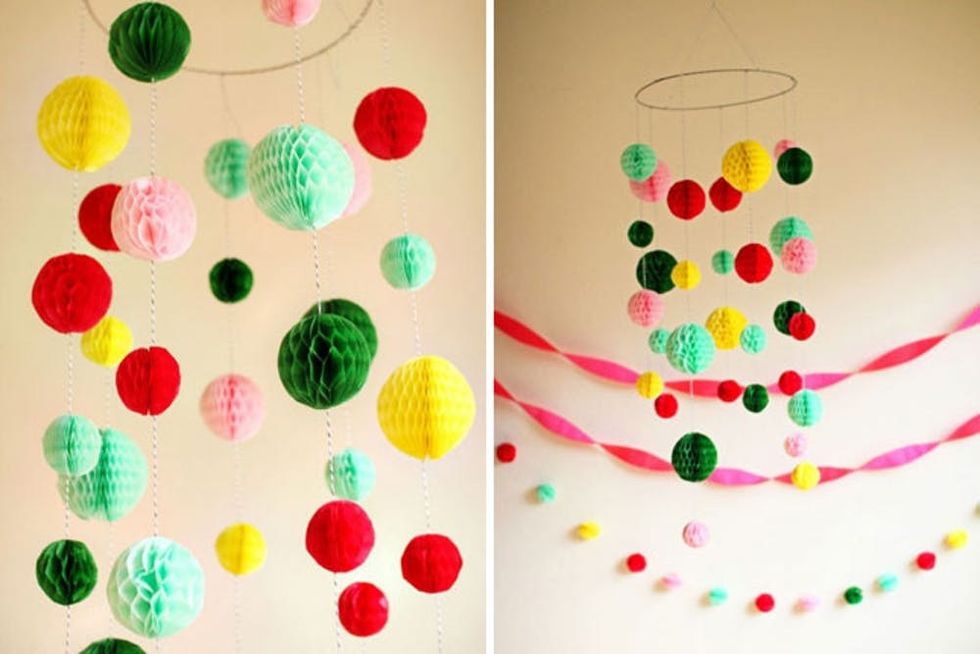 2. Honeycomb Ball Chandelier: You can find honeycomb balls or honeycomb paper at most craft and party stores. All you need is a hoop, some wire or string, and you've got a brand new chandelier! (via One Charming Party)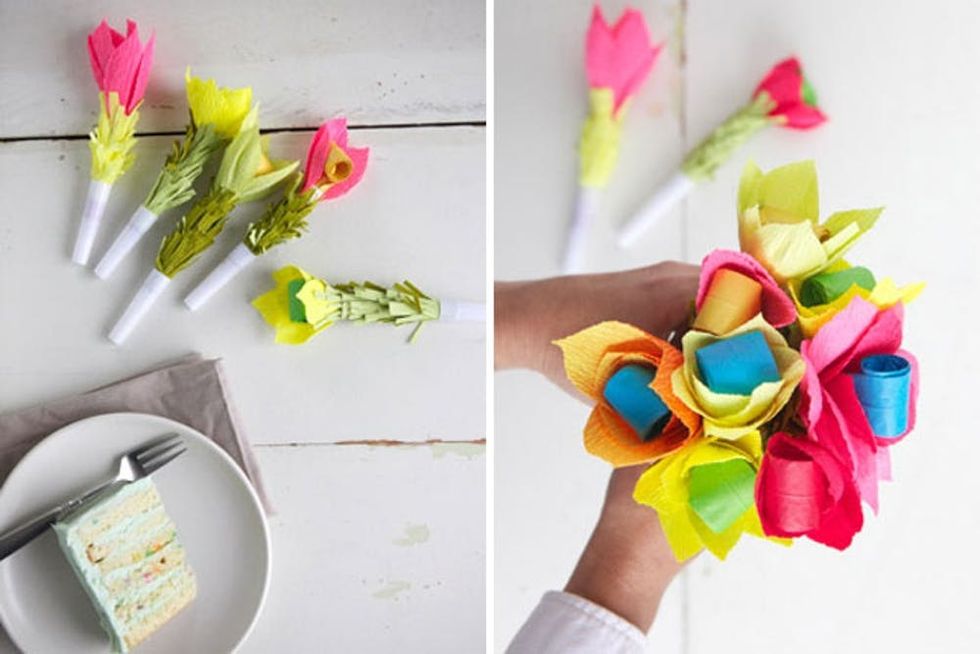 3. Flower Party Blowers: A party blower bouquet? Such a good use of party blowers! (via Oh Happy Day)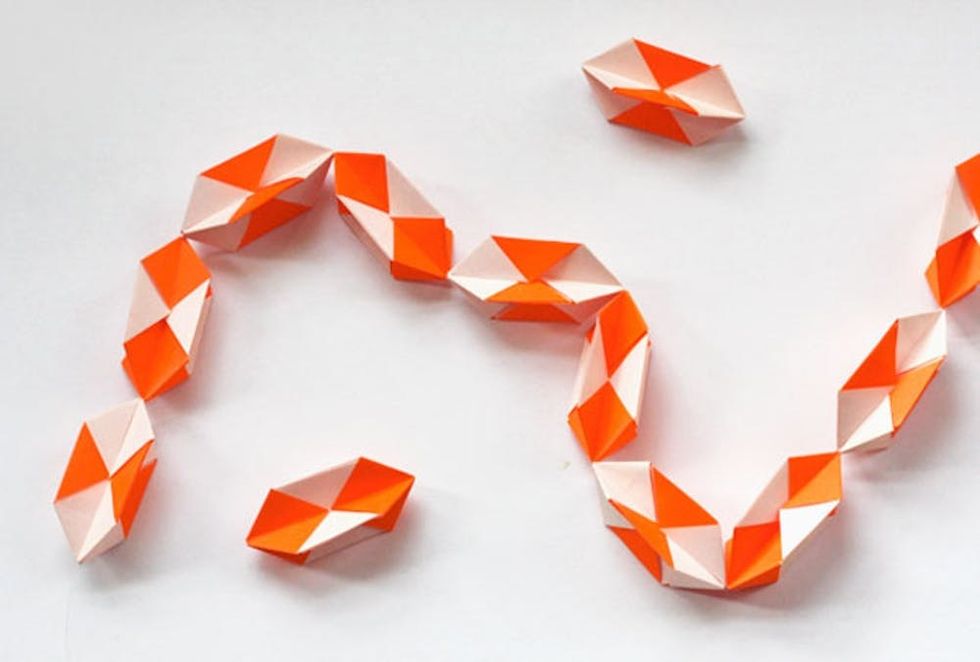 4. Origami Garland: Simple, geometric, and colorful. (via How About Orange)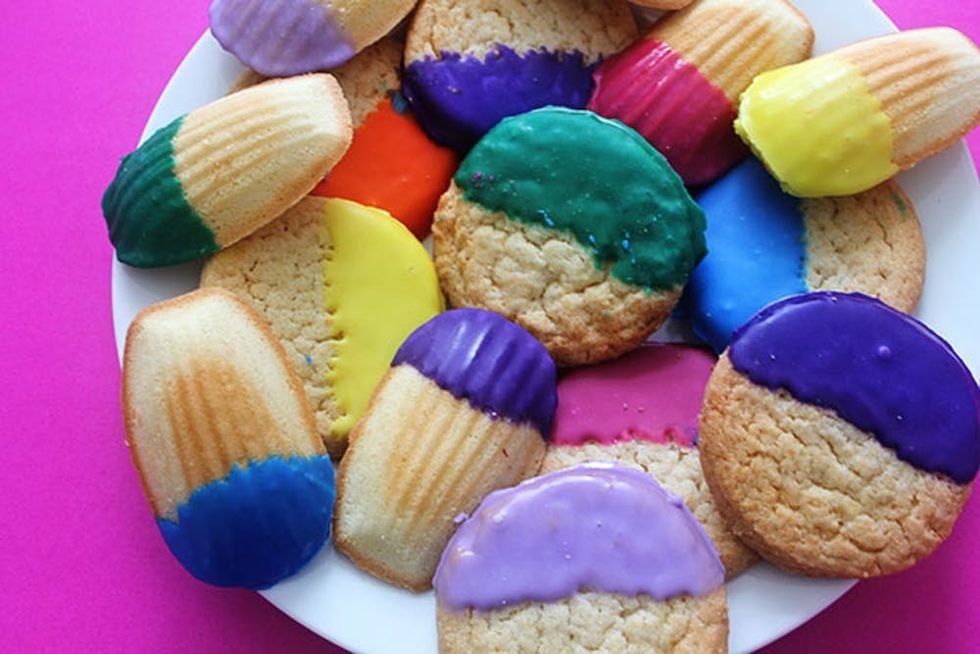 5. Color Blocked Cookies: Spice up store-bought cookies by dipping them in colorful cookie icing. (via Brit + Co.)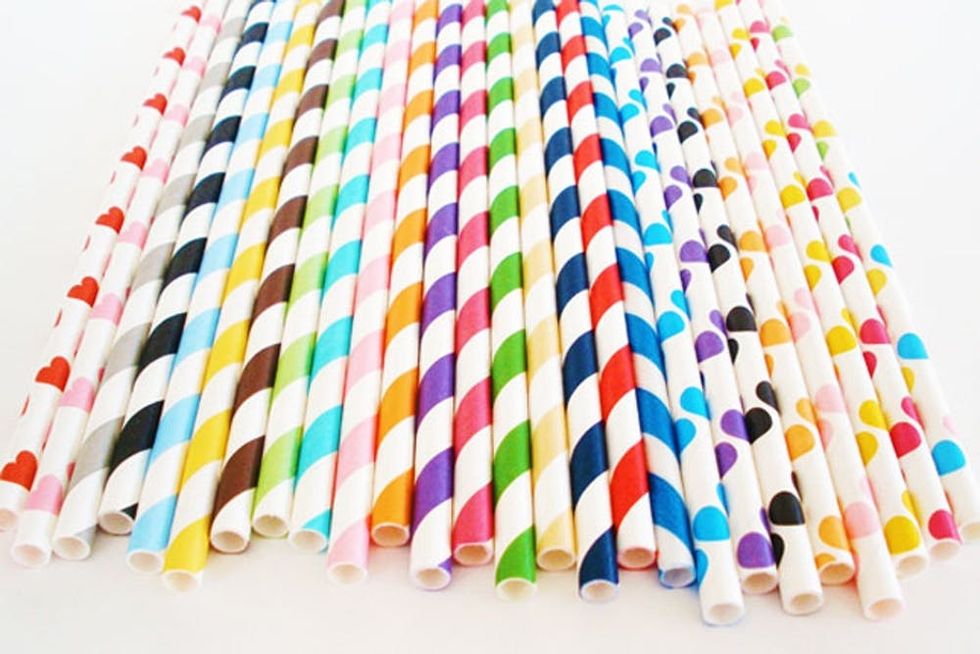 6. Striped Straws: Never underestimate the power of a colorful straw. These would look pretty darn charming with a sixer of bottled cocktails, don't you think? (via Amazon)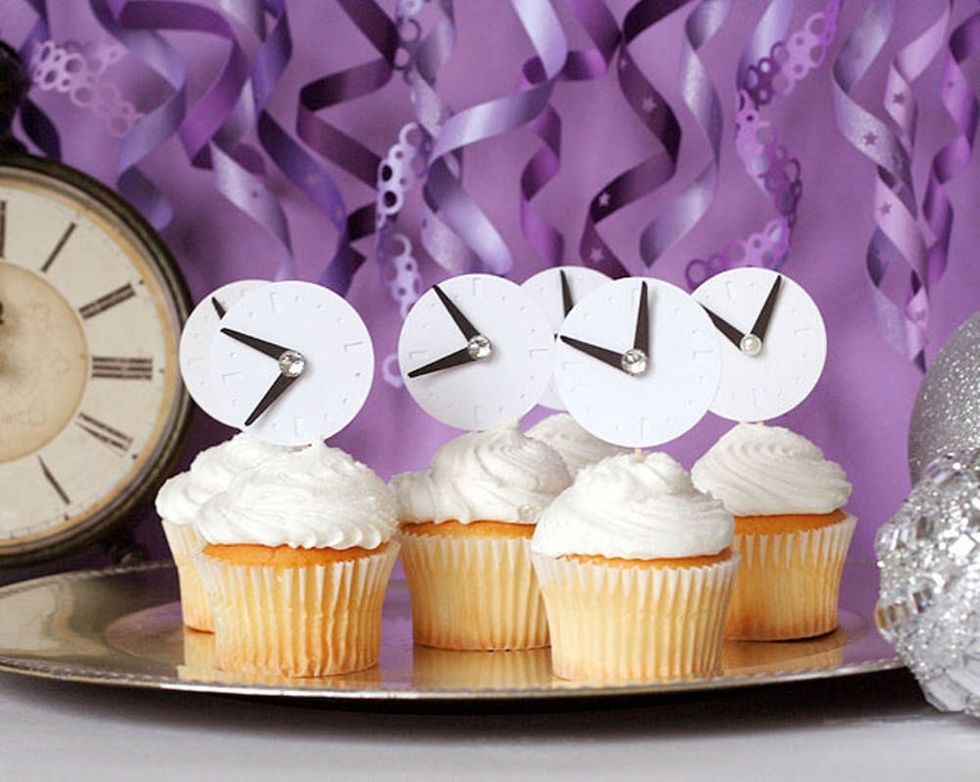 7. Countdown Cupcakes: Make paper clock cupcake toppers to keep the countdown sweet ;) (via Fiskars)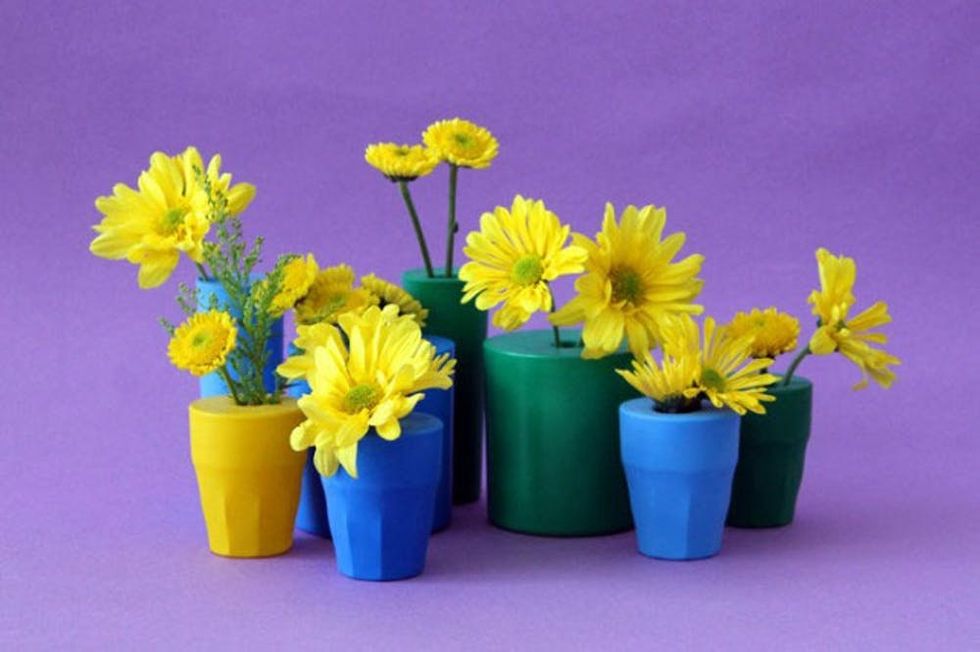 8. Balloon Bud Vases: Love this hack on party decor. All you need are shot glasses, balloons, and a few blooming buds. (via Brit + Co.)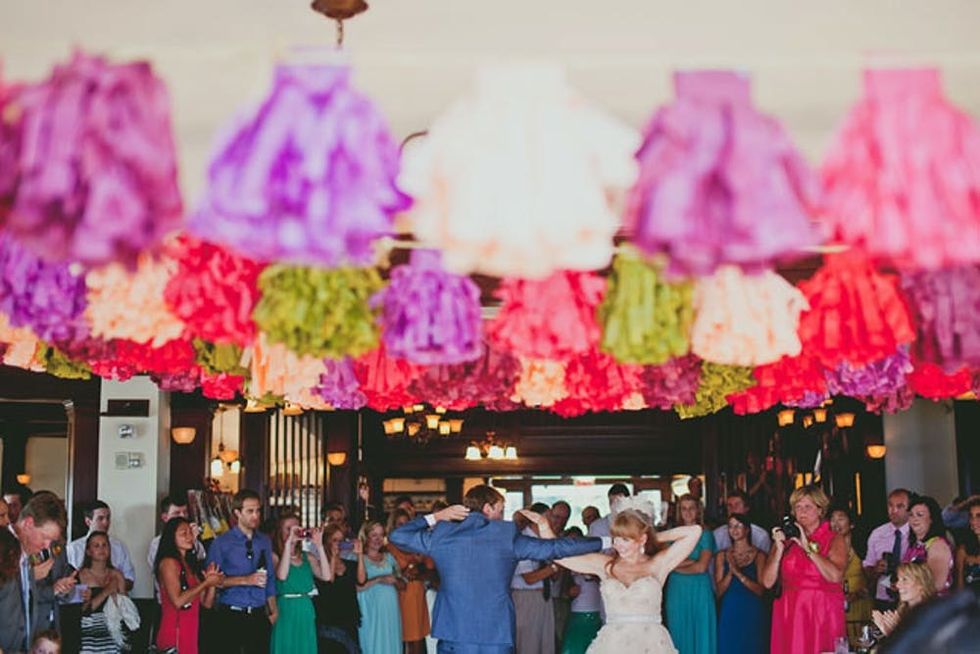 9. Tissue Paper Pom Poms: No DIYer's party is complete without pom poms. (via Brit + Co.)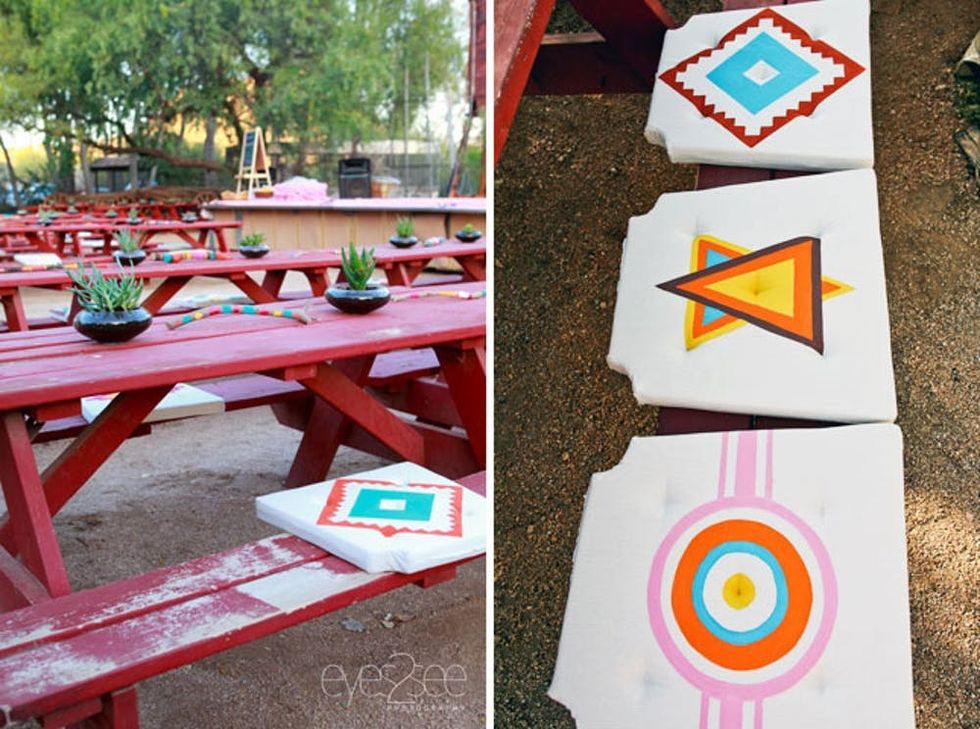 10. Custom Cushions: Such a fun way to personalize regular old seat cushions. (via Brit + Co.)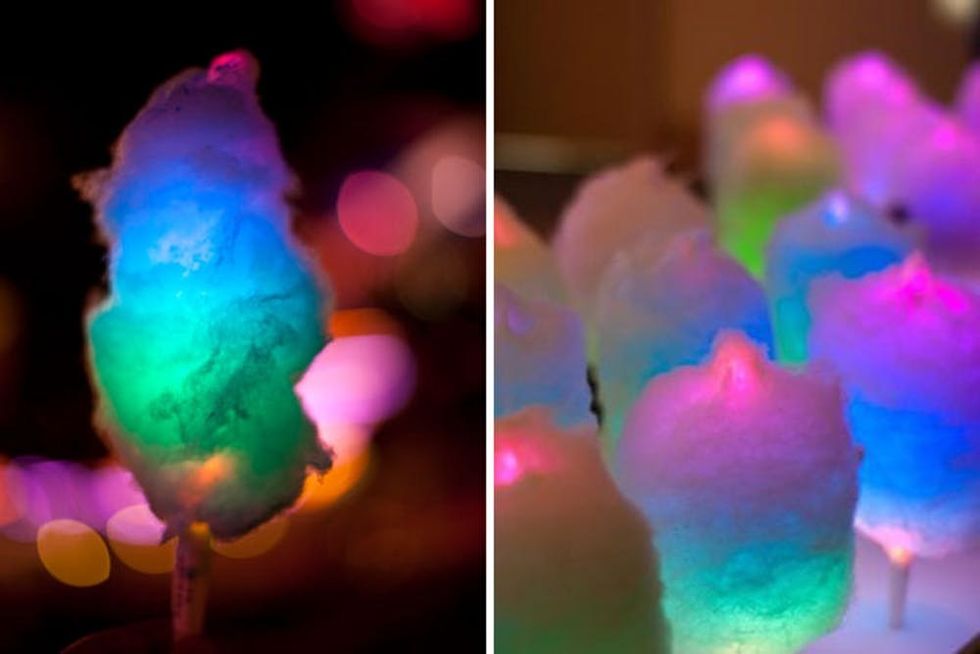 11. Color-Changing Cotton Candy: That's right. Use color-changing glow sticks to make this awesomeness happen. (via Two et Two)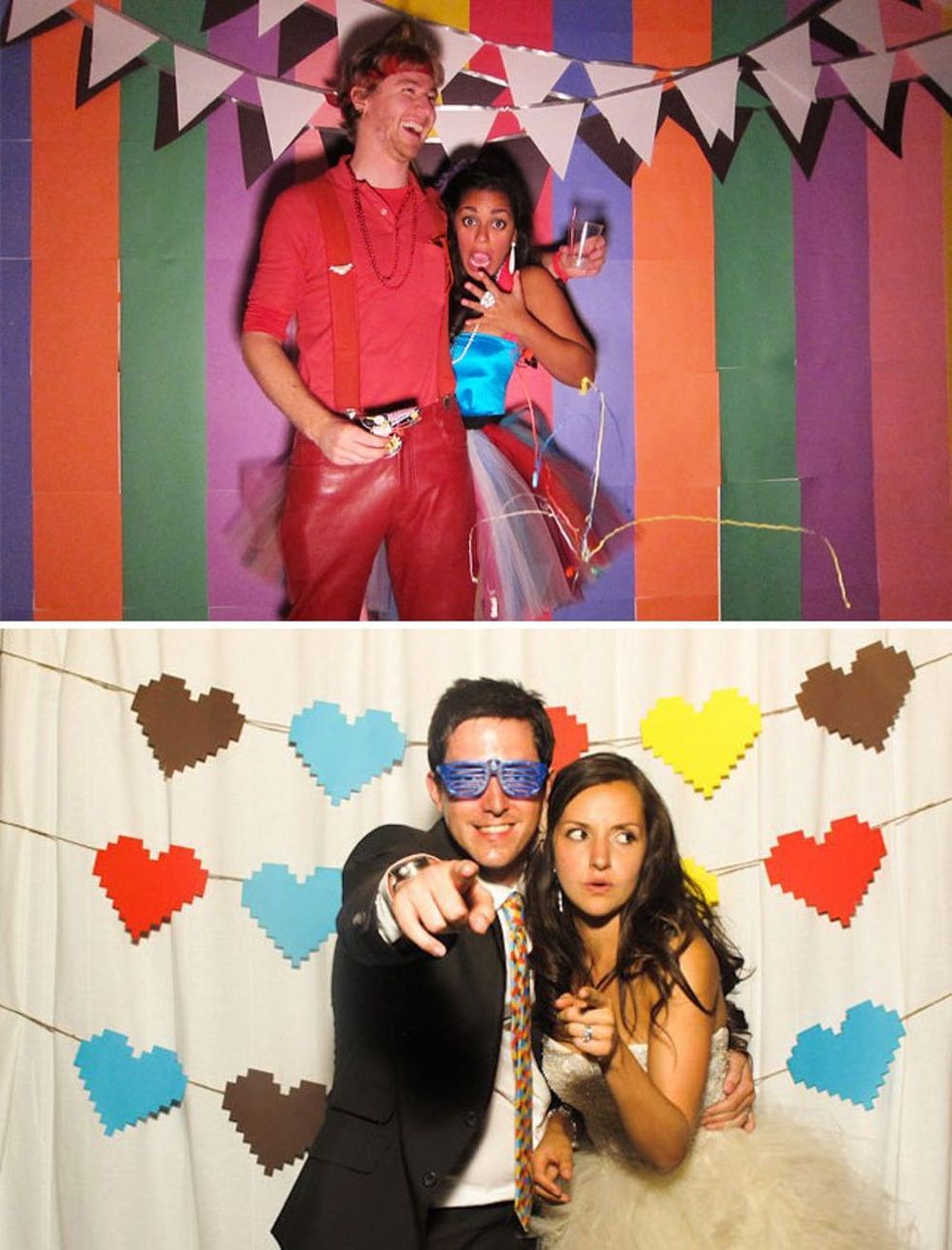 12. Photo Booth: Photo booths are always an instant hit. Above we've got colorful stripes made with construction paper and below we've got pixelated hearts from Brit's Pixel Cowboy wedding. (photos via Brit + Co.)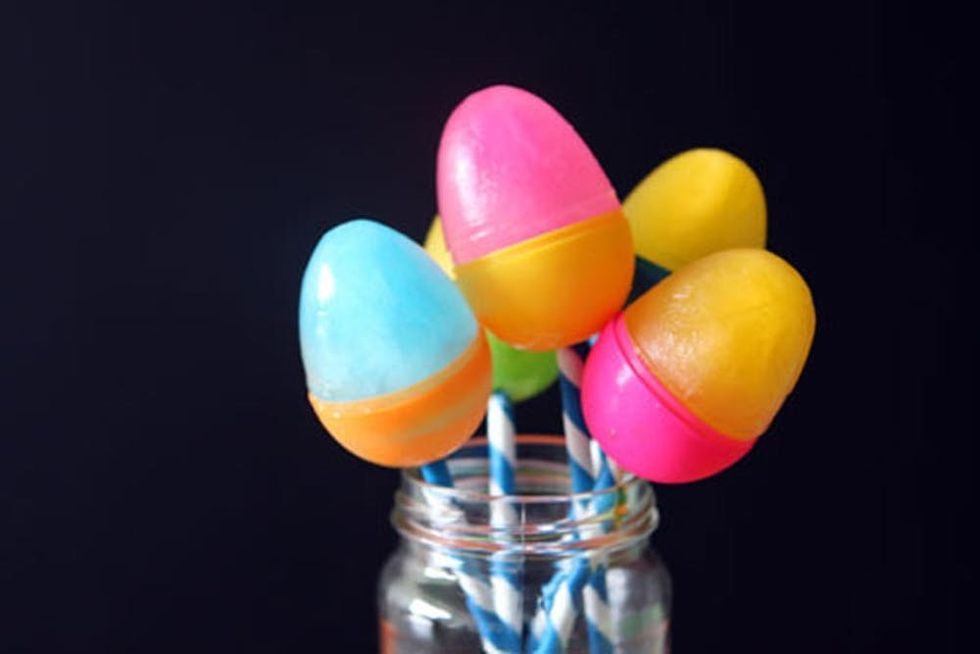 13. Easter Egg Pops: Who says Easter Egg pops are just for Easter? (via Brit + Co.)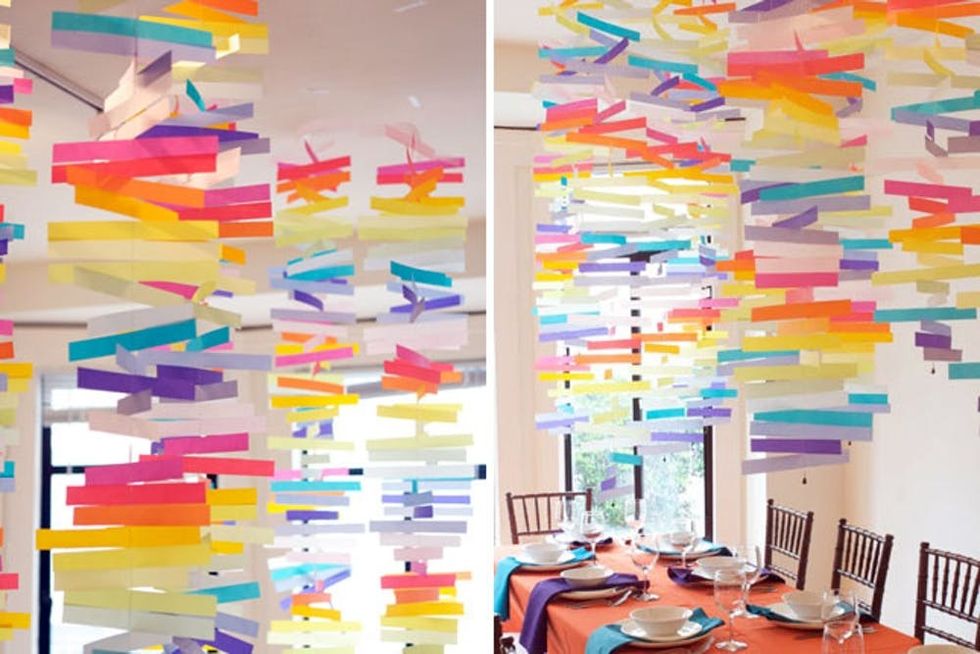 14. Vellum Strip Mobiles: Jam out with a paper cutter for these fun mobiles. (via Project Wedding)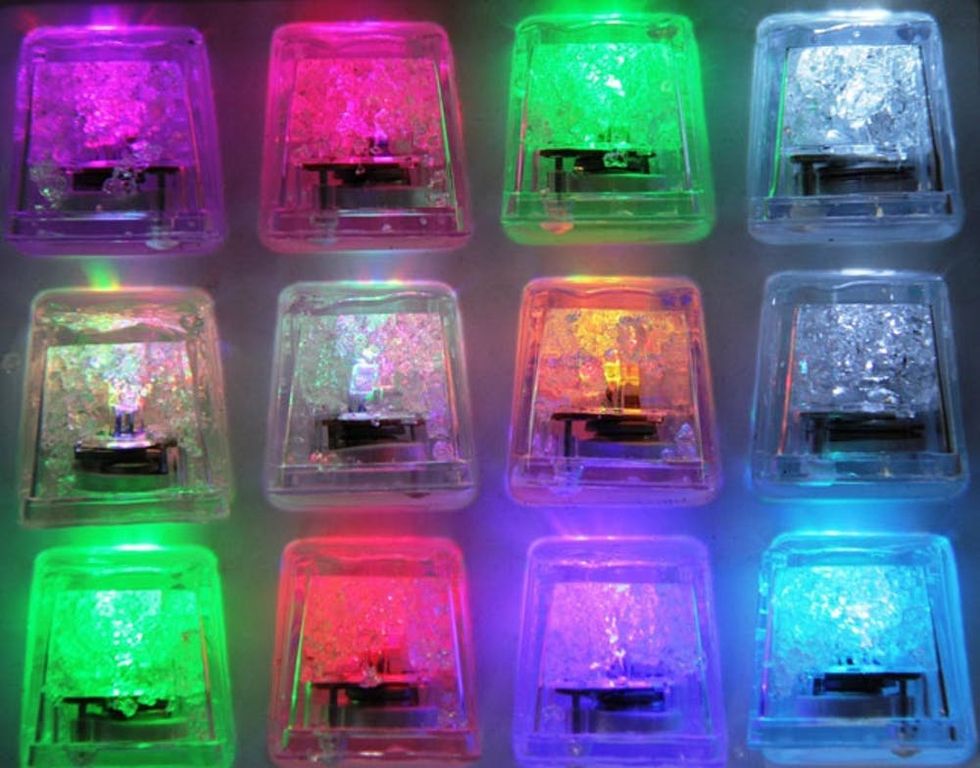 15. LED Ice Cubes: Do these really need explanation? Party rock is in the HOUSE tonight. (via Amazon)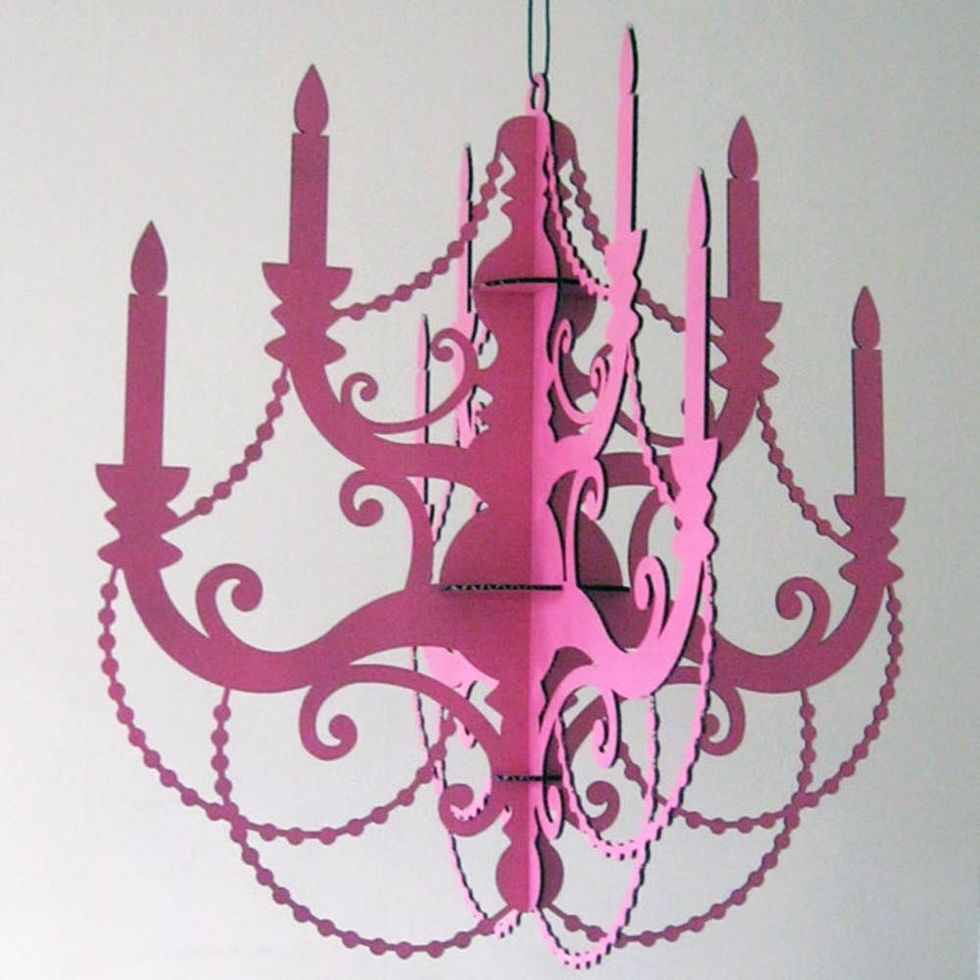 16. Laser Cut Chandelier: How pretty is this? And it comes in every color under the sun! (via Etsy)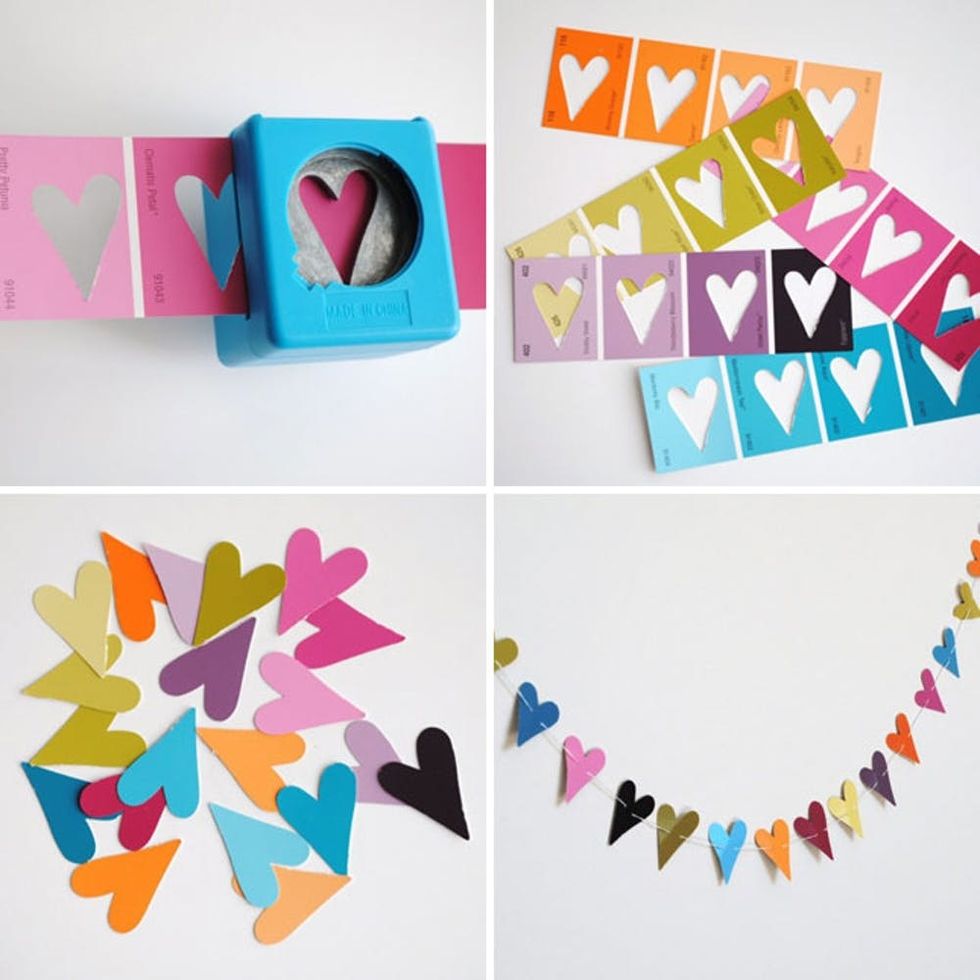 17. Paper Heart Garland: Paint chips and a fun-shaped punch. Win! (via Grace and Light)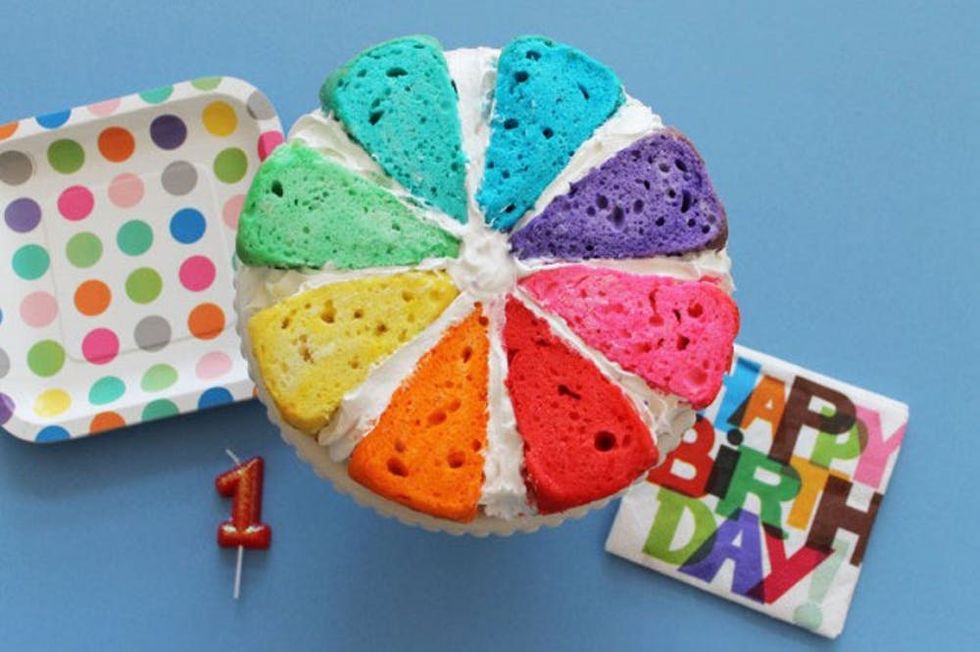 18. Color Wheel Cake: This is likely to become a celebration staple here at Brit HQ. (via Brit + Co.)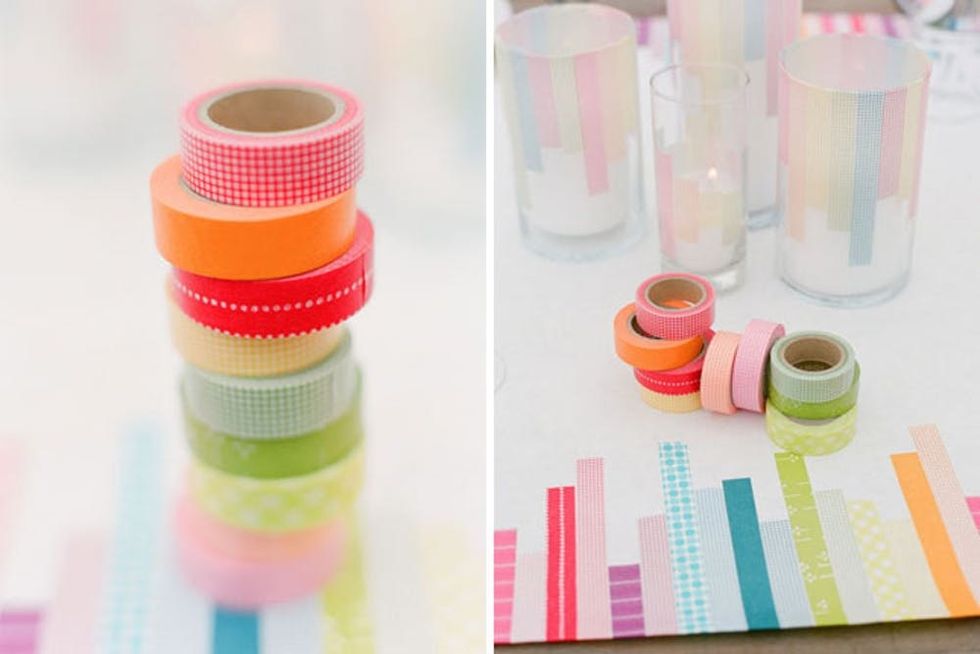 19. Washi Tape Table: Remember our washi tape tree? Grab some boldly hued rolls of washi tape and create a whole tablescape in minutes. (via Modern Party Ideas)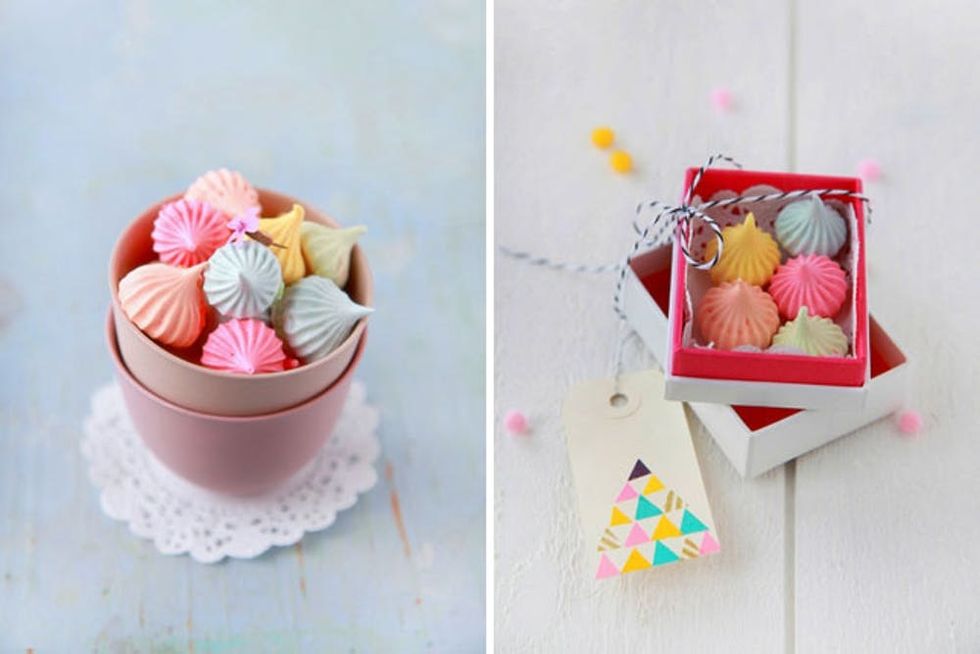 20. Colorful Meringues: And last, colorful meringues! Egg whites, sugar, and food coloring never looked so good. (via decor8)
What are your favorite ways to decorate for New Year's or any other celebration? Talk to us in the comments below.
Anjelika Temple
As Chief Creative Officer and Founding Partner at Brit + Co, Anjelika Temple brings her voracious consumption of all things creative and colorful to DIY projects, geeky gadgetry finds and more. When she's not DIY-ing her heart out, you'll find her throwing dinner parties with friends or adventuring with her husband David, their daughter Anokhi, and their silly dog Turkey.