Your State's Favorite Starbucks Drink Might Surprise You
Dec 29, 2015
If you were one of the many people who traveled for the holidays, it's possible that you visited a Starbucks and noticed that people in other parts of the country have a much different coffee order than you. It wasn't just your imagination — regional Starbucks preferences are a thing and the company recently released data about our favorite holiday drink orders across the country determined by examining the number of units sold per thousand of all Starbucks menu items. Here's what everyone is drinking, from the East to the West (and it's not just Pumpkin Spice Latte).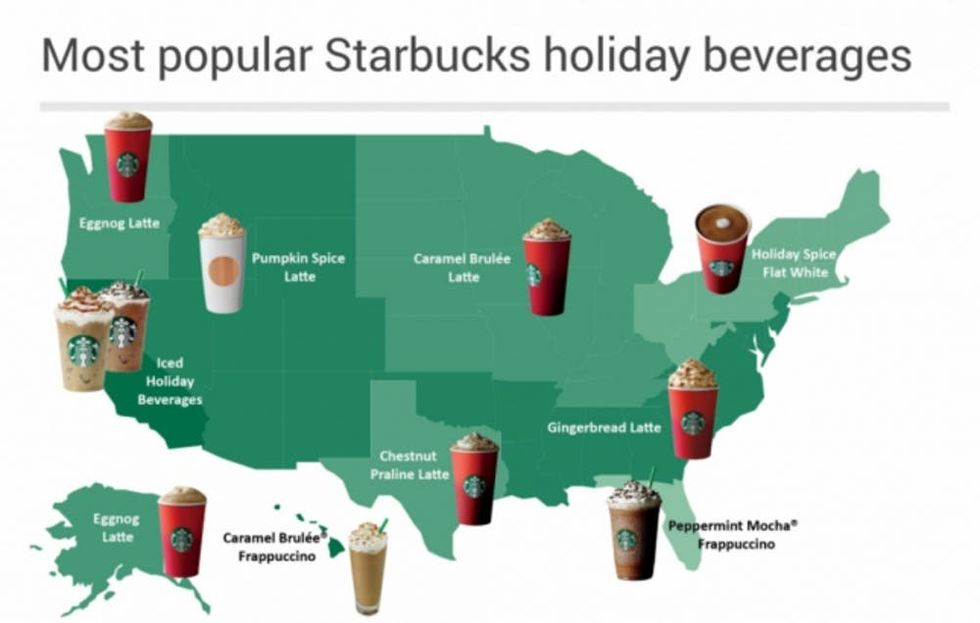 ---
Florida
The Peppermint Mocha Frappuccino is more popular in Florida than anywhere else in the US. Perhaps Floridians are trying to create that cold-weather feeling in a Starbucks cup?
Texas
People in the Lone Star State prefer the Chestnut Praline Latte over other seasonal beverages. The drink combines caramelized chestnuts with holiday spices. Mmmm.
Northeast
Northeasterners fell for the Holiday Spice Flat White this year, which was introduced in November. And it tastes as fancy as it sounds, with velvety steamed milk and ristretto shots.
California
To combat the warm weather, Californians prefer cold beverages such as the Iced Chestnut Praline Latte or Iced Peppermint Mocha. Starbucks says these drinks are significantly more popular in California than anywhere else in the country.
Pacific Northwest
The Pacific Northwest sticks to classic holiday beverages — the Eggnog Latte is "wildly popular" in this region, according to Starbucks.
Midwest
Midwesterners like to warm up with a Caramel Brulée Latte during the holiday season.
Mid-Atlantic and Southeast
The Gingerbread Latte is the most-requested holiday beverage in the Mid-Atlantic and Southeast regions of the country.
Western Mountain Region
Pumpkin spice might lose its luster after fall in other parts of the country, but not in the Western Mountain Region. Here, the Pumpkin Spice Latte remains popular from autumn through the holidays.
Hawaii
Like Californians, Hawaiian residents enjoy their drinks frosty. The Caramel Brulée Frappuccino is more popular in Hawaii than in other states.
What's your favorite holiday drink at Starbucks? Let us know @britandco.
(Photos via Starbucks)