The Internet Is Losing Its Damn Mind Over the Ta-Ta Towel
Aug 04, 2017
If there's one thing that ladies everywhere can agree on, it's that boob sweat sucks. But there's a new towel in town and it's here to solve that dampening woe. It's either the strangest or most genius new invention, but busty girls, this one's for you. Say hello to the Ta-Ta Towel ($45).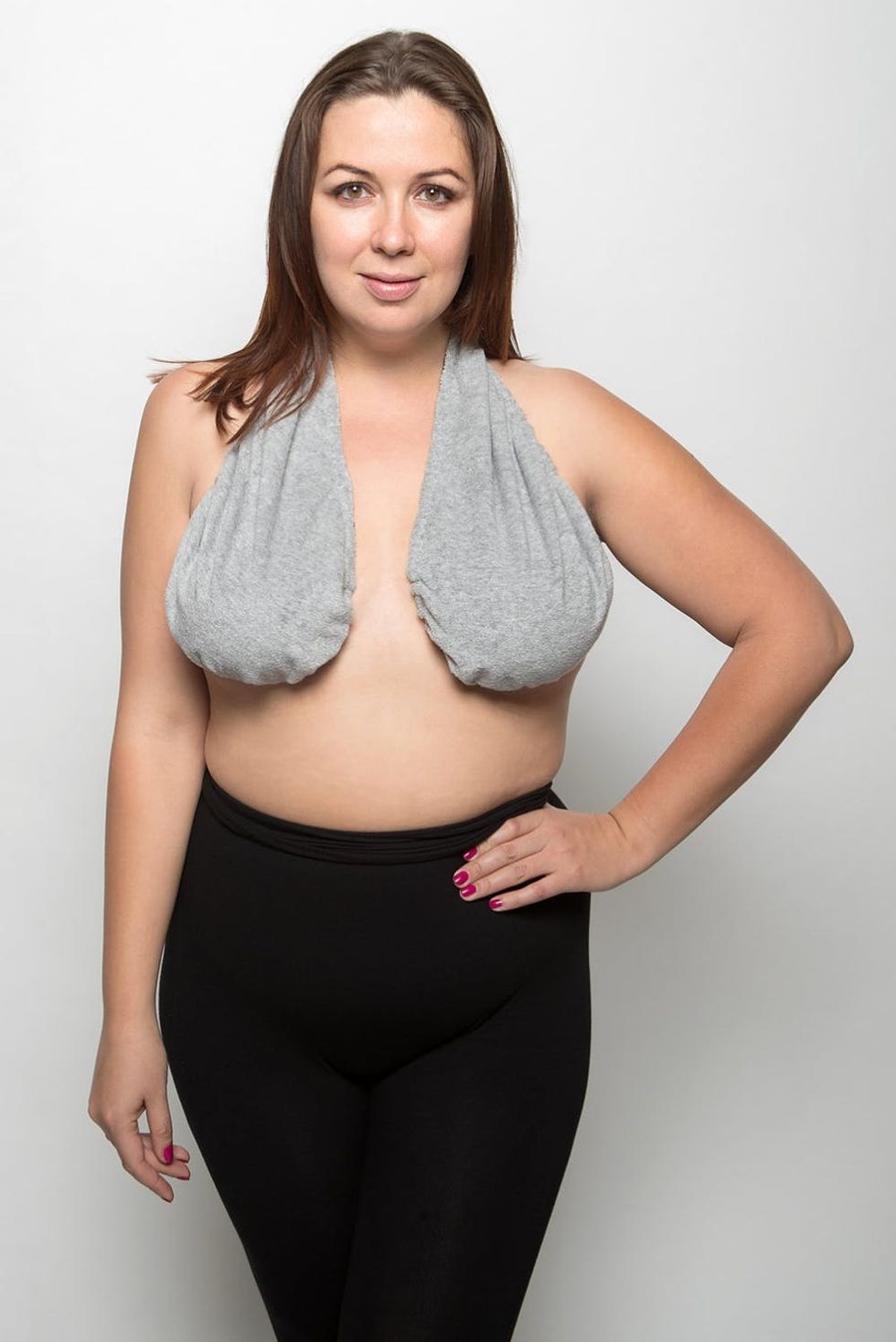 ---
It's exactly what it sounds like: a towel to combat boob sweat. The new-fangled contraption was created by a woman who struggled with keeping her underboob dry post-shower. "I tried everything: I tucked wash cloths under my breasts, I tried dumping baby powder all over me, I even put a T-shirt on and tucked it under my boobs," inventor Erin Robertson wrote on the product's blog. And since hitting the web, it's gone mega-viral on the internet.
C'mon now, you didn't expect the Twitterverse to just sit back and keep its mouth shut now, did you? Some folks are loving the idea and think it's been a long time coming.
the #tatatowel is real life version of the phrase "over the shoulder boulder holders" 😂 pic.twitter.com/qWHApS4OK8

— Low Cal (@Low_Cal) August 3, 2017
🤣🤣🤣I know what everyone is getting for Christmas this year! #TaTaTowel pic.twitter.com/LgqG1ROFsj

— Jessy G (@JessicaGilham) August 3, 2017
This low key lit. I want a #TaTaTowel pic.twitter.com/TnppnzbFoB

— Khaleesi (@Jarahhhh) August 3, 2017
I can't even. Like why didn't I think of this?! #tatatowel pic.twitter.com/kKr4A0Hemn

— Mary Staes (@MStaes) August 2, 2017
I neeeeeddd a #tatatowel

— Susan Martinez (@JustASusan) August 4, 2017
Others were not so excited with many feeling there was simply no need for a boob towel, especially at its price point.
— Kerri Blais (@redhat656) August 4, 2017
Oh lawrd help me.

— Emily B (@ebergkamp) August 4, 2017
What the fuck is that?! pic.twitter.com/izRItY4Jeo

— Cinnamon Spice (@WiseFlower7) August 4, 2017
— Curvatude™ (@Curvatude) August 3, 2017
OMG THEY WANT $45 dollars for this thing!!!! #tatatowel 😂😂😂 pic.twitter.com/4PVHbbEWT8

— Vicki (@kiwivicki) August 3, 2017
What do you think of the latest craze? Tell us @BritandCo!
(h/t BuzzFeed; photos via tatatowel.com)
Shea Lignitz
Shea can be found in the nearest bookstore or brewery, exploring the great outdoors, or blasting Led Zeppelin. She grew up in the cold and rain of Northern California's redwoods but is currently wandering around Texas.
Style News