This Girl's Senior Yearbook Quote Slamming Her School's Sexist Dress Code Is the Ultimate Mic Drop
Jun 21, 2017
High school graduation comes with a whole bunch of considerations: Where are you going for college (and how the heck are you going to pay for it)? And what's a senior picture pose you'll look back on and not regret?
The perfect yearbook quote can be equally as hard to come up with, what with all the inside jokes and meaningful moments you want to preserve. One grad, however, used it as an opportunity to make a statement against her school's sexist dress code, pulling off the ultimate end-of-year mic drop in the process.
---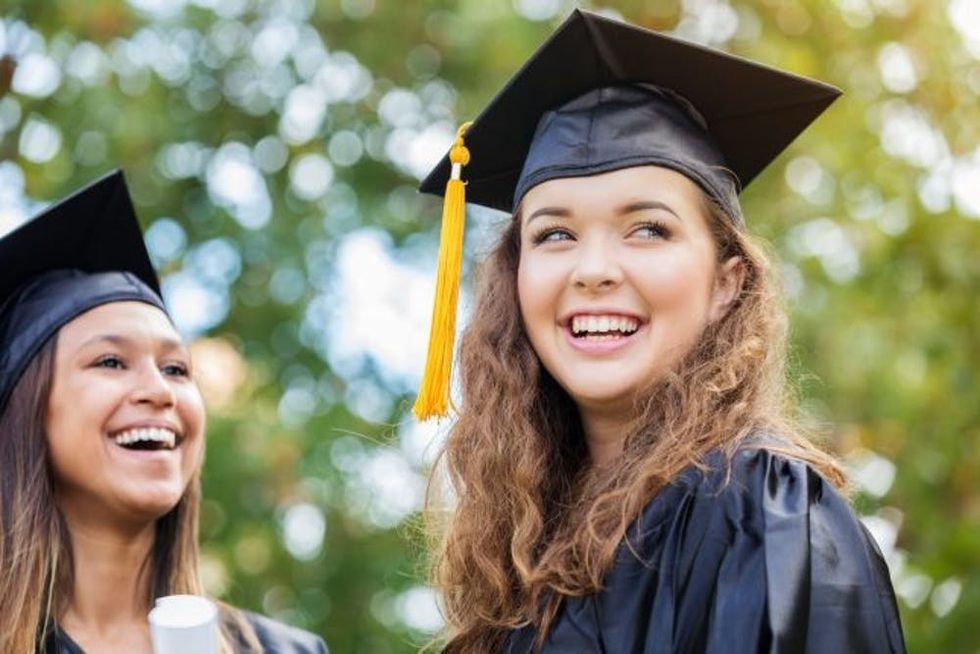 Victoria DiPaolo has spent much of the last four years at New Jersey's West Milford High School fighting the dress code, which she describes to Yahoo Style in no uncertain terms as sexist and unreasonable. She says her and many of her friends received dress code violations over the years for "clothes that were nowhere near inappropriate," describing a visible bra strap or a quarter-inch of midriff as the offending looks. When she saw that the outfits supplied for senior portraits consisted of an off-the-shoulder shirt — which could qualify as a dress code violation — she ran with the opportunity to point out the hypocrisy and leave a lasting message for the school.
Tori: 1
Dress code: 0 pic.twitter.com/1HHgjg84AE

— Tori (@tori_dipaolo) June 13, 2017
The (perfect, TBH) quote reads: "I'm sorry, did my shoulders distract you from reading this quote?" After her friends started sharing it on social media, more and more people took notice, and DiPaolo says that even members of the school's administration thought it was funny.
"Most teachers have laughed at it," she said in the interview. "The general consensus at my school — unless you're the principal — is that the dress code is ridiculous so people have loved the quote so far."
On the school's website, the official policy states that "Halters, half-shirts, shorts, or sweaters and blouses that expose breasts or stomachs may not be worn. Shorts and skirts should not be a distraction. They should not be above the extended fingertips. Muscle shirts, mesh shirts, and loose-fitting tank tops are not permitted. Patches, decals, or sayings affixed to clothing are inappropriate if they are suggestive, drug-related, obscene in nature, or cause a disruption in normal proceedings."
DiPaolo, who gets good grades and is involved in many extracurriculars, says that her academic performance should be the focus — not what she's wearing.
"I've spent hours sitting in principal's offices because 40-year-old men were offended by my back showing. They would tell me to change or go home, so my classic response was 'How much of my skin is exposed when it's 90 degrees out is more important than me receiving an education at a school? Okay.'"
I'm really regretting not retaking my senior portrait 😭😂

— Tori (@tori_dipaolo) June 19, 2017
With all the attention her yearbook quote has gotten, DePaolo joked on Twitter that she wishes she'd retaken her picture, but honestly, as long as the quote stands, you do you, DiPaolo.
What do you think of Tori's yearbook quote? Let us know @BritandCo!
(h/t Yahoo Style; featured photo via Getty)
Nicole Villeneuve
Nicole is an entertainment and lifestyle writer covering pop culture, news, and cool women doing cool things. She likes yard sales, MTV's Teen Mom, and putting too many memes in the group chat. She lives in Toronto.