Top 5 Signs Your New Bae Is Just That into You
Aug 19, 2017
August is National Romance Awareness Month, but before you break out the Champagne and roses, we're here to school you on the true keys to romantic success. While you'll never go wrong with flowers (especially if you arrange them yourself) or a romantic dinner date at home, the results of a survey from Match.com suggest that these go-to gestures may not really be your best bet for wooing an S.O.
Match recently took a deeper dive into the results of their Singles in America survey — which polled over 5,500 unattached individuals — to learn more about what really constitutes romance in a relationship. Generally speaking, the results indicate that singles are most romanced by acts that are traditional and public. If they "label you as a keeper and person of value, not just someone that money can buy, and go to the root of a happy relationship by focusing on the emotions," according to Julie Spira, a cyber dating pro and relationship expert for Match. "[These gestures] will label you as a couple, even if you haven't changed your relationship status on Facebook."
---
Ready to get specific? Without further ado, here are the top five most romantic gestures, according to the Singles in America survey: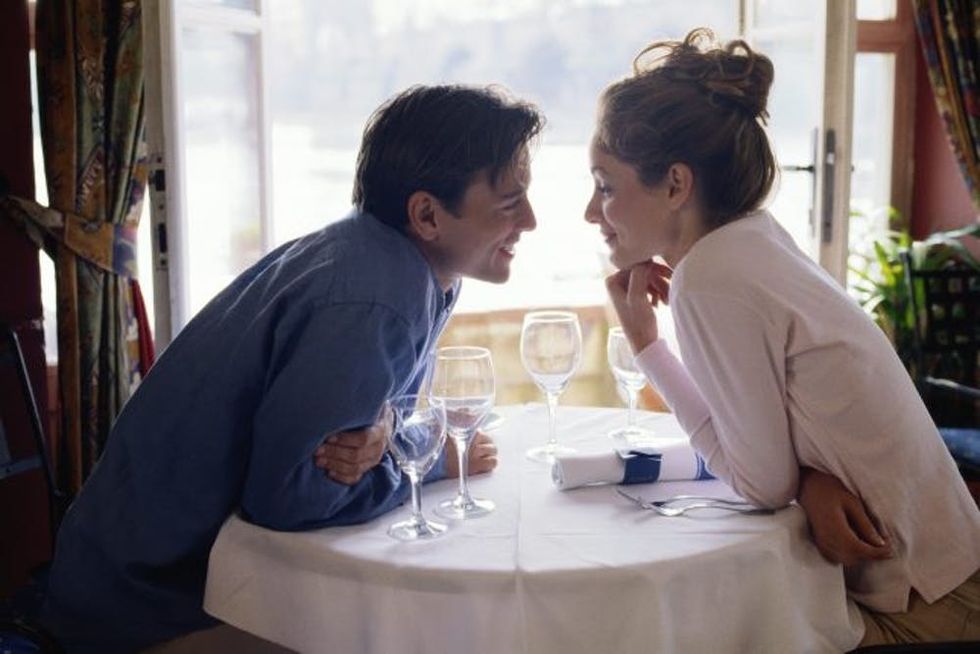 1. Caring for Your Significant Other When They're Sick: No one likes to be cooped up with a cold or stomach bug and deprived of time with their special someone, so it's no surprise that 87 percent of the surveyed singles agreed that a turn at caretaking is a surefire way to show love. When you care for an under-the-weather S.O., you're doing more than simply spoiling them with their favorite kind of soup or ice cream — you're demonstrating that your relationship has moved past the point where an illness would be cause to temporarily pause communication or cancel plans. "Sending a 'get well' care package requires thought, and taking someone to a doctor's appointment means you'll want to be by [bae's] side on the days that aren't always perfect, in sickness and in health," Spira says.
2. Attending a Family Event As a Couple: Your mom's weekly spaghetti dinner or your little cousin's fourth birthday party may not seem like romantic events, but the act of inviting your S.O. to join you for a family occasion? Totally swoon-worthy, or so said 83 percent of the Singles in America respondents. Bringing your significant other as your date to a family function "sends a message that [they're] a keeper… and defines you as a couple publicly to the people who matter most," Spira says. If you're looking for a gesture to show your latest crush just how important they are to you, find the next event on the family calendar and make it a date.
3. Mentioning Your S.O. to Friends: Eighty-two percent of singles said they feel romanced when a significant other shares updates about or photos of them with their pals. Talking about a new relationship among your social circle legitimizes that bond even further, and it will show your friends that you're ready to have them invest in your special someone too — and everyone knows that there are few things warmer or fuzzier than getting the seal of approval from your S.O.'s besties.
4. Vacationing Together: "Taking the first vacation or weekend away is usually a step toward a bigger commitment," Spira says. When you and your significant other plan a trip as a couple, you're both setting aside time and money, allocating it for a little QT with the other. And if (like 79 percent of the singles surveyed) you thought that was romantic, just wait 'til you're exploring some picturesque scenery or enjoying a quiet dinner for two!
5. Mentioning Your S.O. to Your Parents: Just as chatting up your friends about a new flame helps legitimize a relationship among your social network, talking about your significant other to Mom and Dad establishes that relationship as the real deal within your family. "Letting your folks know your partner is an important part of your daily life puts your partner on a pedestal, which is where they belong in the romance department," Spira says. According to the Singles in America Survey, 76 percent of respondents agree that this is an important romantic gesture.
What romantic gestures do you think are missing from this list? Tweet us @BritandCo!
(Photos via Getty)
Alli Hoff Kosik
Alli Hoff Kosik is a freelance writer who is passionate about reading, running, rainbow sprinkles, her lipstick collection, watching embarrassing reality TV, and drinking pink wine. She lives in Brooklyn with her husband and (in her dreams, at least) three golden retriever puppies. Listen to her talk books on
The SSR Podcast
.