Here's the Complete List of Women Who've Accused Donald Trump of Sexual Misconduct
Oct 18, 2016
Donald Trump and chivalry. Two words that go together about as well as ice cream and kale. Since he announced his run for president, his campaign has been not just speckled with revelations of sexual assault, but ridden with them. And yet, during a presidential debate, he claimed, "Nobody has more respect for women than I do." To be entirely honest, there have been so many women who've come forward with stories about their personal experiences with Trump that it's become hard to keep them all straight. So we decided to do the work for you. Here is a comprehensive list of all the women who've come forward with harrowing stories against Donald Trump. Just a reminder: November 8 is election day. Note: This list will be updated if more cases are reported.
Update: As of October 24, 2016 two more women have come forward:
---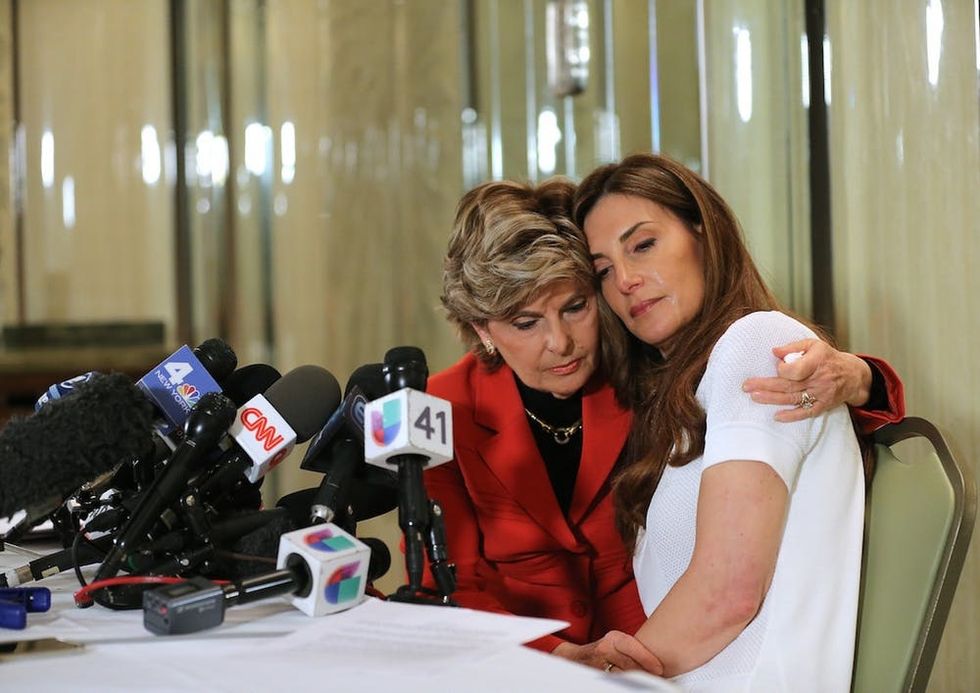 Karena Virginia (1998): Virginia recently went public with her assault story after the Access Hollywood tape was released. She was 27 and catching a cab from the US. Open in Queens when she met Trump by chance. At a press conference, she told reporters, "He then walked up to me and reached his right arm and grabbed my right arm. Then his hand touched the right inside of my breast. I was in shock. I flinched. 'Don't you know who I am. Don't you know who I am,' That's what he said to me. I felt intimidated and I felt powerless."
Jessica Drake (2006): Jessica is an adult film star and director. She recently came forward during a news conference in LA. She explains she met Trump while at a charity golf tournament in Lake Tahoe, Nevada. She says he asked for her number and invited her to his hotel room later that night. She went but made sure to bring friends because she didn't feel comfortable going alone. She says Trump, "Grabbed each of us tightly, in a hug and kissed each one of us without asking permission." His response to this claim? He recently talked about it on a radio show and told the host, "Oh, I'm sure she's never been grabbed before."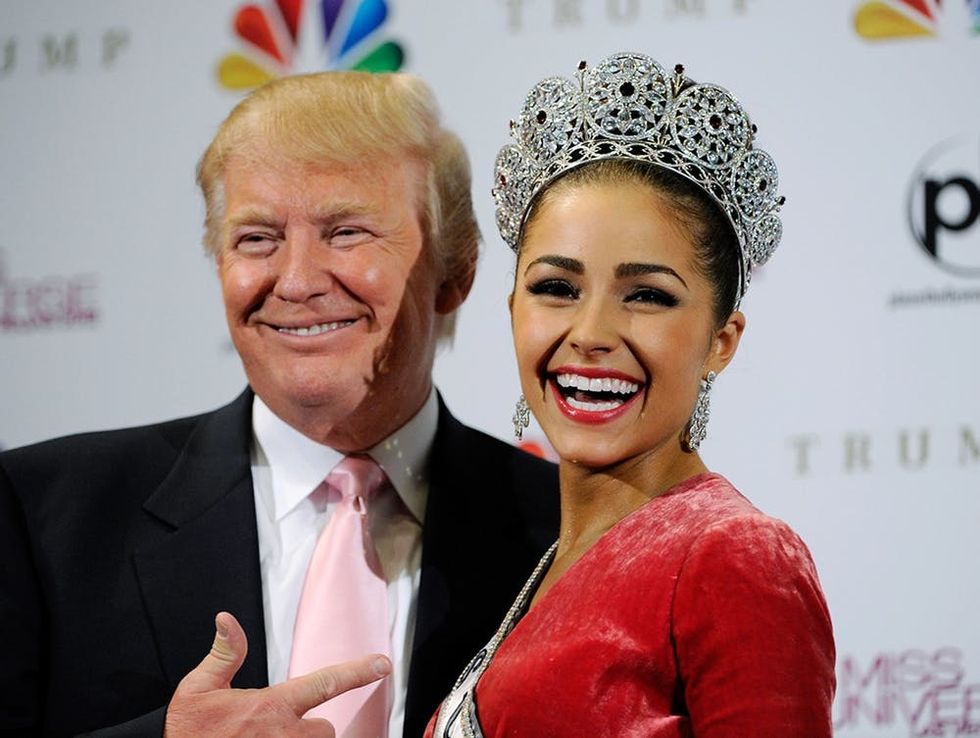 Jessica Leeds (early 1980s): Three decades ago Leeds was a traveling businesswoman at a paper company who sat next to Trump in the first-class section of a flight to New York. The New York Times writes, "About 45 minutes after takeoff […] Mr. Trump lifted the armrest and began to touch her."
Kristin Anderson (early 1990s): Anderson recently told the Washington Post she was an aspiring model in New York in the early '90s and was at a nightclub with her friends when the person to her right slid his fingers "under her miniskirt, moved up her inner thigh" and touched her intimately through her underwear. Anderson explains the two had never talked to each other before this happened.
Jill Harth (1992): In another New York Times report, op-ed columnist Nicholas Kristof shares the story of Jill Harth, who has had a complicated relationship with Trump. In the early '90s she and her then-boyfriend were in the midst of a business deal with Trump which required a handful of face-to-face meetings. During a dinner, he situated himself beside Harth and ran his hands up her skirt, to her crotch. In another incident, she was at his house when he pulled her into his daughter Ivanka's room. She says, "I was admiring the decoration, and next thing I know he's pushing me against a wall and has his hands all over me […] He was trying to kiss me. I was freaking out." Eventually, Trump backed out of the deal Harth and her partner were working on with him and allegedly didn't pay his share of it. She then filed a sexual harassment suit. But after her partner's separate lawsuit for breach of contract was settled, she withdrew the claim. Here's where it gets sticky: After splitting with her boyfriend-turned-husband-turned-ex, she began dating Trump in 1998. She says she was scared, depressed and thought he might be able to help employ her. In the end, she says, "He was a disappointing boyfriend, always watching television and rarely offering emotional support."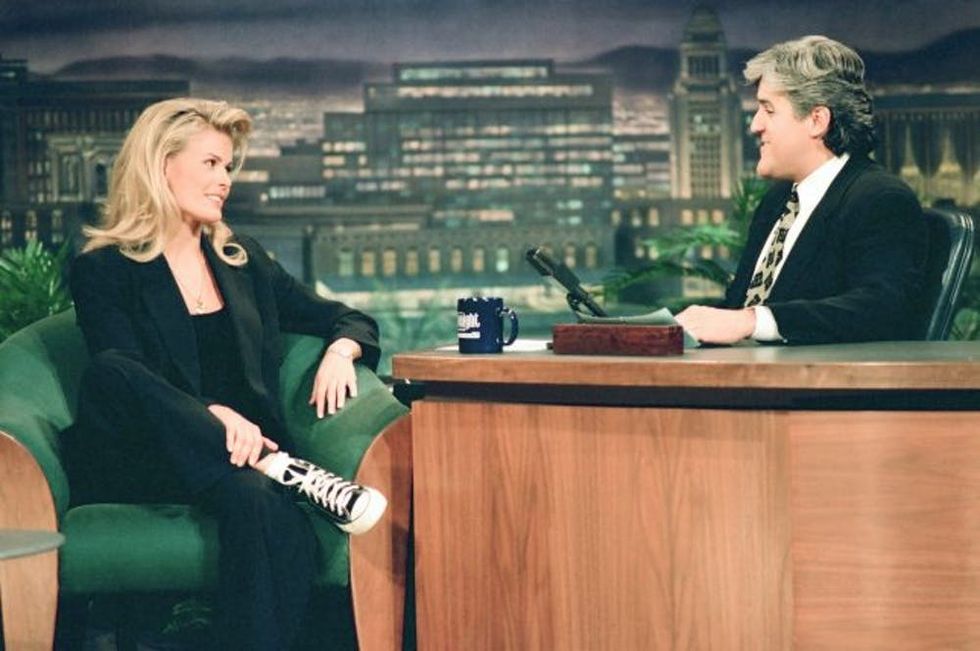 Vendela Kirsebom (1993): In a report by Vanity Fair editor Graydon Carter, he recalls the year he brought Trump as a novelty guest to the White House Correspondents dinner. He sat him next to the Swedish model Vendela and explains, "After 45 minutes she came over to my table, almost in tears, and pleaded with me to move her. It seems that Trump had spent his entire time with her assaying the 'tits' and legs of the other female guests and asking how they measured up to those of other women, including his wife." She told Carter, "He is […] the most vulgar man I have ever met."
Mariah Billado (1997): Billado recently revealed to Buzzfeed News that during a rehearsal for a Miss Teen USA pageant, Donald Trump walked into the dressing room of the contestants (some of whom were minors). Billado, who was Miss Vermont Teen USA, says the contestants hadn't met Donald before; this was the first time. When walking in on them, he told the group, "Don't worry, ladies; I've seen it all before."
Temple Taggart (1997): This former Miss USA contestant told the Daily Beast Trump kissed her without her consent on at least two occasions when she was 21 years old.
Cathy Heller (1997): At a Mother's Day brunch at Mar-a-Lago, Heller says she was introduced to Trump. She tells The Guardian, "He took my hand, and grabbed me, and went for the lips." She leaned back to avoid him and nearly lost her balance. He then grabbed her and went for her mouth and then went for the lips. "He kept me there for a little too long […] and then he just walked away," she says.
Natasha Stoynoff (2005): A writer for People Magazine recently came forward about an incident that happened to her in 2005. Stoynoff was on assignment for the magazine to write a piece on Trump and Melania's anniversary. Stoynoff explains, "We walked into that room alone, and Trump shut the door behind us. I turned around, and within seconds, he was pushing me against the wall, and forcing his tongue down my throat. Now, I'm a tall, strapping girl who grew up wrestling two giant brothers. I even once sparred with Mike Tyson. It takes a lot to push me. But Trump is much bigger — a looming figure — and he was fast, taking me by surprise, and throwing me off balance. I was stunned. And I was grateful when Trump's longtime butler burst into the room a minute later, as I tried to unpin myself." She goes on to explain that, afterward, Trump told her that the two were going to have an affair. She didn't report the incident when it occurred 11 years ago as she both "blamed herself and wrote it off as one of the risks associated with her job."
Rachel Crooks (2005): In a New York Times article, Crooks came forward about a time when she worked as a receptionist at a real estate investment and development company in Trump Tower. In 2005 she once encountered Trump outside an elevator and introduced herself. They shook hands, but Mr. Trump "would not let go" she said. Instead, he gave her a kiss on the cheek and then on her lips.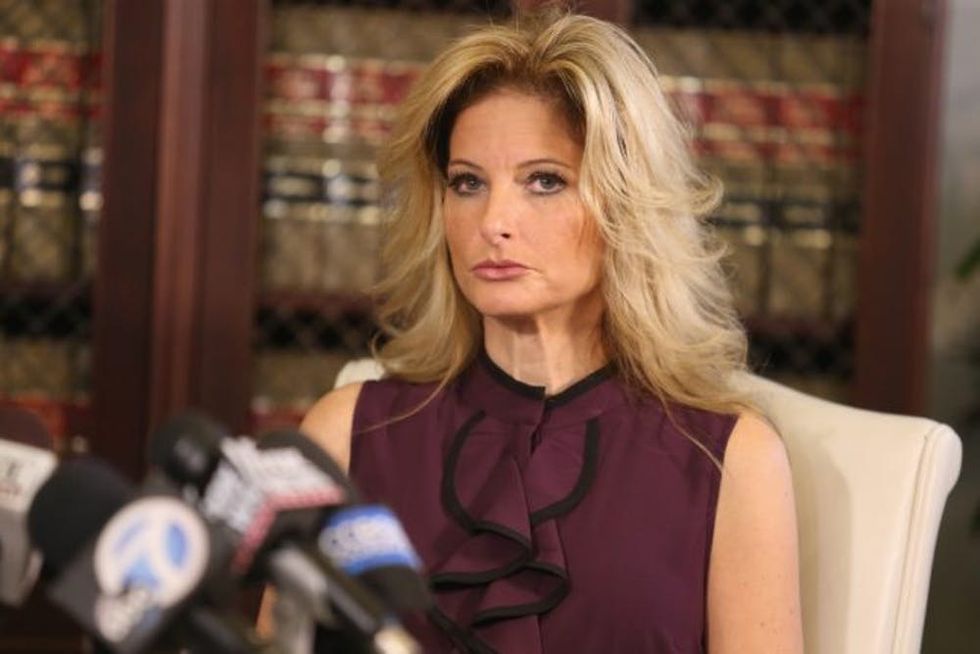 Summer Zervos (2006): Zervos was a contestant on the fifth season of Trump's show The Apprentice. After the show, she had a meeting with him in New York about the possibility of a job. She was based in LA and he said he would be in touch with her next time he was there. When he next visited LA he called Zervos and asked her to meet him at a hotel room in Beverly Hills. At a recent press conference, she recalled the incident. Huffington Post writes, "[He] came to me and started kissing me open-mouthed as he was pulling me towards him. I walked away and I sat down on a chair… He then asked me to sit next to him. I complied, and he then grabbed my shoulder and began kissing me again very aggressively and placed his hand on my breast."
Mindy McGillivray (2003): McGillivray had an encounter with Trump when she was helping a photographer friend shoot a Ray Charles concert at the Trump-owned Mar-a-Lago club in Florida. She recently told her story to The Palm Beach Post. McGillivray says she was standing next to him backstage. She says, "All of a sudden I felt a grab, a little nudge. I think it's Ken's camera bag, that was my first instinct. I turn around and there's Donald. He sort of looked away quickly. I quickly turned back, facing Ray Charles, and I'm stunned.''
Arianne Zucker (2005): Zucker is thought to be who Donald was referring to when he made those extremely lewd comments on an Access Hollywood bus with Billy Bush. He famously told the show's host, "I've got to use some Tic Tacs, just in case I start kissing her. You know I'm automatically attracted to beautiful — I just start kissing them. It's like a magnet. Just kiss. I don't even wait."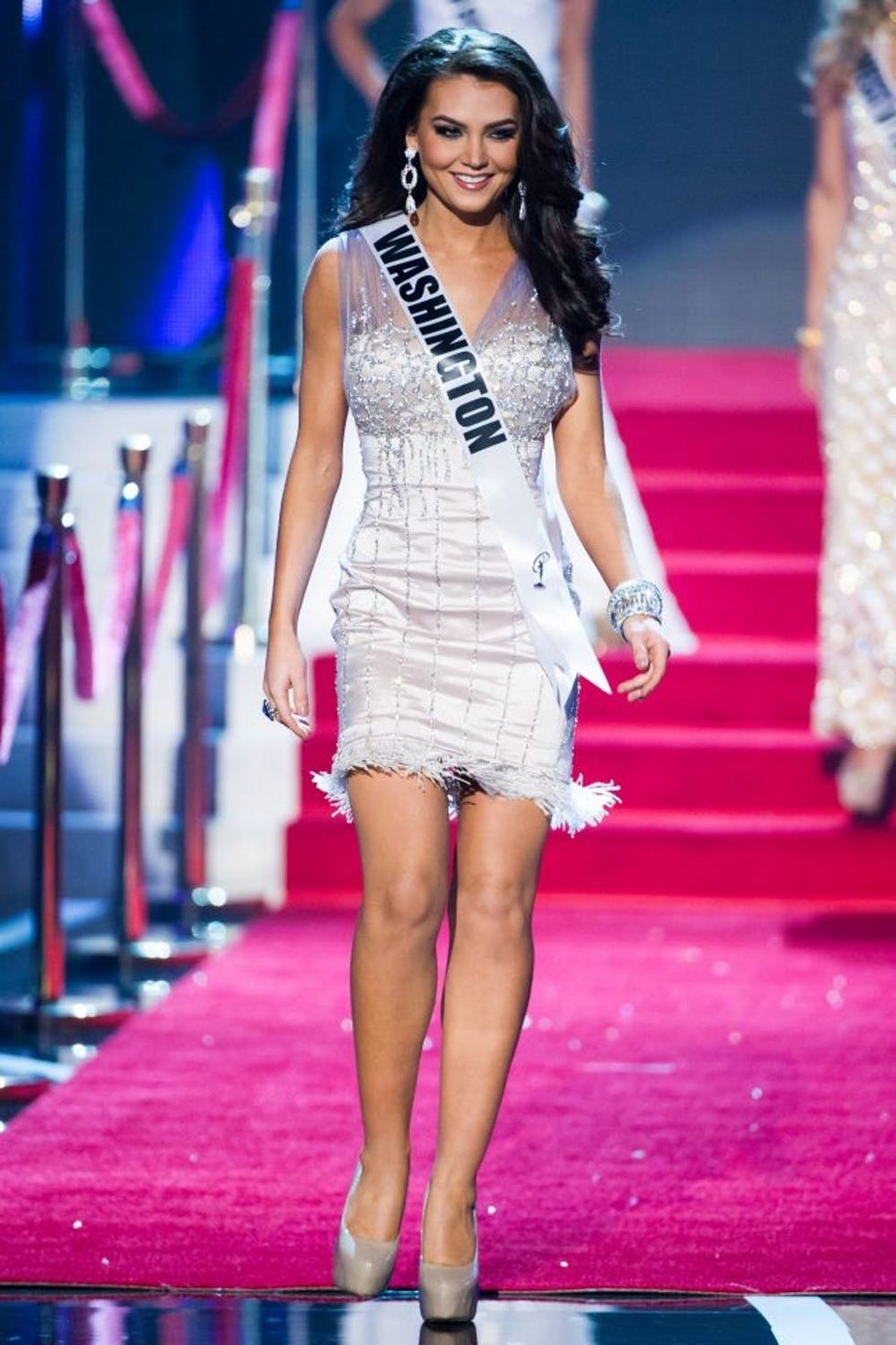 Cassandra Searles (2013): Miss Washington 2013 recently wrote in a Facebook post addressed to her fellow contestants, "Do y'all remember that one time we had our on-stage introductions, but this one guy [Donald Trump] treated us like cattle and made us do it again because we didn't look him in the eyes? Do you also remember when he then proceeded to have us lined up so he could get a closer look at his property?" One of the women he tagged responded to the post, "I literally have nightmares about that process." Searles also added to the initial post, "He probably doesn't want me telling the story about that time he continually grabbed my ass and invited me to his hotel room."
If you've experienced any kind of sexual assault and would like to talk to someone about it, the National Sexual Abuse Hotline is open 24 hours a day.
(Photos via Michael Stewart; David Becker; NBC; Frederick M. Brown /Getty)
Editor's note: An earlier version of this article incorrectly listed the date of the election as November 4, not November 8. The error has been fixed! Please do not show up to the polls on November 4! xo
Cortney Clift
Cortney is the senior writer and special projects editor at Brit + Co. She typically covers topics related to women's issues, politics, and lifestyle. When she's not buried behind her computer you'll find her exploring New York City or planning her next big adventure.