Review of the 5 Most Popular Wearable Activity Trackers
Nov 21, 2012
It's the day before Thanksgiving and you're probably already thinking about all of the calories you'll be consuming tomorrow. Couple that with the fact that Christmas and New Years are only about a month away and you'll agree that it might be a good idea to start tracking your fitness and calorie intake to make sure you don't put on too many pounds this holiday season.
---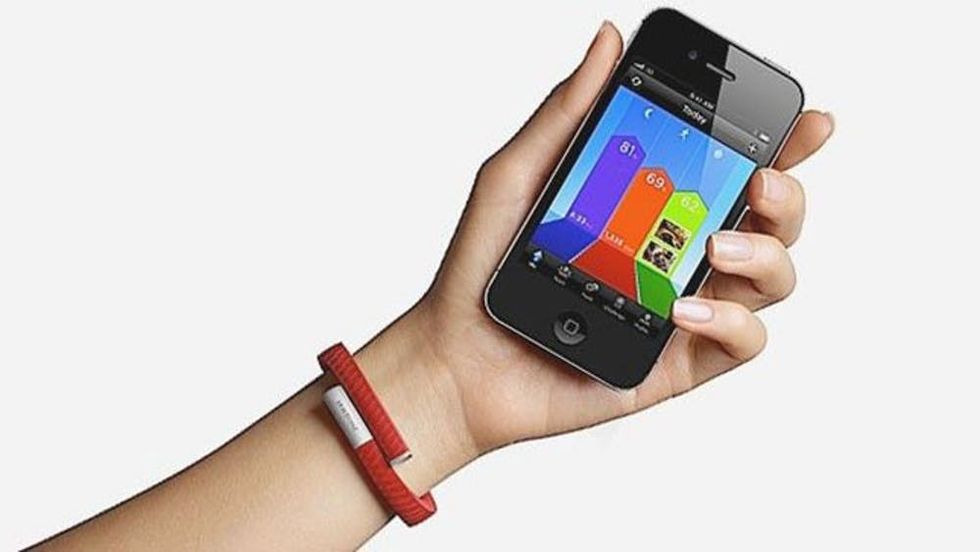 Jawbone UP ($130)
Best features:
– Great holistic tracking. This bracelet and its associated app let you measure sleep cycles (hours slept, deep vs. light sleep, waking moments, nap alarm), activity tracking (distance moved, calories burned, active time and intensity of activity), mood, and food/drink consumption.
– Has an incredible 10-day battery life.
– Alerts you with a buzz when you've been idle for too long.
Worst features:
– Lack of a female-centric design. It's okay to wear when I'm in a t-shirt and jeans, but it definitely clashes with a cocktail dress. Hence the reason I decided to hack mine to look like a gold cuff bracelet (see how I did it).
– To sync the data back to the app, you must plug the end of the bracelet into the headphone jack on your phone. It's cool that it works with your phone, but kind of annoying to have to do this to see your progress throughout the day. Plus, you have to remove a small cap on the end of the bracelet, which I'm always afraid I'm going to lose.
– Fear of the past. Jawbone launched this product over a year ago, but the first initial batch had some hardware issues. So many, in fact, that they pulled them off the market completely while they fixed the product. A year later, they are back and the company promises that they have been through extensive testing to make sure those issues do not arise again.

Nike+ Fuelband ($149)
Best Features:
– Features an LED screen so that you can press a button on the band to check your daily progress at any time. Check out our video of it in action.
– Lets you set an activity goal and will display a green light when you've hit it (party time!).
– Integrates with the Nike+ app and has a set of holistic tracking tools for diet and more on the web or mobile app.
Worst Features:
– Can be inaccurate if, for some reason, you happen to move your hands swiftly throughout the day (it may think you are walking because of the rapid movement).
– Like the Jawbone UP, is not a feminine enough design to warrant me wearing it to a cocktail party without feeling a little awkward. And sadly, can't be hacked to look like a cuff since you need to see the screen. (Though you could paint the edges a metallic color and leave the screen black.)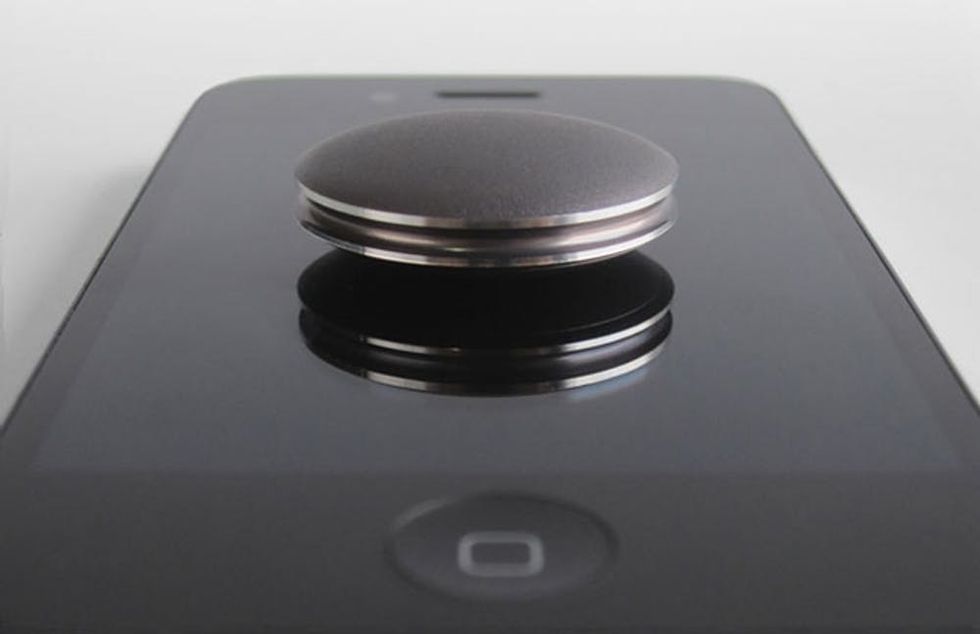 Shine ($99)
Best Features:
– Connects merely by placing it on top of your phone. Information is download without a need for bluetooth or a wireless connection. This is freaking rad.
– Tracks swimming and cycling, not just steps.
– It's tiny (about the size of a quarter) and you can wear it many ways — in a wristband accessory, clipped onto a belt, on your shoes, etc.
Worst Features:
– Currently, only tracks activity (not diet or sleep).
– Brand new and not yet available (though you can donate to their Indiegogo campaign to place a pre-order).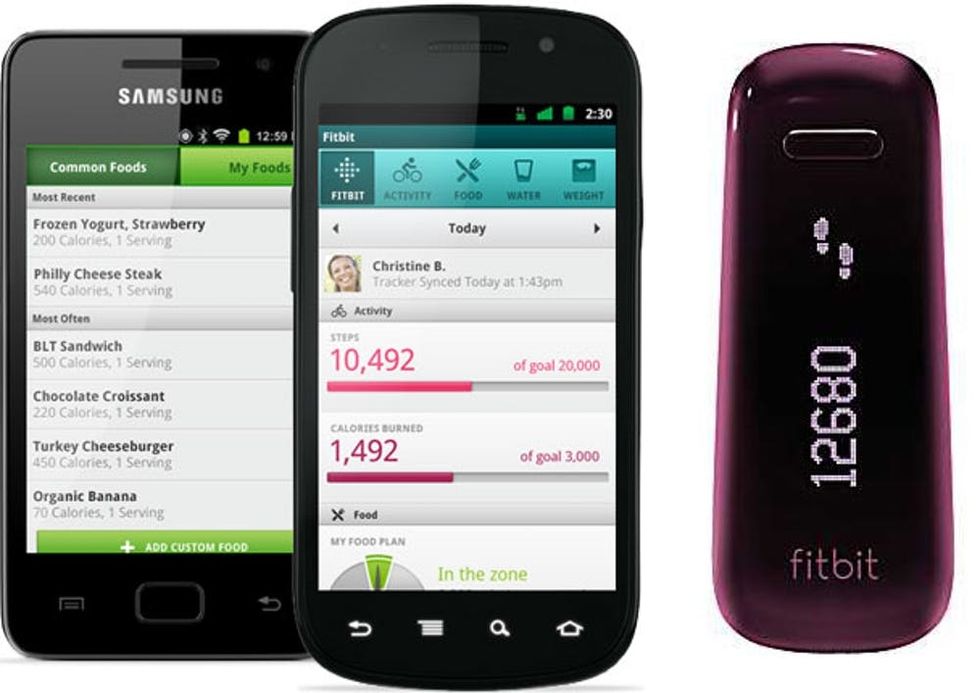 Fitbit One ($99)
Best Features:
– Best holistic tracking of activity, diet and sleep. The app creates graphs, charts and tools based on your data and lets you easily log food, water, weight, food plans and more.
– Syncs wirelessly to multiple devices including PCs, Macs, iOS devices, select Android phones.
-Can sync with other gadgets and apps (ex: My Fitness Pal, Spark People, Lose It, etc).
Worst Features:
– As opposed to a bracelet, you have to remember to clip it on each day. (Ladies, it's easiest to clip it in the center of your bra, especially if you're wearing a dress without pockets.)
– A single charge only lasts 5-7 days as opposed to the Jawbone UP which can last up to 10 days.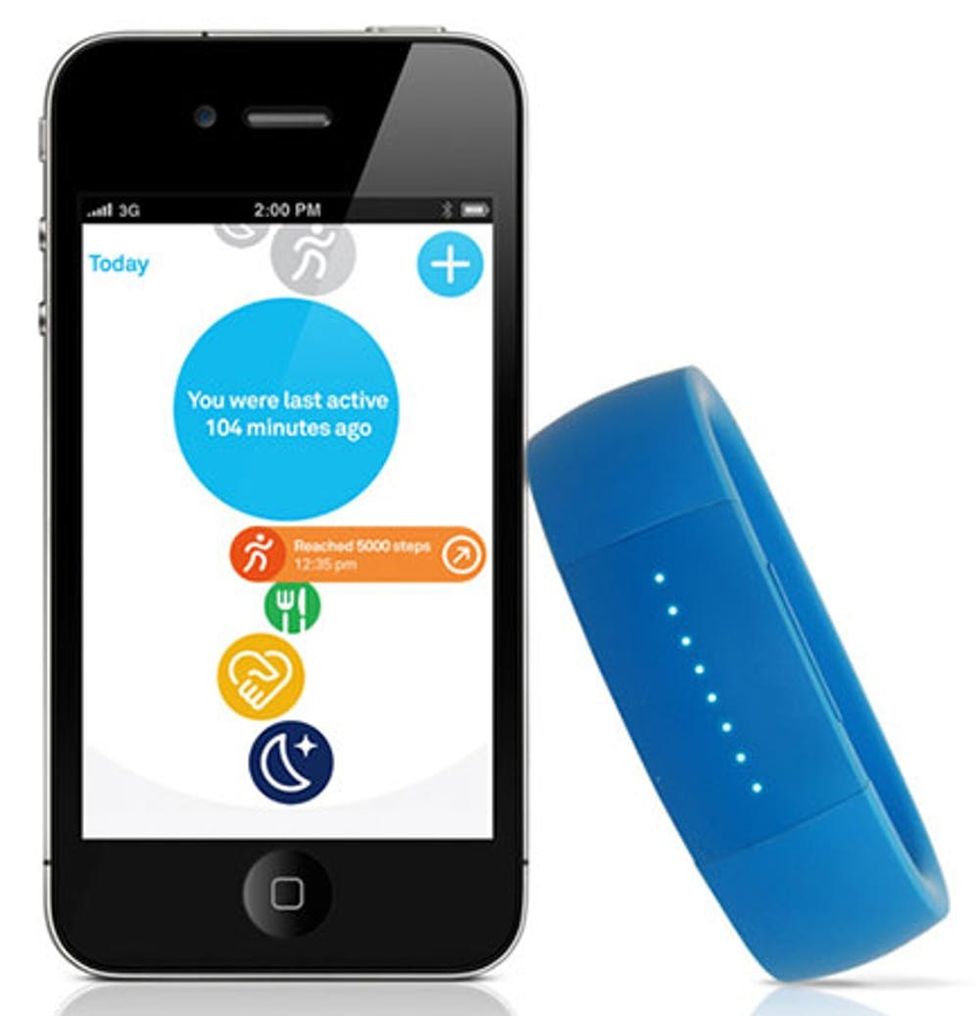 Larklife ($150)
Best Features
– Uses a separate, soft wristband with an actigraphy microsensor to detect your sleeping patterns so that it can wake you up silently when you're in your lightest phase of sleep, making it easier to roll out of bed in the morning.
– Alerts you when you've been inactive for awhile and has health and fitness tips from experts that help motivate your diet and exercise regime.
– Extreme simplicity of adding and categorizing foods when diet logging.
Worst Features
– Only works with iOS devices.
– Another clunky bracelet (even wider than the Jawbone UP or Nike Fuelband) that won't match all of your outfits.
– Not yet available so we're unable to fully review the functionality. It's available for pre-order and due out by the end of the year.
Overall, we think the Fitbit One is the best bang for the buck. Plus, it's able to be disguised under clothing which is a huge plus if you typically wear outfits that wouldn't mesh well with a big, sporty bracelet. If you don't mind wearing the same bracelet on your wrist each day, we fully advocate for the Jawbone UP or Nike Fuelband and highly recommend using our photo wire hack to make them more stylish.
Have you tried any of these wearable activity trackers? What did you think? We'd love to hear from you in the comments below or on Twitter.