The 40 Most Beautiful Coffee Tables Ever
Aug 20, 2013
Can you imagine a world without coffee tables? Not only would we be missing out on the joy of resting a full cup of joe within arms reach, but we'd be down a majorly decorative element in our living rooms and dens. From ultra-modern and colorful to boldly basic, scroll on to see just how much flair a knee-tall table can add to your space with these 40 insanely beautiful coffee tables.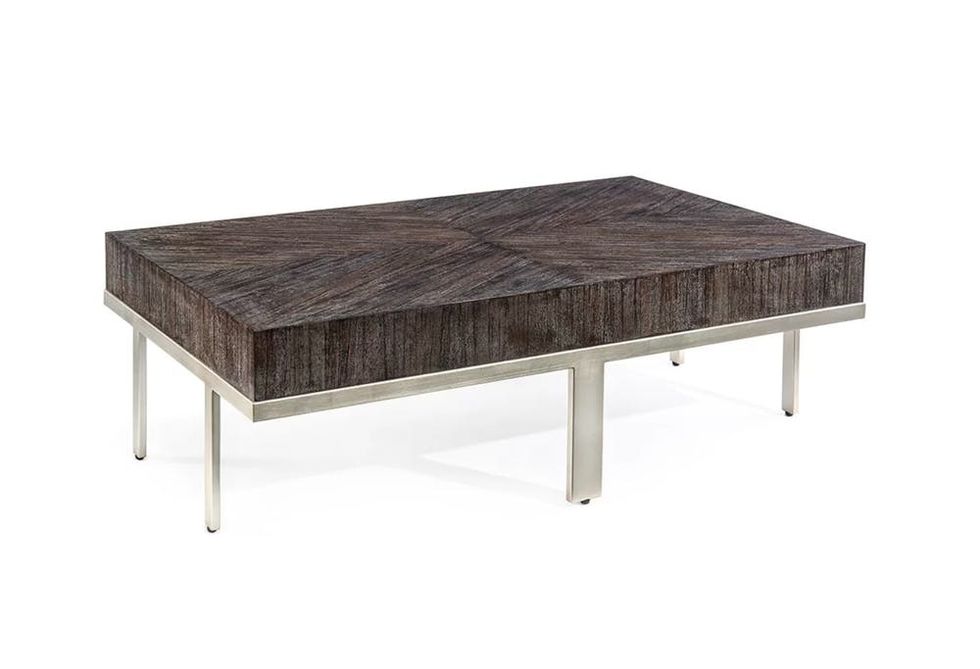 ---
1. Cantilever Coffee Table ($2,749): Each angle of this minimal coffee table is better than the last. The sleek design looks almost sleigh-inspired.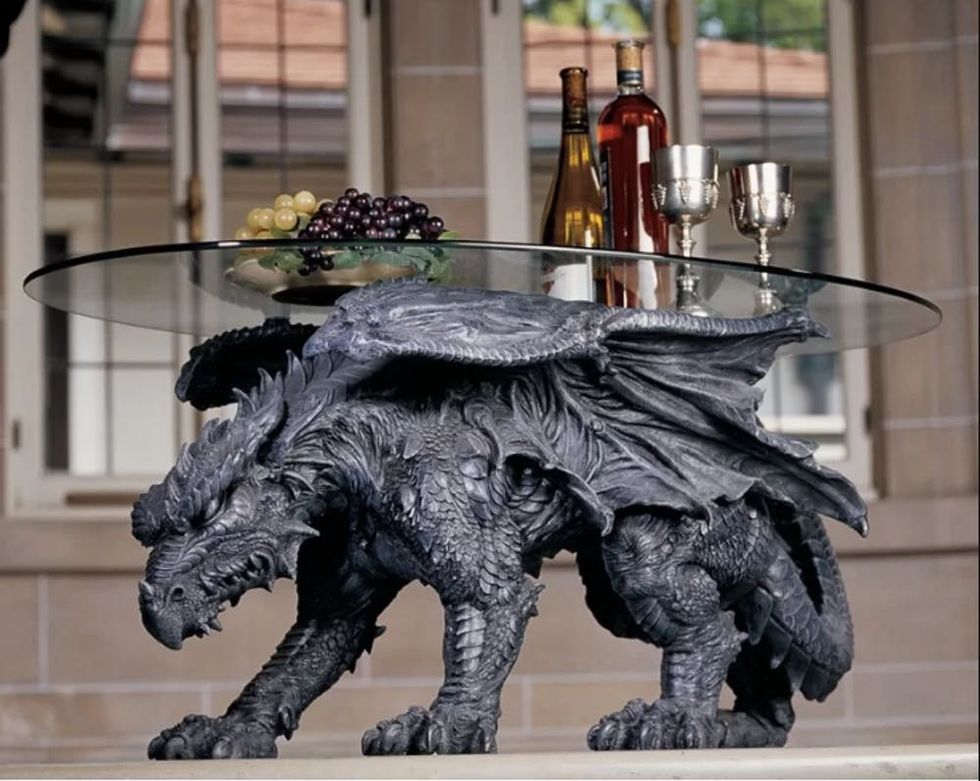 2. Warwickshire Dragon Coffee Table ($398): This dragon may not breathe *actual* fire, but it will make your living room the go-to spot for Game of Thrones premiere parties.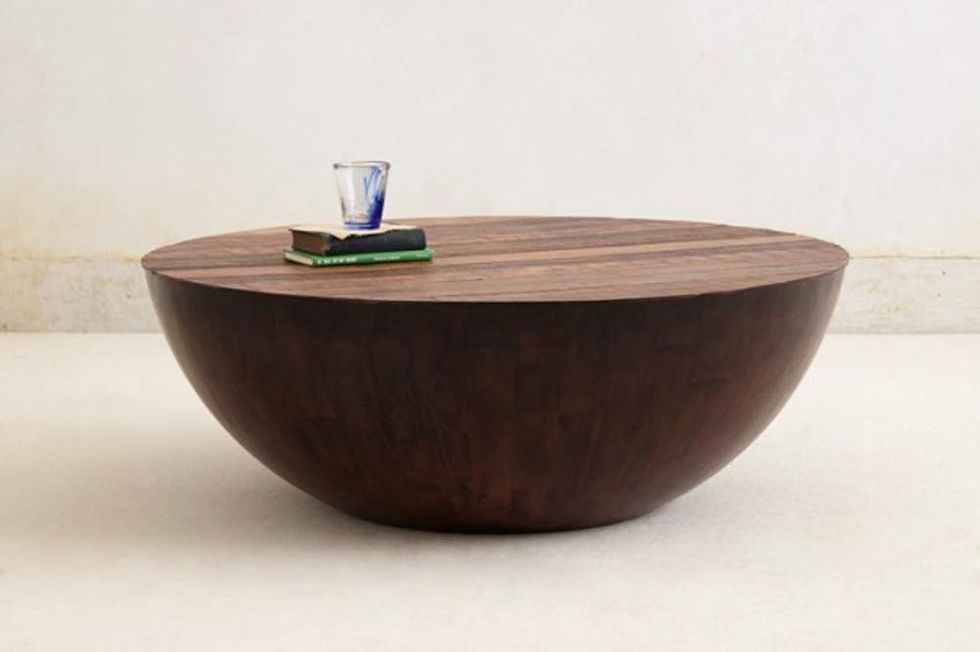 3. Semisfera Coffee Table ($1,698+): Rustic meets elegant in this spherical coffee table. A smooth "bowl" shape ensures that this piece will make a statement in any living room or den.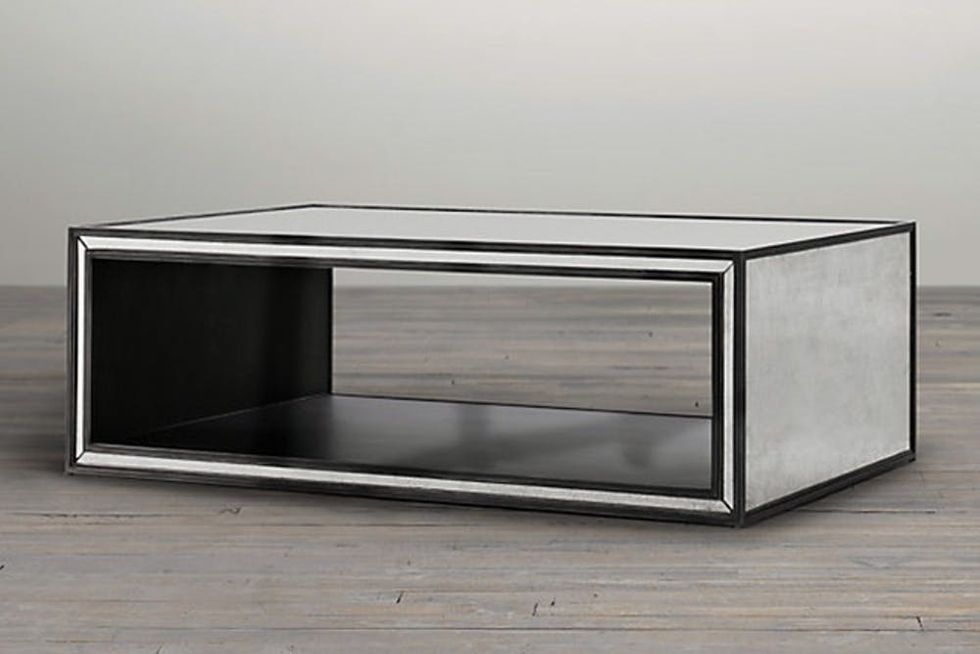 4. Strand Mirrored Coffee Table ($1,595): An antique finish frosts the mirrored surfaces of this striking coffee table and the pearl luster adds an element of high glamour.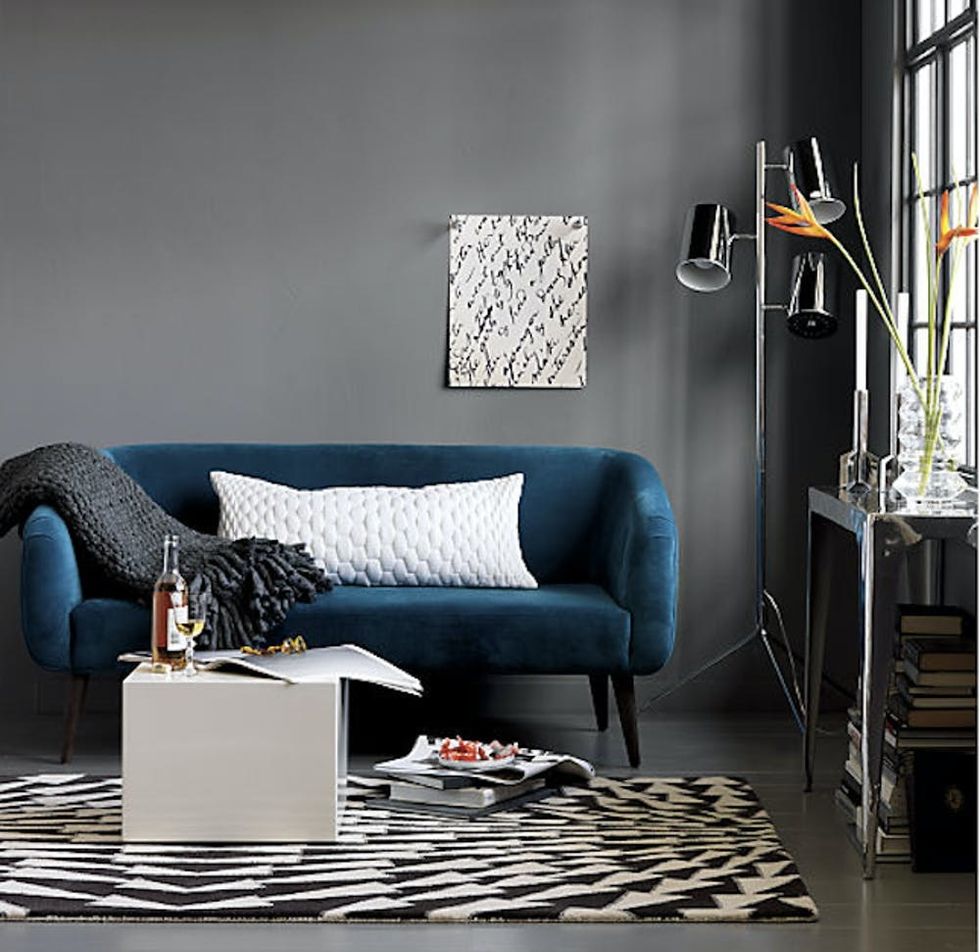 5. City Slicker White Side Table ($219): This glossy cube is a small space savior. Or if space isn't an issue, try stacking two or three in a row.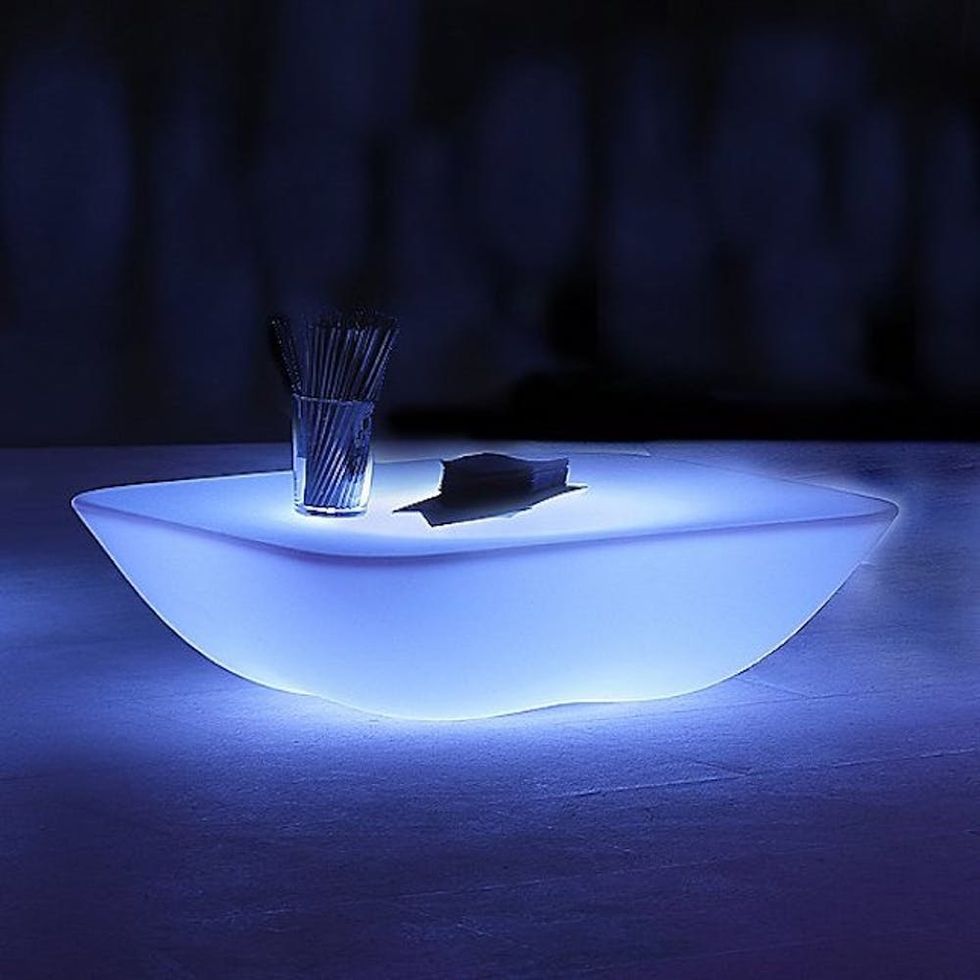 6. Illuminated Pillow Table ($485+): Bring the nightclub home with you with this totally LIT coffee table.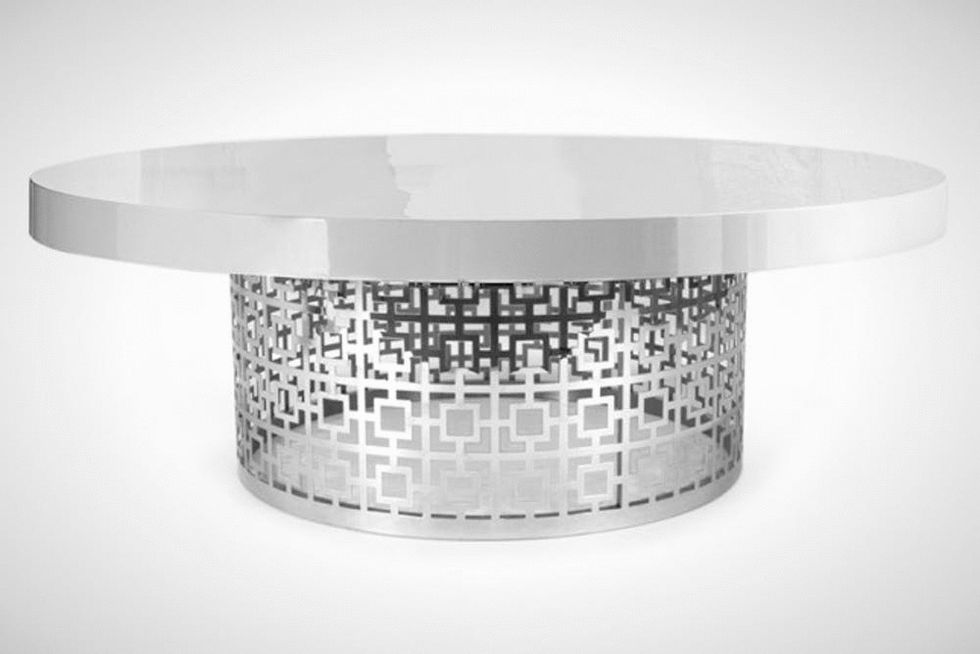 7. Nixon Cocktail Table ($1,500): Glossy white lacquer creates an ultra modern finish on top of this perforated coffee table. Silver square cutouts add even more shimmer and shine.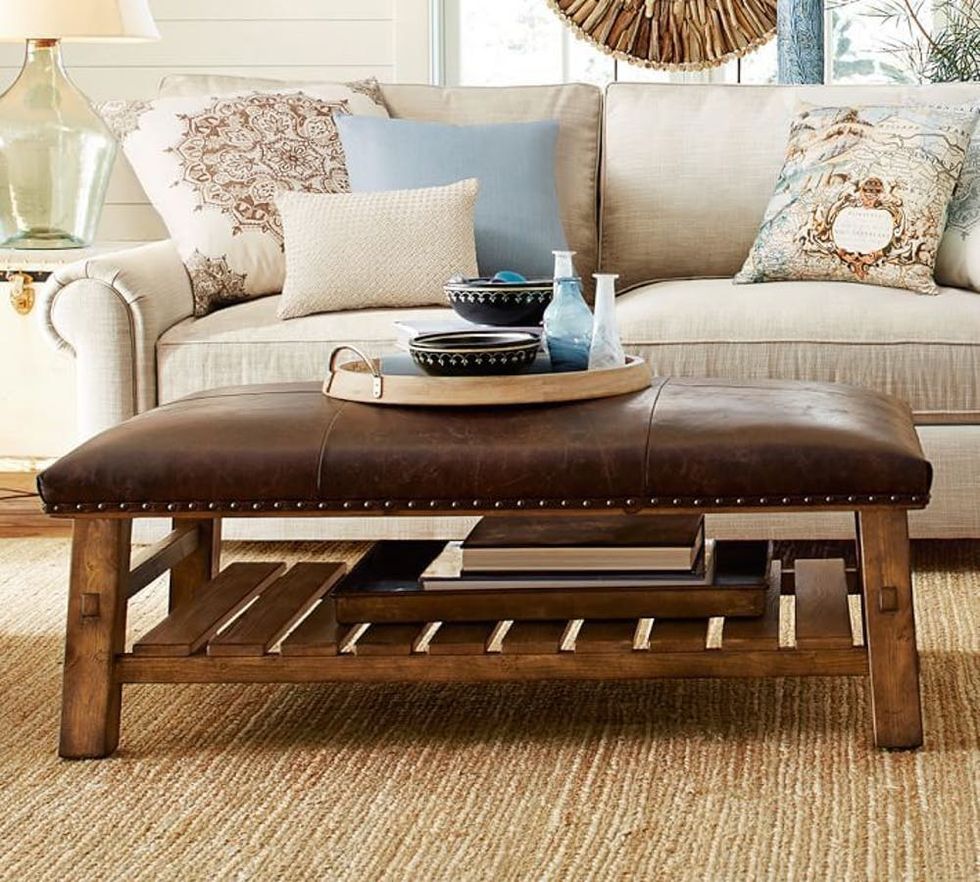 8. Caden Leather Rectangular Ottoman ($1,099): Sure, this piece actually an ottoman, but the size and shape allow it to double as a cushy coffee table. A planked, wooden shelf guarantees stability and allows for extra storage.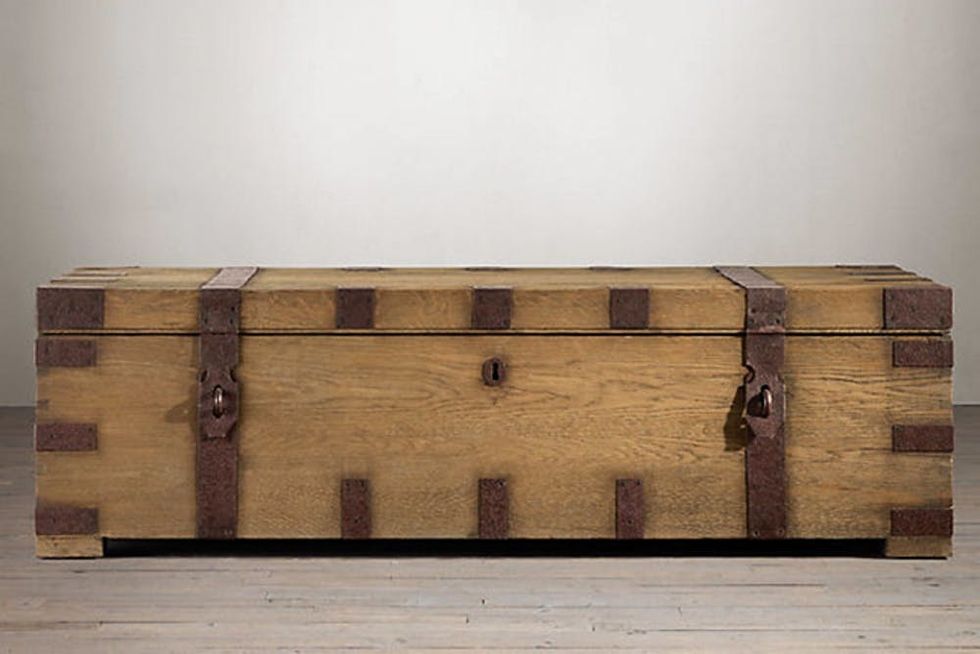 9. Heirloom Silver-Chest Coffee Trunk ($2,250+): Just imagine the storage possibilities with this extra large hand-carved trunk as your coffee table! Iron hardware makes this piece feel absolutely antique.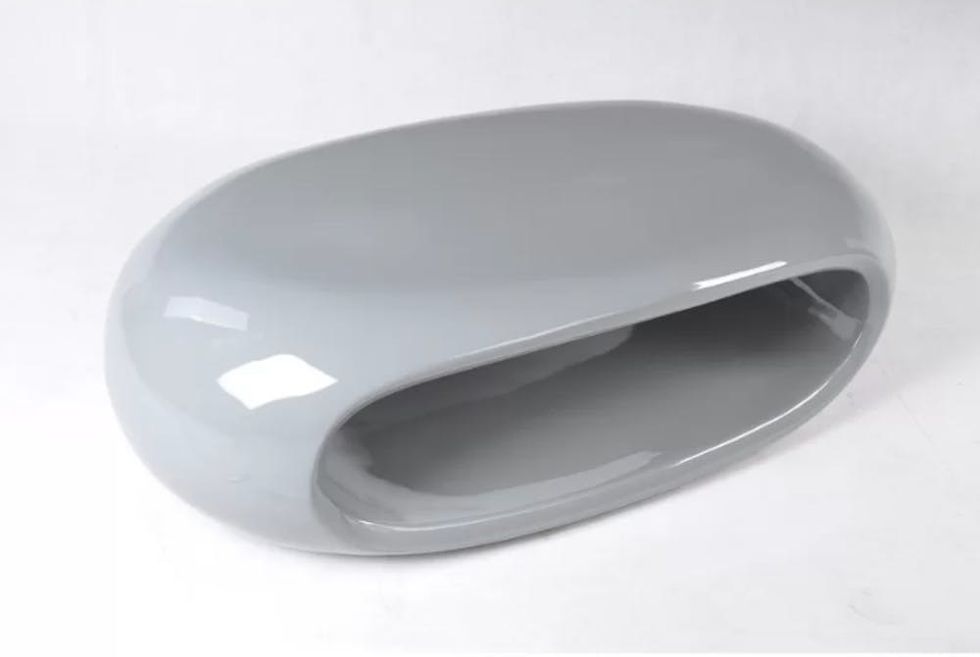 10. Contemporary Coffee Table ($495): This high gloss coffee table is as sleek as a sports car. Complete with a hollowed center perfect for storage, this design is meant for the modern man cave.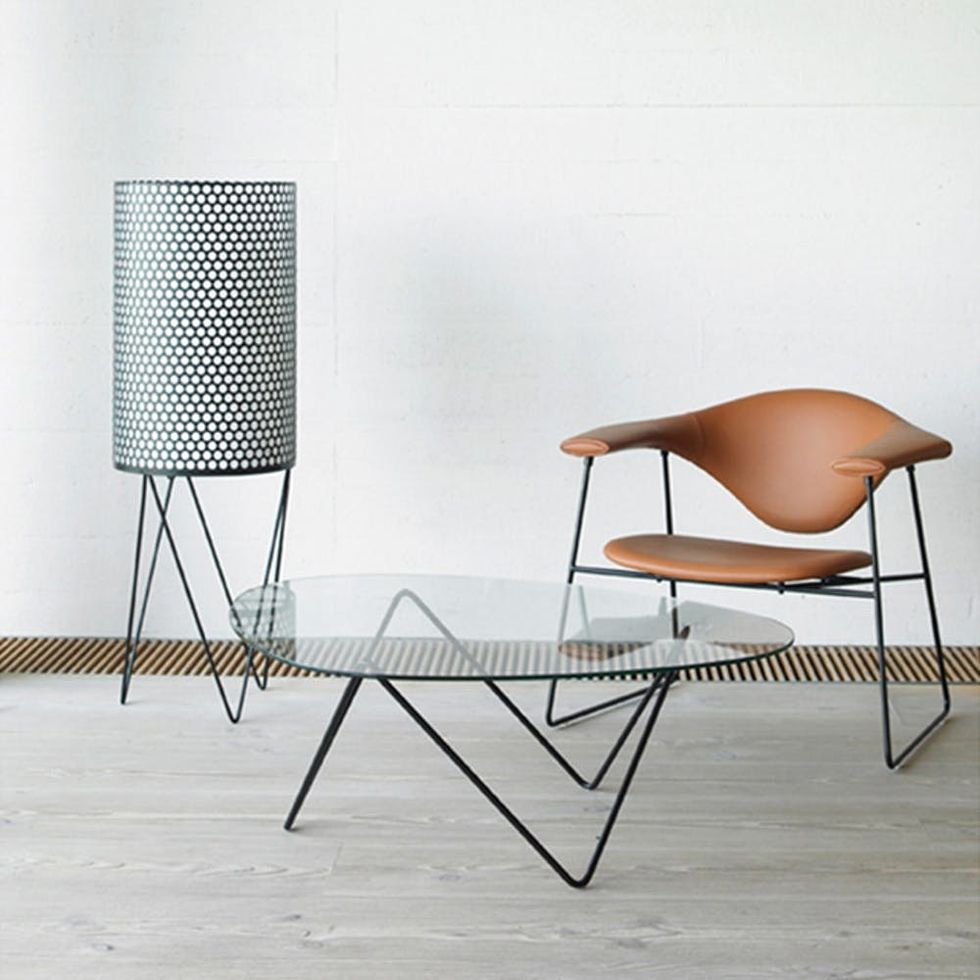 11. Pedrera Coffee Table ($1,019): Dramatically angled black steel legs make this coffee table really fascinating to look at. In addition, the glass table top is cut in a unique and asymmetrical pebble shape.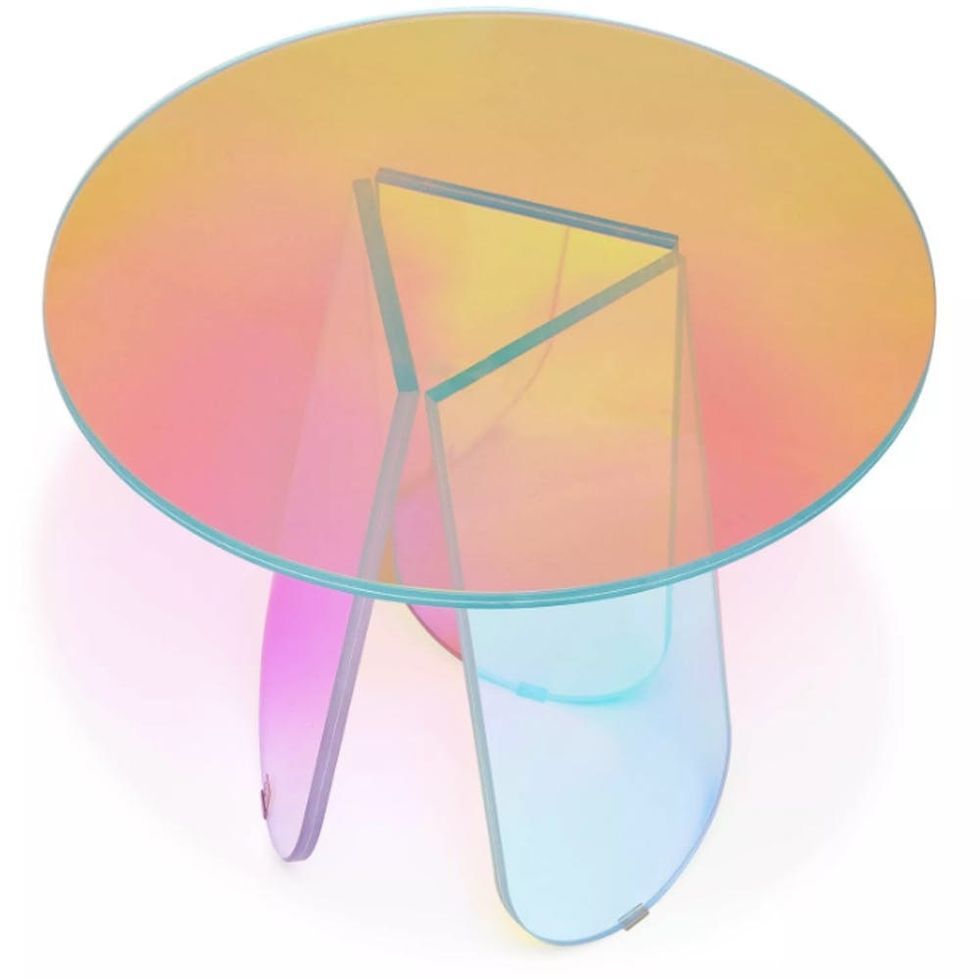 12. Glas Italia Shimmer Table ($2,495+): Isn't this opalescent coffee table just divine? Be it delicate (it's all made out of glass), it might be worth the extra caution when the sun hits its iridescent surface.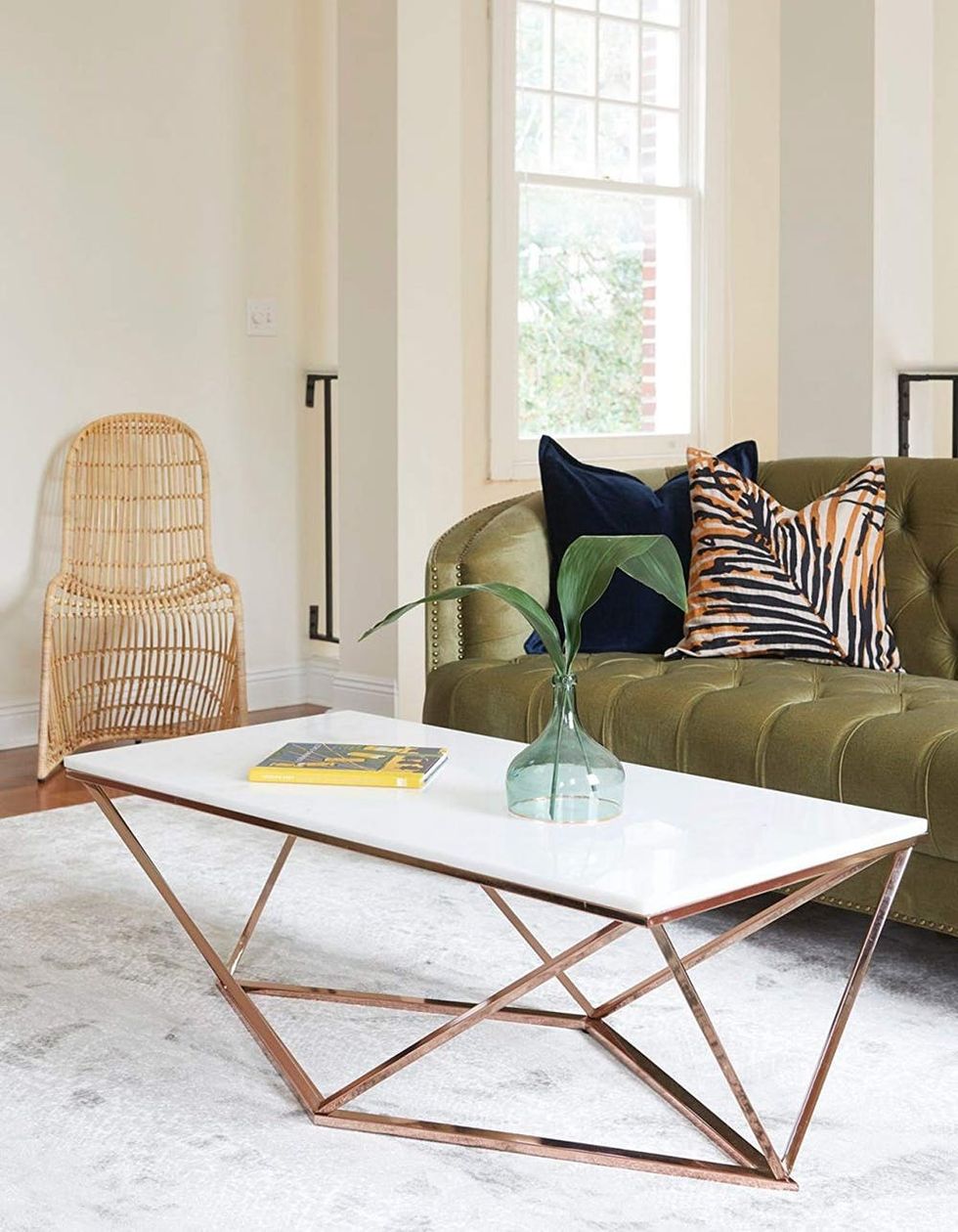 13. Stella White Marble Coffee Table ($485): While this marble table may look simple from above, it's diamond shaped base and rose gold shimmer makes it the centerpiece of any sleek living room.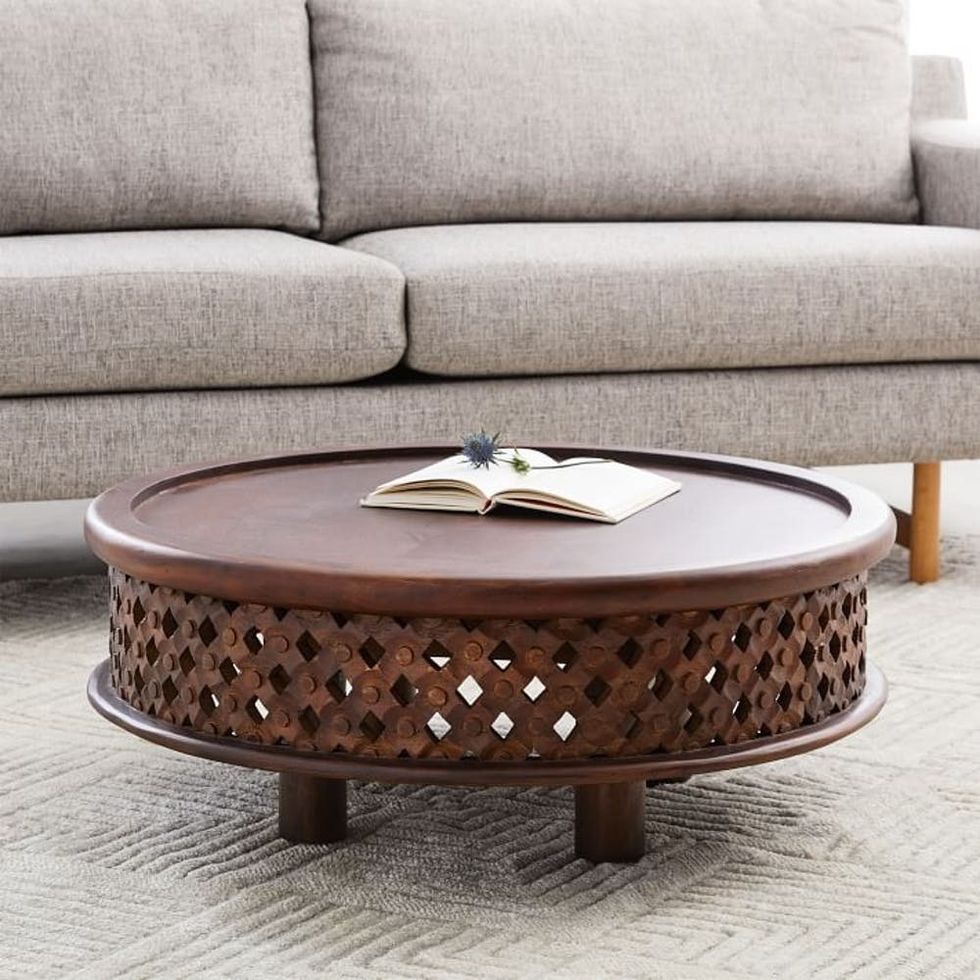 14. Carved Wood Coffee Table ($244+): This studded coffee table is extremely visually intriguing. Each intricate lattice-like base is carved by hand.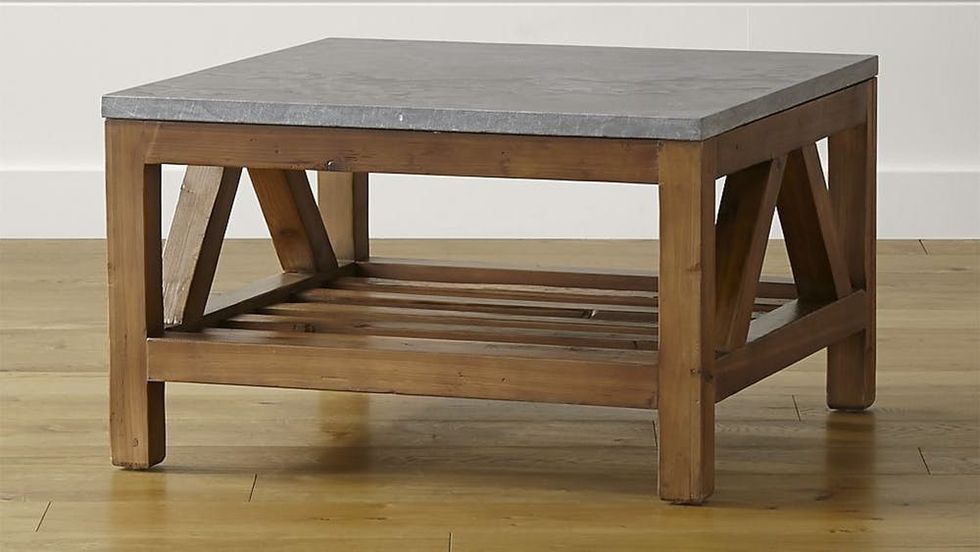 15. Bluestone Coffee Table ($499): We love the feel-good story behind these bluestone coffee tables. All of its wood is sourced from abandoned buildings, upcycling what was left behind.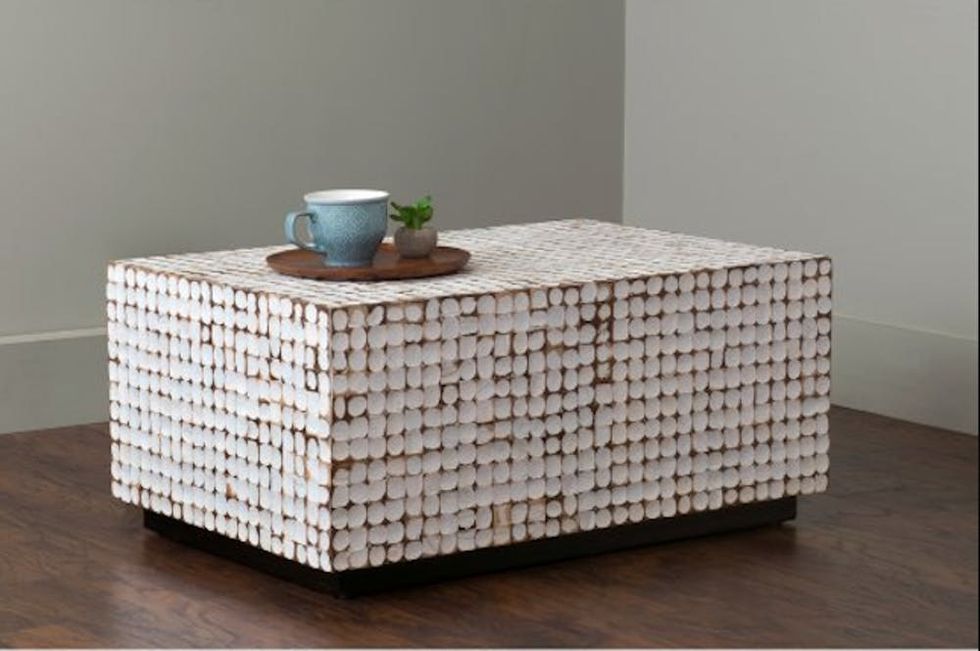 16. Coconut Shell Inlay Coffee Table ($230): There's a very artsy feel to this seemingly simple coffee table. The coconut shell tiles are to thank – each is hand placed in a unique pattern and patched together like a mosaic.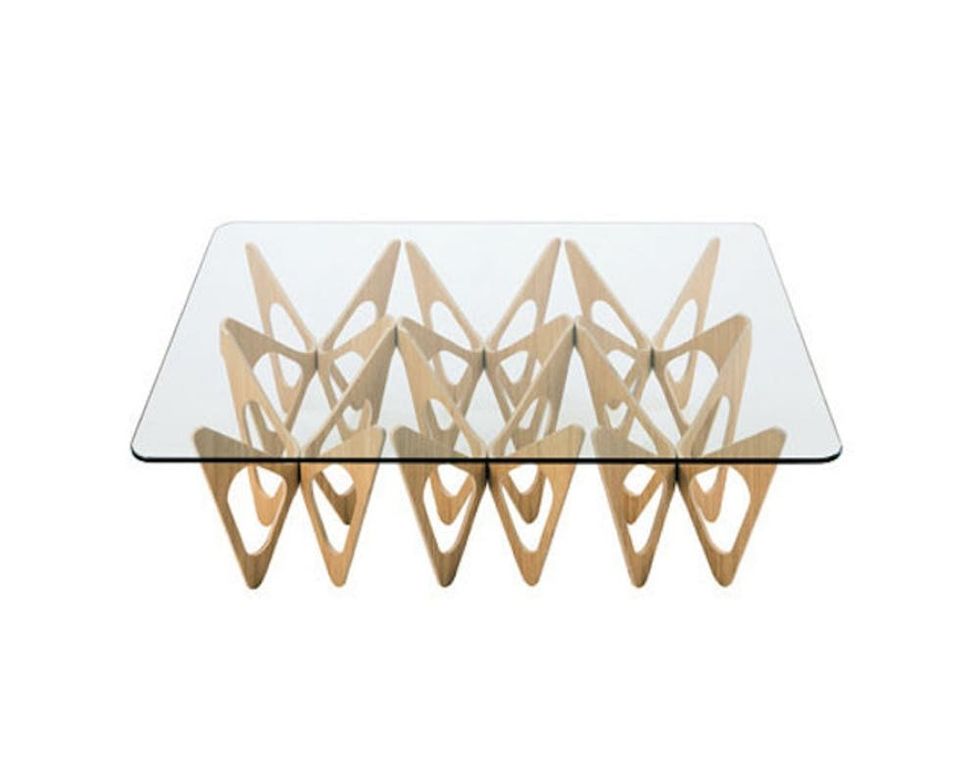 17. Butterfly Coffee Table ($1,939): You can really let your imagination run wild with this whimsical coffee table. Its curved metal base made to look like the broad wings of a butterfly or the tangly tentacles of an underwater creature?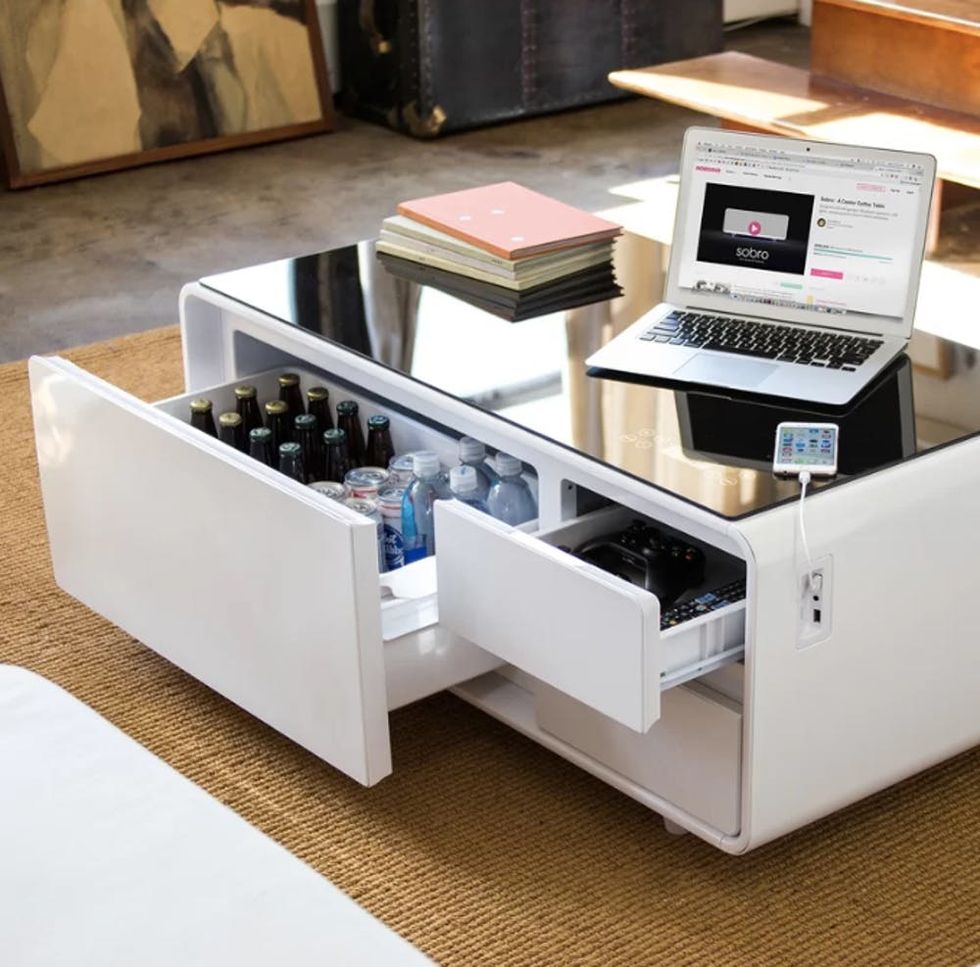 18. Smart Coffee Table with Storage ($1,299): It's a coffee table masterpiece and super storage solution all in one! Equipped with a mini fridge, speaker, outlets and USB ports, you will never need a reason to leave the couch.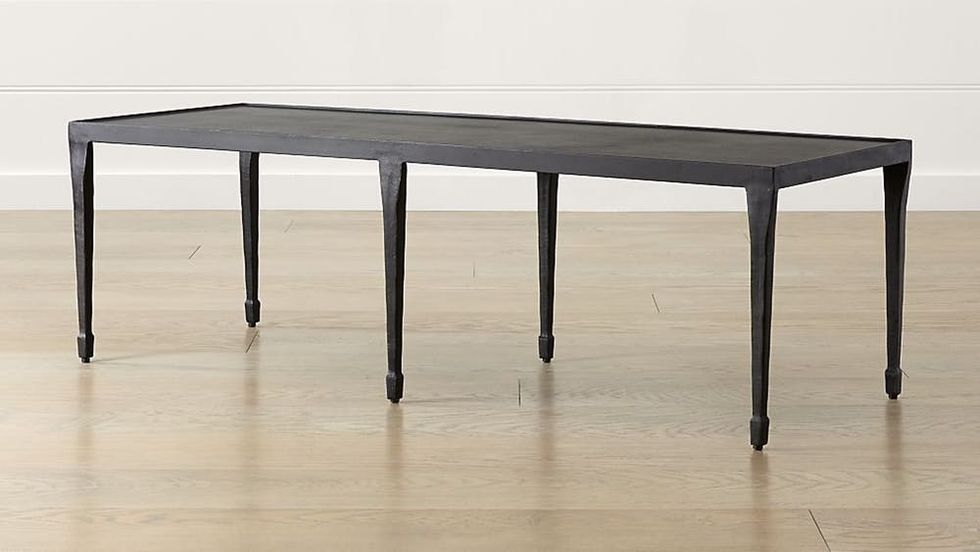 19. Silviano Coffee Table ($799): Made completely of iron, this fantastical coffee table will undoubtedly give an old world feel to any room. Six tapered legs show off its strength.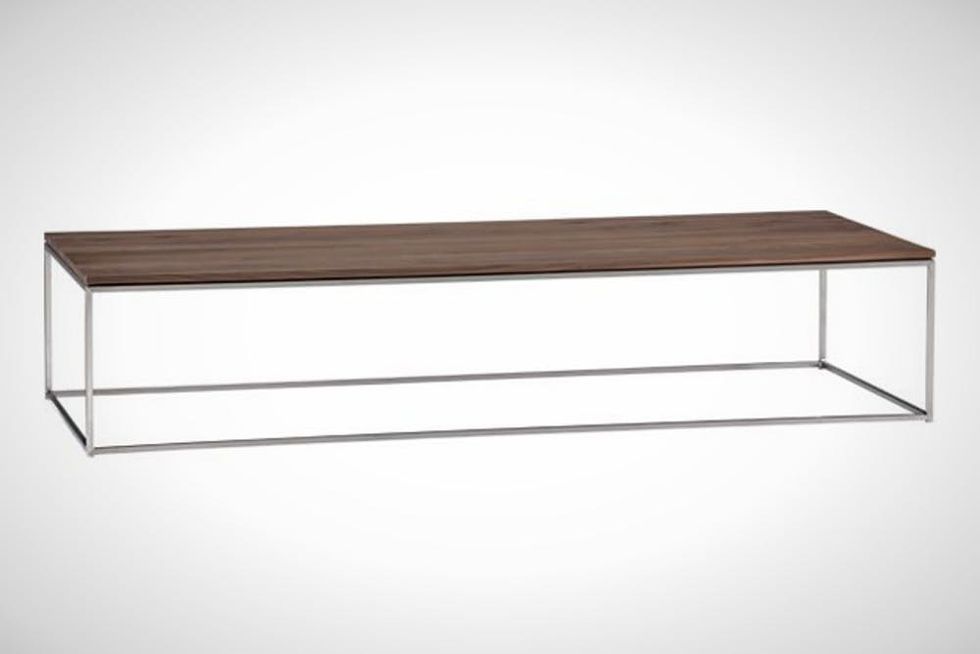 20. Frame Large Coffee Table ($799): This is definitely the banquet table of coffee tables! Extra long and oh so lean, it's the perfect place to gather 'round for game night.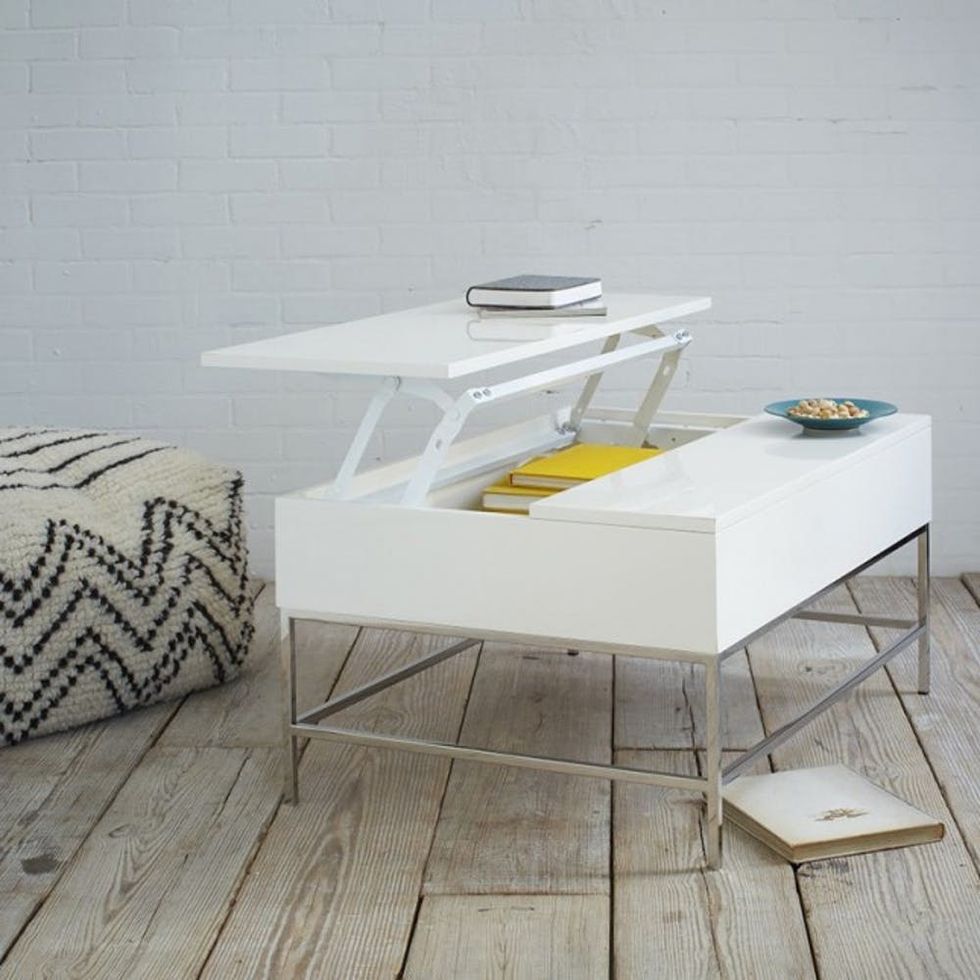 21. Lacquer Storage Coffee Table ($599): Is this the most functional coffee table ever? Not only does it open up for extra storage, but its top pops up as a lightweight tray. Amazing!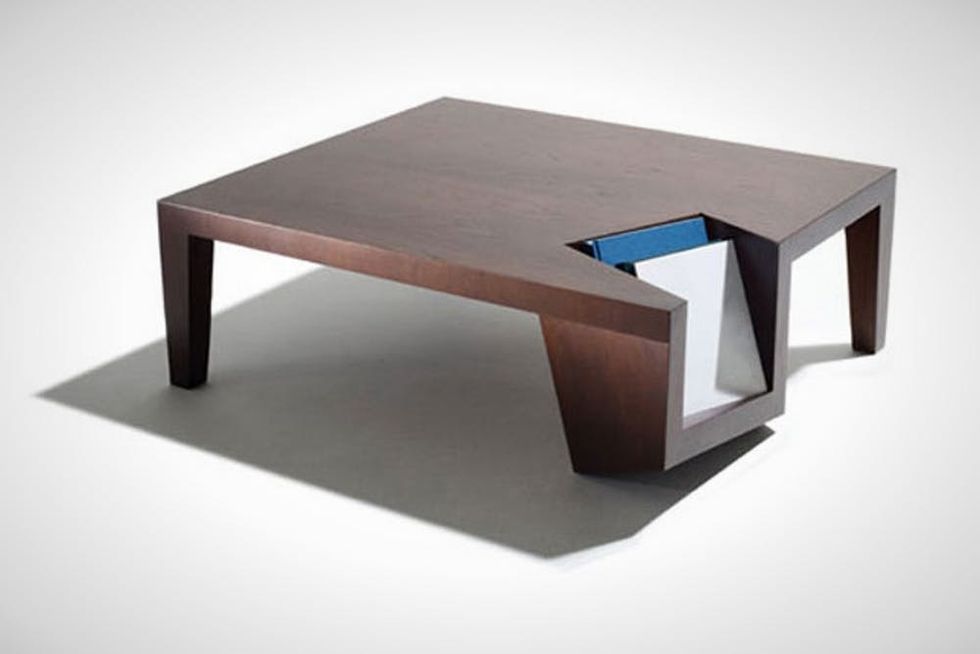 22. Cornered Coffee Table ($1,899): Stylishly display your most recent reads on the corner of this sculptural coffee table. With such easy access, you could even store photo albums or a guest book for visitors to sign!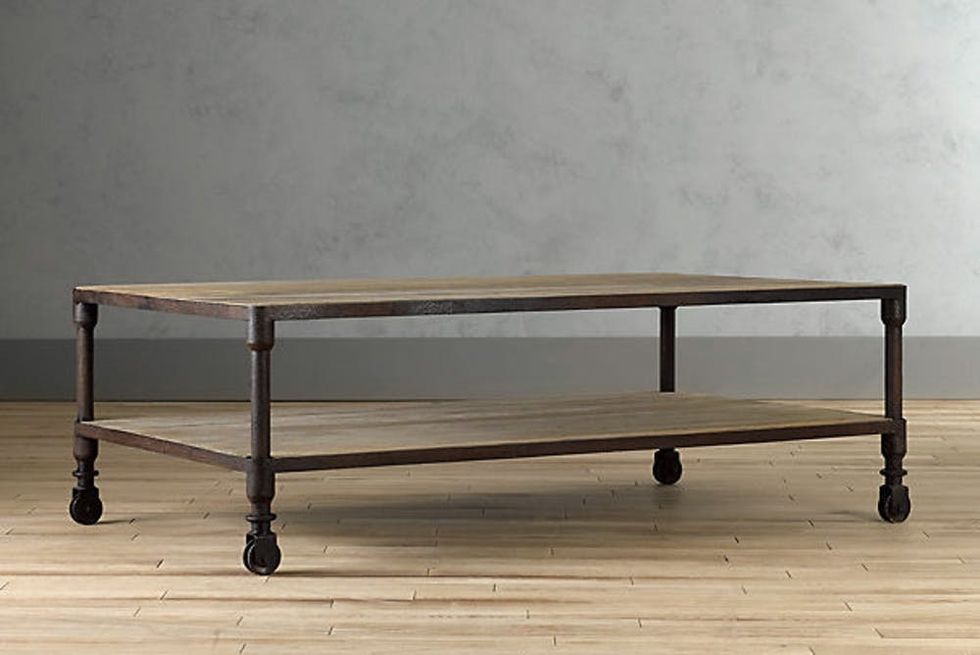 23. Dutch Industrial Coffee Table ($1,295+): You don't have to travel to England to find a double-decker on wheels anymore! This two-tiered coffee table is an awesome industrial accent piece.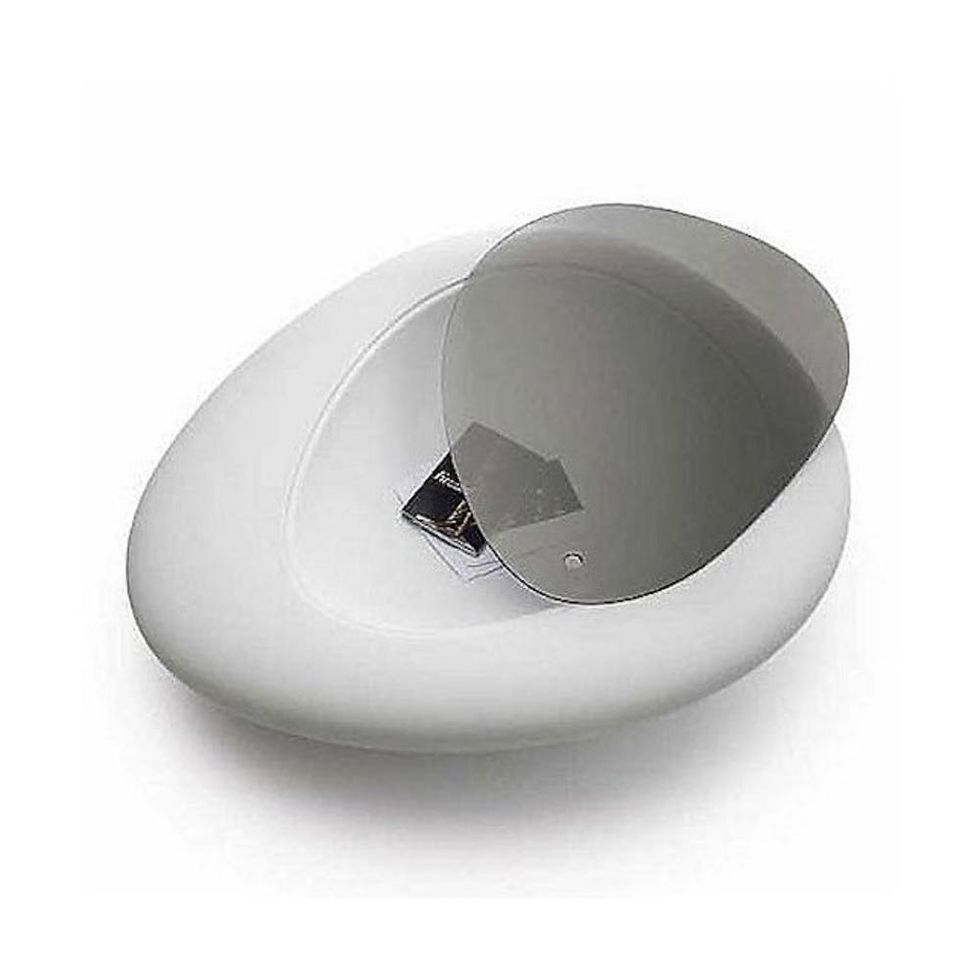 24. Kos Coffee Table ($812+): This bean-shaped table combines a sleek finish and dozens of customizable options. With a transparent glass top that turns into a storage compartment, it could act as the perfect home for a new terrarium.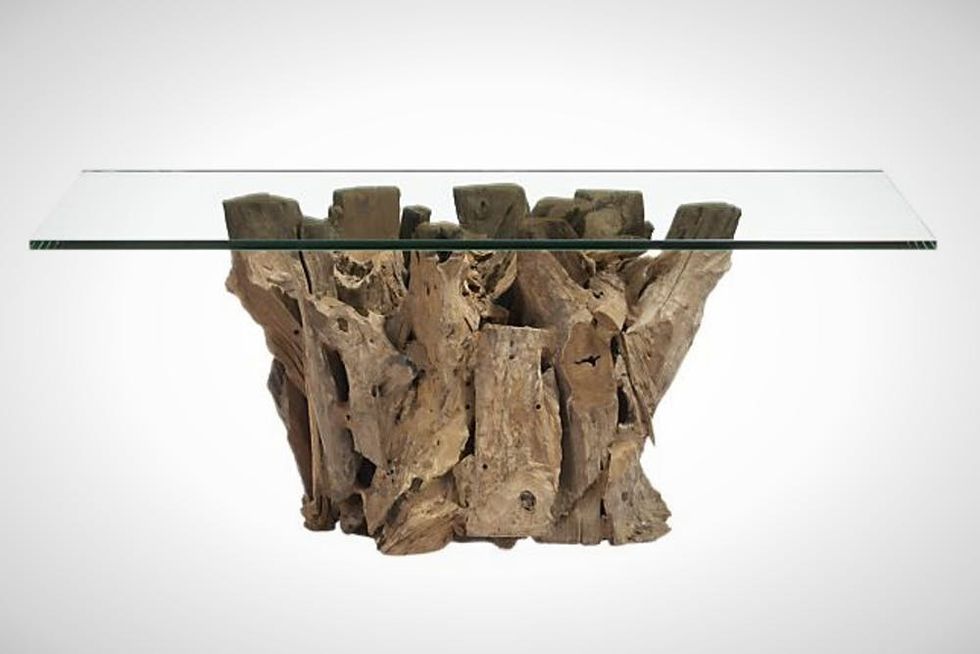 25. Driftwood Coffee Table ($699): Revel in the natural beauty of this coffee table. Indonesian driftwood is painstakingly cut to sturdily hoist a rectangular glass top.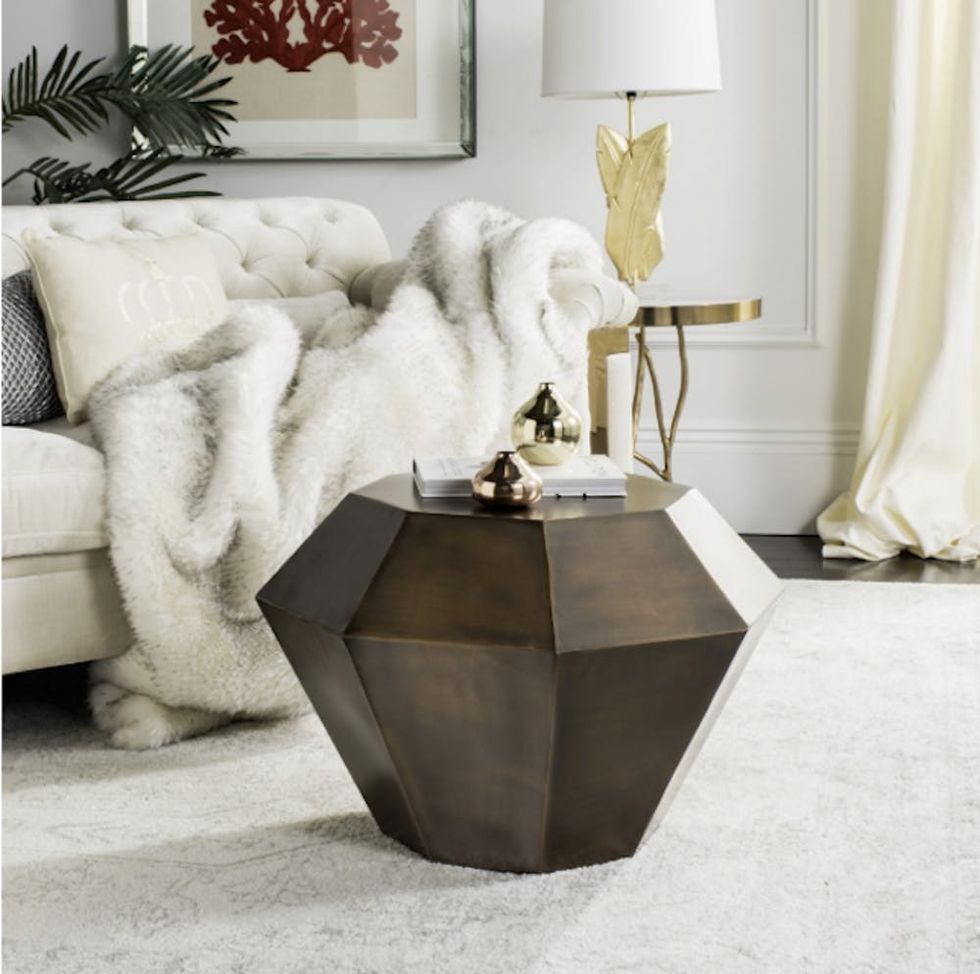 26. Safavieh Grace Diamond Copper Accent Table ($255): What a gem! This jewel-cut table adds just a little more glam to whatever room it graces.

27. Rush Grass Knotwork Coffee Table ($195): We love that this coffee table is shaped after one of our furniture faves: the pouf! This hand-woven coffee table has an easy Mediterranean vibe perfect for a casual sunroom.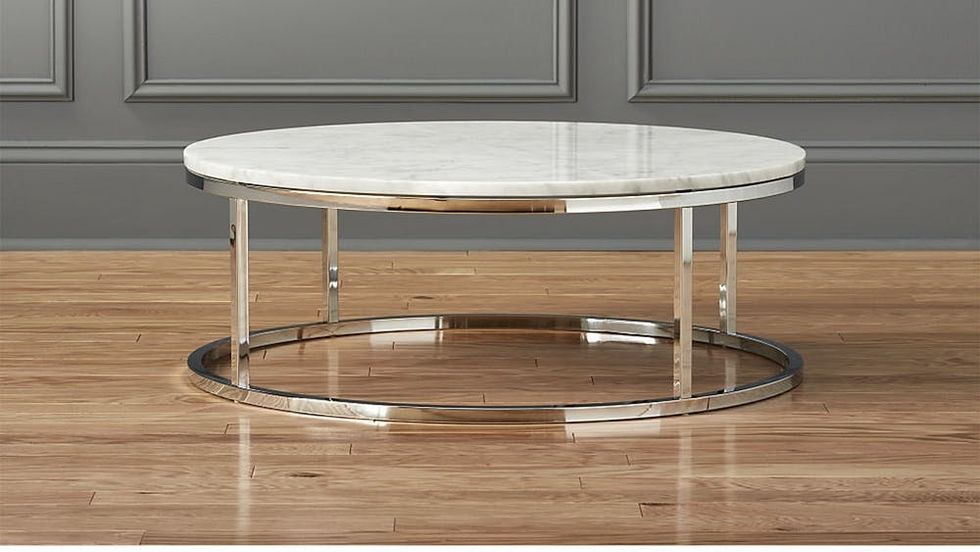 28. Smart Round Marble Top Coffee Table ($379): This coffee table oozes modern sophistication. It'll seem at home in both a plush penthouse or studio apartment.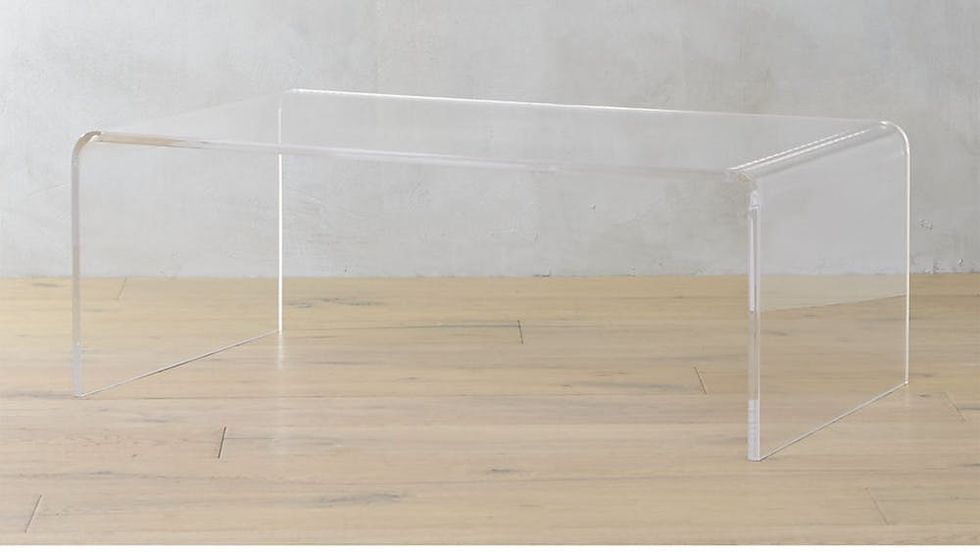 29. Peekaboo Clear Coffee Table ($279): We are head over heels about this completely transparent coffee table. It really is a must-have for any urban dwelling space.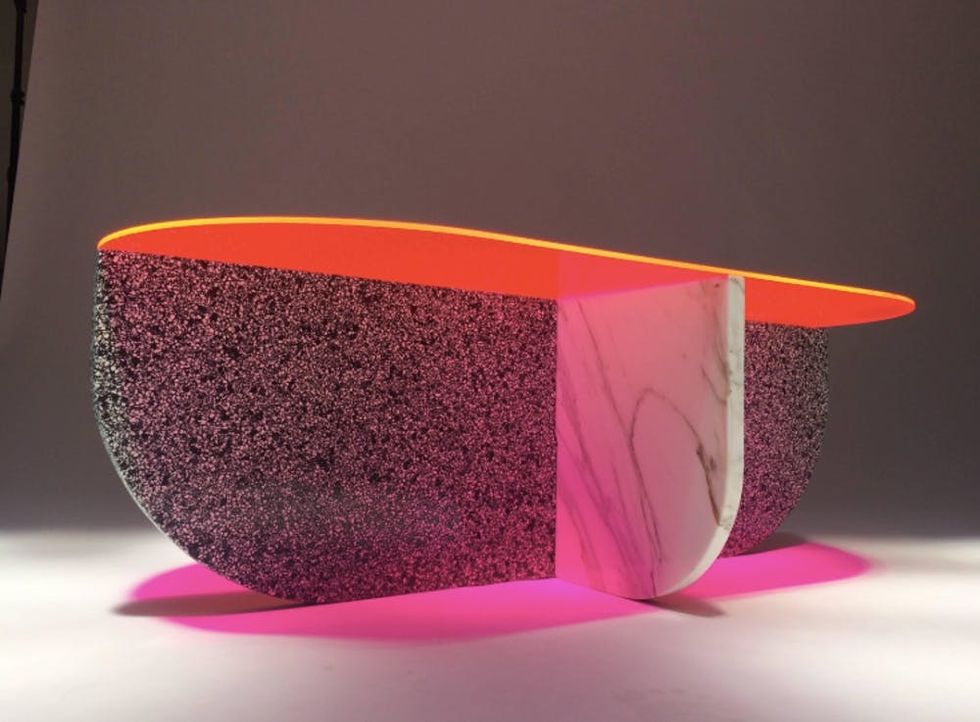 30. Marble and Neon Acrylic Coffee Table ($5,600): Working neon into your home decor can't get much easier with this amazing coffee table. The marble base creates a gorgeous array of shapes and colors.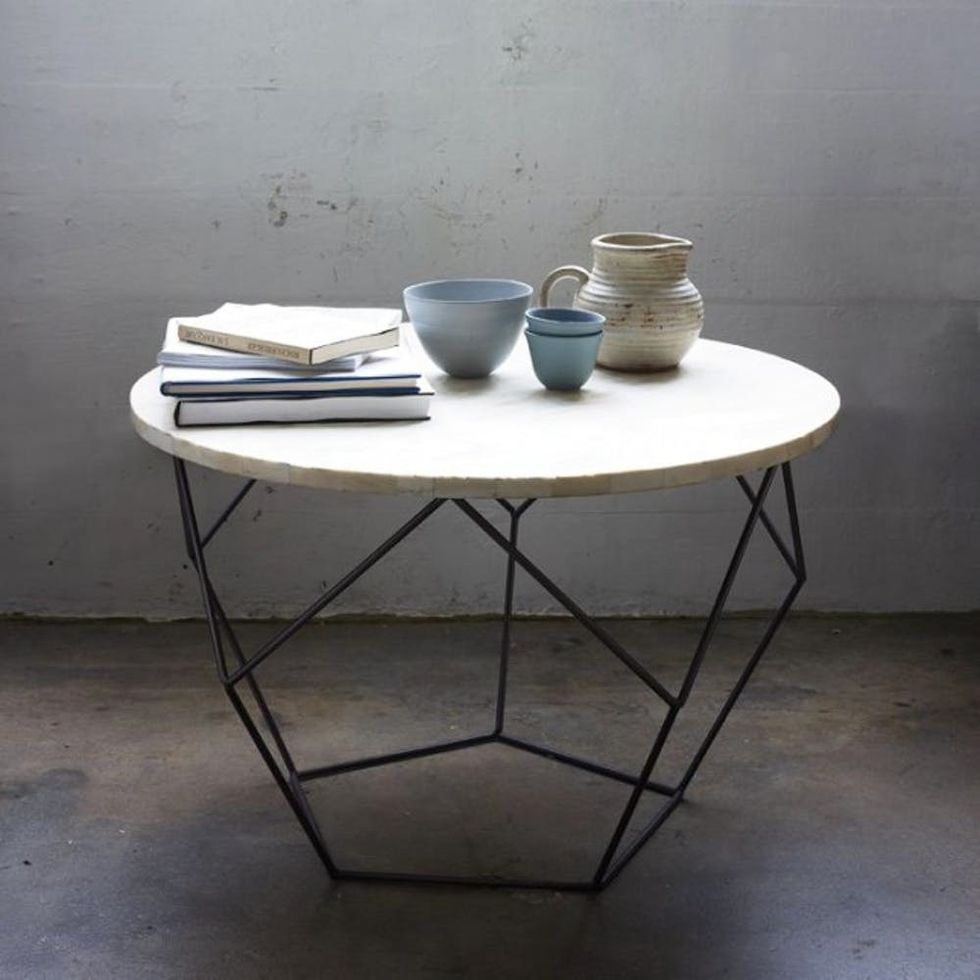 31. Origami Coffee Table ($399+): Thin steel rods are bent every which way to mimic origami. A mix of materials like lightweight wood and natural bone tiles make this coffee table very contemporary.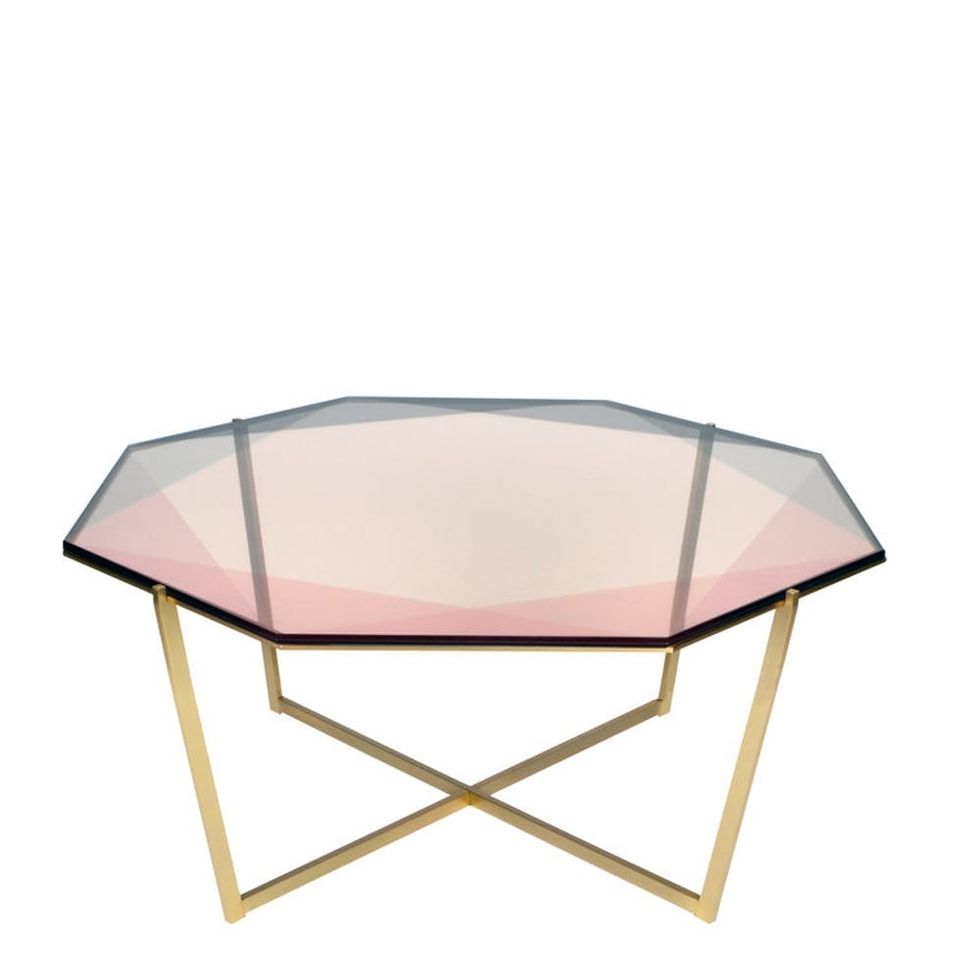 32. Gem Octoganal Coffee Table ($4,800): A pixelated pattern makes this the perfect coffee table for the digital age. Its starburst shape is gallery-worthy.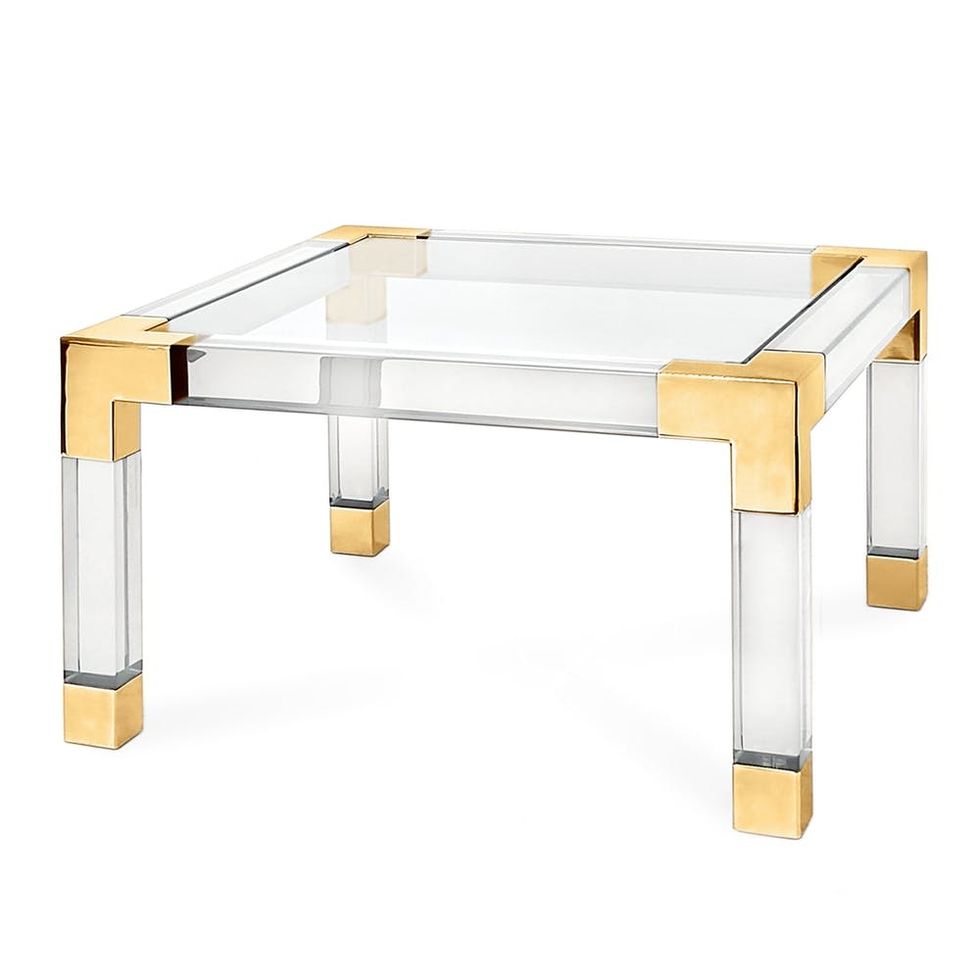 33. Jacques Cocktail Table ($1,450): This square lucite coffee table is dolled up with brass to give it an ultra-luxe feel. A little gold trimming never hurt anyone :)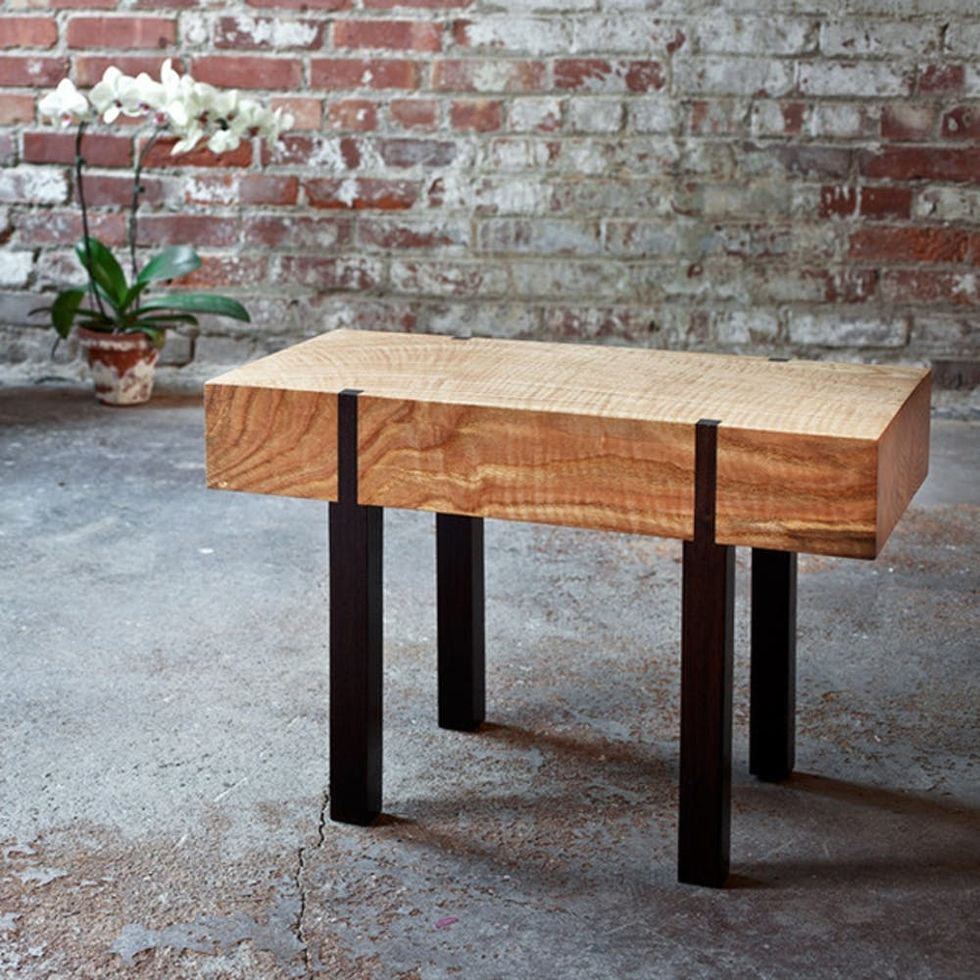 34. DOG Coffee Table ($620): Can you believe that a slab of wood can be so jaw-dropping? This awesome coffee table stands perfectly at attention hoisted by four black legs.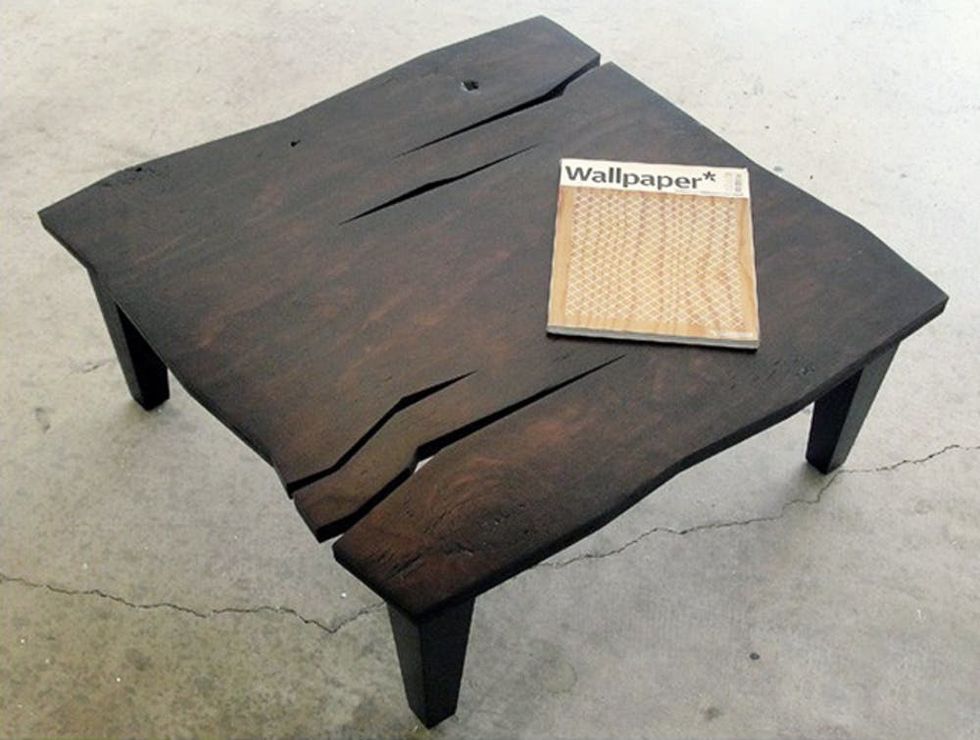 35. Modern Rustic Distressed Coffee Table ($1,999): We love how wood can be manipulated to look so sleek yet stunningly natural. Each crack and jagged edge adds so much character.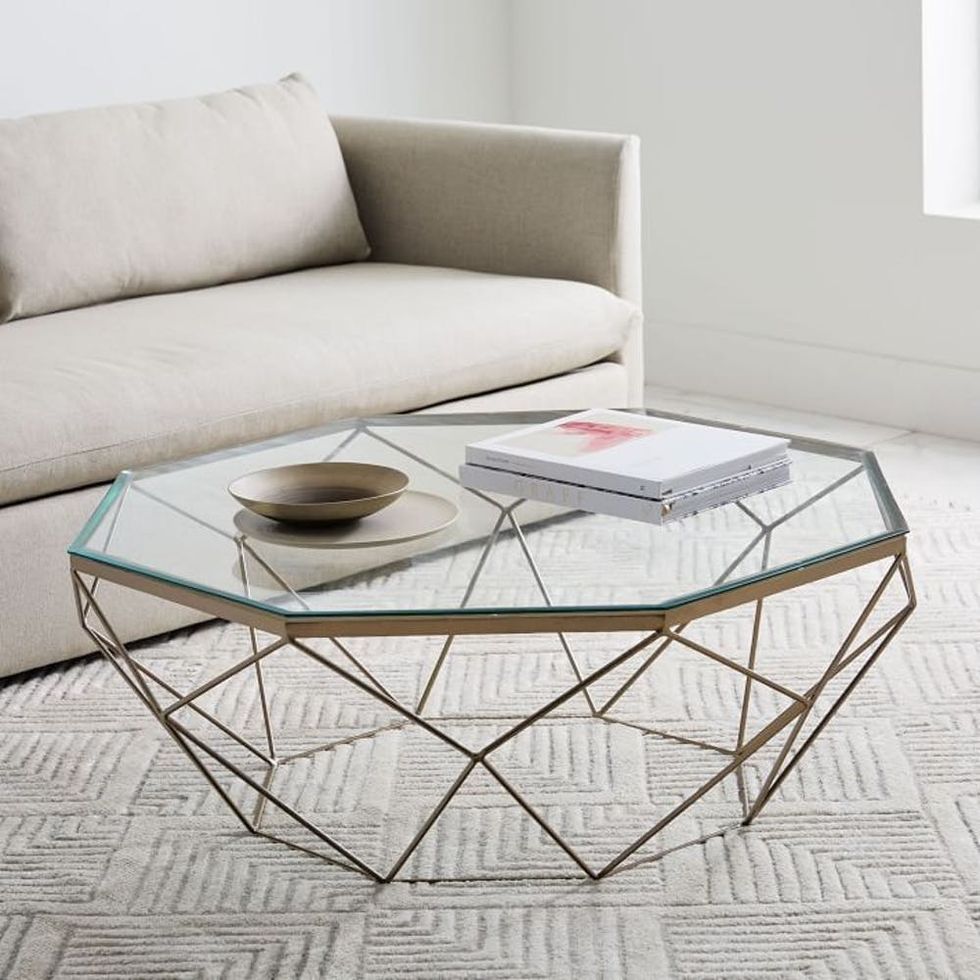 36. Geometric Coffee Table ($699): Now that's one handsome coffee table! Its geometric shape stylishly combines solid lines crafted out of brass.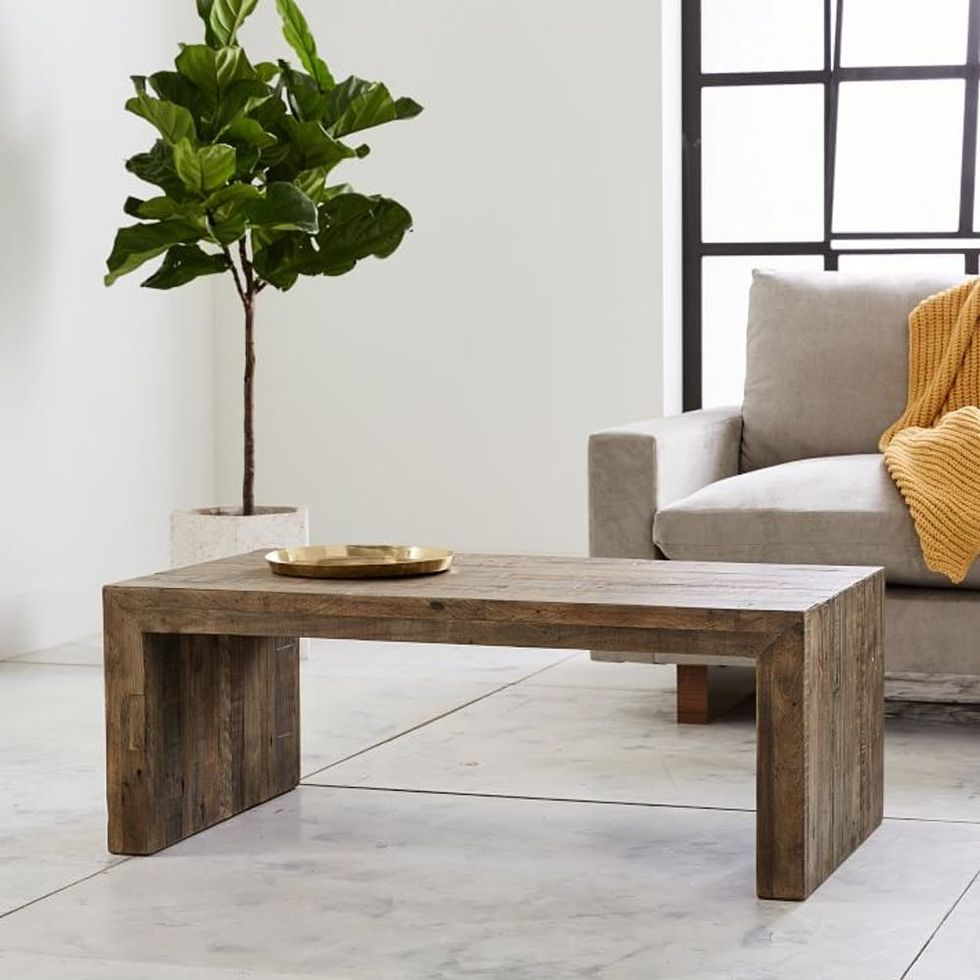 37. Emmerson Reclaimed Wood Coffee Table ($499): We're inspired by the natural simplicity that is incorporated in this coffee table. Each table is made from reclaimed pine wood, making each table one of a kind.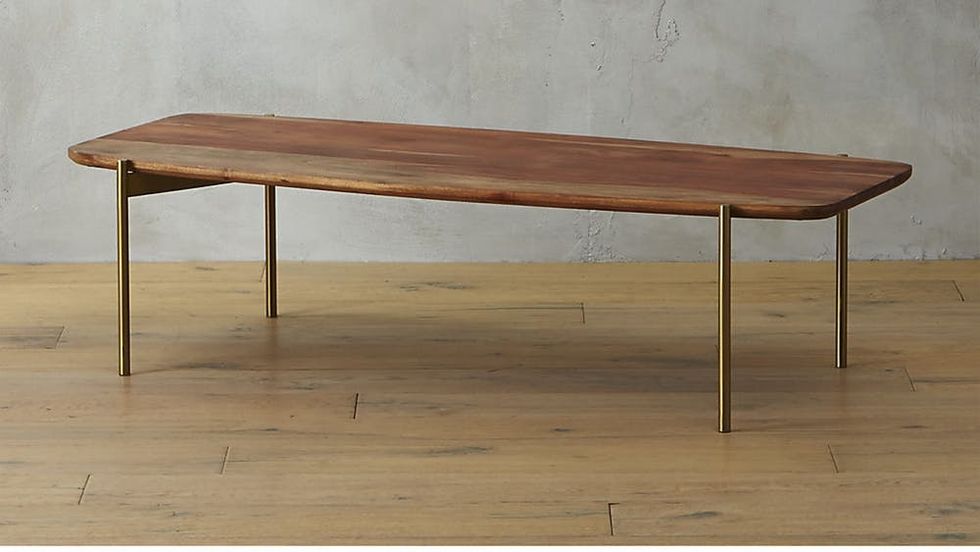 38. Adam Coffee Table ($429): This distressed, and then waxed wood finish has a vintage allure. Your mason jar glasses will look perfectly in place on this pretty table top.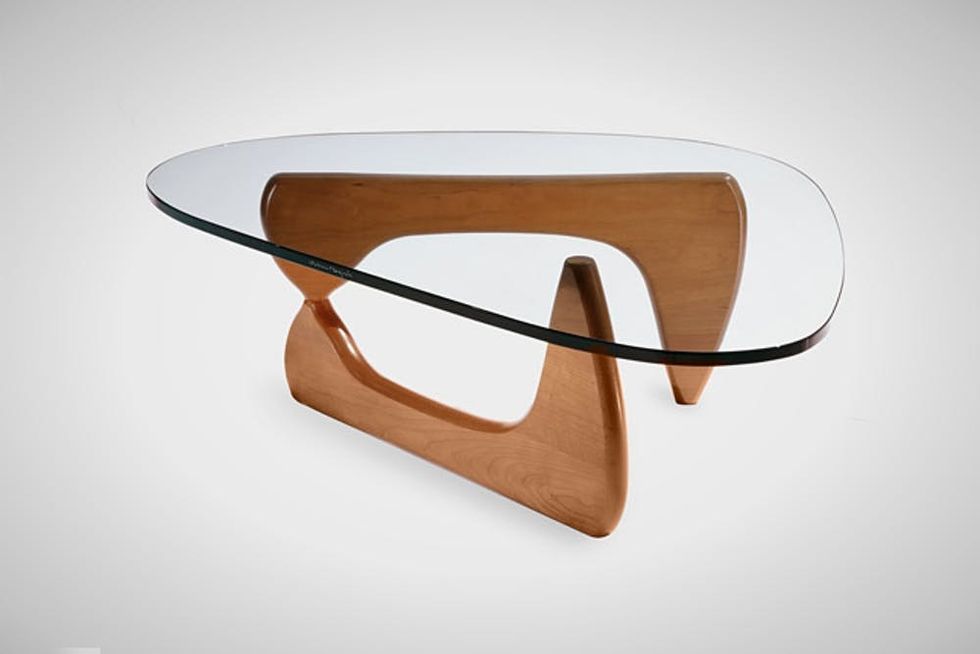 39. Noguchi Coffee Table ($395): We love that you can buy furniture from MoMA Store, especially since many of its offerings are replicas from the museum's collection. Furniture shopping doesn't get much cooler than that!

40. Mimico Coffee Table ($340): This black-as-night coffee table creates some downright dashing silhouettes.
Show us your beautiful coffee table on Instagram! Tag us @BritandCo.
(Additional reporting by Kate Puhala)
Brit + Co may at times use affiliate links to promote products sold by others, but always offers genuine editorial recommendations.
Magdalena O'Neal
Magdalena O'Neal is an editorial intern at Brit+Co. While she loves baked goods full of dairy and gluten, she finds herself making vegan, gluten-free desserts to please the masses.
Home Decor Inspo