Ben & Jerry's New Ice Cream Lets You Support Activism in a Sweet Way
Oct 30, 2018
While the current political climate is anything but sweet, Ben & Jerry's is out to make a difference with its new ice cream flavor, Pecan Resist, a chocolate ice cream with white and dark fudge chunks, pecans, walnuts, and fudge-covered almonds. At its core, Pecan Resist is about supporting activism and "bringing deeply important values to freezers across the country," the brand said in a press release. If you're looking to make your ice cream habit an agent for good, read on.
Proceeds of the limited-batch ice cream, which will be available in scoop shops across America and for purchase on Ben & Jerry's website, will go toward four organizations promoting social justice for people of color, Indigenous communities, and women as well as climate change: Color Of Change, Honor the Earth, Women's March, and Neta. Ben & Jerry's commits to donating $25,000 to each.
---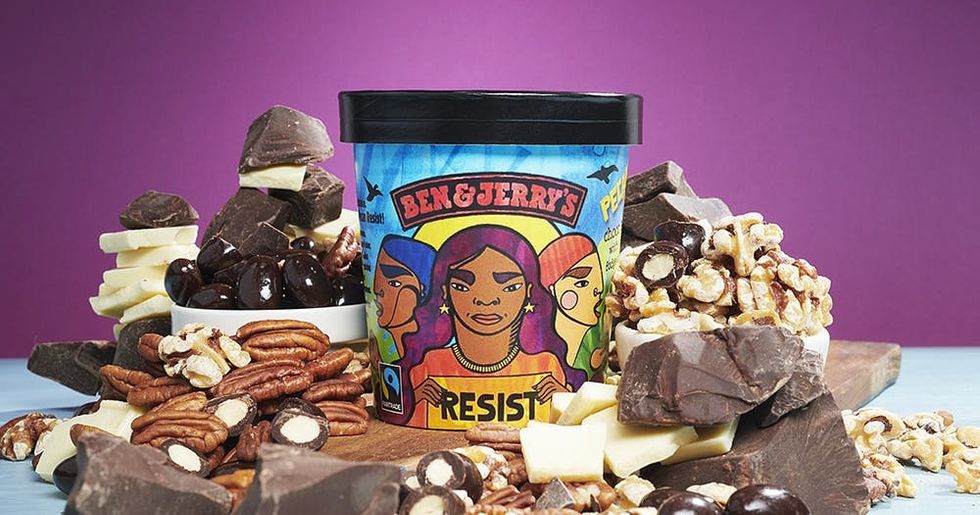 "This flavor supports groups creating a more just and equitable nation for us all, and who are fighting President Trump's regressive agenda," the company added in a Facebook post. "We cannot be silent in the face of the President's policies that attack and attempt to roll back decades of progress on racial and gender equity, climate change, LGBTQ rights, and refugee and immigrant rights – all issues that have been at the core of our social mission for 40 years."
So, don't feel guilty about indulging in ice cream. It's for a really great cause.
Will you try the new flavor? Tweet us @BritandCo to let us know.
(Photo via Ben & Jerry's)
Aly Walansky
Aly's writing can be seen across the Internet as well as in several print publications. She contributes regularly toToday.com, AskMen.com, BravoTV.com, BRIDES.com, FoodandWine.com, Orbitz, Men's Journal, Popsugar, SheKnows.com, Stylecaster, Women's Health, YourTango, and many more.
Current Events
If you lack a certain way with words, then perhaps you can rely on showing how you feel this holiday season with an artful greeting card you can make at home! Brit dropped by our crafting studio where we teamed with Camp by Walmart to create a choose-your-own-adventure holiday card tutorial. In the interactive video, it's up to you to decide what type of card you want to make — sentimental, or stylish? Three-dimensional, or keep it simple? After you've selected your design vibe, Brit helps you assemble it all together so your last-min card is ready to send. Get ready to pick up a few new DIY tricks when you watch the video now!
Holidays