This Easy, Vegan Ice Cream Has 2 Ingredients You Won't Expect
Mar 07, 2018

Welcome to Single Serving, our new video series showcasing colorful, easily re-createable, and highly Instagrammable recipes for one. In our premiere episode, we're making a super easy, naturally blue vegan "nice" cream. Made from frozen bananas, vanilla powder, and Blue Majik, a bright blue spirulina powder that is said to help reduce inflammation and boost your immune system, this "nice" cream can be upgraded to sundae status with the addition of toppings like coconut whipped cream, cherries, nut butter, and chocolate shavings. Dig in.
---
Blue Majik "Nice" Cream
(Serves 1)
Ingredients:
2 bananas, diced into 1-inch pieces, and frozen overnight on a sheet tray
1 teaspoon vanilla powder
1-2 teaspoons Blue Majik, plus more for dusting
splash of non-dairy milk, if needed
Optional Toppings:
coconut whipped cream
pitted and de-stemed cherries
freeze-dried cherries
pitted and diced strawberries
cherry chia jam (chia seeds reconstituted in cherry juice)
nut butter
dark chocolate shavings
edible flowers (optional)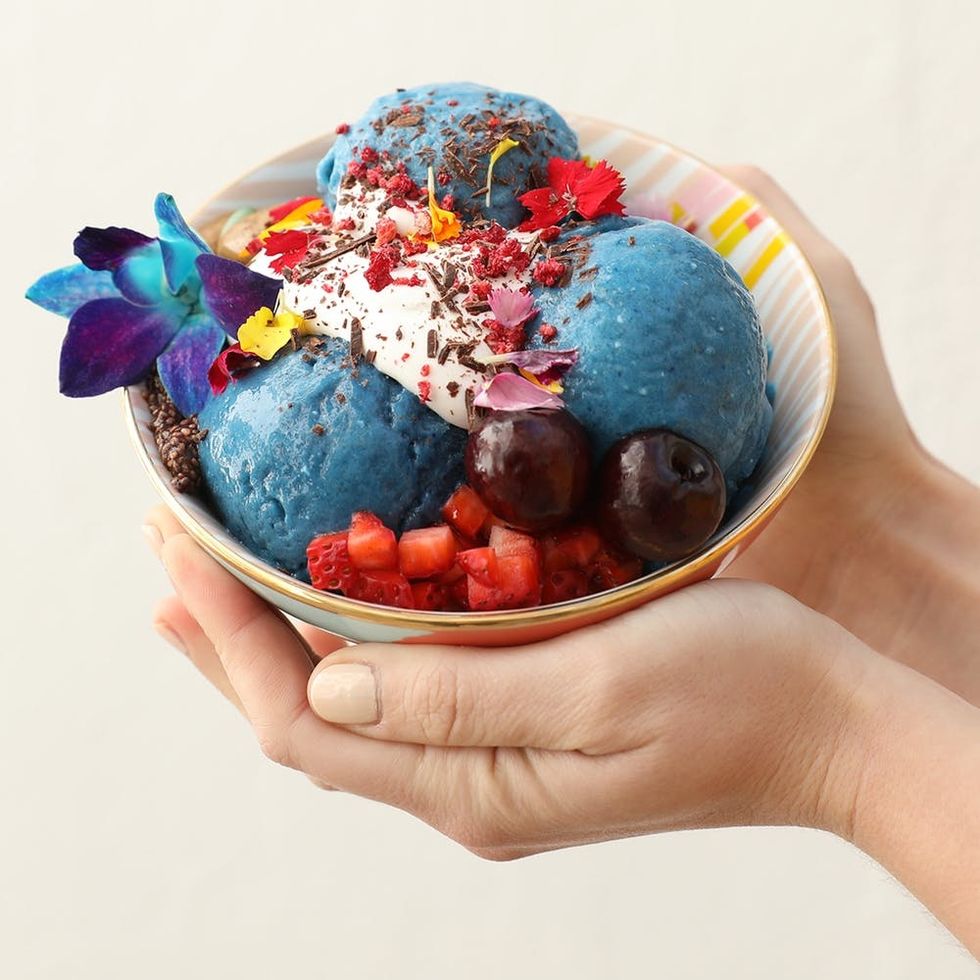 Instructions:
In a food processor or blender, blitz banana, vanilla powder, and Blue Majik until smooth and creamy. Add a splash of non-dairy milk, if needed, to make ingredients come together. Serve immediately or transfer into an air-tight container (with a piece of parchment paper) freeze in an airtight container for at least 2 hours.
Scoop and serve. Quickly garnish with coconut whipped cream, fresh and freeze-dried cherries, strawberries, chia jam, a dollop of nut butter, dark chocolate shavings, and edible flowers (optional).
If you make this nice cream, be sure to tag us in your photo on Instagram.
(Recipe from Anna Monette Roberts / Brit + Co)
Anna Monette Roberts
As Brit + Co's Food Editor, Anna Monette Roberts has an insatiable appetite for developing tasty dishes. When she's not dreaming about her next meal, she's . . . well, probably cooking up her creations. Her favorite foods include chewy chocolate chip cookies, Rosé Champagne, and gooey French cheeses — in no particular order.
DIY Recipes