The Secret Ingredient to Making Bacon *Even Better*
Feb 25, 2018
Bacon seems to be the one thing that always makes breakfast better. Who doesn't love waking up to a slice (or 12) of warm, crispy, savory bacon? We'll let you in on a secret: The trick to making bacon even better is adding a touch of sweetness and a little funky spice to the mix to create the ultimate umami combo.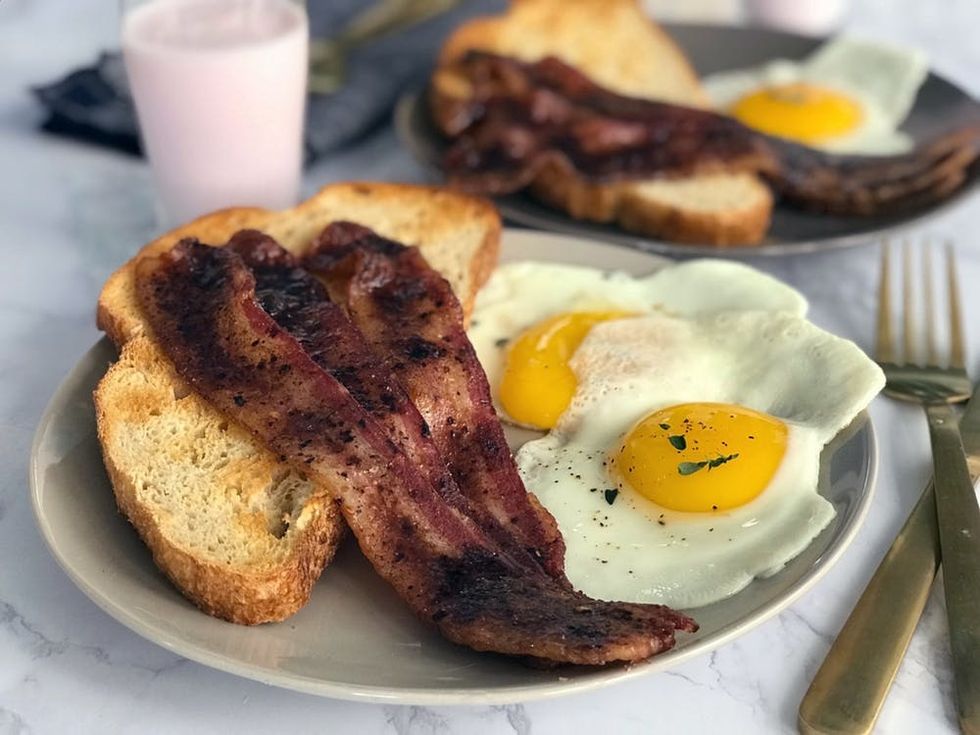 ---
It's been a tradition in my house to wake up on Sunday, preheat the oven, throw on a movie, and whip up my sweet and spicy bacon crack to help ease everyone's hangovers. In fact, it's almost a necessity for making sure the weekend ends on the right note. My friends have been obsessing over my candied bacon for years, and I thought it was finally time to share it with the world. There are a lot of components for sure, but once you find that right blend of spices, it'll make your bacon pure heaven. The essential ingredient I add to my spice mix is pumpkin spice; it just makes everything better.
Nicole's candied bacon
Recipe from Nicole Iizuka, Brit + Co
(Serves 4-6)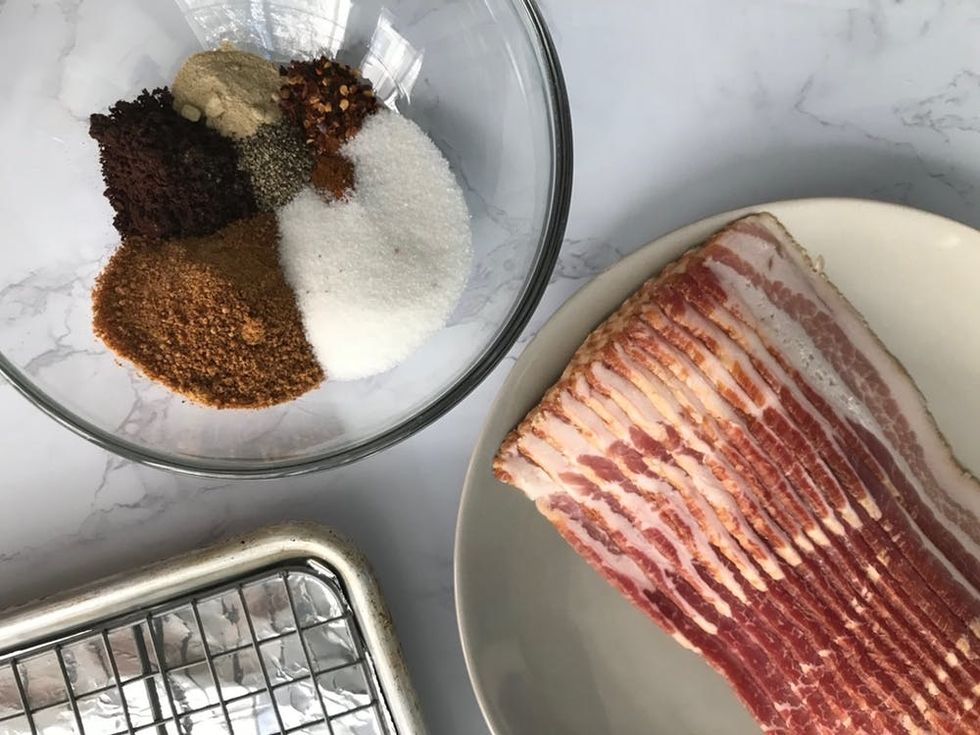 Ingredients:
1 pound thick-cut bacon
1/4 cup granulated sugar
1/4 cup coconut sugar
2 Tablespoons espresso powder
2 teaspoons pumpkin spice
1 teaspoon black pepper
1 teaspoon white pepper
1 teaspoon cinnamon
1/2 teaspoon red chili flakes
Instructions:
Preheat oven to 350 degrees Fahrenheit; line a baking sheet with foil and place a rack on top of it.
Remove the bacon from the package and lay out evenly on the rack.
In a bowl, combine the spices until incorporated and then sprinkle an even layer on top of the bacon. Bake in the oven for 25 to 30 minutes.
Remove from the oven and eat while warm.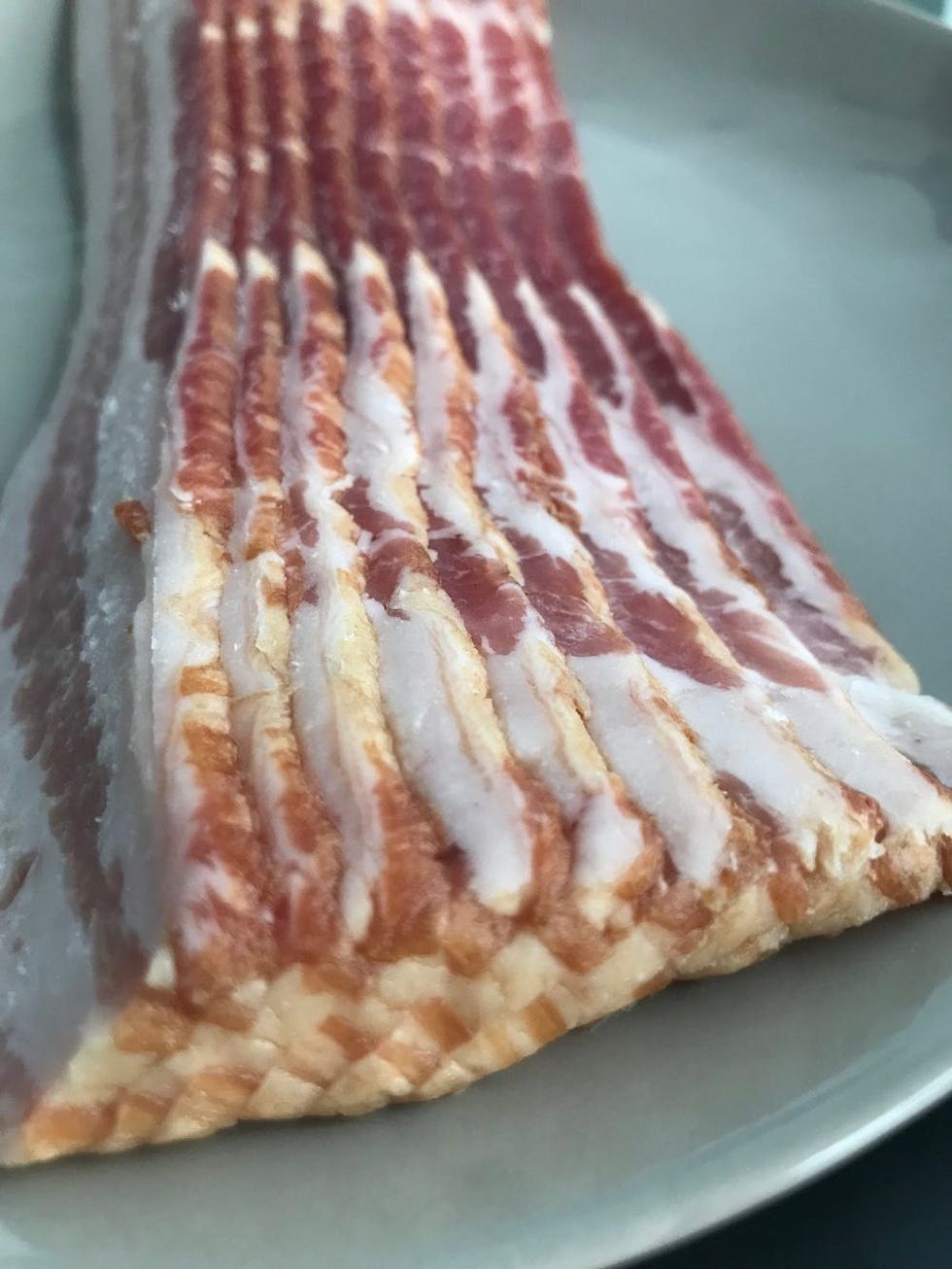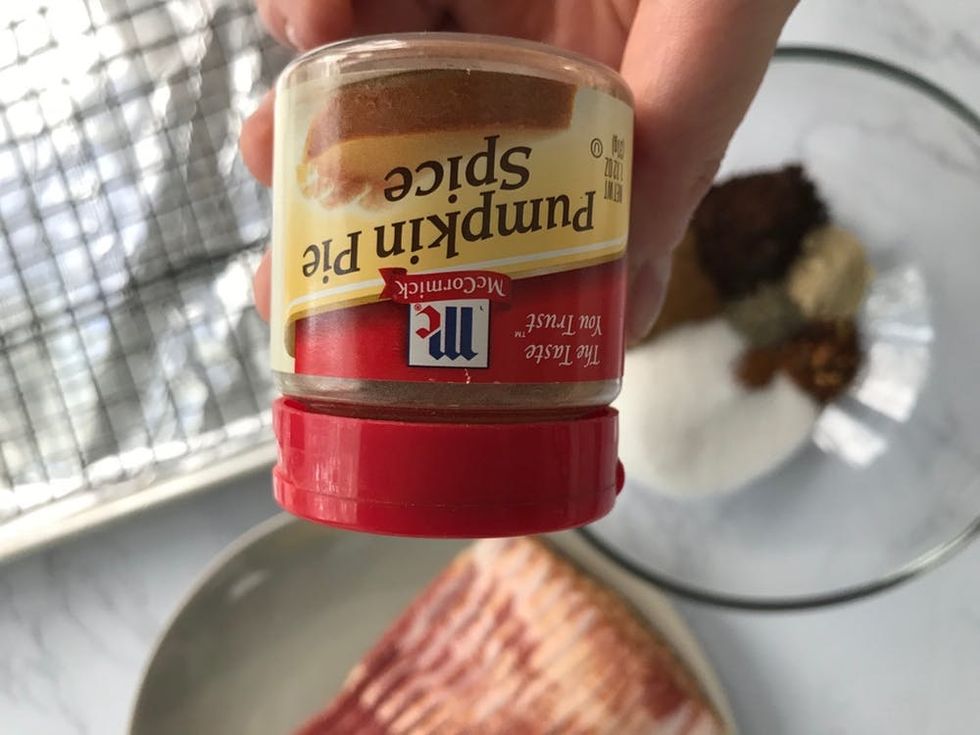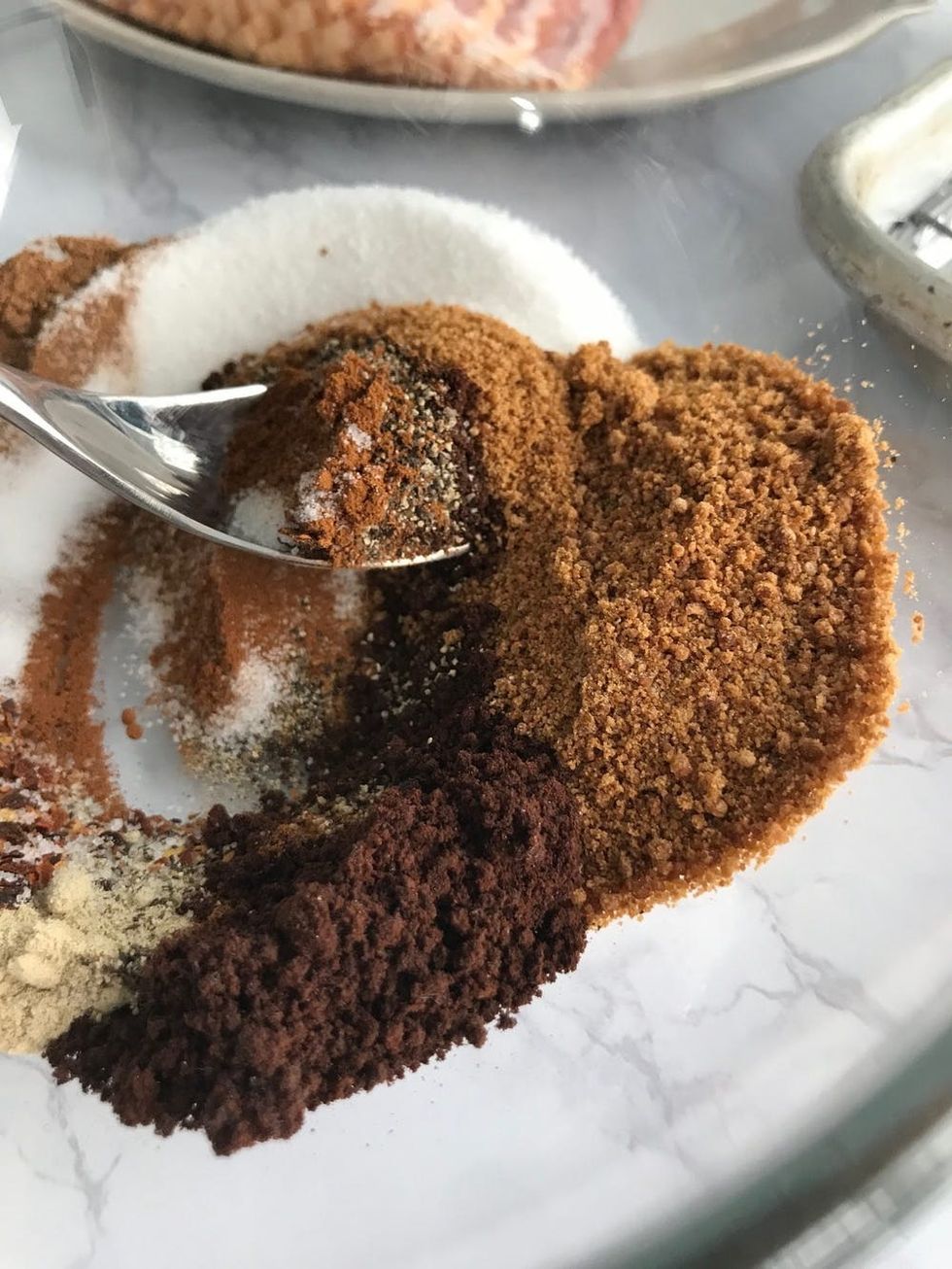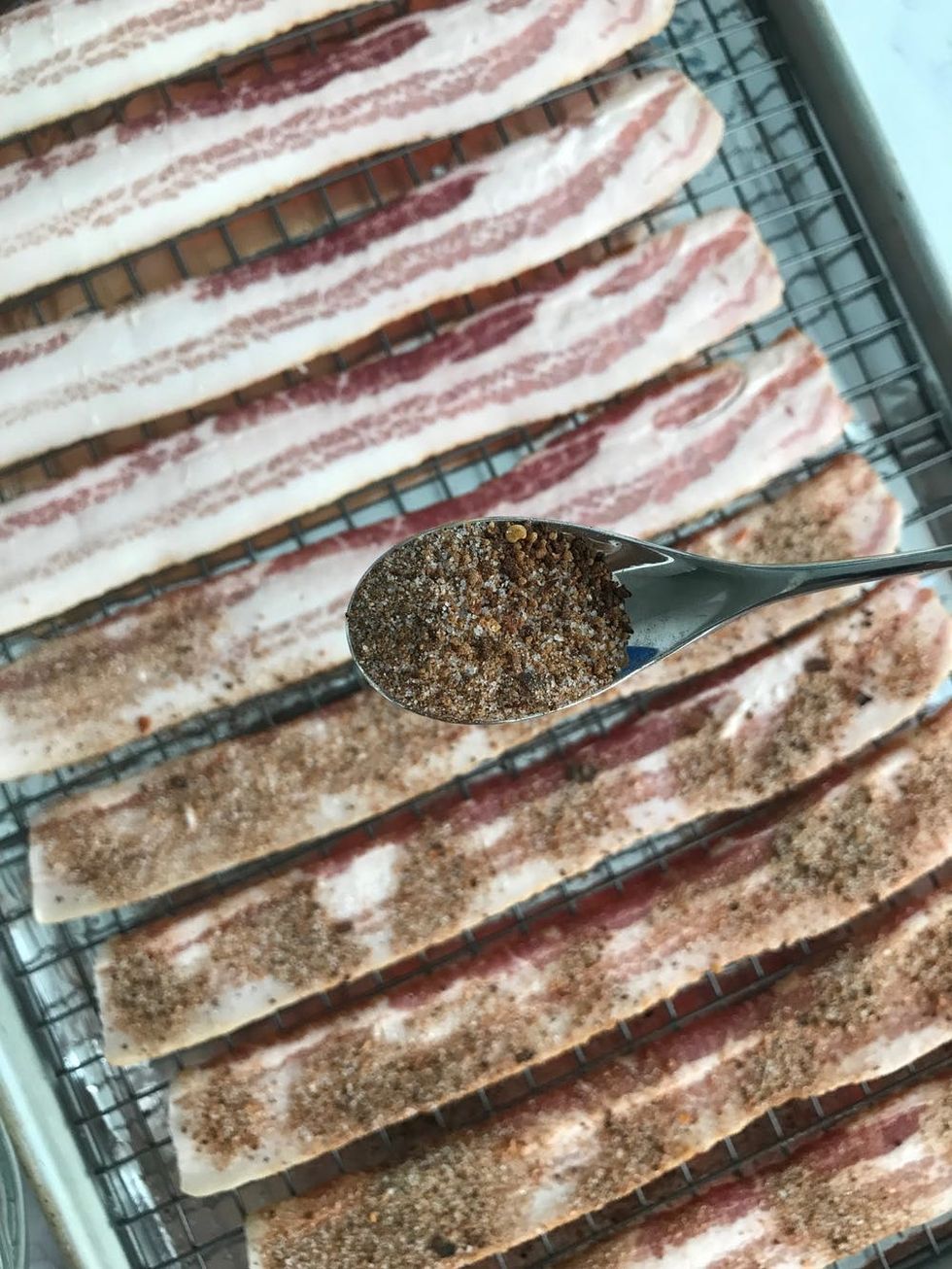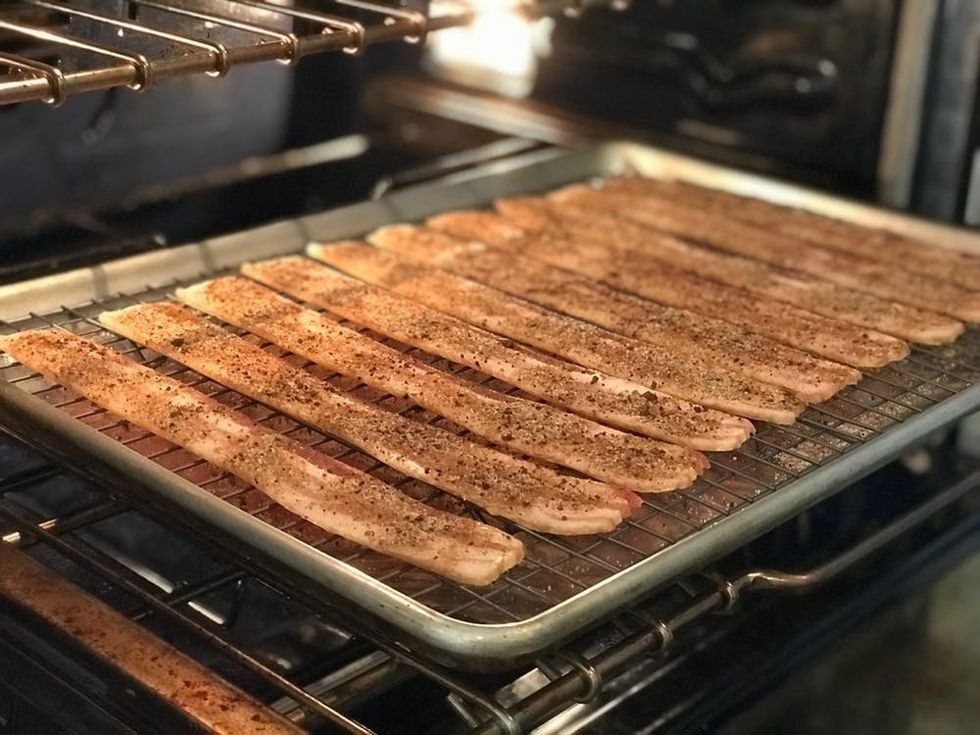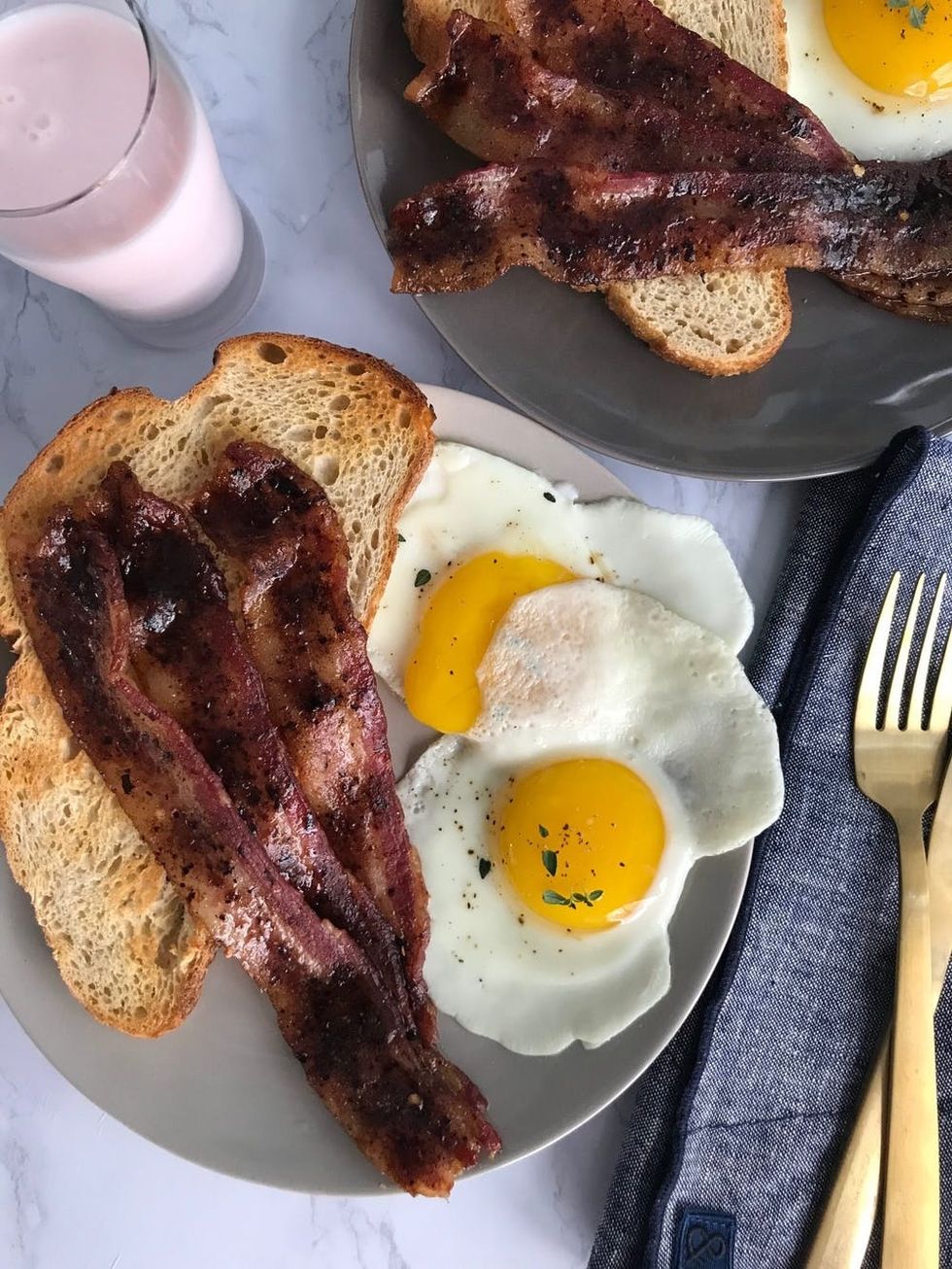 If you do make your own batch of candied bacon, be sure to take a photo and tag us on Instagram.
(Photos via Nicole Iizuka / Brit + Co)
Nicole Iizuka
Nicole Iizuka is a writer, producer, and director living in Los Angeles. While she has worked several jobs all over Hollywood, her love of food and travel keeps her constantly cooking up new, strange, exotic, and colorful recipes. You can follow her adventures on Instagram @nicolemiizuka or on www.itsborderlinegenius.com.
DIY Recipes
Still haven't taken up that new creative skills you swore you'd learn this year? Or ready to take your design skills to the next level? Let's say so long to the weirdest year ever by checking those big learn-something-new goals off our perpetual to-do lists.
We've teamed up with Clorox to give you the gift of unlimited creativity now through the end of the year. Once you sign up, you can take as many of our 120+ classes as you want for FREE for one whole month!
Here's how it works:

Head to brit.co/learn and sign up for the "All Access Pass."
Use the code "CLOROXCARES" at checkout to redeem your free month of classes.
You will be automagically signed up for Clorox's email list once you redeem your free all access pass. (It's the #1 Choice for Disinfection!)
Your pass lasts one month from when you checkout. This means you have unlimited access to all the classes during that month.
This offer is valid now through December 27, 2020.
Browse our catalog to find the right class for you, tell a friend and take the class together over Zoom, or organize a 'cocktails + crafts' night with a friend in your bubble so you can learn something new together.
What are you waiting for? Time to start learning all the things!

Thanks to Clorox for making this happen! When it counts, trust Clorox.
Lifestyle