Disney Princess Weddings IRL: 13 Snow White-Inspired Ideas
Apr 19, 2015
Mirror, mirror on the wall, who's the fairest bride of them all? You in your Snow-White-inspired wedding gown, of course! The first Disney princess to capture fans' hearts and make us all believe in the power of love's first kiss, Snow White is the perfect inspiration for a woodland-themed affair. And to help make all of your wedding wishes come true, we're sharing 13 enchanting ideas that are sure to sweep you off your feet with woodland whimsy, rich red hues and apple-inspired details. Go ahead and start whistling while you plan, because with ideas this magical, you'll be well on your way to happily ever after.
---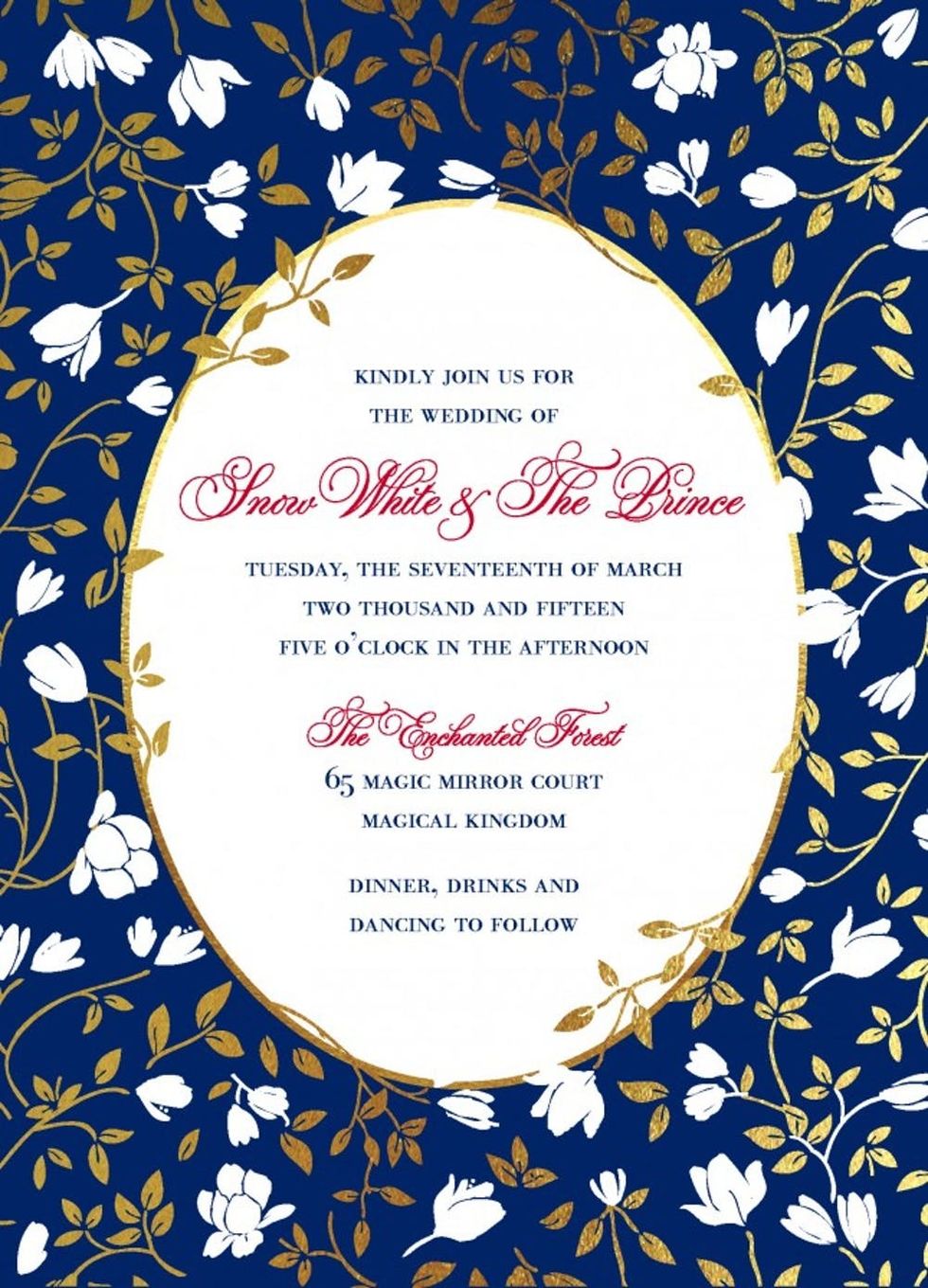 1. Floral Trellis Invitation ($179+ for 100): This delightful Wedding Paper Divas design would make Snow White extra excited to invite all of the dwarfs to her enchanted forest wedding. Planning a springtime garden soiree? We think this is the perfect way to spread the word.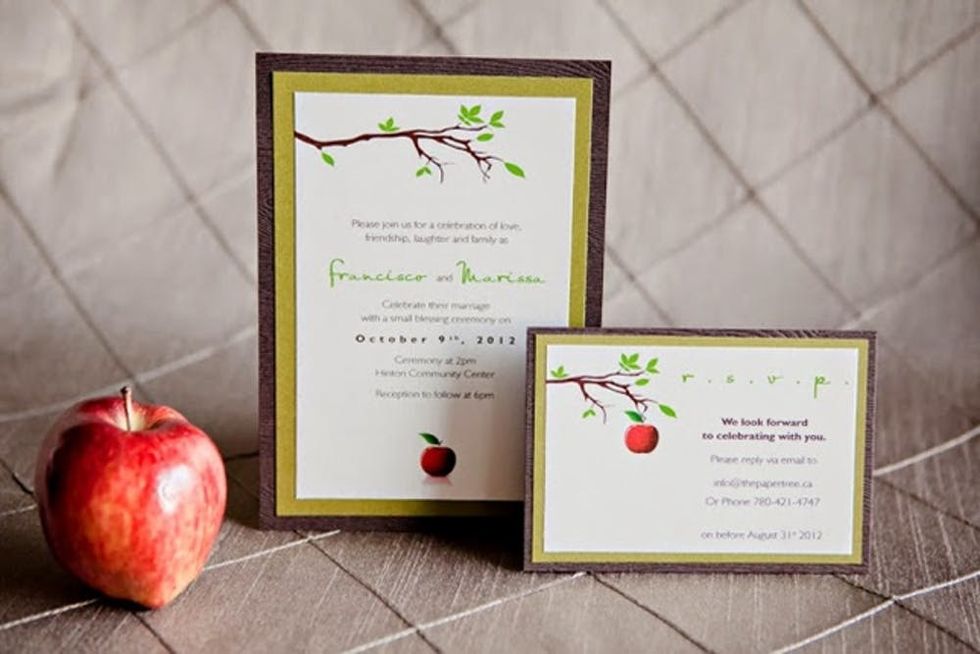 2. Apple Invitation: Artfully designed by The Paper Tree, this invitation features a style as fresh and crisp as a juicy red apple. Just don't make a mistake and send one to the Wicked Queen. (via Picture That Photography + ENV Photography)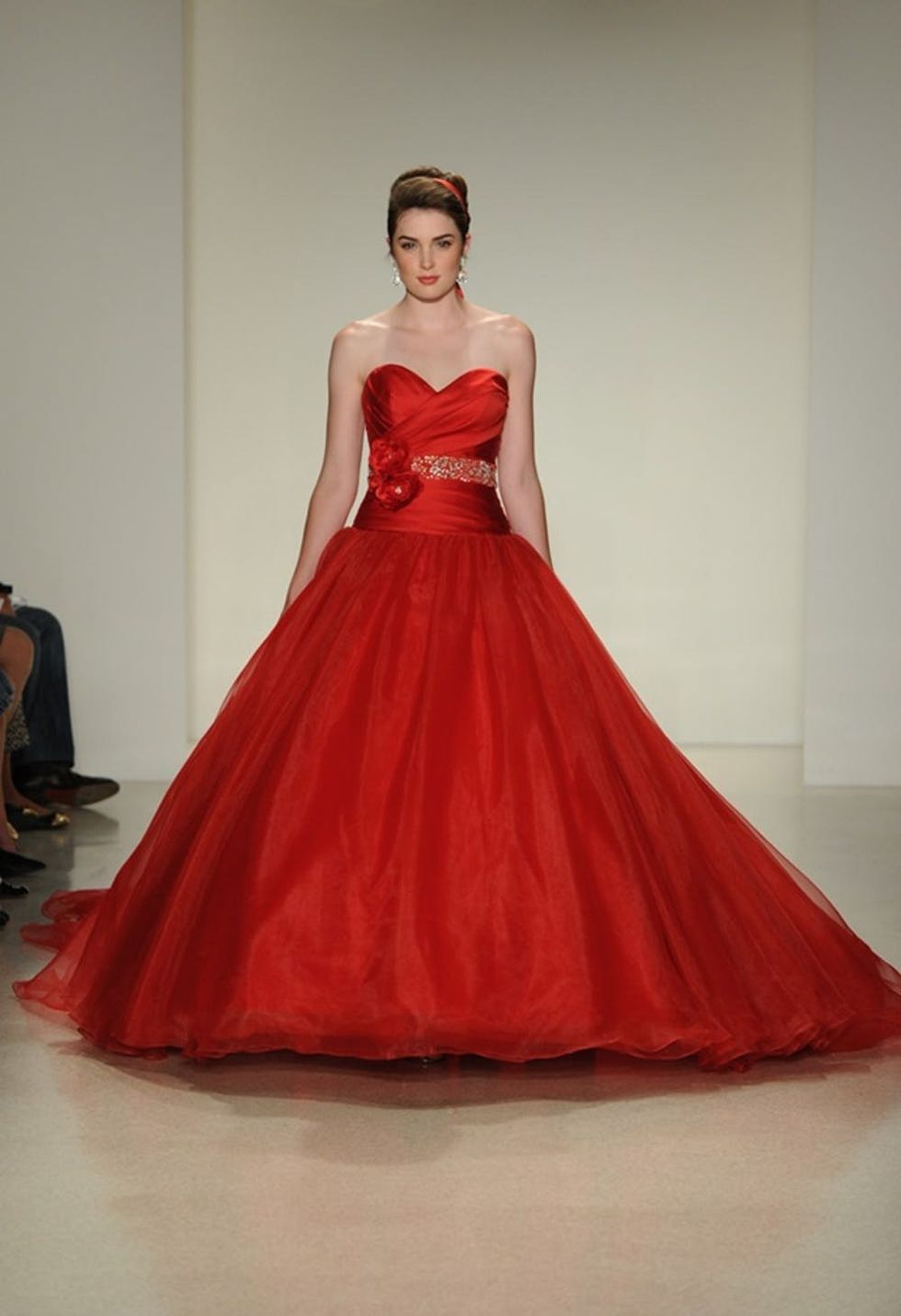 3. Red Disney Princess Bridal Gown ($1,399): Satin roses and a crystallized waistband beautifully complete this show-stopping red ball gown, part of Alfred Angelo's Disney Fairy Tale Weddings collection. Going for a more classic look? The dress is also available in ivory and white. (Photo via Kurt Wilberding/The Knot)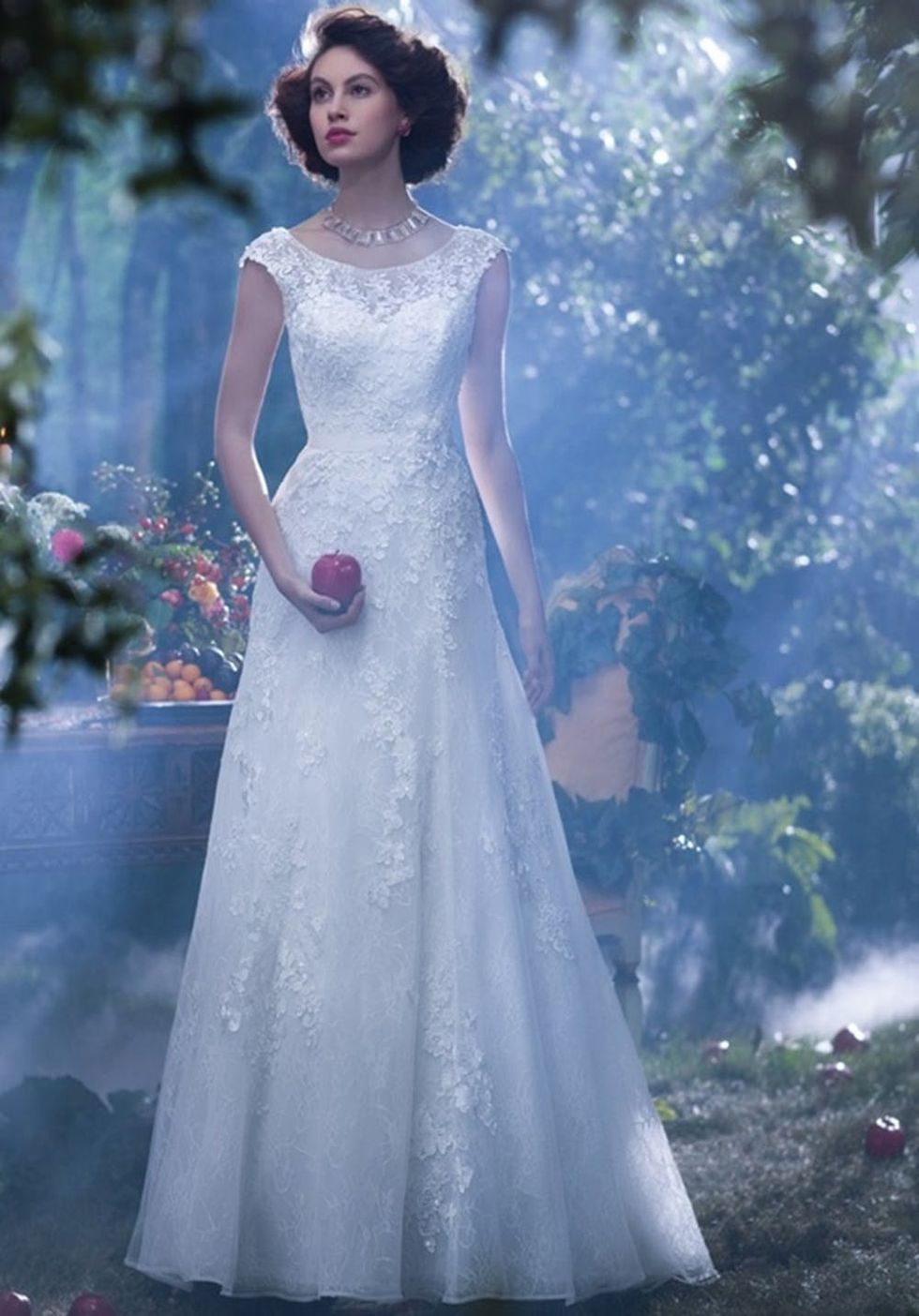 4. Fit-and-Flare Disney Princess Bridal Gown ($1,299): Another gorgeous Alfred Angelo-Disney creation, this fit-and-flare gown features woodland-inspired patterns. Slip it on and find yourself transported straight into Snow White's whimsical world.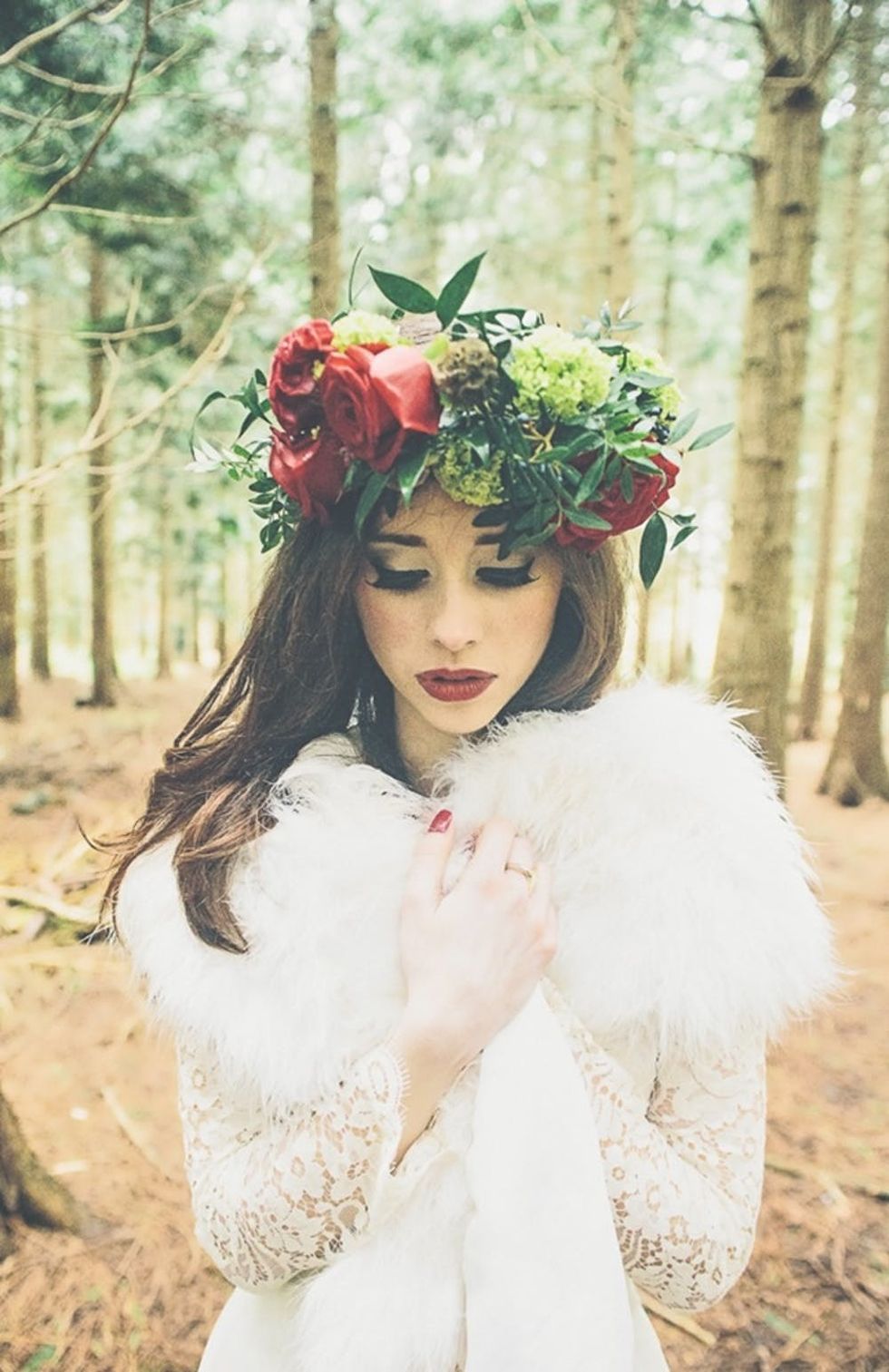 5. Flower Crown: Ever the nature lover, Snow White would much rather walk the aisle wearing a rose-adorned flower crown than a traditional veil. (via Jessica Withey Photography)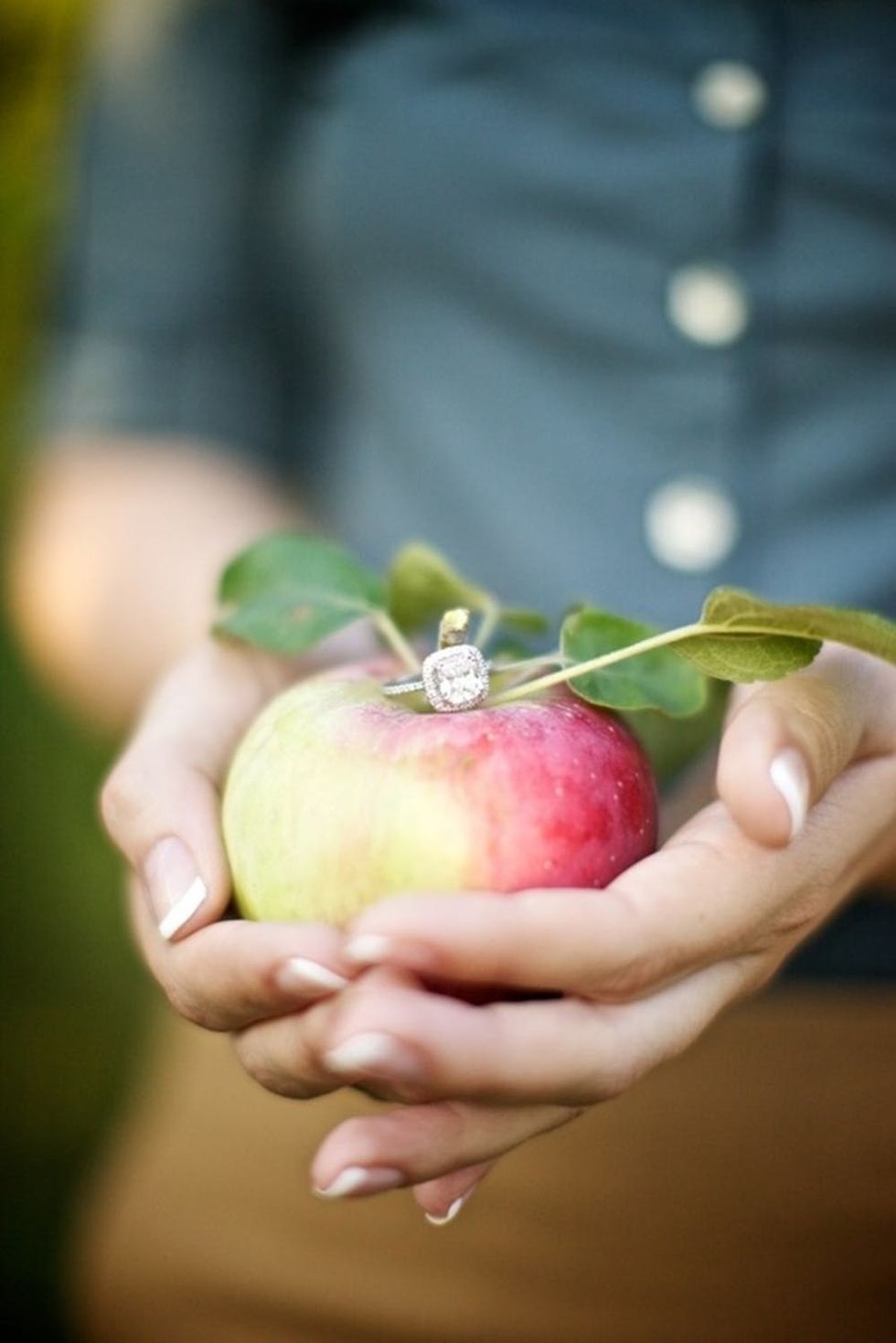 6. Apple Orchard Photo Shoot: An apple orchard is the perfect backdrop for an engagement or wedding-day photo shoot, or even your actual ceremony and reception. Just don't forget to capture a creative ring shot like this one. (via Megan Dandeles Photography)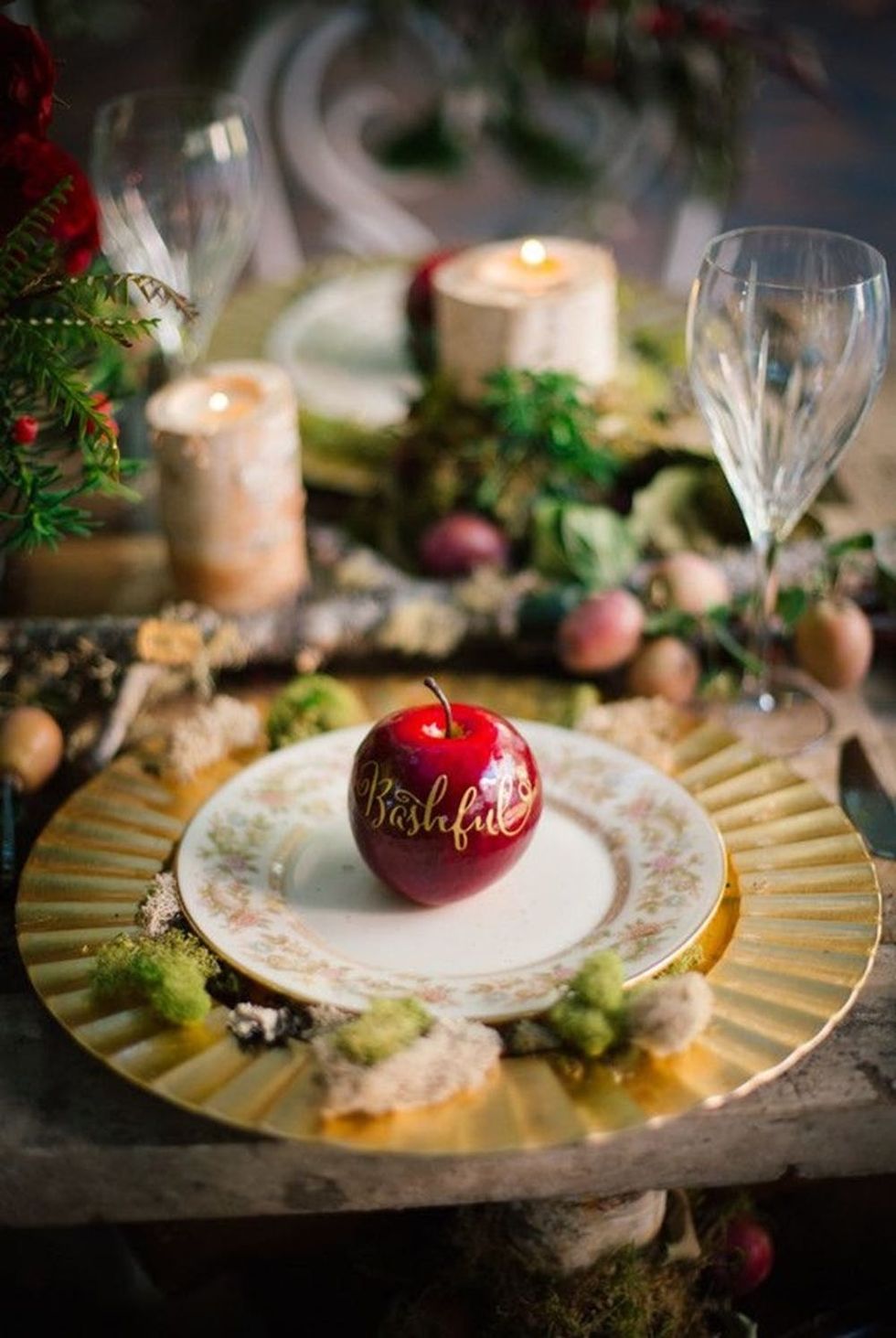 7. Apple Place Cards: Don't want guests to feel bashful about choosing a seat? With apple place cards, they'll know exactly where to go. (via Claire Marika Photography)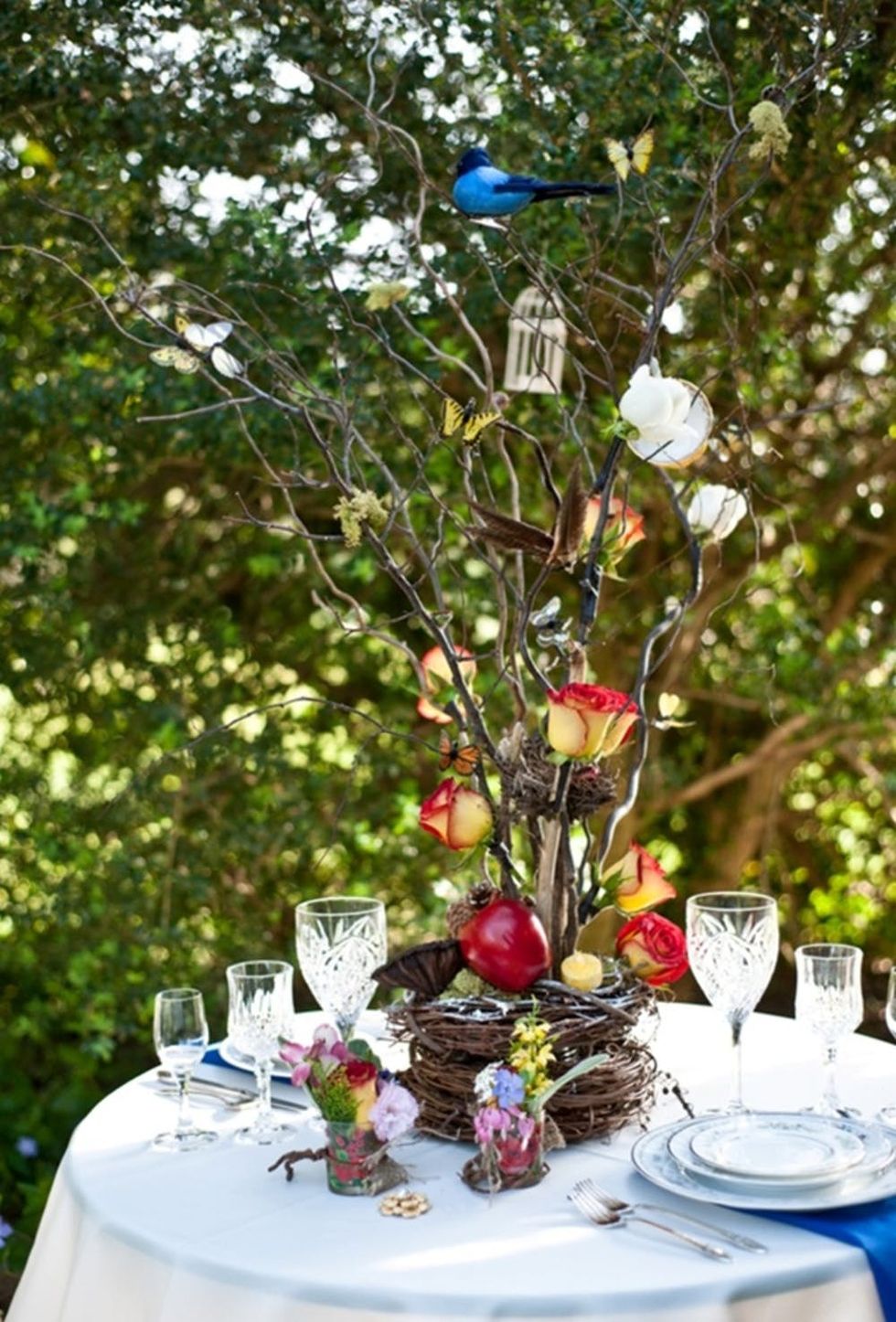 8. Tree Branch Centerpiece: Butterflies, birds and branches look beautiful alongside red and yellow roses in this rustic, romantic centerpiece. (via Charlotte Tittle Photography)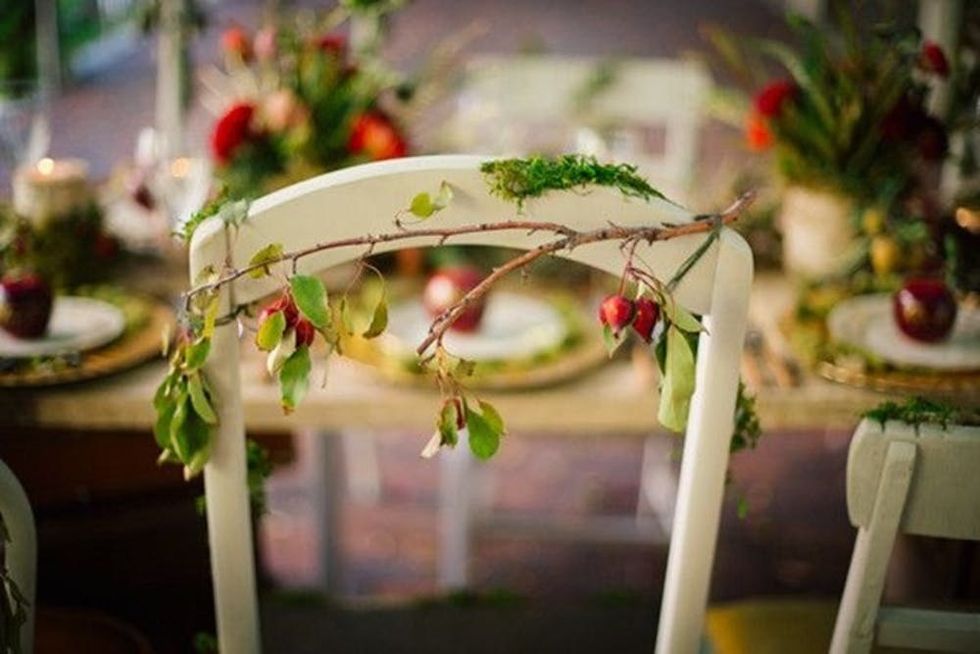 9. Branch + Moss Chair Decor: Use branches and moss to decorate chairs and keep the woodland theme going strong. (via Claire Marika Photography)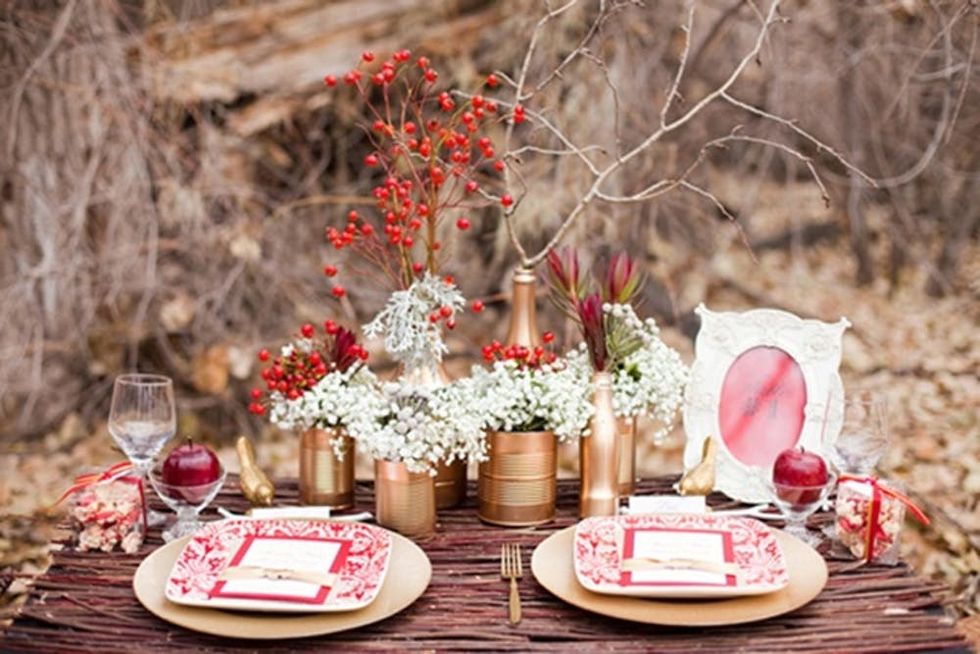 10. Red, White + Gold Tablescape: Channel Snow White in a slightly more subtle way by decorating your table with red, white and gold details. We especially love the repurposed bottles and cans, which make for simple, yet eye-catching vases. (via Lindsey Orton Photography + Lindsey Shaun Photography)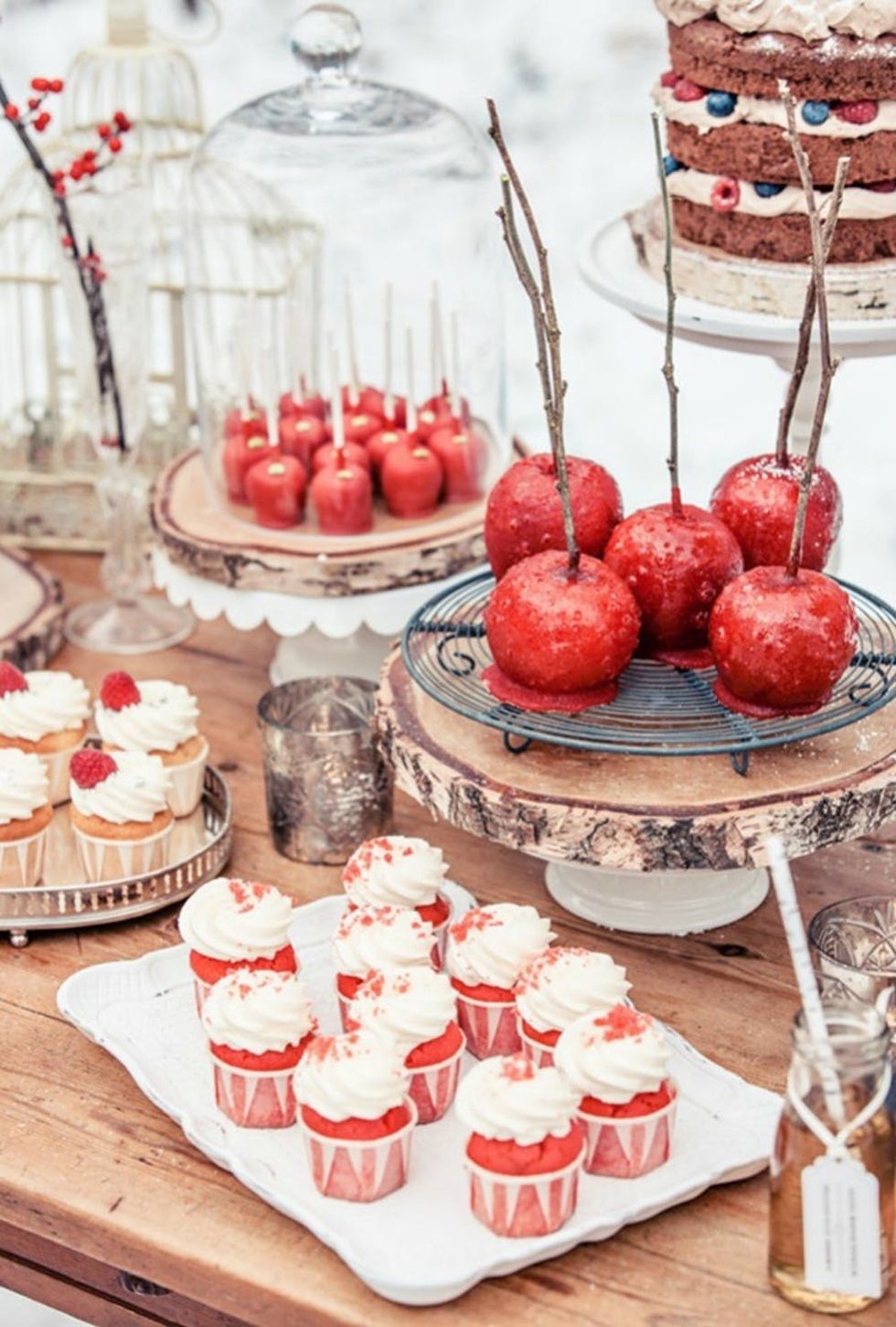 11. Red + White Dessert Display: No poison apples here. Just plenty of candy-coated, sugary goodness for guests to sink their teeth into. (via Felix Matthies)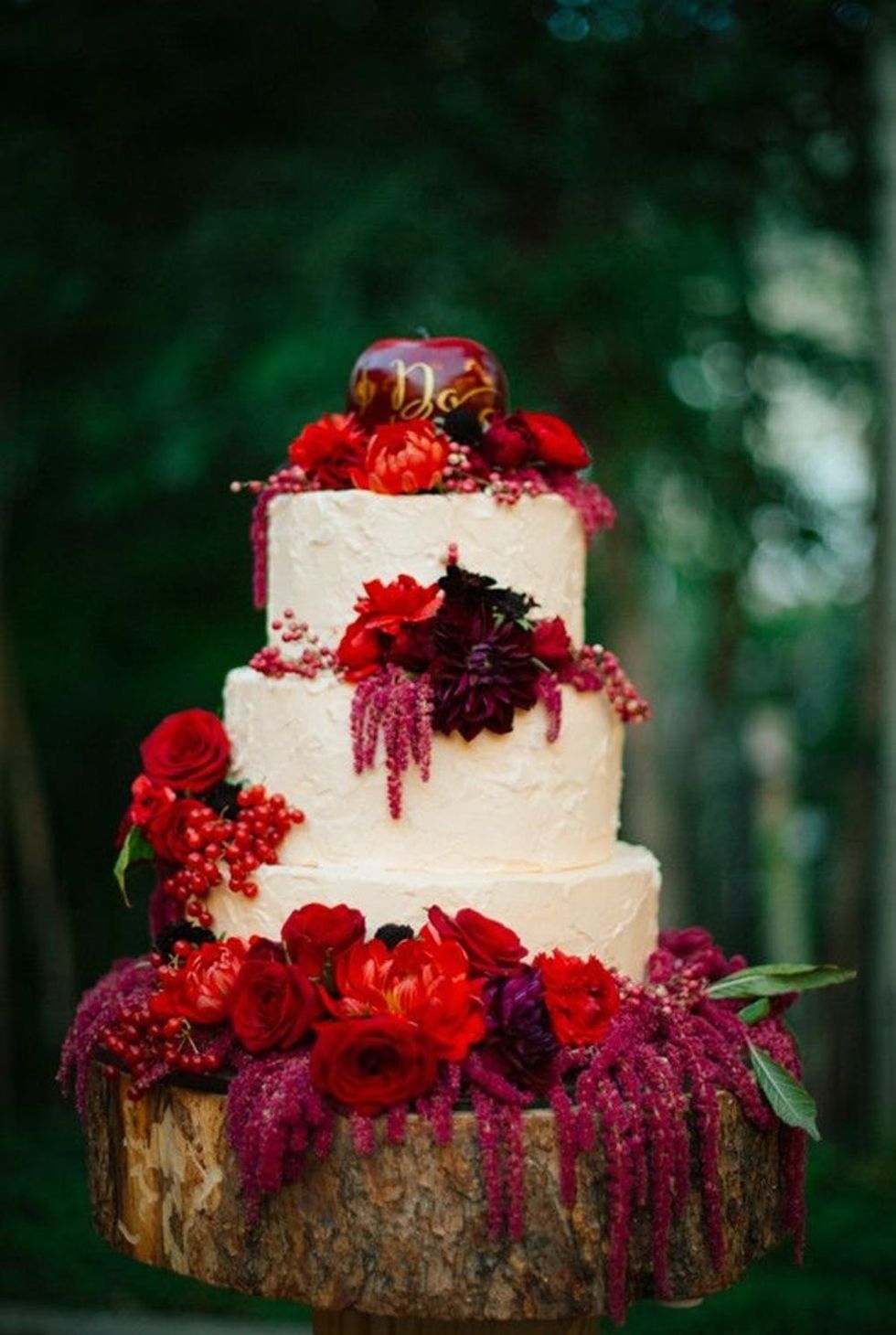 12. Apple-Topped Cake: Think a plain white cake is a boring choice? Not when you dress it up with berries and blooms AND an awesome apple topper. (via Claire Marika Photography)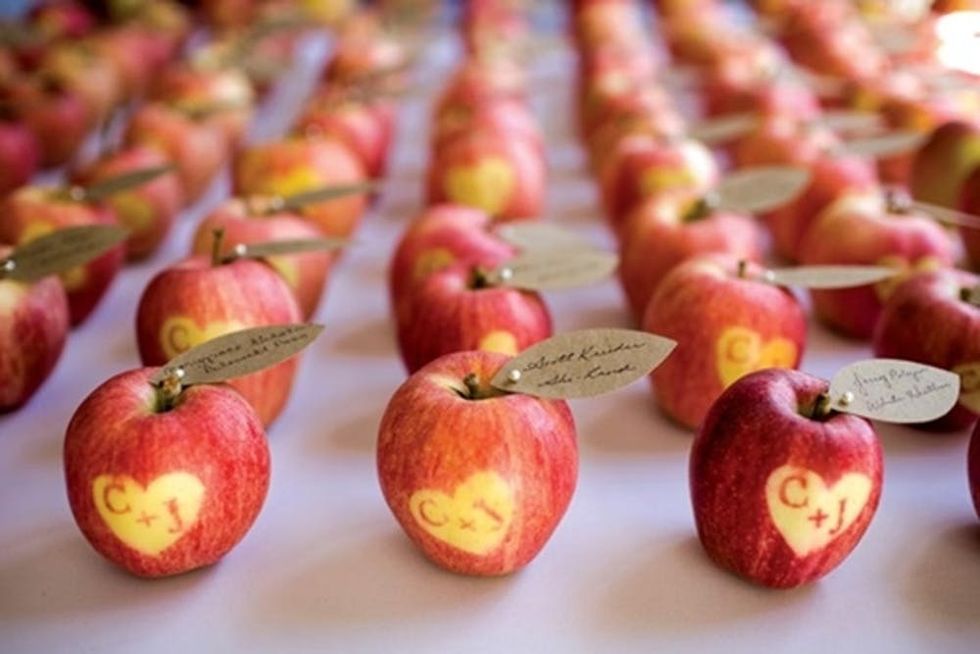 13. Apple Favors: Heigh-ho, heigh-ho, it's back to their homes they go. When the party's over, send guests on their way with edible favors like these cute initialed apples. (via Jonathan Steinberg)
How would you channel your inner Snow White for the big day? Share some wedding wishes below.