Make This Easy Sharpie Watercolor Planter for Your Office
Feb 24, 2016
As lively and beautiful as Brit HQ is, it's kind of a den. It has very little natural light, and yours truly has killed a number of desk plants since working here. After the last death, I took matters into my own hands… and asked the Internet what I should do. The brilliant solution? Try plants that need *very* little sunlight. They exist, you guys! So in true B+C fashion, I DIYed a planter to house my new, resilient friends. Check out the tutorial below for a *super* easy Sharpie project (watercolor planters) and some VIP FYIs about indoor plants.
---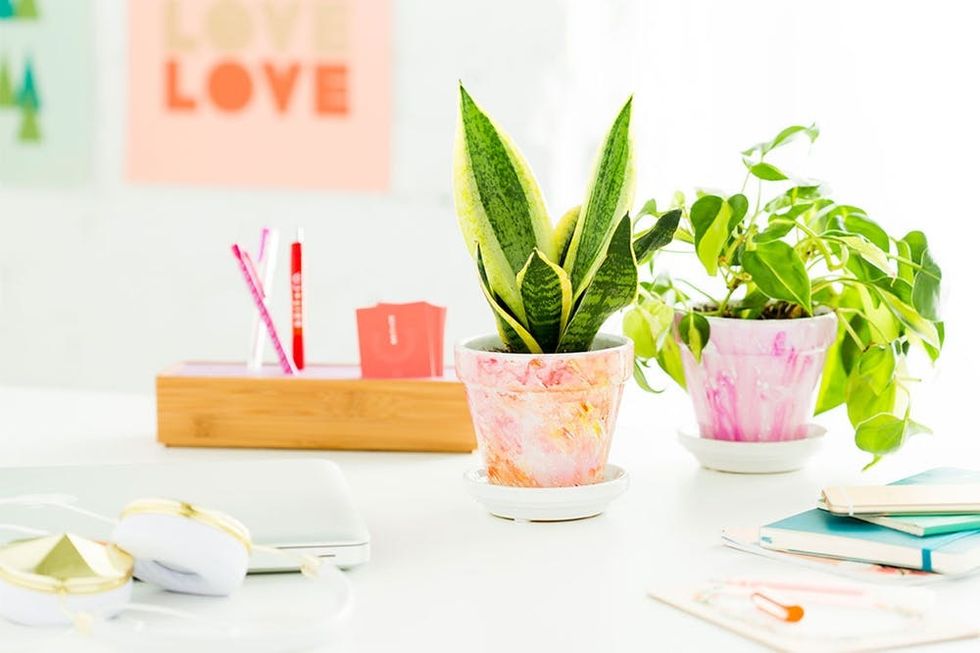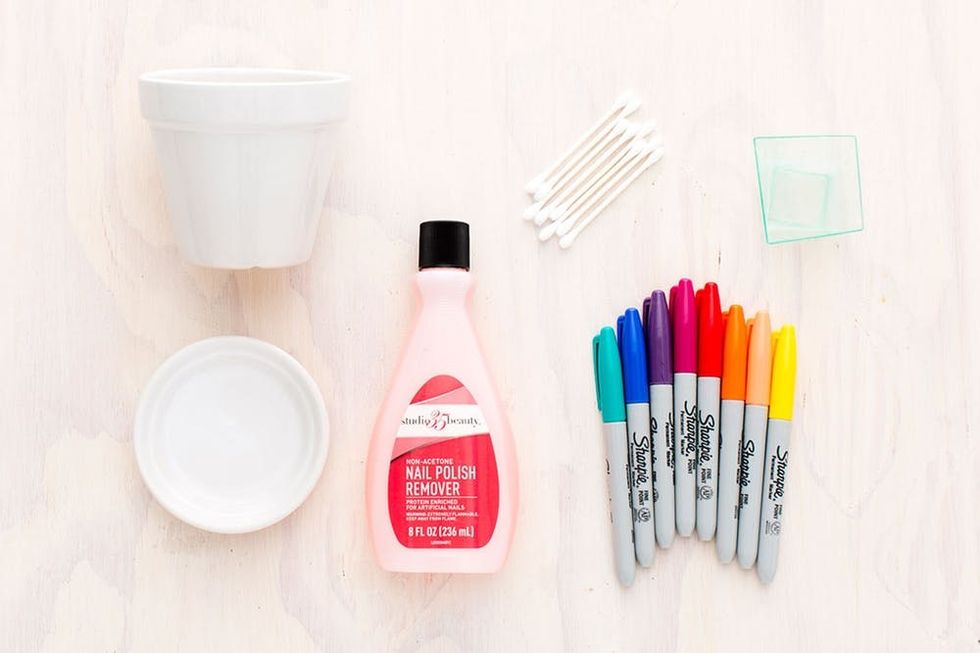 Instructions:
1. Pour nail polish remover into a disposable cup.
2. Draw on the planter with many Sharpie colors. The stroke won't matter in the long run, so you can be messy.
3. Dip a Q-tip in nail polish remover, then go over the Sharpie marks to blend colors.
4. If the colors are dripping or if you want the planter to look more pastel, pat the damp nail polish remover with a paper towel. Let dry.
5. Spray the entire planter with sealant, then let dry again.
6. Plant your plant of choice and you're done!
Keep in mind that many planters have different finishes that may react differently to Sharpie, nail polish remover and spray sealant.
OUR FAVORITE LOW LIGHT INDOOR PLANTS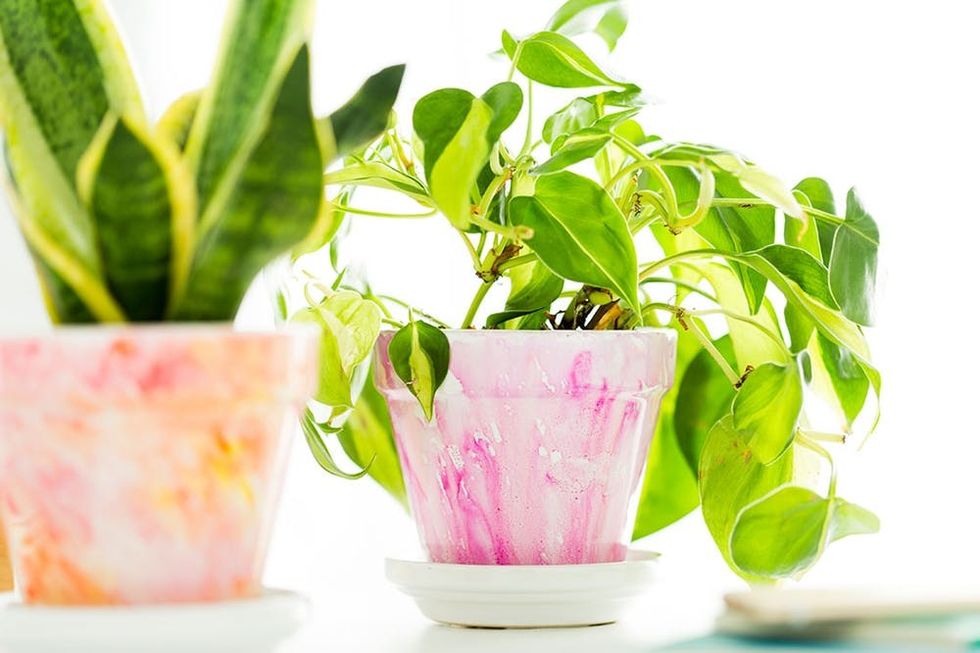 Peek at the list below for our indoor, low-light plant recommendations.
Sanseviera (aka Mother-in-Law's Tongue)
Philodendron Brasil
Chlorophtum Comosum (aka Spider Plant)
Aspidistra Elatior (aka Cast Iron Plant)
Dracaena Fragrans (aka Corn Plant)
Dracaena Marginata (aka Dragon Tree)
Zamioculcas Zamiifolia (aka ZZ Plant)
Asplenium (aka Bird's Nest Fern)
These plants vary in watering needs, so ask someone at your local nursery (or, you know, Google) how often each plant should be watered.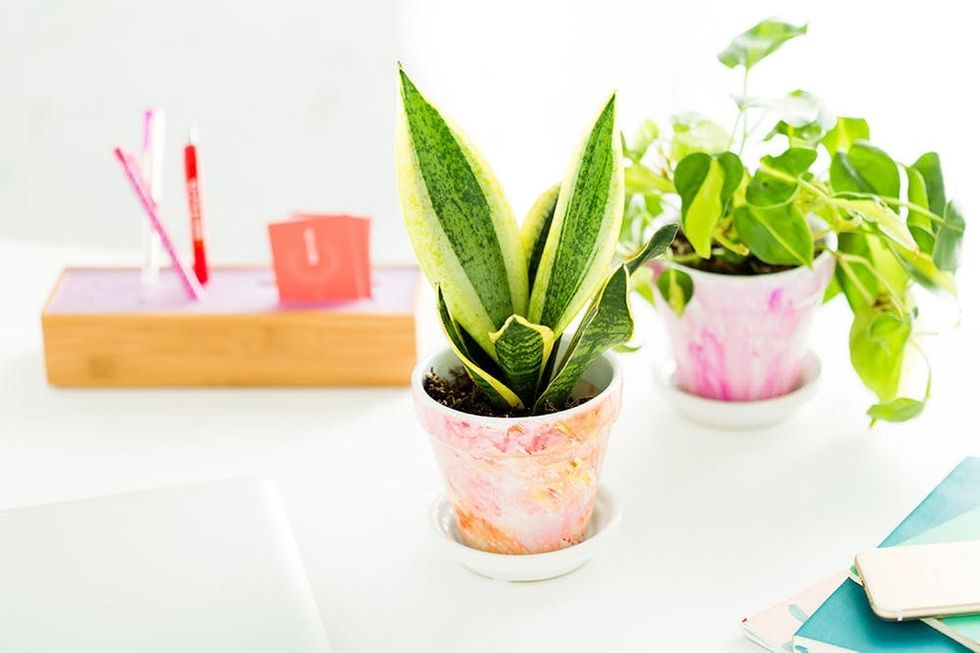 Happy planting!
Are you making these watercolor planters? Snap a picture and share with us on Instagram so we can take a look!
DIY Production + Styling: Maddie Bachelder
Photography: Chris Andre