16 Slurp-Worthy Winter Soups
Nov 23, 2013
There's no more relaxing recipe to make than a warm pot of soup. Actually, we're getting hungry just imaging the comforting smell drifting through the kitchen! We've already shown you ways to cook up a healthy pot (or two), but right now, we're craving something a bit heartier. So whether you're trying to ward off the chills or simply after a satisfying slurp, these 16 winter soups are sure to hit the spot.
---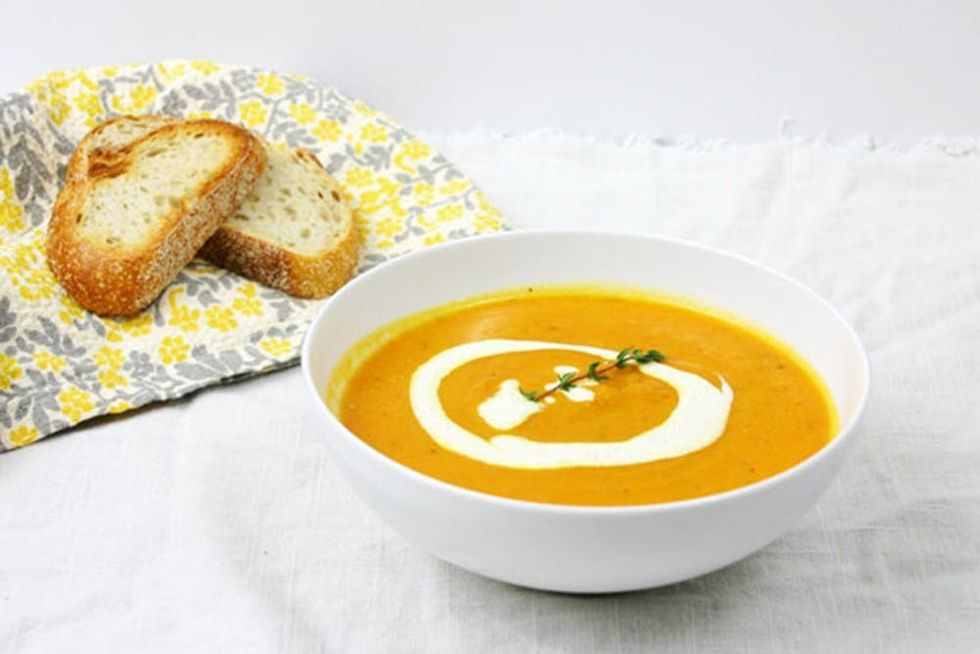 1. Roasted Carrot and Parsnip Soup With Lemon Ginger Cream: If that bright orange color isn't inviting enough, then just wait till you hear about that lemon-ginger cream. Drizzle it over this roasted root vegetable soup for an acidic kick. (via Kitchenette)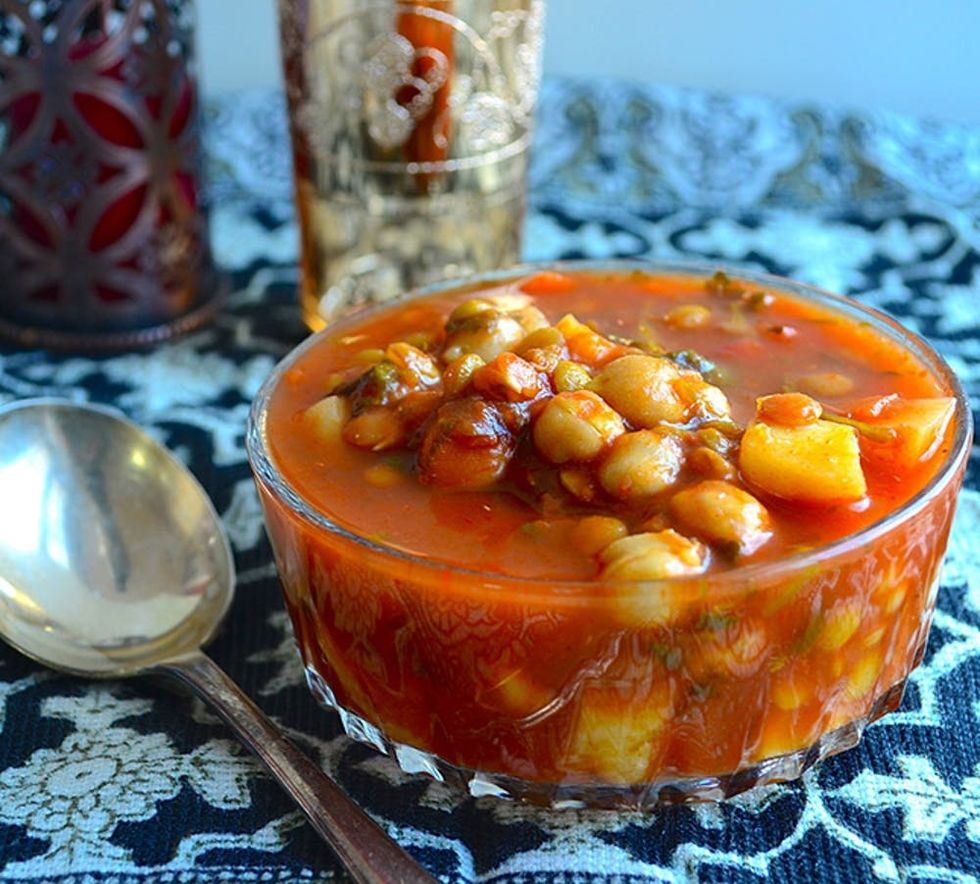 2. Moroccan Style Vegetable Soup: This tomato-based Harira, the proper name for this Moroccan-style veggie soup, is like a North African take on Minestrone. Full of chickpeas, lentils, and chopped carrots, this hearty bowl is great inspiration for your next Meatless Monday. (via May I Have That Recipe?)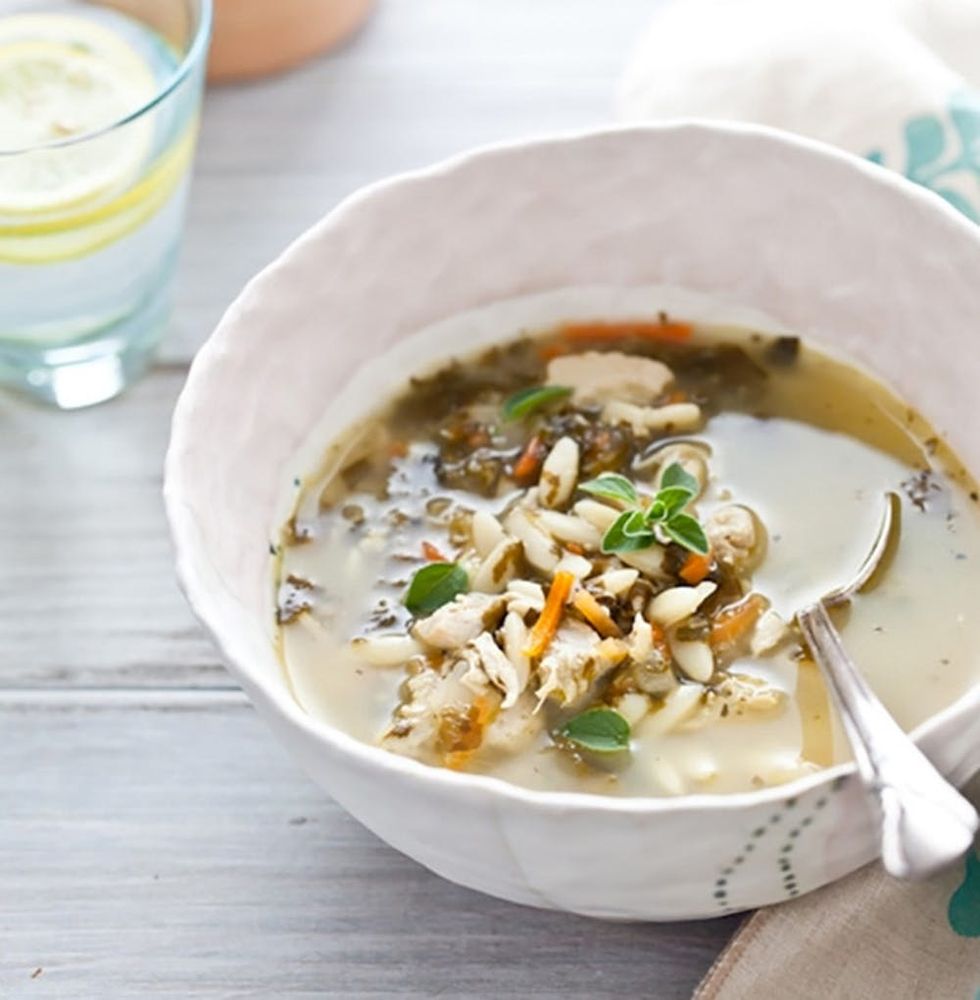 3. Lemon, Chicken, and Orzo Soup: Add a twist to your chicken noodle soup recipe by using short-cut orzo instead of traditional long noodles. Homemade chicken broth is always the way to go, but if you just don't have the time, be sure to keep your pantry stocked with canned broth. (via Tartelette)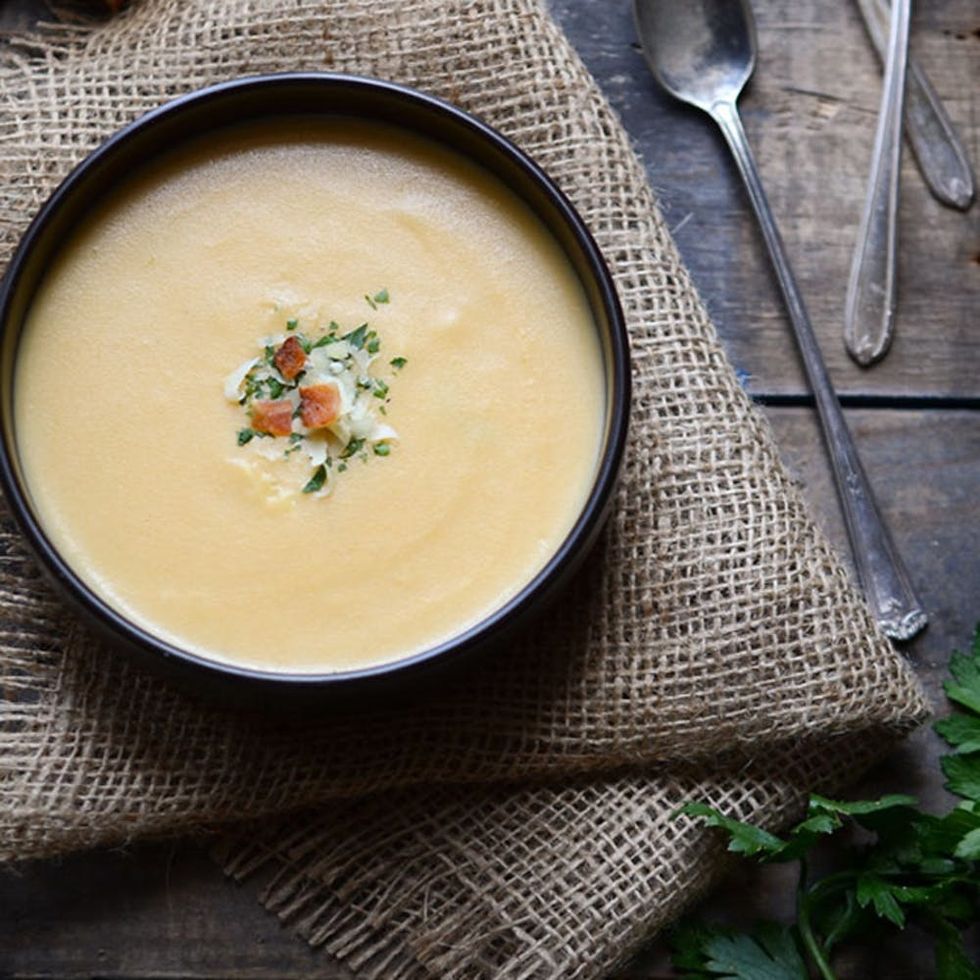 4. Cheesy Potato Soup: Cheesy potato soup. Mmmm. Topped with crispy bacon, this rich and creamy soup is exactly what we're craving right now. (Can't you tell?) ;) (via Savory Simple)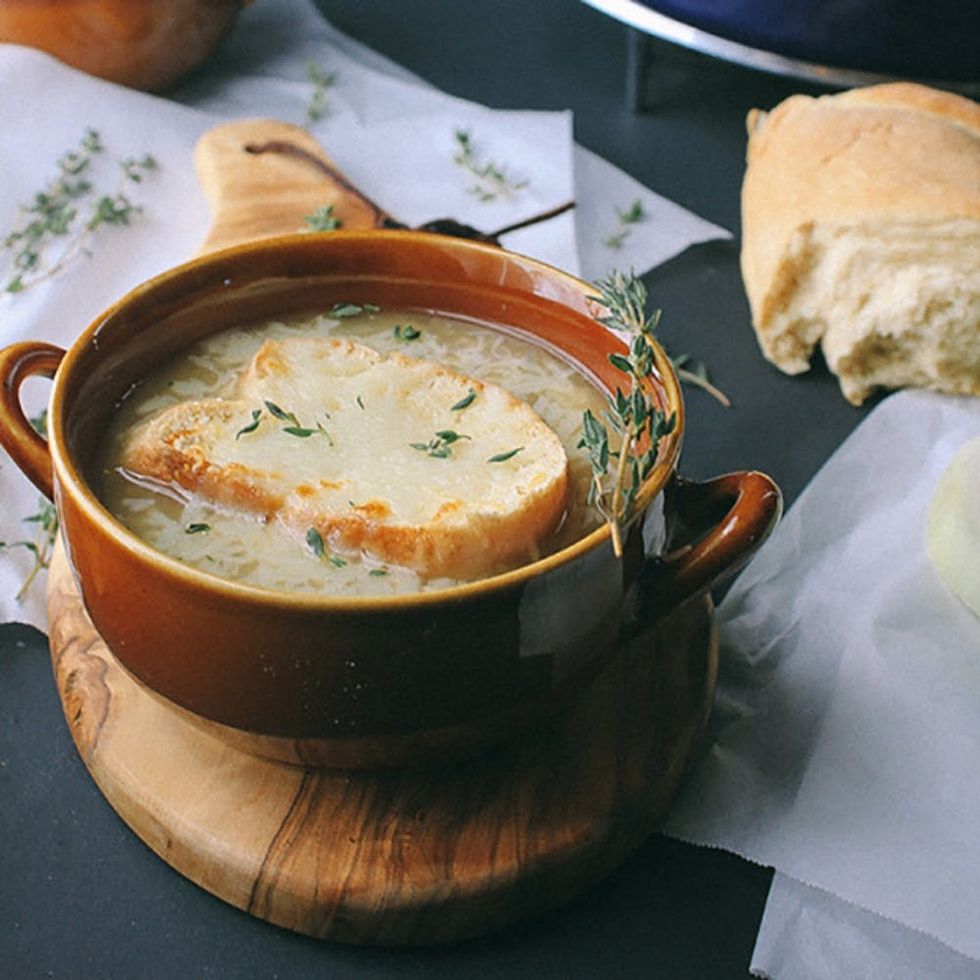 5. French Onion Soup: Don't let this iconic soup intimidate you from making this French classic at home. Yes, you will have to babysit your onions while they caramelize, but you'll be glad you did once you sip a spoonful of your perfectly-tempered broth. PS: Cheesy "croutons" are a MUST. (via Vegetarian Ventures)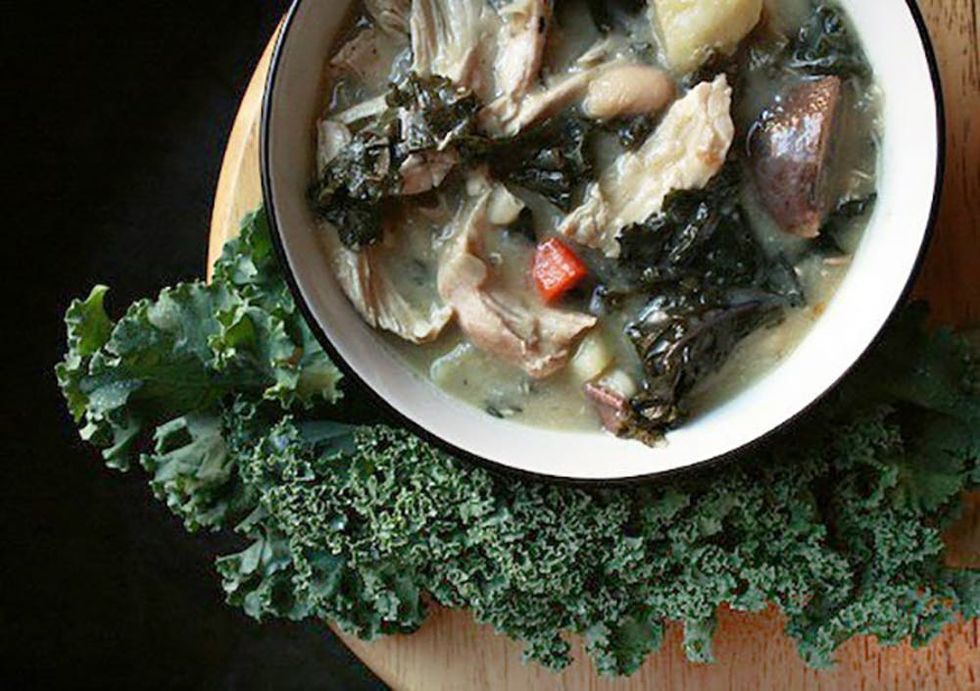 6. Chicken Stoup With Kale and Cannellini Beans: Meet your new go-to winter recipe. This soup-stew hybrid (stoup—get it?) is packed with vitamin-rich kale, meaty white beans, and roasted chicken resulting in what may be the perfect hearty soup ever. We couldn't recommend it more! (via The Kitchn)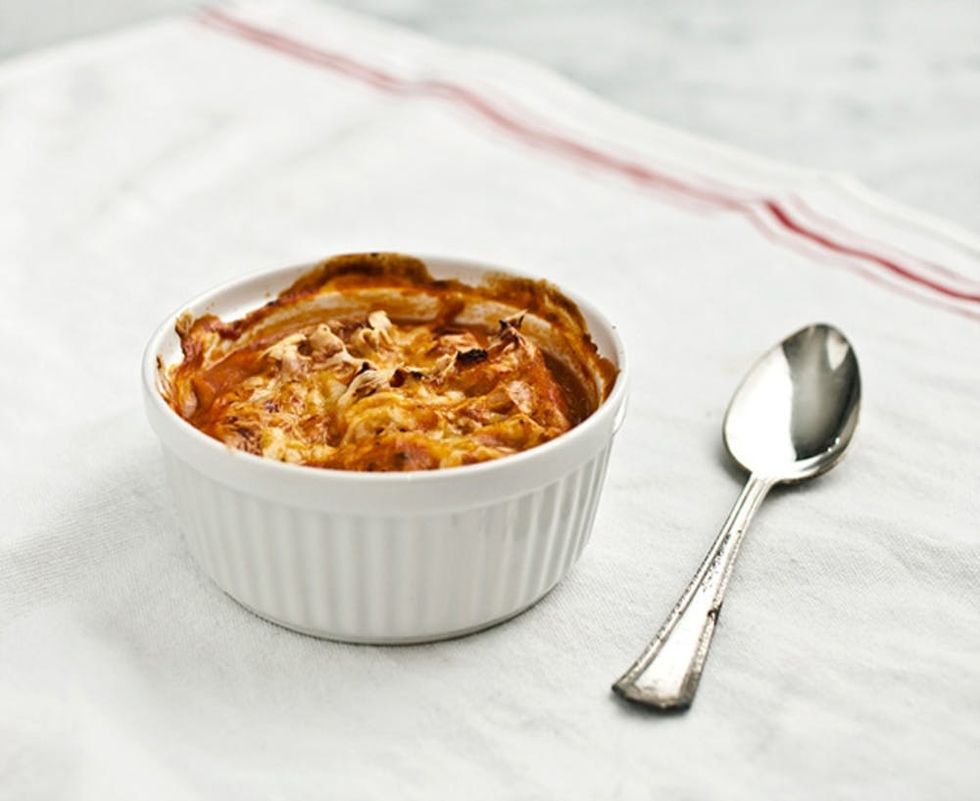 7. Baked Tomato Cheese and Bread Soup: A bowl of tomato soup gets the ultimate upgrade: a golden-brown, cheese-filled crust! We love that you can add this impressive topper to a store-bought version and still wow your guests without fail. (via Love and Lemons)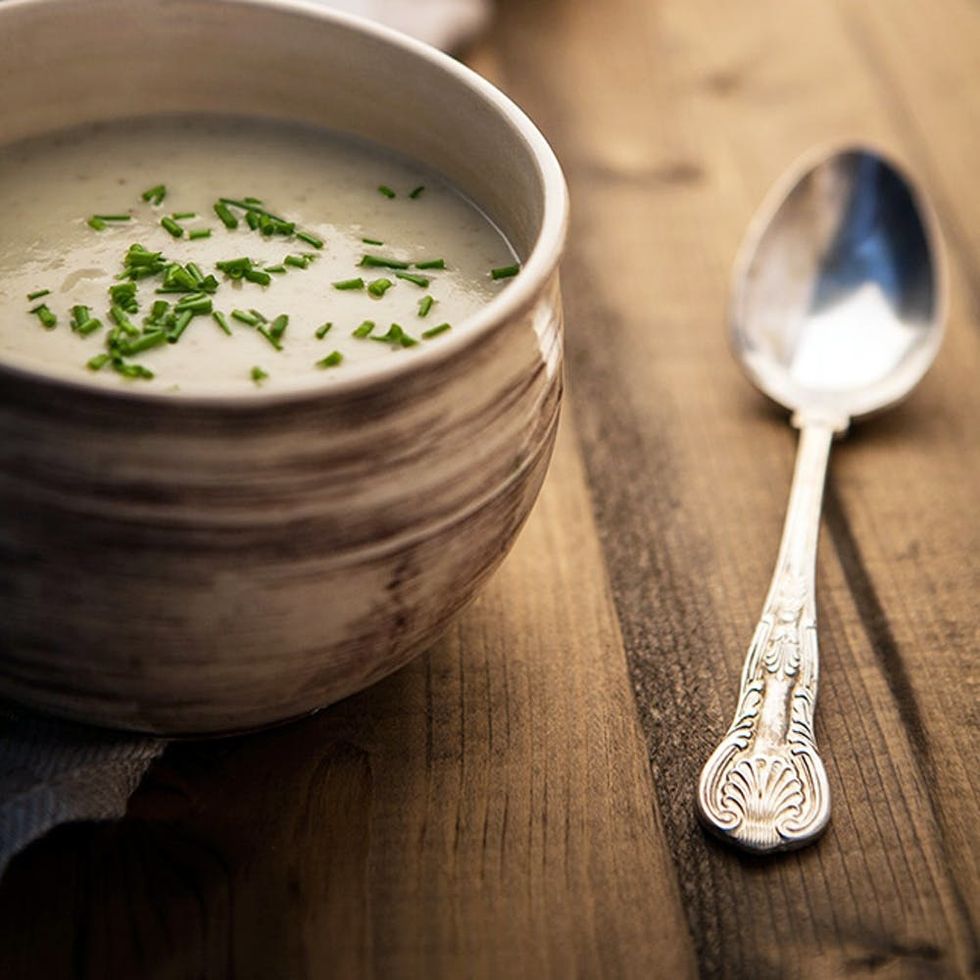 8. Jerusalem Artichoke Soup: It's no surprise that oh-so sweet and nutty Jerusalem artichokes (or sunchokes) would make an amazing winter soup. This blogger gives you a list of decadent toppings to compliment this cup, including chopped hazelnuts and seared scallops (yes please!) (via Greedy Gourmet)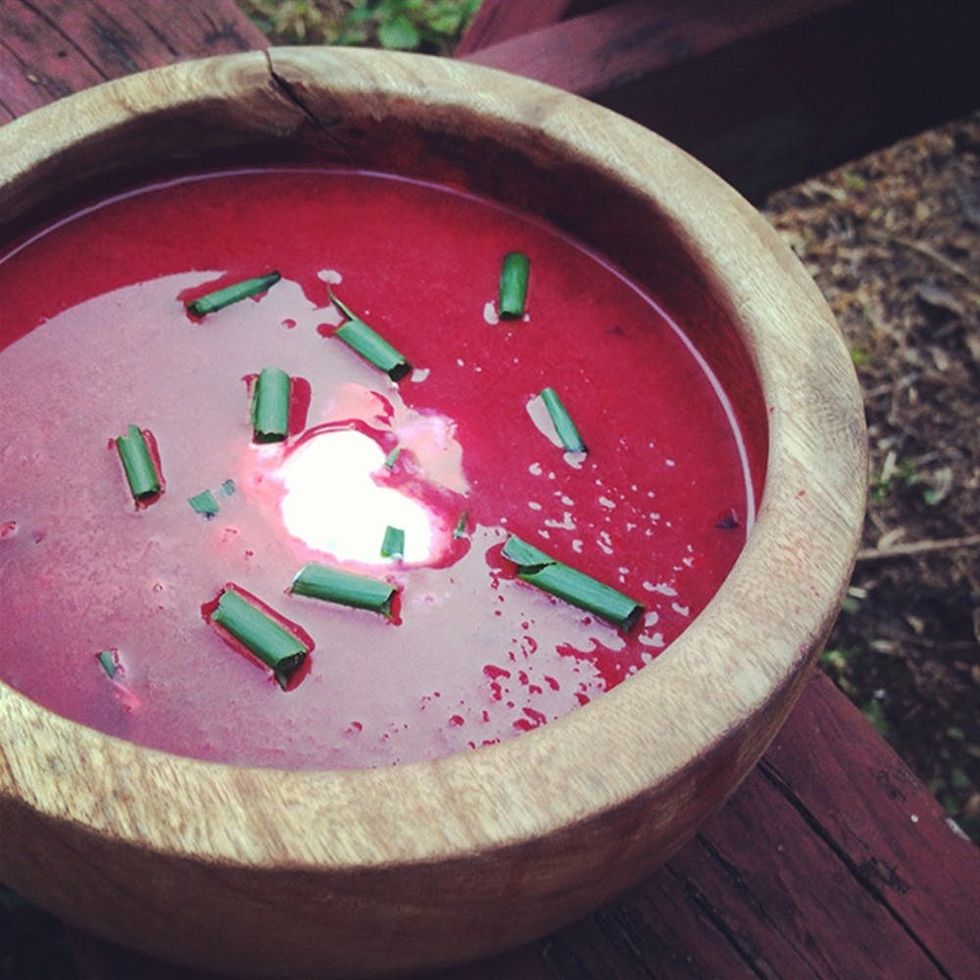 9. Beet, Carrot, and Cabbage Borscht: This vibrant colored soup gets its deep red hue from a beet-filled broth. Finish this veggie-blended soup with a squeeze of lemon, a dollop of sour cream, and a sprinkling of chives—you won't be sorry! (via The Great Kosmic Kitchen)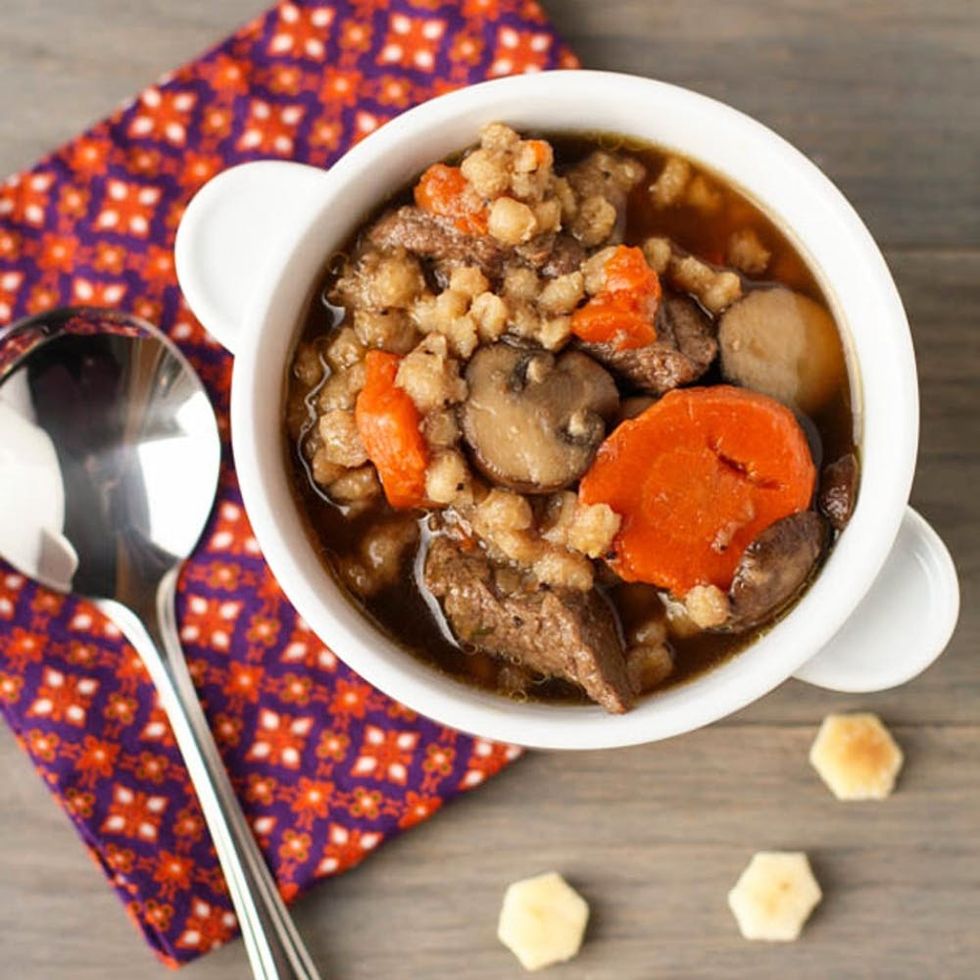 10. Beef Barley Soup: Sometimes, you just don't mess with a classic combo like beef and barley soup. Enjoy with oyster crackers for a hint of nostalgia. ;) (via Garnish With Lemon)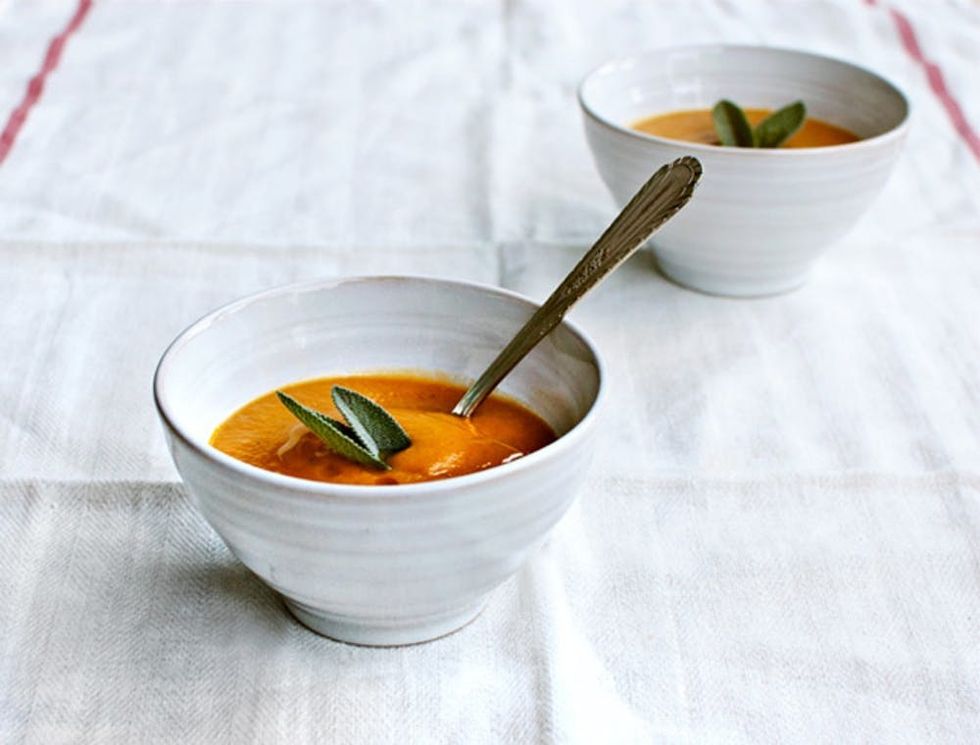 11. Sweet Potato and Pear Soup With Sage: Hold the phone: sweet potato and pear soup? With sage? This sounds like a genius idea we have to try. (via Love and Lemons)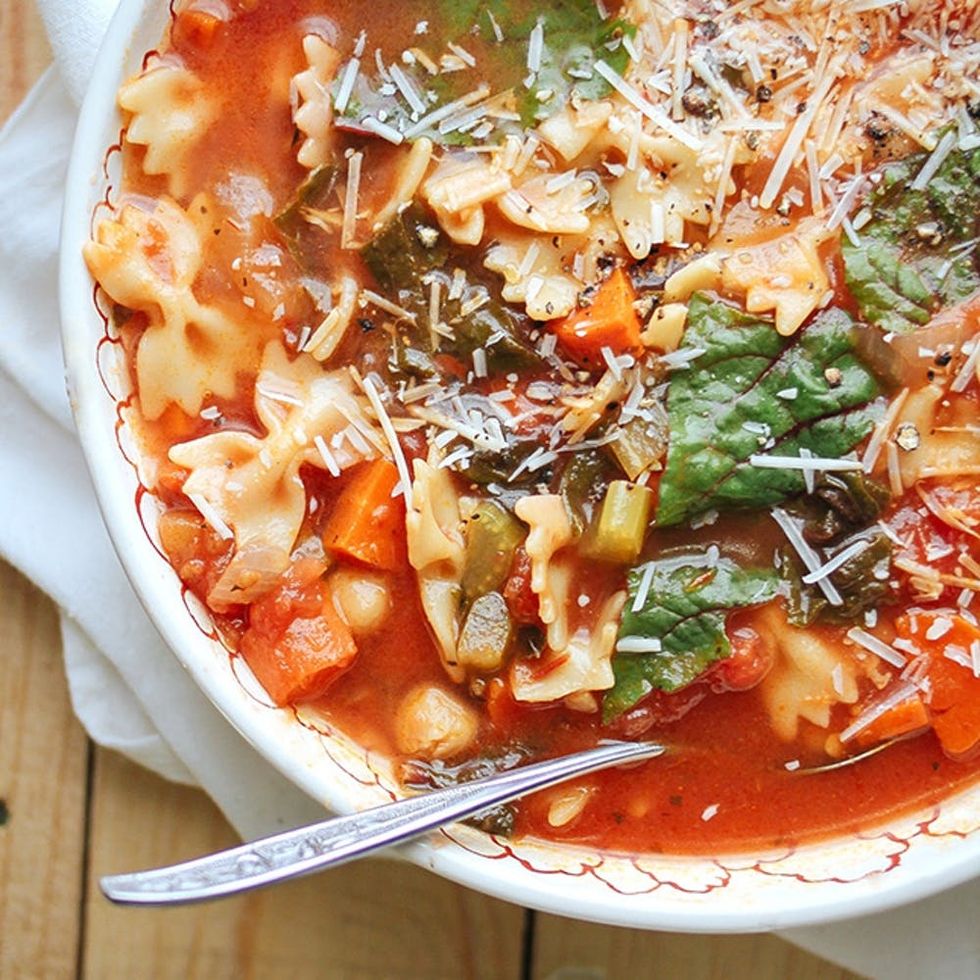 12. Chickpea Tomato Minestrone: Introducing the king of hearty soups: minestrone! This loaded recipe calls for bow tie pasta and ripped Swiss chard on top of the usual suspects like chickpeas, carrots, and of course, shaved parmesan for garnish. (via Vegetarian Ventures)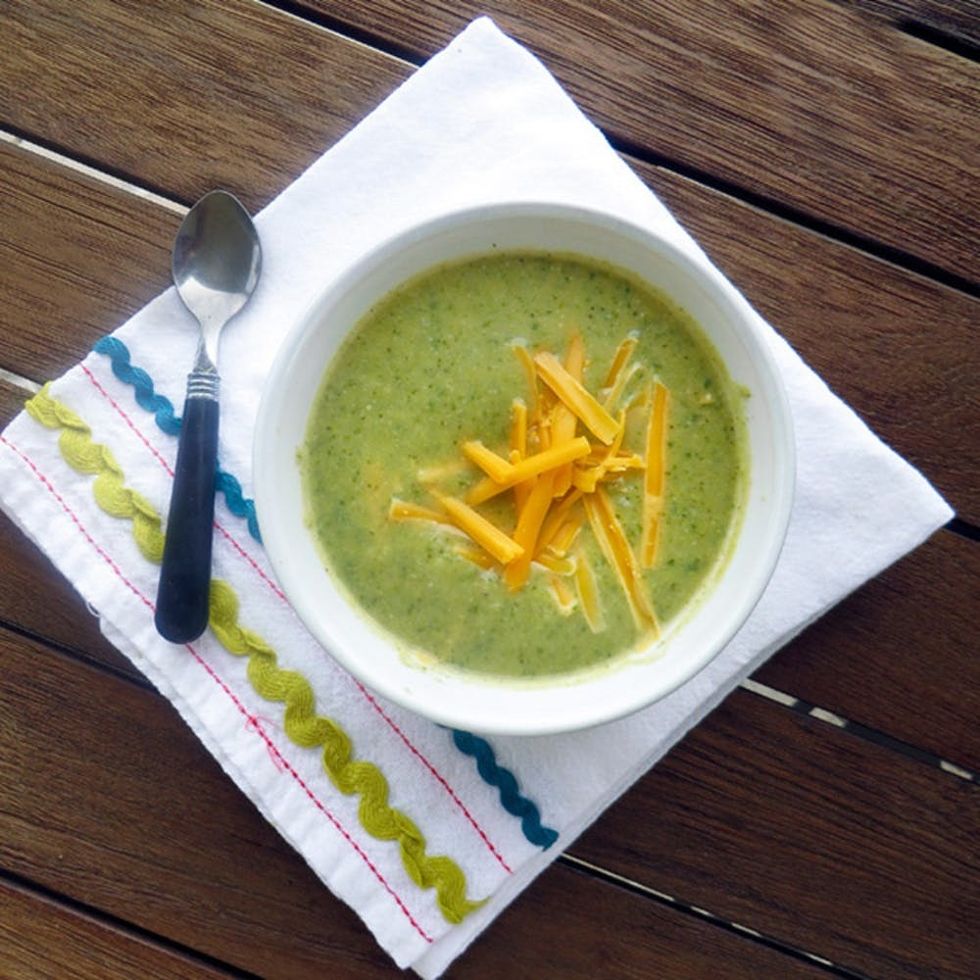 13. Broccoli Cheddar Soup: When cheese met broccoli, Cupid exited the heavens with a gratuitous mic drop. Two kinds of cheddar make their way into this velvety soup. (via Salt and Serenity)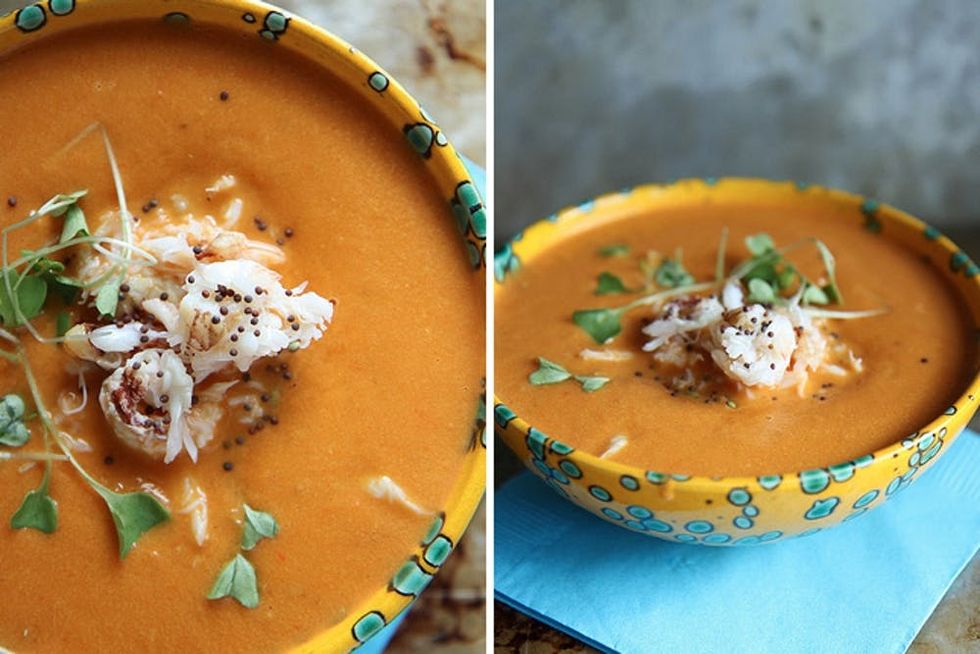 14. Spicy Tomato Crab Soup: Here's another decadent way to upgrade a bowl of tomato soup: garnish with lump crab meat. The sweet topping is a perfect flavor contrast to this soup that's spiced with jalapenos and a sprinkle of mustard seeds. (via Heather Christo)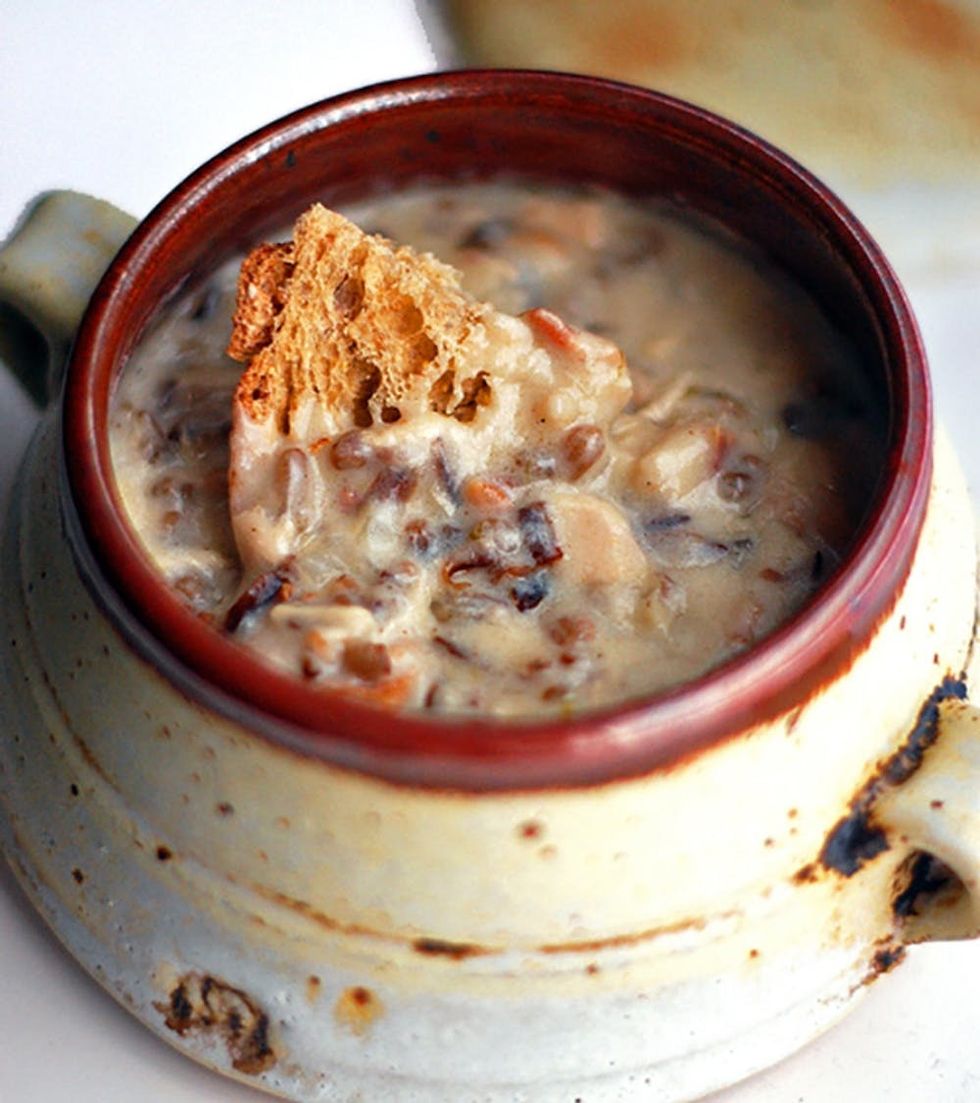 15. Chicken Bacon Wild Rice Soup: After a jaunt in the cold outdoors, nothing is more welcome than a bowl of this rich and creamy chicken, bacon, and wild rice soup. With a slice of crisp toast for dipping, we can't think of a better wintertime meal. (via Pinch of Yum)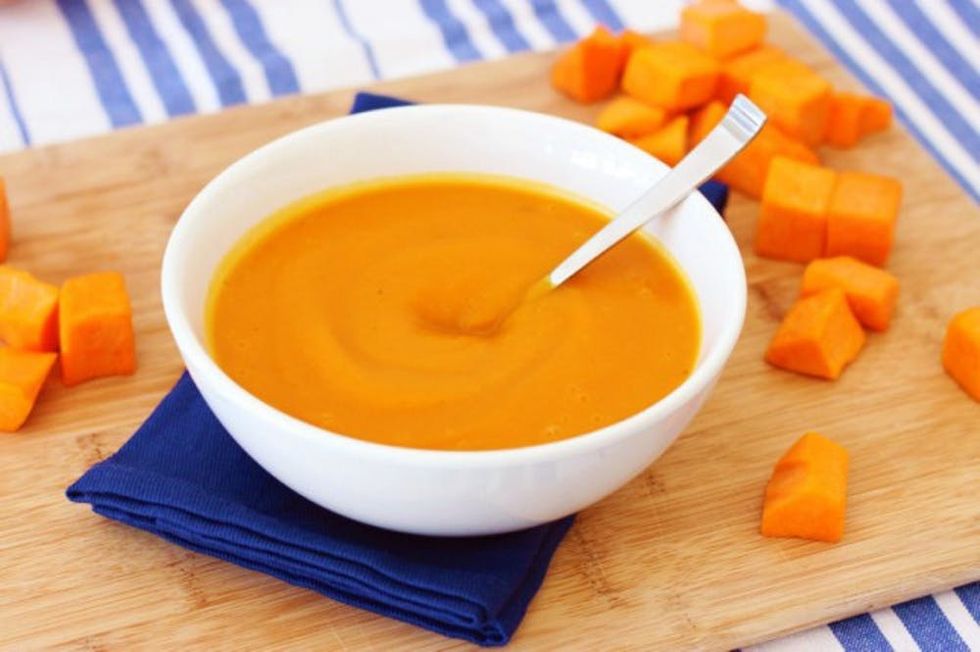 16. Ginger Butternut Squash Soup: We'll end this roundup just like we started—with a bright orange soup! Channel the flavors of fall with this ginger-spiced, butternut squash soup that you can make in 30 minutes. Oh, and it only has 110 calories per serving. Who said hearty couldn't also be healthy? ;) (via Brit + Co.)
Do you have a go-to soup recipe? What's your favorite from-scratch soup to make? Tell us in the comments below!