As Seen On 'Good Morning America:' How To Throw The Ultimate Ugly Sweater Party
Dec 13, 2017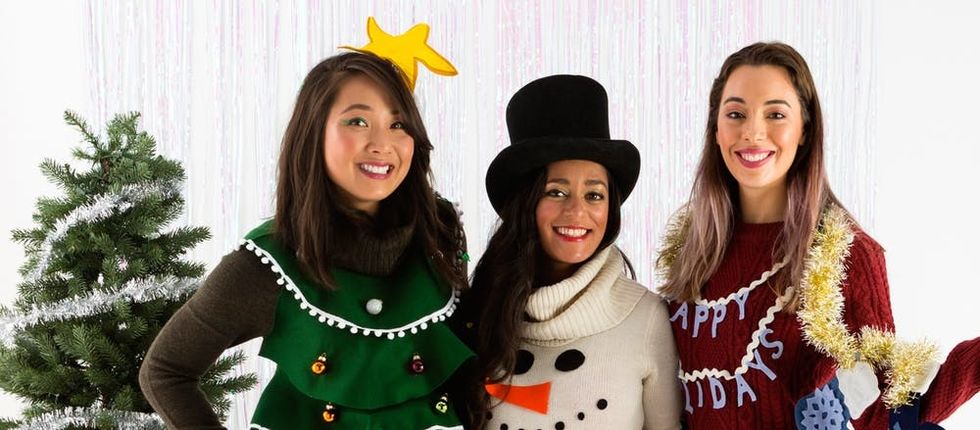 It's official — 2017 is winding down, which means time to break out the mittens, hats, and, of course, your
ugliest and tackiest holiday sweaters.
Here at Brit + Co we think the *best* sweaters are covered with tinsel and pom-poms, so that's why we've teamed up with
Good Morning America
to show you how to throw the ultimate ugly sweater holiday party. We'll show you three different styles to wow your guests and win that ugly sweater contest this
holiday season.
But the party doesn't just revolve around fashion; we also have a few decor tips and tricks to help spruce up your space for this big occasion.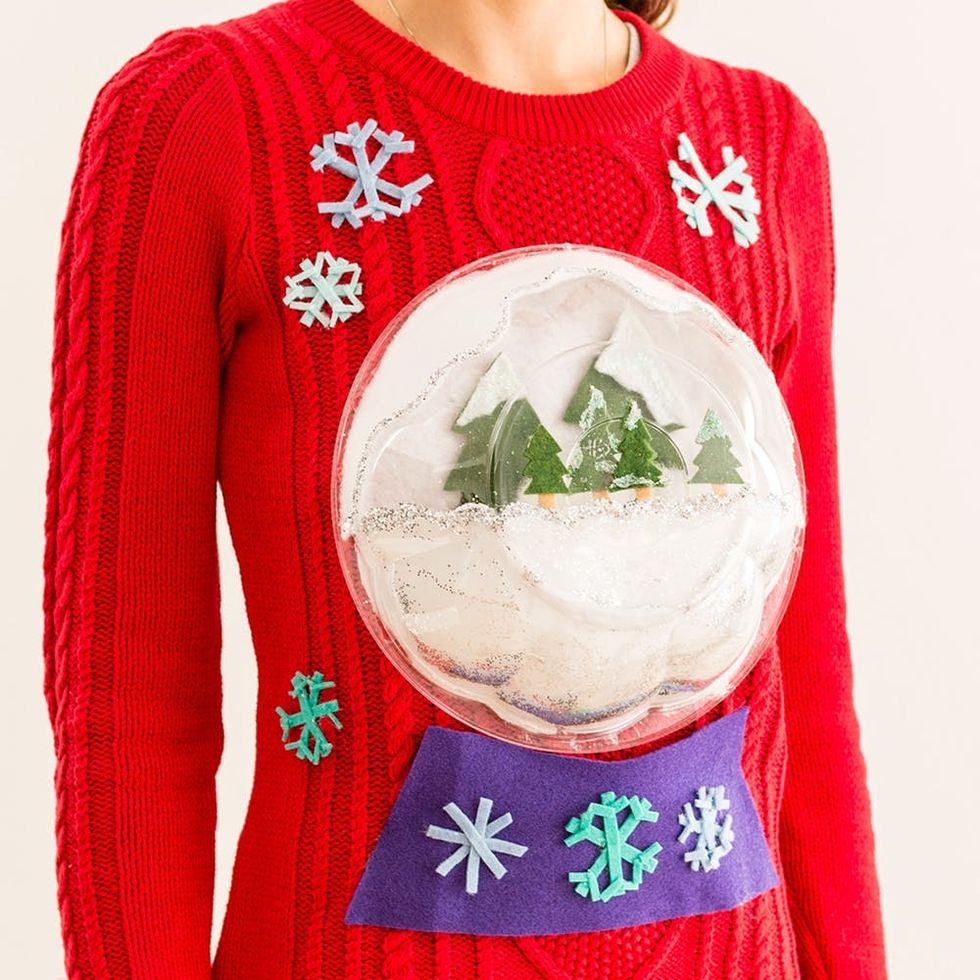 Snow Globe Sweater
: Our first hack is turning your sweater into a snow globe with the perfect winter wonderland scene. To start, use felt and cotton balls to cut out Christmas trees and make a snowy landscape. Use hot glue to attach your scene onto the front of your sweater. Now, here comes the fun part. Use a clear plastic take-out salad container to create the snow globe bubble. We found these on Amazon, but you could just as easily hit up your local lunch spot to see if they have an extra you can have. Fill the container with fake snow, and hot glue it over your wintery scene and onto the sweater. Finish off the look with snowflakes all around the snow globe because, in the world of tacky sweaters, the more doodads the better.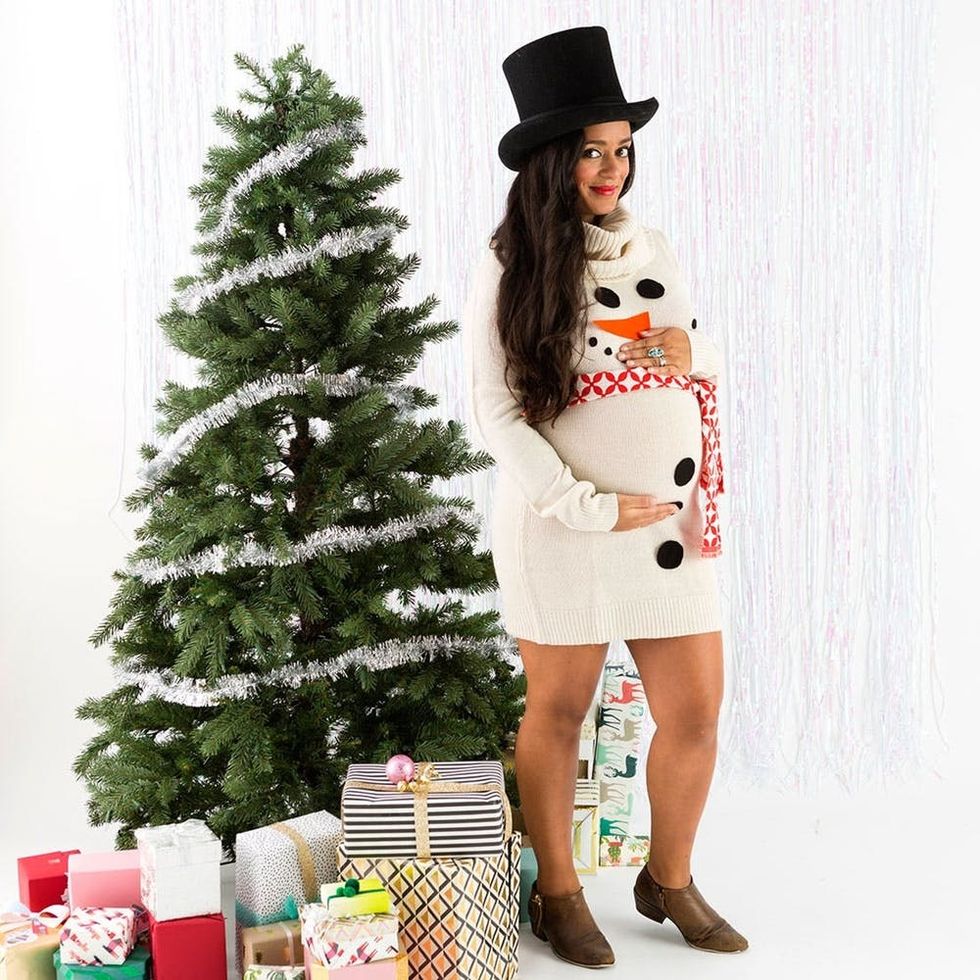 Pregnant Snow-Woman Sweater Dress
: Mamas to be, this one's for you and it is SO easy to make. This pregnant snow-woman is actually made from a sweater dress, felt and a scarf from your closet. All you need to do is cut out one orange triangle for the nose and a few black circles from felt. Then use hot glue to attach the eyes, nose, mouth, and snowman buttons in place. Tie your scarf right above your pregnant belly to to create those snowman curves and you've got yourself the perfect ugly sweater for you and your baby bump.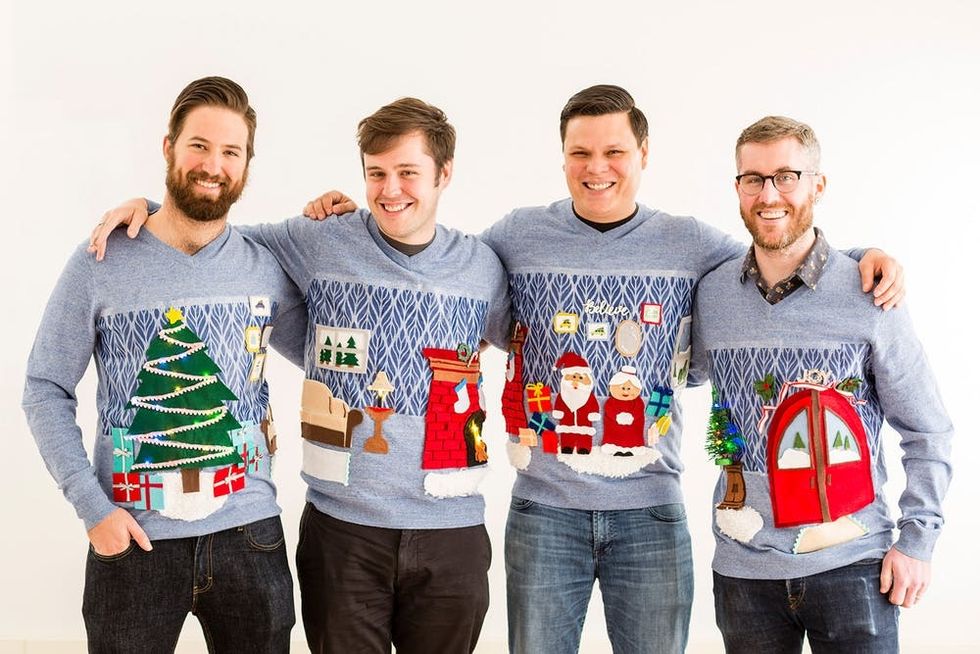 The Ultimate Group Sweater Christmas Scene
: What kind of holiday would it be if you didn't have friends by your side? This ugly sweater is actually a group activity. Grab your besties and make four sweaters that blend into each other. We modeled our group after grandma's house — filled with tacky wallpaper, old couches, and tons of presents. There are two things we love about these sweaters: 1. Each sweater can still be ugly on its own and 2. These sweaters light up! Head to your local hardware store to purchase battery powered LED lights. Cut a tiny hole in your sweater to string them through the front, leaving the battery pack on the inside of the sweater. Finally, hot glue in place. If we were voting, this group sweater is a shoo-in for first place in the Christmas sweater contest of our dreams.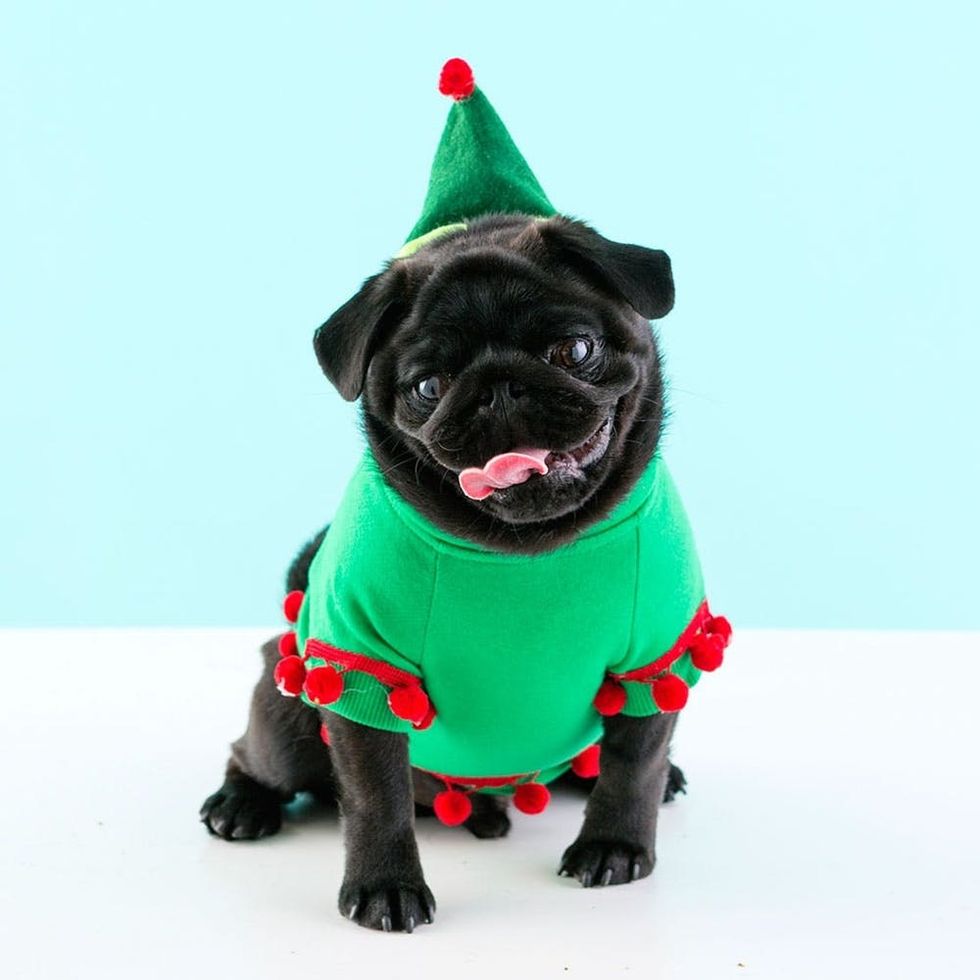 Little Elf Dog Sweater
: Let's not forget about our favorite furry pals! Deck out your dog's sweater in pom-pom trim and felt patches. They definitely won't want to be left out of the party. The party doesn't stop at sweaters, make sure to continue the festive theme into your decor.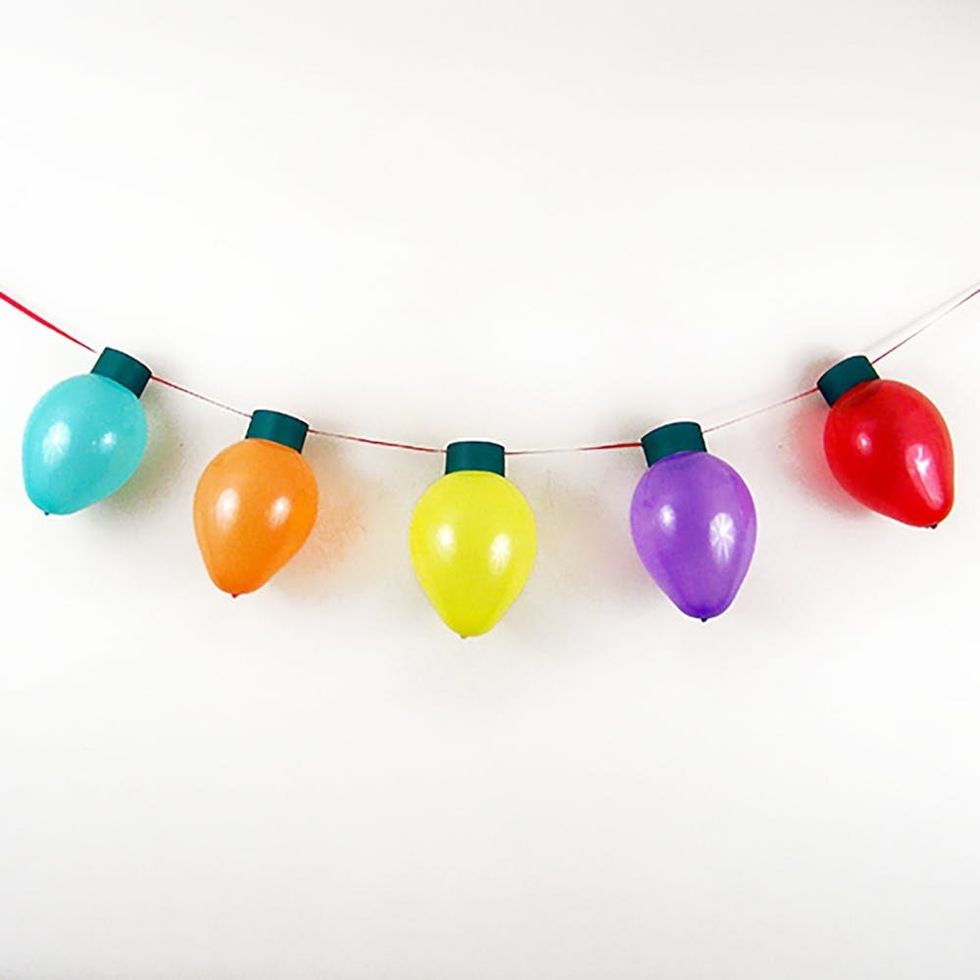 Christmas Light Bulb Garland
: Now we never want to forget about decor! Use balloons and black paper cups to create a light bulb garland. All you will need to do is blow up balloons and tie them to a black ribbon. Cut a slit in the paper cups and slide around ribbon and have it sit on the top of the balloon. These are the perfect quirky and oversized ornaments you will want for your epic ugly sweater party.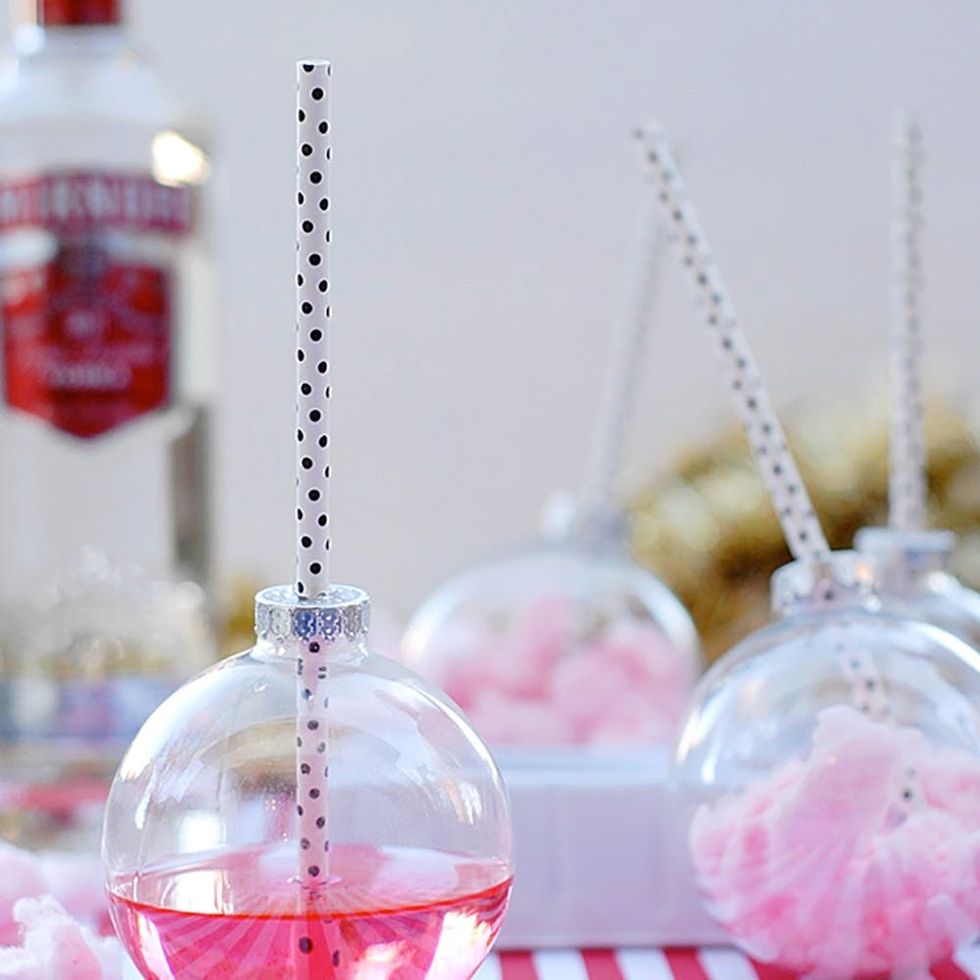 Christmas Ornament Cocktails
: What's a party without a cocktail, or a mocktail! Use round plastic ornaments as cups for this ugly sweater gathering. Remove the piece of the ornament and hot glue a napkin ring to the bottom side. Pour your favorite, boozy or non-boozy beverage inside and top off with a straw. We filled these ornament cocktails with cotton candy and then topped off with sparkling water, or if you are feeling more festive you can top off with champagne.
Show us your latest ugly sweater project by tagging us on Instagram + using hashtag #iamcreative!
Show us your latest ugly sweater project by tagging us on Instagram + using hashtag #iamcreative!
DIY Production and Styling: Kelly Bryden

Brit Morin
Hi, I'm Brit, the founder and CEO of Brit + Co. I'm a young mom of two, tech nerd and design-inclined lady who has a zillion hobbies and curious about... just about everything! My mission from the beginning has been to unlock women's creativity and courage to try new things so that they can find the path to their true passions.
Party