No matter what holiday you celebrate, no one can deny the festive awesomeness of Christmas lights. For weddings, birthdays, and holiday parties, the right string of lights is crucial to any event.
---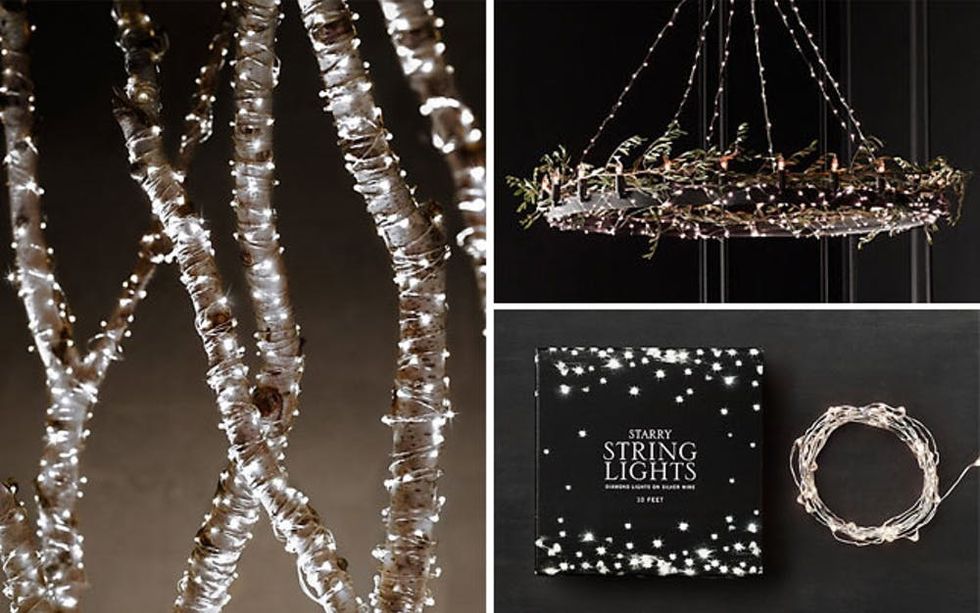 1. Starry Silver Lights ($12-$89): These teeny tiny lights are a great way to add sparkle to any part of your home. Great for a mini-tree!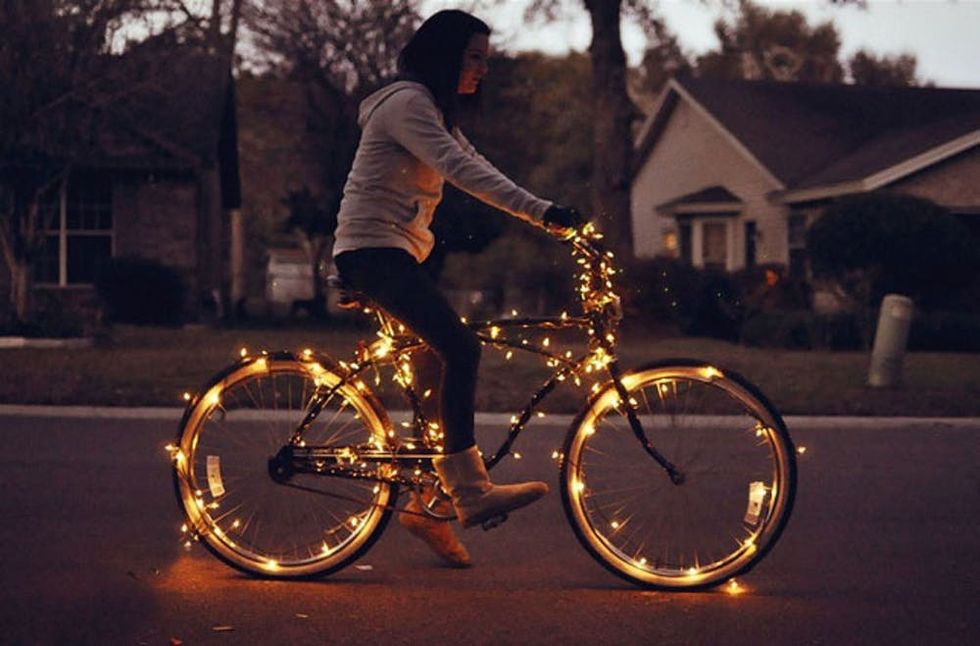 2. Christmas Lights on a Bike: If you don't have a tree or home to decorate, why not illuminate your trusty two-wheeled chariot? (via Millenion Design)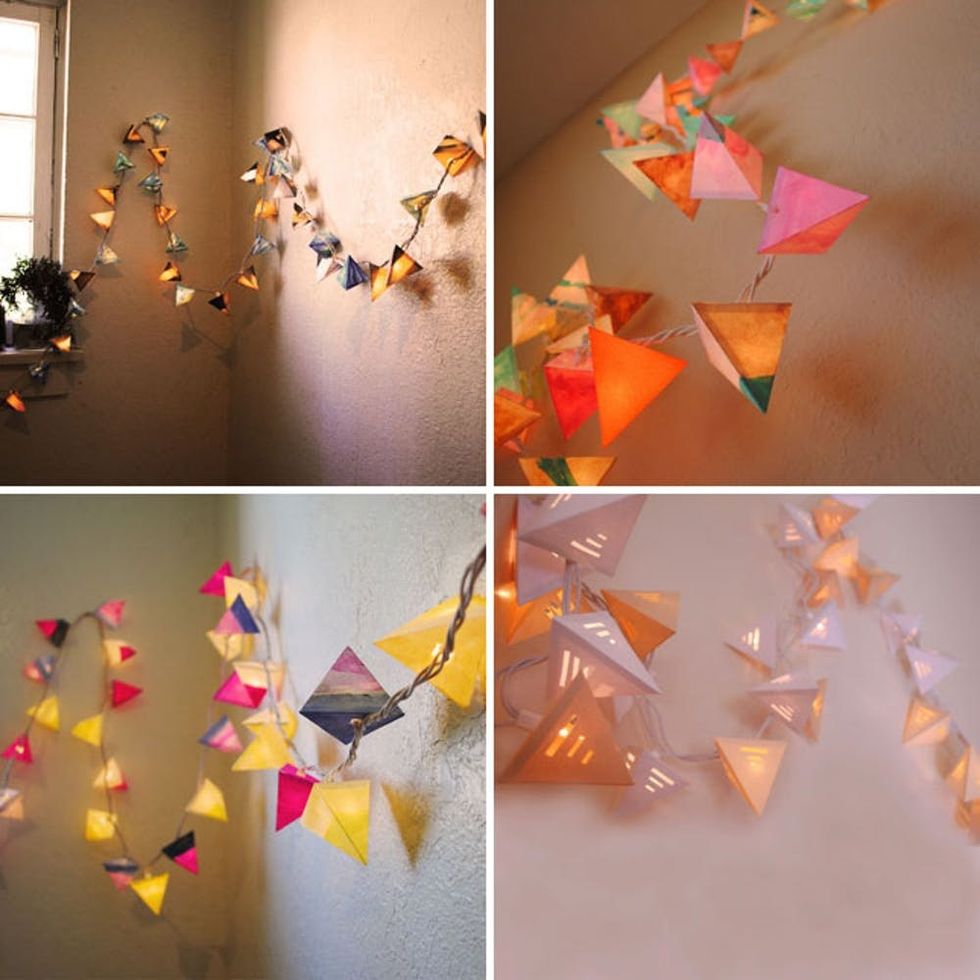 3. Paper Pyramid Lights ($42-$68): These gorgeous lights are made from printmaking paper scraps!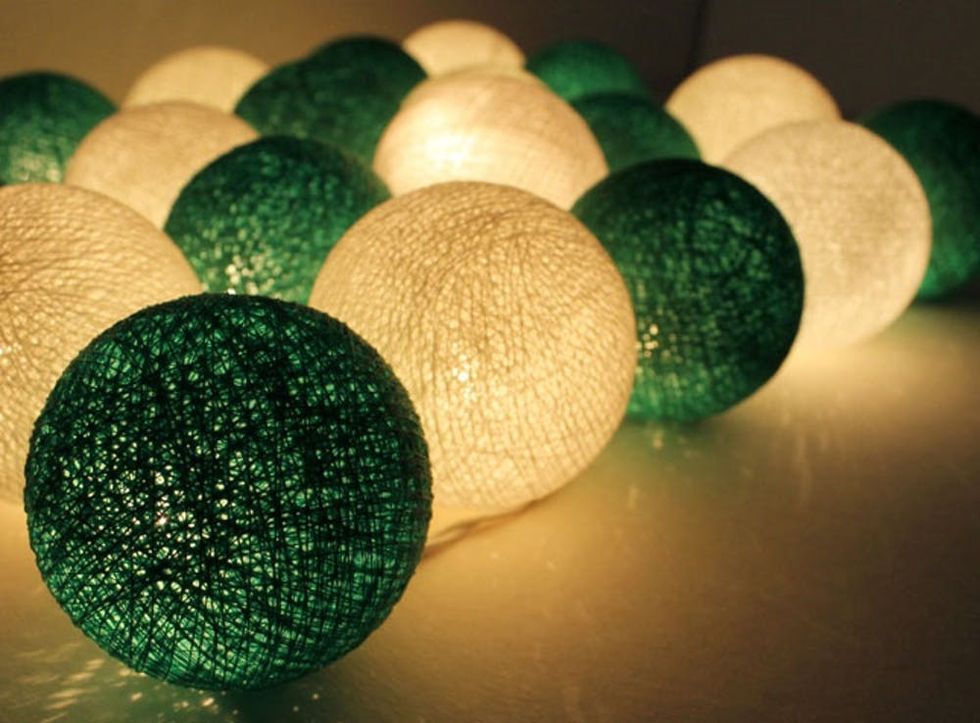 4. White & Green Cotton Ball Lights ($13): For a rustic but still colorful vibe, go for handmade cotton lanterns.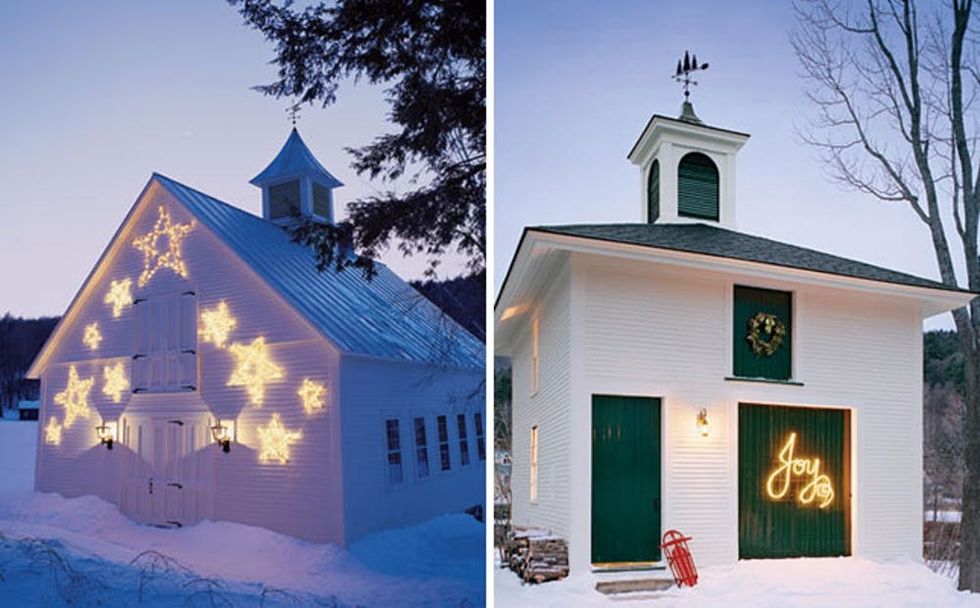 5. Outdoor Stars (DIY): If you happen to have a barn, star it up! (via Martha Stewart)
6. Joy Marquee (DIY): It's surprisingly easy to create a custom marquee for any holiday. Stay tuned for a tutorial here on Brit + Co. (via Martha Stewart)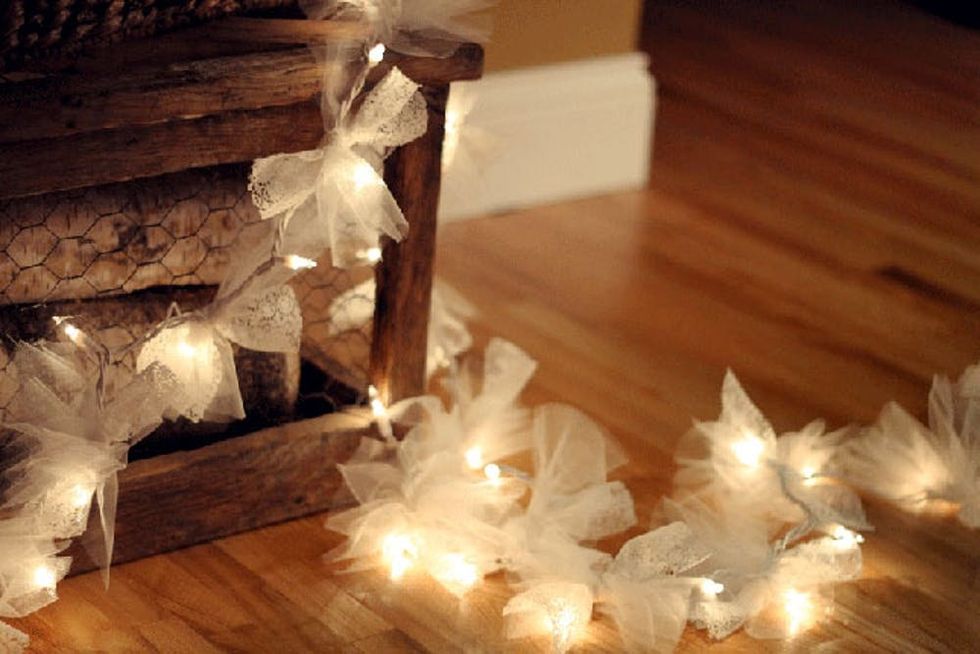 7. Firefly Lights (DIY): Love the romantic vibe of these lights made by tying tulle or tissue paper around a standard string of lights. So easy! (via Hayseed Homemakin')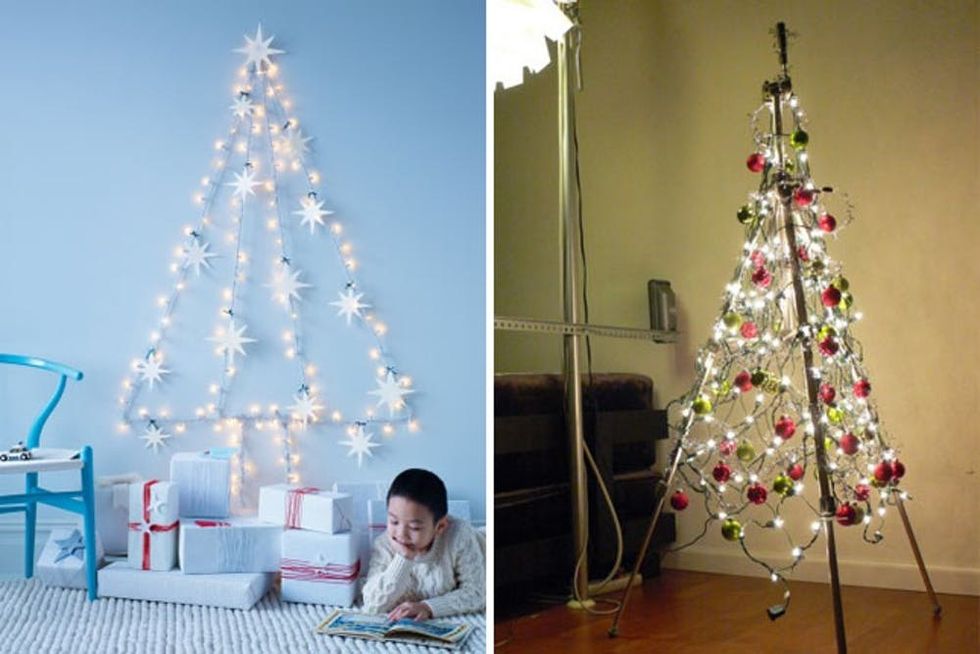 8. String Light Wall Tree (DIY): Don't have room for a real tree? Make one on the wall! (via Martha Stewart)
9. Tripod Christmas Tree (DIY): Or with a tripod! (via Swiss Miss)
10. Christmas Lights Synced to Slayer (DIY): Sure this is so 2011, but it's still totally awesome.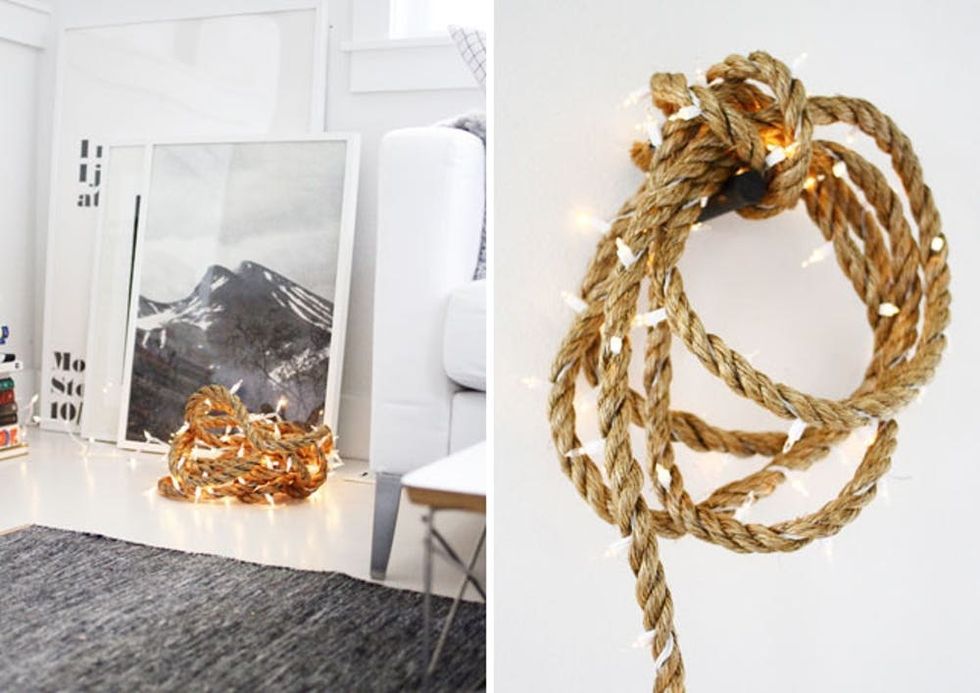 11. Rope Lights (DIY): For a rustic earthy vibe, combine string lights with rope. (via A Merry Mishap)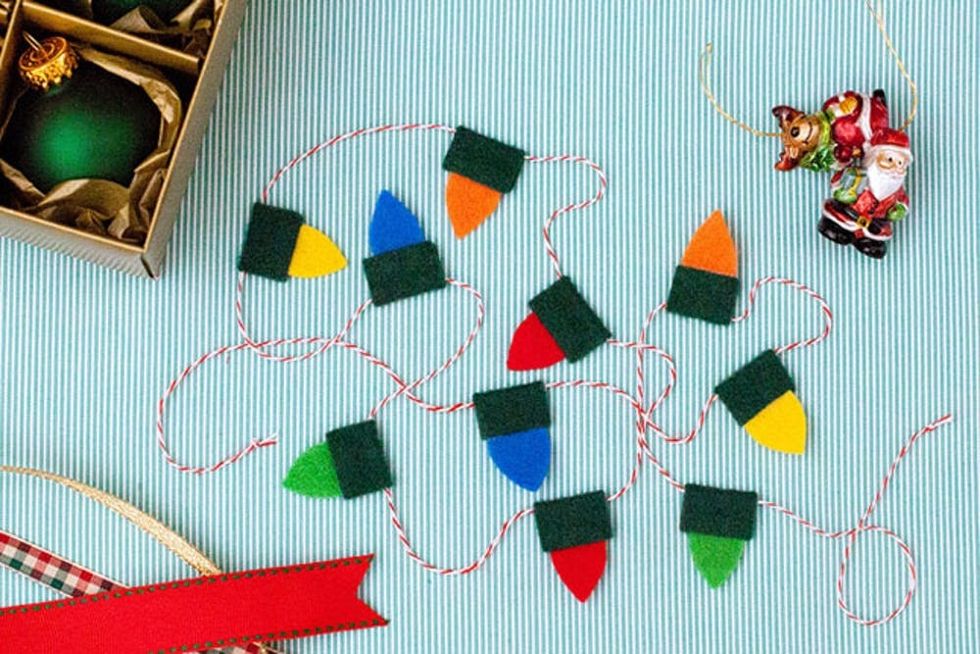 12. Felt Light Garland (DIY): Set on the lights but still need light-inspired color? Create this simple garland with felt and baker's twine. (via Let's Eat)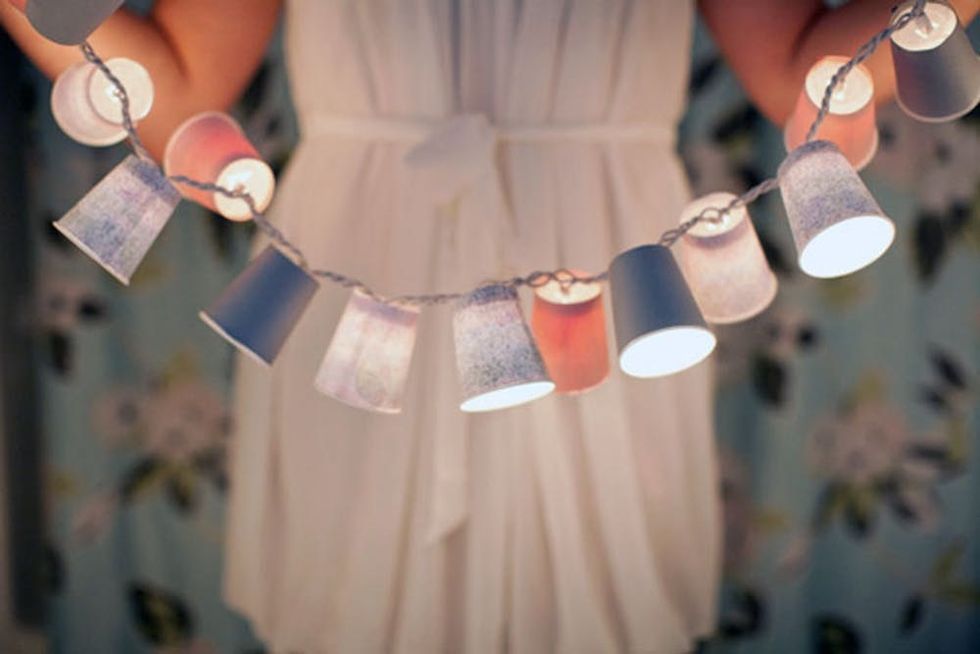 13. Dixie Cup Garland (DIY): Who knew Dixie cups could be so chic? (via Hey Gorgeous)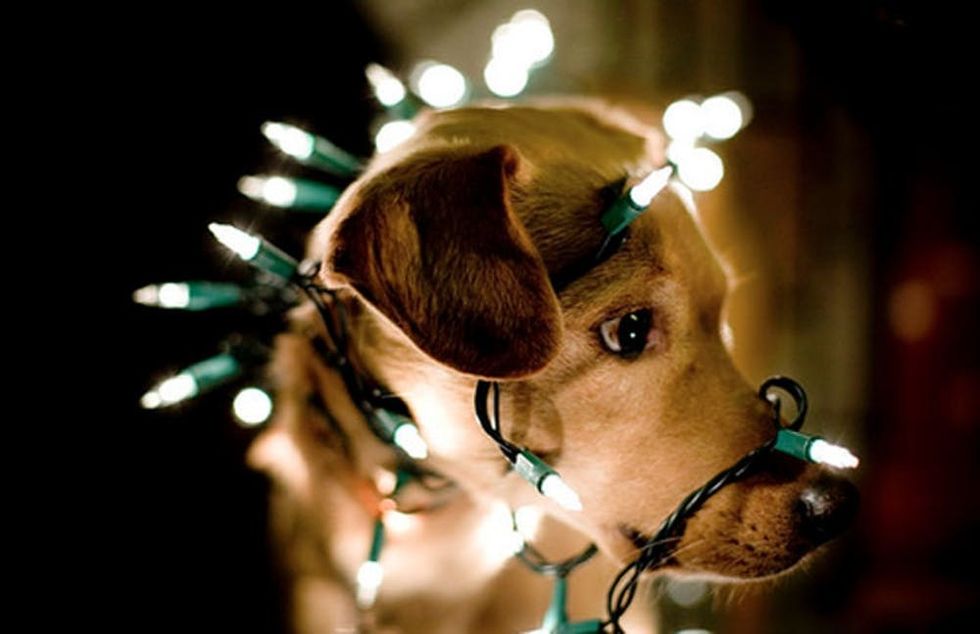 14. Puppy Lights! (DIY): Another option for treeless folks ;) (24 more dogs wrapped in Christmas lights here)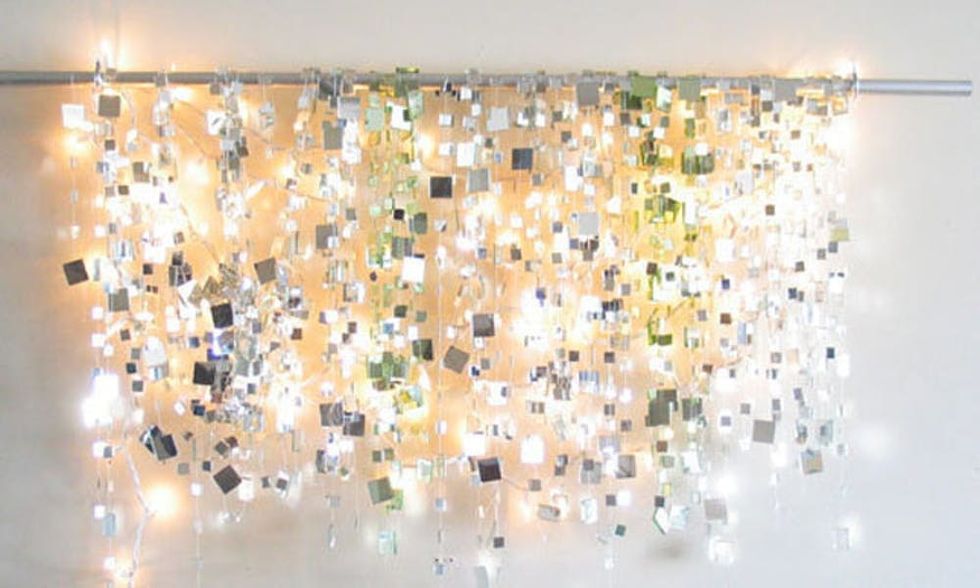 15. Mirror Garland & White Lights (DIY): Get double the light by creating a garland with small mirrors (usually available in tile form at hardware stores) and lights. (via Apartment Therapy)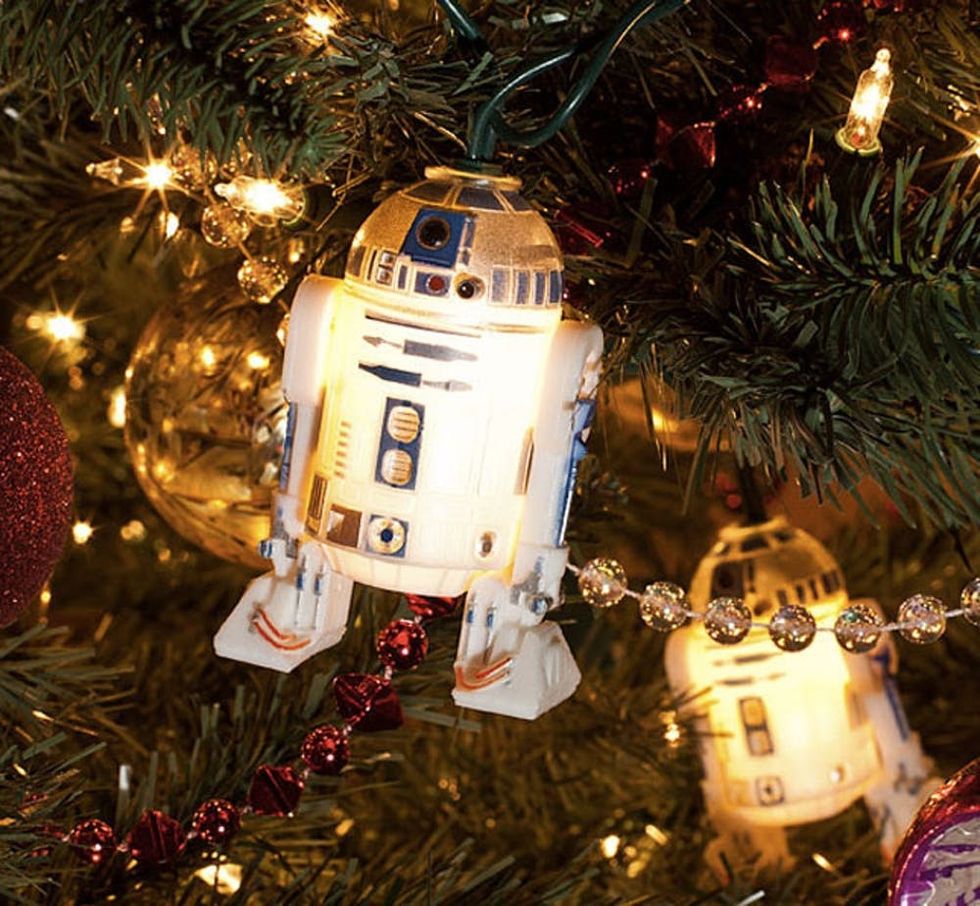 16. Star Wars Lights ($30): Gotta get our geek points on.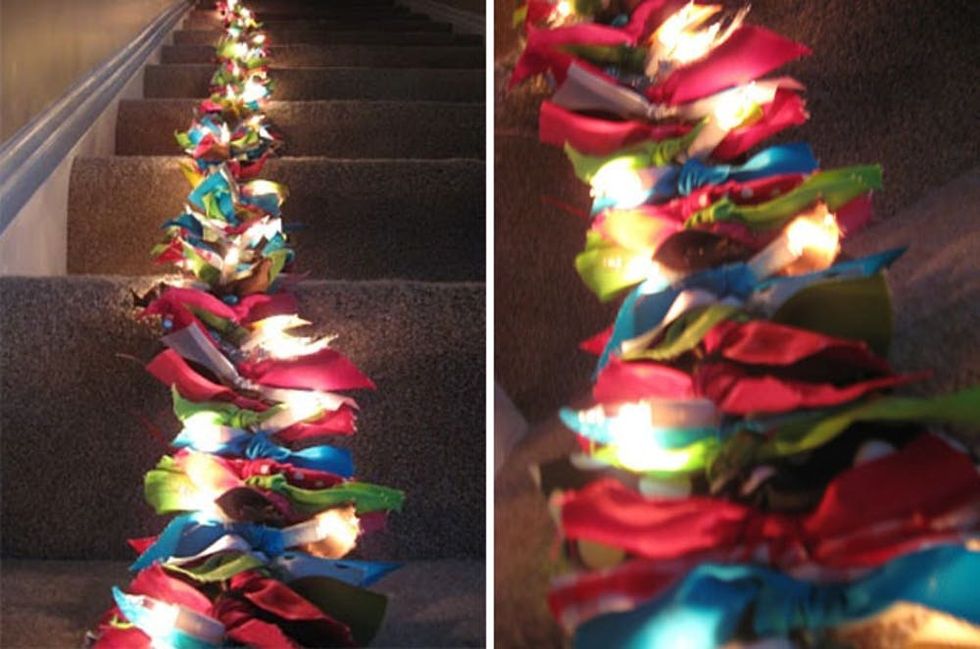 17. Scrappy Ribbon Garland (DIY): Turn ribbon and fabric scraps into a colorful masterpiece! (via Whitney Caroline Designs)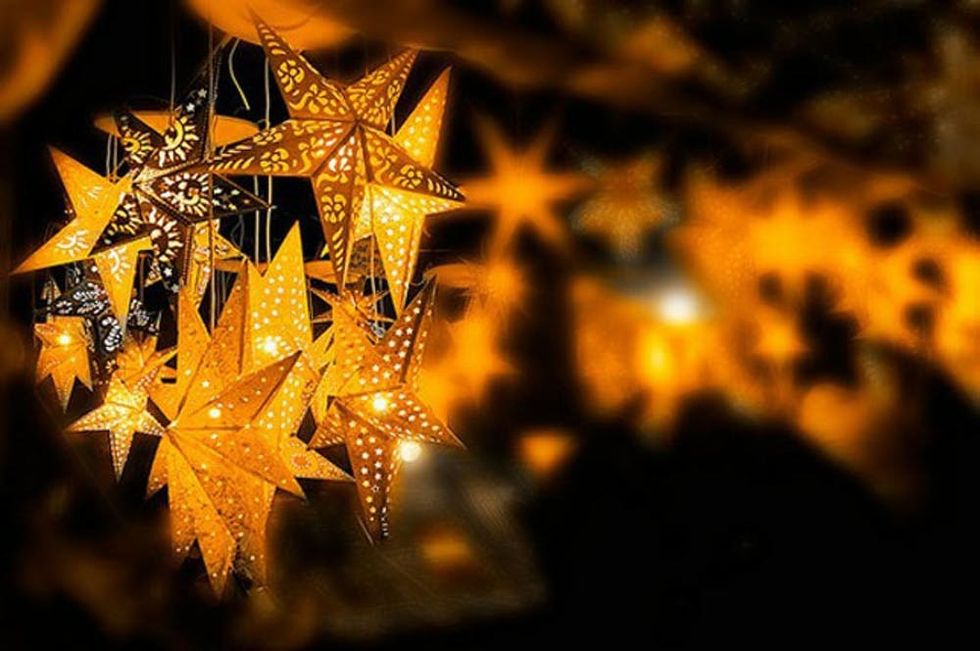 18. Star Lights: Why limit yourself to just one star this Christmas? (image via Pinterest, DIY tutorial here)
19. Bulb Lights Necklace ($12): Or you can always wear your love of lights! This necklace actually lights up.
20. Motherboard Christmas Tree ($18): Speaking of geek points… :)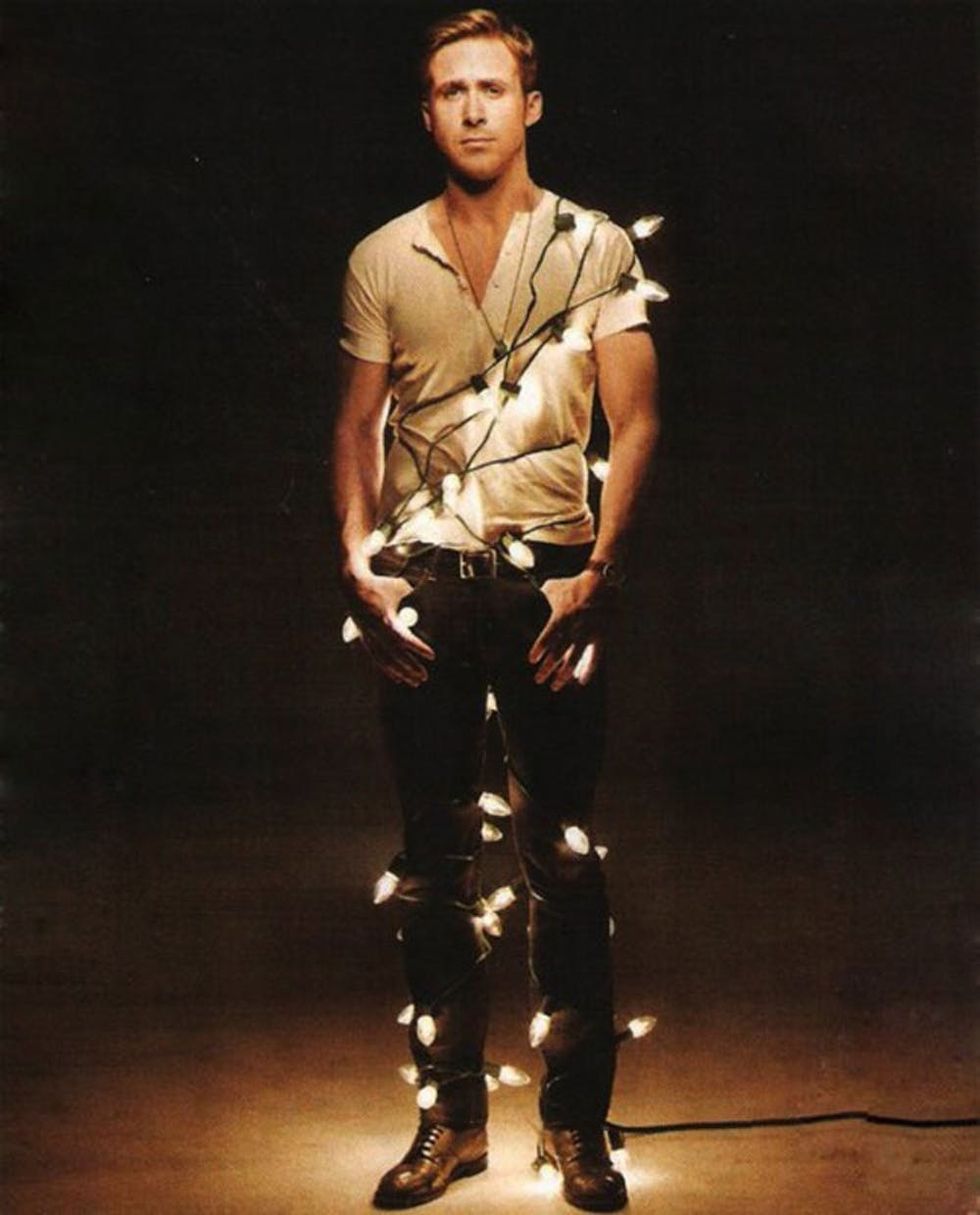 Bonus! Ryan Gosling Wrapped in Christmas Lights: We'll just leave this here. You can thank us later.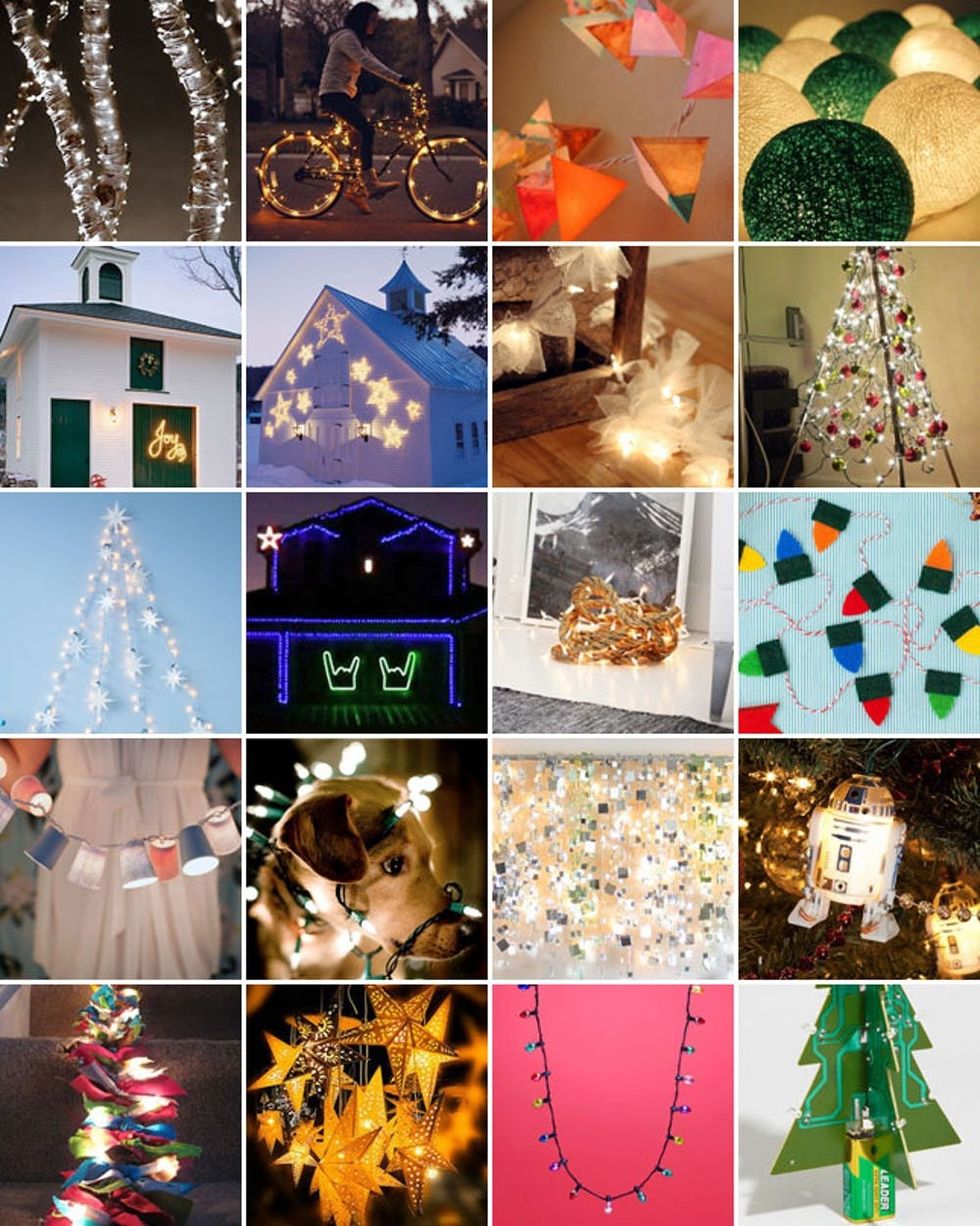 How will you decorate for the holidays? Any DIY projects or fun products we should know about? Talk to us in the comments below.