Forget Chocolate Syrup — This Homemade Hot Fudge Belongs on Ice Cream and Beyond
Feb 12, 2018
"This hot fudge is the best hot fudge I have ever had, and it is so easy to make, and to remember," says Jeni Britton Bauer, the famed maker of Jeni's Splendid Ice Cream, during a casual interview at San Francisco's Fancy Food Show. When the founder of one of the (if not THE) best artisanal ice cream brands in America tells you this, you do as any sane ice cream addict would — you take heed and made the recipe… just as soon as luscious pints of Salty Caramel arrive in the mail. "I like to think of the ratio as equal parts everything: cocoa, chocolate, sugar, and water. But you will probably use a little more water if the cocoa absorbs it too fast, or if you want a thinner sauce," Bauer continues. She and her recipe developing team haven't come up with a name for the recipe — yet — but they are toying around with "1, 2, 3 Magic Chocolate Sauce" or "3, 2, 1…" They haven't landed on a snappy final version.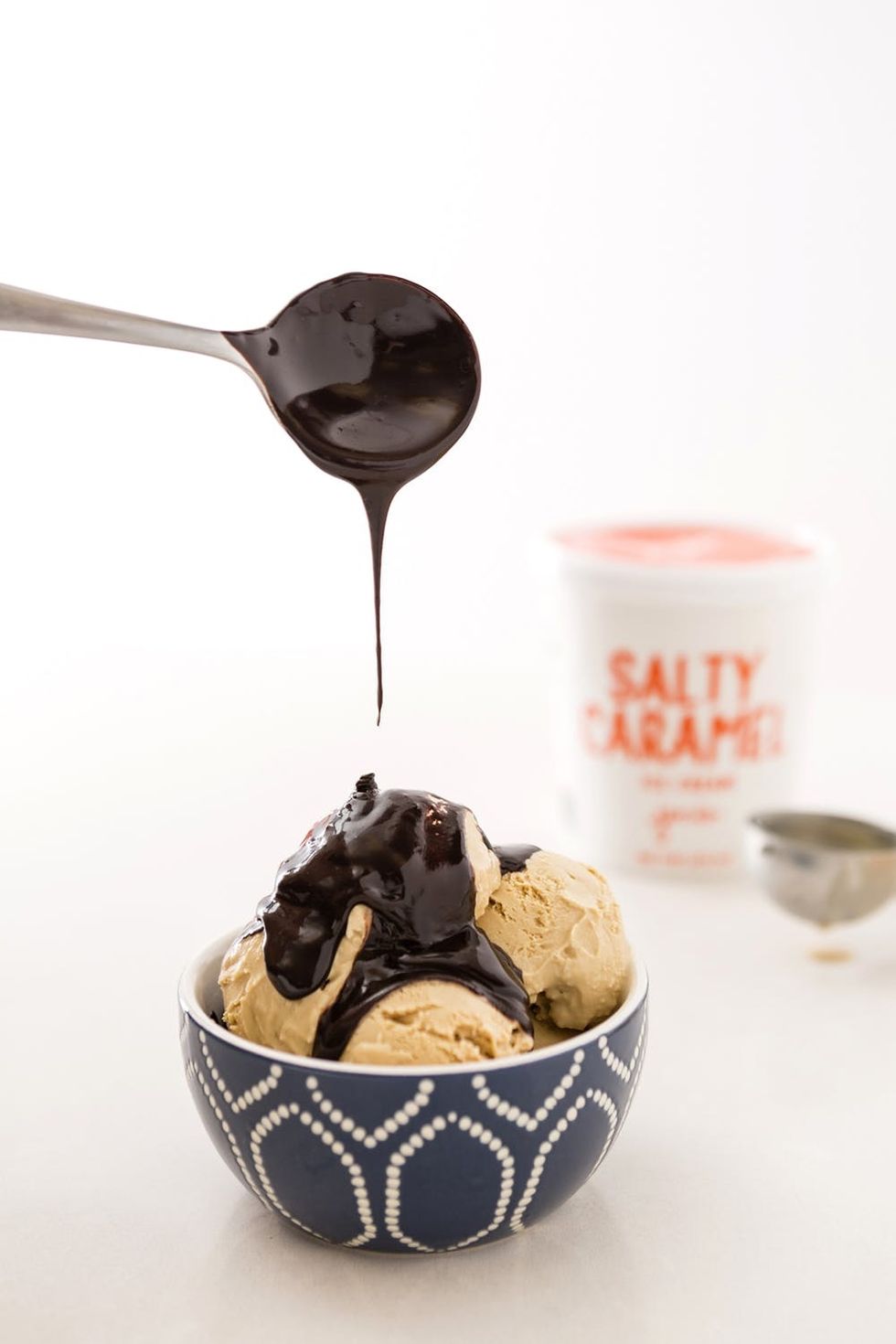 ---
Now, as soon as Bauer said "water," a person with chocolate-making experience may start to protest (chocolate and water separate like oil and vinegar). As if reading our minds, Bauer answered her own question: "Why water instead of cream? One reason is that chocolate and cocoa actually taste stronger when thinned with a little water. Cream can dampen the flavor. Also, I created this recipe to go on top of ice cream, so I wanted a sharper clash with the cold cream. Many chefs use water to make their ganache over cream." Sure enough, that's exactly what the experience is like. If you grew up eating heaping scoops of vanilla ice cream drenched with chocolate syrup, you're in for a nostalgic flashback — but with a more sophisticated take. This dark, semi-sweet hot fudge begs to be smothered on a blank(er) ice cream canvas to soften its indulgent, tannic tang.
Hot Fudge
From Jeni Britton Bauer
(Makes 1 cup)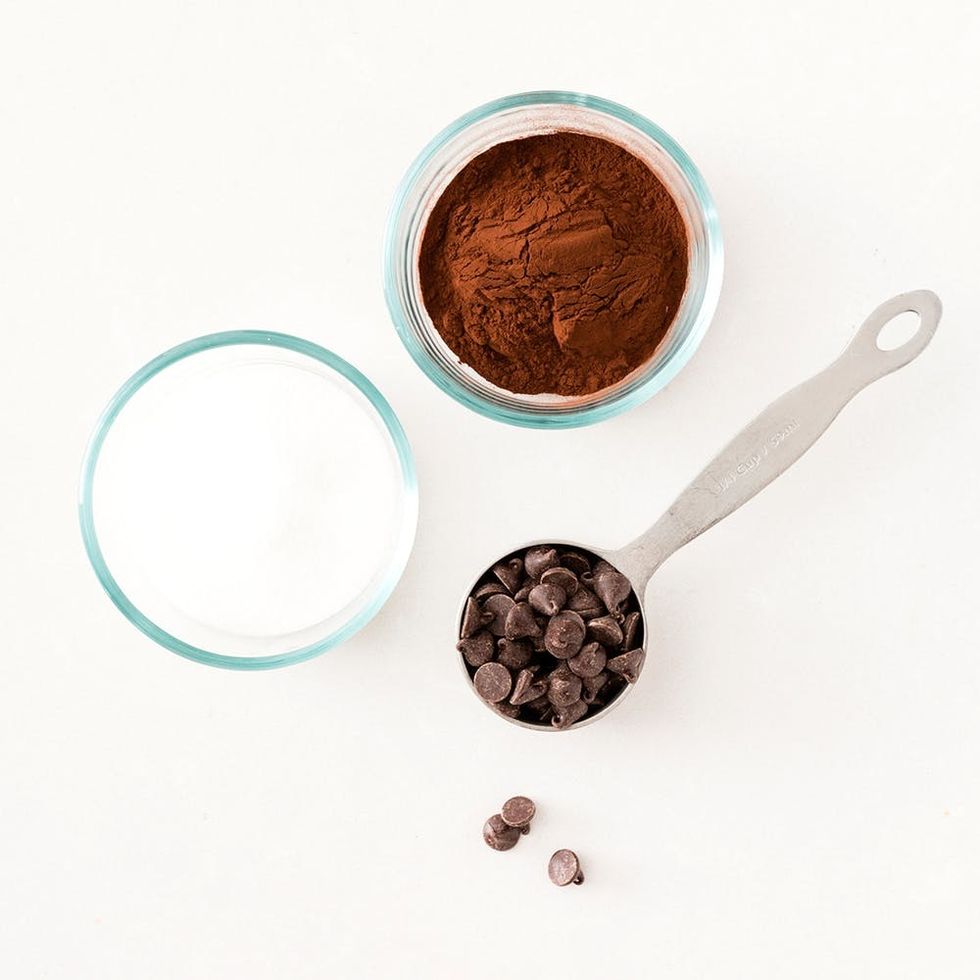 Jeni's Notes:
By remembering the easy ratio, you can scale up the recipe as needed. Different cocoas absorb water differently, so the final amount of water is up to you. The sauce hardens and becomes fudgey as it cools depending on how much water you add.
Ingredients:
¼ cup water, plus more if needed
¼ cup sugar
¼ cup Dutch-process cocoa (otherwise it won't dissolve)
¼ cup finely chopped chocolate (70 percent cacao)
ice cream, like Jeni's Splendid Salty Caramel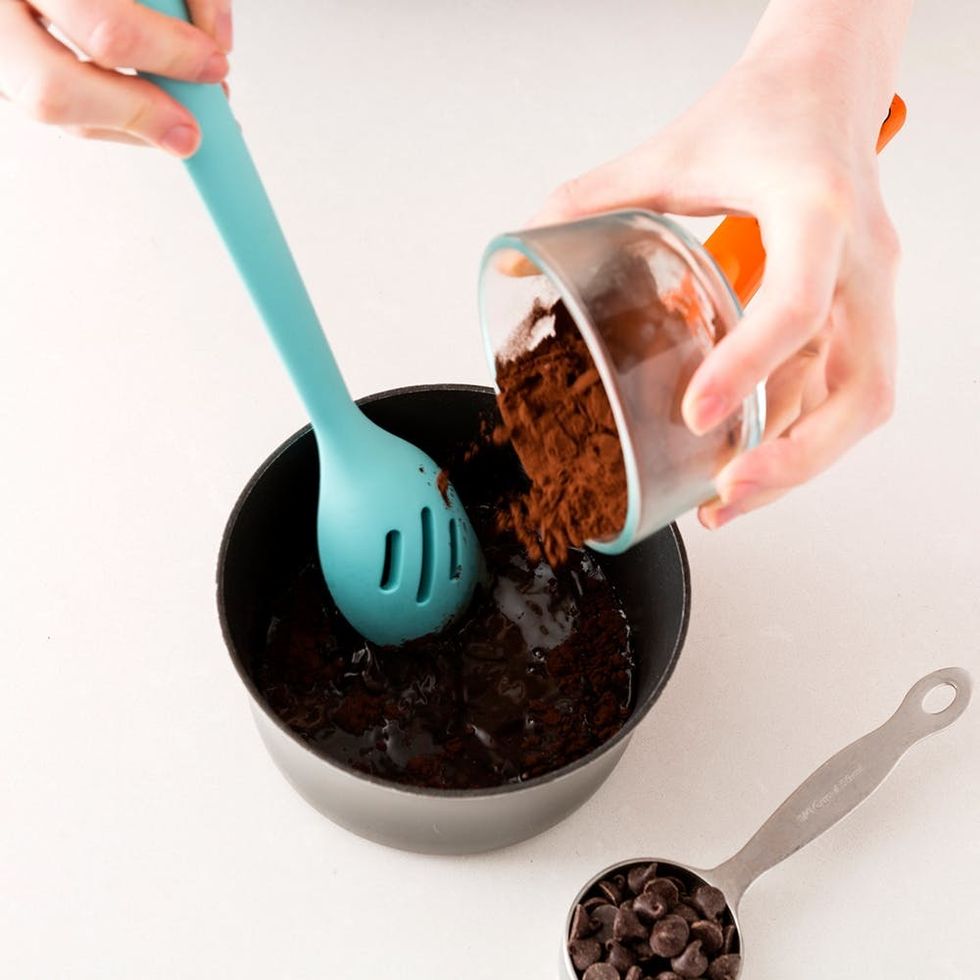 Instructions:
Bring about ¼-⅓ cup water and sugar just to a boil in a small saucepan.
Remove from heat, add cocoa, and stir until smooth. Add chocolate and stir until very shiny. Add more water if needed.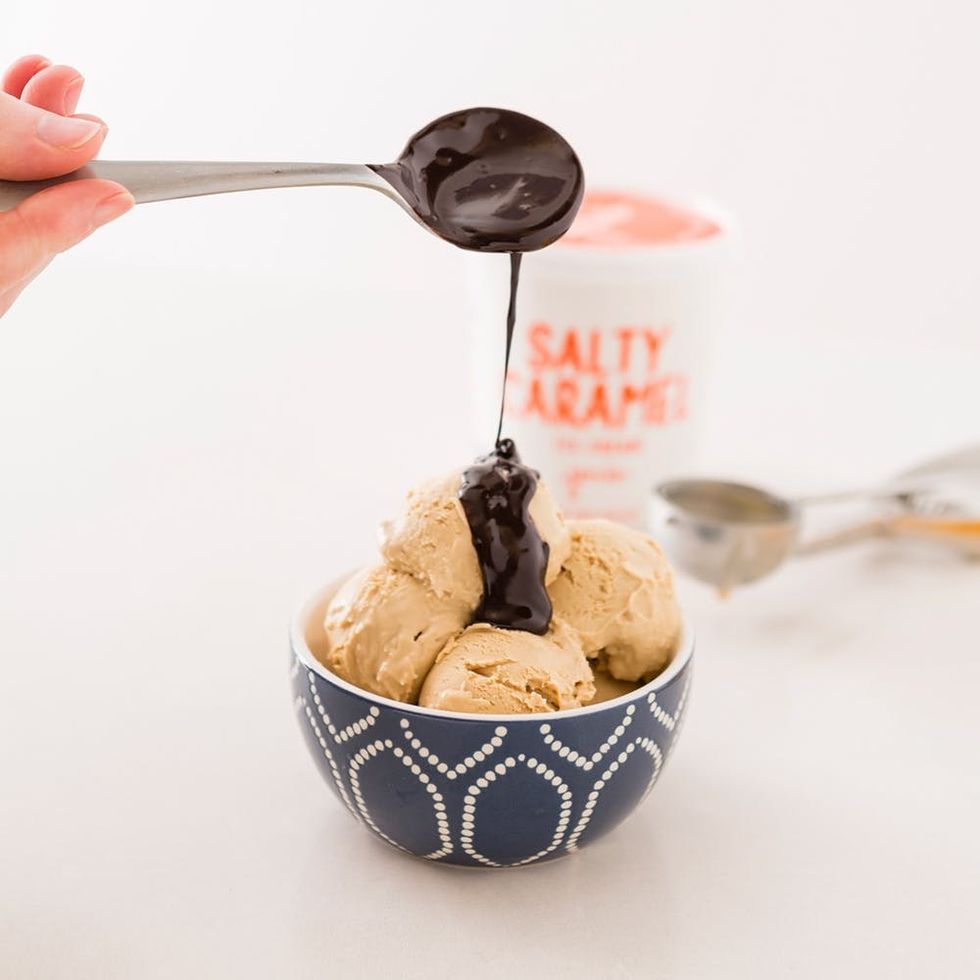 For more outrageously indulgent recipes, behold Brit + Co's Pinterest page.
Brit + Co may at times use affiliate links to promote products sold by others, but always offers genuine editorial recommendations.
(Photos via Brittany Griffin / Brit + Co)
Anna Monette Roberts
As Brit + Co's Food Editor, Anna Monette Roberts has an insatiable appetite for developing tasty dishes. When she's not dreaming about her next meal, she's . . . well, probably cooking up her creations. Her favorite foods include chewy chocolate chip cookies, Rosé Champagne, and gooey French cheeses — in no particular order.
DIY Recipes
Whether you want to tap into some holiday nostalgia, or find a fun DIY to do with your kiddos, this simple snow globe craft offers both! Together with Camp by Walmart, we built a customizable crafting journey so you can execute this decor upgrade based on your style preferences and the supplies you have around the house. For this project, you'll need to decide if you want your snow globe to be inside of a mason jar or glass orb, what type of snow you want (hello, glitter!), and what holiday scene should go inside. With 16 possible outcomes, we can't wait to see what you come up with. Check it out by watching the winter wonderland snow globe tutorial now!
Holidays