The RIGHT Way to Clean Your Cast Iron Skillet
Nov 17, 2017
Aside from being able to cook up some stellar skillet meals, cast iron pans prevail against other types of pans for many reasons. For one, they heat evenly, so you can sear meats like a pro. In addition, cast iron pans are oven-friendly, can boost your iron intake (for real!) and, best of all, offer a natural, non-stick surface. Needless to say, this kitchen tool is a gem, but cleaning it properly is imperative to prevent rusting — and keep it cooking your favorite meals for years to come. Here's the lowdown on how to do it right.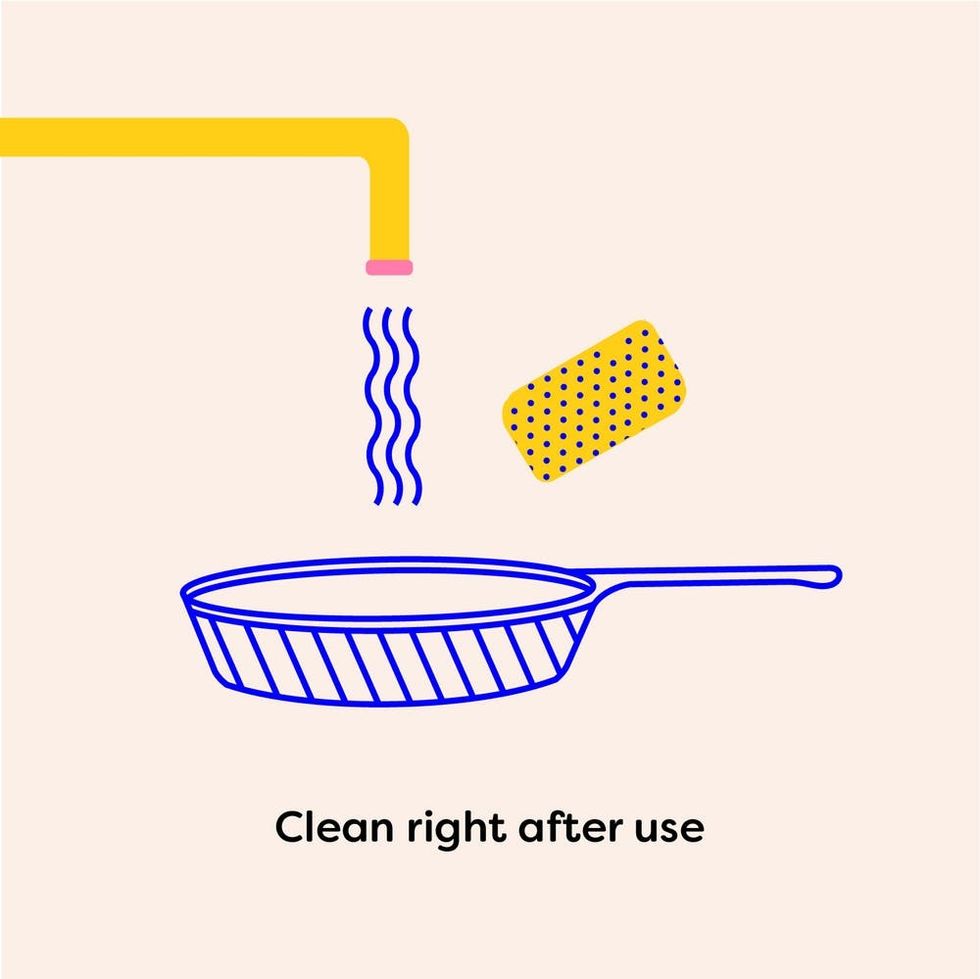 ---
Don't let a dirty cast iron pan sit on the stove all night and definitely don't leave it in the sink. Cast iron is porous, so any extended exposure to water will eventually result in rust. After your meal, take the time to rinse it out with water only (no soap!) and scrub with a sponge or skillet-specific scrubber.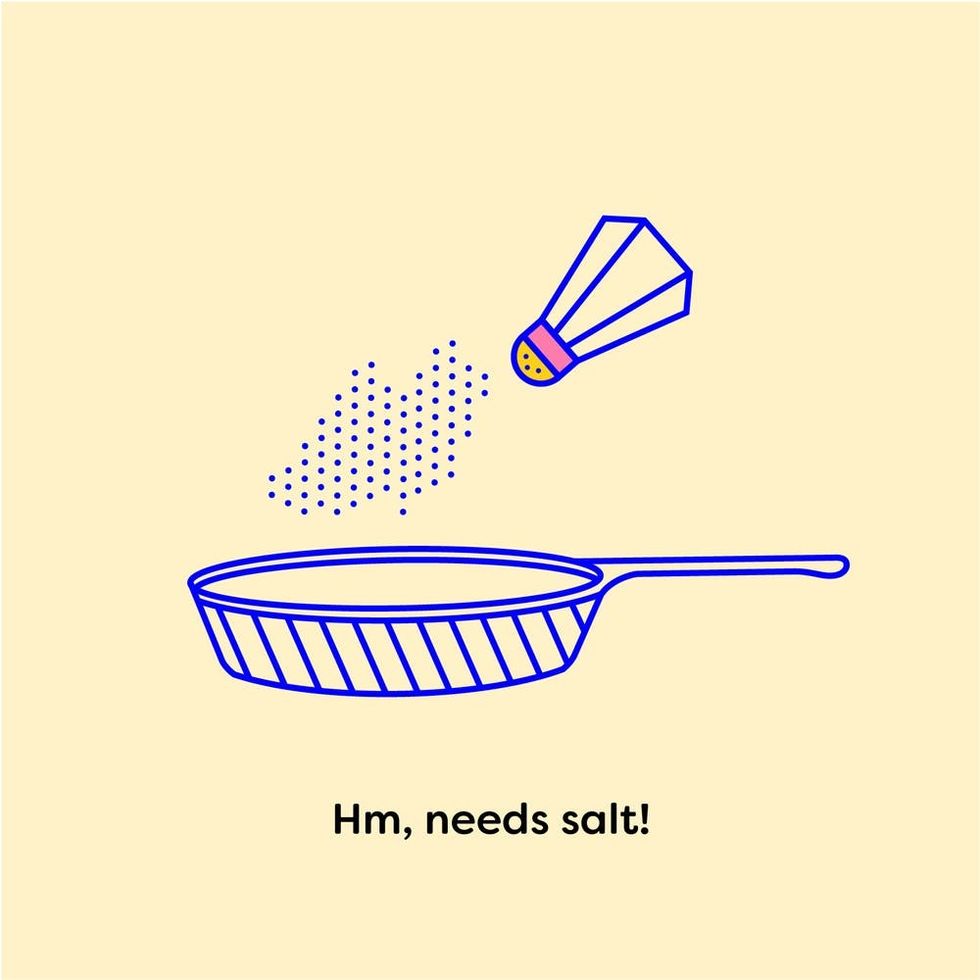 Skip the soap, and instead, sprinkle a liberal amount of coarse Kosher salt inside the pan as you scrub to loosen stuck-on bits of food. Like a facial scrub, the salt lifts grit up and out; plus it also acts as an antibacterial force. If you're dealing with stubborn gunk, fill your cast iron skillet about halfway with water and bring it to a simmer over low heat on the stove for approximately five minutes. Let it cool, dump the water, add salt, and give it another scrub. This time around, the cleaning should be a breeze.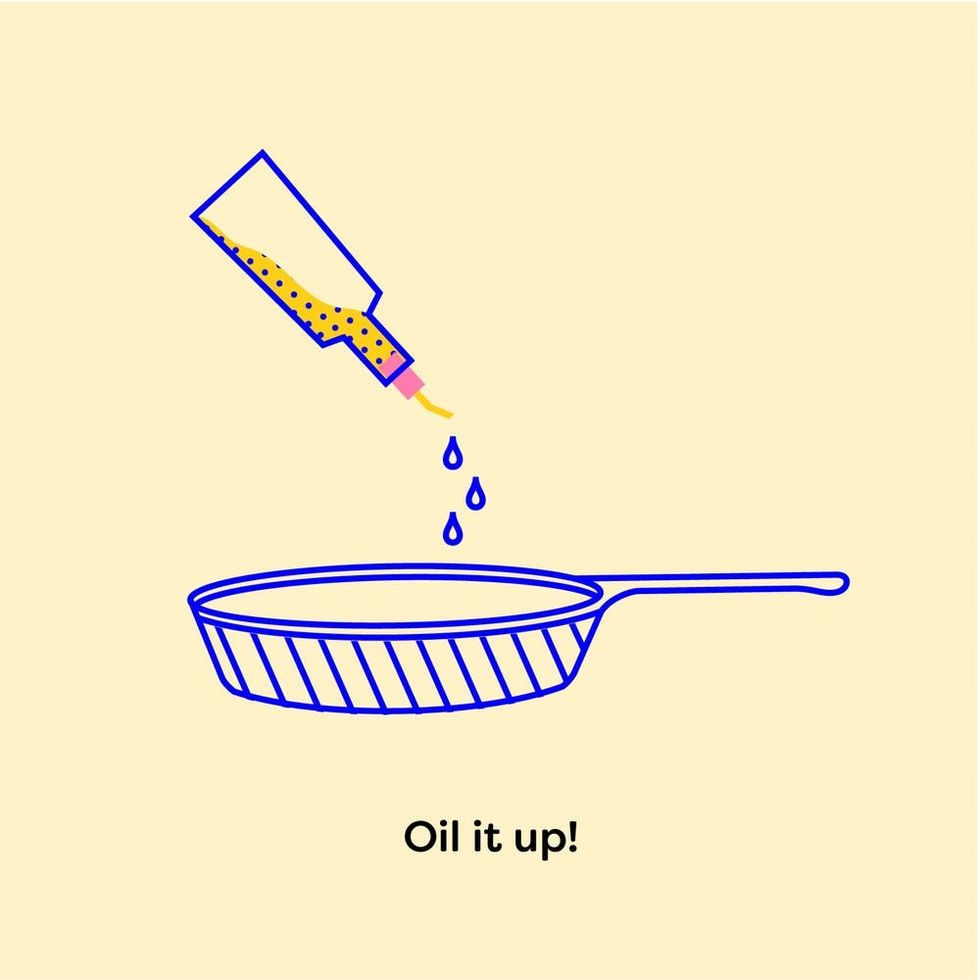 Once the skillet is free of residue, it's time to lotion up. Nothing beats moisturizing after a hot and steamy shower, and the skillet agrees. With a paper towel, rub a neutral, high-heat oil like canola or vegetable shortening inside the pan in a circular motion.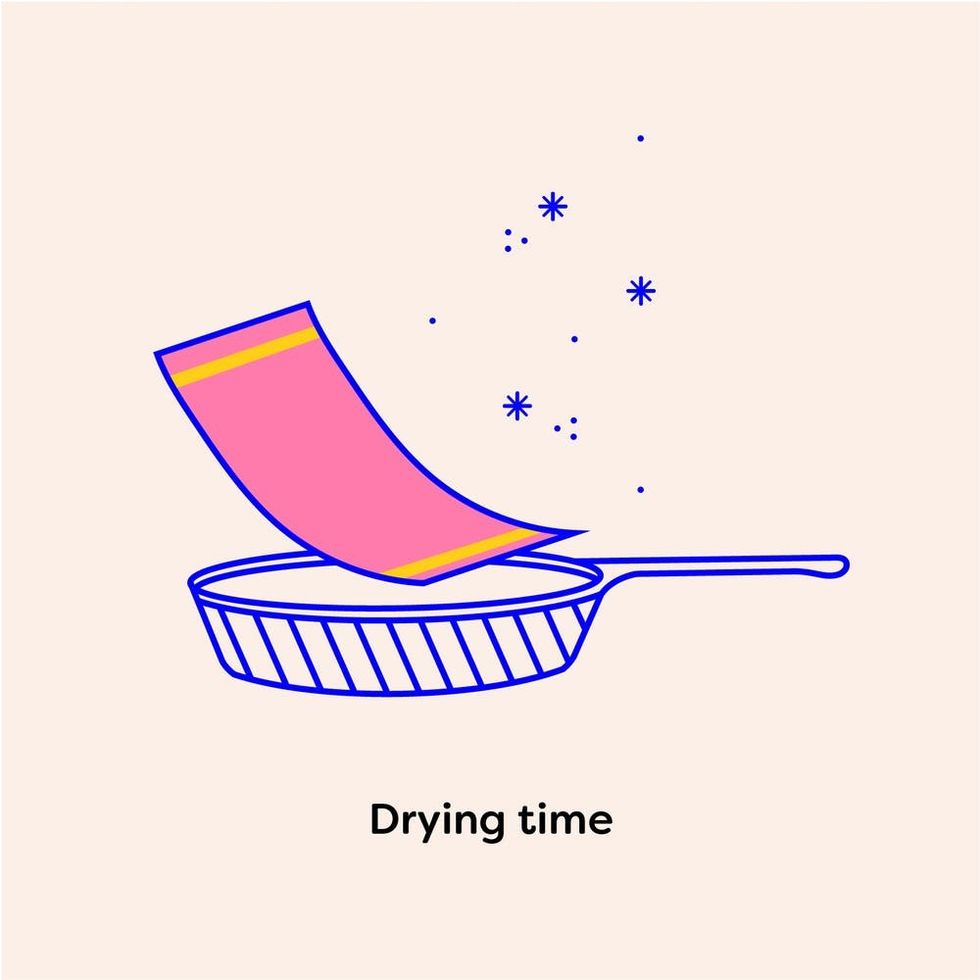 After your skillet is coated with a thin layer of oil, heat it over the stove to dry completely and lock in the oil. If there is any remaining moisture, wipe it off with a paper towel.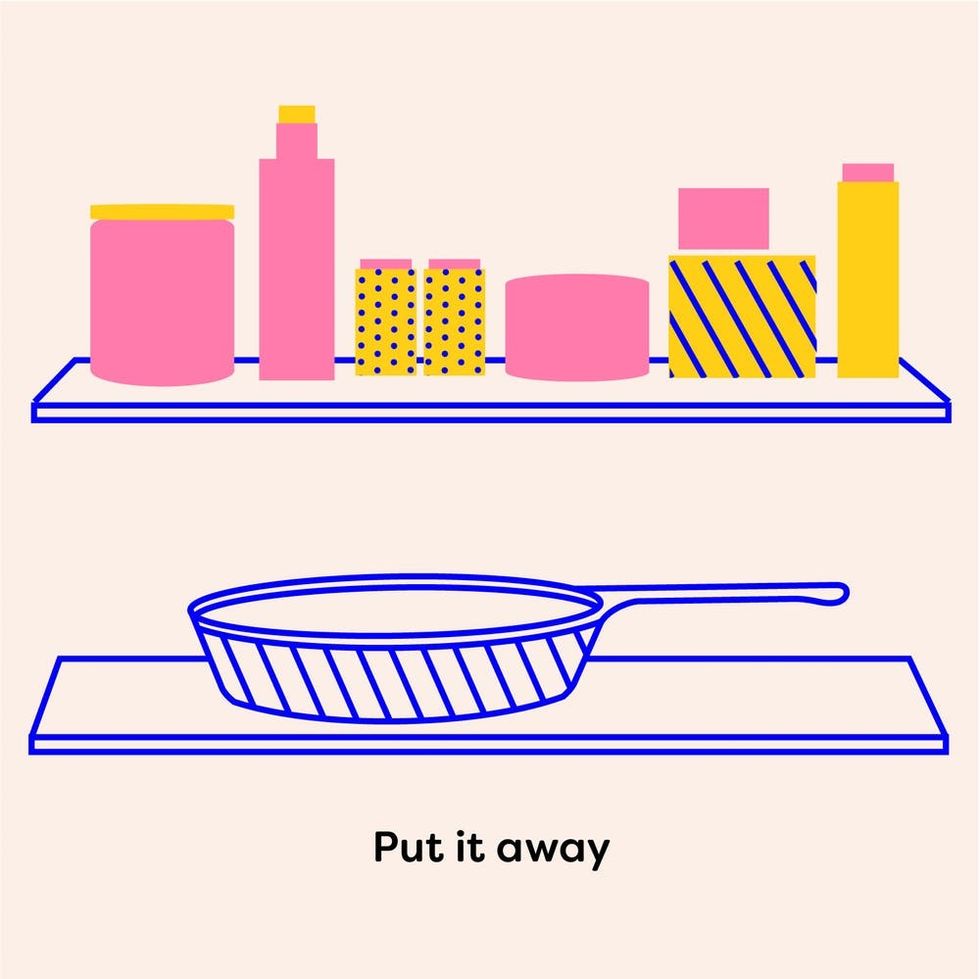 Allow your skillet to cool completely before storing in a dry place, like inside the oven. Again, because cast iron is porous, any moisture will result in rusting.
For more cooking tips and how-to's for kitchen tools, follow us on Pinterest!
(Images via Yising Chou/Brit + Co)
Dana Sandonato
Born in Canada and now living in the beautiful state of North Carolina, Dana is a coffee-reliant food writer with a healthy appetite, a taste for culinary adventure, a thirst for good beers, and an endless hunger for food photography. When not writing for Brit + Co, she can be found pouring herself into her blog-turned-webzine,
Killing Thyme
, or taste-testing at local breweries with her husband. Dana's ideal down time includes pizza, marathoning on Netflix, or watching her fave flicks from the 80s and 90s - no matter how great or awful they are!
Kitchen Tools and Gadgets
More From Kitchen Tools and Gadgets
Still haven't taken up that new creative skills you swore you'd learn this year? Or ready to take your design skills to the next level? Let's say so long to the weirdest year ever by checking those big learn-something-new goals off our perpetual to-do lists.
We've teamed up with Clorox to give you the gift of unlimited creativity now through the end of the year. Once you sign up, you can take as many of our 120+ classes as you want for FREE for one whole month!
Here's how it works:

Head to brit.co/learn and sign up for the "All Access Pass."
Use the code "CLOROXCARES" at checkout to redeem your free month of classes.
You will be automagically signed up for Clorox's email list once you redeem your free all access pass. (It's the #1 Choice for Disinfection!)
Your pass lasts one month from when you checkout. This means you have unlimited access to all the classes during that month.
This offer is valid now through December 27, 2020.
Browse our catalog to find the right class for you, tell a friend and take the class together over Zoom, or organize a 'cocktails + crafts' night with a friend in your bubble so you can learn something new together.
What are you waiting for? Time to start learning all the things!

Thanks to Clorox for making this happen! When it counts, trust Clorox.
Lifestyle