7 Easy Hacks to Keep Your Last-Minute Holiday Gift Spending in Check
Dec 16, 2017
If we were super organized, we would have had all of our holiday shopping done eons ago by scooping up mid-year bargains and Black Friday finds. Unfortunately, you'll most likely find us elbow-to-elbow with the other last-minute shoppers at our local malls or frantically searching Amazon for great gifts with two-day shipping. But just because we're a little behind on our holiday shopping doesn't mean we have to blow our holiday gift budget. To help us keep our gift spending in check during the holiday time crunch, we looked to Founder and CEO of LearnVest Alexa von Tobel for her top tips for financial discipline during the holiday shopping season.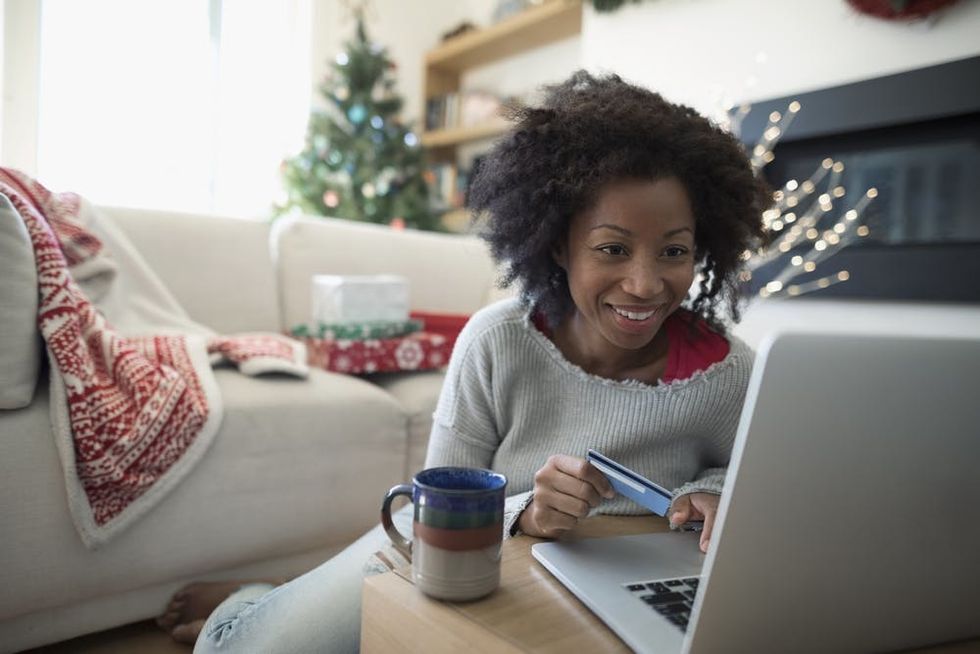 ---
1.Live by the 50/20/30 rule. "If you've been following the 50/20/30 rule, then you know that 50 percent of your take-home income goes to essentials, 20 percent goes toward saving for the future, and the remaining 30 percent is spent on your lifestyle. If you're living by the 50/20/30 rule, that means that your holiday spending will come out of that 30 percent portion," von Tobel reminds us. Even though you're on a time crunch, spending an hour or two organizing your finances will help you feel more confident creating and sticking to a gifting budget. And remember, the 30 percent doesn't just account for what you're spending on gifts — "you also have to factor in the money you may spend on holiday decorations, dinners, parties, travel, etc., which can quickly add up," von Tobel says.
2. Revisit 2016. "Before you make a holiday shopping plan, revisit your checking account history and credit card statements from December 2016," von Tobel advises. "Take a serious look at what you spent and ask yourself if you went into debt in January or if you were able to pay off your balances in full. Don't just take into account what you spent on gifts, but factor in holiday tips, charitable donations, and any other expenses during the holidays." Having a clear picture of your total holiday expenses will not only help you make a rough estimate of your holiday gift budget, but can even help you narrow down where you can cut costs in other areas and make it easier to avoid splurging in the moment.
3. Make a list before you leave the house, and always carry cash with you. "Before you hit any stores or your go-to shopping sites, create a clear plan of attack. Write out a list of who you want to buy for and how much you can spend on each gift to avoid overspending," von Tobel recommends. If you decide to do your holiday shopping in-person, she advises using cash instead of a credit card to help hold yourself accountable. "If you go into a store with your set amount of money and your shopping list in hand, you will stick to the shopping budget you've set for yourself."
4. Don't forget about your rewards. Before you start your last-minute shopping, make sure to take a look at all of your store cards and credit cards that offer points or rewards. "You can help offset holiday costs for gifts, transportation, travel, and more by cashing in on your unused air miles or cash-back points from your credit cards before the end of the year."
5. Compare prices before you buy. "Never assume you're getting the best price on something because you found it on your favorite website," von Tobel warns. "More retailers are getting competitive with special discounts during the holidays, so remember to comparison shop before you make a purchase." Even if you're shopping last-minute, a quick Google search for price matching or holiday coupon codes could save you an extra $20 that you could use toward more shopping or saving.
6. Wear headphones in the mall to tune out temptation. While most of us enjoy listening to Christmas carols as we shop, von Tobel says that listening to holiday music while you're wandering the mall may make you feel nostalgic and put you in an overspending mood. "Stores purposely try to sway you into spending more by playing songs that pull on your heartstrings," she explains. "Save the holiday music for parties and tune it out while shopping."
7. Plan for next year's holiday season. "While the short-term focus is the current holiday season, it's never too early to start planning for 2018," says von Tobel. "Start saving small amounts of money now so you're prepared for next year's seasonal spending. An easy way to do this? Save every $5 bill you get. Even if you don't get many $5 bills, that money will add up over the next year and give you a head start on the next holiday season."
Are you managing to stick to your budget during your last-minute holiday shopping? Tweet us by mentioning @BritandCo.
(Photo via Getty)
Ashley Macey
Ashley Macey is a lifestyle freelance writer who loves all things fitness, wellness, and creativity. When she's not exploring her home in the Pacific Northwest with her dog Max, you'll probably find her curled up with a good book and some hot tea. Follow her daily jaunts on Twitter.